Brunch Bangsar South, Five O'clock Brasserie
Photos: Rich Callahan
Words: Monica Tindall
Brunch in a beautiful setting, with wholesome, tasty food, friendly service, fabulous coffee and premium gin and tonic? We're in!
Five O'clock Brasserie is a contemporary bistro in Bangsar South offering a diverse menu of global flavours, comfort foods, and local favourites, all paired with an extensive wine list, the group's very own gin and Italian coffee. The restaurant's name reflects its philosophy: it's always five o'clock somewhere, so there's no shame in drinking before noon. And with the recent brunch additions, we have even more reasons to celebrate!
Matteo Pascale has recently taken on the role of executive chef for the group (including Portofino, Dolce Vita and a new restaurant in the works). Bringing years of international experience in multiple award-winning kitchens, he has taken the whole food experience up a notch, adding a soft flair to plating and refining flavours. Also new to the group is the arrival of the much-awaited Portofino gin and coffee, and that's exactly where we begin our brunch in Bangsar South.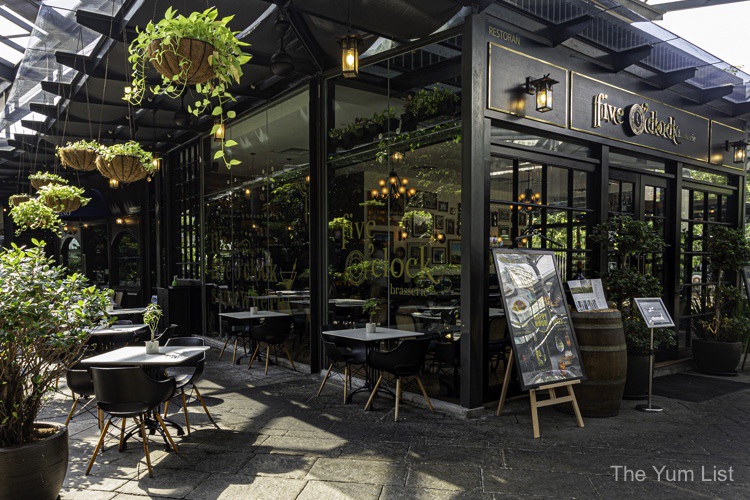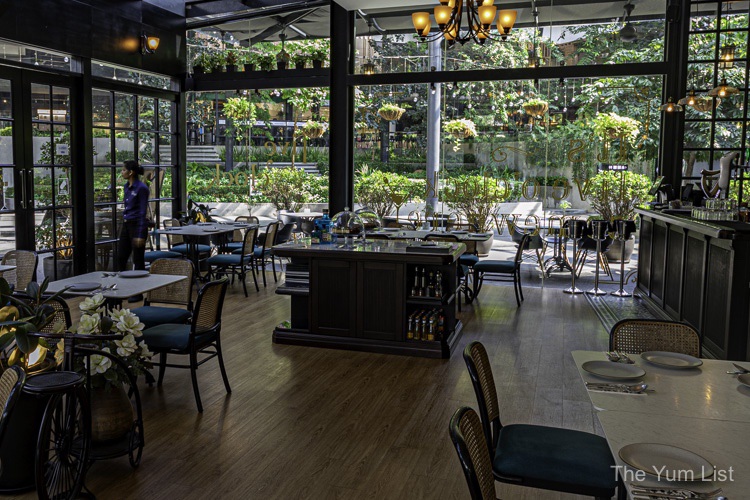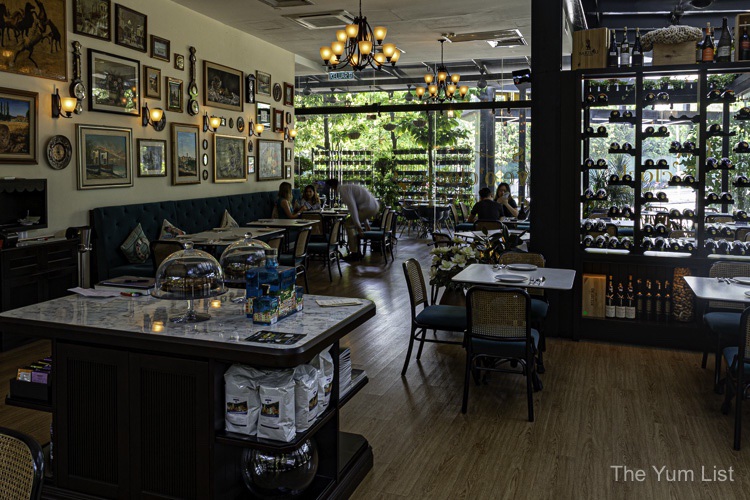 Brunch in Bangsar South
Five O'clock Brasserie Drinks Menu
Portofino Gin
As you enter Five O'clock Brasserie, it's hard to miss the striking five-litre bottle of Portofino Dry Gin on display. Crystal-blue glass features coastal scenes painted by Franco Mazzucchelli. He was commissioned to create 21 artworks for Portofino Dry Gin, paying tribute to the essence of the stunning Ligurian Riveria. We appreciate the spirit in a Gin and Tonic (RM 42) topped up with Italian tonic water Malafemmena (RM 8). A lemon skin and rosemary sprig garnish mirror the flavours of the botanicals in the glass, alongside juniper (of course), lavender, marjoram and sage. It's bright, chilled and aromatic – flawless refreshment in this climate.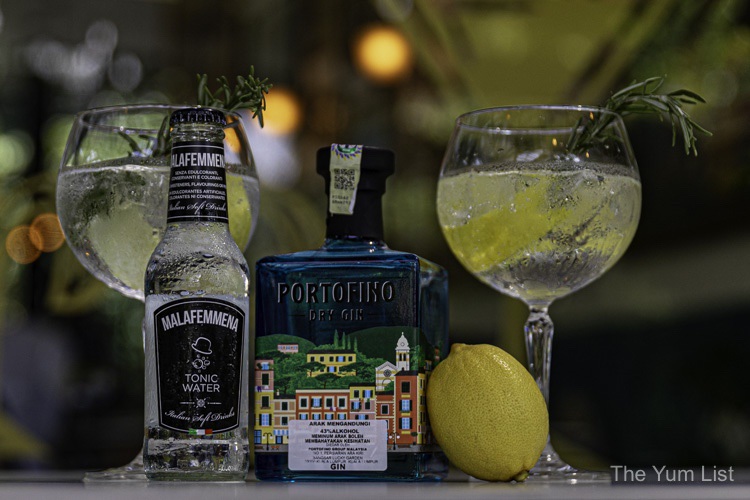 Coffee, Matcha, Juice & More
While we happily continue to sip on our G&Ts, there are more new arrivals we need to meet, starting with a health-giving Matcha Latte (RM 18). Chabashira directly imports high-grade matcha from Kyoto. Their entry-level is priced at RM600 per kilo! It's smooth, sweet and slightly herbaceous with a perfectly foamed top (also available iced).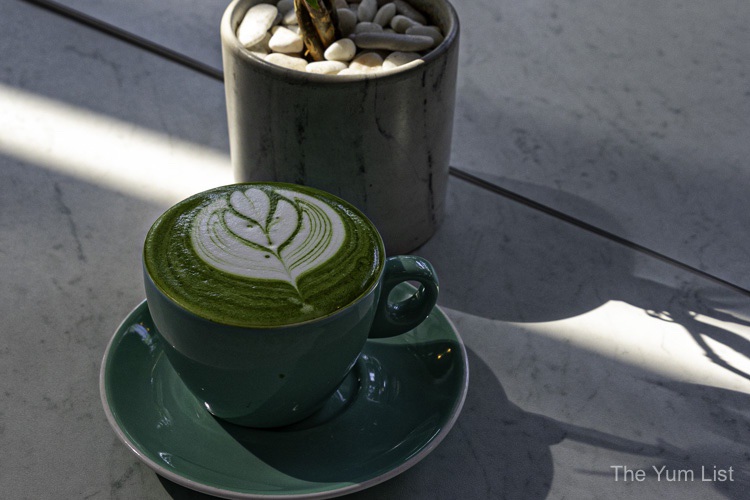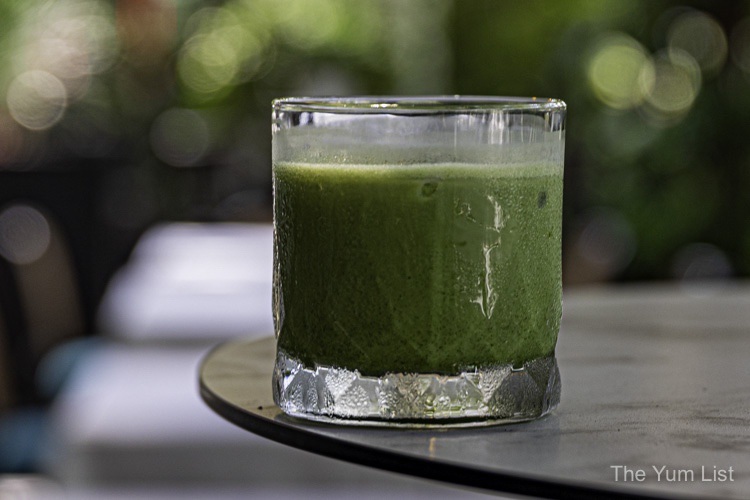 We're also excited about the introduction of Portofino coffee and the lovely story that goes with it. The group's co-founder, Chef Keli Josifi, wanted to bring a little piece of his Italian home to Kuala Lumpur. One of his fondest memories is driving, windows down, breathing in the rich aromas wafting from the local coffee roastery only kilometres from his hometown, Ferrara. As such, he approached the Italian roasters to bring their beans to Malaysia, and now we, too, can savour them. It's a medium roast of Brazilian, Guatemalan, Colombian, Costa Rican and Indian beans. You can enjoy the 80% Arabica and 20% Robusta blend in any espresso-based drink, such as our Cappuccino (RM 14), or you can take home a whole kilo (RM 120).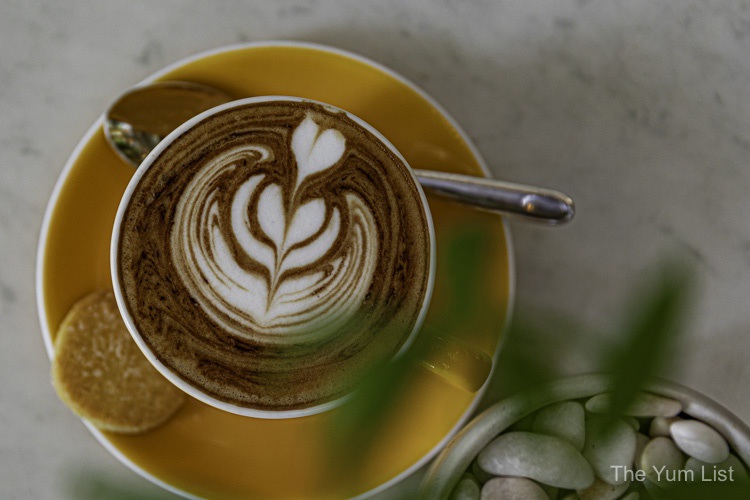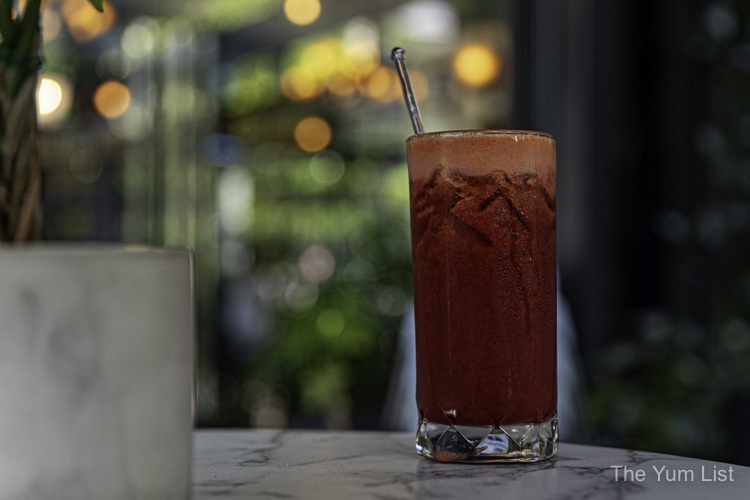 Thirsts quenched, we're ready to attack the menu.
Brunch in Bangsar South Menu
Baked Eggs (RM 32) are a terrific brunch dish. The one-pan recipe is a rich mix of locally-made chicken chorizo, onion, parmesan cheese, mushrooms and eggs with a rich tomato sauce bringing them all together. Good chunky potato pieces bulk the recipe, negating the need for bread. However, bread is always welcome, and the chewy slice of sourdough goes to good use, wiping up the remains from the skillet.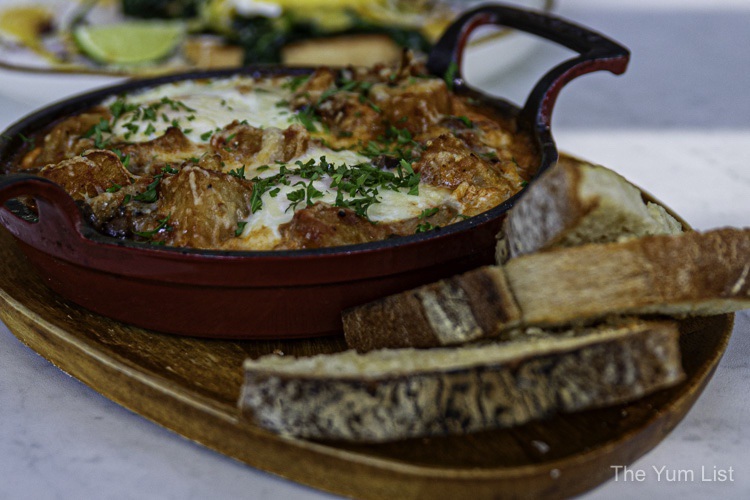 Five O'clock Brasserie's Eggs Benedict (RM 28) is a classic dish executed with care. Lightly toasted English muffin halves hold two poached eggs cooked to perfection, with yolks that ooze out at the touch of a fork. The Hollandaise sauce is rich and creamy, and the sautéed spinach and Parmesan cheese add a touch of sophistication. I like them with a squeeze of lime to break up the richness with a hint of acidity. The vegetarian version is delicious on its own, but you can also add turkey ham (RM 6), smoked beef bacon (RM 8), or smoked salmon (RM 10) for an extra protein boost.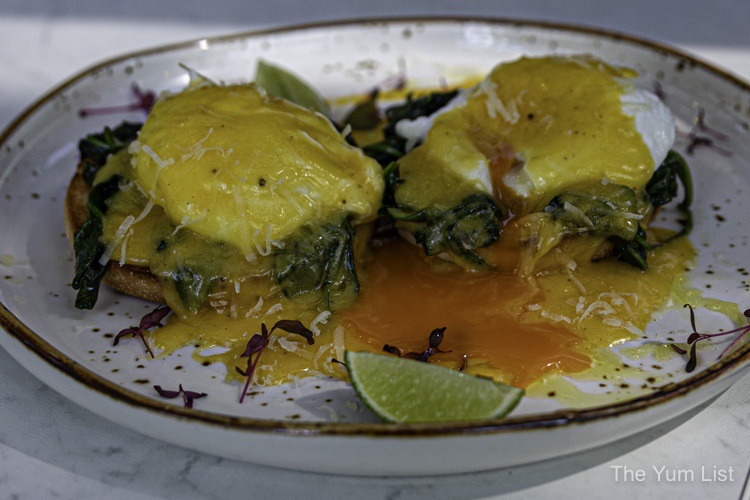 Starters
Tuna Tataki (RM 38) is Margarita, our reelographer's fave. It presents lightly seared marinated tuna with a delicately browned edge and a beautifully rosy centre. Complemented by a ginger soy dressing, the tuna is marinated for 24 hours before being expertly pan-fried with a touch of olive oil. The dish is elegantly served alongside a fan of sliced avocado.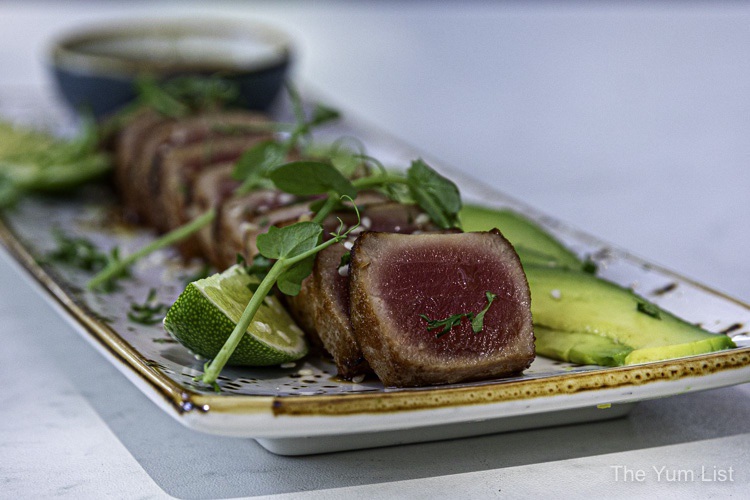 The Spinach & Roasted Pumpkin Salad (RM 30) proves you don't need to fuss when you have high-quality, wholesome ingredients. Fresh spinach, boiled egg, roasted pumpkin, fresh avocado, cherry tomatoes, and pine nuts are tossed in a vinaigrette made with extra virgin olive oil, mustard, honey, vinegar, salt, and pepper. It's feel nourishing and tastes great.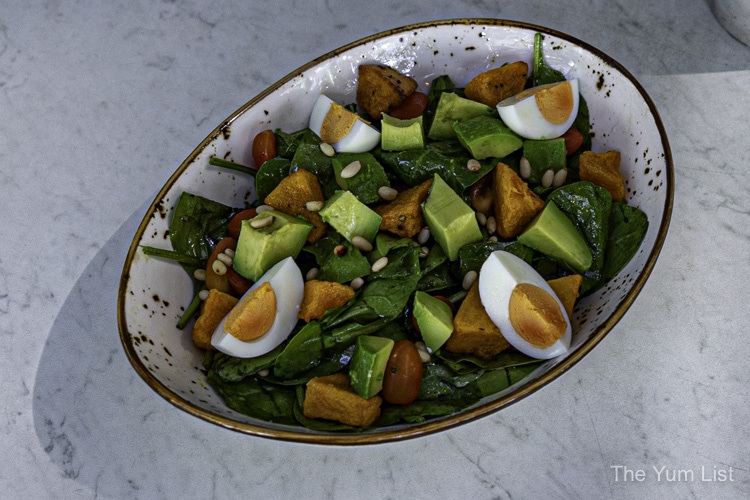 Main Dishes
We all dive into the BBQ Cheese Burger (RM 52) to first grab the fries on the side. They're the perfect thickness, sprinkled with Parmesan cheese and herbs. But they're really just a distraction. The burger is the real star. It's made with a Black Angus beef patty, cheddar cheese, smoked beef bacon, tomato, lettuce, a sunny-side-up egg, gherkin, caramelised onion and barbecue sauce. To enhance the experience, the Five O'clock Brasserie offers its house-made chilli sauce.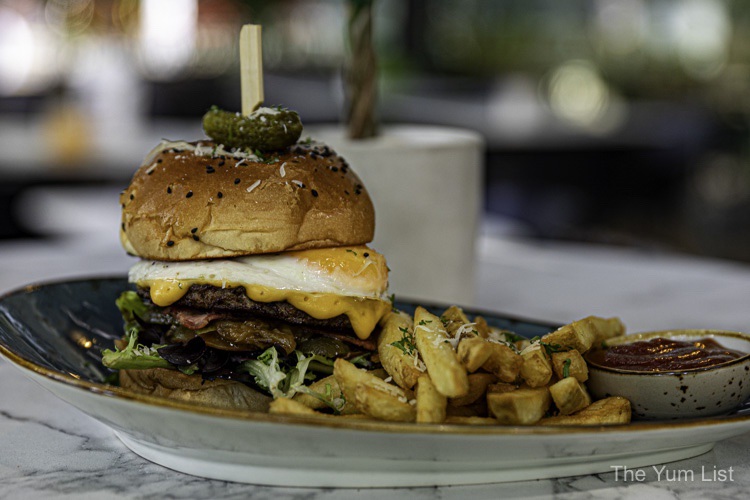 One of the restaurant's best-sellers, Traditional Seafood Paella (RM 56), showcases Spanish rice richly infused with saffron and generously bulked with squid, tiger prawns, Sabah clams, tomato, mixed bell pepper, and green peas. Be sure to scrape the sides for the delicious caramelised edges, and elevate the flavours with a few drops of lemon juice on top.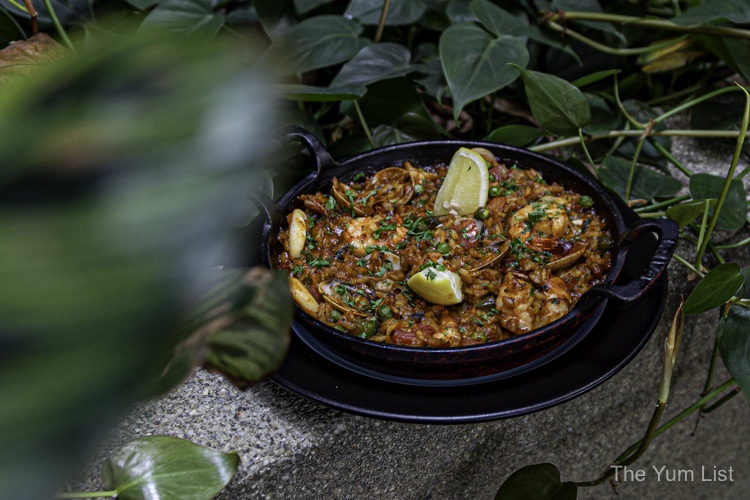 Salmon Teriyaki (RM 68), another of Five O'clock Brasserie's most-ordered dishes, features a long, thick fillet of pan-seared salmon, expertly caramelised with teriyaki sauce. It's served alongside ramen noodles, asparagus slices, and a finishing touch of bonito flakes. The salmon fillet boasts a flaky texture with deliciously darkened edges, and the teriyaki sauce strikes a balance between sweet and savoury, enriched by a stock crafted from the salmon head.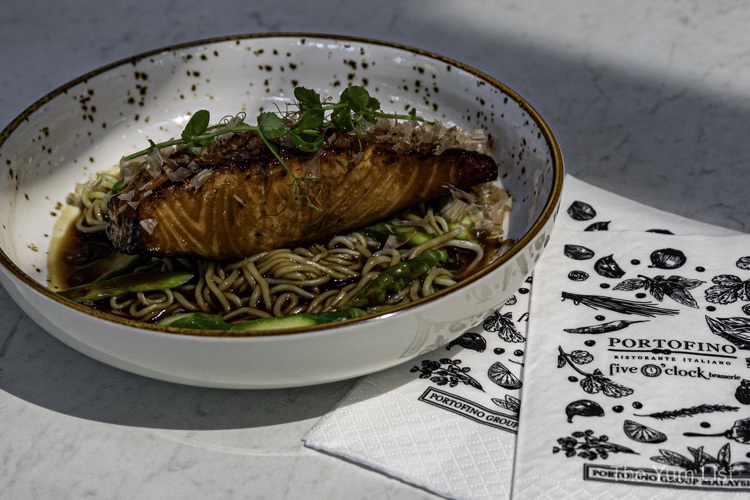 Dessert
I'd be content concluding with coffee or perhaps another G&T. Still, there is plenty for the sweet tooth here. The Crème Caramel (RM24) is a classic recipe of smooth custard and caramel sauce. Rich wisely notes, "We're truly here for the caramel sauce," as he tilts the plate to savour every drop.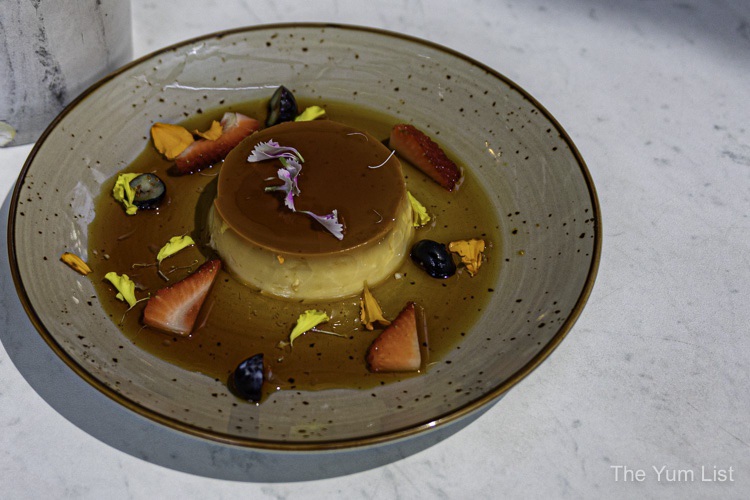 The Burnt Cheesecake (RM32) is another classic and sizeable enough to share. It may appear slightly dry at first glance but is wonderfully moist in every bite. Both desserts are sprinkled with edible flowers and berries, making them picture-perfect.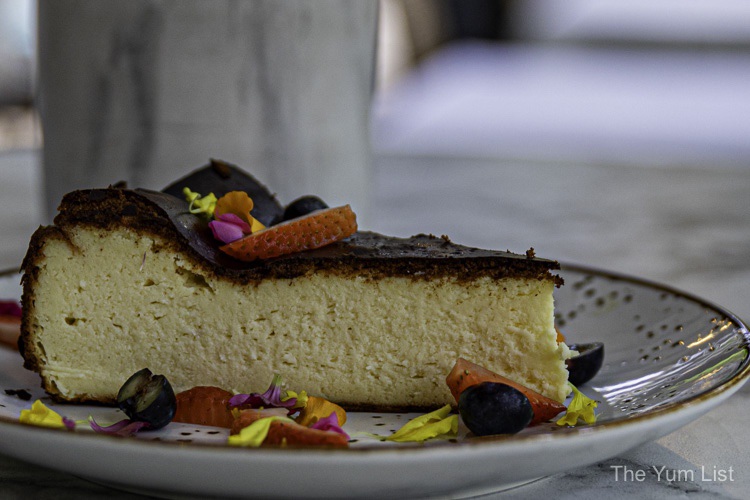 Brunch in Bangsar South
Five O'clock Brasserie is an ideal place in Bangsar South to relax and enjoy a delicious meal with friends and family, no matter what time of day it is. However, the new brunch recipes are good reason to go a little earlier, getting a gourmet head start on your day paired with Portofino gin and delicious Italian coffee. With its casual atmosphere, beautifully green-bordered and light-filled setting, friendly service, and extensive menu, there's something for everyone to enjoy.
Reasons to visit Five O'clock Brasserie: beautiful glass-walled location surrounded by greenery; great place for brunch in Bangsar South; exclusive Portofino gin and coffee; value-for-money wine list; something for all tastes on the menu.
Brunch in Bangsar South – Five O'clock Brasserie
Unit G-5, Level Ground Floor
The Sphere. No. 1, Avenue 1, Bangsar South City
No. 8 Jalan Kerinchi, 59200 Kuala Lumpur, Malaysia
[email protected]
+6 0172181734
*pork-free
Five O'clock Brasserie Operating Hours
Monday to Friday: 10 am-11 pm
Saturday & Sunday: 9:30 am – 11 pm
Find more brunch options in KL here and stay up-to-date with the latest gourmet and travel recommendations for Malaysia here and here.