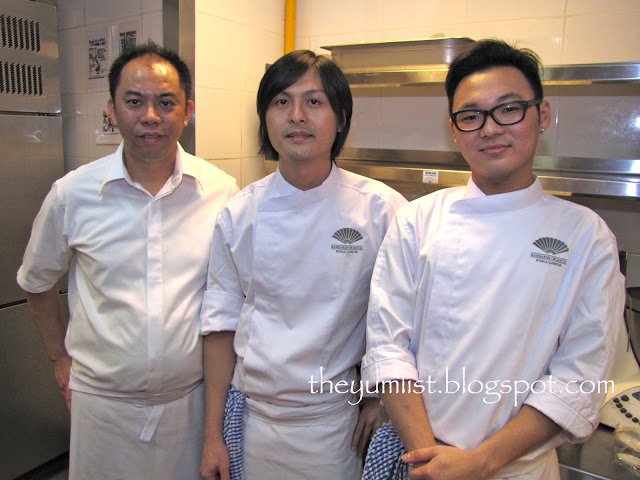 Chef Galvin Lim and his team from Les Amis Group Singapore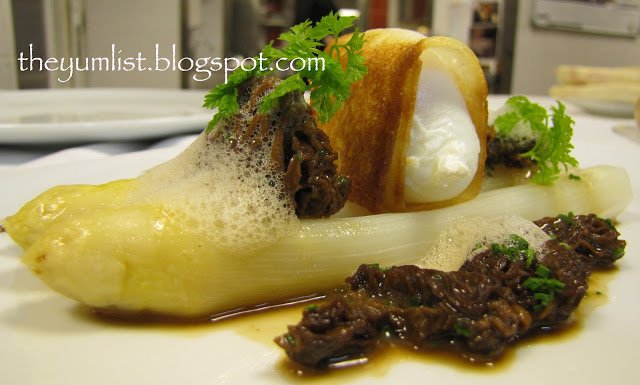 Ciabatta Wrapped Marinated Crispy White Asparagus with confit egg and morel mushrooms
French white wine to complement the asparagus and fish dishes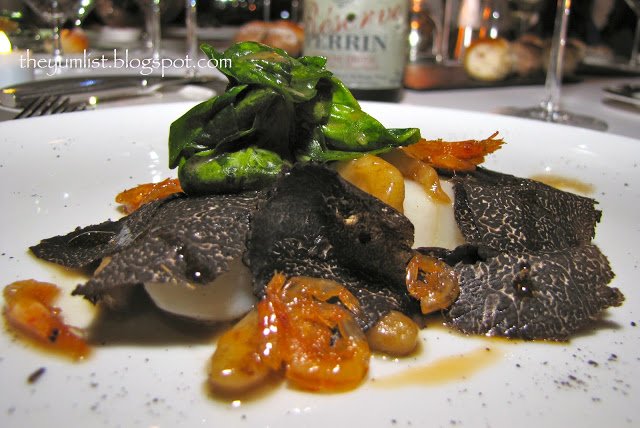 Slow Cooked Danish Halibut
Fancy Lemon Tart, Petite Fours and a syrupy dessert wine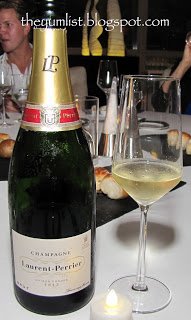 Never failing to impress, the Mandarin Oriental recently hosted a cooking class with Group Executive Chef
Galvin Lim of Les Amis Group of Restaurants in Singapore. In their usual superlative style, participants were treated like royalty with every detail and more being taken care of.
Beginning with pre-class refreshments and the handing out of signature aprons and note taking utensils, participants had the chance to mingle and prepare for the class. A short welcome and introduction followed and then the master chefs wowed us by showing the preparation that goes into fashioning a designer meal. Precision in timing and measurements seemed to be key. Observers were invited to have as much or as little hands-on as they pleased, with those who joined in quickly learning that the able hands of the instructors made it look much easier than it really was. Prepping and cooking was not the end. Much thought also goes into plating the dish. We watched as the chefs artistically groomed to shape the final masterpieces. A break after the class was factored in for freshening up and then we all reconvened in the stylish Mandarin Grill to gourmandise the meal. With its glittery lighting, magical fountain and garden views, cushioned armed chairs and thoughtful offering of shawls for the cool, the restaurant proved an impeccable scene for an affair which just kept getting better.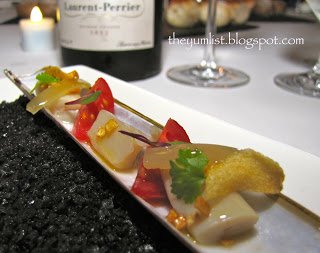 Always going beyond expectations, the three course meal we had signed up for at the MO, came with a surprise extra two dishes – a seafood starter and the Sunny Side Up dessert (left and below). The dreams we 'learned' (some more than others) to cook up were: Ciabatta Wrapped Marinated Crispy White
Asparagus with confit egg and morel mushrooms; Slow Cooked Danish Halibut "sous vide" style potato
gnocchi, spinach, sakura ebi and Australian black truffle and; A Fancy Lemon Tart with thyme ice cream – a base of merengue, dollops of lemon curd, sprinkled with crumble and finally crowned with a smooth fresh lemon thyme ice cream. Also unexpected was a wine pairing for the meal, by the savvy Les Amis group sommelier. Starting with a glass of French bubbly and continuing around the country, guests were not disappointed.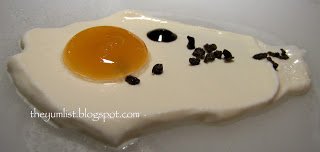 All evening chefs, managers and staff were buzzing around the cooking class and dinner just as excited by the guest chef as were the 'civilian' participants. A never ending stream of personal attention was gladly received by the group. The courtesy even continued while walking out the door as we were handed a goody bag with apron, Chef Holger's sweet treats and recipes collated in an album. This whole culinary journey was only RM255++.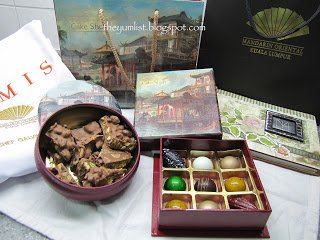 I would like to say that I went home with new skills, cleverly whipping up these fantasies in my kitchen, but alas, no. What I did further appreciate are the intricacies and precision that go into preparing these culinary delights. From start to finish care, attention to task and kitchen confidence are vital to the final product. The visiting representative for the Le Amis Group, described the kitchen as an art gallery. Some of the dishes are traditional just like a master painter such as the Danish Halibut, whereas others are more contemporary designs such as the Fancy Lemon Tart. Enjoying the experience immensely, I am happier than ever to leave the food preparation to the experts and partake only in what comes out on the other side.
Reason to visit:
outstanding value for money, a chance to get up close and personal with leading master chefs from around the world, goody bag with
Chef Holger's sweet treats
Mandarin Oriental Kuala Lumpur