Chef Igor Macchia explains the philosophy behind his cooking style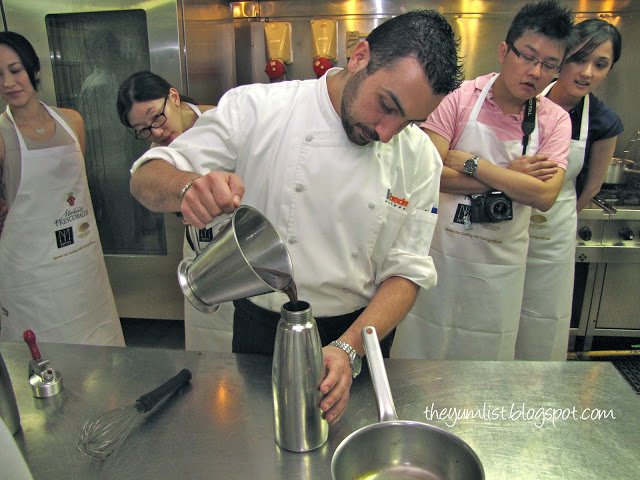 Participants watch carefully as Chef Igor works his magic
After the cooking class guests were refreshed with a cool Pinot Grigio while waiting for the four course dinner prepared by the experts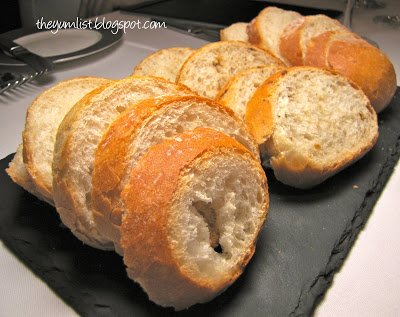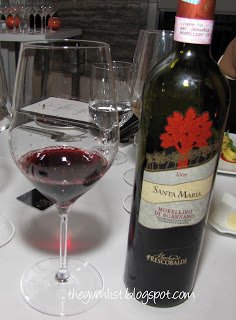 Dishes were paired with wine from one of Italy's most respected wineries –
Frescobaldi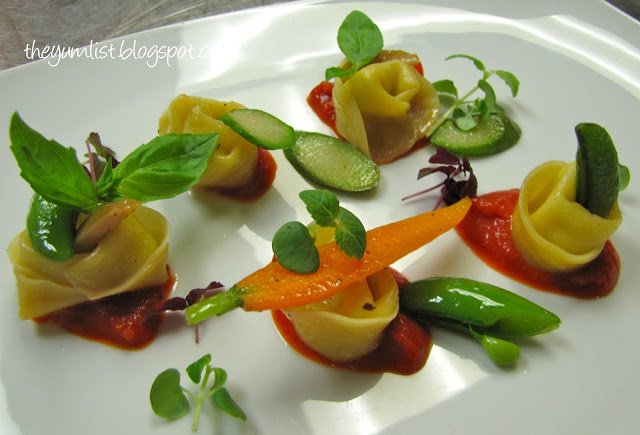 Ravioli alla Mozzarella di Bufala, Verdure, Salsa al Pomodoro e Basilico – home bade buffalo mozzarella ravioli with vegetables, tomato sauce and basil. Santa Maria Morellino De Scansano 2009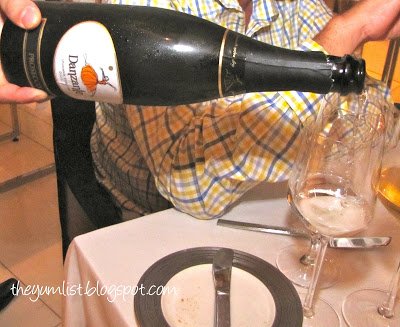 The second course was accompanied by Danzante Prosecco NV
Rotolo di Salmone, Spinaci, Patate e Salsa ai Pomodori e Porri – salmon roll, spinach, potato, leek, tomato sauce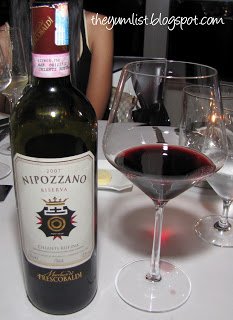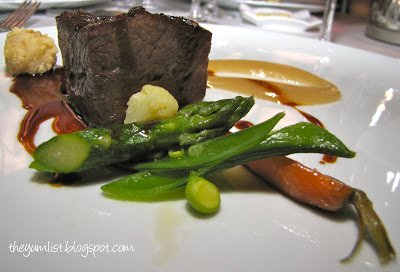 Guanciale di Bue, Pure alle Mele Verdi e Fave di Tonka, Verdure Saltate – braised beef cheek, tonka beans flavoured with green apple & vegetables. Marchesi De Fresobaldi Nipozzano Riserva DOCG Chianti Rufina 2007
Chef Igor's Special Tiramisu
A cooking class is never just a cooking class at Mandarin Oriental. The leaders of this hotel do everything with style and have managed to turn a potentially ordinary lesson into an occasion, giving attention to the smallest details and gifting participants with a memorable experience. Recently Chef Igor Macchia from the Michelin starred Italian restaurant, La Credenza, flew in to share his skill and knowledge through a cooking class and wine paired dinner. Both events were fully booked out but I was fortunate enough to score a place in the incredibly detailed and well planned cooking adventure.
First, guests were greeted with tea, coffee and pastries at the MO Bar allowing participants to mingle and relax before the class. We were then escorted to the enormous MO Kitchen and supplied with an apron and writing materials for note taking. Refreshments were served throughout and while the chef demonstrated and explained the makings of three dishes, participants unreservedly joined in and a natural atmosphere formed allowing a free flow of informative conversation. Ensuing the session, we were given some time to freshen up and then served a cool pinot grigio while being escorted to the dining table. The four course wine paired meal needed little explanation as we had a full appreciation of what went into the preparation due to the preceding two hour cooking class. We were modestly relieved that the experts assembled the meal while our earlier malformations were quietly discarded in the kitchen. At then end of the evening we received a goody bag containing a photo album, the emblemmed apron and
delicious treats
from
Chef Holger
at the
Cake Shop
. Memories will be kept alive with the complimentary class photo and an individual shot of each participant with the chef, copies of the recipes and pictures of the dishes we attempted.
Reason to visit:  incredible attention to detail, opportunities to learn from internationally renowned leaders in the F&B industry