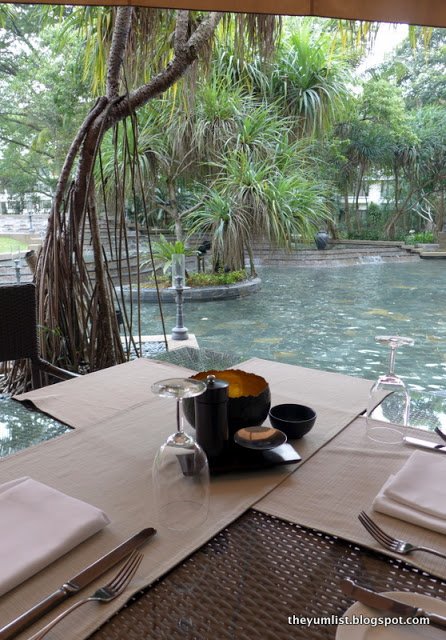 Water Views from The Restaurant


Power Lunch, The
Restaurant, The Club Saujana Resort
The
Restaurant is always a classy setting for a meal. Dark wood, cream tiles and
soft down lighting give a sophisticated appearance. Vases of pink orchids and
wooden local artifacts adorn the room. Glass doors on one side provide a
charming view of a running water feature and lush manicured gardens, while the
other perimeter is lit with a brand new wine cellar.
This time round we visited for The Restaurant's
Power Lunch. The menu changes every week and guests are given a choice of two
starters, two mains and two desserts. The menu we sampled (following), although
only lasting approximately a week, gives a good indication of the style of food
offered for the set lunch.
Warm house made bread – focaccia square and walnut
round – start the meal with olive oil and balsamic vinegar for dipping. The focaccia
was softly toasted on the outside and light within quickly dissipating in the
mouth. The walnut roll had a subtle nutty taste and was a little more
substantial, disappearing only after a couple of chews.
Walnut and Focaccia Breads
For starters diners have a choice of soup or salad.
My Broccoli Cream Soup with Buttered Croutons was creamy, aerated and
flavourful. Hubby's choice of Mixed Garden Lettuce with Balsamic Vinaigrette,
House Made Antipasto and Vegetables came on a large rectangular plate. Generous
amounts of lettuce, roasted yellow and green zucchini and, sliced fennel were
drizzled with a balsamic dressing. Sprigs of dill, Italian parsley and cilantro
added freshness. Both were great starts.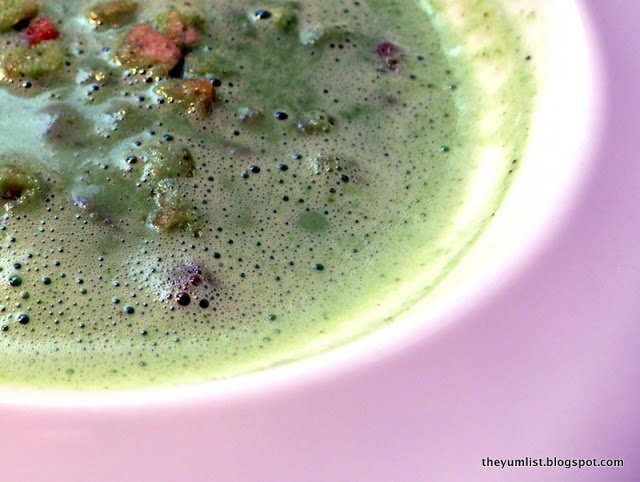 Broccoli Cream Soup with Buttered Croutons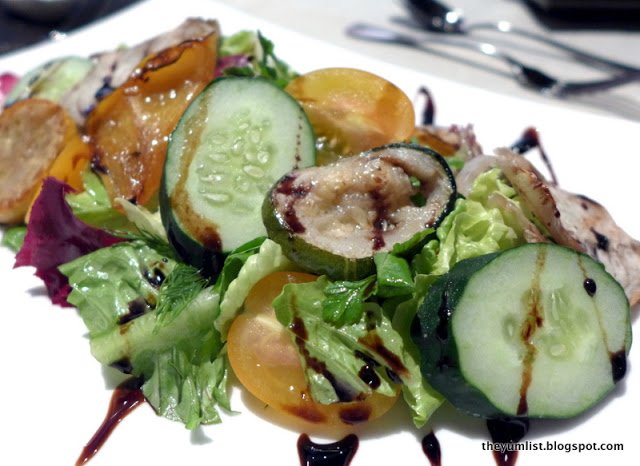 Mixed Garden Lettuce with Balsamic Vinaigrette
For the mains, it's a simple decision between land
and sea.
The Australian Whiting Fish in Herb Batter with
Sautéed Garden Greens and a Remoulade Sauce was the ocean offering. Served in a
dim sum basket, the fish and vegetables were still warm when arriving. The
batter was on the thicker side but crisp and went well with a squeeze of lime
and the fresh dill white sauce.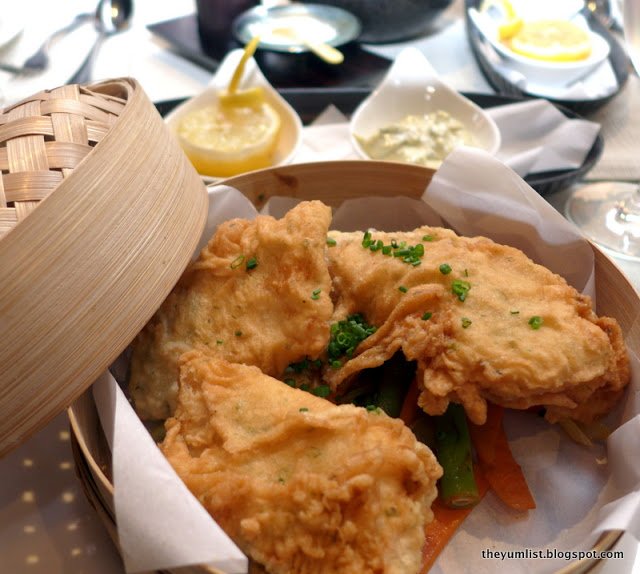 Australian Whiting Fish in Herb Batter
Grilled Lamb Chop with Ratatouille Vegetables and
Potato Wedges will please the carnivores. A stack of three chops peaked the
middle of the plate and vegetables in a red tomato sauce supported the base.
Lines of the grill marked the pink meat and the taste of charcoal was imbued in
the flesh.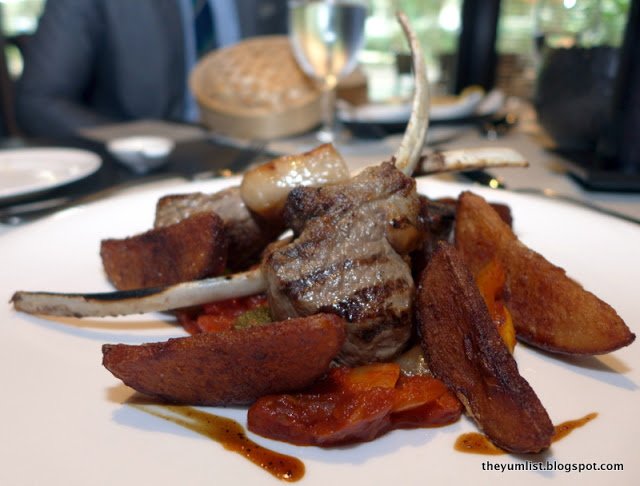 Grilled Lamb Chop
Dessert is always a hard decision for me. How to
choose which one? That's what husbands, girlfriends and dates are for right?
You can really have both. 😉
Chocolate Mille Feuille with Berries was a rich,
decadent trio of layers – dark dense short crust base, milk chocolate mousse,
dark chocolate ganache and finished with chocolate shavings. Strawberries,
blueberries and raspberries formed a line on the side. The Frozen Pear Terrine with Milk Gelato was ice
cold! A round circle of poached pair was frozen and sweet and topped with a
white orb of ice cream. It's perfect on a hot, humid day.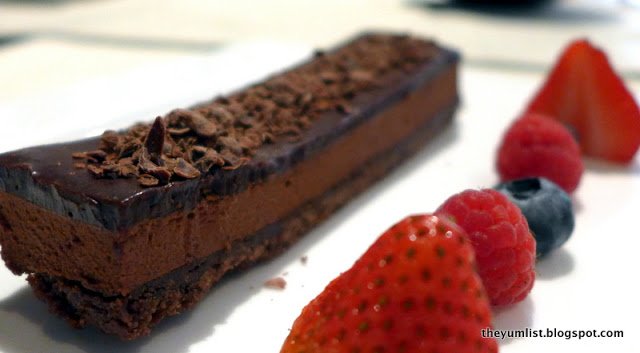 Chocolate Mille Feuille with Berries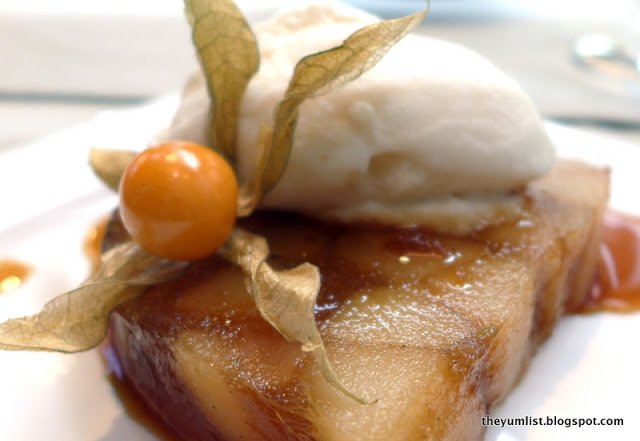 Frozen Pear Terrine with Milk Gelato
The Power Lunch is priced at RM88++ per person,
which includes a starter, main and dessert.
Your choice of coffee, Freshly Brewed, Espresso,
Café Latte or Cappuccino can be purchased for an additional RM20++. Regular tea
costs RM16++, which includes Darjeeling, English Breakfast, Earl Grey,
Peppermint, Chamomile, Jasmine, and Green. You can also order an interesting
TWG Tea flavour such as Chocolate, Rum or Crème Brulee for RM20++.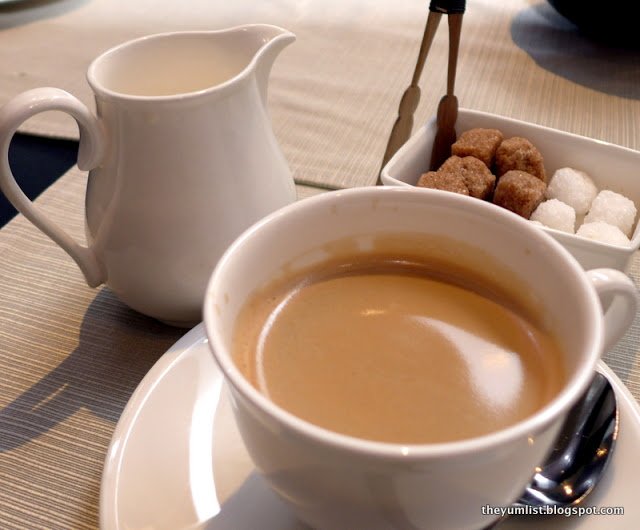 Illy Coffee
Reason to
visit: lovely natural ambience, impeccable service, Chocolate Mille Feuille with Berries (!)
The
Restaurant
The Club Saujana Resort
Saujana Resort Jalan Lapangan Terban SAAS
40150 Shah Alam Selangor Darul Ehsan
Malaysia
+6 03 7806 7000