A smiley doorman has our bags out of the taxi's boot before our feet have even hit the pavement. He's an older gentleman and I reach in to assist. His smile broadens as he says, "These are only two small bags. I'll take care of them and shoos us up the stairs to check in." Our documents are taken and we're escorted to our room within minutes of arrival. Given a quick tour of our room, we're offered a hot beverage and left to admire the contemporary design of The Landmark Mandarin Oriental.
First impressions are positive. Our brief experience with service has been flawless. The design of the room is modern, yet expresses a class that should remain stylish in years to come. Location too, could not be better.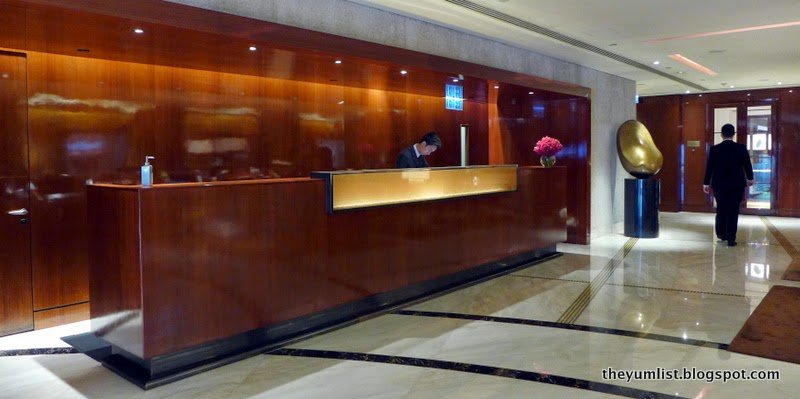 Reception
Besides being the business centre of the city, the hottest dining, shopping, entertainment and tourist areas are all either within a few minutes walking distance from the hotel, or easily accessed by the wonderfully efficient MTR, of which Central station is mere metres away. I ask the concierge if one of the famous restaurant streets is within walking distance, and if it's safe for me to walk by myself at night. I detect he had to hold back a chuckle, because YES you can walk everywhere, there are about five famous restaurant streets within walking distance, and too Hong Kong is one of the safest cities in the world.
Soho, the Mid-Levels, Lan Kwai Fong and Sheung Wan are packed with restaurants, bars, quirky shops and galleries that could fill in an endless number of hours of tastings and browsing. High-end boutiques found in places such as The Landmark and IFC Mall, are juxtaposed with the laneways sprouting markets selling just about everything from accessories, to fabrics, to souvenirs and clothing. Parks and museums seem to be on every corner, and the airport express train has commuters to the city in just 24 minutes.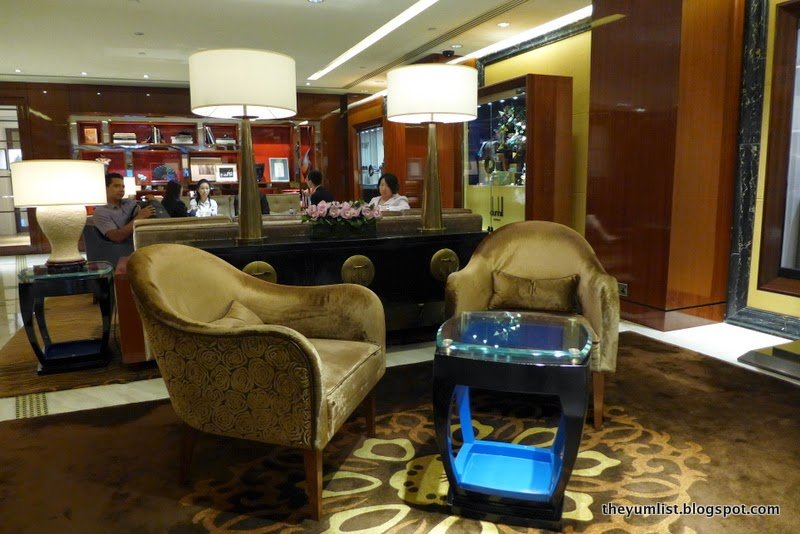 Lobby Lounge
We're settling into the lovely space of our room though, and think we'll muse over our surrounds a little longer. At only 109 rooms, The Landmark Mandarin Oriental is close to a boutique hotel in size. Service is definitely of that nature, and you'd be hard pressed to find any finer assistance in the city. Our tea and coffee have arrived, and soon after wine and some cold cuts are delivered too. Efficiency, level of English and accuracy of service are stellar.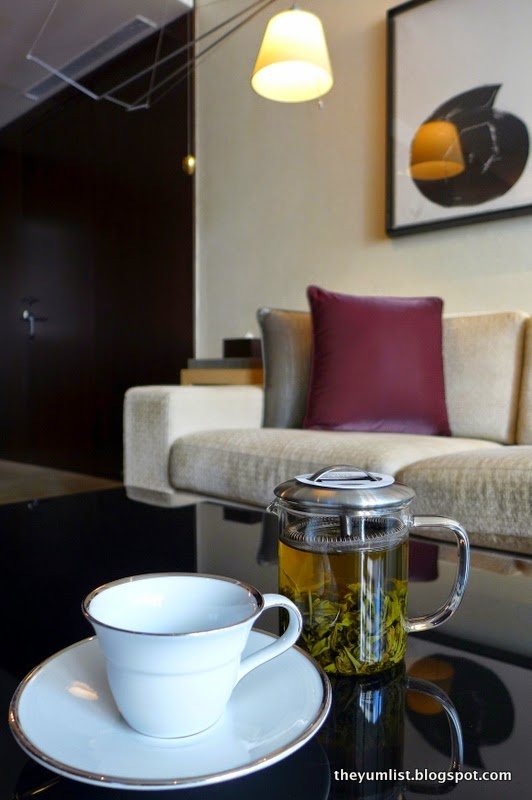 Hot Beverage on Arrival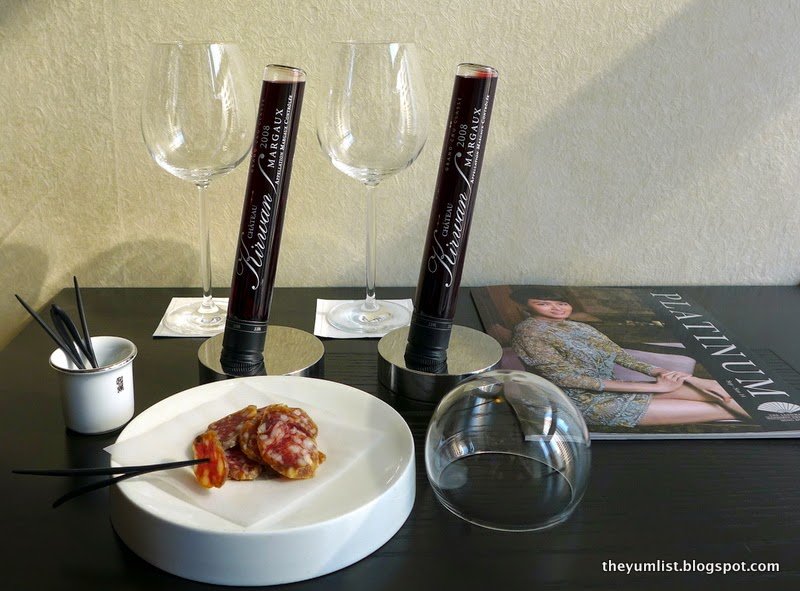 Welcome Wine and Salami
A classy colour palette, one that seems will never fade from fashion, is the canvas for changes in line and texture of surfaces, seen in tiles, wallpaper, upholstery and flooring. Gentle lighting from lamps and fixtures shine a warm glow, and modern artworks are well placed: pleasing to the eye, but collaborating with the design features of the space, rather than dominating them. Automatic blinds drench the room with sunlight during the day, or provide complete privacy and darkness at night.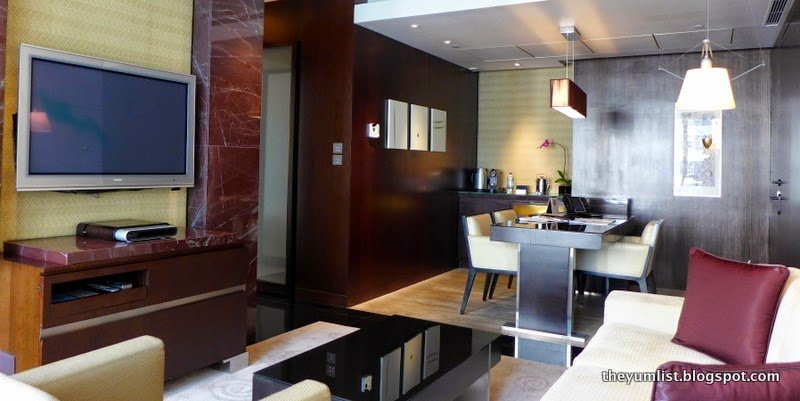 Living Area
A generous 600 square feet of space (hence the name) composes our L600 Premier Room with a foyer with guest toilet, living and office area, bathroom, bedroom and dressing rooms. All can be opened giving a feeling of spaciousness (that many Hong Kong resident's apartments don't afford), but also closed creating quiet places of privacy where one section does not disturb the other.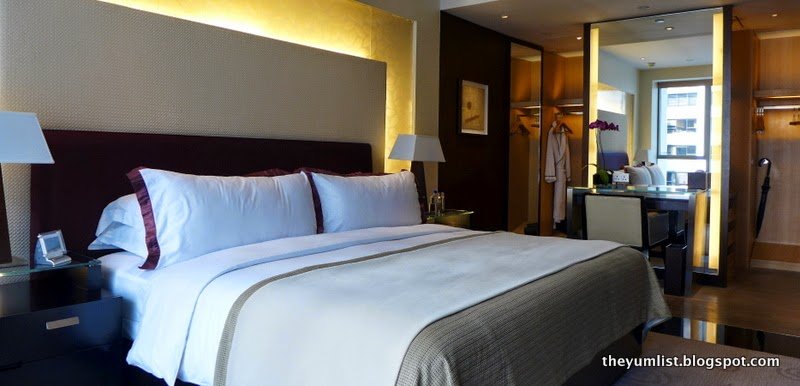 Bedroom
The bathroom is striking with its focal point a seven-foot annular bathtub, big enough for two and appended with bath salts and fresh flowers. Double dressing rooms and his and hers sinks are thought highly of too. Goose down bedding by Ploh dresses the king size bed in luxurious comfort, and aromatherapy oils placed in the room at night encourage a peaceful night's rest. The living area is divided by furniture, with one end furnishing a chic lounge and low coffee table, and the other a work or dining space and mini-bar.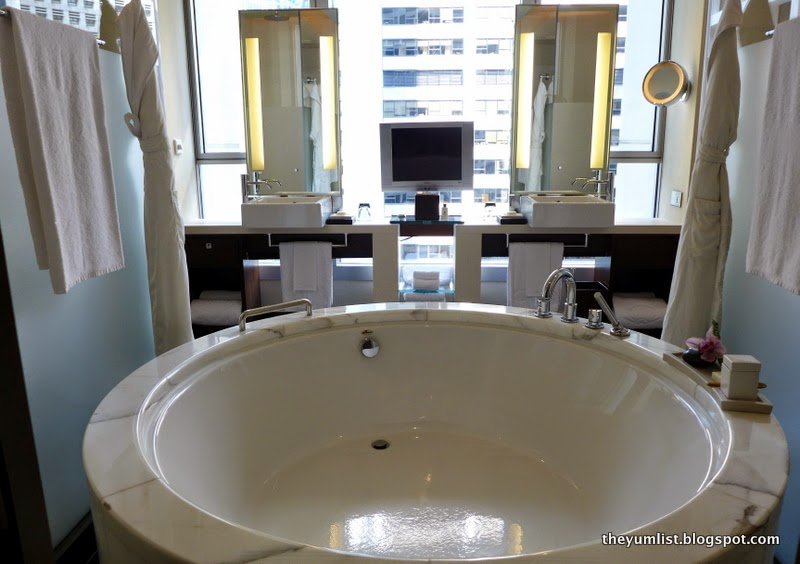 Bathroom
Orchid and Bath Salts
While the layout and appointments are well done, it's the details that give The Landmark Mandarin Oriental its chic edge: complimentary high speed Internet; yoga mats; shoe horn; scale; local candies; Nespresso machine; Jing tea; premium sound system; three TVs, premium chocolates from La Maison Du Chocolat Paris at turn down service; summer and winter robes; Jo Malone bath products; and specialty his and her grooming tools such as razors, a full size emery board and nail buffer.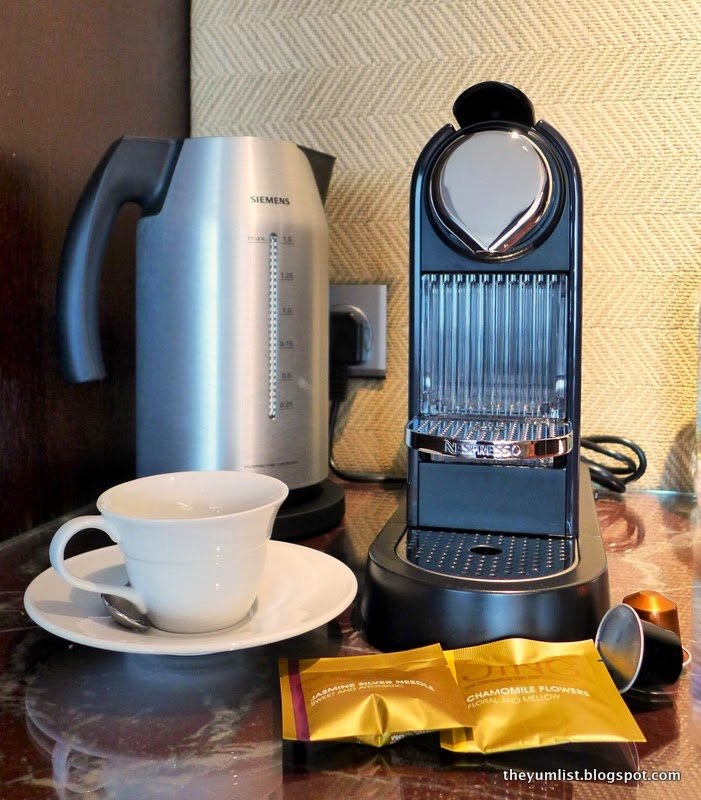 Coffee Machine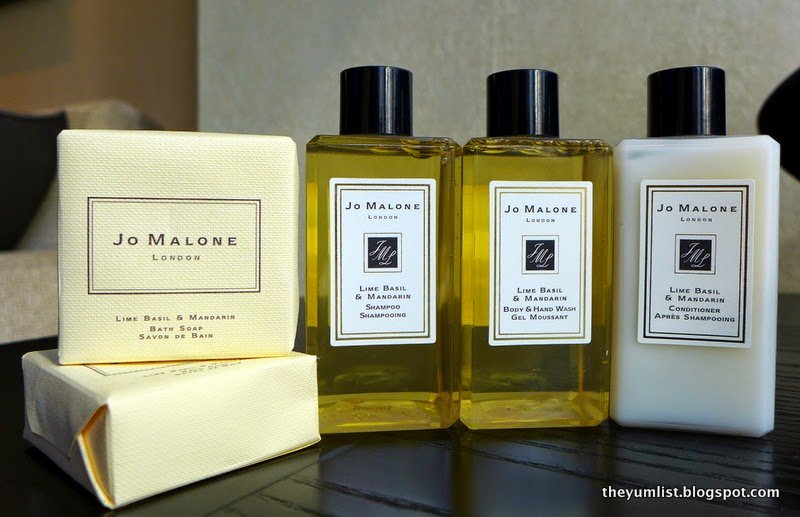 Jo Malone Bath Products
Venturing out to explore other floors we find a spa, which looks absolutely heavenly, a fitness centre, indoor swimming pool, yoga and Pilates studios. I get a quick run in at the gymnasium during the stay and note that both cardio and strength machines are in excellent condition proffering the latest in technology. Towels, water, sanitized headphones, and fruit are all provided. A longer stay would definitely warrant a spa treatment, as the facilities look stunning: Turkish Hammam, Moroccan Rasul and Roman Laconiums are all calling my name.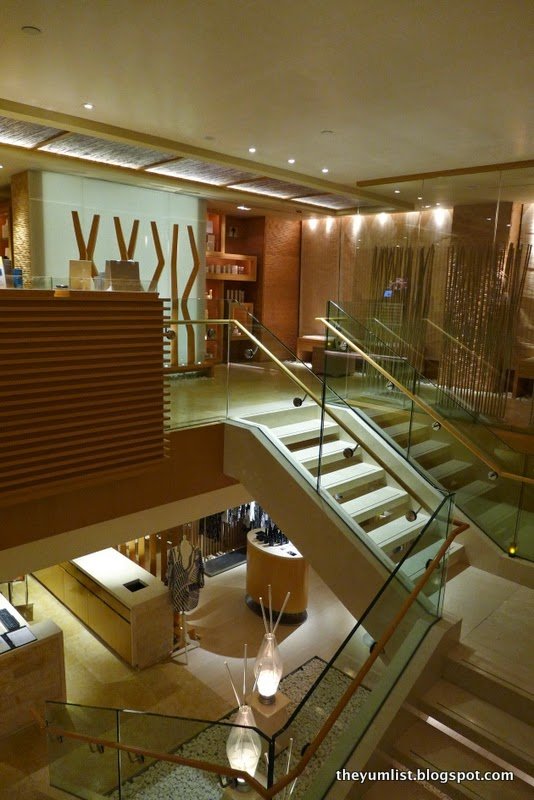 Spa and Fitness Area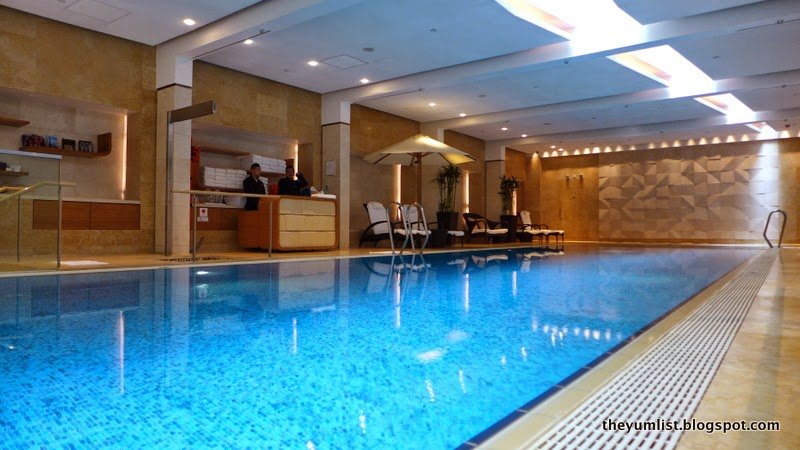 Indoor Pool
Many packages at the Landmark Mandarin Oriental include a buffet breakfast at MO Bar or set breakfast at Amber. The latter is a multi-award winning modern European restaurant holding a coveted place on S. Pellegrino's "World's 50 Best Restaurants" list, fourth spot in "Asia's 50 Best Restaurants," and two Michelin stars – just to name a few! We had an incredible wine paired degustation menu for lunch during our stay.
You can read more about the restaurant and our most loved dishes via this link.
 As we strongly urge you to make a reservation for dinner or lunch at Amber, we recommend starting your morning at the MO Bar.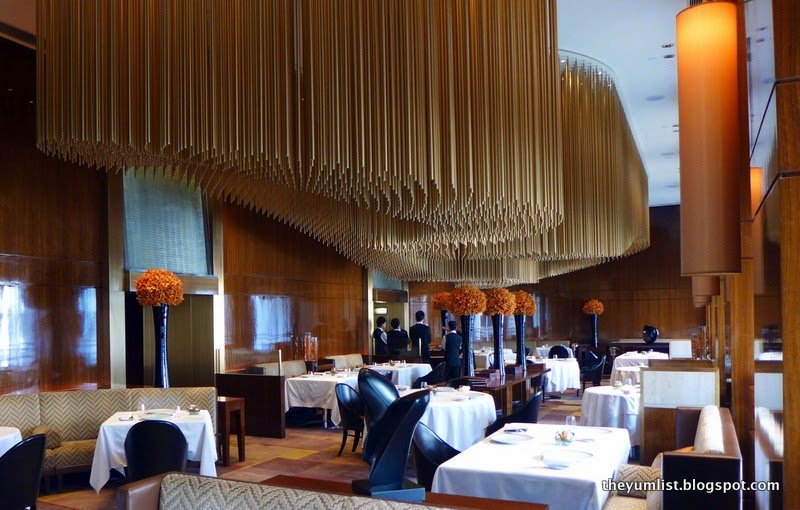 Amber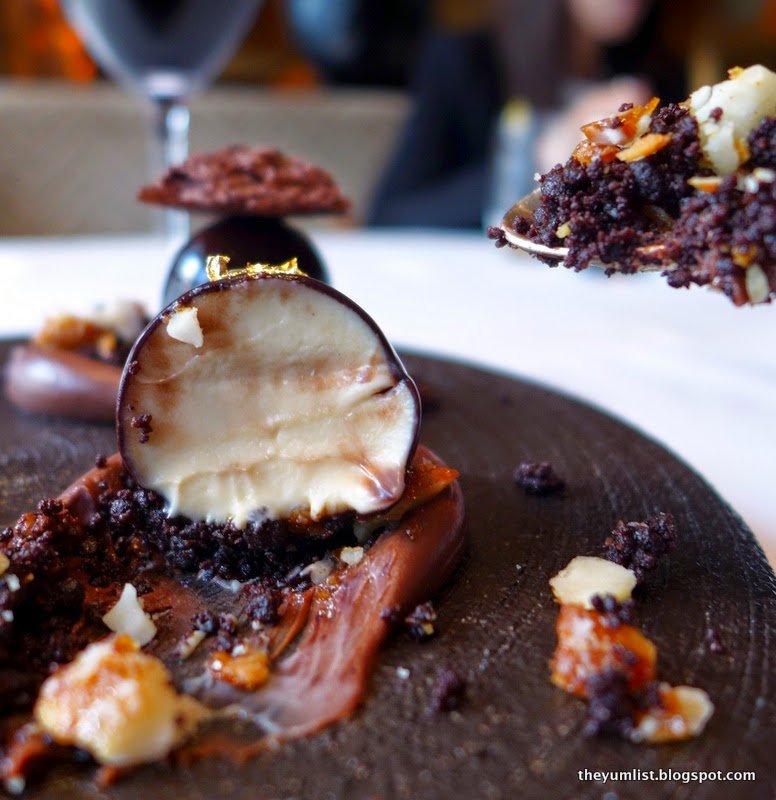 Exquisite Cuisine at Amber
A fantastic bar fashioned with glass, mirrors and gentle uplighting reflecting off the shiny surfaces, makes a focal point for the MO Bar. For breakfast, its edges are piled high with American classics and a choice of dim sum, with many organic ingredients used in the recipes. Chefs man live cooking stations preparing eggs and freshly pressed juices to order, and we note the selections on the spread of high quality. It's quite a casual ambience with low coffee tables and high bar stools laid out on cream marble flooring and olive green rugs. Breakfast could easily turn into a couple of hours of sipping, nibbling and conversing in this pleasant environment. But alas, time is short and we must move on.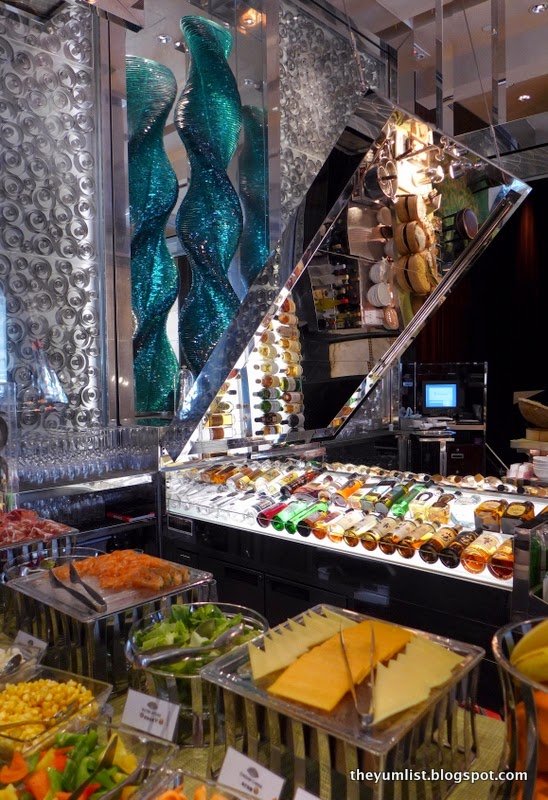 MO Bar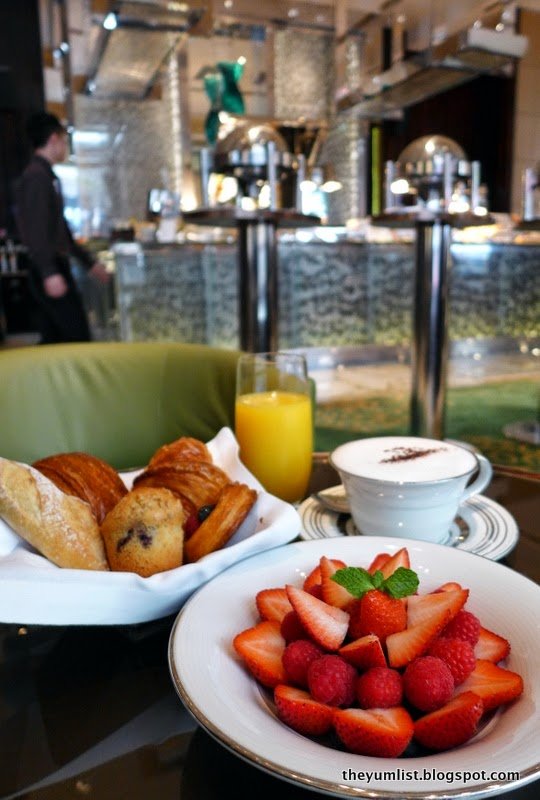 Breakfast at MO Bar
The Landmark Mandarin Oriental is a superb choice for business or pleasure. Convenient location, gracious service, contemporary rooms and wonderful food, deliver guests a premier experience filled with sophistication and serenity.
Reasons to visit: stylish hotel, great bathrooms, convenient location for business and pleasure, flawless service, Amber restaurant.
The Landmark Mandarin Oriental
15 Queen's Road Central
Hong Kong
+852 2132 0088