Just an hour from Brisbane and 90 minutes from the Gold Coast, Spicers Hidden Vale retreat is far enough removed from the urban sphere to experience a complete escape, but sufficiently close to make a very convenient getaway.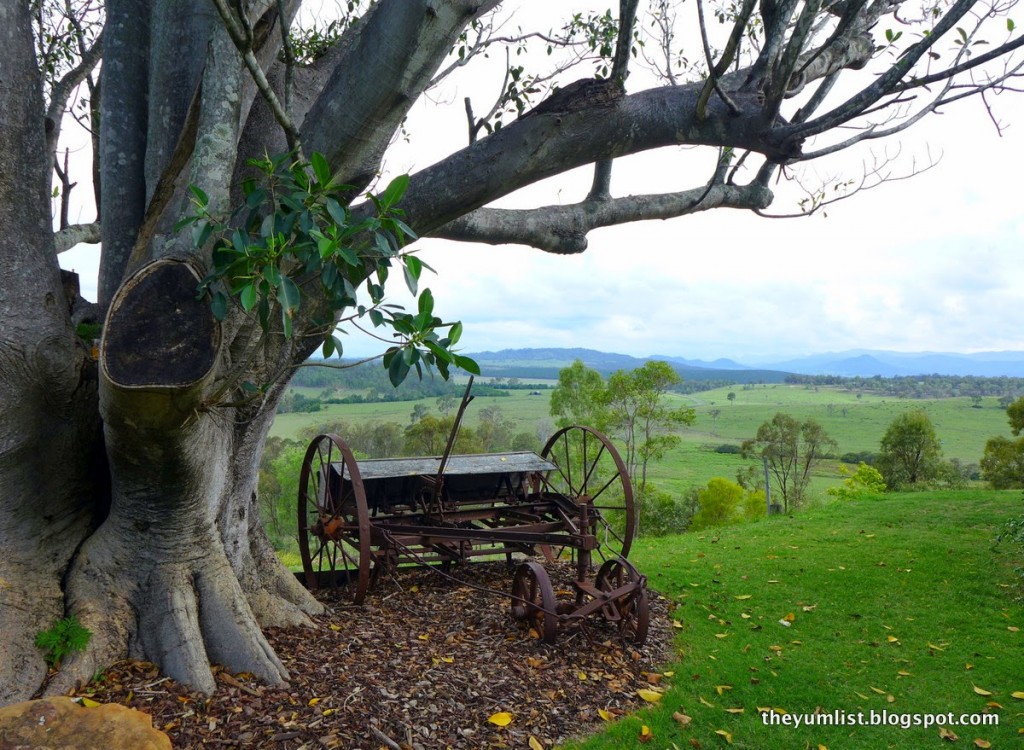 Peaceful Spot
Location
As scenery changes from inner-city high density, to suburban sprawl and ultimately to countryside peacefulness, we feel our respiration slowing and our smiles broadening the nearer we approach. Car air-conditioning is abandoned as windows are rolled down and the crisp eucalypt air fills our lungs with health and the spirit of adventure. We move at a leisurely pace already feeling freedom in the expanse of space and lack of man-made boundaries.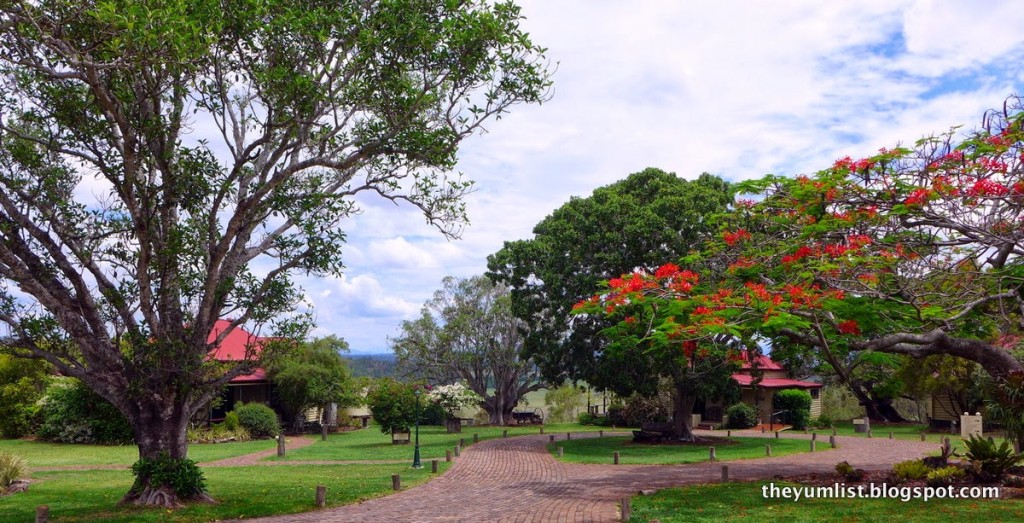 Driveway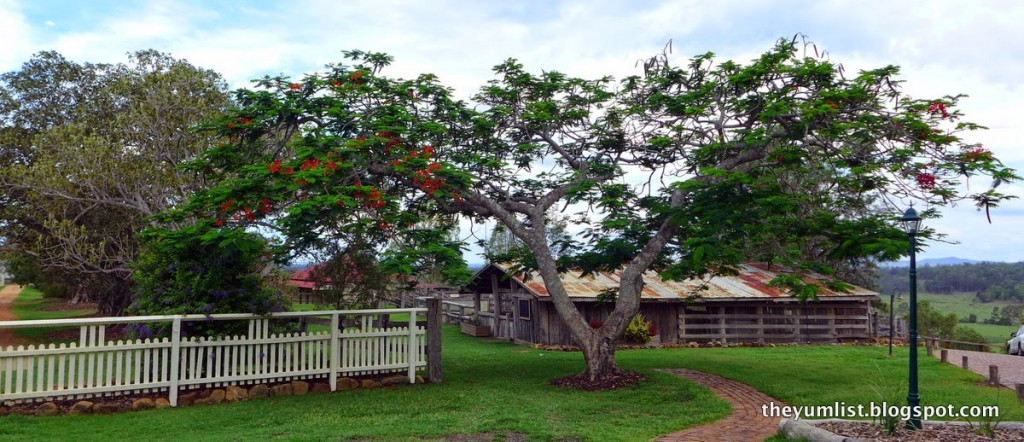 Grounds of Hidden Vale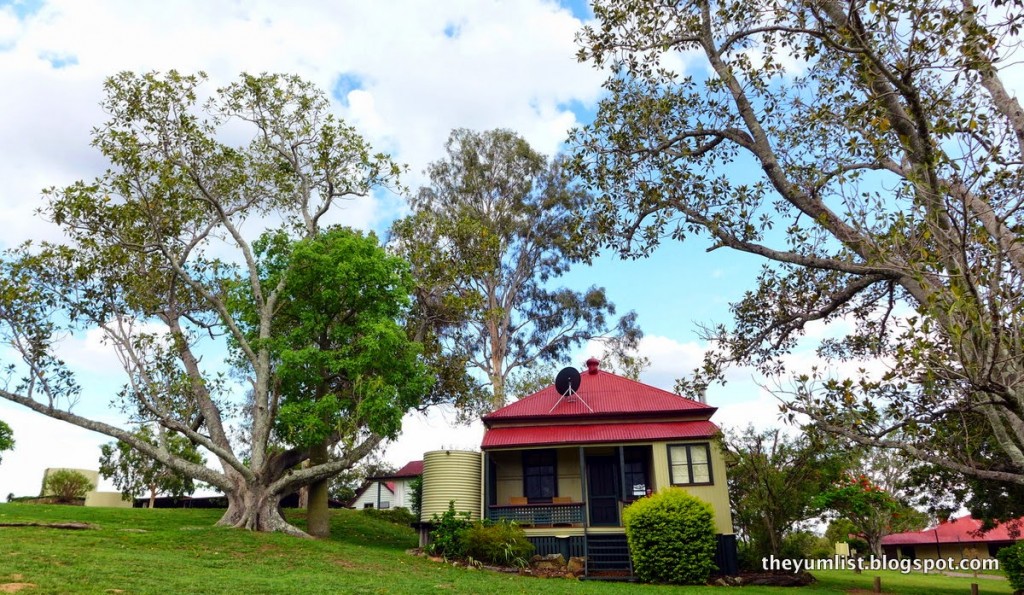 Cottage Surrounded by Space and Greenery
Spicers Hidden Vale's 12 000 acres of Australian bush land comprises a working cattle farm, nature refuge, mountain biking and hiking paths, 4WD trails, an abundance of native wildlife and domesticated animals. Residences and facilities are clustered at the peak of the main hill sharing spectacular views of the valley below and mountain range beyond. It's an adventurer's haven or a peaceful sanctuary. The wonderful notion about this property is that you choose: "Do as much or as little as you like."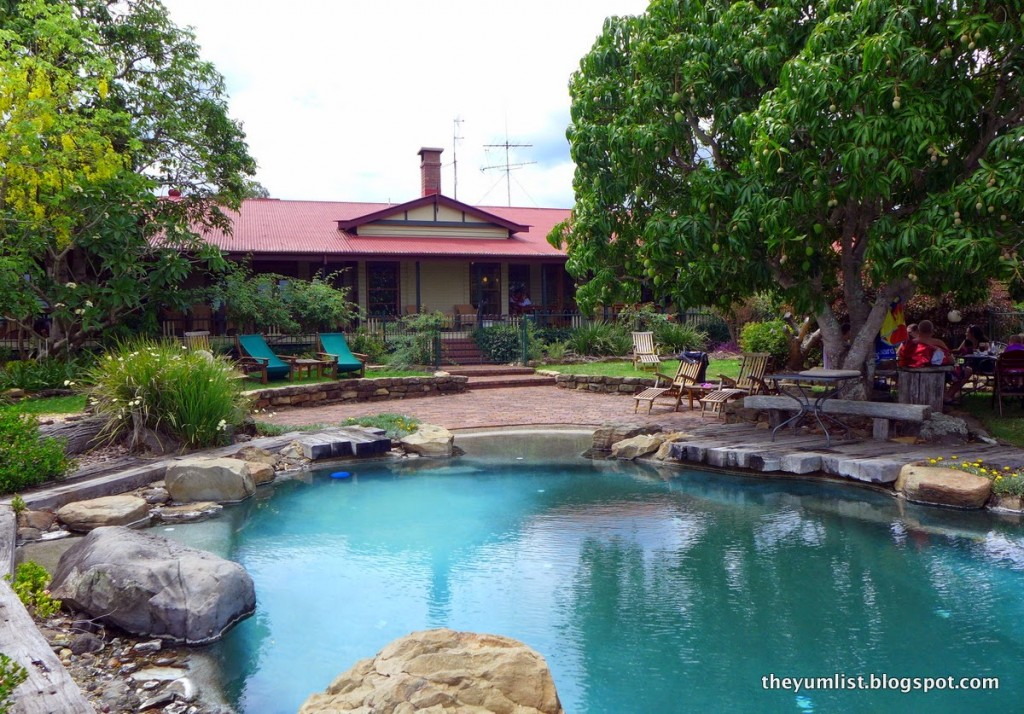 Main Homestead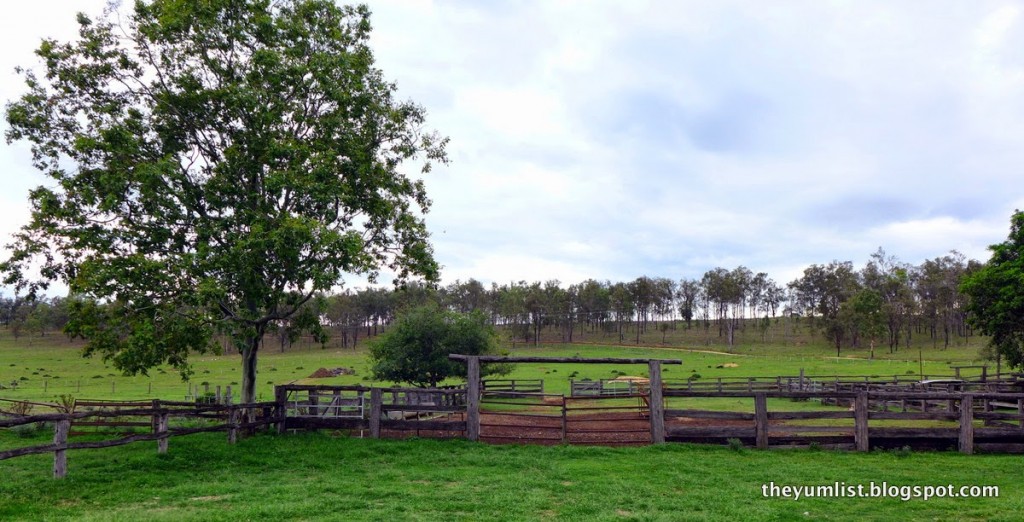 Cattle Yards
Accommodation
Accommodation consists of a series of cottages, transported from around the region, many from neighbouring Toowoomba, and a number of original old railway buildings. Ranging from one bedroom, to six bedrooms all with ensuites in one home, there's something for everyone, from an intimate couple's private weekend away to a jovial family gathering.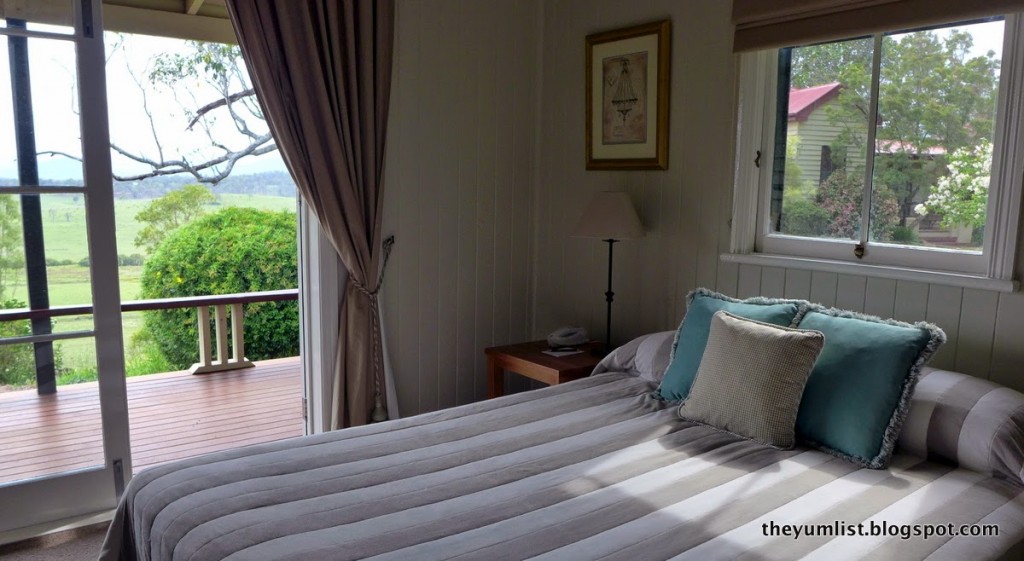 Entry Level Room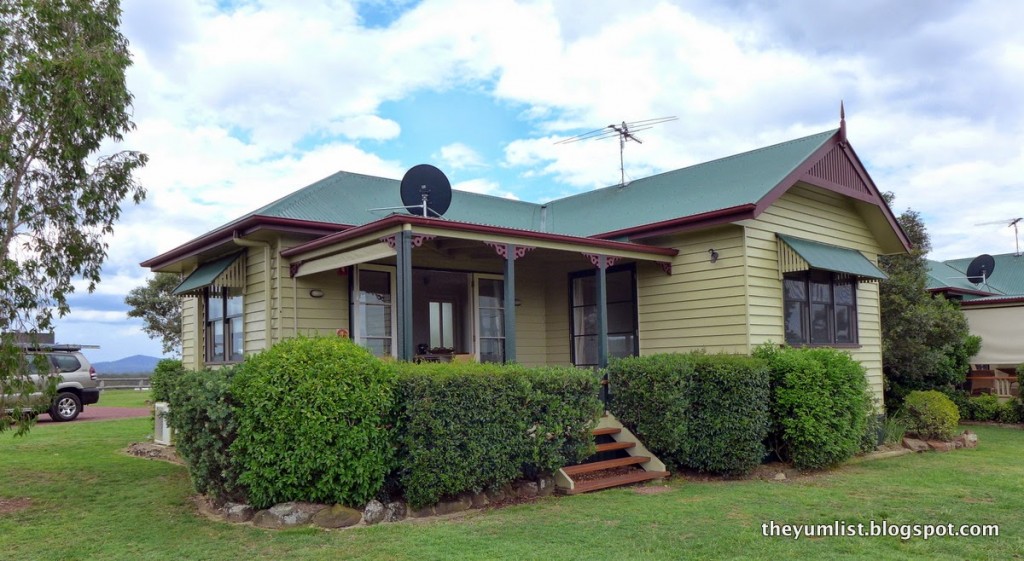 Black Angus Cottage
Our Black Angus Suite stands at the far end of the cluster offering the ultimate in privacy. Separate lounge with fireplace, bathroom with Jacuzzi, walk-in wardrobe and bedroom make up the layout. Wooden floorboards hold modern country style furnishings, light and bright in their theme. French doors open up to a deck, immediately surrounded with shortly mowed grass and further out onto stunning valley views.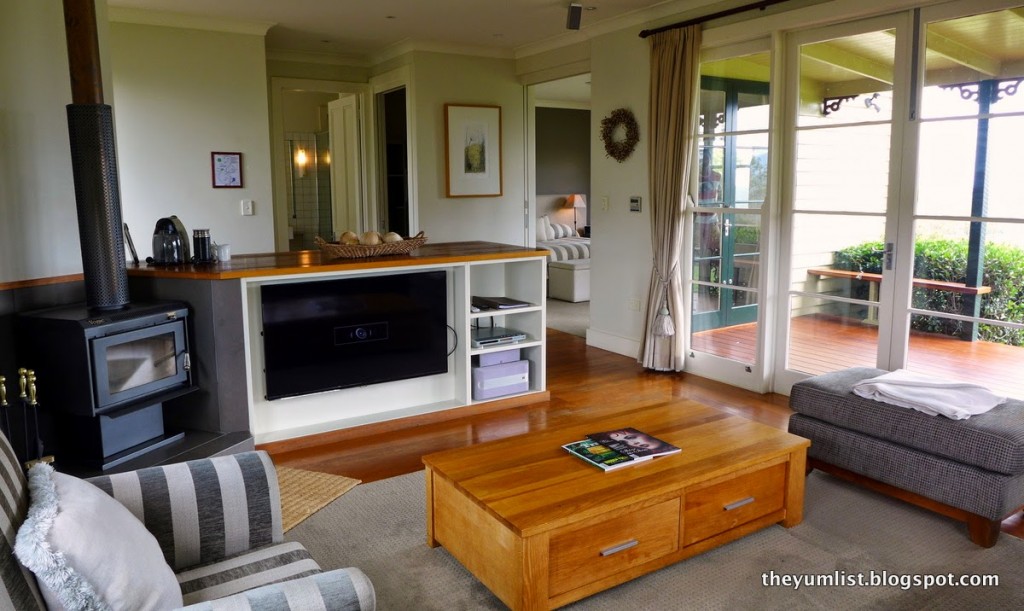 Black Angus Living Room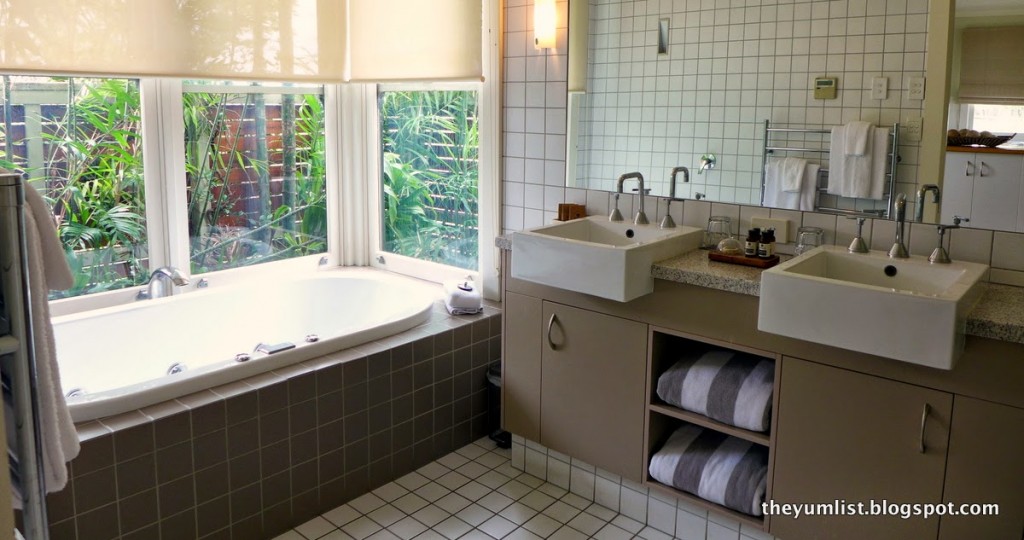 Bathroom with Jacuzzi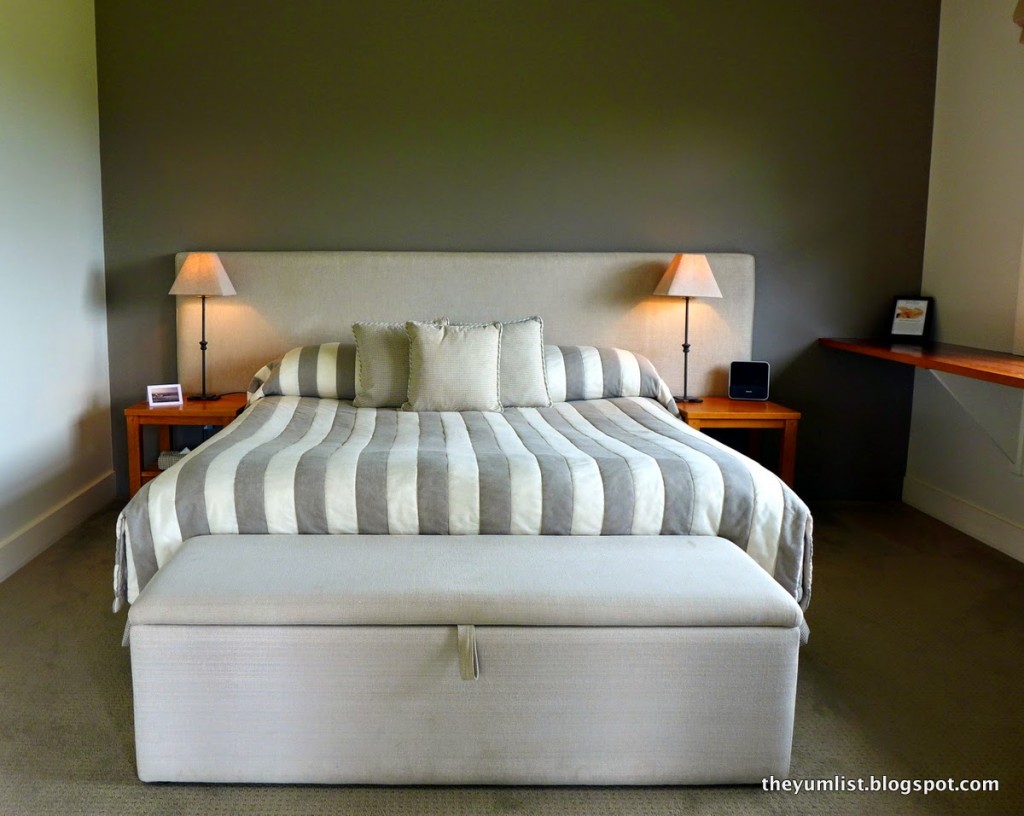 Bedroom in Black Angus
From our patio we're meters away from red-necked and pretty-face wallabies, and eastern grey kangaroos grazing on the encircling pastures at dusk and dawn. Hares hop by, camels, horses and donkeys roam past, and an innumerable number of bird species chirp, caw and trill. Hubby is ever so pleased. With the excitement of a six year old, he peaks from window to window, exits the front door, then stands on the back patio, making sounds I assume he thinks are calls to the wild.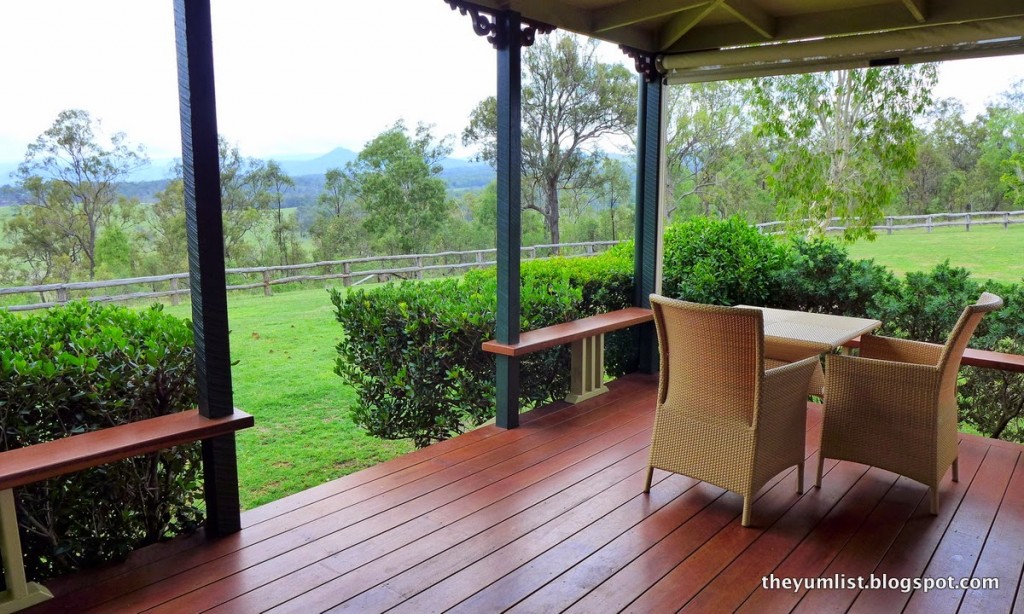 Verandah of our Cottage
Kangaroos
And, as if the natural fauna and flora were not enough, the sun is swept away and night transcends. A canvas of black holds millions of twinkling jewels. With no interference from artificial lights, the sky opens up broadcasting its grandness and giving perspective to the miniscule nature of our lives, and our supposed problems.
Back inside we're chuffed with the fridge stocked with loads of liquid refreshment: bubbly, beer, cider, juice, soft drink and chips and chocolate are supplied free of charge. Complimentary Wi-Fi is surprisingly good for the countryside, and other gadgets such as an enormous flat screen TV and high quality surround sound system add to the contemporary feel. Luscious bath products have me breathing in the scent of my hair for remnants of the shampoo long after washing, and even though it's summer, hubby has hinted a few times at using the tub of chopped wood on our front porch to stoke up a fire. Appetites beckon however, and I'm saved from having to be the 'sensible' one rejecting hubby's desire for flames, and we head off to discover what's for dinner.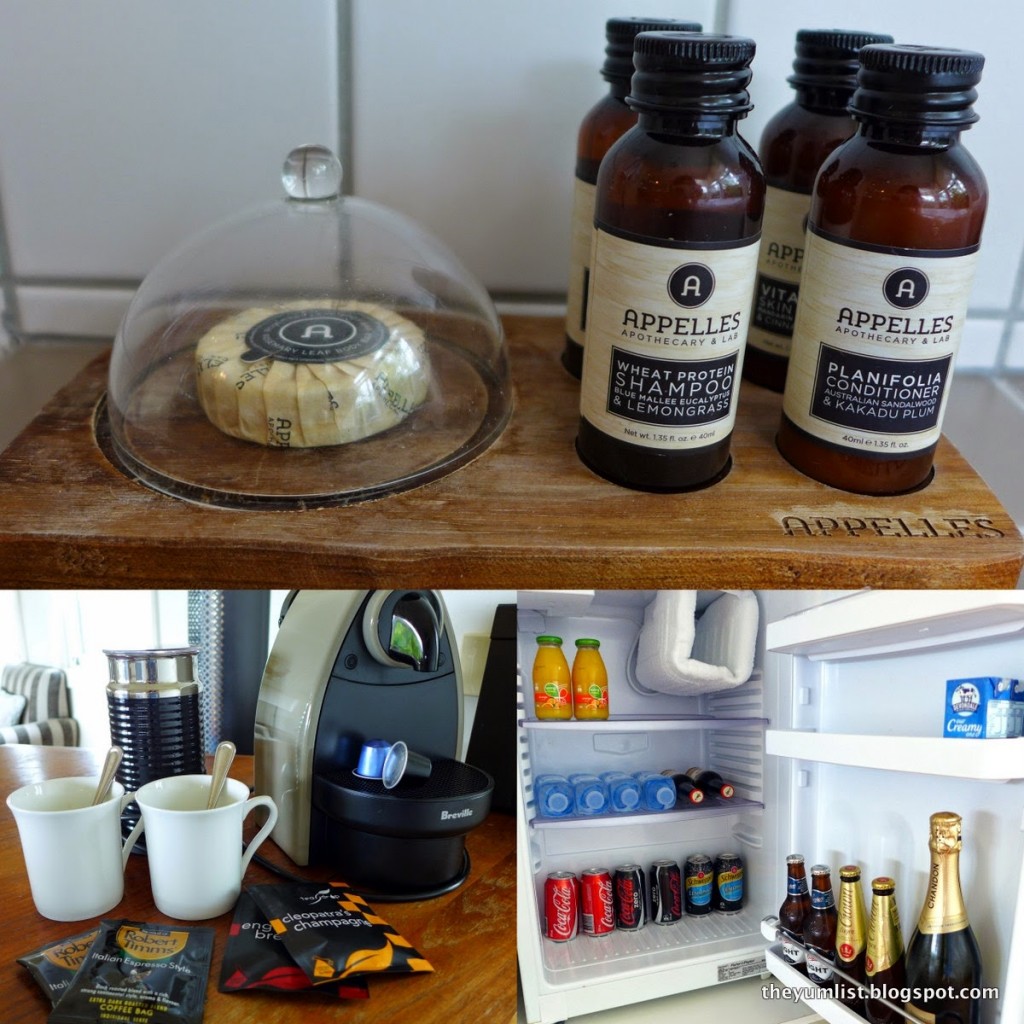 Special Touches
Food and Beverage
The Spicers Hidden Vale setting is incredibly beautiful and the dining scene is just as impressive. From paddock to plate, Chef Ash Martin, head of Homage restaurant, knows his produce. Highly valuing the source of every ingredient, if his kitchen team doesn't grow it, you can be guaranteed that they know personally who does. Each vegetable, fruit, fillet of fish and cut of meat has a story, and if you're interested, any member of staff will passionately narrate it to you.
Chef Ash Martin in the Market Garden
We've had a tour through the market garden in the afternoon where rows of vibrant capsicum and cherry tomatoes hang from vines. Pumpkins, melons and zucchinis are ripe for the picking, and herbs and salad leaves are gathered daily, just before meal service, gifting diners with the freshest of produce available. Honey is harvested from their very own bees and can be seen alongside homemade preserves during breakfast in the morning.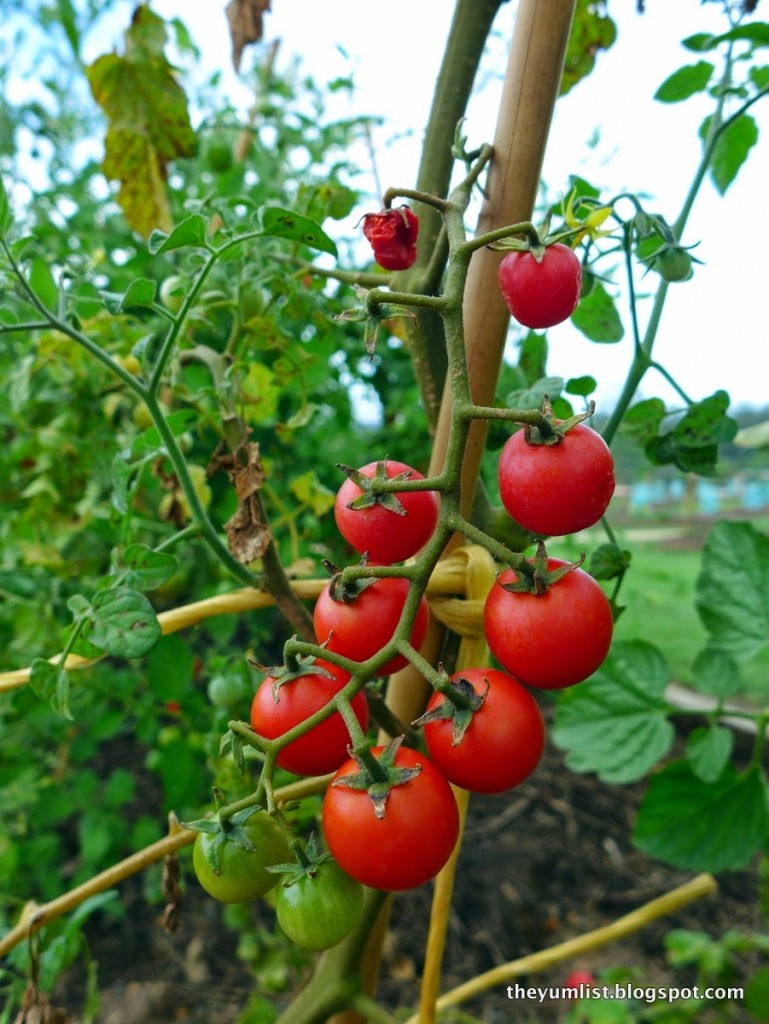 Garden Produce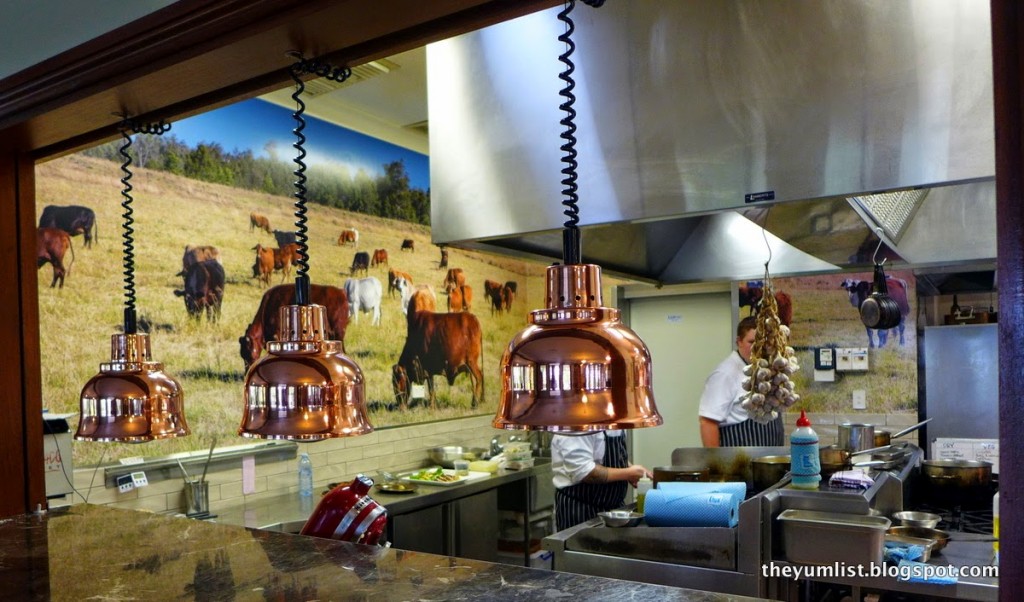 A Peek in the Kitchen
We found one time at Homage not enough. Chef's wine-paired degustation menu is a must-try, but so too are a great number of a la carte items. We'd even say, independently of staying at the retreat, that it's worth a drive out for brekkie. Each meal was so good they deserve individual posts so find here links to:
Lawn of Homage Restaurant and Jazz Stage on Sundays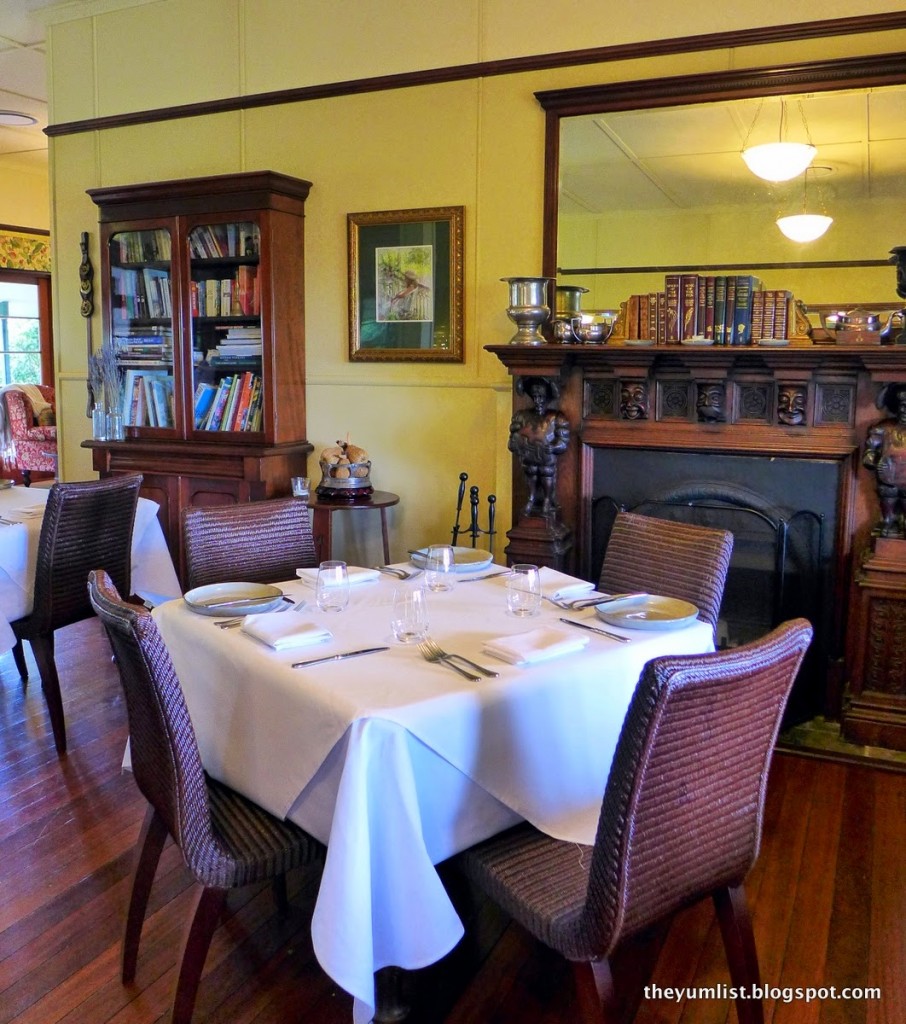 Homage Restaurant
Activities
Two swimming pools sit on the rim of the hilltop with infinity sides seeming to slip over the edge. The rock pool, surrounded by boulder and timber borders, and resting under a mango tree – in full fruit during our visit – imparts rustic charm. The heated lap pool and spa are more contemporary in design, with clean lines and streamlined deck chairs conveying modern minimalist appeal.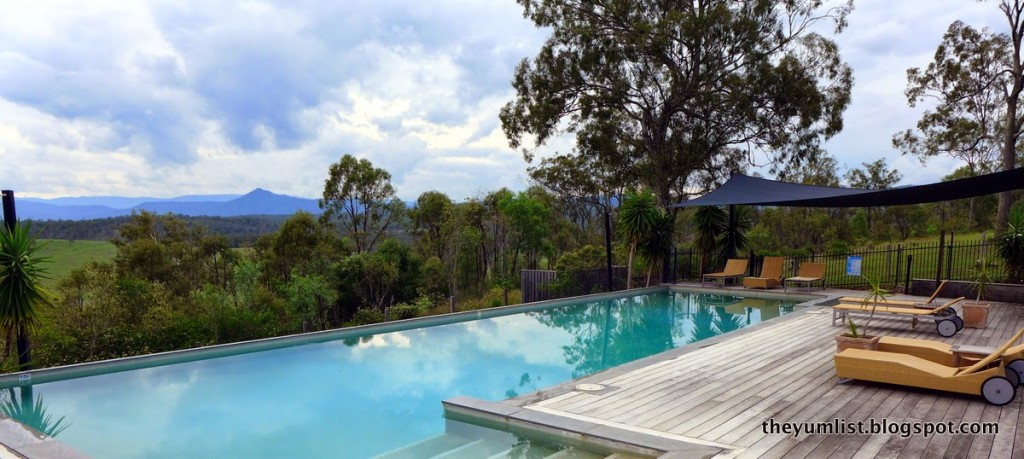 Heated Lap Pool
Courts and equipment for tennis, croquet, boche and quoits are shaded by ancient trees. An old shed, used as a games room, is full of character with antique tools and farming paraphernalia as adornment. Darts, table tennis and billiards are protected under its roof dispensing a place to play in inclement weather.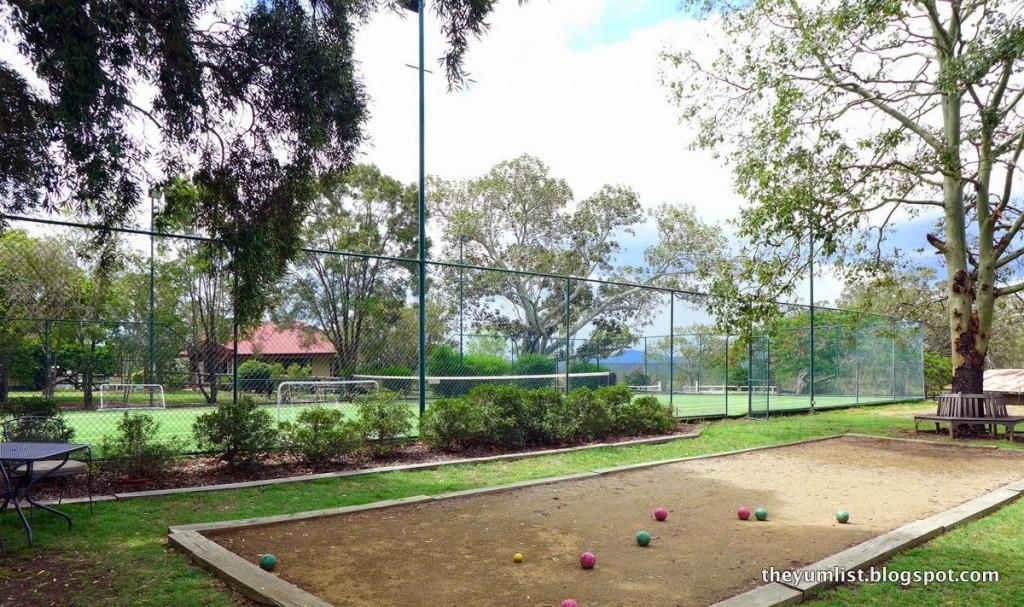 Tennis and Activities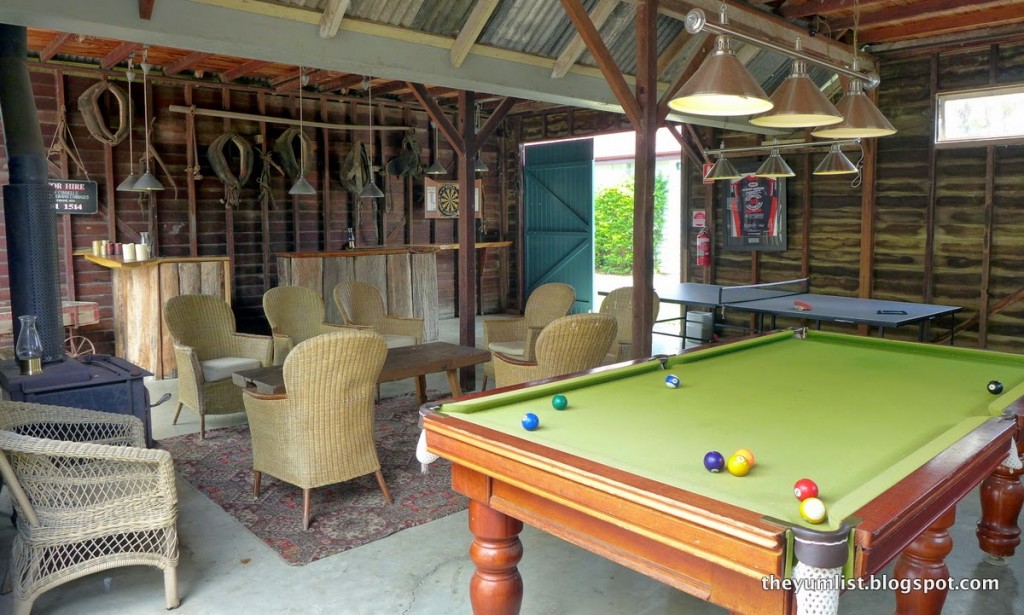 Games Room
Adorable healthy farm animals – pigs, goats and geese – are obviously well loved family members, and frisky 'guard' dog, Chili, is always happy to make new friends. For closer encounters with the animals, horse riding and pony rides can be arranged. In fact, vivacious activities director, Ash, could easily fill your day with any number of action packed adventures.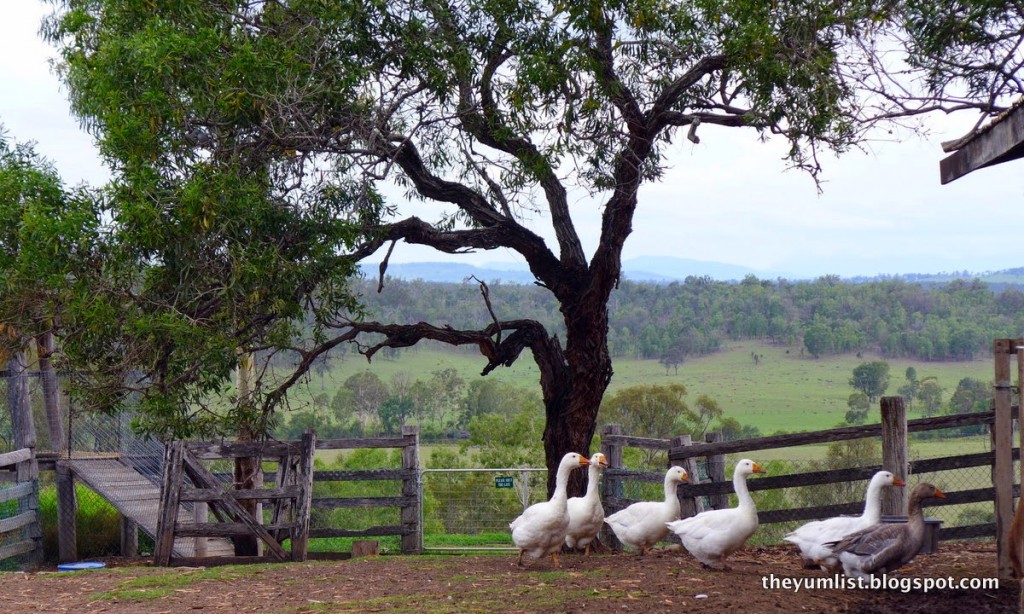 Geese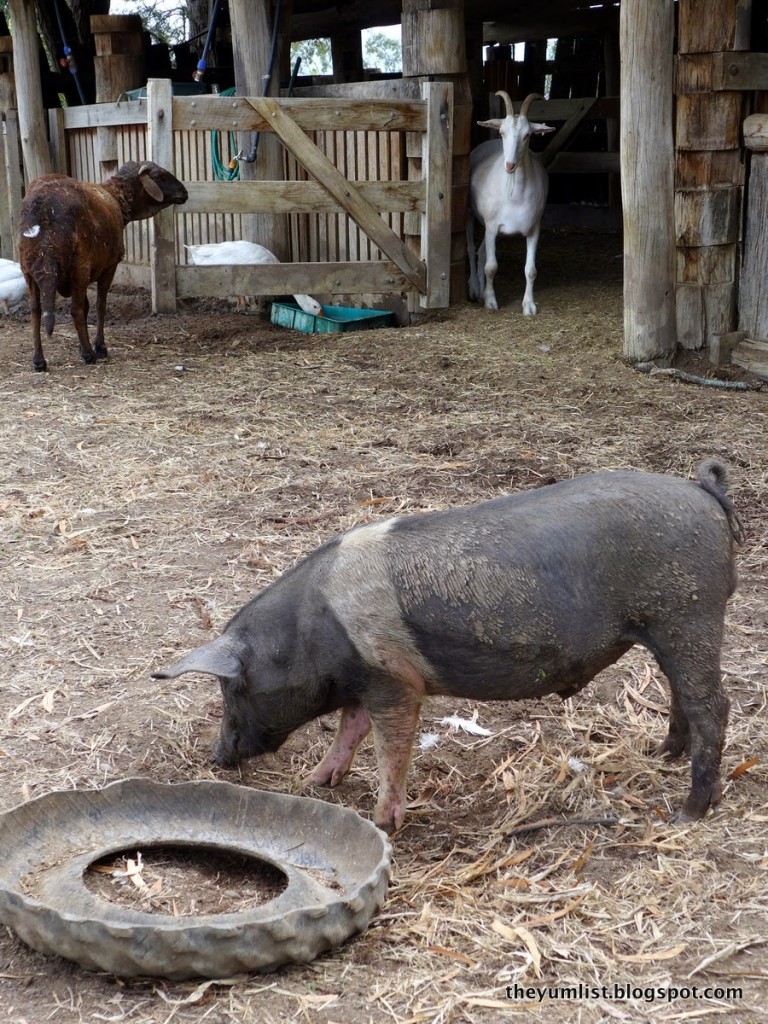 Piggy!
From clay shooting and archery, campfires and camping, to cycling and four-wheel drive tours, Ash is the man. He's such a good sport, he was able to keep hubby occupied for hours on end. Never refusing a challenge, he took on tennis matches, table tennis tournaments, pool contests and in general kept up par with hubby's energy level – decibel for decibel, megaton for megaton. All of this while I was having a heavenly time in the spa…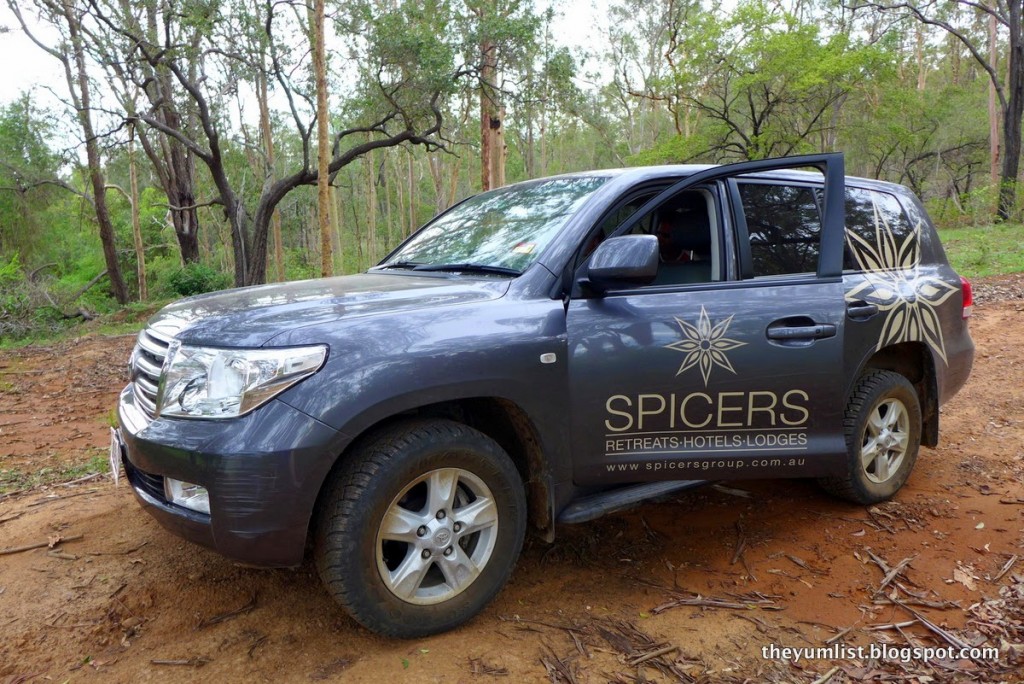 Four Wheel Drive Tour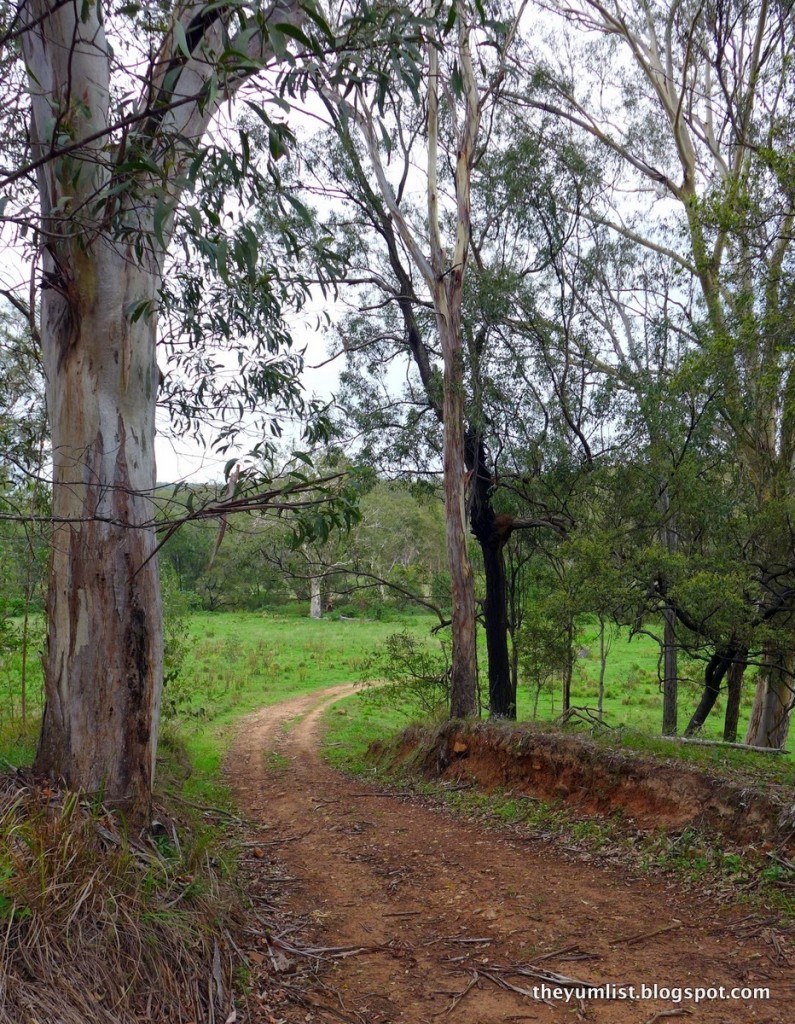 Four Wheel Drive Track
Spa Anise
A comprehensive approach to wellness is found at Spa Anise. Not only is an extensive range of treatments offered, but health through yoga, nutritious eating, thoughtfulness in products used, and an environment conducive to relaxation and reinvigoration are too key components. Follow this link to our account of a spa experience alongside recommended treatments for Spicers Hidden Vale.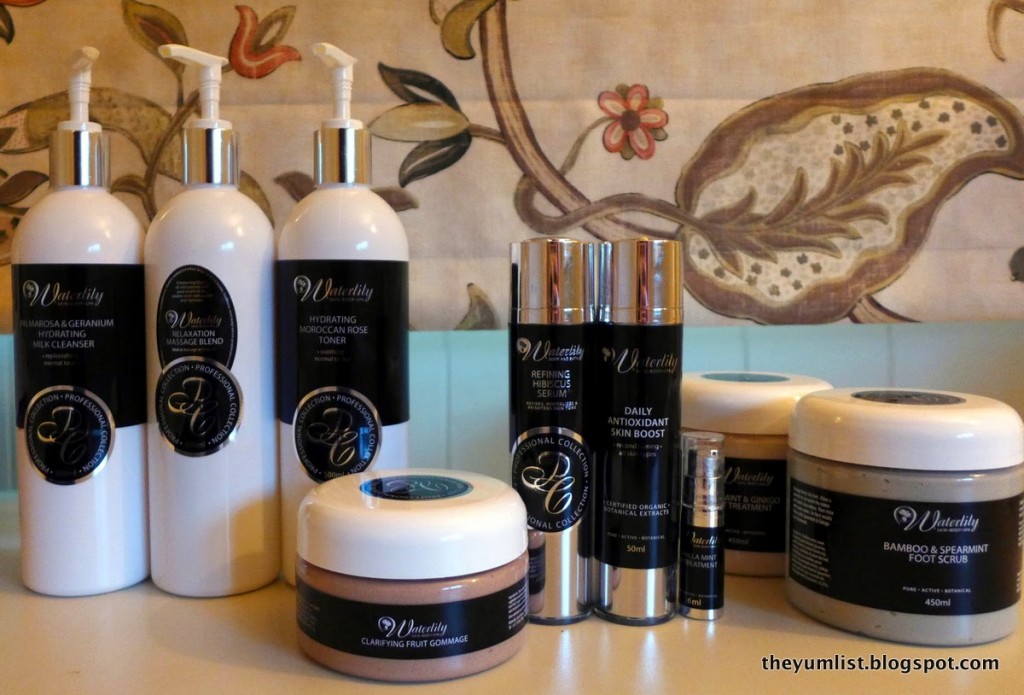 Spa Anise – Waterlily Products
Service
Curiously, a gorgeous setting, delectable cuisine, and inspiring selection of activities are never the first things mentioned when we chat to fellow guests about their experience at Spicers Hidden Vale. Before anything else, we hear over and over again, that the most memorable element of vacationers' stays is the people.
Warm, friendly, knowledgeable, genuine smiles, sense of humour and calm – are all adjectives given when describing the team at Spicers Hidden Vale. The general manager Andrea, chef Ash, receptionist Claire, spa manager Jani, restaurant hosts Danny and Troy, activities chief Ash – everyone's on a first name basis, and every one seems to sincerely enjoy their work. This passionate believe in purpose and lifestyle is contagious: it keeps people returning. And we vow to come back again too.
Grounds
Reasons to visit: service that is upbeat, friendly and welcoming; adventure haven or peaceful retreat – the choice is yours; stunning ambience; delectable cuisine.
Spicers Hidden Vale
617 Grandchester Mt Mort Rd
Grandchester
QLD 4340
Australia
1300 179 340
http://spicersretreats.com/spicers-hidden-vale