Margaret Elizabeth and Monica Tindall
When you enter Dolly Dim Sum you are definitely going to say "Hello" to Dolly. Dolly is the fictional character that epitomizes the concept of the modern Chinese teahouse. Dolly's portrait is on the wall and her friendly industrial chic style is carried through perfectly in the designer interior. The blend of textures, colours and interesting objects makes simply sitting in Dolly Dim Sum a joy. I loved the turquoise, Chinese birdcages and was delightfully surprised to realize that some of the lightshades were tastefully constructed from dim sum baskets – clever and trendy.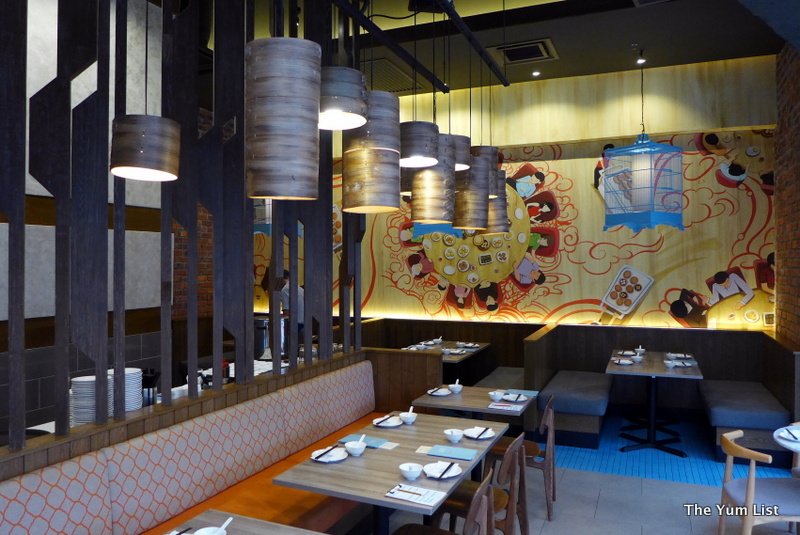 As Dolly Dim Sum is a day to night venue let's start with cocktails. After much enthusiastic research with family and friends, the team has managed to get that subtle balance between cocktail and food pairing spot on. Pu Er Old Fashioned (RM32), made with Maker's Mark infused with aged Pu Er tea, came presented in two shot glasses nestled in a bowl of ice. This finely balanced mix paired well with Spicy Szechuan Dumplings, and if we were to continue drinking would merit a repeat order. The Dolly-Tini (RM29) jazzed up the traditional, gin-based martini with a delightful lemongrass twist, and the Chinese Mule (RM32), Dolly's take on a Moscow Mule, proved refreshing with sake, vodka, ginger ale, coriander, lime, and a parsley garnish. We needed our stamina however for the food menu to come, so switched to a pot of Qi Li Xiang, a delicious Oolong tea, for the rest of the meal.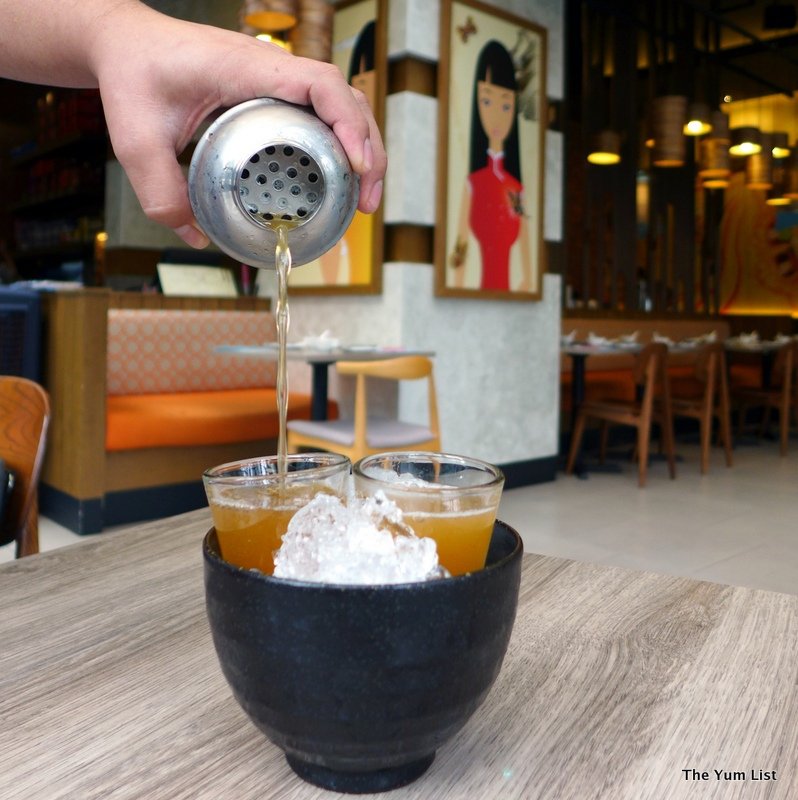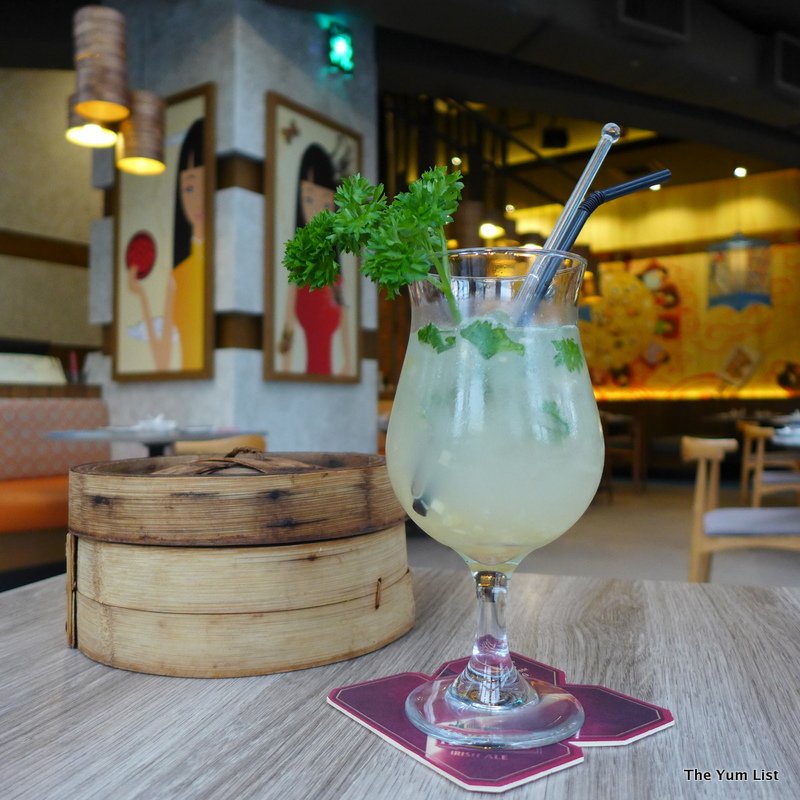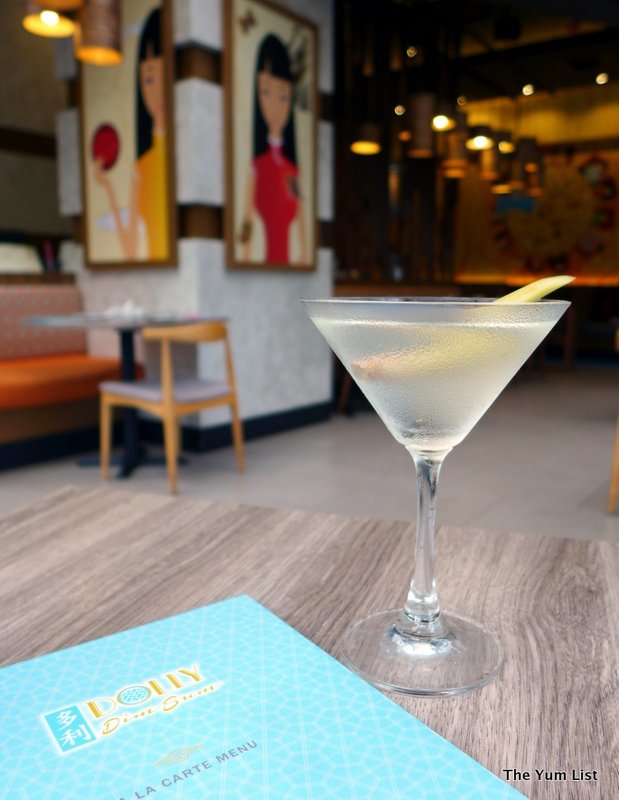 Recommended portions are generally two baskets of dim sum per person (usually three pieces in each).  BUT depending upon how hungry or how excited you are, you might like to supplement with rice or noodles.
Crystal Prawn Dumplings immediately won visual appeal. Delicate, thin, dumpling skin tantalizingly stretched over a generous prawn and chive filling had us tucking in right away. I like to dip my dumplings in chilli sauce – there is a special kind for dim sum that I love – so I was very happy that Dolly Dim Sum had one that I favoured.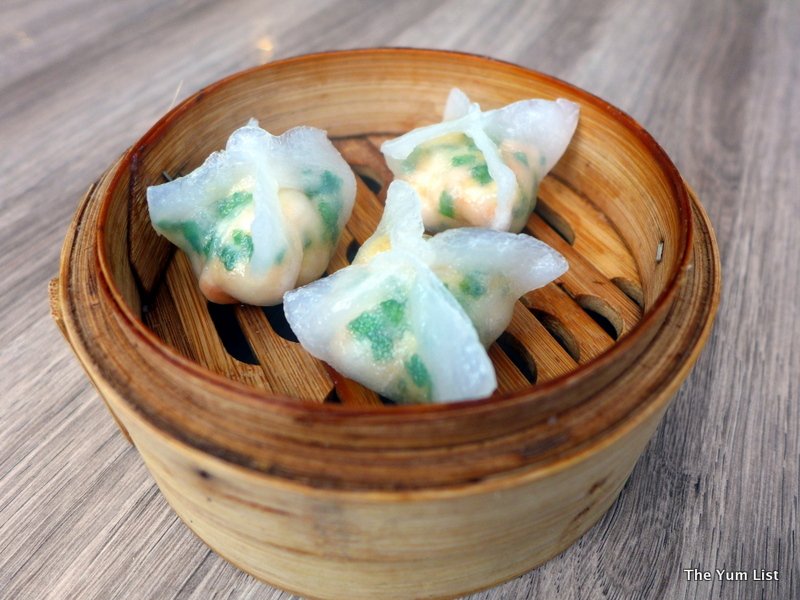 Pan-fried Radish Cake with sun-dried shrimp and dried scallops was another delightful "eat-me-now" presentation. Of course we obliged. The outside of the cake was crispy and caramelized which contrasted tastefully with the inner texture, and the balance of shrimp and scallop to radish was exactly right. For me, a hint of optional chilli sauce raised the level of these mouthfuls beyond the icing on the proverbial cake.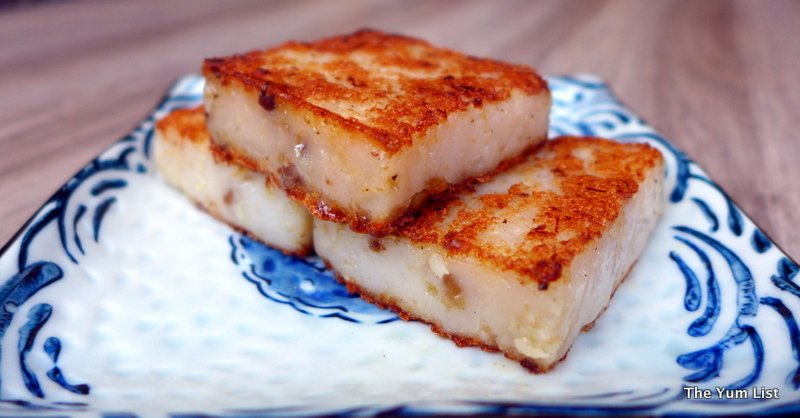 "Siew Mai" Dumpling featured tender chicken and prawn filling steamed with mushrooms. Once again the portioning was generous with the stuffing peeping out at us, looking just as luscious and succulent as it tasted. For those who usually would have "siew mai" with pork, I promise you that you will not miss it in Dolly Dim Sum's version of this tasty dumpling.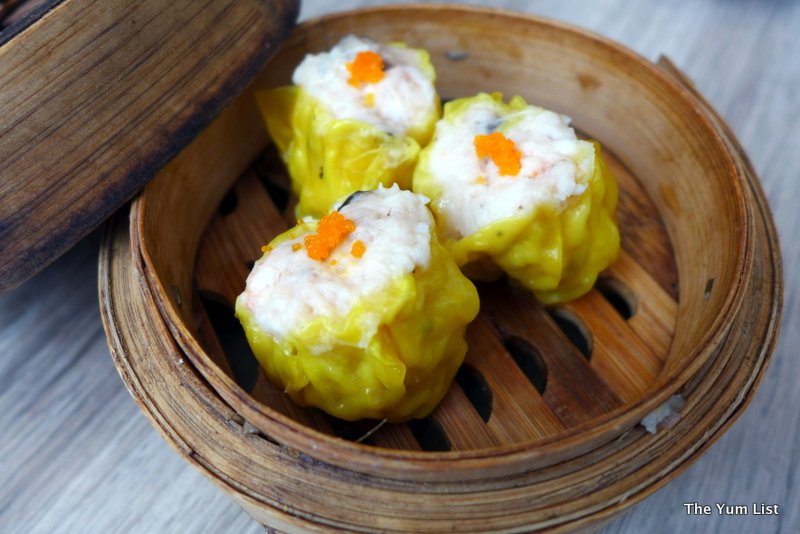 Spicy Szechuan Dumplings with chicken and prawns drizzled in a spicy, tangy sauce proved the one to fight over. Delicate casing and a moreish sauce caught Monica's attention and I think she found her favourite dish in the line-up with this item. I enjoyed these with my Pu Er Old Fashioned cocktail as the whisky and spicy tones balanced each other.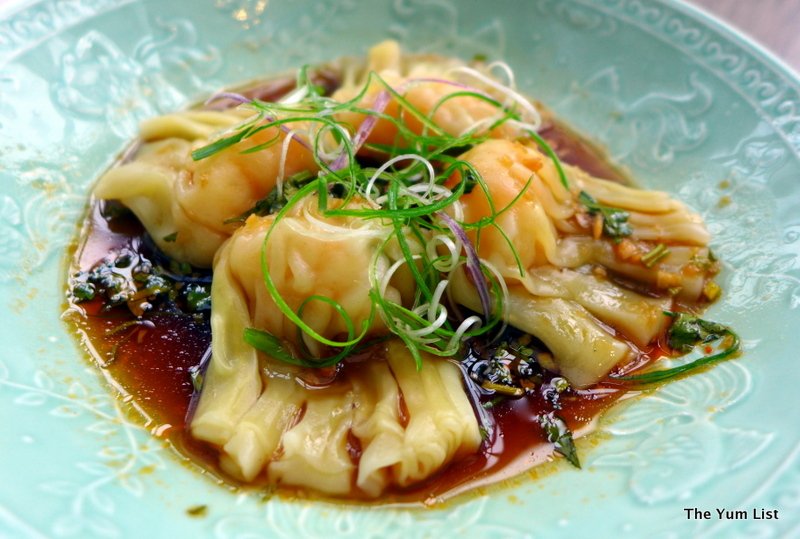 Dolly's Mini Cupcakes are a special kind of fluffy sweet sponge known as "ma lai goh" in Cantonese. I have not seen them often in Kuala Lumpur and have been missing them so I was very happy to find them here. Not surprisingly this slightly caramel flavoured sponge topped with sunflower seeds, a Dolly tweak on the original, tasted delicious and I know my children will love them. No wonder they're a best seller.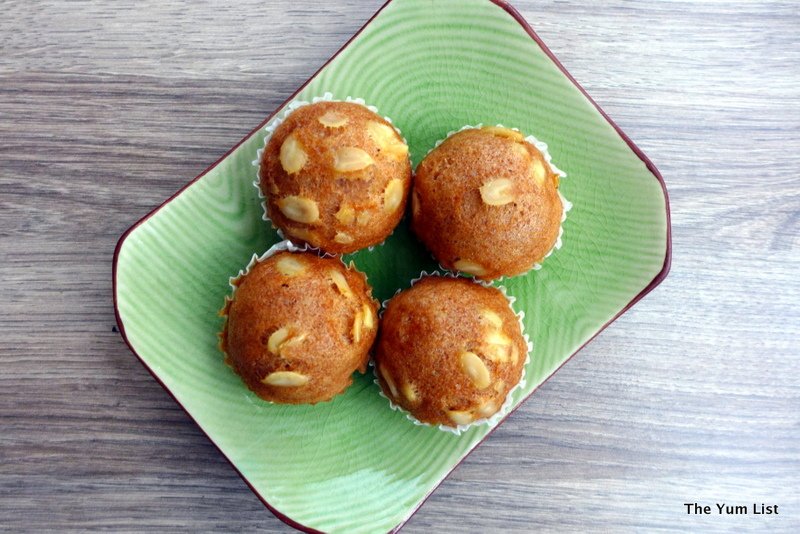 Upon Mon's eager request we secured Egg Custard Buns. I had never eaten one of these before and as every foodie knows there is nothing better than discovering a new affection. These signature steamed white buns with flowing salted egg yolk custard were so delightful that I could have danced on the table. Breaking open the outer bun, a golden river flowed onto the plate. The scent of the filling wafted agreeably in the air and the texture was creamy and satisfyingly gooey evoking happy memories of childhood treats. The taste is a harmonious juxtaposition of salty and sweet – a must-try dish.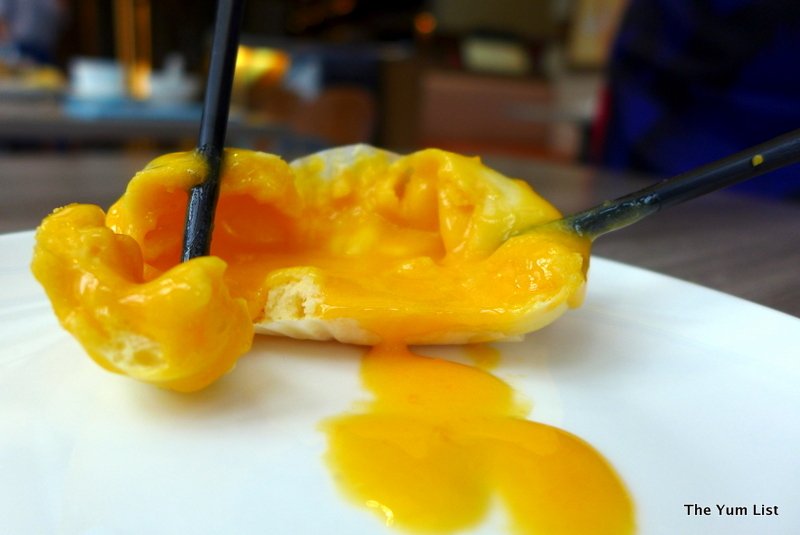 Next it was my turn to insist on a favourite, Roasted BBQ Buns. In this case chicken replaced the customary pork. Once again the outer bun was gleaming white, light and fluffy. The signature honey sauce used in these buns did not disappoint. Another classic, and made with Penang yams (which are said to be the best), were the Yam Croquettes. Wonderfully pasty within and coated within a delicate crispy lace, these too are worth repeat orders.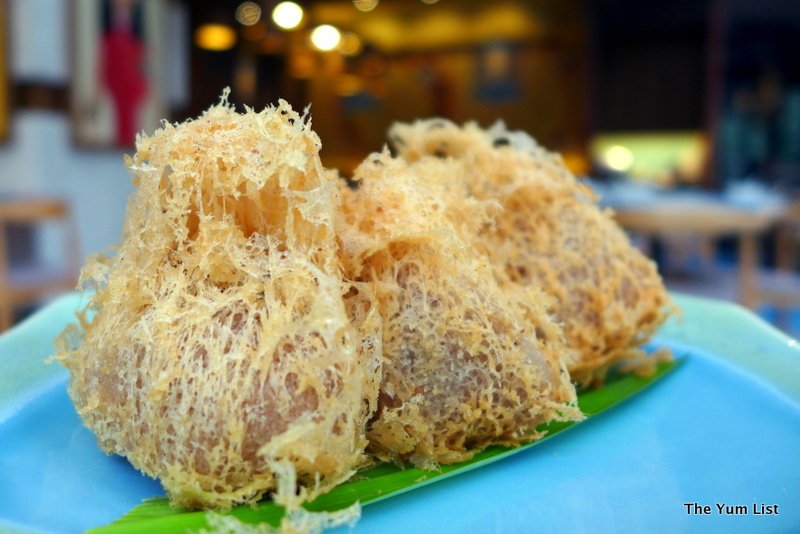 Just in case those geometric bites left gaps in our stomachs, the Royal Golden Fried Rice with prawns, egg and ebiko was guaranteed to fill any last crevice. The mixing of this Japanese style orange roe with Chinese style fried rice is quintessentially Dolly, embracing all cultures to experience happiness.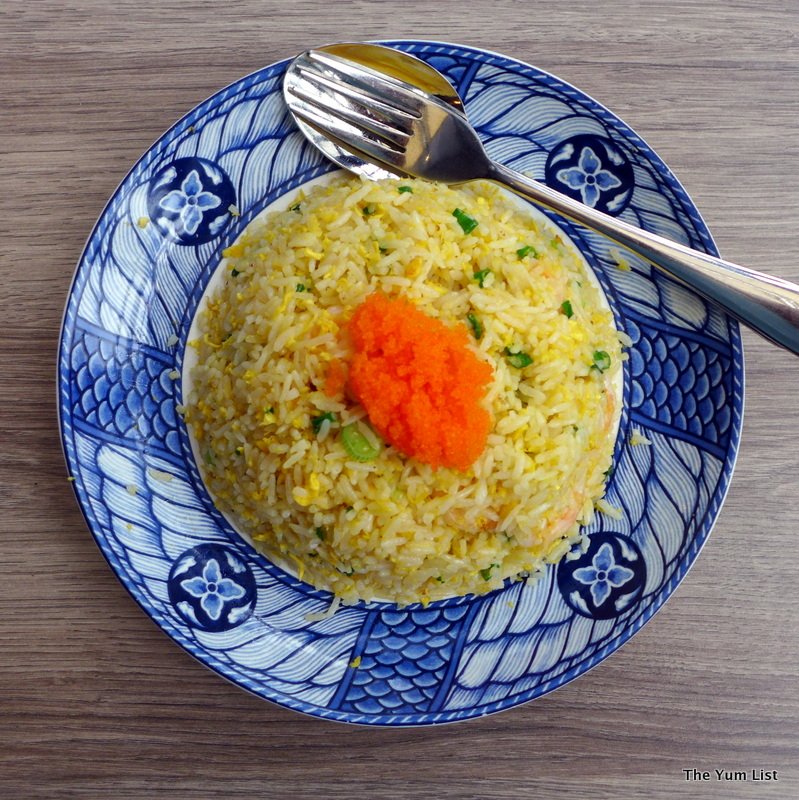 And so we neared the end of our glorious repast with one final sweet treat. Sesame Mochi Balls were a triumph of texture, aroma and taste. The hot mochi ball covering was crisp and chewy, and breaking it open a rich peanut aroma wafted out foreshadowing the rich, finely ground peanut center.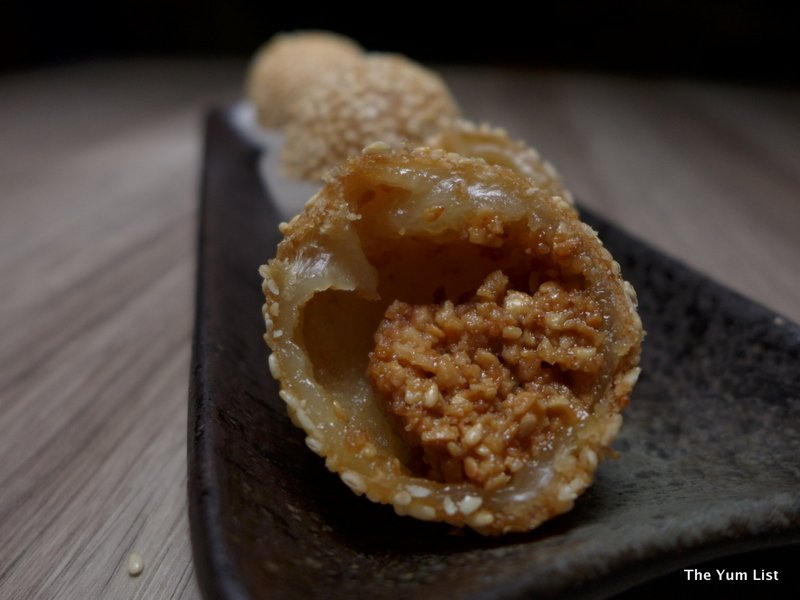 We left with stomachs content and in high spirits following such a heartening experience. Overall, Dolly Dim Sum has a varied menu featuring many of the most-endeared classics, a chic setting, quality produce, and is good value for money. We'll be back!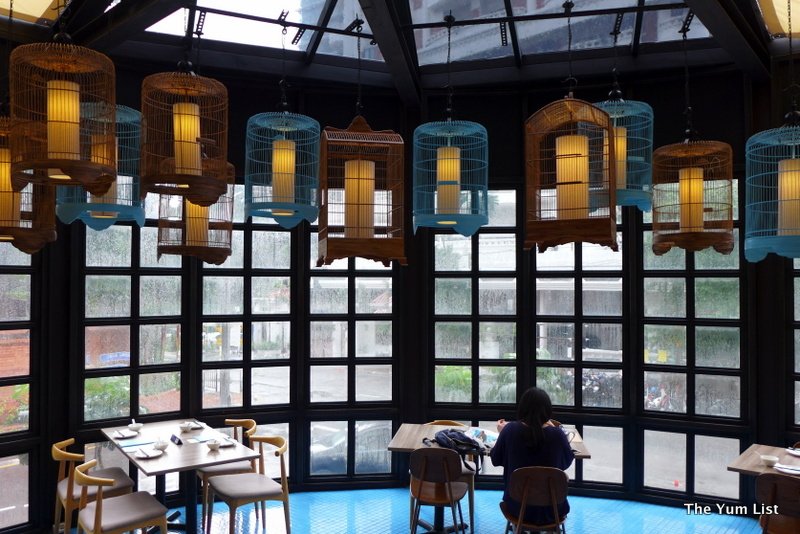 Reasons to visit: bright cheery setting with lots of natural light; Spicy Szechuan Dumplings; Roasted BBQ Buns; Egg Custard Bun; Pu Er Old Fashioned cocktail; Sesame Mochi Balls.
Dolly Dim Sum
Lot G9 Ground Floor, Avenue K
156 Jalan Ampang
Kuala Lumpur, Malaysia
(opposite KLCC)
+6 03 2181 3830
www.dollydimsum.com
*Open 11am to 10pm daily
** Pork-free
*** Dim sum dishes vary in price from RM6.50 to RM10.50