Monica Tindall
Hong Kong is no newbie to celebrity chefs and it would seem that anyone who is anyone comes here to mark their name in stone as one of the world's most recognized. Harbour City has their fair share of luminaries and it's an off-shoot from Jamie Oliver, Jamie's Deli, that we visit for today's brekkie.
Cheery get-up-and-go pop music enhances the vibrant light bright café feel of Jamie's Deli in Harbour City Hong Kong. Wooden paneling and tiles create a mosaic of patterns in natural hues. Canary yellow and cherry red metal chairs add splashes of colour and rustic photo frames form a collage of food pics on the feature wall. A glass deli counter invites guests to choose their poison showing hot plates of eggs, sausages, veggies and other hot brekkie items alongside a showcase of ready-made sandwiches and muffins. All in, it's an energetic setting inviting sleepyheads to awaken for the day ahead.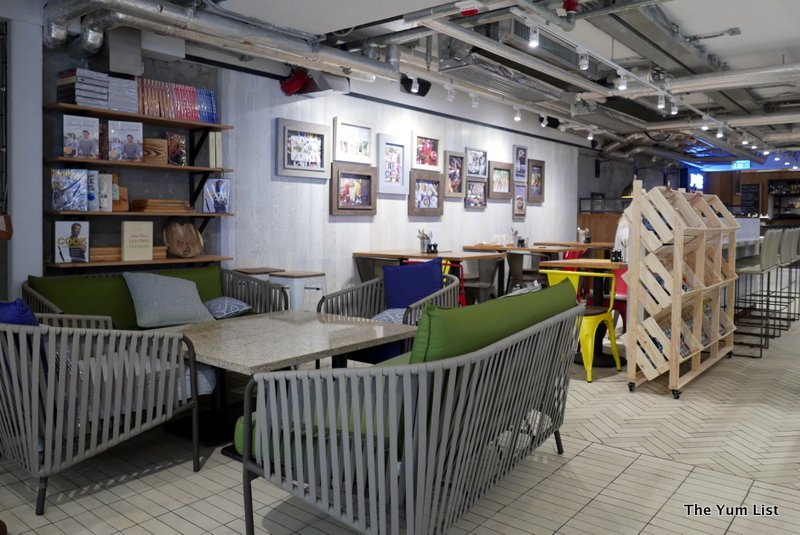 Breakfast Menu at Jamie's Deli, Hong Kong
With the deli set-up, grabbing a quick bite at Jamie's Deli is easy. A crowd is in constant flux picking up something to go when we arrive but as we have a few hours to spare we happily linger on the outdoor terrace appreciating the fresh spring air and whole, simple ingredients that Jamie Oliver is known for.
Service is fast as most dishes are ready-made. A glass cabinet displays the morning's prep: hubby eyes the meaty items and I, the veggies. Scrambled eggs with herbs, sausages, bacon and roasted potatoes with smoked salmon fills one plate, and grilled asparagus, salted spinach, mushrooms and tomatoes with thyme another.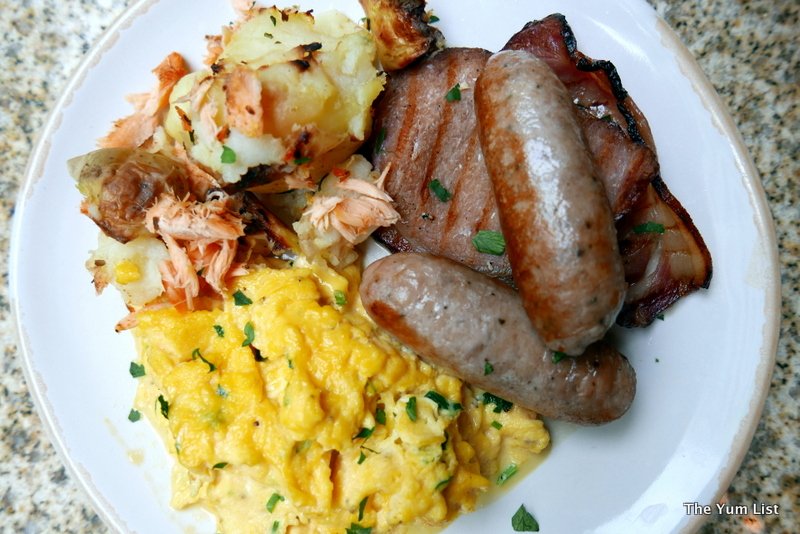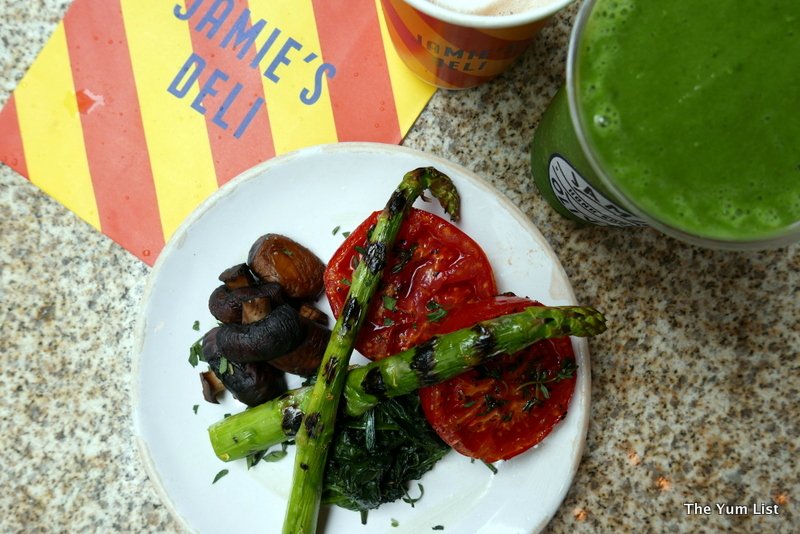 Egg and bacon rolls are a popular Aussie combo and so we give one a try here with the addition of avocado and tomato aioli. Knowing the contemporary love for the green fruit, this could easily take over from the classic.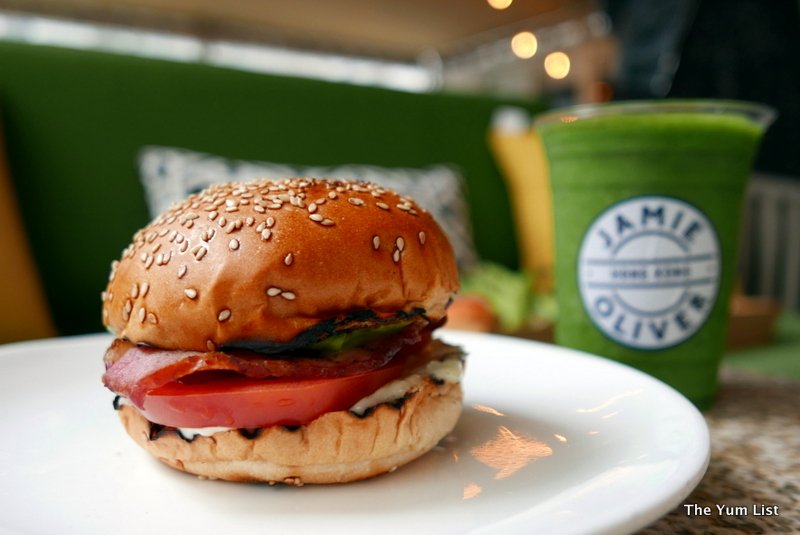 Tempted by slices of thickly cut and crunchily-crusted sourdough bread, we try a couple of open sandwiches too. Ricotta, cherry tomato, avocado and pesto sauce tops one and guacamole, superfood seeds, pea shoots and lemon zest the other. Both are superb choices for a light beginning or healthy mid-morning snack.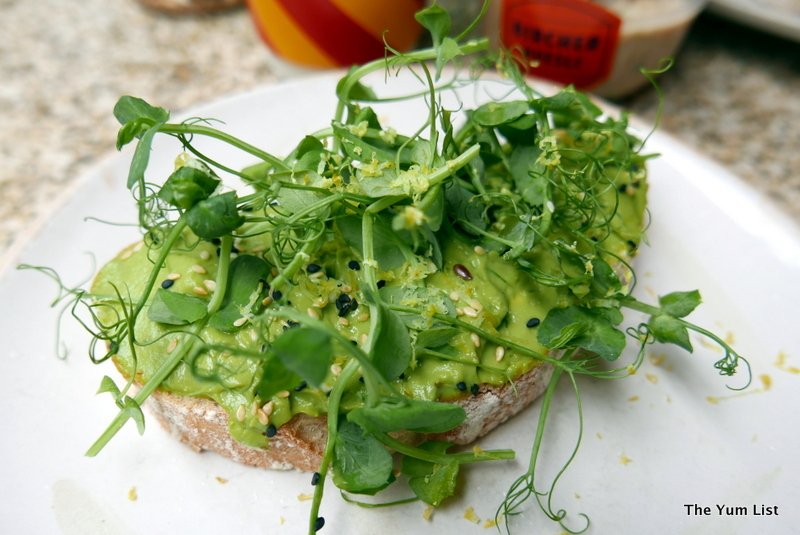 For those wanting to stick with a cereal tradition, Bircher Muesli offers a quintessential healthy choice. Crowned with a sprinkling of chia seeds it's a super (food) way to start the day. Yoghurt with honey, berries and granola is another quick grab packed with nutrition.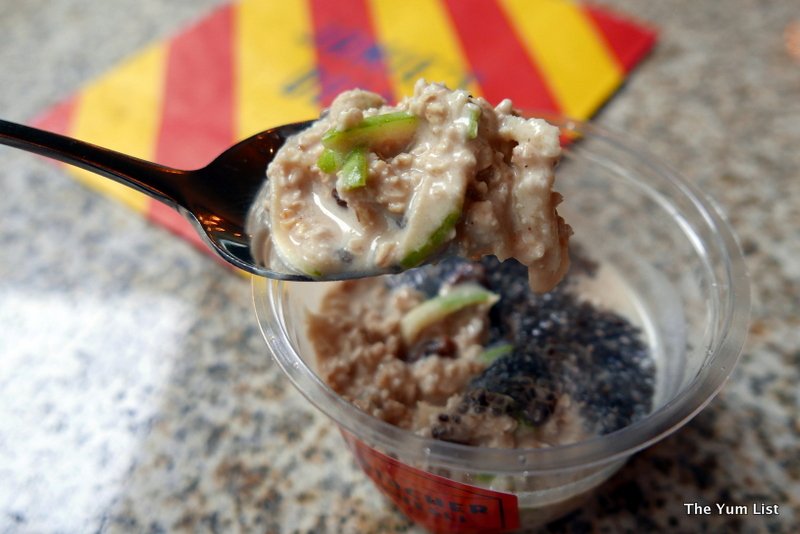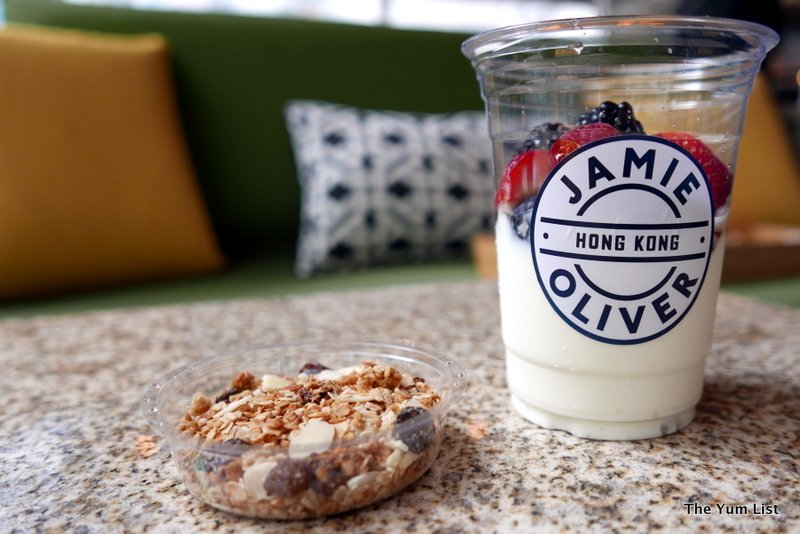 Alternatively, you could go the opposite direction of wholesome and order some buttery French pastries such as the flaky moist apple pie (decadent) or a mixed nuts muffin.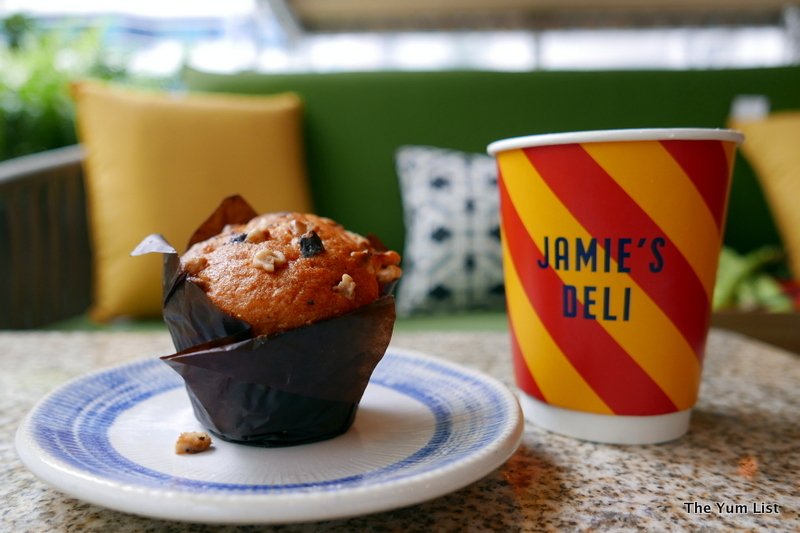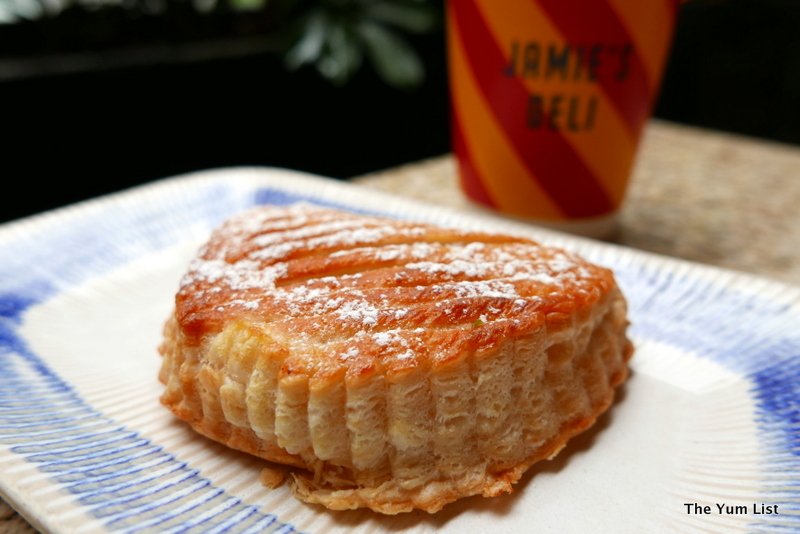 Drinks at Jamie's Deli, Harbour City
Drinks at Jamie's Deli could well be meals on their own. The White Smoothie is a thick blend of oats, coconut milk, almond milk, ice and honey and the trending Green Smoothie combines spinach, apple and banana into another viscous and filling glass. Both are yum and both are dairy-free.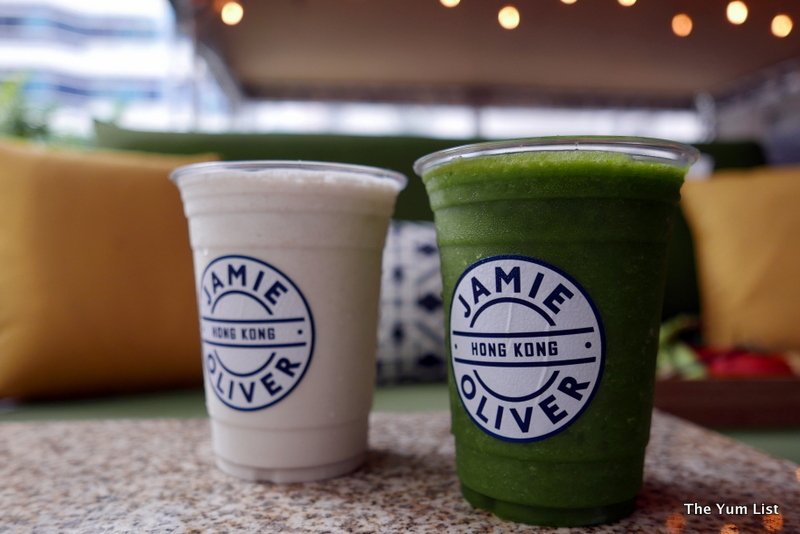 It's been a happy start to the day. Staff have been helpful and smiley. The mood is one of joy and the food menu is hearty and tasty.
Reasons to visit: cheery independent café feel in the middle of a shopping mall; good range of western style brekkies.
Jamie's Deli
Jamie Oliver Hong Kong
Harbour Centre, Harbour City
Level 4 Ocean Centre
Shop 412, Tsim Sha Tsui
Hong Kong
+852 3758 3333
www.facebook.com/JamiesdeliHK
Open Monday – Friday: – 8am – 6pm
Saturday & Sunday: 11am – 6pm