Fincch Sushi Room
Monica Tindall
Just as the songbird might woo your hears with its sweet warble, Fincch Sushi Room hopes to croon to your taste buds with its fresh flavours and affordable menu. Importing seafood from Tokyo's celebrated Tsukiji Fish Market, this new family-friendly restaurant brings quality sashimi and sushi (and more) to the Damansara neighbourhood.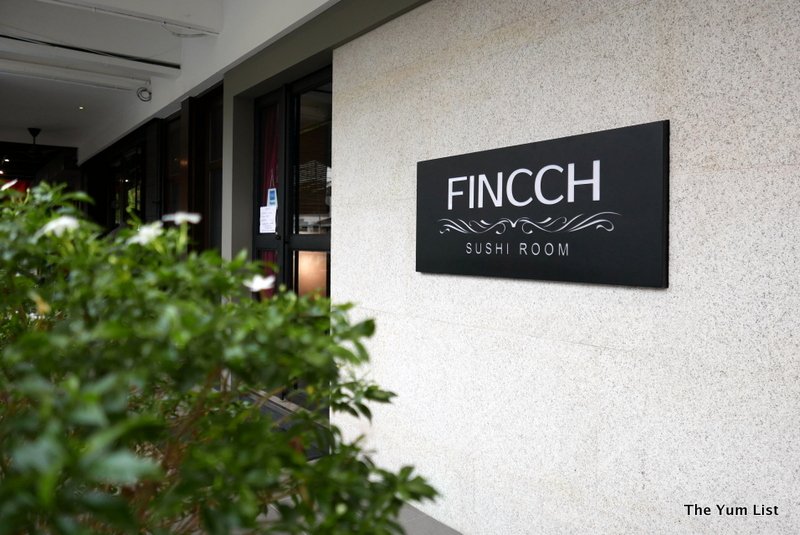 Chef Machi – Fincch Sushi Room
With over 20 years of experience in the kitchen, Chef Machi, emanates quiet confidence at Fincch Sushi Room; secure in his skill yet humble in his outlook. His career working with Japanese cuisine began in one of the finest places to start at the time, the Shangri-La Hotel in Singapore in one of Japan's most respected restaurant brands, Nadaman, that has a history of over 150 years in Japan. We're happy to take recommendations and so leave the choice of what to order to the expert.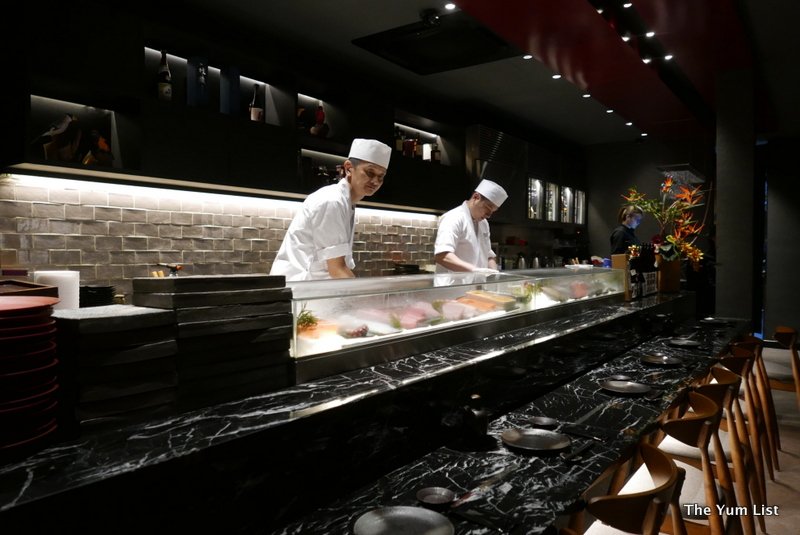 Fincch Sushi Room Menu
Sushi and sashimi are positively the highlights on the menu but there's a good collection of other Japanese favourites to hold most diner's interests too. We launch with the crowning glory, sashimi, and continue to sample from across the offerings.
Fincch's Sashimi (RM380) platter has quickly become the talk of the town with its superbly carved slices of seven different types of premium seasonal seafood hand-selected by the chef. Today's tray holds amberjack, red tuna, botan shrimp from Hokkaido, horse mackerel, fatty tuna, scallop and sea urchin. Each and every morsel is a succulent treat.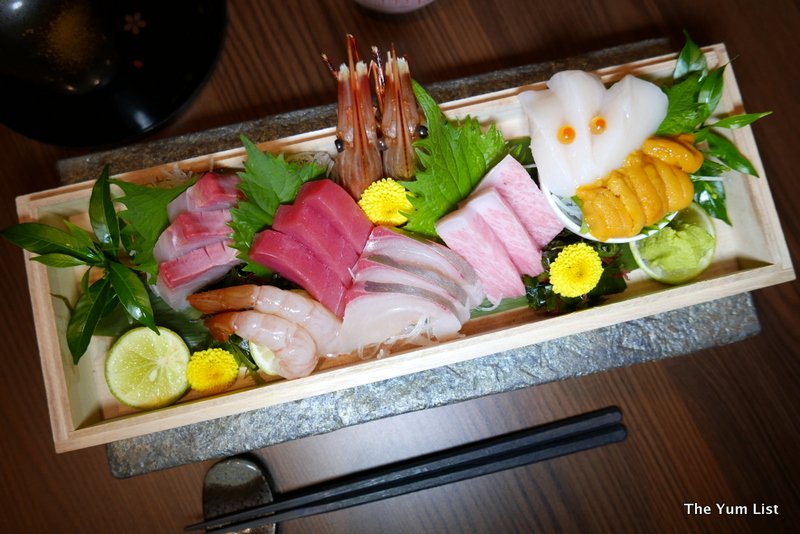 Tori Karaage (RM18), fried chicken, is sound in its simplicity. Pieces of thigh are battered and deep-fried and served solely with a slice of lemon. The moderately thick coating holds the moisture within and a squeeze of the citrus lifts the profile to more than pleasurable.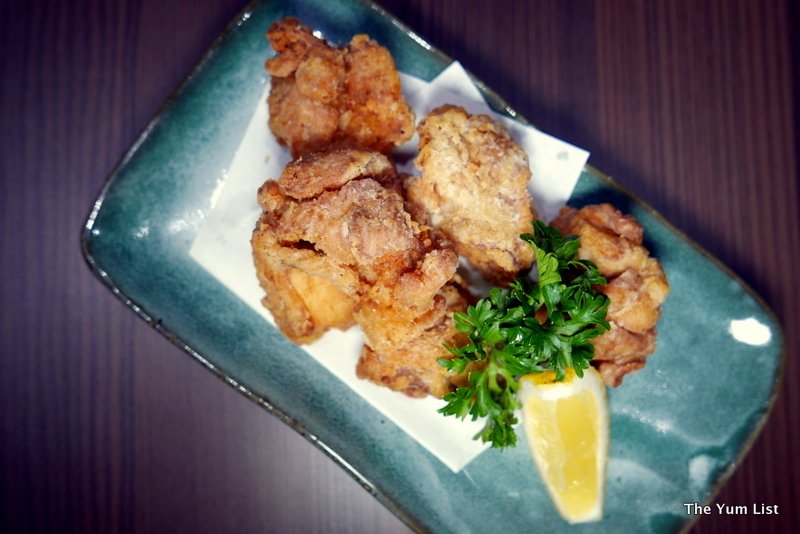 Yasai Tempura (RM18) is a generous plate of puffy, crispy-cased pieces of prawns and veg. Eggplant, mushroom, carrot, onion and three tiger prawns are stacked and ready for dipping in the light dashi that accompanies it.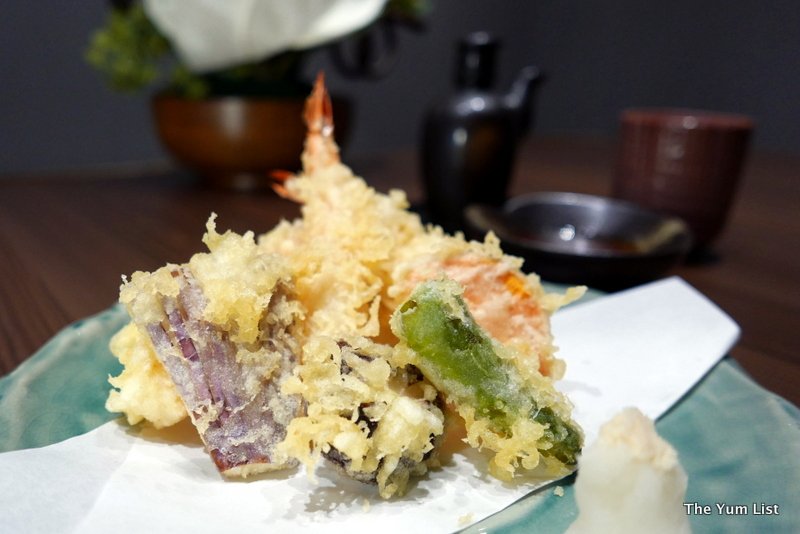 The next dish at Fincch Sushi Room marks its arrival with a sizzling sound growing in intensity as it's delivered to the table. Wagyu Shioyaki (RM150) comes on a hot plate still bubbling on the pan. Although wonderfully rich, this is a younger cow and slightly leaner than some of the typical wagyu cuts found on menus. Chef shares that ladies are particularly fond of this style as it preserves its incredible taste but is a little lighter on the fat. We find just a dot of salt mixed with konbucha (provided on the side for addition at your will) makes it even more enticing.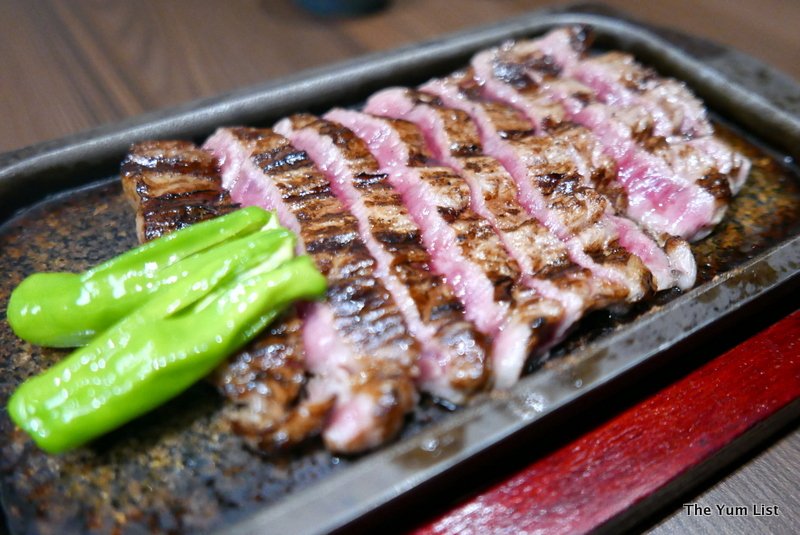 Assorted cubed sashimi atop vinegar rice, the Bara Chirashi Don (RM48), reminds me of deconstructed sushi at Fincch Sushi Room. Besides the fresh fish and rice, there are pieces of cucumber, pickled ginger, seaweed, sweet omelette and roe – that give a friendly little boost when bursting in the mouth. And, wasabi: be forewarned that there's a good blob of that in there too so the unsuspecting might just have their sinuses cleared free of charge.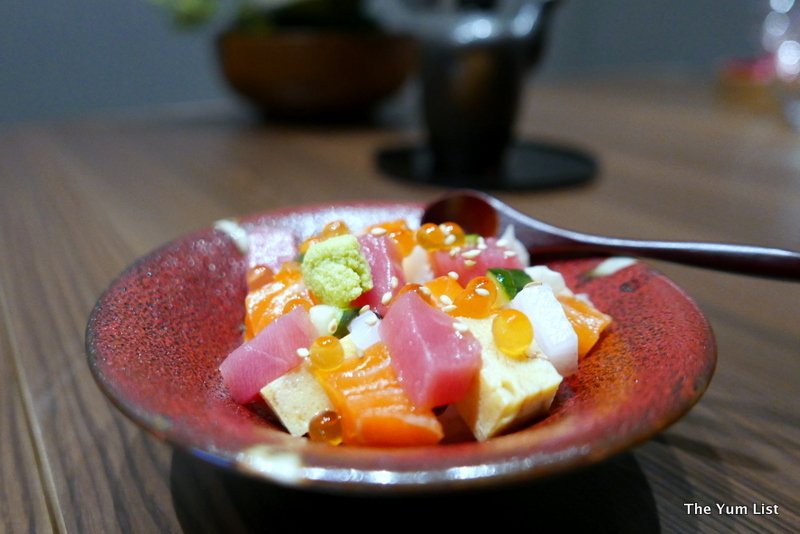 Something Sweet on the Menu at Fincch Sushi Room
A small assortment of desserts – ice cream and fruit – furnish just the right amount of sweet to end. We try the trio of ice creams on the menu (RM10 per scoop); relishing in the nuttiness of the Goma (black sesame), the whisper of bitterness in the Matcha (green tea) tempered by the sweetness of its red bean topping, and moreish tang of the Yuzu (Japanese citrus).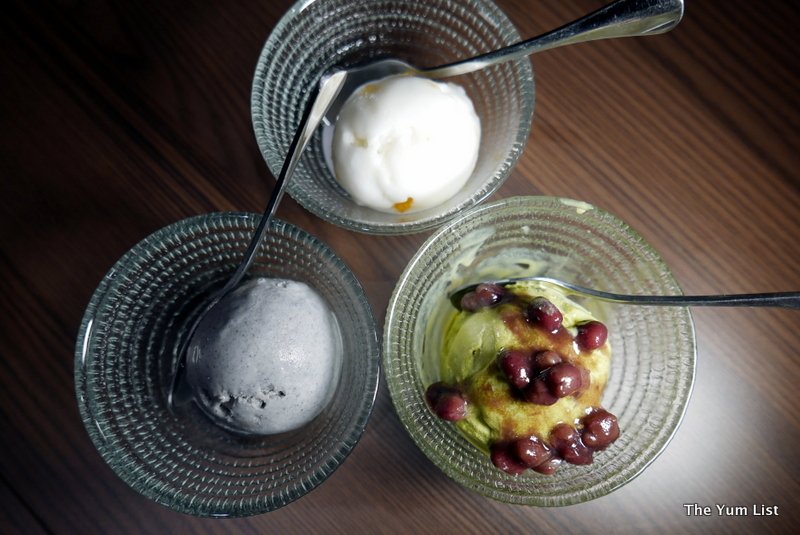 Reasons to visit Fincch Sushi Room: intimate space; warm neighbourhood feel; best days to visit are Tuesday and Friday for the freshly delivered seafood; besides the obvious sashimi, beef lovers would do well to give the Wagyu Shioyaki a try too.
Fincch Sushi Room
Japanese Restaurant Damansara
134 Jalan Kasah
Medan Damansara
Kuala Lumpur, Malaysia 50490
+6 03 2011 6611
[email protected]
fincch.org
Open Monday – Saturday
Lunch: 11:30 am to 2:30 pm
Dinner: 5:30 pm to 11:00pm
*** A relationship with Mezze (next door) allows guests to cross order between restaurants. Want a sushi platter with your wine in Mezze's upstairs bar? No problem. Fincch will deliver. Care for a cake to celebrate a birthday at the end of a Japanese dinner? Mezze has you covered.