Monica Tindall
PDT, possibly the world's most famous hidden bar, opened doors permanently in Hong Kong this January 2018.
With its new home in the Landmark Mandarin Oriental, we dropped by one of the most stylish hotels in HK to check out the newest installation. Taking a step inside the MO Bar it was tempting to pull up a stool or a lounge by the window but we hidden-bar-fans had a bigger, or should I say a more secretive, mission, so continued.
A lonely staircase at the rear led us up to a telephone booth. Opening the door, we dialed #1 on the antique phone set (no need to insert coin) and waited for the curtains to be drawn. We were soon welcomed to the covert operations of Please Don't Tell.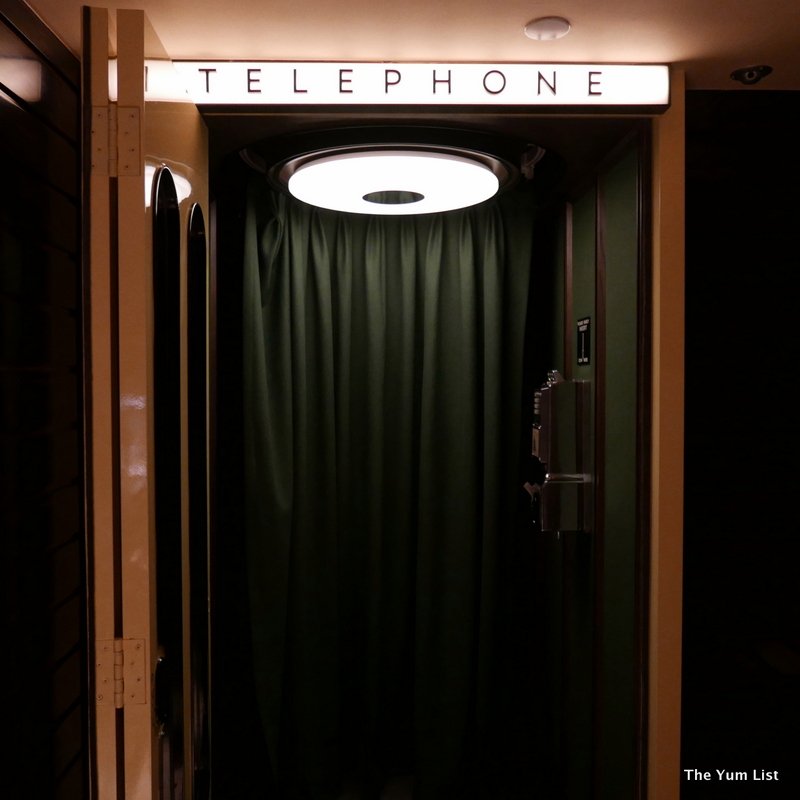 At five o'clock, opening hour, the room was already abuzz with guests. Some of them, I imagine, relieved to slip away from work without being seen, others delighting in introducing a friend to a clandestine social club and being the one "in the know." And, with seating for only 25 guests, nailing a spot here is a noteworthy achievement.
The long copper bar top is the first thing that caught the eye and then, with a stool at the bar established, the rest of the scene set in. Billiard-table green lined the walls and, framed with wood, acted as a background to fanciful taxidermy mounts of all sorts of small creatures such roosters and rabbits. The distinctive herringbone patterned wood ceiling is the final detail we noticed but once discovered repeatedly drew our eyes upward to admire its geometrics.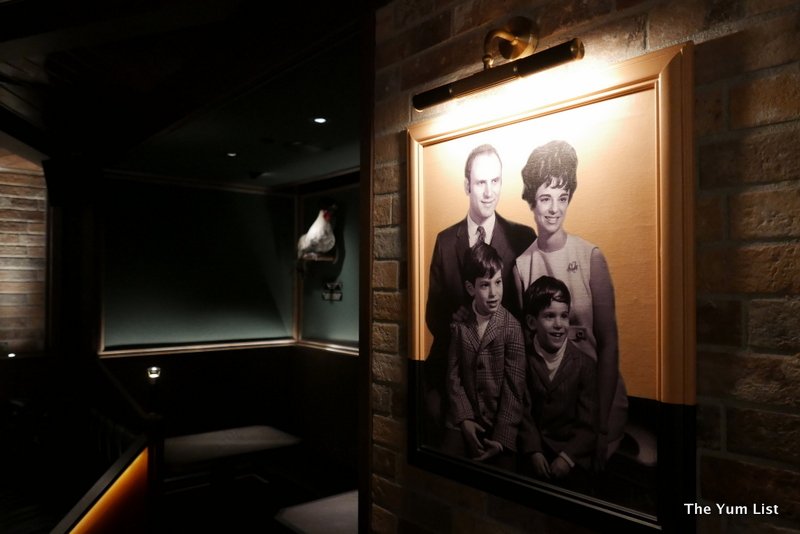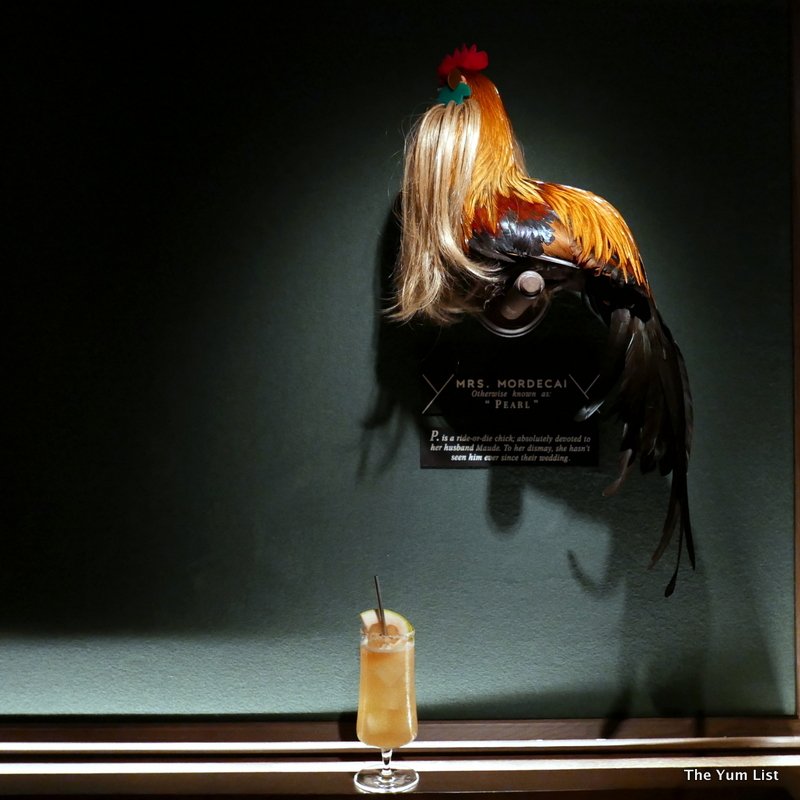 Later that evening we'd planned a bar hop around seven of last year's The Bar Awards winners in a warm up for this year's 2018 edition. Although just stopping in for a "quick drink" we managed to sample a couple of cocktails and fill our stomachs ready for further exploration of the Hong Kong bar scene.
Cocktail Menu PDT Hong Kong
We kicked off tastings with an order of the Big Fan ($158), a libation dedicated to the Mandarin Oriental and its iconic eleven point logo. Cabeza Blanco Tequila, lime juice, pink peppercorns, guava puree, and Moonzen Fuijan Radler produce a spicy shandy with an aromatic pomelo "fan" as garnish. Safari ($158) was not only a delicious and fancied-up version of a gin and tonic with its Italicus Bergamot Rosolio, Kabosu Shiso and East Imperial Burma Tonic but also a conscience-soothing bevvie. Fifteen percent of the profits from each bottle of the Elephant Gin used in this mix goes towards the conservation of elephants in Africa, and so we raised our glasses knowing that we're "doing good" with this drink.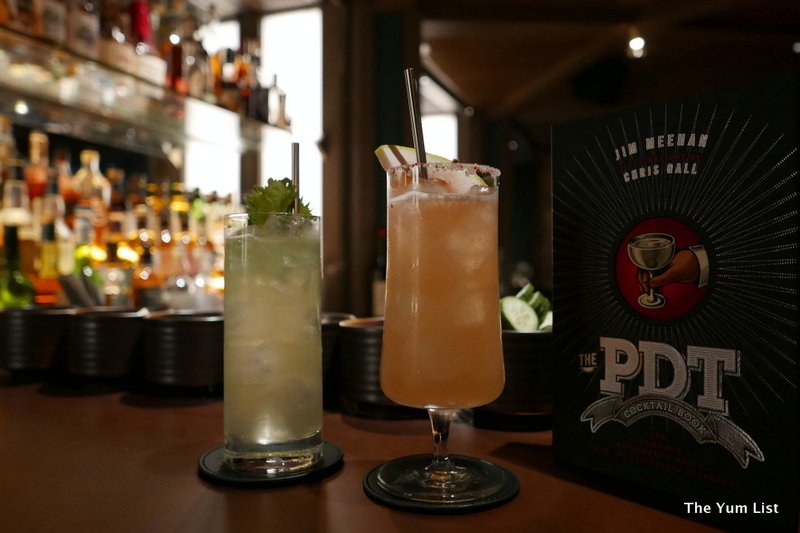 Food Menu PDT Hong Kong
The humble American hotdog has been taken up a notch at PDT Hong Kong with the culinary wand of Chef Richard Ekkebus from the Michelin-starred and Asia's 50 Best famed restaurant, Amber. In chef's words, "artisanal frankfurters with free-range pork, chicken and beef from sustainable sources," are the essence of the food menu at PDT Hong Kong, and we noticed a distinctive Asian influence in the toppings.
Our first Hot Dog ($88) was the Ole Dog, a chicken sausage combined with arugula, piperade, chorizo, Manchego and Espelette chilli mayo (a pepper from the Basque region of France). This one had a nice warmth to it and we're firm admirers of the Manchego cheese that tops it. The Honki Dog, their pork dog, quickly became another all-too-easily devoured snack with cabbage, sakura shrimp, scallions and XO Mayo. If you prefer, Tayoaki Tots ($98) are equally delicious with their kewpie mayonnaise, tayoaki sauce, shredded nori, bonito and scallions.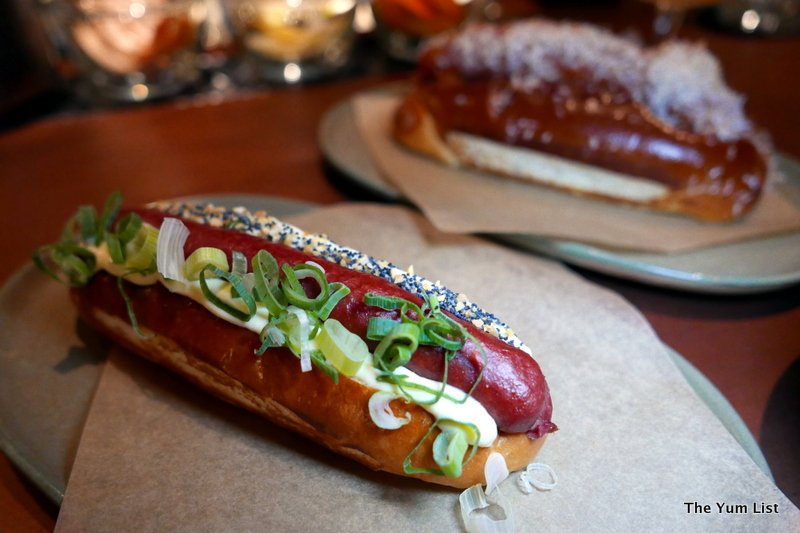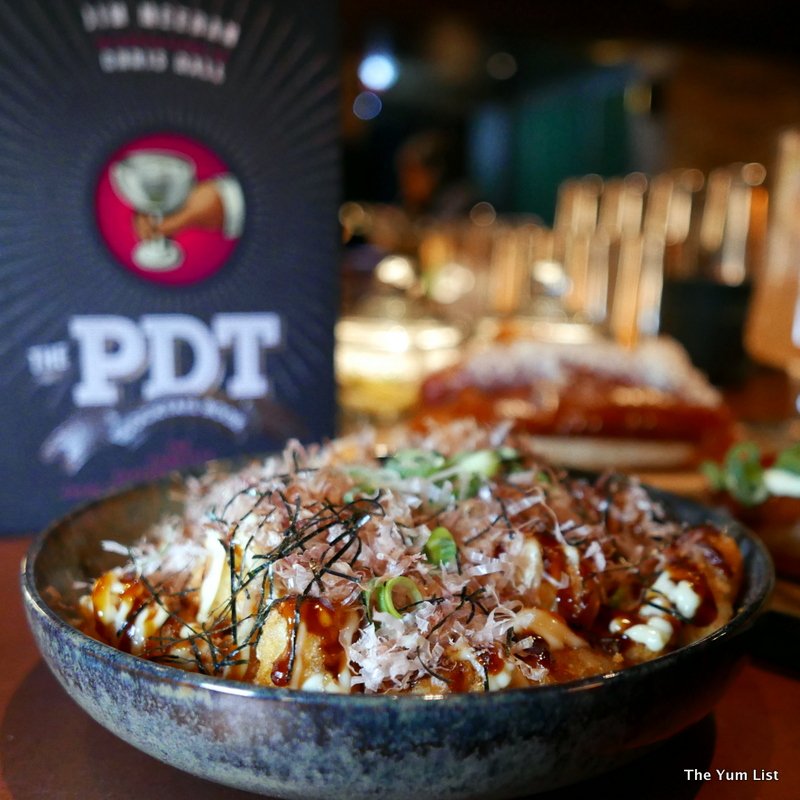 If we weren't planning to hit seven other bars in Hong Kong on the same evening, we undoubtedly would have settled in for the night. But we take our work seriously and a bar hopping we did go. Read more about that here.

Reasons to visit PDT Hong Kong: a chance to visit one of the most iconic bars in the world without having to travel all the way to New York; intimate setting; solid cocktail menu; fun hot dog themed bites.
PDT Hong Kong opening hours:
Monday to Thursday: 5 pm to 1 am
Friday & Saturday: 5 pm to 1:30am
Sunday: Closed