Words: Patricia Podorsek        Photos: Monica Tindall
Airplanes and submarines are often built with a feature known as an escape hatch, a small door that provides a quick exit from a difficult or unwanted situation. Walking through the bustle of the Intermark this month, watching people rush from office to errands, wrestling with Ramadan traffic just outside, it became clear just how often we could all use an "escape hatch," that hidden door that can whisk us away from the chaos of modern urban life.
Kenshin Bar The Intermark
Happily, I witnessed all this on my way to Kenshin, a Japanese-themed speakeasy concealed behind a wooden wall not far from Bait and Porto Romano. Former Tate fans will know the spot. Stepping in is to leave the glare of fluorescent halls and office pallor behind. Inside, an oasis of warm illumination, samurai splendor, and regionally-inspired cocktails awaits.
Osmund, bar manager, greets us with stories of the mythological decor. The word Kenshin means honesty and humility. To illustrate, the entry mural offers a three-dimensional vision of a humble fisherman, whose catfish catch transforms into a dragon. The dragon peeks out from glass circles in the ceiling, reminding us of our status. Around the room, samurai sentries stand guard (not real ones!) to keep us honest. Beautiful Torii gates over the bar lift our spirits for the experience to come.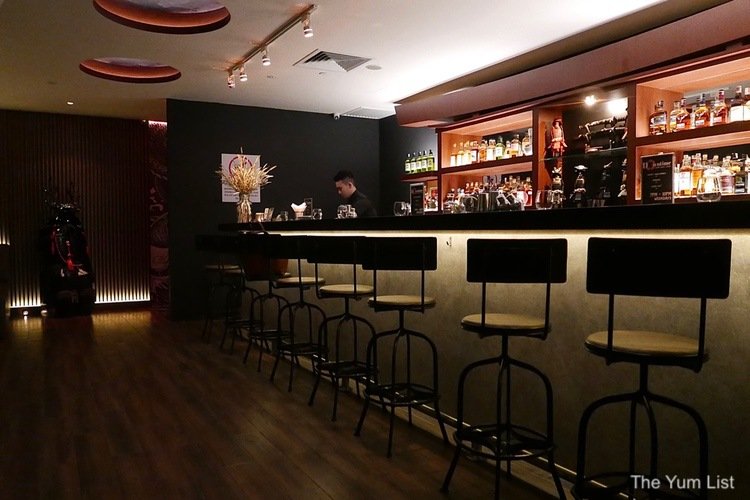 Kenshin Bar Happy Hours
Happily, we arrive during Happy Hour, weekdays 5:00 p.m. – 8:00 p.m and ALL NIGHT LONG on Mondays. Six cocktails are on offer for RM25 or less. We gratefully accept the Coffee Gin and Tonic (RM20), a surprisingly refreshing beverage with a richer flavor than the norm. Consider the parallels: tonic and coffee are both bitter; gin and coffee are both aromatic. The combination runs like a bubbly, more robust version of iced coffee. Delicious.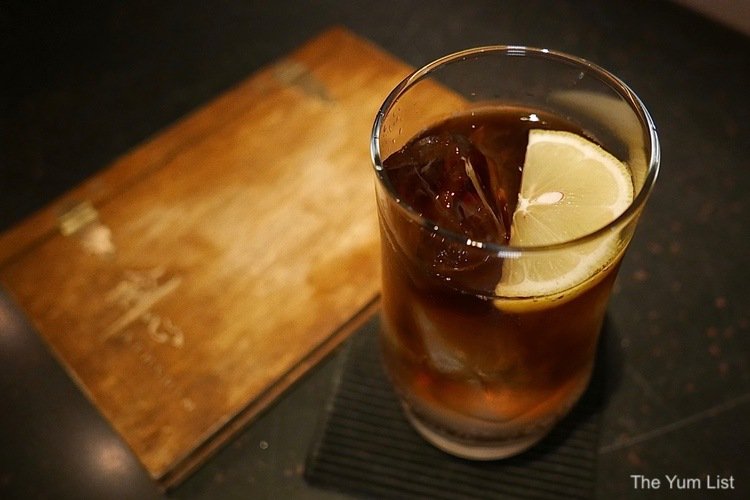 Osmand is not just the creative mind behind the decor, he is also the brains behind the menu. While Kenshin offers a great selection of whiskey, sake, wine and even a few craft beers, the goal was to create a selection of specialty cocktails that showcase regional flavors. The fun part is how they are arranged geographically. Let's take a tour.
The Tour, Stop One: Exploration of Borneo
Of the three drinks that capture the fruits and herbs of Borneo, we try the Paloma Unggu (RM40). Here, the flavors of kaffir lime and dragonfruit are joined with tequila, gin and citrus for a colorful and complex drink. Hints of grapefruit and calamansi balance the sweetness of the other fruits and complement the potency of the alcohol. I love that Mitchell the bartender plays careful attention to the presentation. Butterfly pea flowers are frozen into the single block ice cube, and fresh kaffir lime leaves and grapefruit slices provide the crown.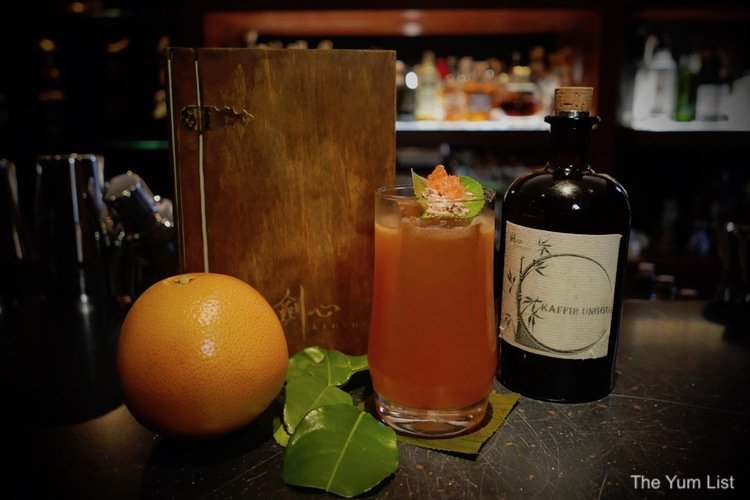 The Tour, Stop Two: Java/Sumatra
Unbeknownst to me, many Indonesians ingest a medicinal beverage that has been part of the culture for hundreds of years. Kenshin has created a cocktail version of Djamu (RM60) that combines many of the traditional herbs and spices with two of our favorite liquors. I don't know about you, but I love it when someone tells me my cocktails are good for me!
Bartender Mitchell brings his artistry to this stop on our tour as well. An earthy mixture of turmeric, galangal and dried tamarind is blended with Bols Genever and peated whiskey and poured over ice. Honey and spice syrup bind it all together with threads of cinnamon, star anise, clove and cardamom. Spooned over the top is egg white foam, beautifully presented with torched cinnamon and dusted with matcha powder. We found that it was best to drink through the foam, enhancing both the tang of the tamarind and the dry burn of the turmeric, while inhaling the scent of the cinnamon. This is one compelling set of flavors!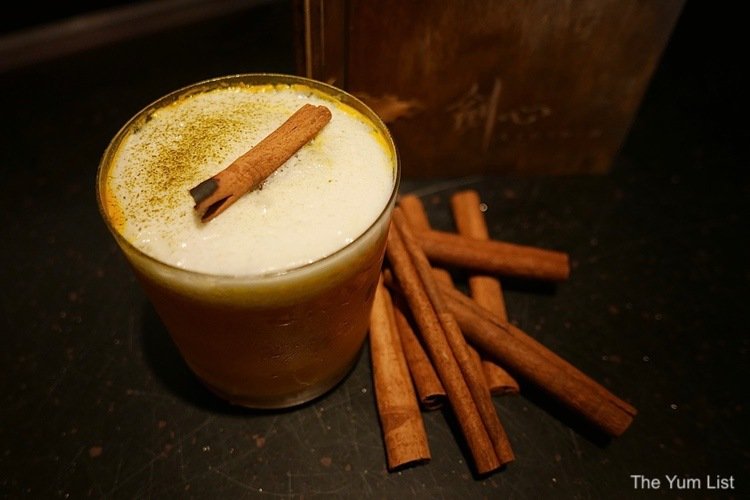 The Tour, Stop Three: Malaya
Malaysia's most famous cocktail may well be The Jungle Bird, a variation of which appears on the Malaya page of Kenshin's menu. The Jungle Man (RM40) combines a local variety of rum with cempedak with fresh pineapple juice, lime juice and mint. The biggest variation is the use of sweet vermouth instead of campari, giving it a smoother overall flavor and one that is less bitter. Garnished with bamboo leaf and ixora flower, this fruity drink is more straightforward than the complex Djamu, but just as delicious. Caning's response was, "Wow!"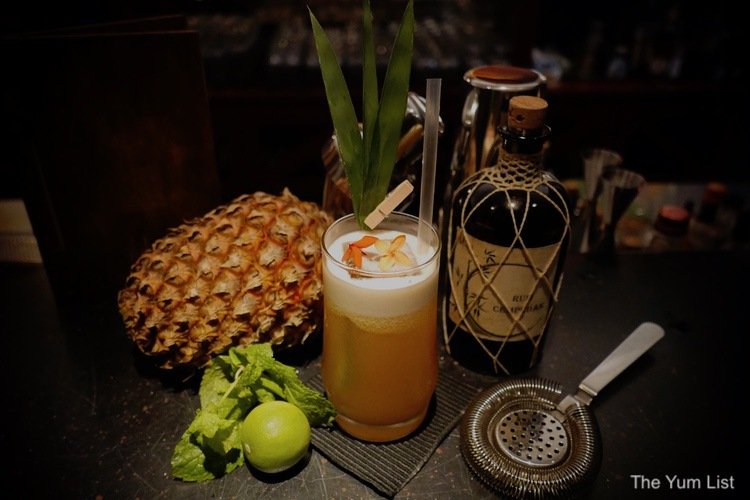 The Tour, Stop Four: Siam
The last stop on our geographical menu is Siam, and in particular, Thonglar Street (RM40). This cocktail features Thailand's Mekhong spirits, a blend of rum and rice wine. Mixed with lemon juice, coconut syrup and spiced sesame oil, this is what Bartender Mitchell calls, a "culinary cocktail." I call it yummy. But then I write for the YUM list. 🙂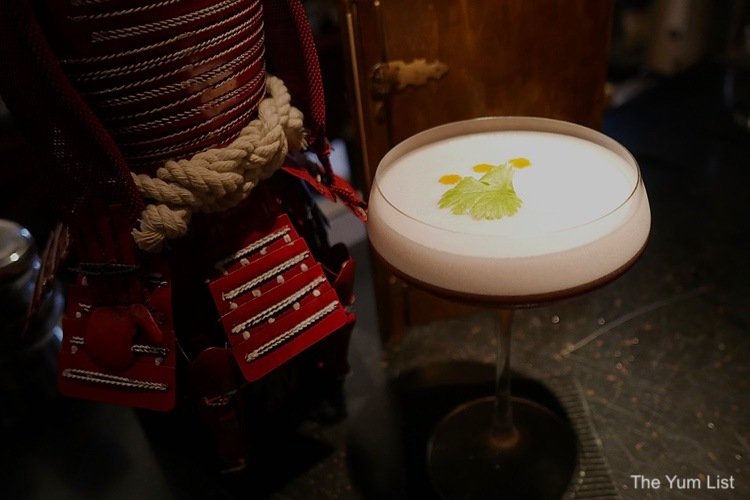 Bonus Stops
Every month Kenshin showcases a special ingredient, one that becomes the backbone of featured cocktails. Sometimes this is a liquor and sometimes a different ingredient. June is the month for tequila. Mixed with lavender, honey water, orange bitters and sweet vermouth, we try Jalisco's Lavender (RM40). The intensity of the cocktail reminded me of a Negroni – certainly a drink to be sipped, but with a sweeter finish that finds the subtlety of lavender lurking around the edges.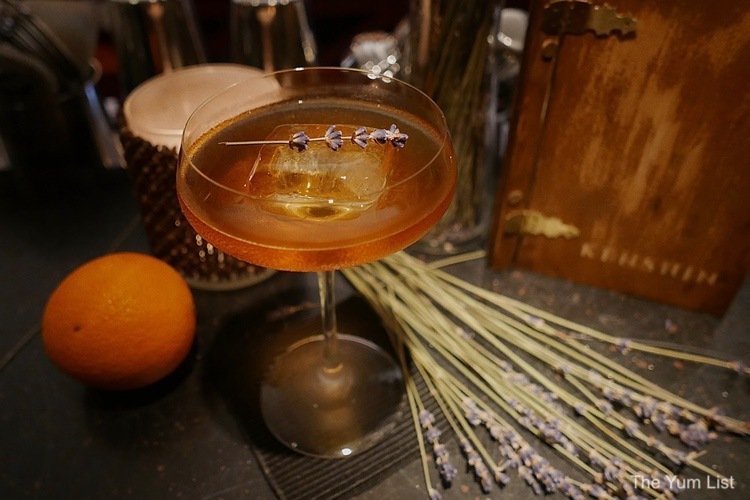 As you're cruising along in your submarine of life, Kenshin at the Intermark makes an excellent escape hatch from daily stressors and becomes a novelty journey of its own. Many places in KL are working to make interesting cocktails, but the deep understanding of local ingredients and expertise in blending them makes this hidden door one worthy opening.
Reasons to visit Kenshin Bar The Intermark: a quick escape; excellent craft cocktails; long happy hours.
From July 1 Kenshin will be open Monday through Saturday from 5:00 p.m. to 3:00 a.m (previously from 7 pm). Parking is only RM5 after 5:00 p.m. for the duration of the evening at The Intermark carpark. Kenshin has two private rooms available for reservation that fit eight people each.
Kenshin
G-03A Ground Floor, The Intermark
348 Jalan Tun Razak
50400 Kuala Lumpur
+60 3-2181 2861
www.facebook.com/kenshinkl