Style with Substance
Words: Claire Matheson    Photos: Monica Tindall
It is a truth universally acknowledged, that a weekend jaunt in Singapore, must be in want of a luxury hotel stay. Yet in a world of Instagram, self-titled reviewers and instantaneous gratification, our expectations have been upgraded.
If you are desirous of an escape from everyday life, a mini break should provide class and service to far exceed any anticipated preconceptions. When staying at a luxury five-star hotel, we want to be wowed, we want to be awed, we want to be enchanted. So how do you choose the 'right' hotel? And are the older stalwarts of the hotel industry up to scratch?
There is something that happens to hotels as they age. They either do so gracefully, embracing their years of experience with dignity, wrapping themselves in a cloak of classic style from a bygone era. Such as Singapore's grand old lady, InterContinental Singapore in the heart of Bugis, which exudes elegance and refinement. These institutions become timeless, surviving the cycle of what is, and what is not, in fashion. Old school elegance and charm will always have its place.
Then there are the others. You know the ones. Although refurbished, they seem tired and dull. Garish carpets, mismatched colour palettes, uncomfortable furniture with too many sharp edges. Notions of good design change rapidly. Following a previously successful recipe when planning your interiors is no guarantee you will continue to meet guests expectations or needs. Money, after all, does not always buy taste.
Emerging ahead of the competition is a league of new, fresh hotels, among them InterContinental Singapore Robertson Quay. Designed to suit a more modern lifestyle, this is a hotel which embodies chic sophistication. It is a little bit daring, an experiment in texture and finesse. With finishing touches of burnished and brushed metals, dark smokey glass, gradations of wood tone, and white marble, its sleek sophistication is aimed at the modern and stylishly-minded. Lacking the crassness of trend-driven trimmings or the appointments of stoic, staid predecessors, InterContinental Singapore Robertson Quay is straight out of the design pages of your preferred glossy.
There are hotels, and then there are… hotels. This is the latter.
If you are wondering what a weekend away at the hottest room key in town looks like, read on.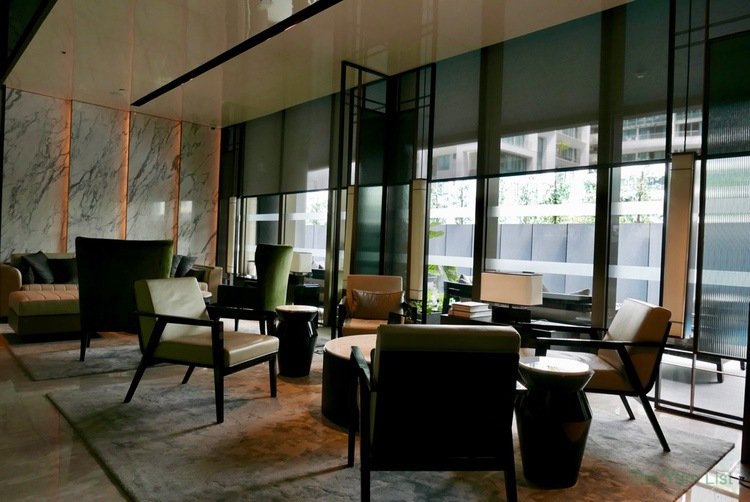 Arrival at InterContinental Singapore Robertson Quay
Whilst navigating Singapore's Changi airport is ridiculously easy, with helpful staff and little to no wait times or queues, the task of finding your way to your hotel can still be a little daunting, particularly for out-of-towners. Regardless of the convenience of the MRT, having a Club InterContinental chauffeur waiting for you with your name on a little sign, always gives a thrill. The ultimate in convenience and hassle-free service, the drive is a pleasure. Water, newspapers, and Wi-Fi are all provided, and deep, wide leather seats can be adjusted in a myriad of ways, cushioning you in comfort. Our friendly chauffeur even arranges check-in for us, making arrival at InterContinental Singapore Robertson Quay fluid and seamless. You can proceed straight to your room to unpack and freshen up.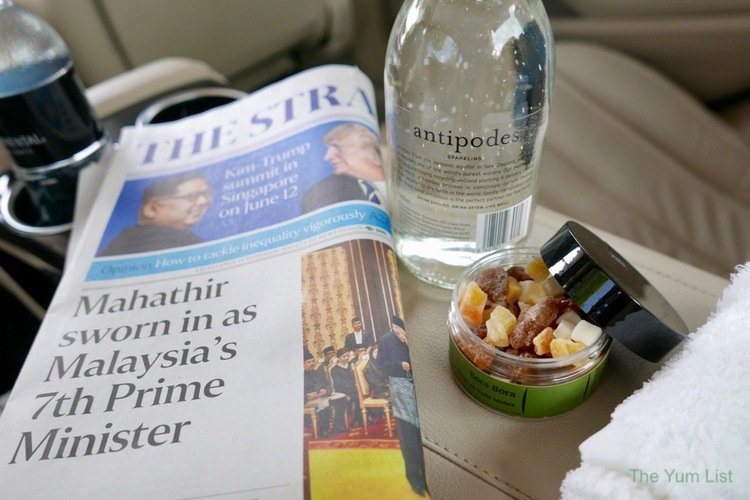 Welcome to Your Room
With clean lines and a minimalist use of space, InterContinental Singapore Robertson Quay is an interior designer's dream. The Club InterContinental rooms are not your typical hotel room. Every surface appeals to your sense of touch in an intermingling of warm woods and leather, and cold metals and stone.
Smooth dark smoked glass, embossed natural toned wallpaper, warm walnut leather club armchairs to envelope you, and crisp white linens with grey and black silk details all feature as the room centres your focus towards the floor to ceiling windows. The cocooning bed stands invitingly, ready to cradle you in a deep sleep. The wood and leather accented walls are highlighted with golden sunlight during the day with details of copper and other metals to reflect and radiate warmth.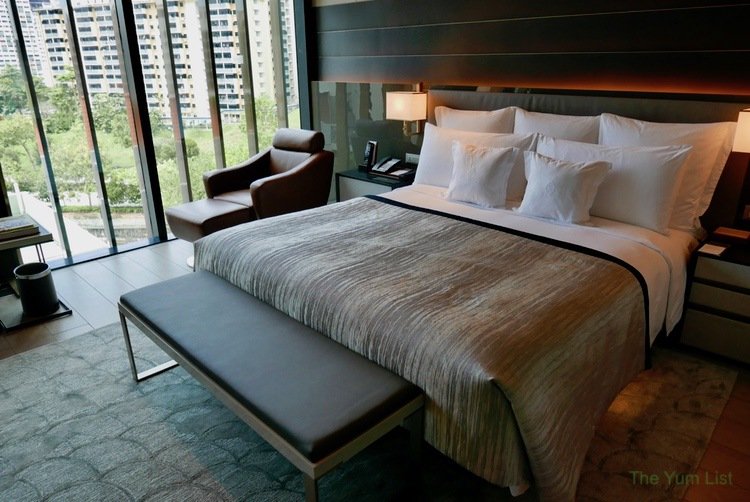 A wall-sized wooden sliding door cleverly separates the bathroom and entry from the bedroom, opening up or sectioning off the room as needed. Sleek and chic, the space is clutter free, making it inviting and ideal for those obsessive neat people. Rather than sparse sterility, this is modernity with personality, a complex and layered identity, free from the stress of clutter.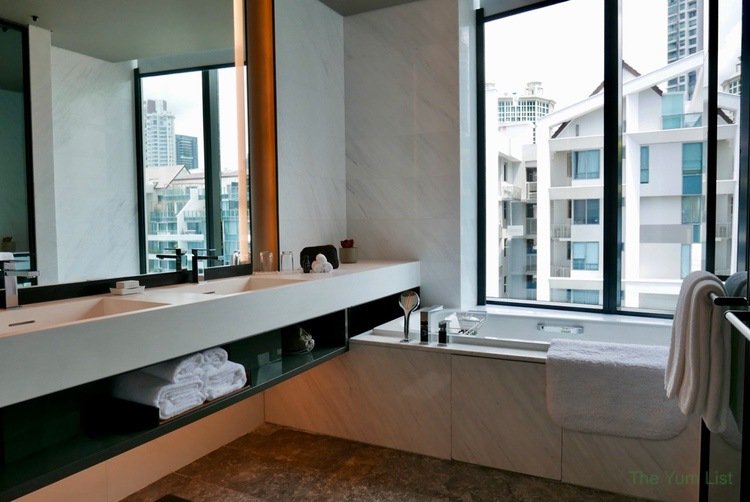 Sumptuously soft velour robes hanging in the wardrobe provide further cosy comfort. As you unpack, you can set aside items which need to make use of the complimentary pressing service. Another consideration to make your stay effortless and easy. Instead of being greeted with chocolates, a cheese platter awaits us with a complimentary single serve of Hendricks gin and East Imperial tonic. The wonderful staff at the Club Lounge rustle us up a large glass of ice and a small bowl of raspberries to mix with our G&T. Salutations and greetings indeed!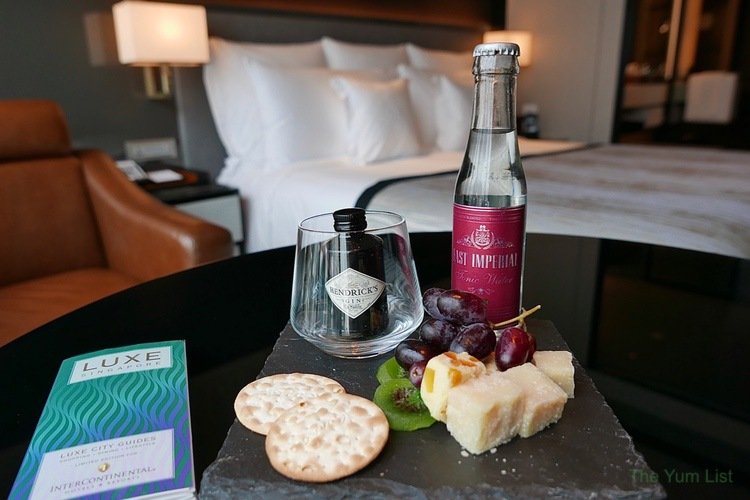 If your welcome cocktail goes down too quickly, the in-room bar is like none I've ever seen, chock full of gourmet goodies. A range of high quality sipping spirits is provided, such as Hendrick's gin and Icelandic Reyka Vodka, along with a copper cocktail shaker and jars of pre-mixed cocktail bases, including a gin/vodka martini, espresso martini, Negroni and gimlet. East Imperial tonic mixers and olives add a final touch of class.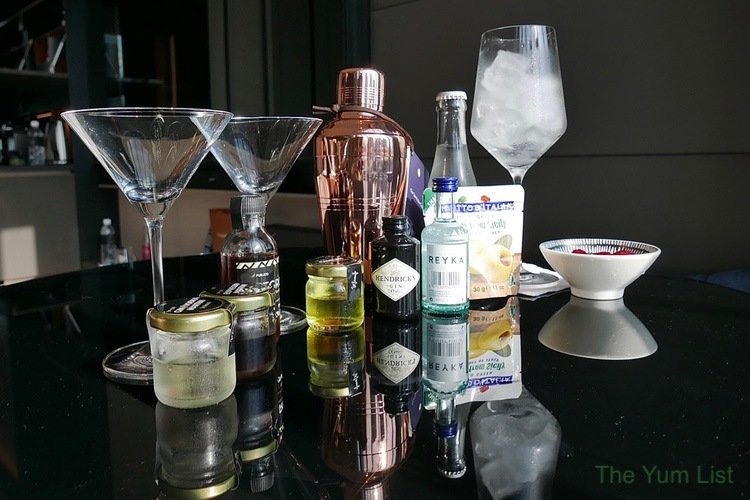 Friday Evening Cocktails
Marcello is InterContinental Singapore Robertson Quay's Italian cocktail bar. Set at the back of the hotel, a screened entrance reveals a mix of Italian atmosphere, diner-style fun, and a sprinkle of art deco nuance. Rich blue velvet booths, wood panelling, and soft lighting create a comfortable, rich glow. Wall shelves are filled with kitschy 50's paraphernalia and cocktail knick-knacks.
The incredible sounds of Tintarella Di Luna pump through the speakers, complete with vinyl crackle, followed by Dean Martin crooning, get-up-and-dance Gloria Estefan, and the dulcet tones of the Fugees. The playlist of each decades' best tunes interspersed with Italian classics has been put together by head bartender Palmira Bertuca and her team, and is available on Spotify under the name 'Marcello All Nite'. You better believe I downloaded it immediately!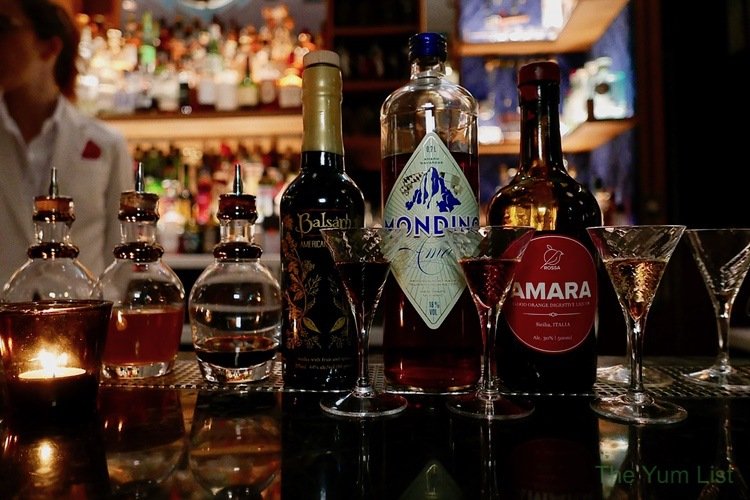 Donning white service jackets, the bar staff at Marcello are adept at mixing anything their guests request, but their knowledge of Italian spirits and combinations are quite possibly, the best outside of The Boot. Keep in mind Singapore's cocktail culture is highly competitive, currently housing 12 of Asia's Top 50 Bars, and six of the World's Top 50 Bars. Palmira has cultivated a collection of Amari, the Italian word for bitters, and will happily talk you through a flight. She also makes her own limoncello and smoked olives onsite.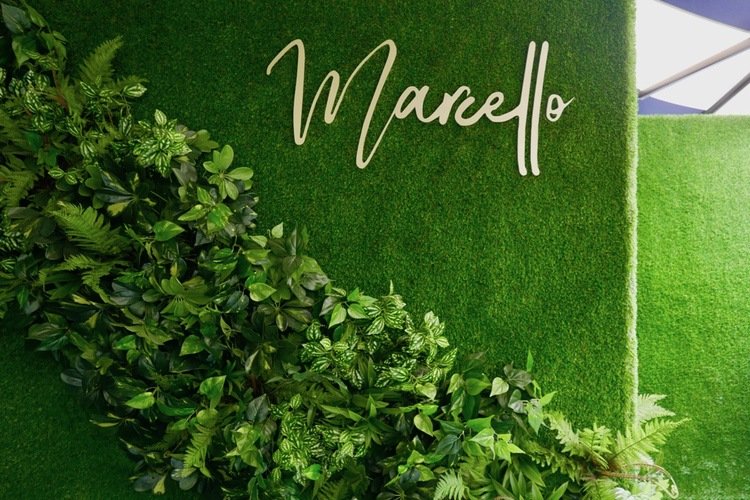 After drinks, the Robertson Quay district with its vibrant restaurant scene beckons. The hotel is ideally placed for wandering along the riverbank, and from here it is a short stroll through Robertson Quay up to the dining districts of Clarke Quay and Boat Quay.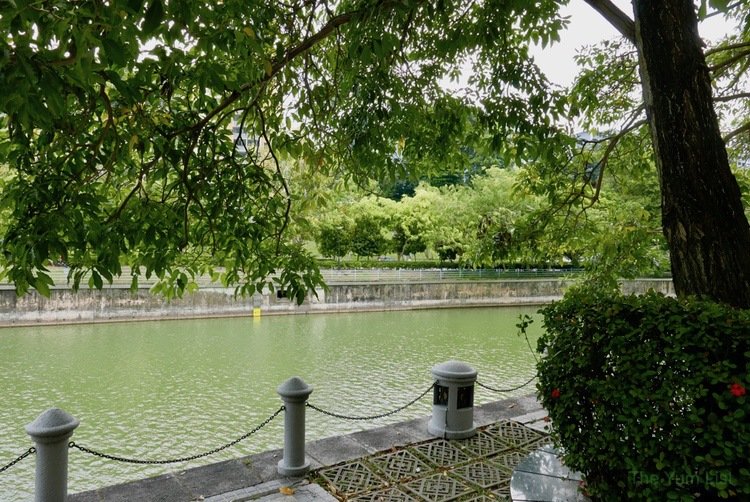 Morning Wellness
After a glorious sleep in with no pressure to get up, starting the day with a fitness session in the well-equipped gym will give you the pep you need for a full day of exploring. Equipped with Technogym machines, including treadmills, bikes, cross trainers and a range of weights and pulley machines, all training routines are catered for. InterContinental Singapore Robertson Quay also supplies water, towels and headphones.
In recognition of the different lifestyles and schedules of guests, the fitness studio is available 24 hours. Whether you are preferable to late night sweat sessions or crack of dawn cardio, you can move when the mood strikes or whenever your timetable allows. Flexibility is key, not just in your workout. For those seeking wellness without the hard work, you can also book a range of massage, spa, grooming and pampering services at Mei by 1880.
Breakfast at Publico, InterContinental Singapore Robertson Quay
One of the most important considerations when selecting a hotel is the breakfast spread. Regardless of how comfortable your bed is, how luxe your robe is, or how anticipatory in service the staff are, the way to win me over is through my stomach, and breakfast is my favourite meal! Previously, a multi-station buffet was the ultimate in luxury breakfast experiences. InterContinental Singapore Robertson Quay has upped the ante, incorporating a full cafe a la carte menu in addition to their buffet at Publico Deli, complimentary for staying guests. The best of both worlds, you can indulge in both a lavish hotel buffet while also chowing down on an impressive cafe brunch.
Surrounded by charming retro diner styling with long private booths, fun and zingy graphics printed placemats and coasters, and shelves of eye-catching trinkets, Publico is everything you want in your ultimate Breakfast and Brunch venue of choice. We seat ourselves outside at a table surrounded by garden hedges. Retractable black and white striped awnings provide cover from inclement weather. The buffet features a wide selection of hot dishes, including eggs multiple ways, sausages, thick cut bacon, roasted potatoes and baked beans, as well as cold cuts and cheese arrangements, a cereal station with numerous options, fresh fruits, yoghurts and muesli, and an array of pastries and fresh bread.
Better still, Publico Deli serves good coffee. None of this automatic machine drip hotel nonsense. Proper coffee! After filling our plates from the buffet, we order a plate of Huevos Rancheros with chorizo chilli, black beans and a heaping of smashed avocado on a soft tortilla with two sunny side up eggs, as well as Bettina's Granola: a mix of whole grains, honey, berries, and mint served with natural greek yoghurt.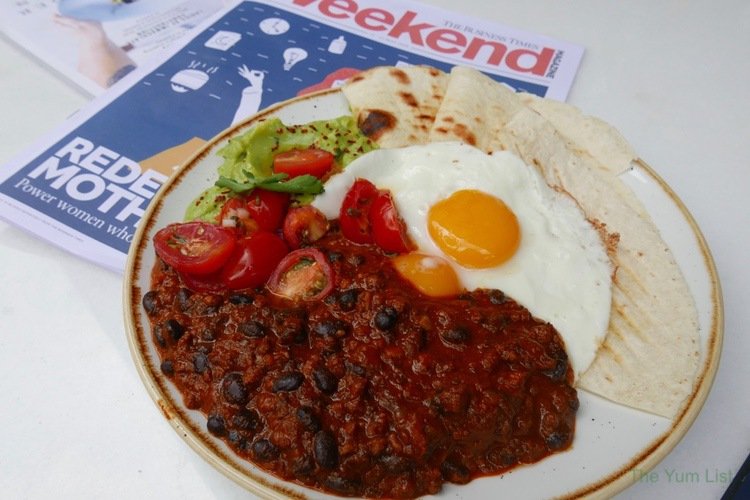 We'll admit that Publico Deli's menu was so tempting, instead of frequenting the Club InterContinental Lounge for a more private breakfast the following morning, we came back down to revisit those dishes we felt compelled to try. Sunday morning saw us ordering the Avocado on Toast, with heirloom tomatoes and lashings of smashed avocado on thick cut sourdough bread, and Pancakes with Berries, with two impossibly large soft and doughy pancakes served with diced strawberries, a nutty, biscuity crumble, a spoon of cream and jug of maple syrup. Scrumptiously decadent and too big to finish.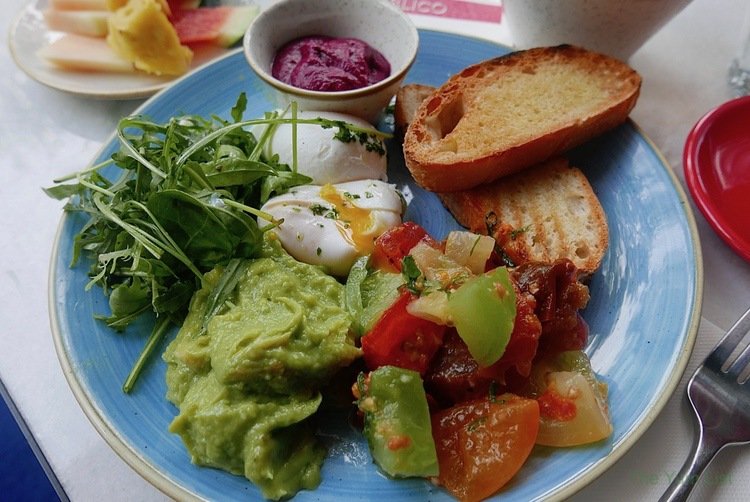 Chilled Saturdays
After having your fill of breakfast, enjoy a full day of leisure and recreation, beginning with a dip in the secluded pool and lounging in the sun. Fully screened from the world, you are free to enjoy your time away from prying eyes.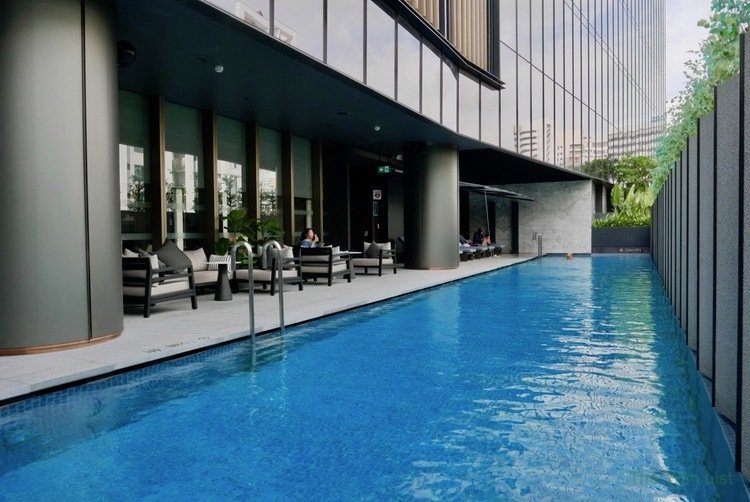 Once you have unwound from the week, Singapore beckons. A cosmopolitan city of culture, food, shopping and heritage, the mix of influences is best uncovered on InterContinental Singapore Robertson Quay's fleet of complimentary Tokyo bikes. Specially crafted for easy city riding, the bikes are stylishly designed with black frames and wicker baskets. They are an optimal transportation for Singapore's flat and navigable streets, providing simple accessibility to surrounding precincts, shopping malls, cafes and sites, all at an easy and relaxing pace: a splendid way to sightsee with the added bonus of environmental sustainability and a healthy boost of endorphins. The wind in your hair is also the best way to beat the heat.
After touring the streets it's time for a spot of shopping, and InterContinental Singapore Robertson Quay is conveniently placed right in the centre of the downtown area. Bugis Junction, Raffles City, Suntec City, Millenia Walk and Marina Square are all a short walk or bike ride away to the East. Every brand and label your heart desires are available within a small distance and food options are too numerous to count. Alternatively, if culture is your quest, the National Gallery, St Andrew's Cathedral, the Esplanade and Fort Canning Park are all within the same region. If you would instead prefer the more populous Orchard Road, it is a few blocks to the North, along with Somerset and Dhoby Ghaut MRT stations, to take you anywhere else on the island.
If the day's fun has you seeking a quiet spot to unwind, we suggest you grab a spot in the lounge upon returning to the hotel. Seated in forest green velvet high backed armchairs, you can collect your thoughts with a drink or pastry from the fold out lounge bar and a flick through today's newspaper, current magazines, or creative focused coffee table book.
Saturday Evenings at the Club Lounge
In Singapore, adventures don't stop when the sun goes down. But before beginning your nighttime festivities, visit the Club InterContinental Lounge for happy hour cocktails and canapes between 6.00pm and 8.00pm. In keeping with the theme of indulgence, a glass of the Nino Franco Rustico Prosecco Superiore DOCG is always a good choice to start. Creamy and fresh with tart apple, it is entirely well suited to our heaped platters of prosciutto, cured salami, smoked ham and aged beef along with blue gorgonzola, camembert, mature cheddars and Parmigiano. Sprinklings of dried fruit and pistachios, as well as rustic wholesome bread and fresh butter, make for a preferred evening kickoff.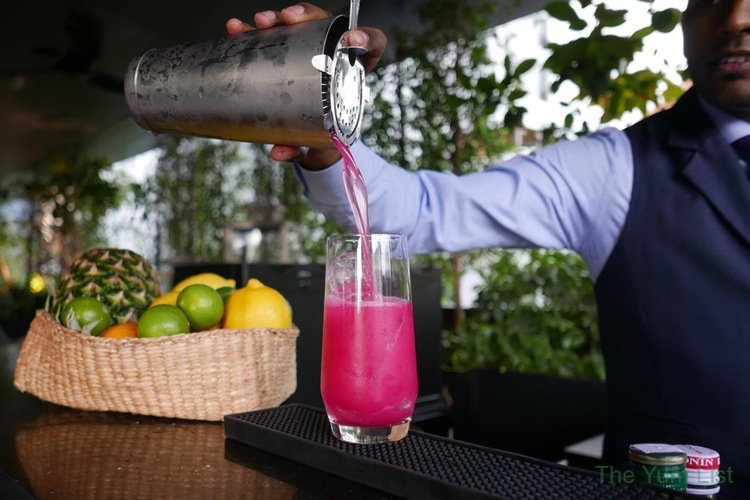 Attentive staff are poised ready to refill glasses as we sit and nibble at the selection and chat freely. Plush grey armchairs and lounges punctuated with high gloss dark woods are located within the cooling air-conditioned lounge or seat yourself amongst mottled greenery and a view of the city on the outdoor terrace. Fuelling our mirth, further cocktails are provided, and we try the Quayside Sling, a more mature, herbal and mild version of the iconic Singapore Sling.
Being served an array of canapes, notably beef satay skewers, stuffed capsicums with pesto oil, turkey terrine with pickled summer vegetables, and a green pea vegetable pattie mini slider, as well as second and third helpings of cold cuts, cheeses, and fresh bread, we are too full for a main serving of dinner, despite the wonderful smells of wood-fired pizza emanating from Publico restaurant. Instead, we head out into the city to seek out Singapore's best cocktail offerings.
Returning in the wee hours of the next morning a moment before the dawn sunrise, we make our way into the 24/7 Club InterContinental Lounge, where bright-eyed staff are ready and waiting. Feeling peckish and wishing to stave off any impending ill effects of a fabulous night on the town, we take our fill of bread, cheeses and lemon and cucumber infused water. Overhearing a craving for peanut butter, an inexorably kind waiter appears moments later with a bowl full, having ducked down to the downstairs kitchen to fetch it along with a loaf of sourdough to toast as an accompaniment.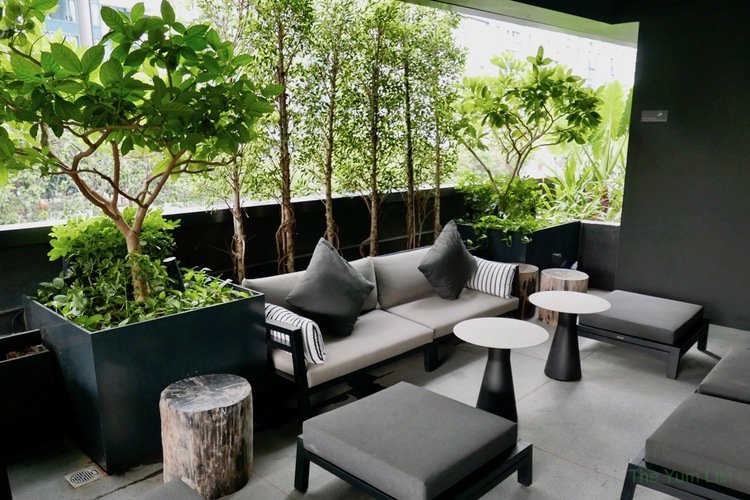 This is the difference that sets InterContinental Singapore Robertson Quay apart. Our lives are no longer lived nine to five. With increasing demands to be on-the-clock, on the ball and online at all hours, we have also stretched our need to accommodate those aspects of our lives that afford balance in our few remaining snatches of free time. Those free moments fall at different times for different people and InterContinental Singapore Robertson Quay has adjusted their services and facilities to mirror this modern malleability.
Lazy Sundays
After a big Saturday night, there is nothing as satisfying as a long lie in, followed with an in-room coffee on a Sunday morning. Whilst no match for Publico's brew, a Nespresso machine makes a shot of espresso possible before a morning workout in the gym. A second visit to Publico Deli is then called for. Limiting our ordering choices is just as difficult as yesterday, particularly after devouring our first course from the buffet. Settling in, we spread out the complimentary copies of the day's papers as well as Instyle and Vogue magazines and order another coffee.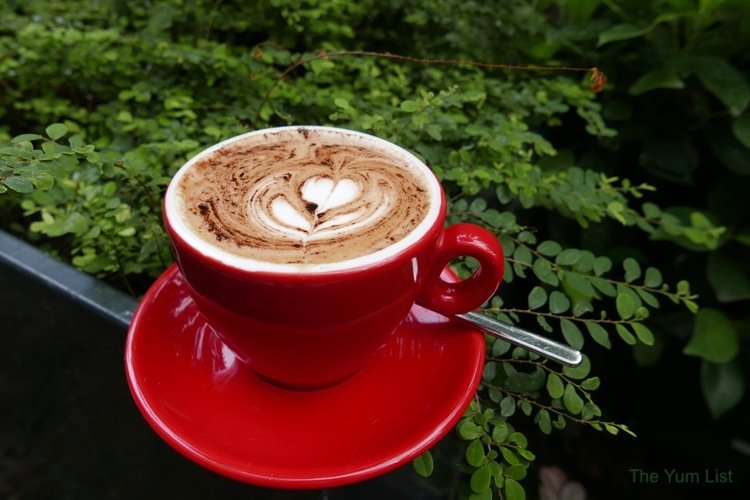 With an early evening return flight, a late checkout can be requested, made possible by Club InterContinental, before heading out for a final day of adventure at Gardens by the Bay and the Marina on our Tokyo bikes.
Making it back to the hotel in time for Club InterContinental afternoon tea on the terrace, triple tears of petite sandwiches, profiteroles, scones, slices of tiramisu, layer cakes and tiny cakes are a lavish end to our luxury weekend. Pots of Gryphon Tea Company teas are offered, and we recommend the Jasmine Silk Pearls and Egyptian Chamomile.
After a final pack up and refresh in our room we head down to our waiting chauffeured town car. Our driver checks our terminals and flight details from his in-car app and drops us directly at the door, providing a smooth transition from InterContinental's superior service to Changi airport's uncomplicated and stress-free ambience.
With a stylish aesthetic and functional practicality, InterContinental Singapore Robertson Quay has tailored its service to suit the modern traveller, working in and around new lifestyle norms to deliver an exceptional luxury experience. Decadent and sensual uses of textures and finishes provide a sense of quality and understated richness. Most importantly, every aspect of design has taken the need for guest flexibility into account. While InterContinental Robertson Quay does not offer the ostentatiousness of other five-star hotel brands, they provide something more, style and substance.
Reasons to stay at InterContinental Singapore Robertson Quay: Modern and flexible 24/7 facilities and services, proper coffee served with a breakfast to suit all tastes, and interior styling to take your breath away.
InterContinental Singapore Robertson Quay
1 Nanson Rd, Singapore 238909
+65 6826 5000
robertsonquay.intercontinental.com