Words: Kitty Lang   Photos: Monica Tindall
When I moved to Malaysia nearly a year ago I expected to find plenty of Malaysian, Indian and Chinese food but what has been surprising is just how many Italian restaurants there are here. What has been even more unexpected is the quality of the offerings.
I have travelled throughout Italy, tasted some great (and some truly terrible) local fare so whilst not considering myself an expert, I modestly like to think I have a reasonable idea of what passes as authentic Italian. Stepping into La Risata I could easily have been wandering through the undulating hills of Tuscany and stumbling into a local pizzeria, with its wood-burning pizza oven, open brick walls, industrial ceilings and local art and an impressive antique chandelier completing the picture.
With a fistful of awards for their pizza and Italian fare, the restaurant is modest and sympathetic to its Italian nature, thanks to the original Italian chef who opened the restaurant some 22 years ago. Selina, our host, expertly and passionately guided us through the evening.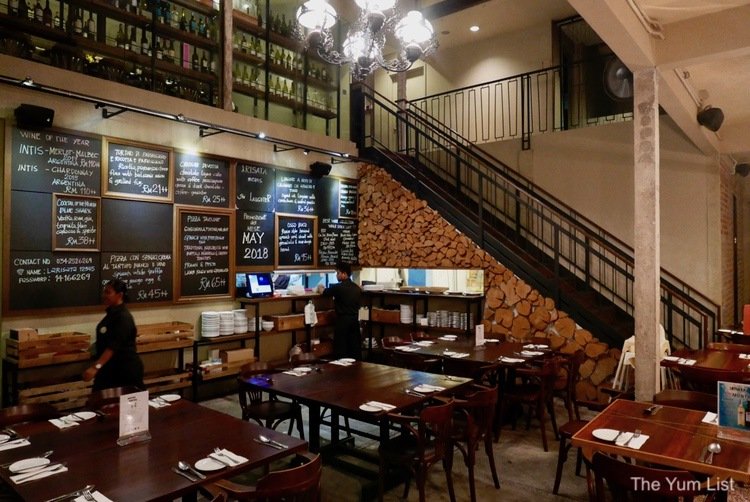 Meat-Free Italian La Risata Ampang
Being big advocates of zero-waste and looking after our lovely planet, Monica and I both embrace any opportunity to reduce our carbon footprint and 'go veggie'. It also helps that we both love vegetables, so we're in for a treat at La Risata. There are plenty of offerings for our fellow carnivores, but our mission was to explore the huge variety available to those not wishing to eat meat.
Antipasti Menu La Risata Ampang
To kick us off, Selina ordered us the Insalata Portobello Al Forno E Verdure Grigliate (RM 28) a big, juicy mushroom, with grilled courgette, aubergine, pepper and a crunchy, salty parmesan crisp, lifted by a lovely, fresh, home-made pesto. Accompanying this was their house tapenade made from lovely, ripe, black olives and olive oil, served with warm bread rolls – simple but expertly done in my humble opinion. We washed it down with a refreshing glass of clean crisp Hemisferio Sauvignon Blanc (RM 28) from M. Torres displaying notes of passion fruit and lime.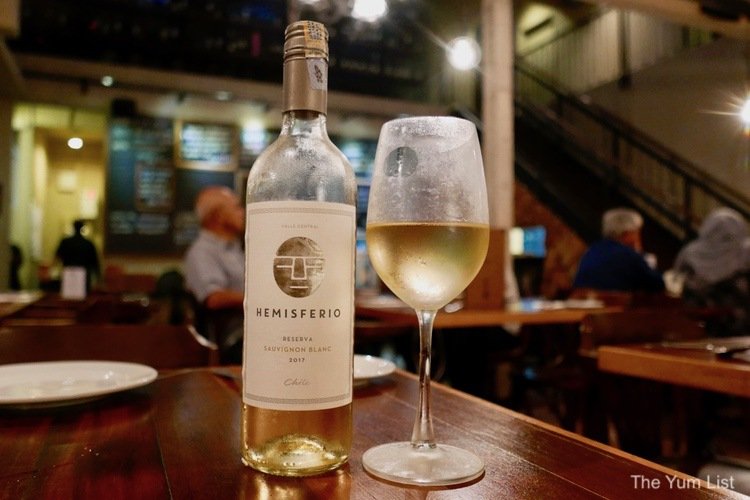 Any Italian restaurant worth its salt has their own version of the ubiquitous Parmigiana and La Risata was no exception with their next dish of La Parmagiana E Melanzane (RM 20). Made in the traditional way, the layers of aubergine were truly melt-in-the-mouth complemented by rich tomato, creamy mozzarella and completed with the sharp tang of Parmesan. It was expertly created, with a great balance of ingredients.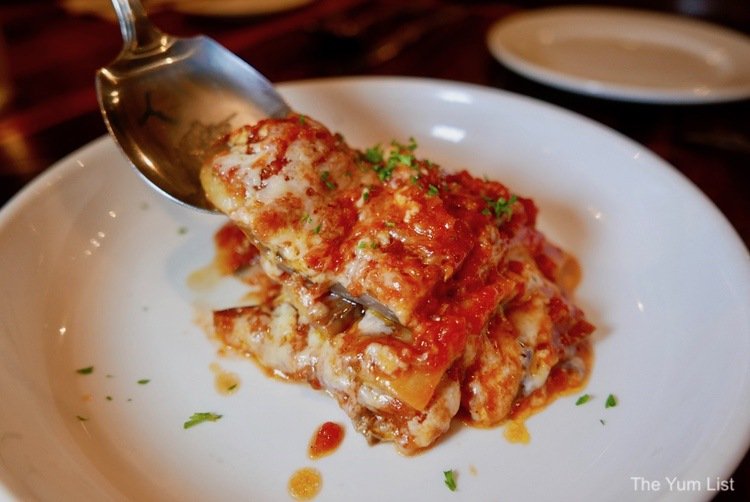 To continue our smorgasbord of Italian delights, it transpired that my favourite dish of the evening was our next, the Burrata Con Pomodoro (RM 35). A large, fleshy, unctuous ball of creamy Burrata, sat atop the melee of sweet cherry tomatoes in an Italian dressing. The bright flavours lingered with the perfect harmony of sour and sweet, begging us to finish the lot.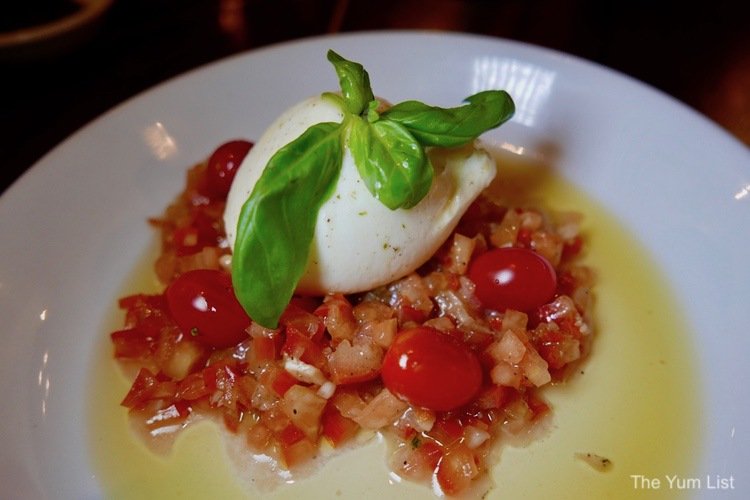 Following the previous, rather indulgent dish, our waists were relieved to have something slightly less girth busting in the shape of the Insalata Portobello Al Forno E Verdure Grigliate (RM 28); all of our favourite Mediterranean vegetables, roasted to perfection and creating a 'composed' antipasti. Firm sweet courgettes, aubergines, peppers and Portobello mushroom were adorned with a Parmesan cracker and the same scrummy basil pesto that we enjoyed earlier.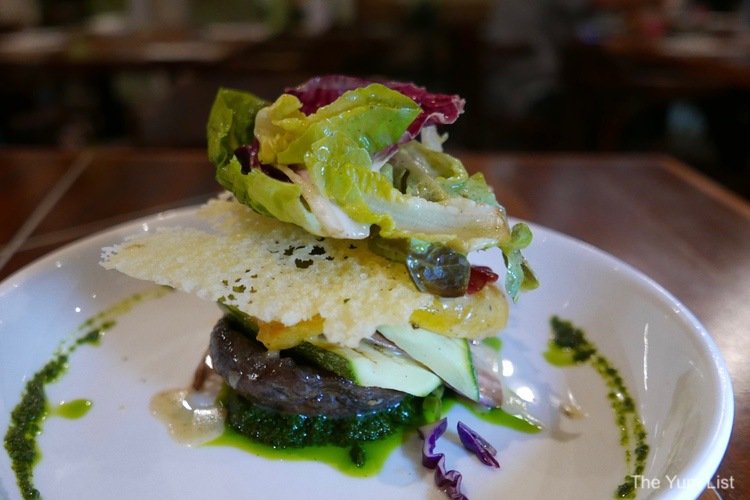 Pizza Menu La Risata Ampang
Having tried a veritable delight of starters, the wood-fired oven and homemade dough provided us with our next selection of tasty morsel: their trio of homemade pizzas, quirkily presented on a long, wooden board. Alongside traditional bases, La Risata boasts a refreshing change of 'Pizza Bianci' or 'white pizzas'. As an introduction to the white pizza, we were served Pizza Pera E Gorgonzola (RM 33). The salty gorgonzola contrasted perfectly with the sweet pear and peppery rocket, whilst walnut added another layer of texture and crunch – a delicious variation from the norm. The second was their Pizza Funghi (RM 26) with mushroom and mozzarella topping the more traditional tomato base – simple and tasty, just how it should be. To complete the pizza threesome, we had Pizza Vegetale (RM 30), where the trusty aubergine made another appearance, sharing the pizza top with pine-nuts, pesto, ricotta and cherry tomatoes, completed with pesto and mozzarella.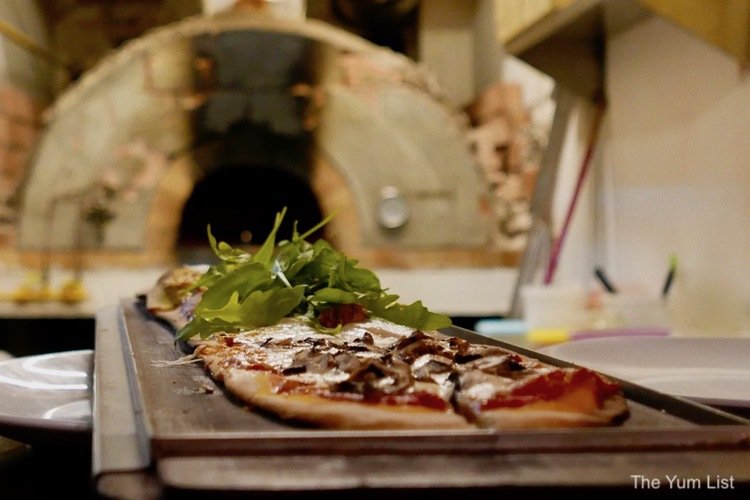 Past Menu La Risata Ampang
Having partly filled our bellies, it was time to move on to the 'Primi Piatti'. I find that gnocchi can sometimes be cloying and heavy, but certainly not here. The Gnochetti Di Spinaci Con Timballo Verdure (RM 35), where spinach was combined with the potato mixture, created little vivid green gnocchi. The plentiful portion was served with chargrilled vegetables and Portobello mushroom to complement the dreamy, light fluffy gnochetti.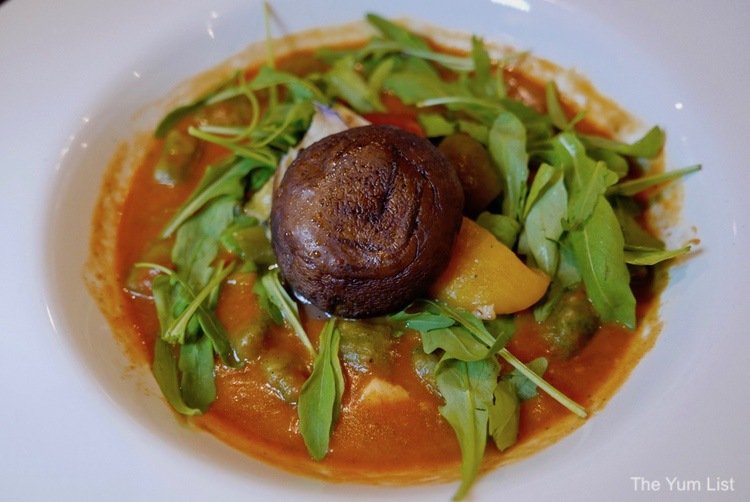 To continue the green theme, and in case we were still feeling hungry (impossible with the generous portions), Penne Con Pesto (RM 38 when including prawns) enough penne to sink a battleship, was smothered in piny pesto and lashings of parmesan. It was a reminder of how back to basics is often the key to highlighting beautiful flavours.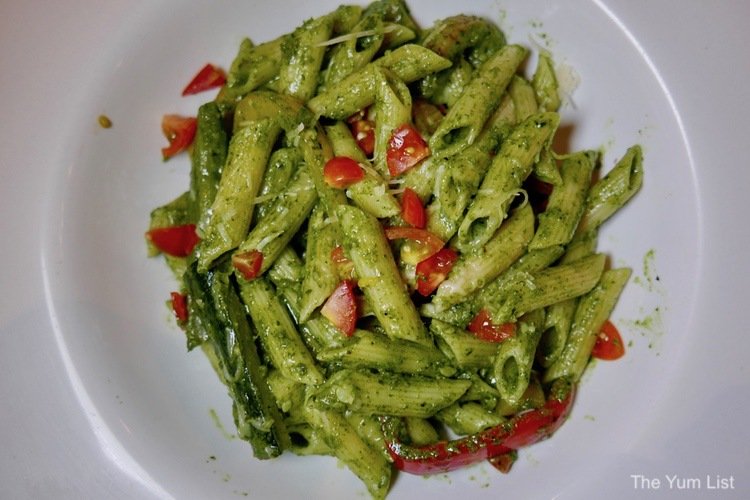 Dessert Menu La Risata Ampang
After all that savoury fare, a touch of sweetness was needed to round things off. The house speciality, cheekily not advertised on the menu, is their Chocolate Bombe, enough for two. After pouring hot, thick, sticky chocolate sauce over a spherical chocolate shell, a centre of semifreddo was revealed exposing white chocolate on the bottom and dark chocolate on top. Fresh raspberries and strawberries offered a light relief to the chocolate gooeyness with surprise nuggets of honeycomb to provide some crunch. It was a truly theatrical presentation.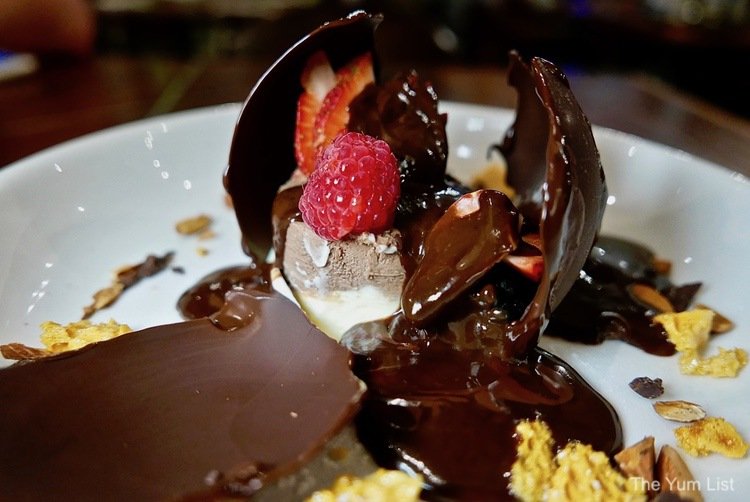 When I think of Italian desserts, one of the first things that spring to mind is Panna Cotta (RM 12). So in case, one dessert wasn't enough, this is where we ended the evening, with a silky, light, creamy, wobbly pannacotta as it should be with the perfect addition of strawberry coulis.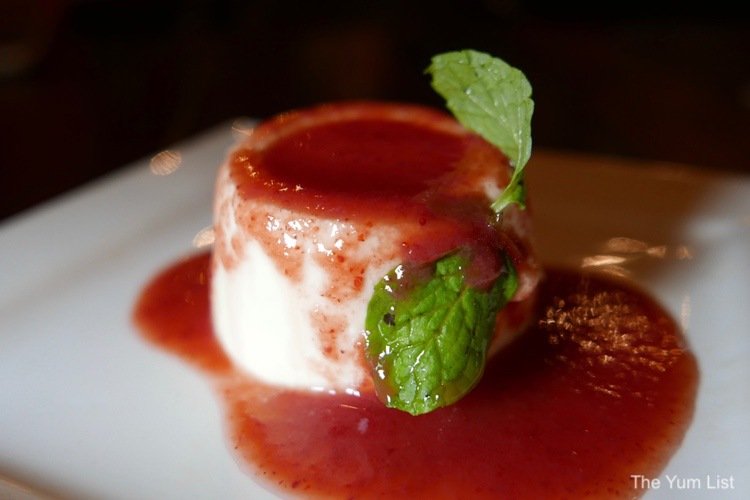 With current pop music playing in the background, a rustic setting and comforting Italian pizzas, pasta and more, La Risata is a quaint, neighbourhood restaurant with a bustling atmosphere, great for families, couples and group gatherings.
Reasons to visit La Risata Ampang: friendly neighbourhood Italian restaurant; a good number of meat-free options; value for money
La Risata Ampang
16 Persiaran Ampang
Ampang 55000
Kuala Lumpur
Malaysia
la-risata.com/ampang-outlet
La Risata Ampang Opening Times:
Lunch : 12.00pm-2.30pm 
Dinner : 6.30pm-10.30pm
Read about some of our previous visits to La Risata Ampang here and here and their sister restaurant in Damansara here.