Words: Chris Moore      Photos: Monica Tindall
Travel the streets of Kuala Lumpur and you are bound to find a number of different establishments specializing in one type of libation or another. There appear to be more wine bars and beer bars than one could possibly count, and though far fewer in number, rum bars and whiskey bars have sprung up around the city offering unimaginable varieties of the speciality spirits too. One notable absence from the Kuala Lumpur food and beverage scene though is a sake bar – until now at least. Head into the heart of Bukit Damansara and take the elevator beside Huckleberry up to the third floor and prepare to be transposed into what looks exactly like a traditional Japanese bar.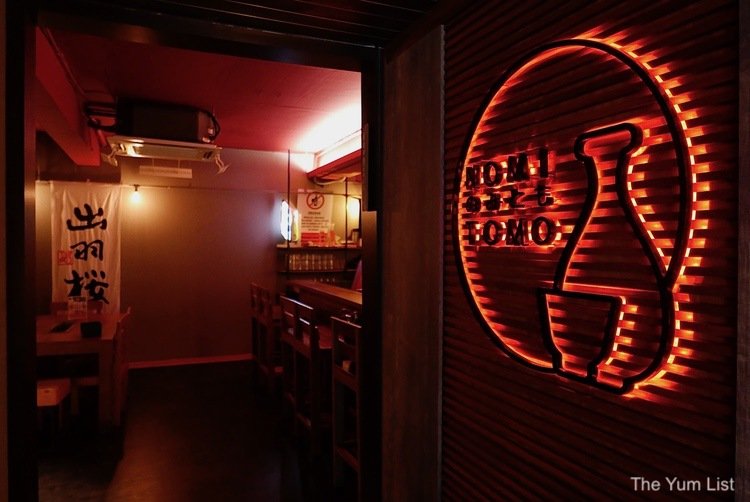 Nomi Tomo, which literally translates from the Japanese language to mean 'drinking buddies' is exactly the type of place KL has been missing; the type of bar where customers can enjoy a variety of different sakes that are complemented by small dishes of traditional Japanese cuisine. Nomi Tomo is a joint venture with another Japanese specialty restaurant Tabe Tomo, with the key difference between the two being that at Tabe Tomo the focus is on the food while at Nomi Tomo the focus is on a relatively underappreciated variety of drink on the Malaysian peninsula, sake.
Much like wine, not all sake is the same. Depending on the variety of rice used, the amount of grain polished prior to fermentation, the use of any added flavours or alcohol, and, even the source of the rice and water used in the production, the flavour of sake can be vastly different from one bottle to the next. At Nomi Tomo, their vision is to show this to the people of Kuala Lumpur, educating them on the different types and flavours while elevating the status of the drink around Malaysia – and hopefully, one-day making sake just as popular as wine.
Drinks Menu Nomi Tomo
While sake is the backbone of the bar, other varieties of Japanese drinks can be found at Nomi Tomo. Mugs of the iconic Japanese beers Sapporo and Suntory are available on draft and a traditional and refreshing replacement drink for beer – the highball – is available in a variety of flavours. The Suntory Highball (RM38) is a delicious, cold and refreshing drink made of Suntory whiskey, soda water and garnished with a wedge of lemon. The smoky notes of the whiskey work well with the tartness of the fresh lemon, and though somewhat unconventional to me, a mug filled with ice, whiskey and soda is incredibly appetizing. The Bijofu Yuzu Highball (RM32) is made with yuzu flavoured sake and soda water and is downright amazing. The citrus notes of the yuzu are matched exquisitely with the sweet rice sake and it is easy to see one drinking back quite a few of these on a hot summer night. Should you desire a more sweet option then order the Kodakara Ume Highball (RM32), which is made with a sweet plum based sake and soda water. It is equal parts fruity and sweet, and just as delicious as the two others.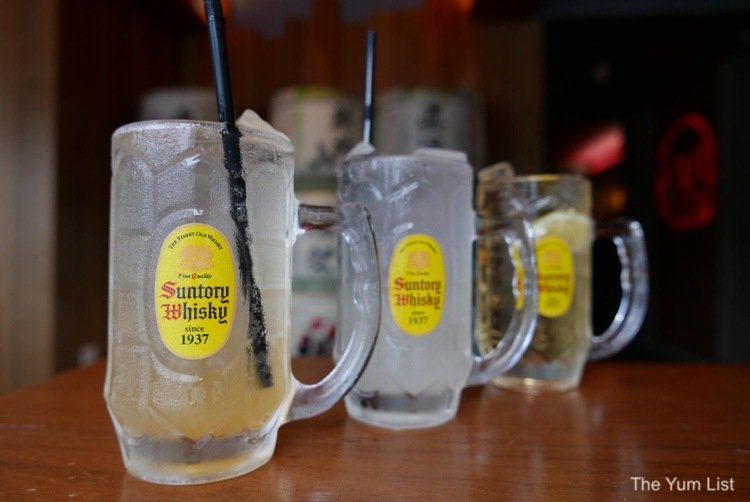 Sake at Nomi Tomo
Though it might seem daunting when you first walk into Nomi Tomo and see three massive refrigerators filled with sake bottles of different size, colour and price – fear not because the people at Nomi Tomo have you covered. Either take their recommendation or provide them with a little bit of insight into the flavour profile and price range that you are interested in and soon you'll have a bottle in front of you.
If your experience with sake is limited or you just want to try something different then I would recommend starting with the Sake Tasting Set (RM50-70), which is served as a preselected sampler box of three different variations. Our bento style sampler came with a tasting of Masumi Gold Karakuchi, Dewazakura Ginjo Kaho, and Sakunohana Muroka Hiire. Though all three variations were light bodied, each sake had a different level of sweetness and fruitiness making one distinctly different from the next. The sampler is the perfect way to start your sake experience and get some insight into the different flavours and profiles available to you.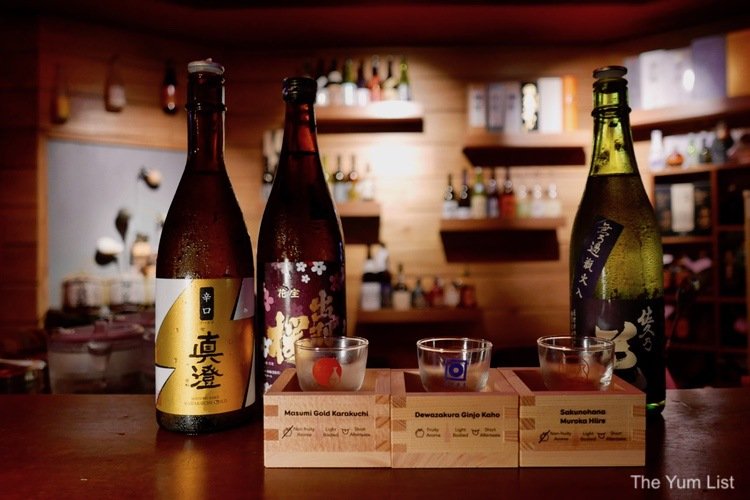 One of the defining features of Nomi Tomo though is the sheer variety of sake available by the bottle. From sparkling sake to a range of honjozo, ginjo, and daiginjo sakes that can be served cold, warm or hot, there is literally a variation of sake for every palette at Nomi Tomo. The Dassai Happo Nigori Shu (RM145/360ml, RM280/720ml) is a delicious sparkling sake that is eerily reminiscent of sparkling wine and bursting with the fruity aromas of Muscat grapes. Though this is my first adventure into sparkling sake, I can guarantee this is not my last.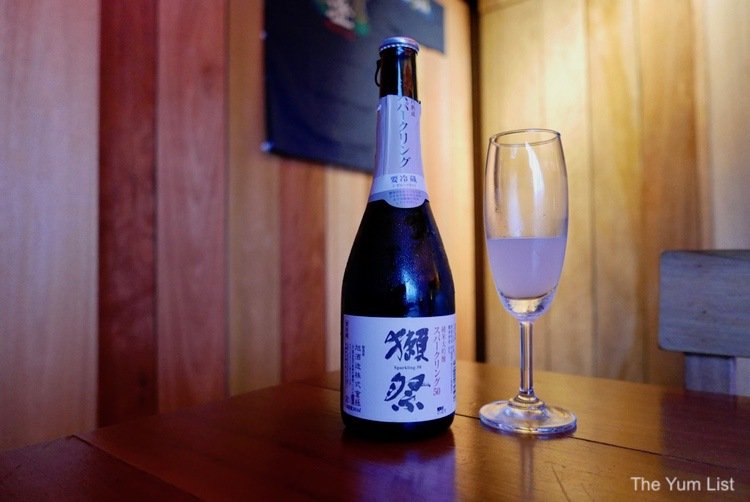 Venturing into the daiginjo range, which is classified as the highest grade of sake because a minimum of 50% of the original grain of rice has been polished away prior to fermentation, we are fortunate to sample two different varieties. First up, the Gasanryu Daiginjo Kisaragi (RM337/720ml) is a fortified version with distilled alcohol added to the grain and is medium bodied with notes of fruit. The sweet, fruity flavours of the sake is amazing and it's quickly understood why it arrives in such a large bottle. Now, as good as the Gasanryu is, the Bijofu Junmai Daiginjo Hina (RM387/720ml) is on a whole different spectrum. Full-bodied and rich, the Bijofu balances the sweetness of the rice with bitter and woody notes of chestnuts.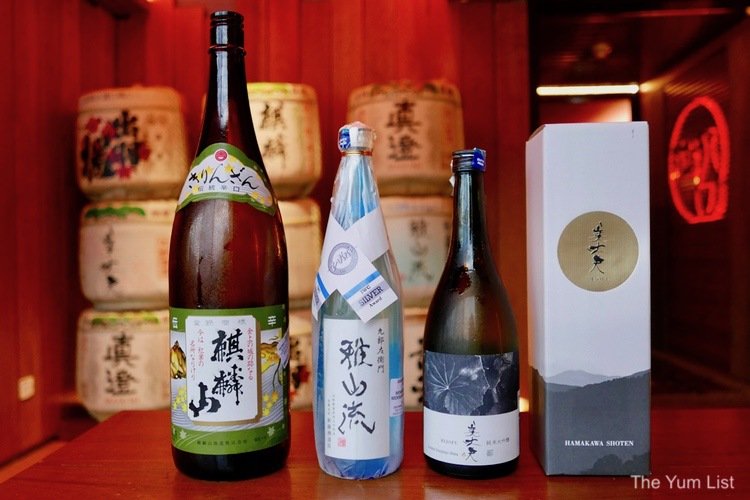 The last sampling of the evening is a hot and cold side-by-side comparison of an entry level sake. First off, not all sake should be served warm as heating the liquor changes its flavour profile, which in fact might completely ruin the beverage. One variation that can be heated is the Kirinzan Dento Karakuchi (RM130/720ml). The dry, sweet profile is perfect to be served either cold or hot, and the difference in the taste from the warming is amazing. For me, my personal preference of the Kirinzan is actually hot, as I find the fruity notes more pronounced and the acidity more subdued.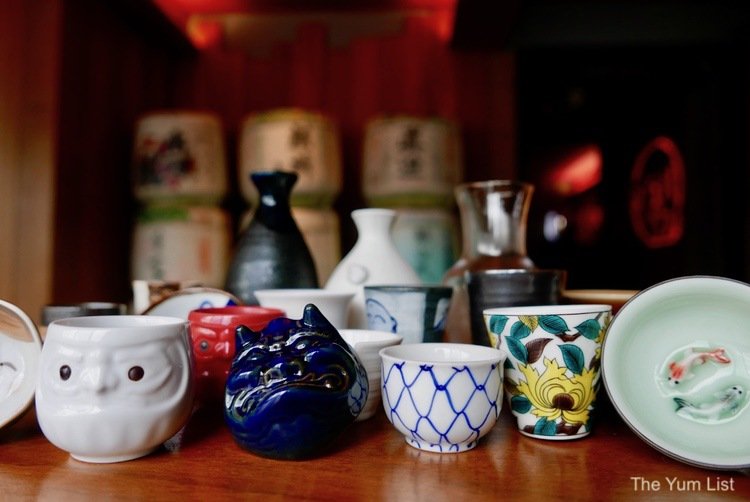 Food Menu Nomi Tomo
Though not the main feature of Nomi Tomo, the food that is available is delicious and an amazing compliment to the vast varieties of sake available. Our samplings included an assortment of grilled yakitori skewers of Chicken Cartilage (RM5), Chicken Wings (RM9), Bacon Wrapped Enoki Mushrooms (RM7), Bacon Wrapped Asparagus (RM9) and Chicken Thigh with Leek (RM9). The smoky notes from the charcoal grill are abound in each of the skewers and are downright delicious with the sweet flavours from the sake.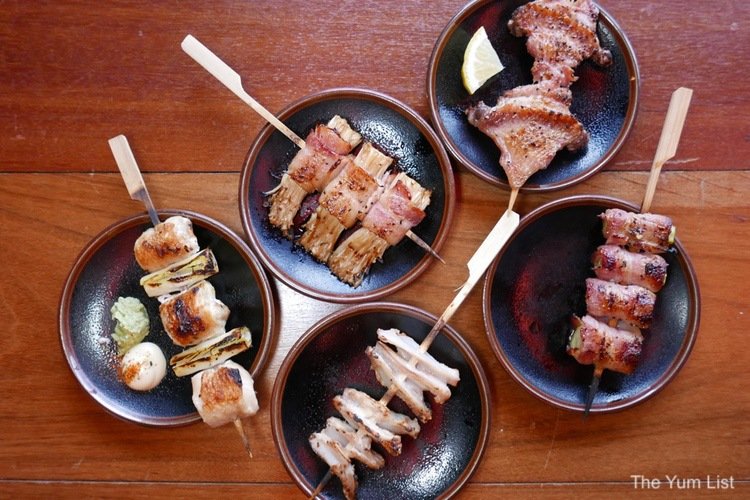 The final dish of the night is meant to be exactly that – a revitalizing finisher to close out a night of drinking. The Oden Soup (RM24.90) is a wonderful homemade broth of shoyu, mirin, sake and fish bones and ladled over an assortment of different fish cakes and Japanese radish. The delectable and rich salty soup is meant to replenish your energy and hopefully eliminate any of the ill effects from consuming a bit too much sake.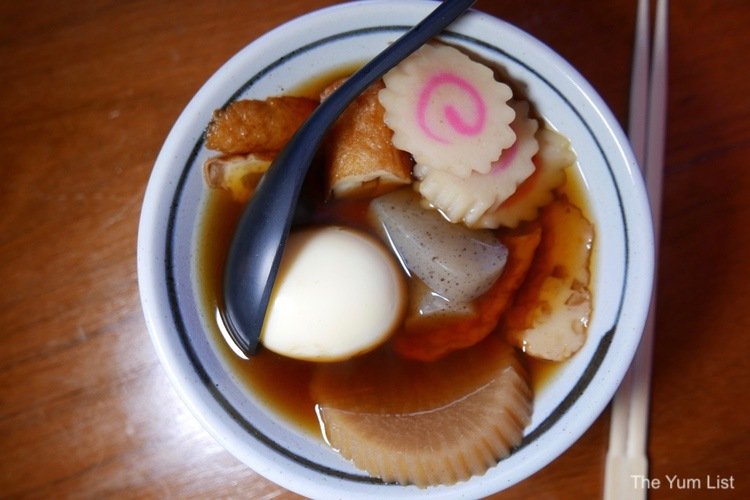 Reasons to visit: Nomi Tomo is the only speciality sake bar in Kuala Lumpur and you are sure to find some variation that you will absolutely love; if you've never had sparkling sake you are seriously missing out; the quintessentially Japanese atmosphere makes you forget that you are in the heart of KL
Nomi Tomo Sake Bar
3rd Floor, 2-2 & 4-2 Jalan Medan Setia 2
Bukit Damansara
50470, Kuala Lumpur
Malaysia
+60 3 2011 2839
nomi.com.my
Opening Hours Nomi Tomo
Monday – Saturday: 6:30 pm – 2 am.