Words: Monica Tindall
Photos: Edmund Kibo
I find myself in a constant dilemma between health and beauty. No doubt good health often translates to a better appearance but getting that polished edge often involves a little extra such as an artificial hair colour or nail polish. Most products achieve results with the use of chemicals that are not particularly good contributors to the wellness of ourselves or our earth. Eka Roots in Bangsar, however, allows me those first world indulgences while at the same time being kinder to the environment and my salubrity.
Organic Hair Colour, Philip Martin's Italian Organic Lifestyle
Organic Hair Colour by Philip Martin's at Eka Roots Bangsar is a new product in Malaysia. It has picked up very well because it has no ammonia, no SLS, no parabens, no PEGs, no propylene glycol and all ingredients are derived from organic farming methods. If you grab a bottle you won't be knocked out by toxic fumes but rather be lured by a pleasant aroma similar to that of a floral shampoo.
The second reason it has taken the fancy of stylists is the extensive range of colours offered. Previously, natural hair colours such as henna could only darken hair. The Philip Martin's range, in contrast, has over 50 shades even going as light as "bleach" blonde (without the bleach).
Judith, one of the salon directors of Eka Roots, became enchanted by the product at a hair demonstration where a stylist was "bleaching" hair blonde with his bare hands. Besides being impressed by the "no gloves" application, Judith also detected no smell. This healthy way to colour hair is not only great for customers but also fits with the team's goals of providing a healthy working environment for staff.
For my colour today I'm looking to go a shade or two lighter than my natural brown with some added richness and, of course, cover the random greys that seem to protrude from the top of my head shouting, "Look at me! I'm grey!" Despite having 50 hues to choose from, Gigi, senior stylist and colour expert at Eka Roots, has decided to mix three colours to give me a shade that is perfectly suited to my complexion and meets my stated desires. Even though she doesn't add highlights, the way Gigi has mixed the colours leaves a highlighting effect when light reflects off my hair. You can see the before and after shot below and decide for yourself if you like my new look. I guess though, it doesn't really matter what you think because I'm decidedly chuffed with the result 😉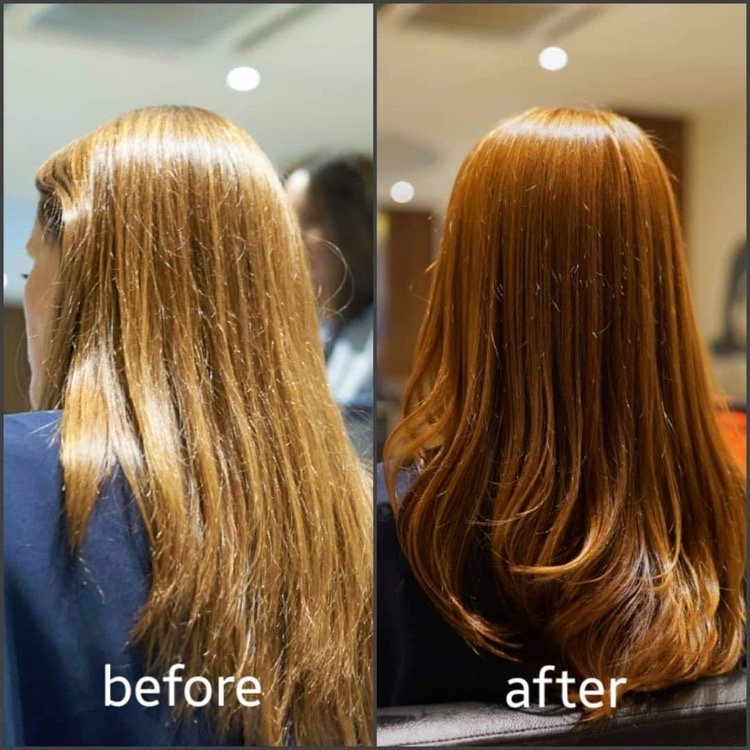 The price of the organic hair colour varies with the length of your hair. My hair, for example, is classed as extra-long and so is priced at RM500. Returning for a root touch up will cost me a much lower RM230. Completing my fresh look, Gigi gives my ends a quick trim for RM90. Men and children's haircuts are also available for reduced prices.
After Care Organic Hair Colour, Philip Martin's Italian Organic Lifestyle
To maintain that fresh new look, Philip Martin's Colour Maintenance Shampoo and Colour Repair conditioner are ideal. As with the rest of the line, the shampoo and conditioner are organic and free from nasties. They are quite intense and so only a small amount is needed meaning a bottle goes a long way.
Hair Toxx
Two weeks following my hair colour, I return for a Hair Toxx Cuticle Healing, also known as Botox for hair. Free from parabens, sulfates and mineral oil, Hair Toxx aims to repair the damage from exposure to sun, salt and pollution as well as chemical processes such as colouring and straightening. It works by first washing the hair and then massaging the product into the strands. A steaming assists the penetration of the nutrients and works on the hair from the inside to the out. I think it adds a significant shine to my colour and subsequently, my hair feels soft and in good condition.
Hair Toxx treatments start from RM260 and go up to RM500 as the use of product increases for longer hair.
Hair Treatment for the Fellas Too
Men do not miss out at Eka Roots Bangsar. There are a variety of treatments suitable for males and with the salon's intimate setting, it is a great way to spend some time with hubby as we both get pampered. As hubby's hair is much shorter and darker than mine he gets a natural henna colouring. He's happy that is covers his greys and is free of that sharp chemical smell that usually accompanies regular products. He also gets a treatment for his scalp that greatly relieves some of the problems he has with sensitive skin.
Scalp Benefit Treatment
Hubby suffers from a bunch of allergies resulting in sensitive skin and often a dry flaky scalp. Philip Martin's Scalp Benefit Treatment is recommended as a great detox to refresh, renew and provide relief from irritation. It's a comprehensive process involving eight different steps.
First, Philip Martin's Purifying Wash is shampooed through the hair. This is followed by a volcanic water scrub to exfoliate dead skin cells. With the dry cells removed, an aloe vera calming spray can work its magic in detoxing the scalp. Hubby then gets a good massage with Philip Martin's Scalp Benefit cream. This actually feels revitalisingly cold, similar to rinsing your head under the stream of a natural waterfall (I know as Gigi washes my hair with the same shampoo so I can experience the feeling first hand).
In contrast to the cool nip, a short warm steam for five minutes really ensures the treatment penetrates. The hair and scalp is cleansed again with the purifying wash, blow-dried and finished off with an oxygen boost. The oxygen therapy concentrates 93% pure oxygen onto the scalp, nourishing follicles and concluding with a fresh, energizing finale.
Just a like a facial for the scalp, Philip Martin's Scalp Benefit Treatment is good for customers with eczema, psoriasis and generally irritated or dry flaky skin. The treatment again changes price with the length of hair. It cost RM250 to treat hubby's short locks and would extend to RM350 for extra-long hair.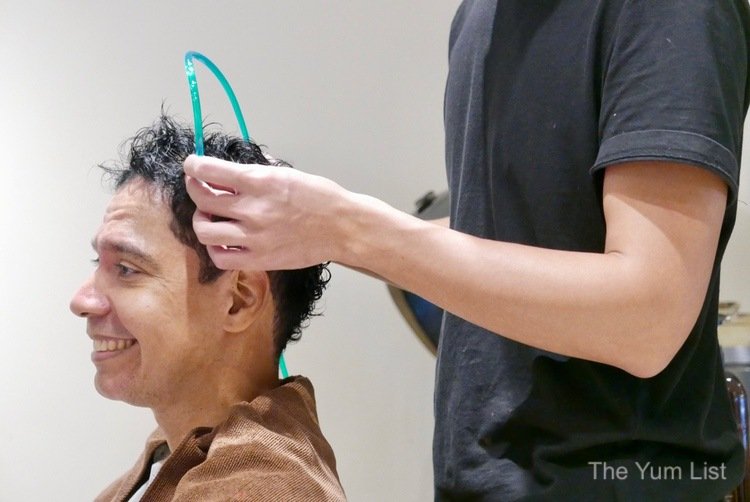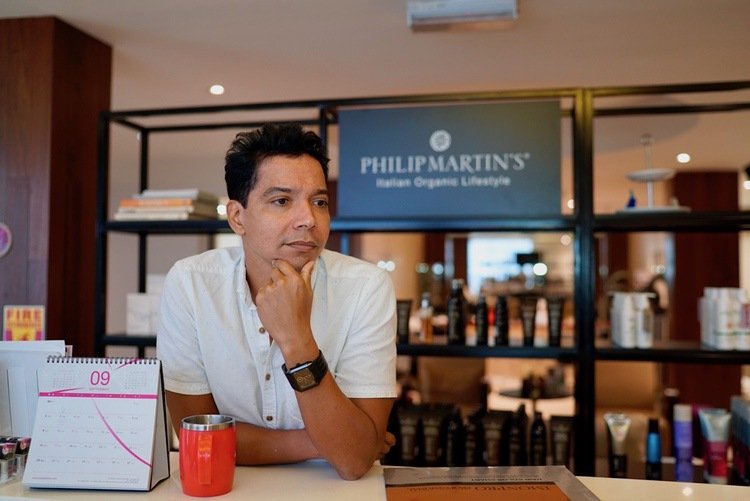 Reasons to try organic hair colour, Hair Toxx and other Philip Martin's products at Eka Roots: a natural product without the chemicals and a much broader range of colours including lightening all the way to "bleach" blonde; a full service salon offering hair, nails and massage all in one place; complimentary Wi-Fi; cushions and tables provided for laptop use; they even have a fridge for wine and glasses so you can make a whole outing of it with friends.
Eka Roots, Hair and Scalp Wellness
Organic & Chemical-Free Hair Salon in KL
123 Jalan Maarof, Bangsar
59000 Kuala Lumpur, Malaysia
www.facebook.com/ekaroots
www.ekaroots.com
+6 03 2856 0775
Check out some of the other organic hair care services Eka Roots Bangsar offers here and here.