Words: Patricia Podorsek
Photos: Richard Callahan
Valentine's Day is one of those holidays which can bring out the best and worst in both romanticism and opportunity. Thinking about the theme of love as a possible start to this article, my favorite love song comes to mind: Elvis's "I can't help falling in love with you." And I think, I can't help falling in love with Joloko's food once again with the addition of a special Valentine's Day menu! And then I think, that is the WORST possible way to start the article. However true though it may be.
Joloko Valentine's Day Menu
Thank goodness, Joloko's chef TJ knows how to bring out the BEST in food and the opportunity to showcase his talents with such an occasion. Joloko is featuring a couples' Valentine's Day menu with five courses, at RM160+ per person, that includes their signature creative fusion at its best.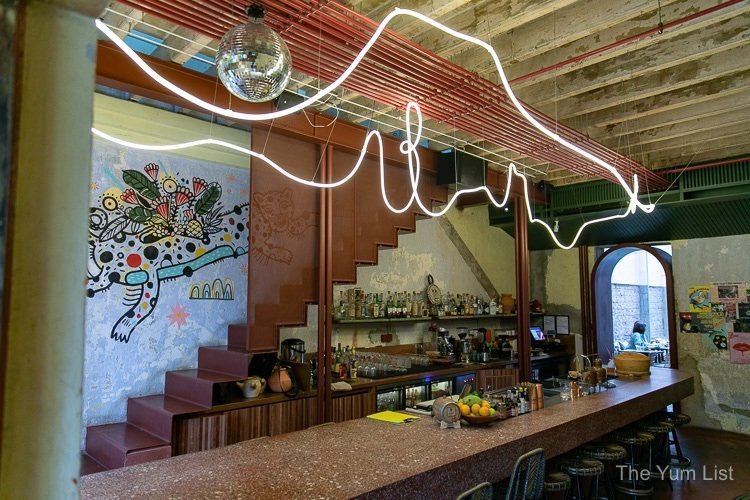 Joloko Valentine's Day Menu – Starters
To start, couples will have a chance to sample one of two different dips, fig and olive tapenade or smoked beetroot hummus. The hummus is gorgeous, rubies and smoke with slightly nutty undertones. Subtly textured, a little spice heats up the mild flavor with a lingering zing at the end. Is it nutmeg? We have fun guessing.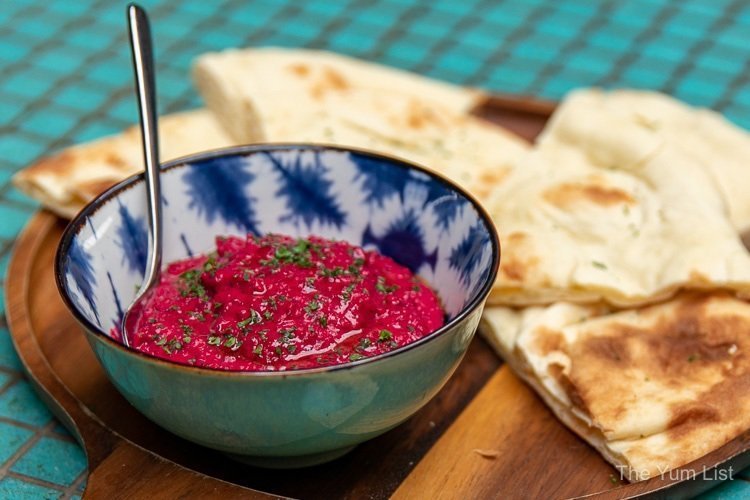 Joloko Valentine's Day Menu – To Share
Joloko is known for their pickings to share, and Valentine's guests will have the opportunity to sample three. Not your 1960s prawn-with-ketchup dip, the Joloko seafood cocktail tosses octopus, squid and prawns with crunchy jicama and lotus root into something that resembles a ceviche salad. Lime sits at the forefront of the dressing, with a little beer to add effervescence. Hints of something zesty like horseradish lie underneath, and a little chile that unpacks itself with each bite. Even Western palates will find that the heat never overpowers a dish at Joloko. You can feel it, but it only enhances the other flavors of the recipe.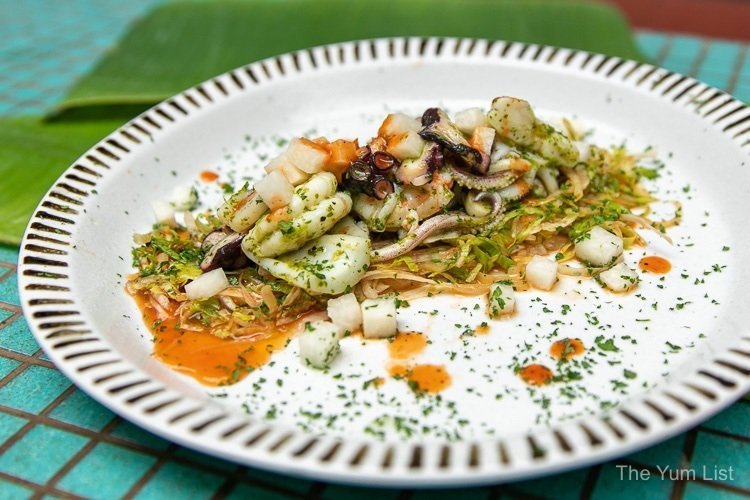 Joloko Menu – Wine Please
A crisp white from Adelaide Hills garnishes our starters. The 2017 La Prova Pinot Grigio sweeps the palate with clean, vibrant notes. Very refreshing, especially after a hot afternoon.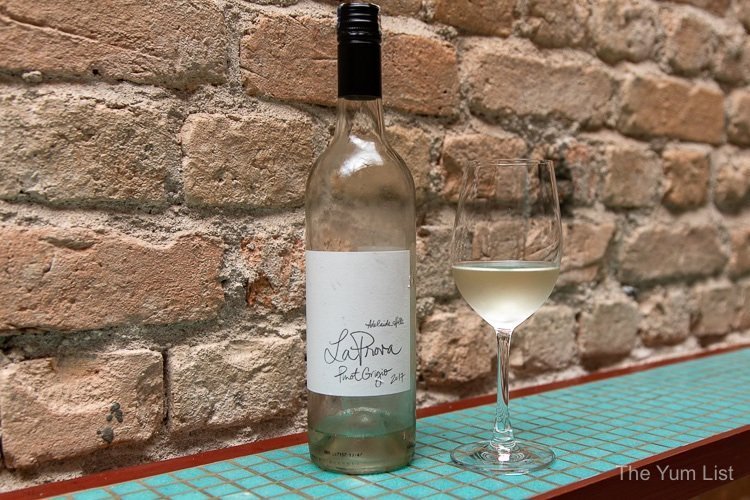 Joloko Valentine's Day Menu – More Pickings
The second picking reminds me of that love for Joloko that I mentioned earlier. A huge fan of Moroccan food, tagine holds a special place in my heart. The team at Joloko, however, is clever enough to serve it with goat, and crazy enough to serve it as a starter! The Moroccan goat and Preserved Lemon Stew slow cooks locally-procured goat meat with tomatoes, fruit, spices and preserved lemons. With bread as a scoop, we pile on tender chunks, tiny olives and white raisins in rich, citrusy bites. This may well be the best goat I've ever eaten. Confession: it may be the only goat I've ever eaten. But others at the table swear it's the best they've ever eaten. I can believe why!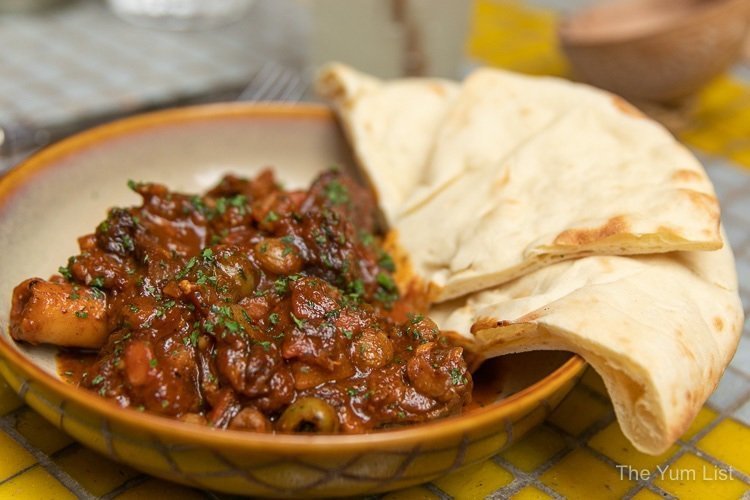 A final starter blends some of the best of North American comfort foods into one dish. The buffalo chicken tostada takes all the flavors of American hot wings – chicken, hot sauce, celery, blue cheese – and stacks it on a crispy blue tostada with shredded veggies. As an American, the zip and crunch wrap around my taste buds like a kiss from home. And without the messy fingers to contend with!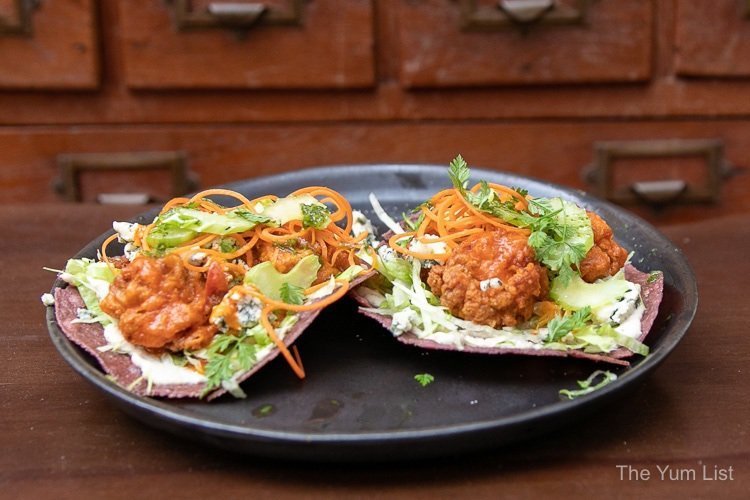 Joloko Menu – Natural Wine
Joloko specializes in natural wines. Ready for our second bottle, proprietor Rick Joore recommends Unico Zelo's Esoterica orange wine as we move into the mains. Three sweeter grape varietals are fermented with their skins for a richer color and higher sugar content. Left to filter naturally, the result is earthy and fresh, tangy in a way that is very complementary to the complex flavors of our meal.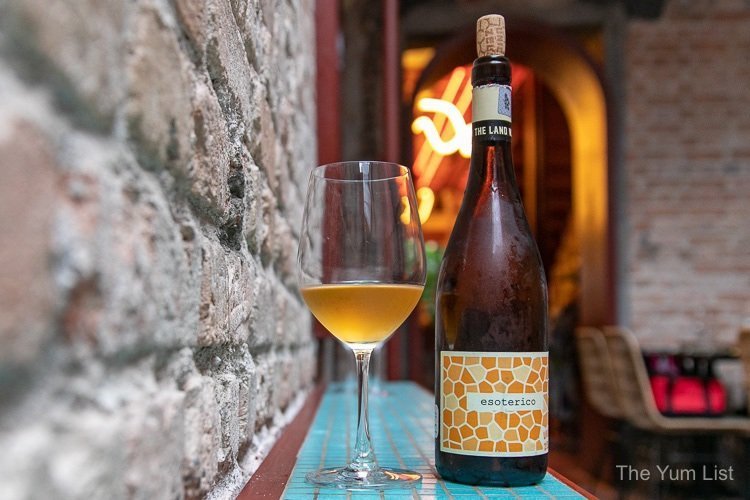 Joloko Valentine's Day Menu – Mains
Valentine's guests will have a choice of two mains. In the first, Blue Ling, a member of the cod family, is cooked in parchment then topped with habanero-rhubarb butter. The bed of roasted root vegetables brings the sea home to land with earthy jewels of leek, beetroot, jicama, carrot, and potato tossed lightly in coriander oil. Chef explains that the foundation of the cooking at Joloko is French, hence the en papillote style of cooking the fish. But with combinations like habanero and rhubarb, you know your Parisian ship has sailed to farther waters. I'm ready to tie myself to the mast.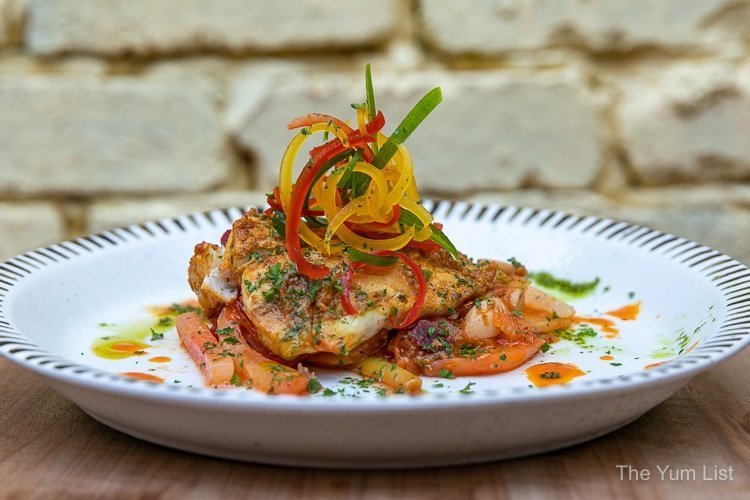 In the second, 48-hour brined pork loin is grilled over hot coals for an uber-tender and moist set of thin slices. We see Chef's mastery of sauces with the TWO that adorn this dish (see why I love this place?). On the underside, a chunky fennel and leek cream sauce conveys undertones of licorice offset by the sweetness in the leek. On the topside, a pan jolie adds a fruity element with a reduction of raspberry and lemon in pork belly jus edged with a little rosemary and thyme. There is so much special about this plate that dates should prepare for the worst: an unwillingness to share.
More Natural Wine at Joloko
To complement the pork, we try a red natural wine this time, Smallfry's 2017 Barossa Joven. Unfiltered and "raw" like the Esoterica, this wine is much drier, sweet Grenache balanced by sour tempranillo and a handful of other grape varietals. It is a potent drink, one that becomes more addictive with each sip.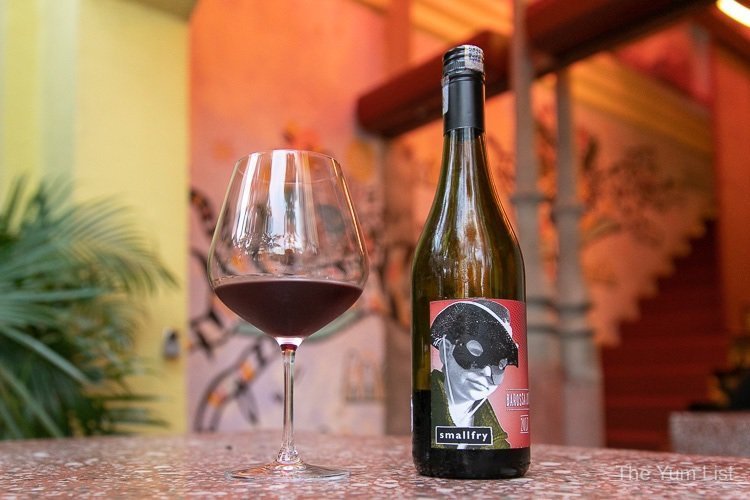 Sides Dishes
The side dishes at Joloko are practically meals unto themselves, and couples will enjoy two selections on Valentine's Day. In one, crisp-tender brussels sprouts arrive sautéed with crisp nubs of pork belly. Smokiness is delivered chipotle-style along with subtle wisps of coriander and cinnamon. In the other, sweet potato croquettes bring deeper levels of smokiness alongside the texture of roasted corn, all packaged in a crispy breaded exterior. These are so good, we beg to take some home. They are just as tasty at lunch the next day as they were at dinner. I'm telling you, there is a lot of love to spare at Joloko.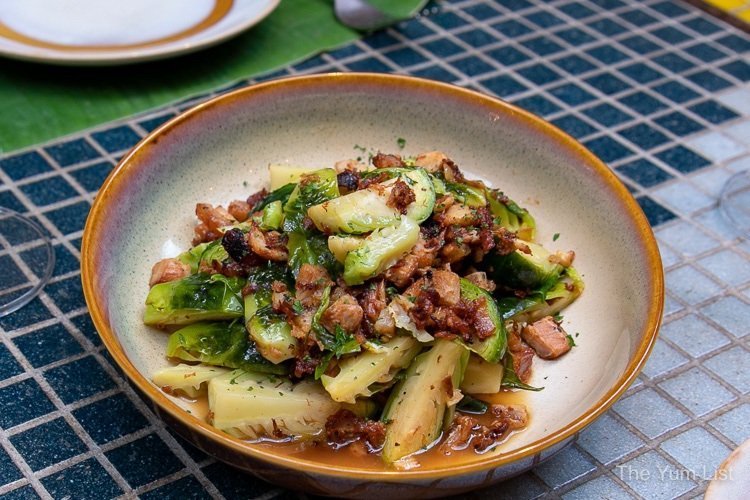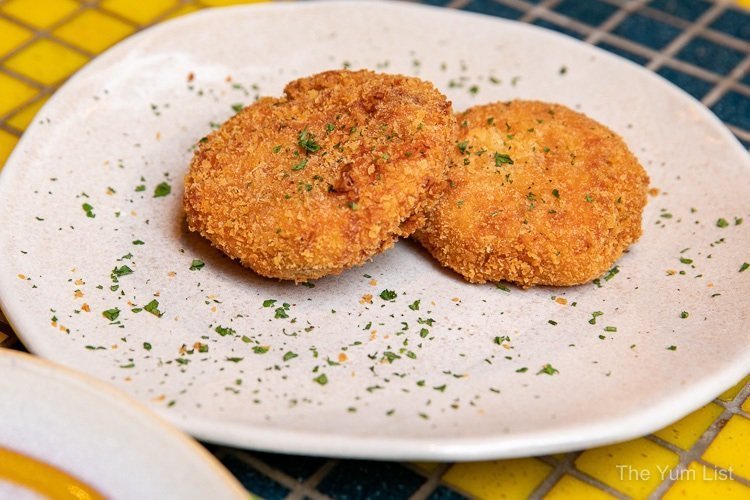 Joloko Valentine's Day Menu – Dessert
But the sweetest love of the evening lies unquestionably with dessert. A deep pool of flourless chocolate cake is set alight with a spectacular blood orange sauce dripping from the top. No word can describe these flavors but intense. Hints of cinnamon ruffle the edges, but mostly this is a deep dive into semi-sweet chocolate and bright citrus. Where before I was ready to be tied to the mast, now I'm reaching for my scuba gear.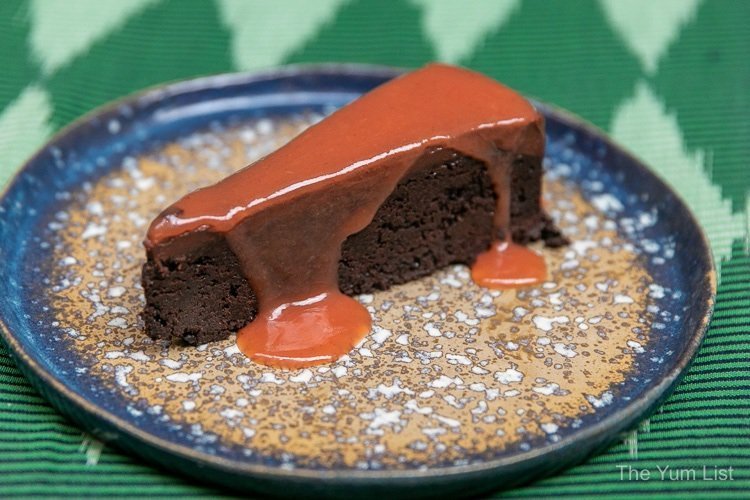 With this kind of meal, I'm back to singing my Elvis song, definitely the WORST kind of cheesiness for a restaurant review. However, if your romantic interests fall into categories of both food and lovers, the BEST opportunity you can give yourself is a trip to Joloko on Valentine's day, where the BEST of Chef TJ's talents will be showcased. This is the opportunity to fall in love with both your food and your date.
Joloko's Valentine's Day menu is priced at RM160+ per person for food only. Dinner is served from 6:00 p.m. until 10:30 p.m. Reservations are required.
Reasons to try Joloko Valentine's Day Menu: Having quickly earned a reputation for one of the hottest restaurants in KL, Joloko is not a placed to be missed, especially not with that special someone on Valentine's Day.
Joloko Valentine's Day Menu
43, Jalan Kamunting, off Dang Wangi
Chow Kit, 50300 Kuala Lumpur
Malaysia
+60 3 2694 1100
www.bar-joloko.com
More places to celebrate good food in KL here.
Check out Joloko's regular menu here.