Words: Nathaniel Jay Photos: Rich Callahan
The W Kuala Lumpur is offering an Iftar buffet that is guaranteed to delight the eyes, noses and stomachs of all that attend. This is a cool place to go. I mean it is the W. It is difficult to create a brand from a single letter or a word. Madonna, Prince and Apple come to mind and now the W.
Flock, the all-day dining restaurant has been transformed into Bazaar Malam to celebrate the holy month of Ramadan. It is a steal at RM188 for the quality of food offered. The food selections are primarily Malay classics. The buffet is seemingly endless and there is certainly something for everyone in this mix. One could easily attend several times and not eat the same thing twice.
Bazaar Malam W Kuala Lumpur
I was meandering about the bright, open buffet, trying to discern just where to begin. I was approached by one of the cook attendees. He gently coaxed me into starting at the noodle station. There were four styles of noodles to choose from; chicken, lobster and fish balls and a smattering of vegetables and condiments. The cook kindly guided me through the process and helped me to choose the best combination. In the end, I had a superb curry laksa with lobster, chicken and nearly every vegetable and condiment available.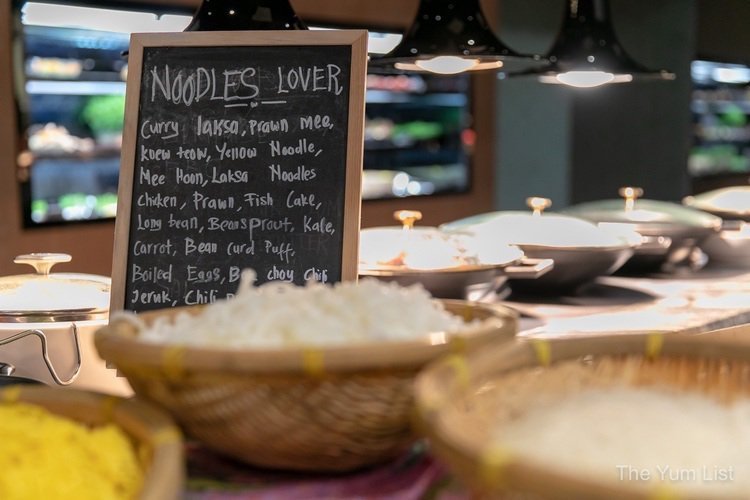 My soup arrived at my table moments before I came back with my first plate of food. My curry laksa was the best one I have had while living in Malaysia. The curry showed no signs of oil on top. It had a buttery mouthfeel that coated my tongue while the flavours were bright and a little bit spicy. The vegetables were al dente and the noodles had just that right amount of chew to them.
I like to eat vegetables. I was happy to see that there were a large number of vegetable dishes and salads on the buffet. The first thing that caught my attention was Kobis Goreng Kunyit: a bright yellow dish with dried chillies. It was lightly seasoned cabbage, mustard seed and turmeric oil. It provides a nice contrast to some of the more heavily seasoned food choices.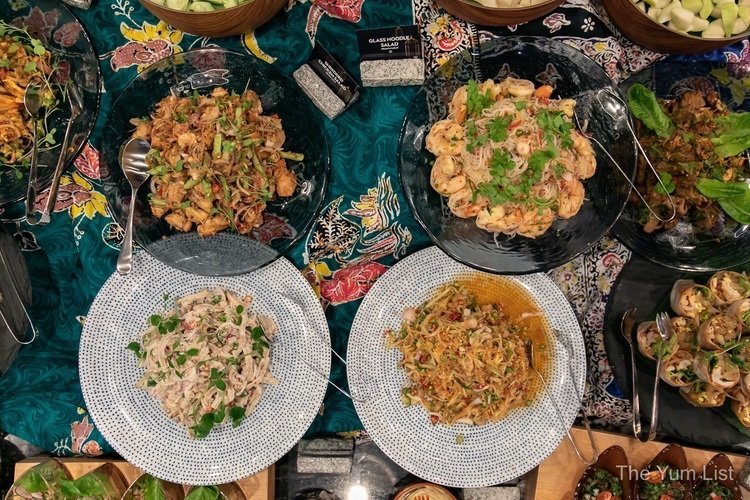 On the buffet, there was a tiny bowl of Acar Jelatah. I think it was my favourite thing on the buffet. It could easily be overlooked because the portion was small in comparison to the food surrounding it. But I absolutely loved its simplicity! A tart and crunchy salad of pineapple, cucumber, onion, red chilli padi, sugar, salt and vinegar. So fresh and clean in taste, I have made it at home several times since my dinner.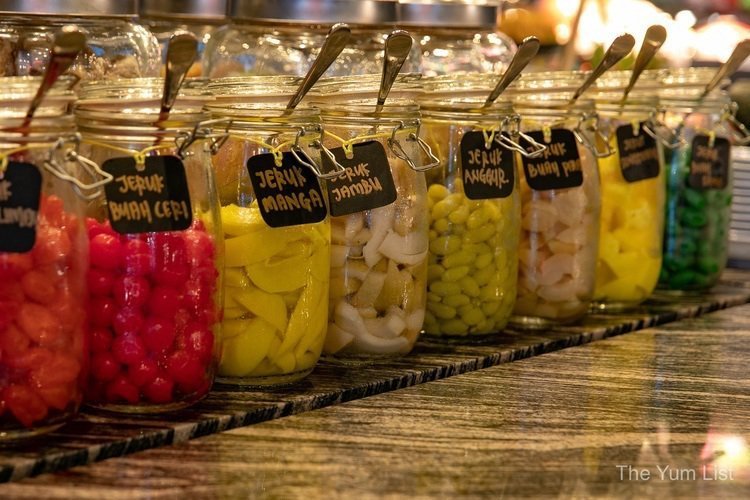 I tried the Ayam Berempah as well. Chicken legs that were artfully cut and shaped into chicken "lollipops." The chicken had a mild flavour of herbs and was chewy and waxy feeling in my mouth. I suspect they are using local, free-range, yellow skin chicken by the taste and texture.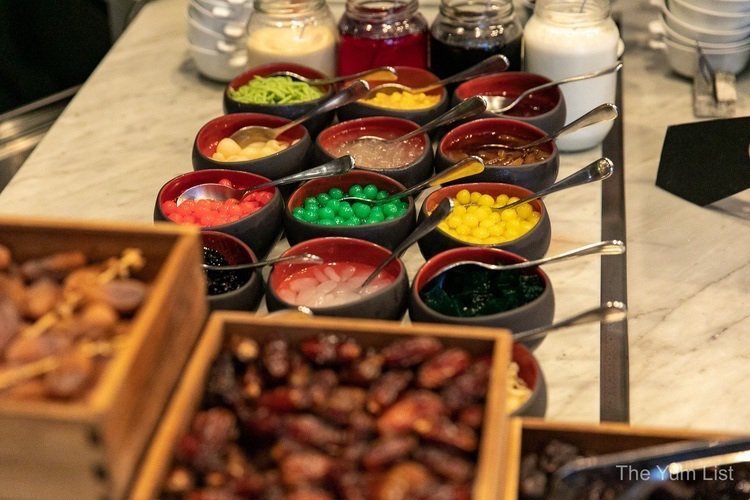 Red Fried Rice with corn, capsicum and carrot was another lightly seasoned side dish. There was just the faintest hint of the oil from the wok. The texture of the rice has a little bite to it, almost like eating wild rice or barley. Our health-loving Mon appreciated this dish too.
The Ulan Ulaman Organik was an experience all of its own! Foraged greens and "jungle herbs" created a do it yourself salad station of sorts: lettuce, tomato, carrots, petai, lady fingers, long beans, wing beans and approximately seven types of sambal are available for the choosing.
I jumped right in and started picking bits of various herbs and vegetables for munching on. I skipped the petai (AKA stink beans) though. They were still in the pod? I'm a lazy eater and I don't like to work hard to enjoy a meal. What can I say? That's just the way it is. I selected three different sambals as my dressing: sambal mangga, sambal tempoyak and sambal hijau.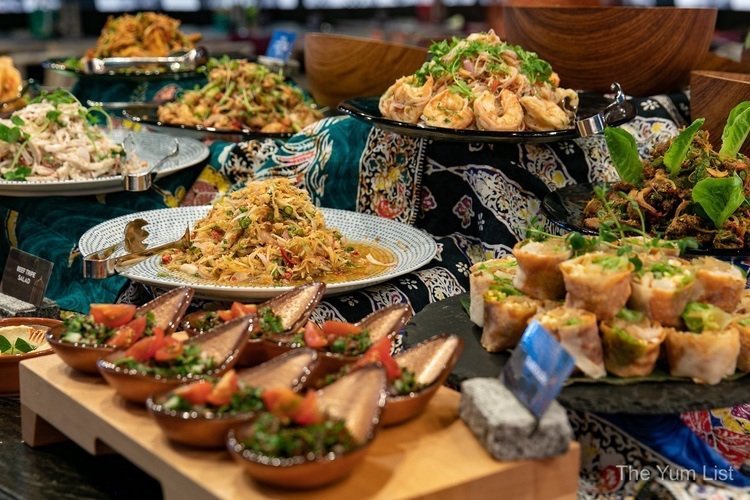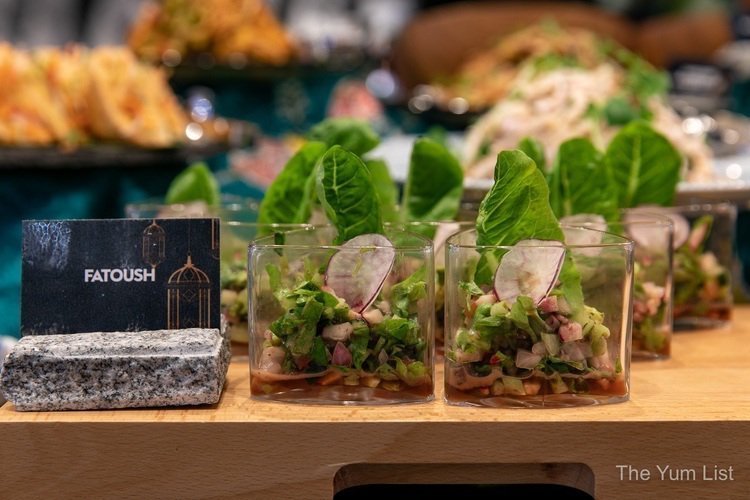 The sambal manga was my favourite as it reminded me in some ways of the som tam I used to eat in Bangkok. This Indonesian sambal is made with shredded dried mango, onion, red and green chillies and shrimp paste. Sambal tempoyak is a bright orange mixture of fermented durian and crushed chillies. I have to say that it not suitable to my taste buds. I love fresh durian! I truly do. But this sambal is too pungent for me. The sambal hijau was really nice. There is a strong fish flavour to it. So for me a little goes a long way. It is really exciting to me when I see similar ingredients overlapping each other and producing completely different results.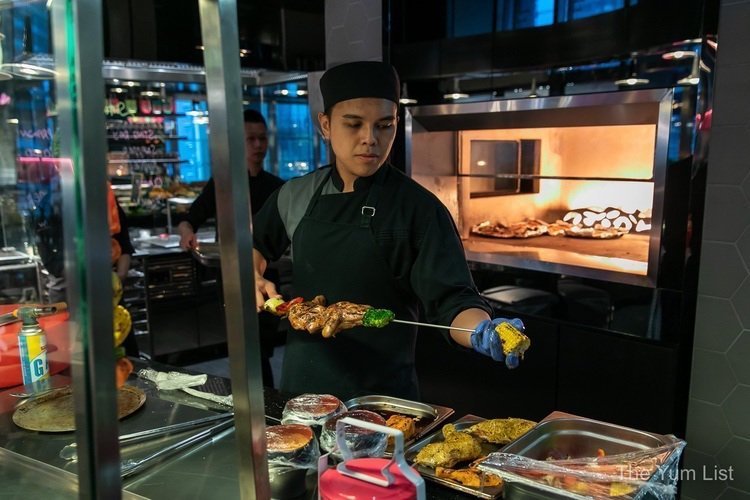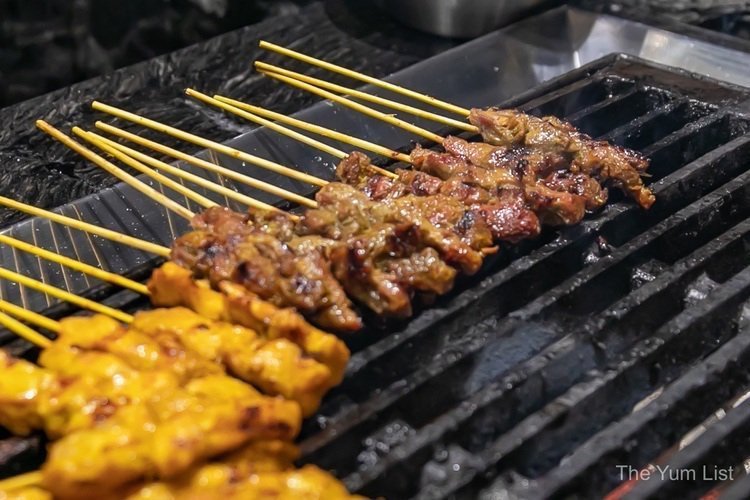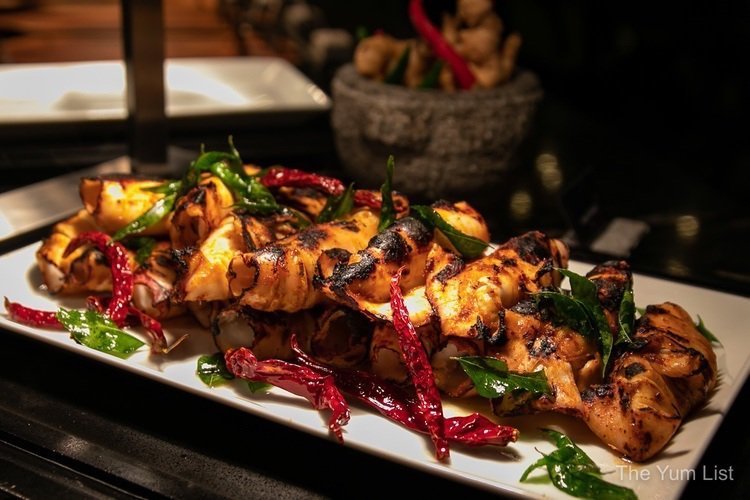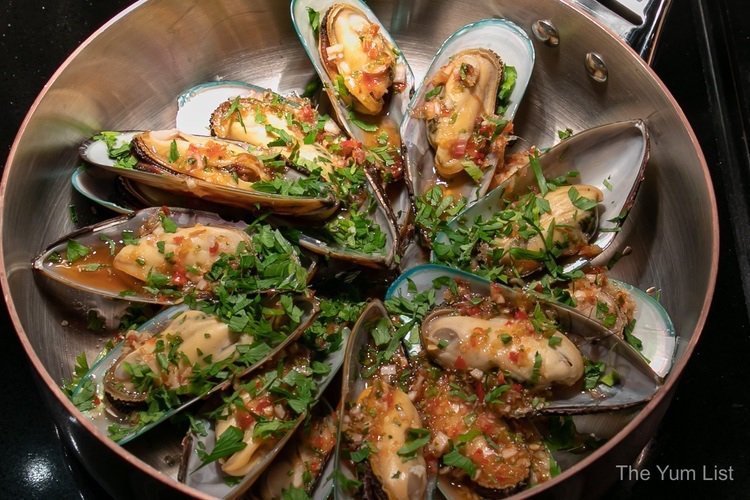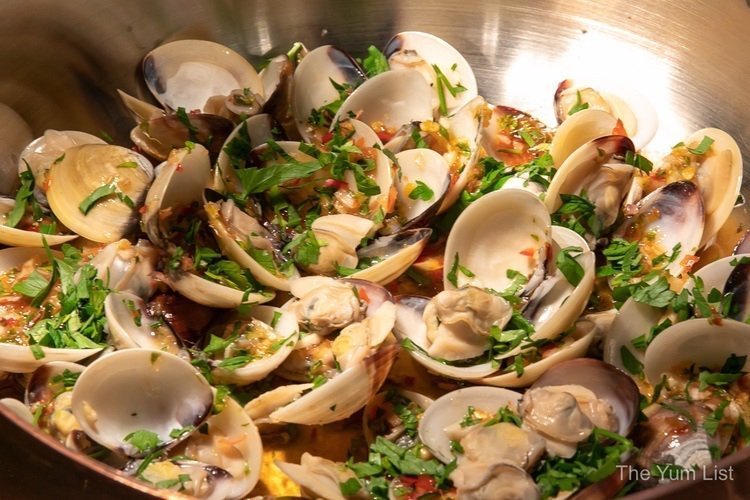 The buffet really did seem endless. There was even a carving station and roti canai station with dahl tucked away on the terrace. I tasted Popiah Basah a slightly sweet and salty roll stuffed with shrimp, vegetables and fruit. Pajeri Nenas a pineapple curry with fish paste, dried shrimp, coconut paste and star anise. And the last thing I ate was the auspicious dish, Kam Heong. The slightly spicy and aromatic Cantonese wok fried prawns, featuring dried shrimp, curry leaves, curry powder and chilli padi. I only ate one even though I love them. I'm a little spoiled, my wife usually peels them for me.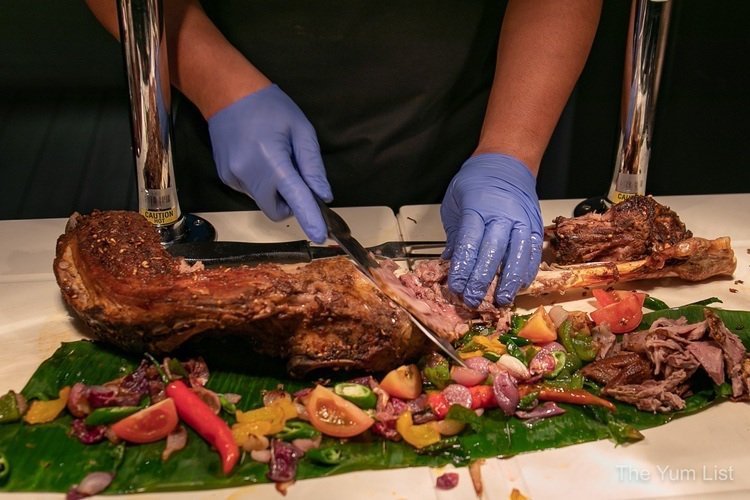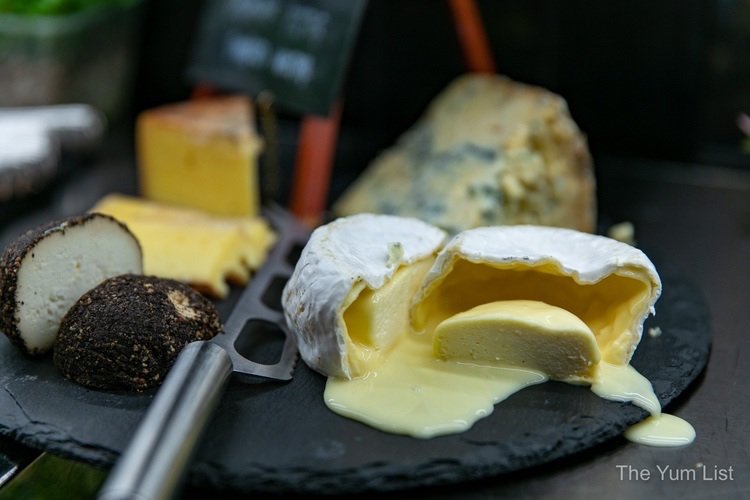 The dessert station has a chocolate fountain, fresh cut fruit, a cheese board. Not to mention cakes and petit fours prepared with signature Malaysian flavours. The pastry chef is talented and the pastries looked great. I ate a small petit four of choux pastry and raspberry cream. It was divine and just the right size for me to end my meal before I had to loosen the belt on my pants and head home.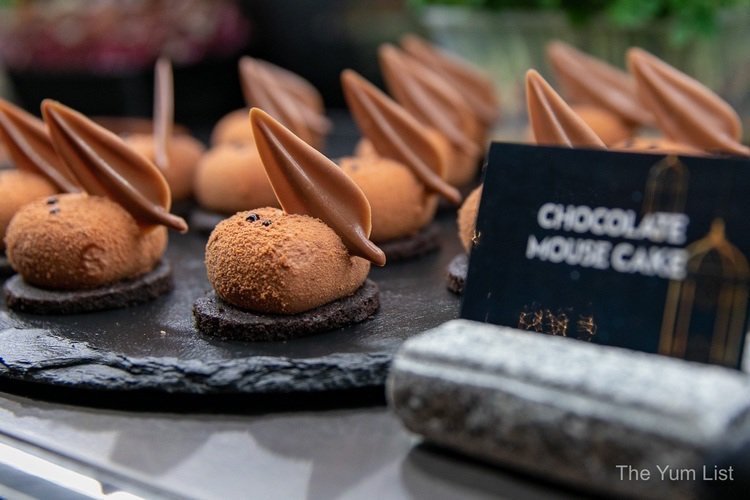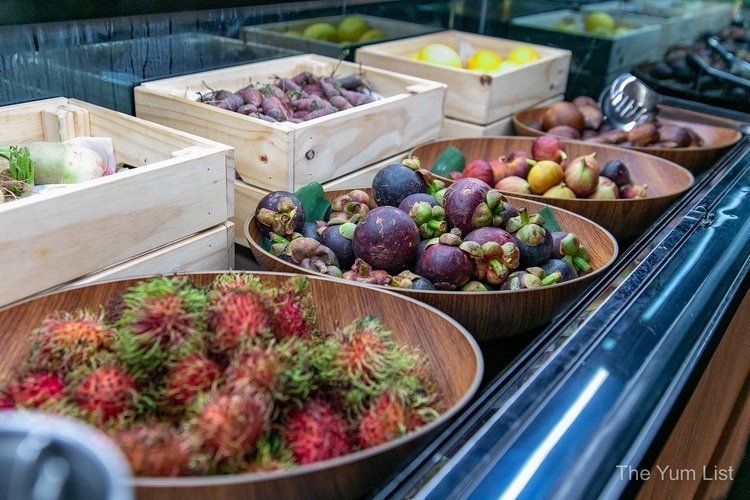 Reasons to visit W Kuala Lumpur's Bazaar Malam: signature Malay food made with premium ingredients; an extensive and high-quality buffet; an open and cheerful atmosphere with excellent customer care.
Bazaar Malam @ Flock
W Kuala Lumpur
121 Jalan Ampang
50450 Kuala Lumpur
Malaysia
[email protected]
www.facebook.com/WKualaLumpur
+6 012 347 9088
Bazaar Malam @ W Kuala Lumpur Hours:
Daily during the month of Ramadan from 6:30 pm until 10:30 pm
Check out more festive offerings for this special month in Kuala Lumpur here