Words: Patricia Podorsek   Photos: Monica Tindall
Like the corners of a well-made bed, Bangsar's newest Italian restaurant is tucked into a tidy row of shops and restaurants away from the flutter and fuss of Jalan Maarof. Leafy and familiar, Jalan Kurau is the home of Mangiiare, opened only a few months ago under the stewardship of head Chef Nizam. You may have noticed that Mangiiare, which means 'to eat' in Italian, contains an extra 'I' in its name. This is simply an indication of the intimate nature of the food and ambience.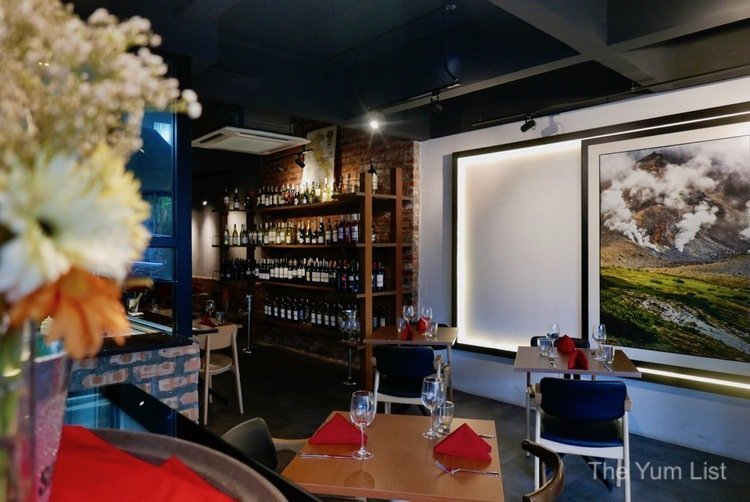 Mangiiare Bangsar
Exposed brick and black accents fuel the warmth right from the moment we walk in. A tall window to the kitchen allows us to glimpse the cooks rolling dough and chopping tomatoes, a sure sign of the yumminess to come. All of the pasta, bread, and pizza dough are made from scratch in house. So are the desserts, proudly displayed near the entrance, calling out to patrons to leave room at the end of the meal. I take a moment to deliberate the merits of the Almond Polenta Cake and the Triple Chocolate Mousse Cake over the Panna Cotta. I am still musing as we move to our table.
Mangiiare Dine and Bar Menu
Herby focaccia cubes await our arrival, served with little bowls of olive oil and balsamic on the side. They are lightly toasted for a mild crunch before revealing the soft airy nature of the bread inside.
To complement the focaccia, we sample the Insalata di Caprese (RM22). Slices of tomato and fresh mozzarella are layered with aromatic basil pesto and drizzled with olive oil. The pesto is terrific, washes of spring with only the tiniest edge of garlic to sharpen the flavors.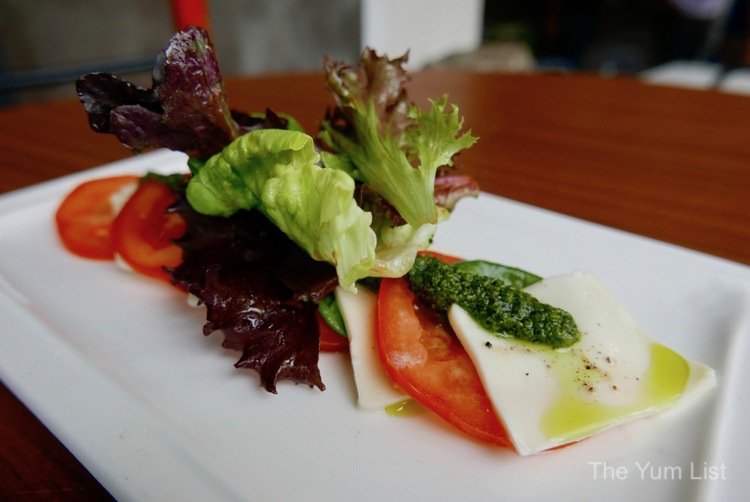 Eggplant Parmigiana (RM22) arrives next, a fat slab of crusted aubergine dressed by chunky tomato sauce, melted mozzarella, and shavings of parmesan. More of that delicious pesto adorns the edges for a well-rounded set of Italian favorites.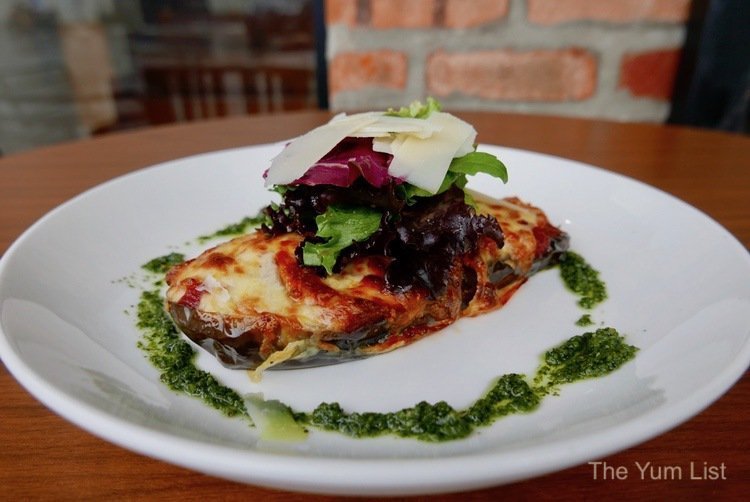 Less traditional, we see hints of creative fusion in the Fried Goat Cheese Salad (RM22), breaded croquettes topped with apple chutney and served with tapenade and pickled onions. Threads of cinnamon weave through bites of salty cheese for a combination that is a little sweet, a little spicy, and a little tangy. Eat it while it's hot and you'll find it a little creamy in there, too.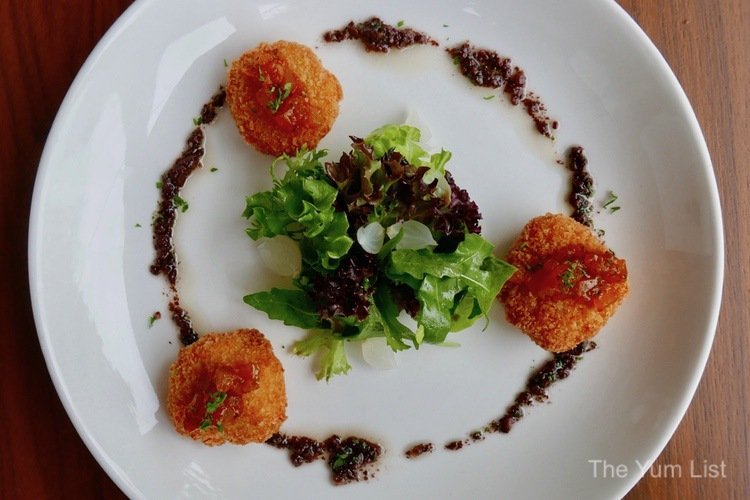 Mangiiare Dine & Bar Drinks Menu
Our hosts suggest an Australian white to enhance the antipasti, and we are happy to oblige. The 2018 Cranswick Chardonnay delivers fruity notes on the nose and wraps green apple and melon in an oaky cloak. It leaves a crisp finish on the palate.
Equally refreshing is Monica's choice of an Aperol Spritz. Prosecco bubbles lay the foundation for one of Italy's most popular aperitifs. Looking for something with a little more teeth, I opt for an Old Fashioned, made with an old favorite, Maker's Mark bourbon. Fat, slow-melting ice keeps the drink sweet, citrusy and just a little smoky. Delicious.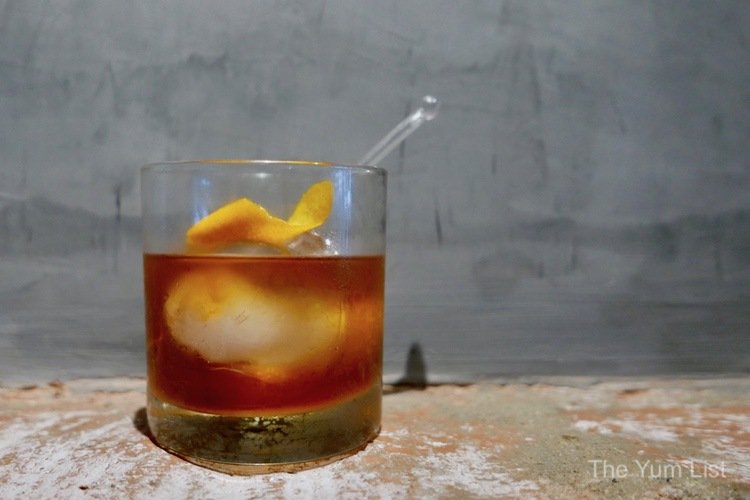 Mangiiare Bangsar Menu
Slowly moving toward the mains, we enjoy the Spicy Seafood Soup (RM25). Chunks of sauteed black mussels, squid, tiger prawns and sea perch meet big chunks of tomatoes in a broth enriched by seafood stock and plenty of chillies. A thick slice of garlic bread makes an excellent sponge ensuring the bowl is completely clean before we pass it back to the kitchen. This just might be my favorite item on the menu.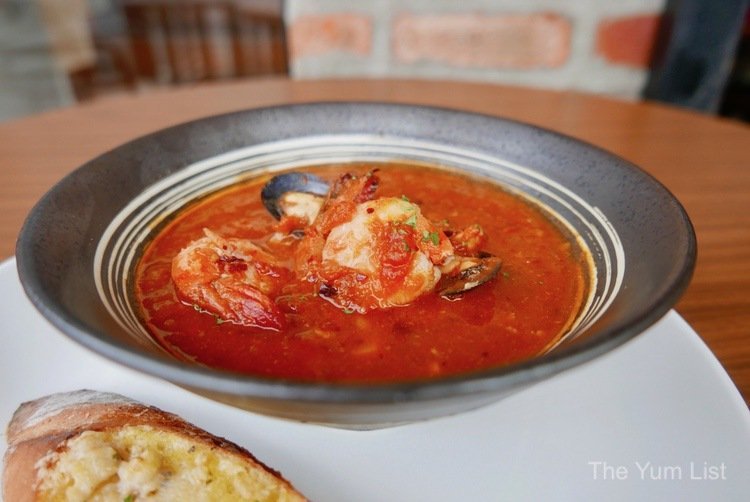 No neighborhood Italian restaurant is complete without that favorite staple, pizza. A thin crust, crispy on the outside, soft on the inside, speaks to the quality of the baking at Mangiiare. Of the dozen or so options, we select a pie that is half Salmone E Avocado and half Quattro Stagioni (Four Seasons). On Monica's side, tender salmon, lightly smoked over charcoal, lies aside slices of soft avocado, and leafy arugula. With mascarpone underlying the mozzarella, we find a creamier pizza enhanced by capers, fresh dill and aioli. On my half, garlicky turkey ham meets black olives, mushrooms, artichokes, and oregano for a zestier prize. All the meat at Mangiiare is supplied by a halal butcher.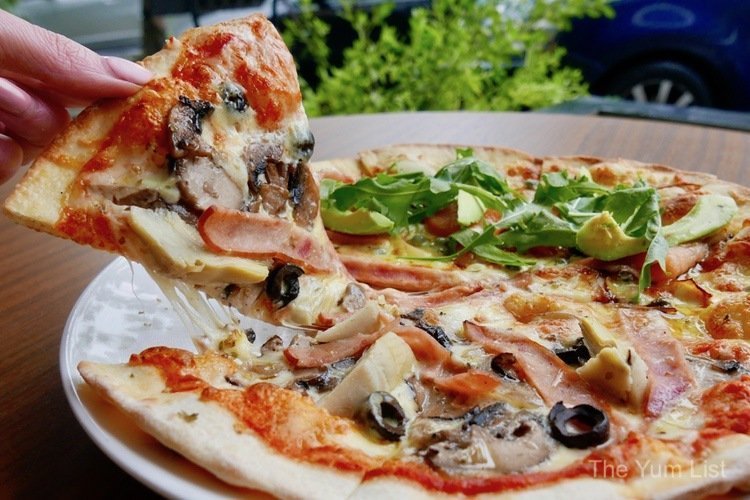 From the Pasta selections, we are drawn to the Garlic and Chili Prawn Spaghetti (RM36). Noodles tossed in aglio olio come adorned with big beautiful tiger prawns. Slivers of garlic and tomato confit are laced with chilli flakes and sprinkled throughout. This is a simple, well-prepared, homestyle pasta dish. It's delicious.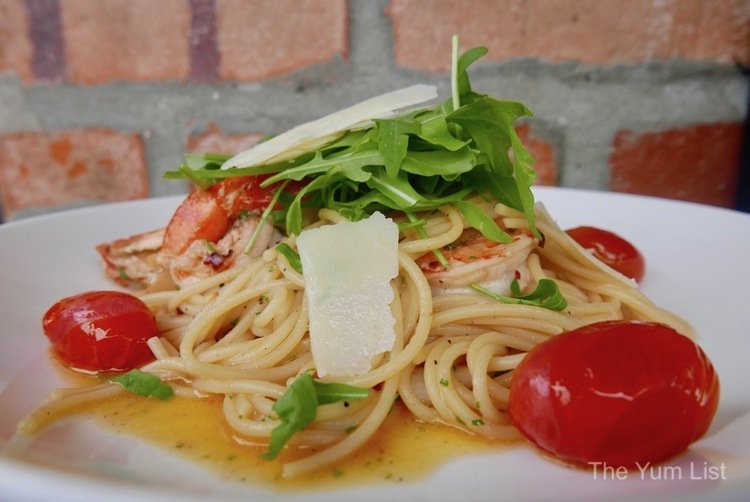 It is around this time that we start to see greater variance from the traditional. The Lamb Lasagne (RM28) layers sheets of homemade pasta with minced lamb infused with, very interestingly, lemongrass. I was intrigued by this unusual ingredient but it fared well against the fresh tomato, the bechamel, and the crusty mozzarella. I'm pretty sure I've never experienced this combination before, and I was not disappointed.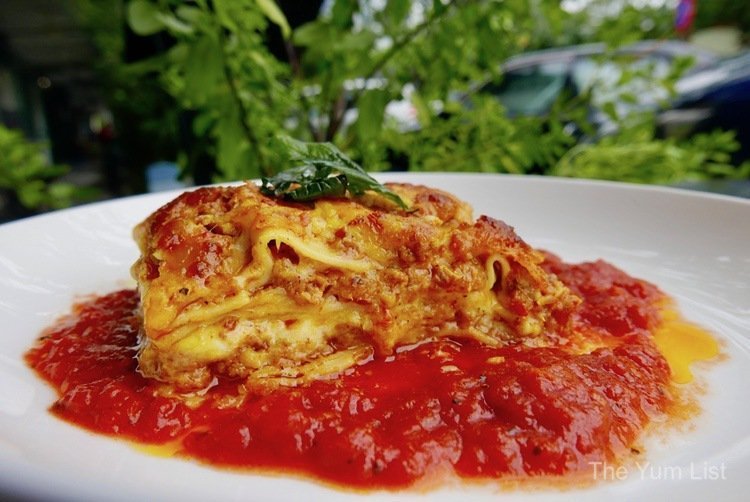 Heartier mains follow the pasta, including the Herb-Crusted Rack of Lamb (RM65). Here, three tender chops in a crumbly package of rosemary and oregano lie atop a bed of eggplant caponata and smashed potatoes. With a little jus to bring it all together, this is a well-balanced and wholly satisfying dinner.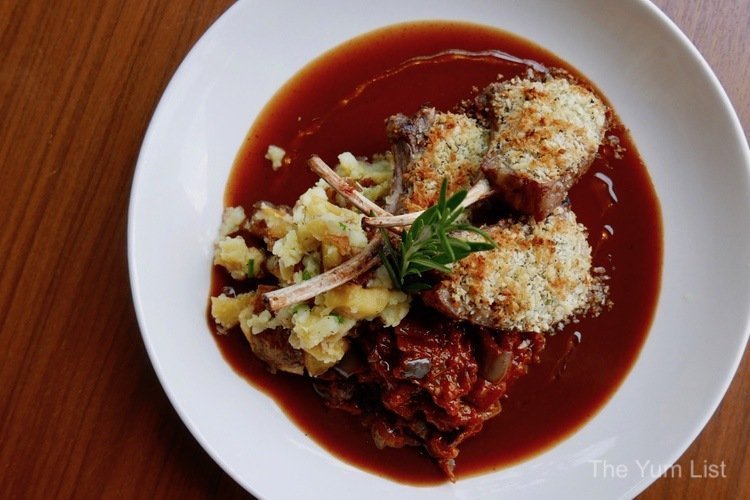 To accompany the lamb, we start with the house red, a 2018 Cranswick Shiraz, ripe berries spiked with notes of characteristic black pepper, but quickly graduate to the Castello di Montepò 2010 Morellino di Scansano. Made with Sangiovese grapes, this elegant red is earthy on the nose before unfolding into black cherry and spice by the finish. Guests at Mangiiare can choose from over forty labels of wine.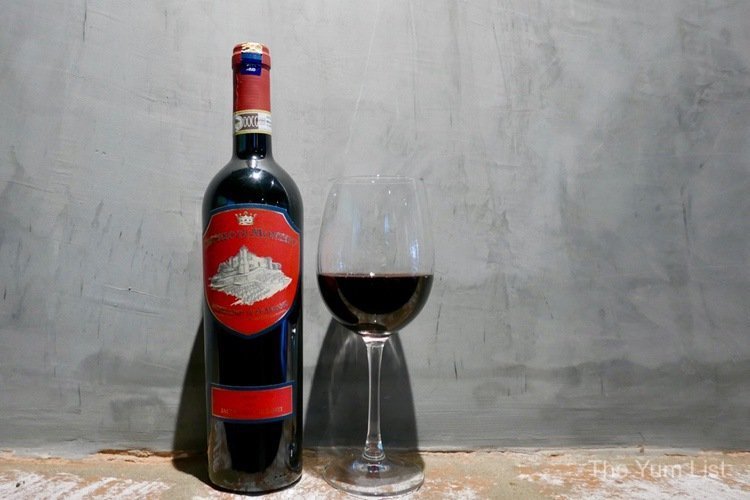 Mangiiare Dine & Bar Dessert Menu
As we move to dolci, I am back to my deliberations over the pastry case. The chef saves me from a dilemma (and quite possibly an over-extended waistline!) by insisting we try the Black and White Chocolate Lava Cake (RM18). Always a plate of oozy goodness, Mangiiare's version of this moist cake gets even oozier with the addition of homemade vanilla ice cream. This is a dessert to share if you must, hoard if you can, and do all you can to be the one to lick the plate clean.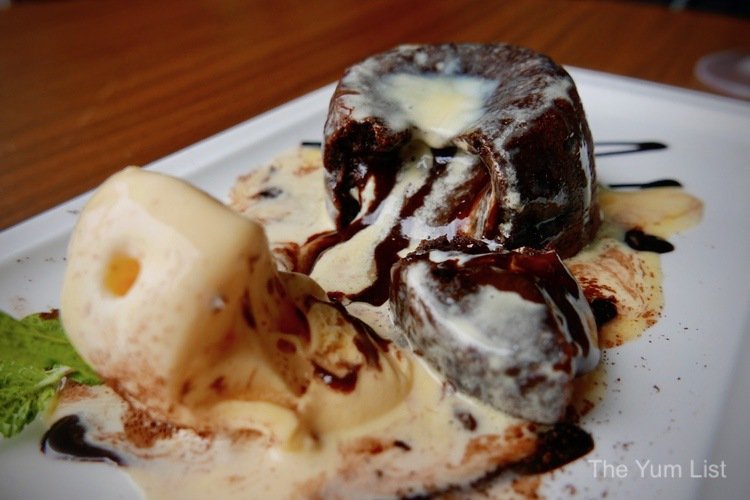 Mangiiare Happy Hours Deals
Mangiiare has some great specials. For Happy Hour, wine and mojitos can be enjoyed at RM10 and beer for RM12 between 4:00 p.m. and 8:00 p.m. Now that is incentive to escape Bangsar traffic and sit with a friend in a cool and quiet space! Even better, if you mention The Yum List when you arrive, and you'll receive a 10% discount on the food you order!
Mangiiare Review
If you love Italian food and love quiet, cozy settings in which to dine, it will be easy for you to embrace the extra "I" in Mangiiare: I (love) to eat. It's right there in the name.
Reasons to visit Mangiiare Dine & Bar: Intimate Italian restaurant in a quiet neighborhood complete with homemade pasta, pizzas made on a terrific crust, and some of the best seafood soup I've eaten.
Mangiiare Dine and Bar
No.21, Lorong Kurau, Off Jalan Bangsar, Bukit Pantai
Kuala Lumpur, Malaysia
+6 03 2856 0427
www.facebook.com/MangiiareDineandBar
Mangiiare Opening Hours:
Daily from noon to midnight with a short break from 3:00 to 6:00 pm.
The kitchen closes at 10:30 p.m.