Words: Anna Chew    Photos: Monica Tindall
Nobu Kuala Lumpur has launched its Buka Puasa, Twilight Symphony Ramadan KL menu, which runs from the 6th of May until the 4th of June, 2019. Priced at RM280++ per person, it offers guests a slight detour from the traditional buffets usually offered this season. Whether it is with the family or for a corporate event, diners should find the menu blessed with the restaurant's signature Japanese-Peruvian fare given a twist with Malaysian flavours. The views are stunning on any given day, making the location an ideal place for a special meal.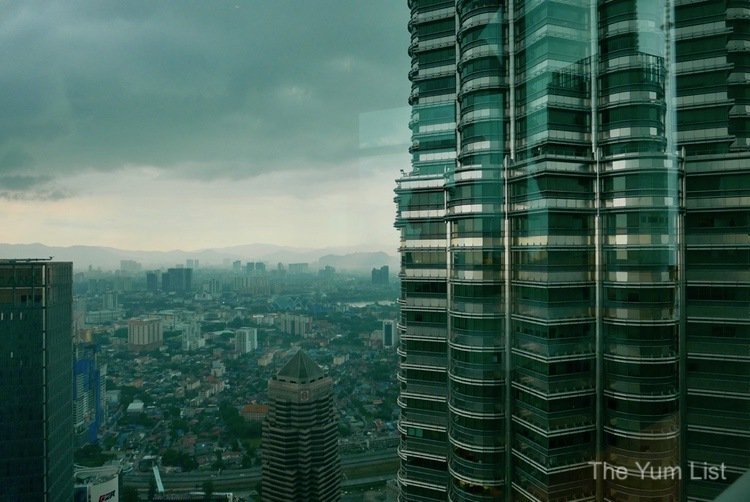 Ramadan KL 2019 – The Nobu Menu
Cold Starters
Diners break fast with quality dates and a "Cold" platter to begin. Decked-out beautifully on a large round sushi platter, it is reminiscent of the local bamboo tray presentation. For appetizers, there is the Crispy Shiitake with Betel Leaf. The mushrooms are wrapped together with a sweet caramelised soy sesame sauce and pine nuts, which lend an attractive nuttiness. Apart from the Assorted Sushi of salmon, tuna and California maki, "Cold" also came with Nobu's signature of the Salmon New Style with Yuzu Soy Sauce. Lightly seared with hot sesame and olive oil, there is a refined smokiness to this dish, which is balanced out nicely with the unmistakable hint of Japanese citrus.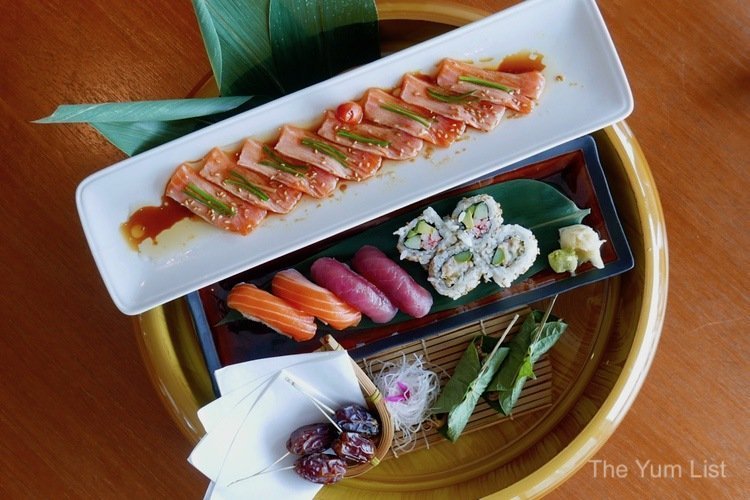 Hot Starters
"Hot" is served as a trio, just like the "Cold" on an appealing round platter. The Baby Tiger Shrimp are fried and coated with Nobu's signature chilli garlic mayonnaise. They're large and plump for "babies" and absolutely delicious! For fungi lovers, there is the Warm Mushroom with Yuzu Dressing. Two types of mushrooms cooked in a creamy peppery sauce. Yuzu is laced on the salad leaves making a contrast against the creaminess, and with a squeeze of the calamansi, you experience two exciting layers of acidity. The Clear Soup with a dashi base can be used to kick off the Hot or to cleanse the palate ahead of the mains. The enoki is just lightly cooked to provide a variation in texture against the shitake.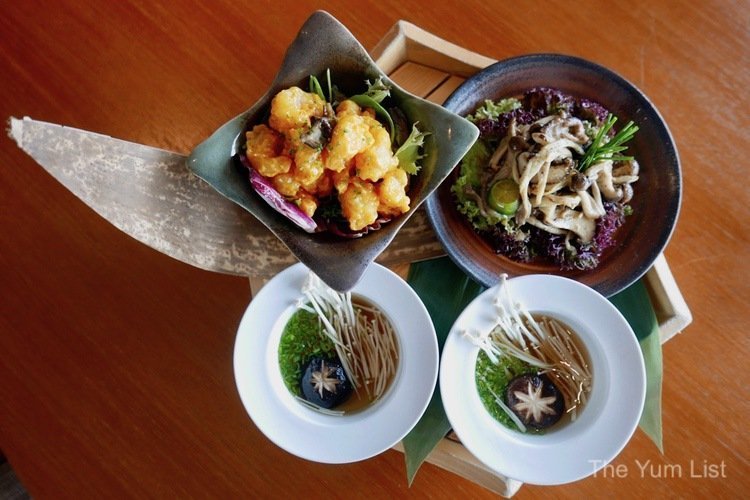 Nobu's Ramadan KL 2019 Menu – Mains
For mains, we highly recommend the Salmon Yuzu Butter With Crispy Leaves. The salmon is cooked with a crispy skin on top of a tasty yuzu butter gravy. When eaten together with the crispy kale and spinach leaves, smoky garlic slivers and salty ikura that pops in the mouth, you will immediately reach umami enlightenment. The good news is that they also have this dish on their set lunch menu (which, BTW is very good value and a great way to try the cuisine of Nobu if you are free for lunch on weekdays).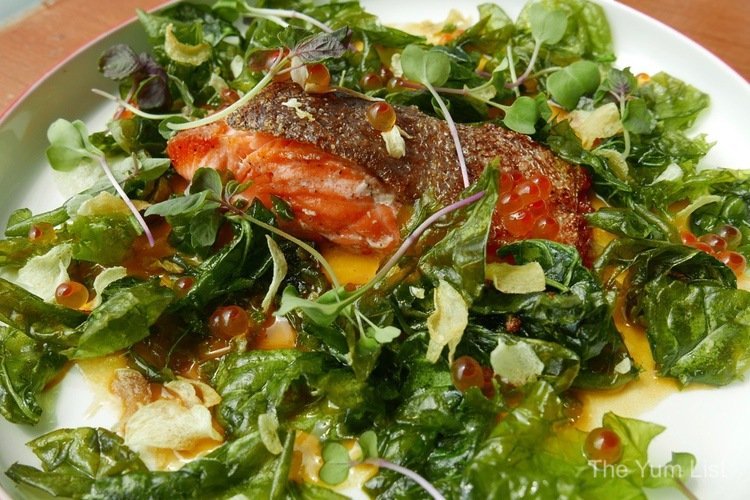 Those craving red meat can go for the Shiso Crusted Lamb. Coated with panko bread, the chimichurri salsa with a hint of torch ginger balances out the fattiness of the meat. The lamb is cooked on medium doneness for Ramadan. Do request for your style of cooking should you want it any different.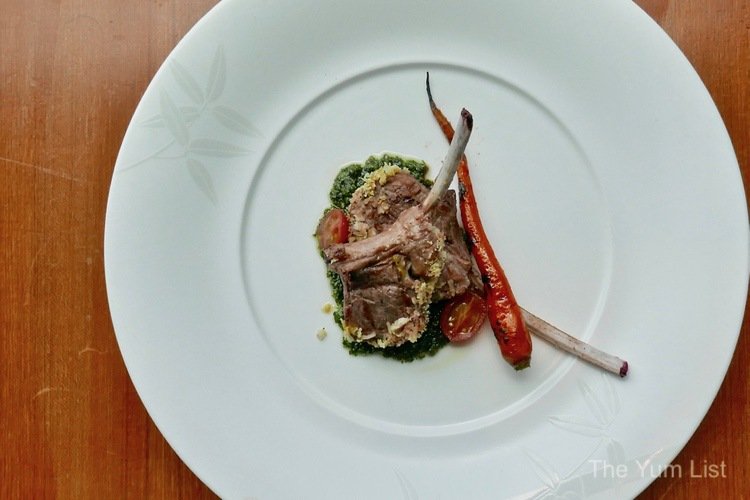 They also have the last option of the Chicken Truffle Teriyaki. Oven-roasted with a mix of dark and white meat, it is cooked with seasonal mushrooms on a light brown sauce with vegetables and a well-blistered shishito.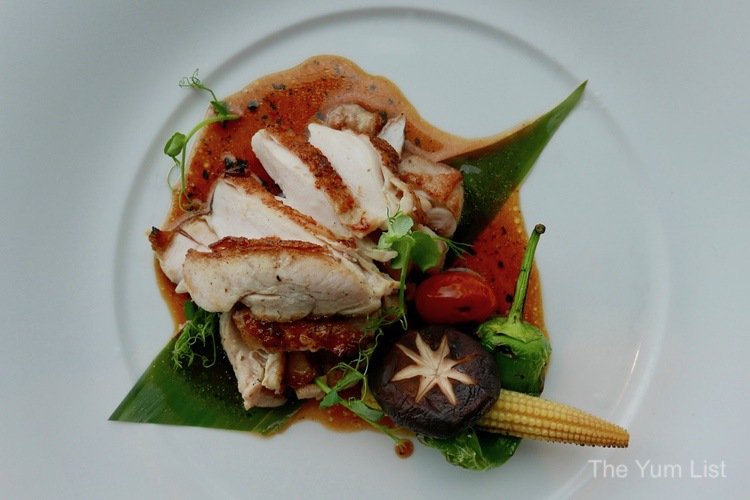 Ramadan Desserts at Nobu Kuala Lumpur
Leave space for their beautifully plated and heavyweight desserts served moriawase style. The tray comes with a crispy sago cracker with caramelised banana and a fragrant coconut mousse. The banana caramelization is done with a tinge of soy for a hint of savoury appeal. Delicious and unlike anything I've had before, it puzzles the mind for a while before going down all too easily. Black sesame is not served as I might have expected in a scoop of ice cream but as a nutty pancake with sweetcorn. It's akin to a creamy Malaysian apam balik. We started with a date and ended with a dates cake with cream cheese frosting. It's both sweet and savoury with the "dust" on top their signature homemade soy salt.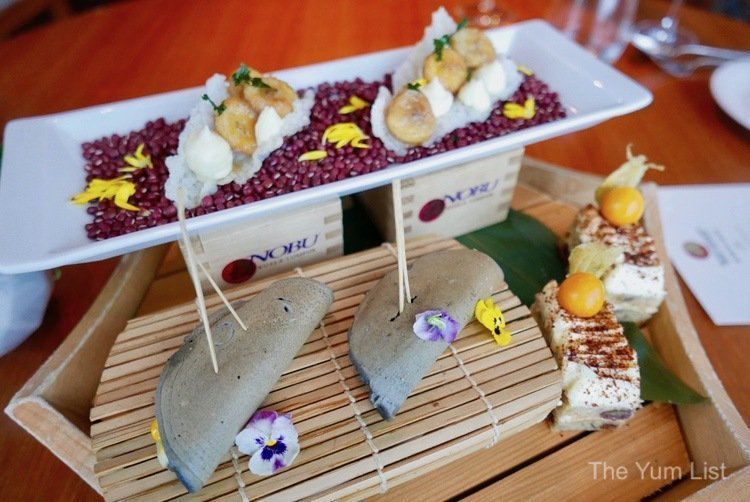 Reasons to visit Nobu KL for their Ramadan KL 2019 Menu: a change from the usual Ramadan buffet or standard Japanese fare; attentive staff; the fanfare of the journey up to the 56th floor itself, which opens up to breathtaking views whets the appetite; must order the salmon as the main.
Nobu Style Ramadan KL 2019 Menu
Level 56 Menara 3 Petronas, Persiaran KLCC
Kuala Lumpur 50088, Malaysia
www.noburestaurants.com/kuala-lumpur
+603 2164 5084
Whatsapp +6 019 389 5085