Kechala Cove 55 – Worth the Trip from Kuching
Monica Tindall
It's not too often that I'd recommend visiting a hotel restaurant if you're not staying in that hotel. Often on-site kitchens are convenient for in-house guests and can be of high quality but rarely would they justify a special trip when cities have so many independent and well-priced restaurants to choose from. Kechala at Cove 55 though is something a little different. Their inventive menu founded on fresh local ingredients backed up by a casual yet sophisticated setting makes it a destination restaurant worth putting on your agenda.
Kechala Restaurant Cove 55 Menu
But, after a drive from the city, thirsts should be quenched first right? Kechala is ready to please with an impressive range of drinks for such a small hotel. The craft cocktails have been meticulously curated concentrating on both flavours and presentation. Such a lovely setting deserves at least one cocktail to kick-off but we are so taken by the menu that we indeed have more than one. Find a comprehensive review of Kechala's craft cocktail bar and recommended orders here. In the meantime, we suggest you listen to the advice of the bartender – he is always right – and begin your meal with an innovative creation.
Kechala Cove 55 Menu
Small Plates
Diving into the food menu, it's a good idea to begin with some small plates for sharing.
Charred Borneo Asparagus (RM25) features tender green spears grown locally and seasoned with Parmesan cheese and truffle oil. They're crowned with a poached egg and make a great starter opening our appetites and making us eager to try more.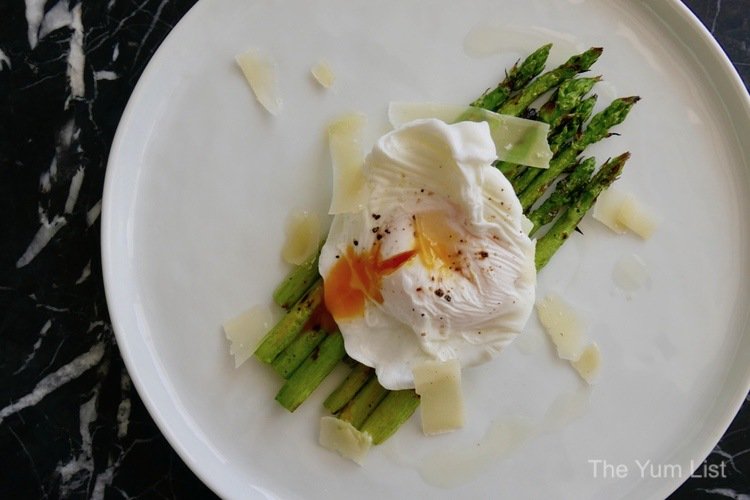 With Kechala restaurant being located right next door to a fishing village, seafood is highly recommended and Wasabi Prawns (RM35) is one of Cove 55's top-sellers. Plump, juicy tiger prawns are still warm from being cooked in a light batter. They're presented old-school prawn-cocktail style and coated in mayonnaise with a very light thread of wasabi offering a barely detectable heat. Sweet mango relish and finely chopped spring onions balance the richness of the dish with their freshness.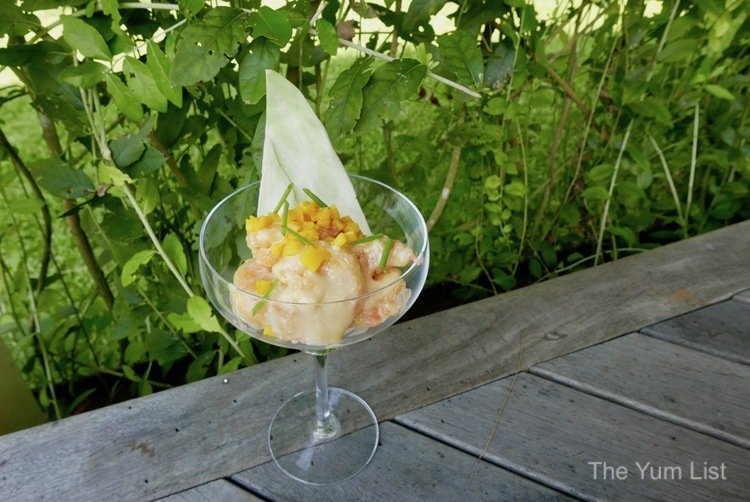 A not-to-be-missed vegetarian option from the small plates section is Red Chilli Peppers (RM25). Encrusted in a light batter and gently spicy in the mouth, they're stuffed with cream cheese and a cool Romanesco sauce makes a flawless contrast on the side. If you are a beer drinker, these would make a fantastic companion.
Tempura Jungle Ferns & Greens (RM25) provide another happy veggie option and they go exceptionally well with their dipping of teriyaki sauce and roasted garlic and sesame mayonnaise. They're so yummy that I guarantee them a fool-proof way to get anyone to eat their greens.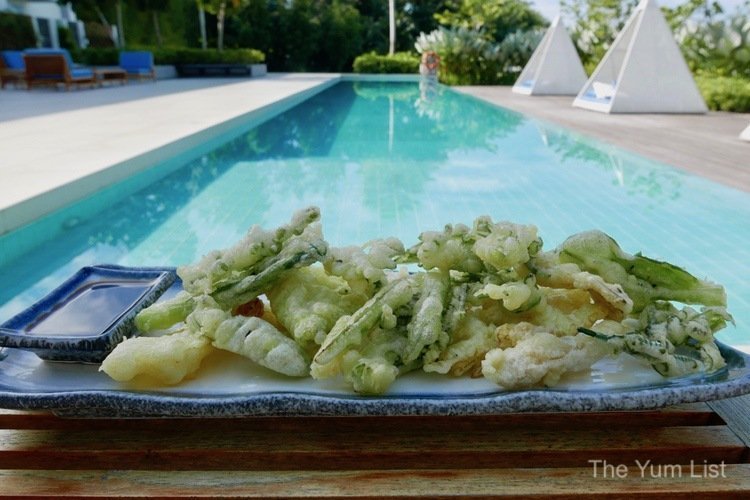 Salads & Sandwiches
Salads and sandwiches are exemplary fare for the infinity pool dropping down to the South China Sea. If you haven't noticed it yet, I recommend you take a break from your meal and wander over to the water's edge where you'll find a platform holding the large pool lined with sun chairs. We've learned that expats working in Kuching often make Cove 55 their weekend escape and so you might see quite a few here devouring fresh sandwiches and salads by the sea.
Roasted Salmon Salad comes in both starter (RM35) and main (RM70) sizes. It's filled with organic quinoa, broccoli, Chinese kale, spinach, pomelo, orange segments, goji berries and almonds. It is well suited to my preference for fresh, clean and tangy recipes, satisfying my consistent desire to eat healthily.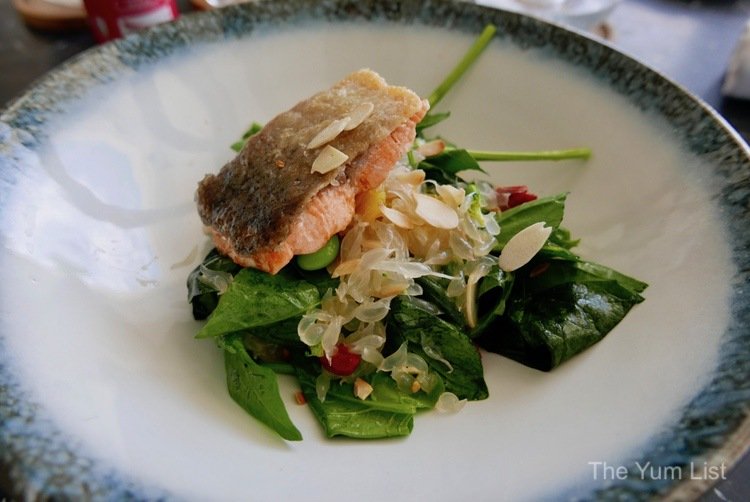 The Cove 55 Steak Sandwich (RM75) is lavishly packed with caramelized onions and served on a deliciously buttery brioche bun. Chips, that have been triply cooked, make perfect seaside nibbling and the sandwich itself lives up to its honour of being the property's namesake. It's warm, comforting and bursting at the seams with quality cuts of meat.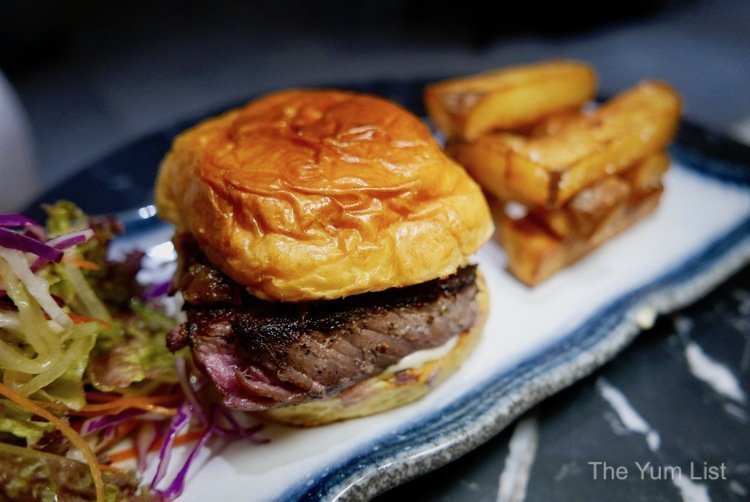 Our Banh Mi Sandwich (RM55) holds roasted pork, pickled watermelon radish, peanuts, cucumber, chilli and coriander between a house-made hybrid of sourdough and ciabatta. It's attractively presented on a long rectangular plate between a mound of fresh leaves and sweet potato fries. I have to admit, it would be easy to fill up on those fries before even taking a bite of the sandwich – so be warned, go straight to the centre as this is one scrumptious mouthful.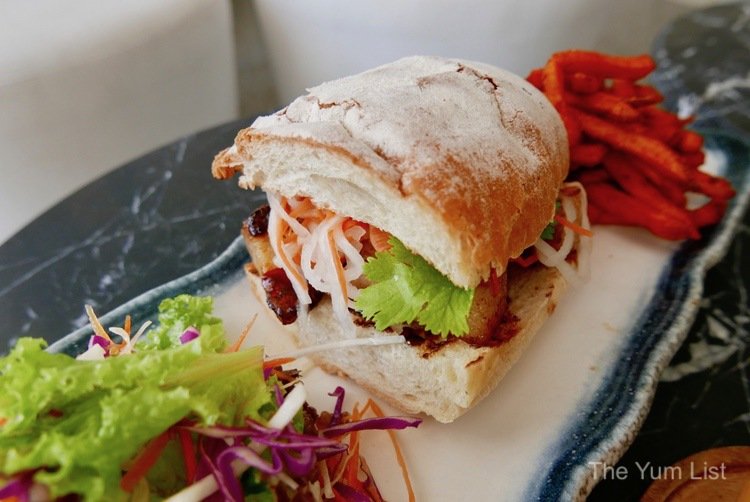 Large Plates & Bowls
Large plates and bowls are also good sharing material and merit a second look on the menu. Some say that the Borneo Highlands Bario Rice Risotto (RM50) from this section is even better than the Italian version. We're not ready to burn any bridges with Italian friends, but let's just say that it is indeed, very good. Canary yellow with pumpkin, the cheery plate is dotted with shaved Parmesan, garden pesto, walnuts and air-dried tomatoes. The toppings add both colour and diversify the taste and texture of the rice.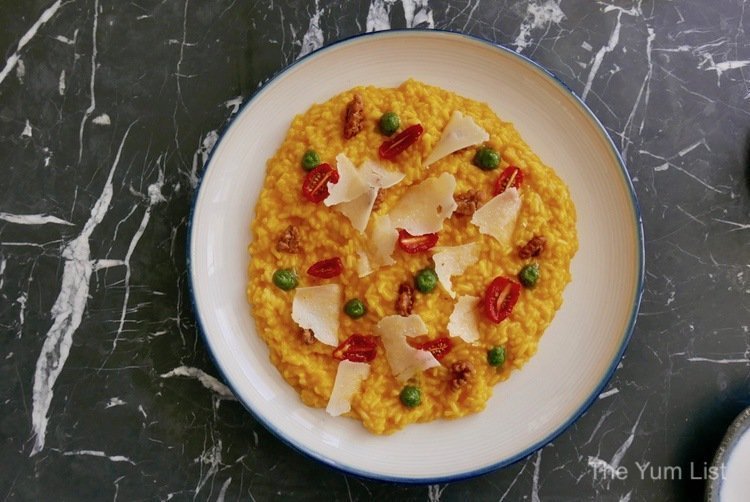 Scallop & Prawn Linguini (RM70) sounds delightful with the local flavours of coconut, lemongrass, lime leaf, chilli and coriander. The molluscs are white and soft and the prawns have been completely peeled, leaving not even the tip of the tail (something I appreciate in this country where it is the norm to leave the shell on). The portion is generous. I barely make it halfway through before admitting defeat. This could be a good choice to share between two smaller eaters together with a salad.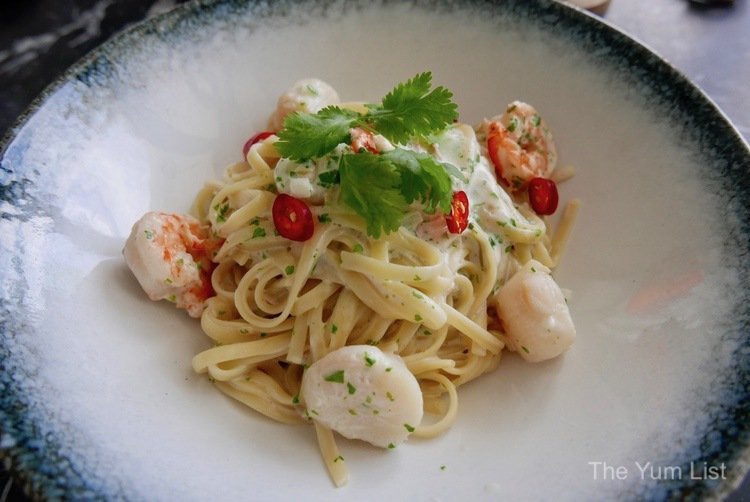 Hubby, on the other hand, can't resist meat, especially steak, and so the 21-Day Aged Sirloin of Grain Fed Australian Beef (RM120) is polished off in no time. Done medium, exactly as asked, the outer is nicely charred while the inner remains pink and tender. Fat fries also make him happy and hollandaise sauce does well with both the steak and the chips.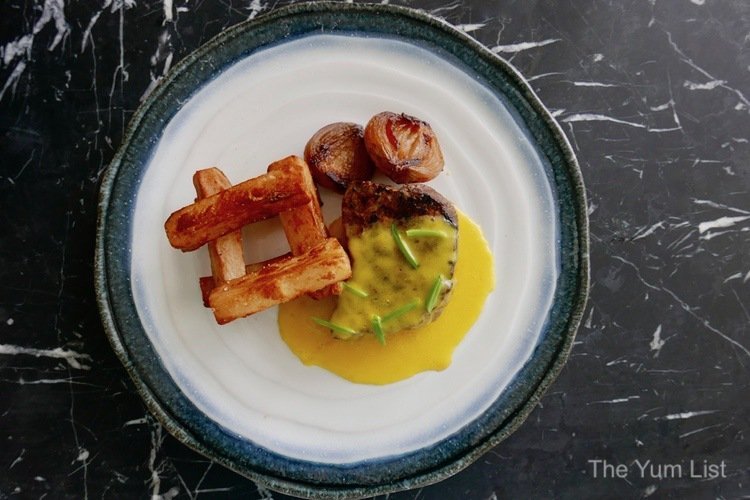 Kechala Menu – Drinks
The drinks menu extends beyond excellent cocktails to offering eight wines by the glass (which is darn good for a property of this size), a few more by the bottle and a reasonable list of spirits. The white I choose, Cesari Pinot Grigio Chardonnay from Italy (RM30) pairs well with both the risotto and the pasta. Its light fragrance of ripe fruit, crisp dry palate, balanced acidity and fruity ending both mirrors and support the vegetables in the rice and slice through the creaminess of the pasta.
Desserts at Kechala Cove 55
When the savoury items have been as good as this it would almost be a sin not to sample the desserts. Right?
A popular order for chocolate lovers is the Chocolate Mousse (RM25), which has a mouth-watering touch of citrus with candied orange and a delicious bitter finish due to the 72% cocoa shavings on the top. If you are a mousse fan, you really must order this dessert! Healthier taste buds might prefer the Freshly Cut Fruits (RM25); a platter of vibrant produce grown locally and harvested seasonally.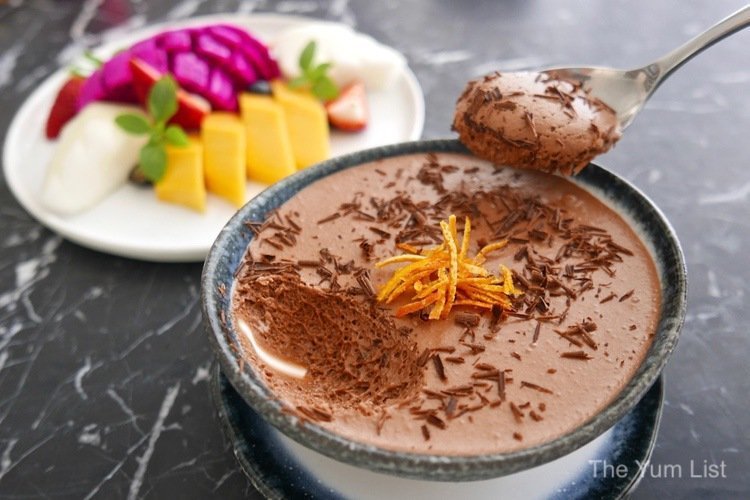 Lastly, Homemade Freshly Churned Ice Creams & Sorbets (RM20) sound so good that we want to try all the flavours! Whisky and raisin, Borneo vanilla bean, double chocolate, espresso coffee, raspberry and matcha – which would you choose? They come as three scoops to a bowl, so we do try them all! Not a melted drop of any remains but we love the depth of flavours in the whisky raisin, the rich creaminess of the double chocolate and the velvety smoothness of the freshly made matcha. Divine!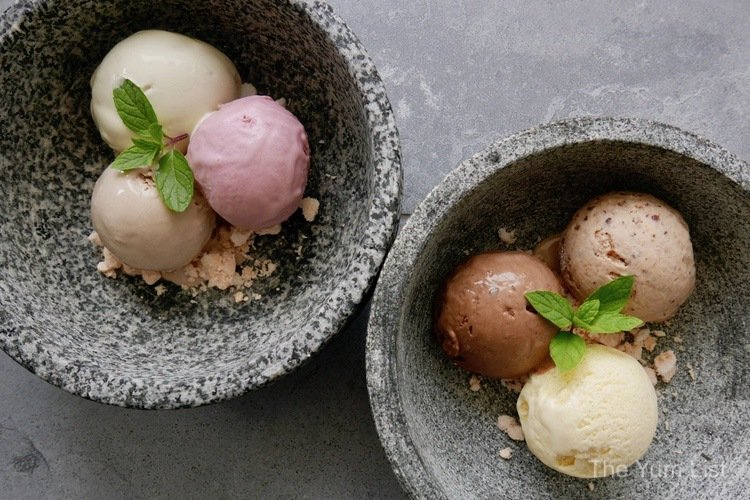 Reasons to visit Kechala Cove 55: beautiful setting both inside the air-conditioned interior or outdoors by the pool; a contemporary menu offering local flavours with western cooking techniques; don't miss the Charred Borneo Asparagus, Wasabi Prawns, the Steak Sandwich, Chocolate Mousse and be sure to try a craft cocktail too!
Kechala Cove 55 Opening Hours
Monday to Sunday 7 am to 11 pm (last order 9 pm)
* Reservations are recommended.
Find more recommendations for travel to Kuching and Sarawak here.