Flying Monkeys Bar KL
Words: Kitty Noble  Photos: Rich Callahan
"Welcome, my pretties," to the magical world of Flying Monkeys Bar – KL's latest bar with unique city views and craft cocktails.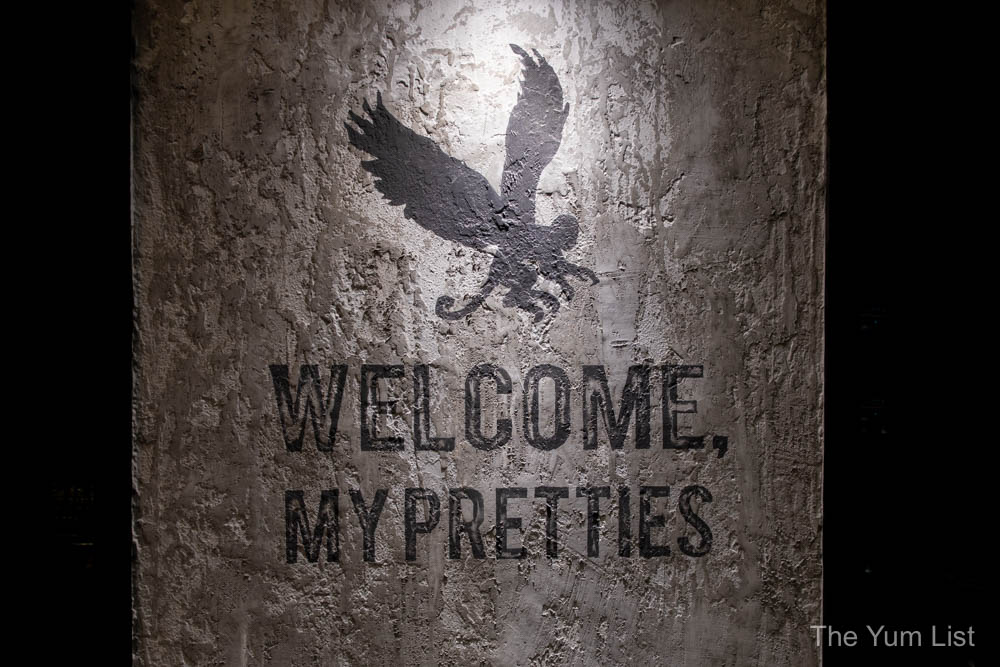 Located on the eighth floor of Tribeca, the bar overlooks the constantly evolving Tun Razak Exchange (TRX) development and its glowing tower. The interior of Flying Monkeys Bar, however, soon vies for attention, and it indeed merits a closer look. From hand-painted floor-to-ceiling canvases of flying monkeys to the kitsch side-board hosting a gilded bird-cage and fake flowers to contemporary straight-glass chandeliers, every detail has been thought of. A wrap-around bar with inviting stools is where the action takes place, while velveteen stubby chairs framing low tables are suitable for a more intimate get together. Eclectic tunes and a mix of clientele pave the way to a funky, yet kooky vibe. It's fun, even before we start drinking.
Flying Monkeys Bar KL completes the trilogy of concepts designed by a group of five friends. The Wizard of Oz theme not only ties the ideas together (Yellow Brick Road, and Wizards at TriBeCa) but also represents each of the partners through characters in the story; Tin Man, Lion, Scarecrow, Wizard and Glinda, the Good Witch of the North. If you've visited the first two outlets, then you'll know to expect the menu of both food and drinks to be inventive.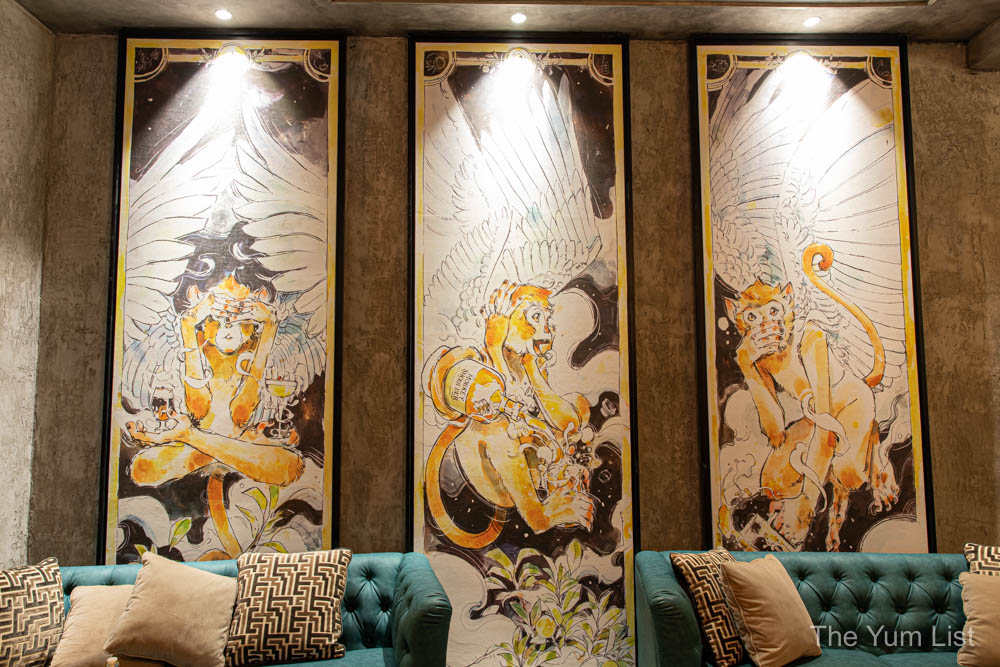 Flying Monkeys Bar Cocktails
Cocktails range from the classics with a local twist to more elaborate beverages with contemporary flair. Our first, Elphaba's Brew (RM 40), is served in an old fashioned glass, where Tanqueray 10 gin is married with NikoNeko matcha. It's pulled together with peach, lemon and soda, and garnished with a half peach brûlée. It's a truly wicked sludge-green. The cold-steeped matcha creates balance without being too astringent, allowing the peach to do the talking. This is a dangerous one… I couldn't even taste the alcohol. Too many of these and you'll be sure to turn into the Wicked Witch of the West!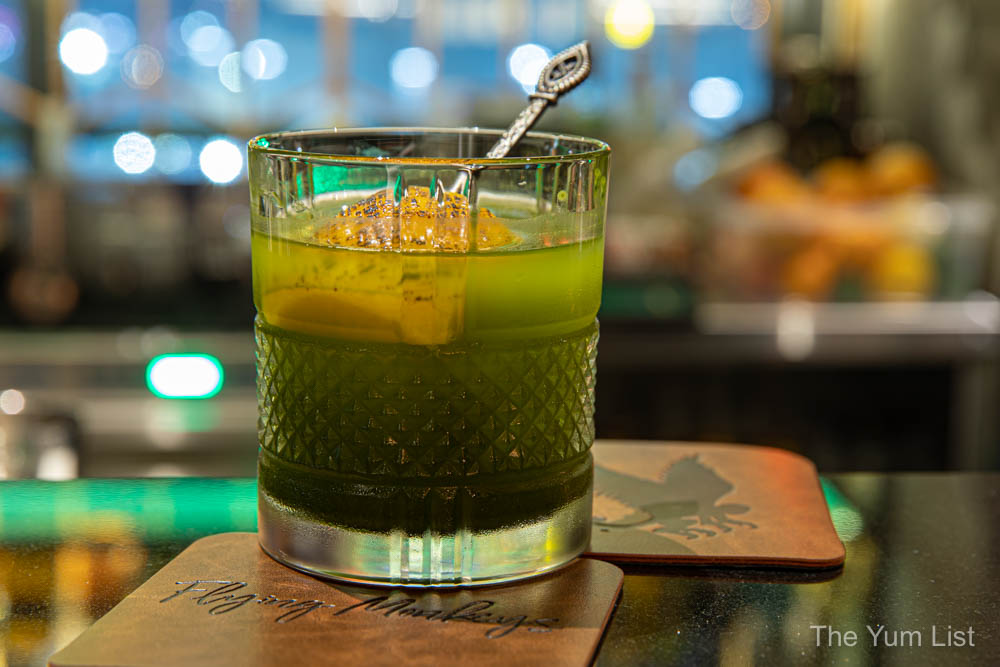 Tipsy Free (non-alcoholic) are a selection of cocktails, perfect for the booze-free munchkins. Hou Kantan (RM 20) expertly combines soursop, ginger torch, kesum and lime. It's an aromatic, delicate rose-coloured beverage served in a champagne cup with ginger torch as a garnish. It offers a herbaceous, refreshing palate.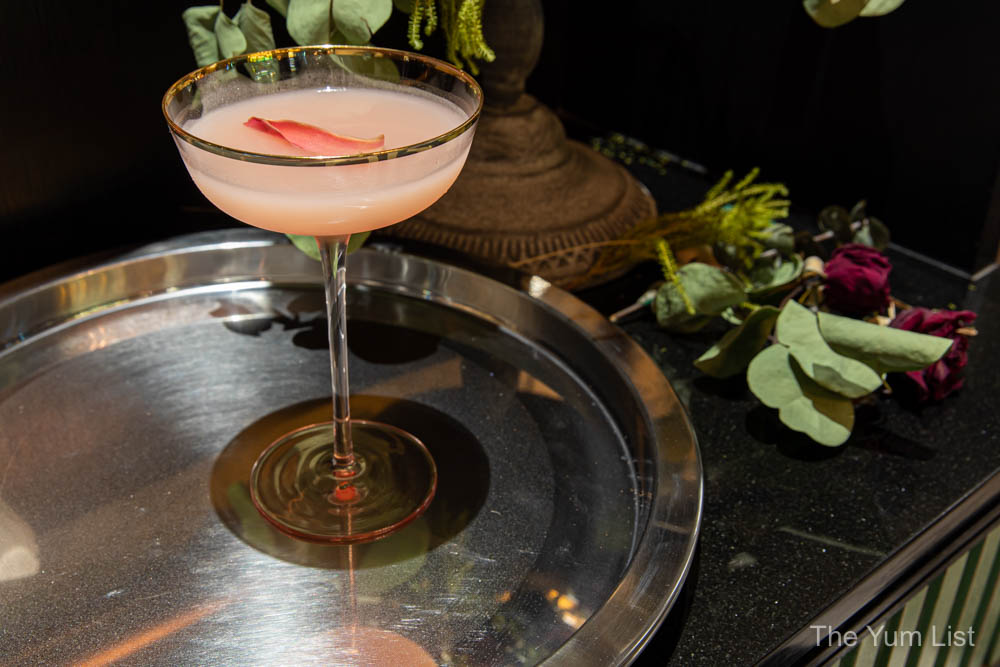 We know Mon likes a good Negroni, so it won't surprise you that the Negroni Savage (RM 50) made it to our list. It's a coffee-forward twist on the classic featuring Geisha Cascara (coffee bean husks from premium beans). Espresso-infused vermouth, Antica formula (vermouth) and Campari meld a serious combo. The attention to detail is apparent, down to the ice-cube imprinted with their flying monkey logo. As someone who finds Campari far too bitter, even to my palate, this was a well-balanced, nicely-rounded cocktail.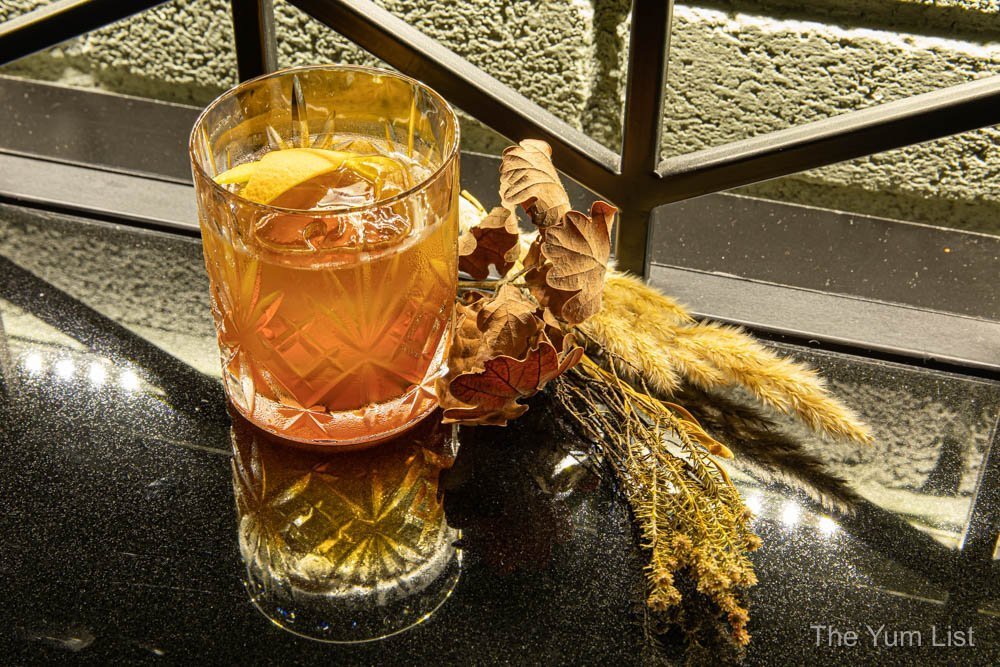 In opposition to the market shift to ginophilia, is their only vodka-based cocktail, Glinda (RM 38). An elegant champagne cup holds a gorgeous pink drink adorned with a single rose-bud. It hosts a medley of Absolut vodka, sumac and French rose syrup, calamansi and egg white. Together it creates a beautifully perfumed, slightly dry and creamy cocktail, which will send you somewhere over the rainbow.
5th Taste (RM45), named after the more recent discovery of umami, is a firm favourite amongst the Flying Monkeys Bar team. Inspired by local palates, the cocktail features homemade tomato chutney, curry leaf and kombu as garnish. The West Winds Gin and Campari add layers to the sweetness and umami tastes. As a lover of savoury or sweet and sour profiles, I can absolutely understand why this is so popular. We're not in Kansas anymore!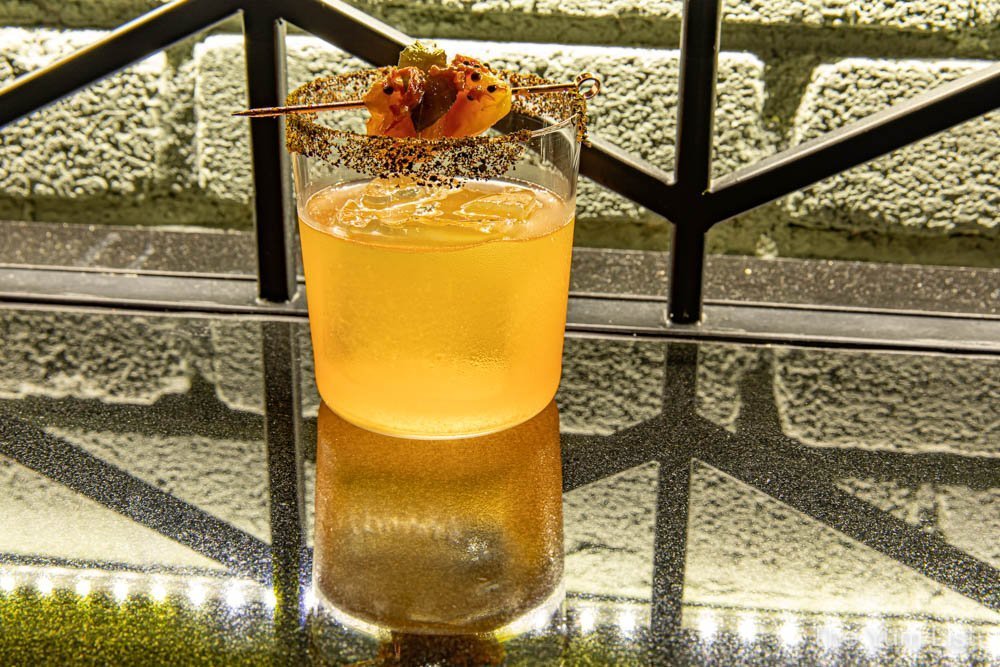 Along with savoury, sweet and sour, to complete my alliterative favourites, comes smoky. The Sultana Sour (RM 40) combines Monkey Shoulder, pink grapefruit, white grape syrup, egg white and lemon. Presented in an old-fashioned glass, grapefruit skin scorched with the Flying Monkey Bar logo floats across the surface. It's a creative twist on a classic Old Fashioned. Beginning with forward smokiness, it then leads to a creamy finish and a lingering aftertaste. It's sure to grease any rusty joints!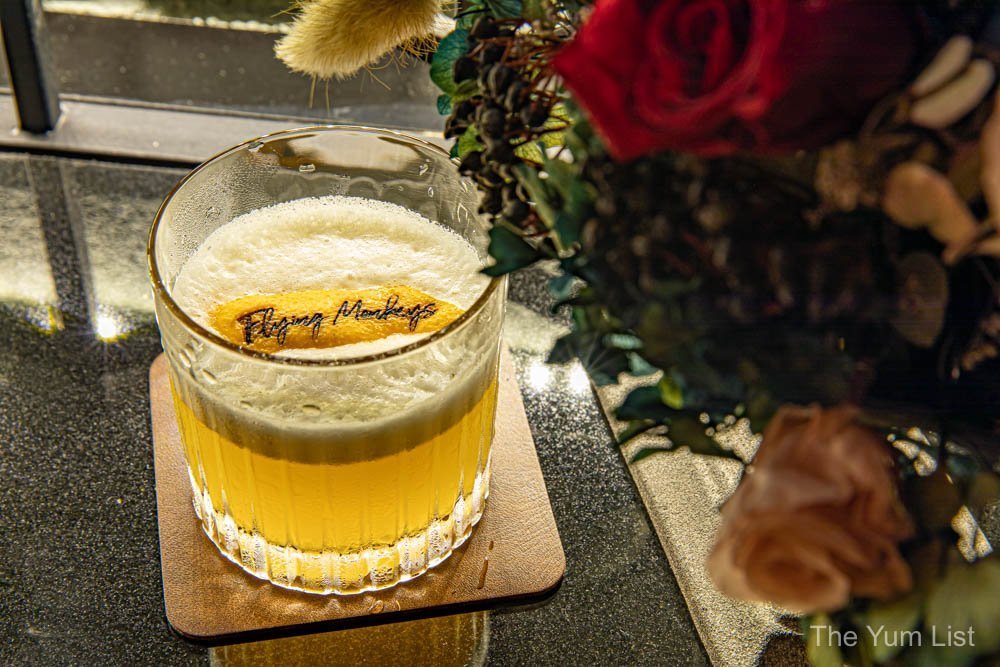 To say the next drink was unexpected is a vast understatement. Wizard Butterbeer (RM 45) is served in a goblet with butterscotch dripping down the side. Straight out of the pages of Harry Potter, it might deceive even the most seasoned of drinkers into believing it's going to be sweet and creamy. No Sir! Ten-year-old Laphroaig, Guinness and homemade ginger syrup come together to punch you in the taste buds. It's deep, rich, the luscious flavour is relieved by the rim of sugary goodness. Just one of these will make you roar like a lion!
Bar Snacks
Although labelled as snacks, the food here is made for sharing. It's filling enough that you don't need to go out, and allows you to power on through with the drinking.
Morning Glory Chips (RM 20) are simple, deep-fried water spinach with cheese. They're another favourite of the team: satisfyingly straight forward, salty, crispy nibbles.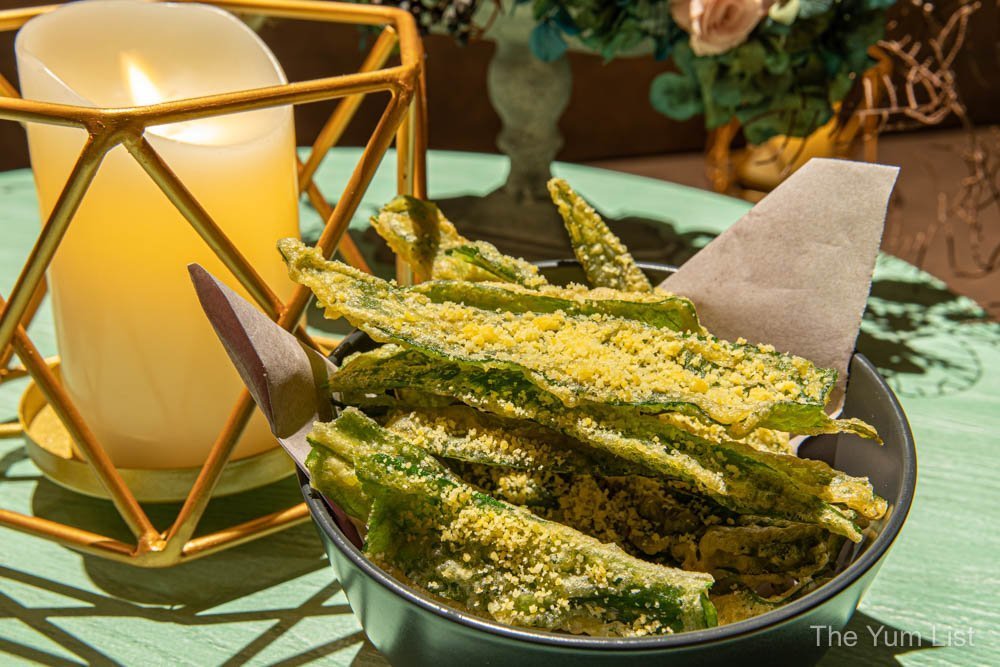 Pulled Beef Bao (RM 32) sees sticky, soy-glazed pulled beef stuffed between soft homemade buns. They're complemented with fresh, lightly pickled julienned vegetables of cucumber and chilli.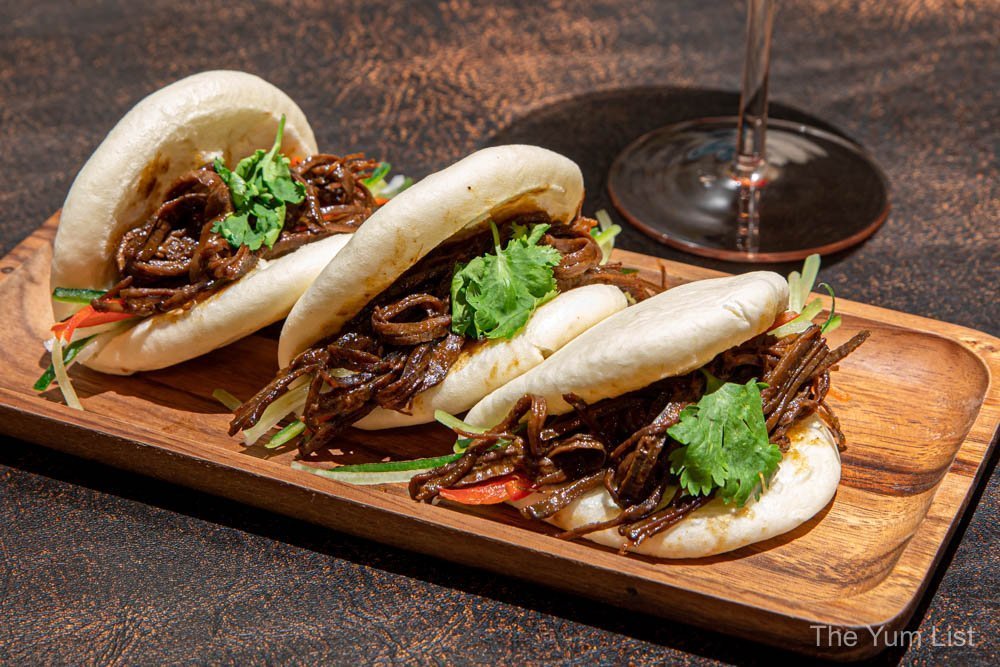 Lastly, and for something for the sweet tooth, are Cheeky Churros (RM 22). The light crispy outside gives way to a soft fluffy middle, but the highlight here is definitely the warm, velvety chocolate with a cheeky hit of Kraken black spiced rum.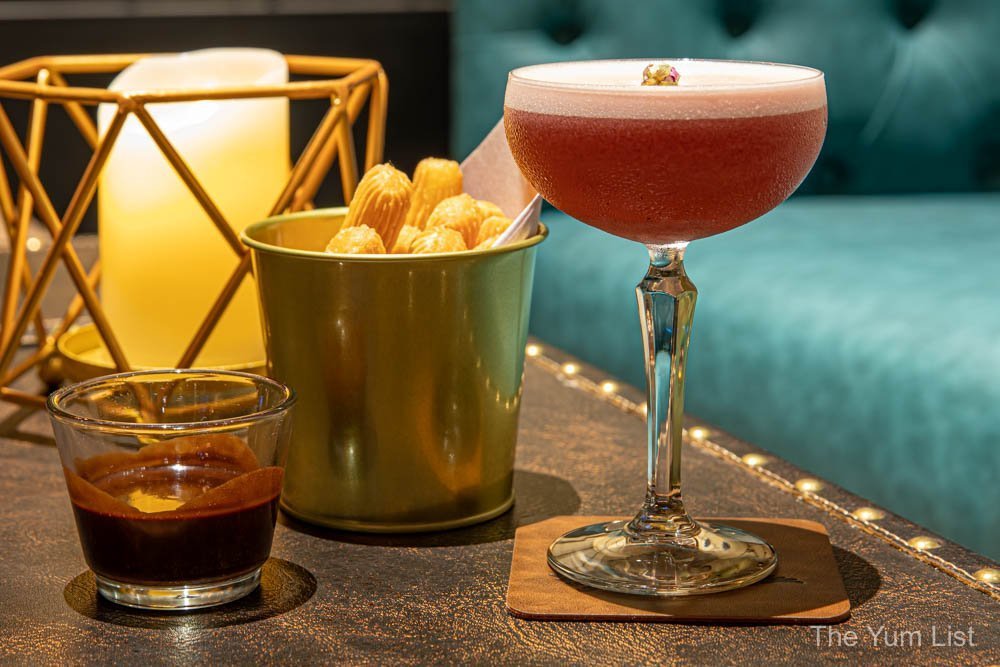 Flying Monkeys Bar KL Review
The fabulous views and interior of Flying Monkeys Bar are enough to merit a visit. Creative cocktails, a fun atmosphere and some serious bar snacks are sure, however, to entice repeat visits. Don't miss Ladies' Night every Wednesday, where the girls get to celebrate their feminine divine with two for one cocktails from 5 – 9 pm.
Reasons to visit Flying Monkeys Bar KL: great views, fun interior, craft cocktails. Be sure to try the Wizard Butter Beer and the Sultana Sour.
Flying Monkeys Bar KL
8th Floor, Tribeca,
215 Jalan Imbi, Pudu
55100 Kuala Lumpur
Malaysia
+6 03 2713 1630
www.facebook.com/flyingmonkeysmy
Flying Monkeys Bar Opening Hours
Wednesday-Sunday 5 PM-1 AM (Friday & Saturday 5 PM-2 AM)