If Only Taman U-Thant
Words: Monica Tindall  Photos: Rich Callahan
I am always on the hunt for quality places to eat in my neighbourhood. And, it was at one of my dearest local cafes that I was recommended a new spot to try, If Only Restaurant in Taman U-Thant.
If Only Restaurant
"If only I could get a good cup of coffee with quality local food to go with it," was the inspiration behind If Only Restaurant, which opened just last month in Taman U-Thant. Co-founders, Johnathon and Keith, wanted to create a place "where wholesome comfort food meets speciality coffee." The menu reflects this well with a range of both western and local dishes, along with espresso-based drinks made on locally roasted beans.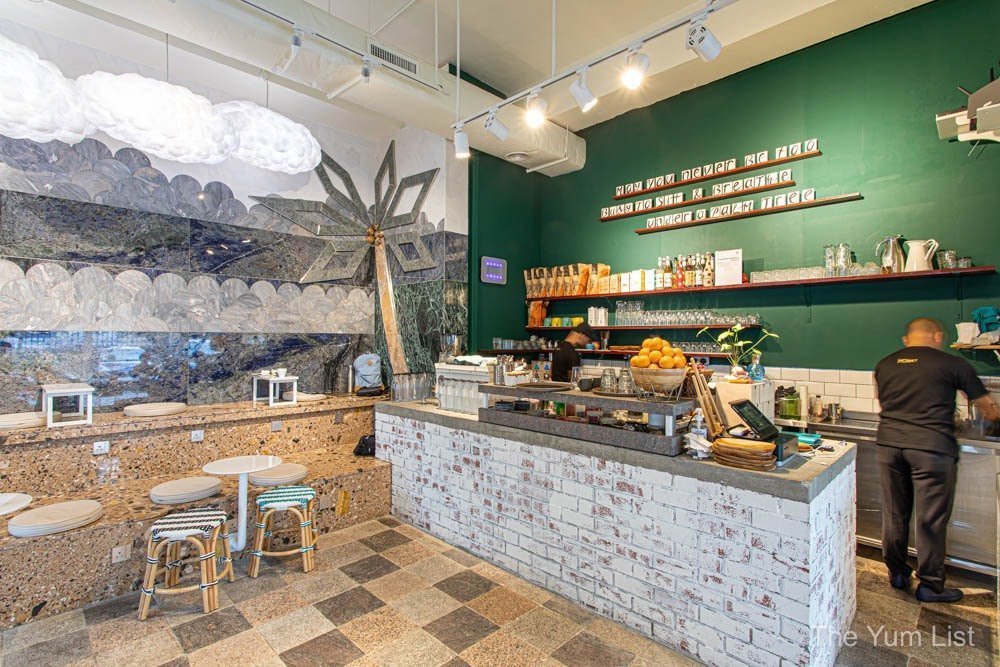 If Only Restaurant Menu
Breakfast
The brekkie menu kicks off with a belt-loosening plate; If Only Big Breakfast Was This Big (RM35). A generous helping of beef bacon, chicken sausages (from local business Butcher's Block), sautéed mushrooms, half an avocado, vegetable hash and grilled tomatoes come with two eggs done as you like (scrambled, fried or poached). Of note are the kampung eggs – from free-range, happy chickens, and the rustic bread (great smokiness to it when grilled). Made daily in house, the loaf sports a crisp crust and a dense spongy middle. I ask to purchase a loaf to take home; it's that good. Co-owner Keith says he hasn't yet met a single person who has been able to finish the whole thing alone. So, there is a challenge for you!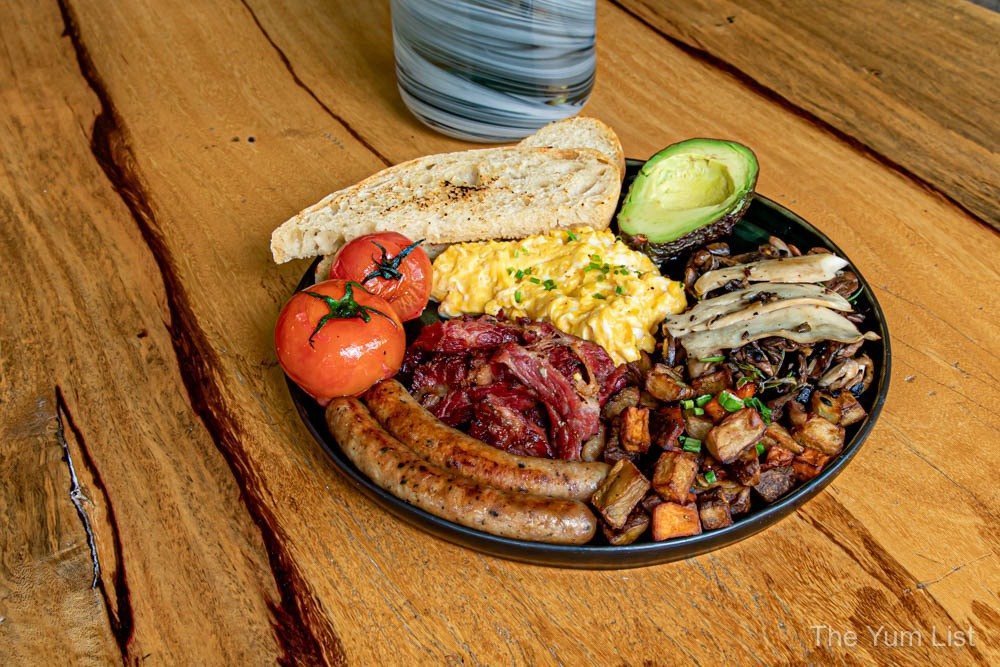 Scrambled Eggs & Avocado (RM23) is a yummy veggie option. Creamy scrambled eggs, avocado, grilled tomatoes, beetroot hummus and feta cheese, come again with that delicious house-made bread. They say "eating the rainbow" is a healthy concept to live by, and with this colourful plate, we sure feel great!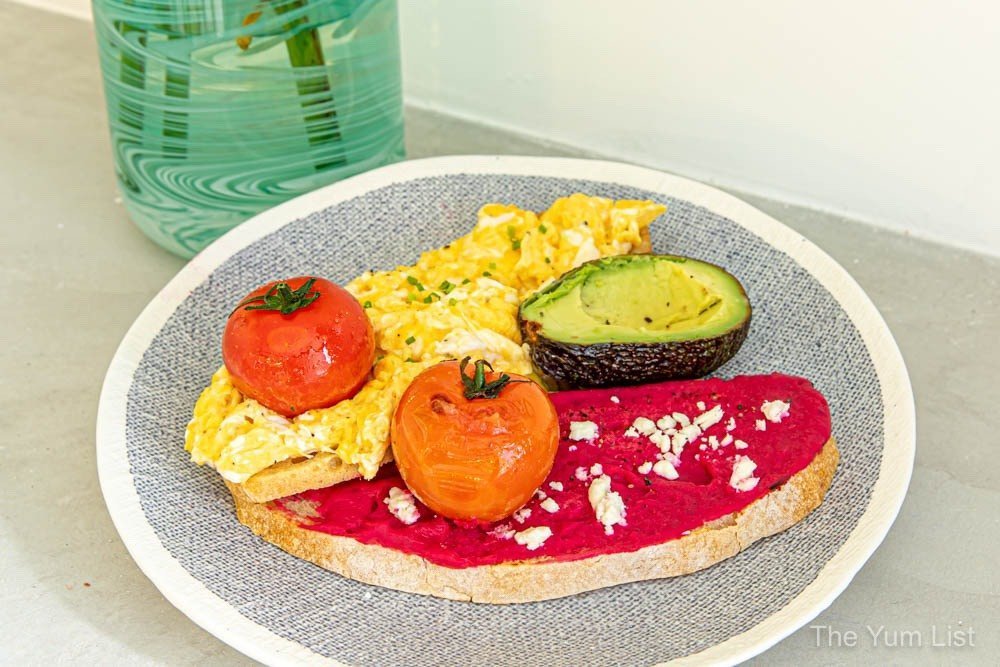 Superfood Bowls
Merging brekkie with all-day snacking, the team at If Only Restaurant provides some healthy choices with a trio of superfood bowls. We try the best-seller, the Mana Bowl (RM22). A base of blended organic maqui berry, dragonfruit, mango, strawberry, blueberry and apple juice is crowned with banana, pineapple, mixed berry granola, goji berries, organic chia seeds and a drizzling of raw organic Kelulut honey from Seremban. I appreciate the inclusion of the maqui berry as an alternative to the popular acai. It's said to contain the highest antioxidant level of all fruits, and research claims that it can assist in blood sugar level control, lower bad LDL cholesterol and reduce inflammation. They also propose that it may have anti-ageing effects and promote gut and eye health. For something that tastes this good, the added health benefits are a bonus.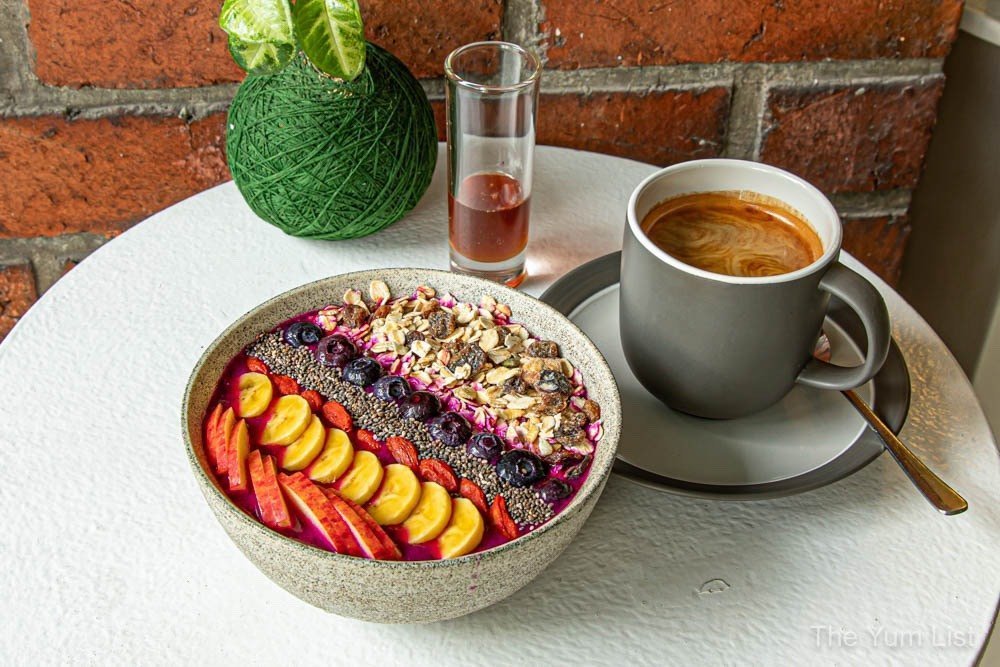 Lunch
If Only's lunch menu provides a good range of western and local flavours guaranteed to energise you for the rest of the afternoon.
The staff recommend the Roast Spring Chicken (RM35) as a must-try. The bird has been rubbed with local spices and roasted together with pumpkin, carrot and potatoes. Chef's special gravy is served on the side and leaves us guessing as to its contents. It's a blend of root vegetables with the same mix that has seasoned the chicken. It's a welcome change to a common brown gravy.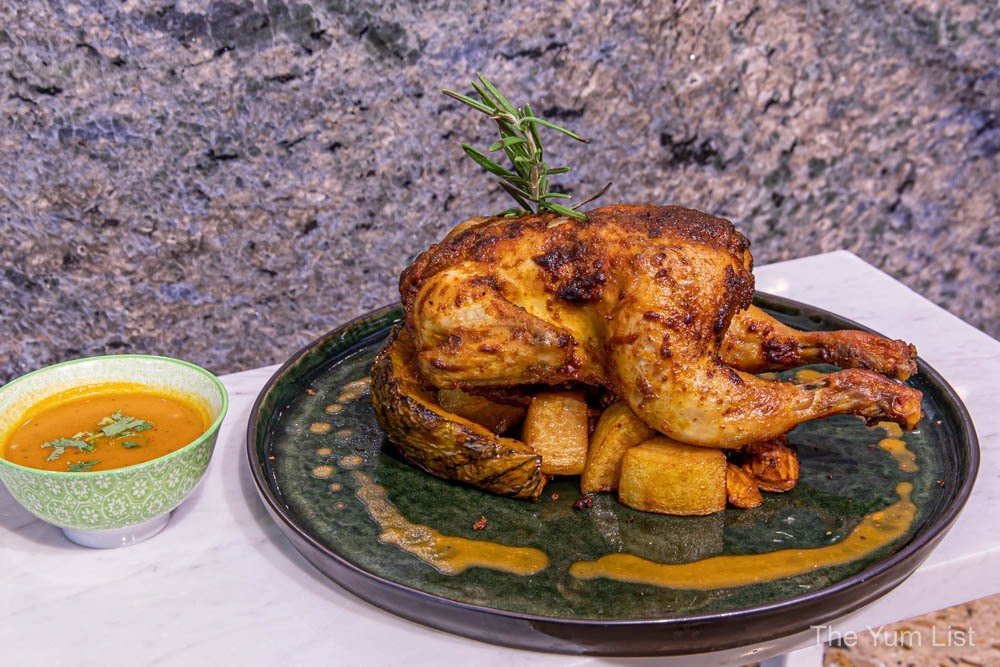 Ooh Lala (RM28) comes with a warning that it is mildly spicy. Capitalising on a Malaysian beloved, here we see lala clams stir-fried together with Bentong ginger and curry leaves. They're delivered in a spicy, creamy sauce that is ideally mopped up with a thick slice of If Only's rustic bread.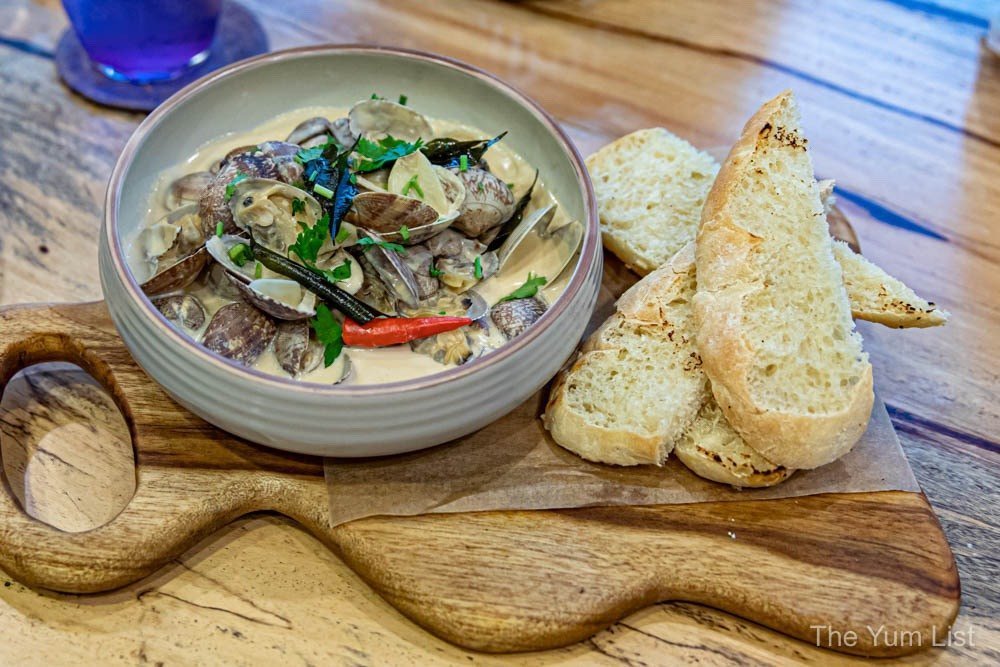 For those craving carbs, the Grilled Chicken Sandwich (RM25) is a top-pick. Marinated and grilled chicken thighs are hugged by the chewy embrace of If Only's house-baked ciabatta roll. Mesclun salad, tomato, cheddar cheese, tomato relish and homemade mayo add balance and moisture. Hand-cut potato and sweet potato fries turn it into a complete meal, that is thoroughly satisfying.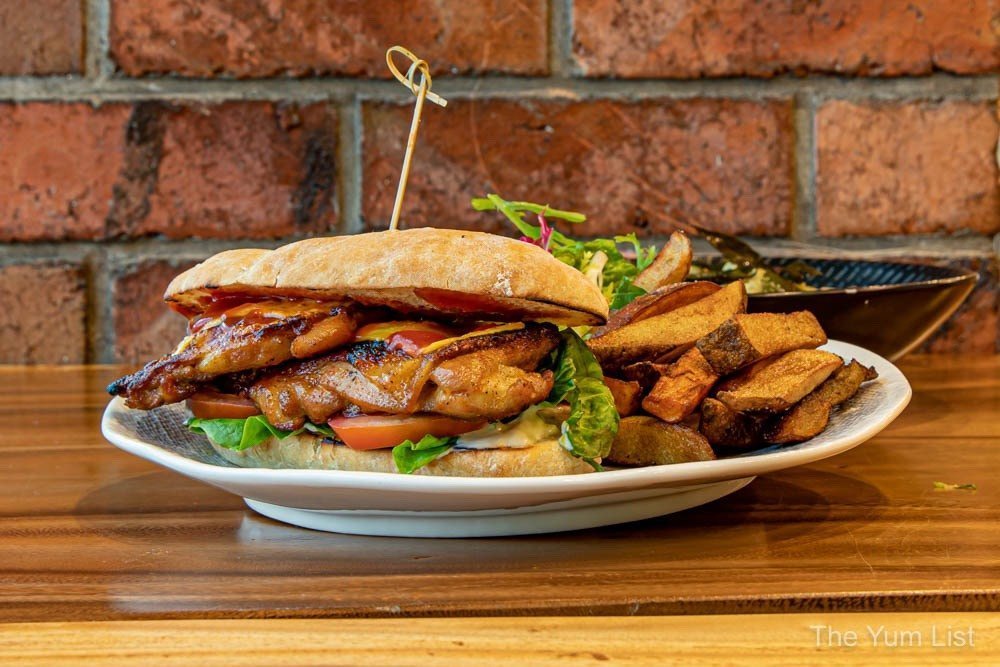 Another recipe for carb lovers is found in the Creamy Curry Pasta (RM25). Coming with a label of two chillies we're aware that this one might offer a moderate level of heat. Thin ribbons of fettuccine are well coated in the curry-infused cream sauce, and a decent serving of chicken adds protein. While the level of spice is undoubtedly more intense, the cream softens it, encouraging us to keep digging back in for more.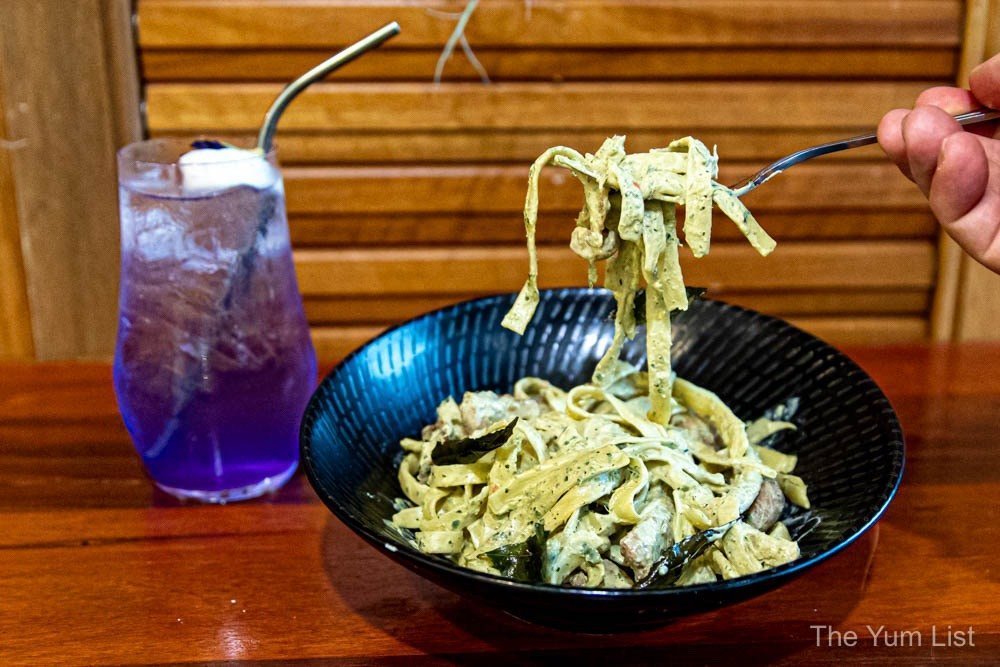 Salads & Snacks
Adding nutrition to any of the lunch plates is the Ulam Salad (RM18). A mound of local veg is composed of four-angled beans, long beans, roasted barely, ginger torch, guava, cherry tomatoes, daun kesom and deep-fried chicken skin. It's all tossed together in a light ulam dressing (traditional anchovy sauce from the East Coast). The variety of fresh, crisp produce makes for a delicious medley of textures. Most of the veggies in this salad, and on other plates too, are sourced from local farmers with a high proportion coming directly from farm to the plate from If Only's own plot in Hulu Langat.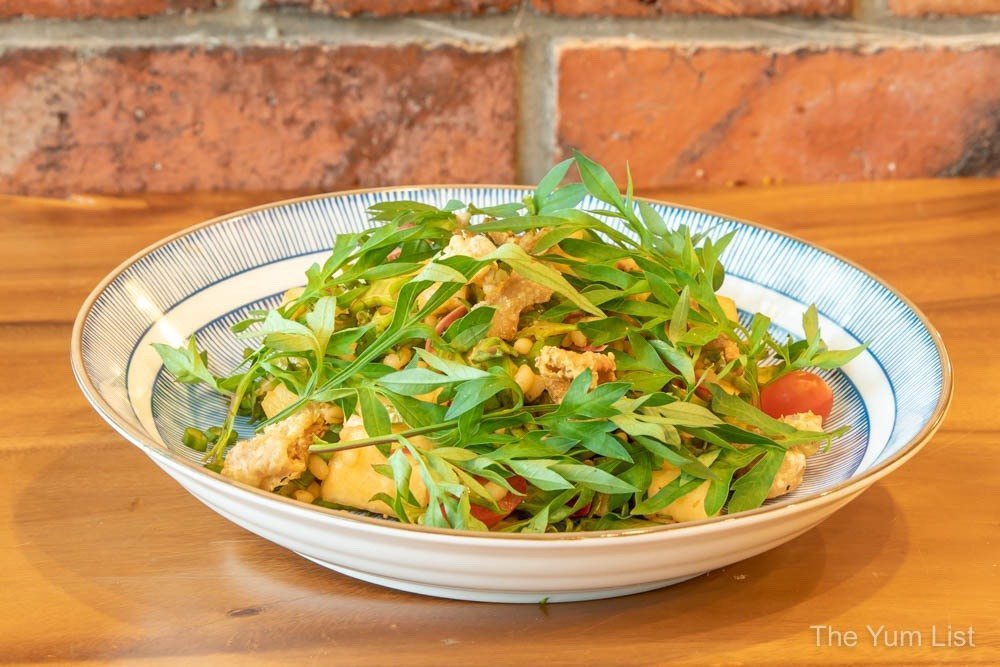 Dessert
Lastly, Kaya Balls (RM15) take us to the end with a Malaysian treasure. This traditional sweet is basically a pancake batter cooked in a ball that has been filled with kaya. The kaya is made with Jube's duck egg kaya and partnered with a scoop of the ice cream of the day.
The master behind this recipe, Jube, uses pandan juice, duck egg, coconut milk and cane sugar to make a velvety smooth jam. Jube tells me that the key is to use fresh ingredients; absolutely no essence. For this reason, it has a short shelf life, so they make it in small batches.
Coffee in Taman U-Thant
Coco-Aloha (RM15) is one of the prettiest drinks on the menu at If Only. It begins with butterfly pea flower. This is topped with coconut water and lastly given a squeeze of lime juice, which makes the whole glass turn a beautiful purple hue. A garnish of butterfly pea flower and a ring of coconut flesh tops it off even further. This is light and refreshing.
Coffee for brekkie, coffee as a pick-me-up, coffee with dessert; we're happy to have coffee at any time of day and especially delighted to find a carefully brewed cup not so far from home. The team at If Only uses beans from local roaster Cloud Catcher. The roasting team work directly with farmers to source their green beans, cutting out the middle man and ensuring a higher payment goes to the farmers. This blend sees beans from Brazil Santa Lucia, India Thalanar and Colombia Pitalito giving notes of roasted nuts and milk chocolate; flavours that do particularly well with milk. We have a White Coffee (RM12) with regular milk, but I am impressed with the number of milk alternatives available – soy, almond, oatmeal, coconut or even a scoop of vanilla ice cream.
If Only Review
I love the location of If Only Restaurant; on the residential side of Jalan Tun Razak in a bungalow plot. It's part of a leafy tree-lined street in Taman U-Thant yet still so close to the city centre. There's ample parking, and the setting is both pretty and casual. The food menu lives up to their motto of providing wholesome comfort food, and their coffee brew is spot on. All-in, it's a lovely addition to the neighbourhood. It's definitely worth a visit.
Reasons to visit If Only Restaurant: a great addition to this neighbourhood; pretty setting; value-for-money meals; great coffee; a range of comfort food including healthy vegetarian options; must try the big breakfast,
If Only Restaurant
Ground Floor Regal House
1 Jalan U-Thant, Taman U-Thant
55000 Kuala Lumpur, Malaysia
+6 03 2181 2882
[email protected]
www.facebook.com/IfOnlyKL
If Only Opening Hours
Daily: 8:30 am – 5 pm