Australian Week KL
Words: Monica Tindall   Photos: Rich Callahan
Following on from French Week and Italian Week at Traders Hotel Kuala Lumpur, this round it's time to celebrate Australian Week KL! From October 24th until November 1st, Chef Aaron Habgood, the Executive Chef at Shangri-La Hotel the Marina Cairns, will be taking over the kitchen at Gobo Upstairs Lounge & Grill to showcase some Aussie recipes.
Chef Aaron Habgood has several culinary accomplishments of interest. Some might know him from his appearance on MasterChef Australia but he also notably lead the team at Michelin-starred Sienna's in the UK.
Australian Week KL
This week will see a number of Habgood's menus available for both lunch and dinner, as a la carte and in sets. We're here tonight for the launch of Australian Week in KL with a five-course wine-paired dinner. The dinner is priced at RM 220 nett per person for food alone, and RM 330 nett inclusive of wine pairing.
Aussie Gin
Before we take our seats, however, we have a chance to try a boutique gin from Sydney, Poor Toms. Besides the compulsory juniper, this Sydney Dry Gin offers green apple, strawberry gum leaf and chamomile in its profile. At Traders KL it's served as Gin & Tonic (RM 40) or Gin & Ale (RM40). The former is garnished with slices of strawberries and thyme, the latter is adorned with red apple and topped up with ginger ale. We think it pertinent to try both.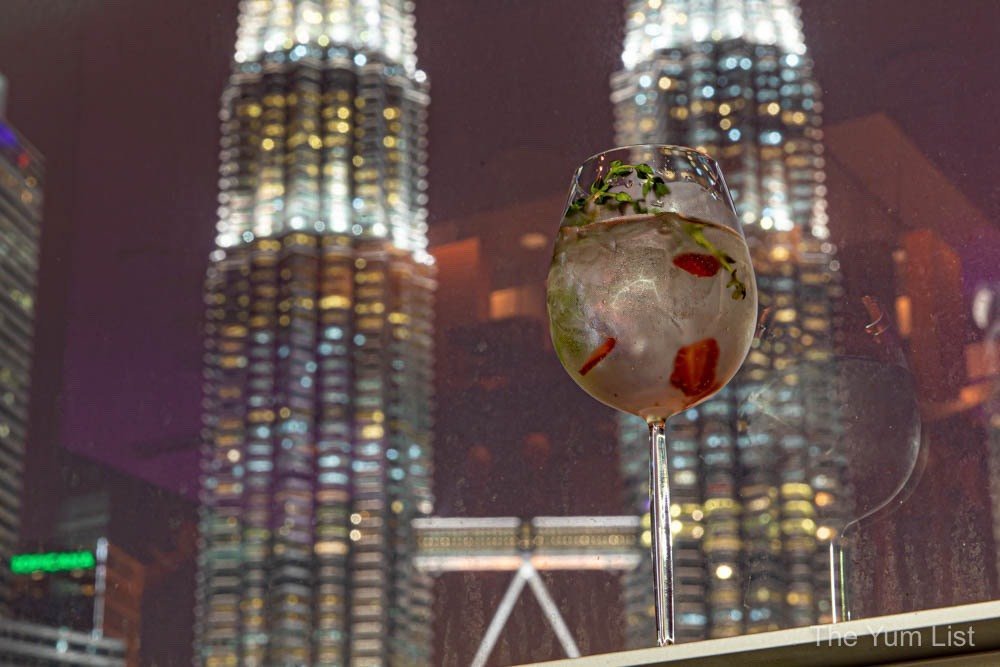 Amuse Bouche
Once seated, the evening commences with a drop of bubbly, Grant Burge Sparkling Pinot Noir Chardonnay and chicken liver parfait. The creamy amuse-bouche is complemented by caramelised apples and crisp mini toasts. The sparkling acts both as an aperitif and also a great palate cleanser, removing the rich beginning with its fine bubbles.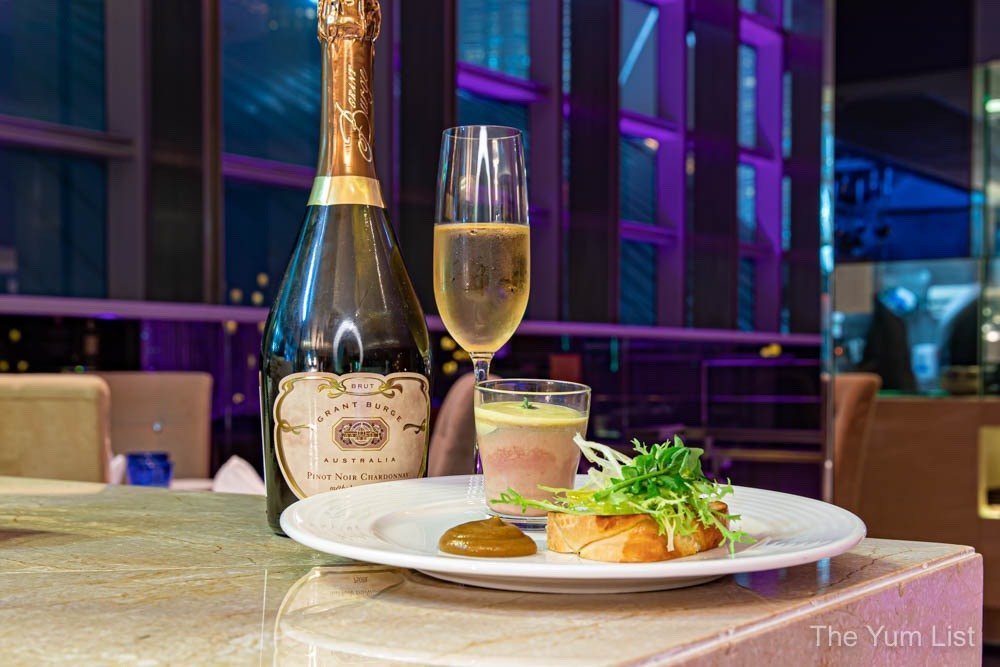 Starter
I do love my greens, and the light pea custard plays to this fondness along with chardonnay-spiked shaved root vegetables. A Wakefield Promised Land Chardonnay is its mate, balancing the plants in the dish with its stone fruit and citrus. This unoaked Chardonnay is light, and best drank young.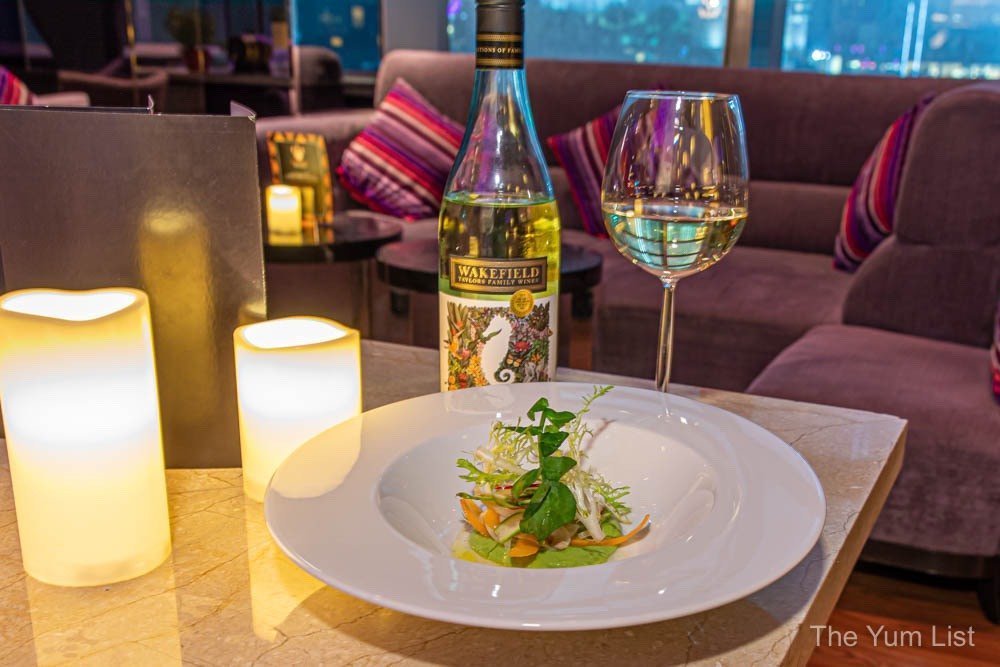 Seafood
Australia's love for seafood is only equalled by that of Malaysia's, and in the next course for Australian Week KL we see some brilliant specimens from Down Under. Poached bug tail (similar to what's known here as slipper lobster) is topped with tomatoes, a shellfish vinaigrette and dill sponge. The move to red wine is justified as the sauce raises the intensity of the dish, and the Wakefield Estate Pinot Noir is of medium body. This Adelaide Hills wine is smooth with a hint of berries, oak and spice, and departs with a fruity finish.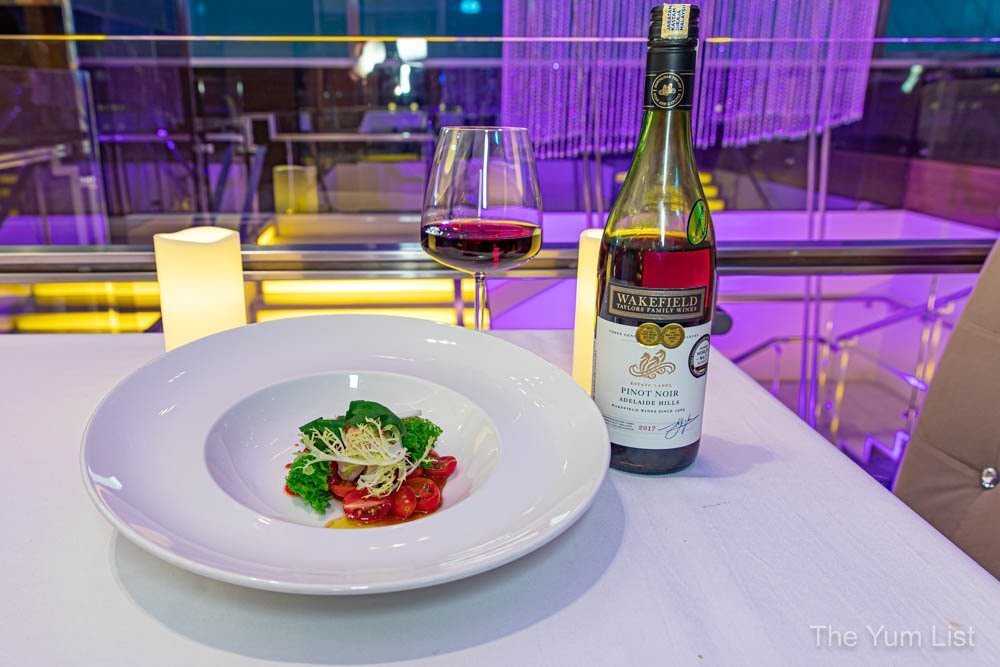 Main Courses – Australian Week KL
Guests are given a choice of lamb, steak or barramundi as mains. All iconic Australian proteins, it's challenging to choose one over another. The solution here is to dine as three, and you can have them all!
The lamb option sees the meat done two ways; roasted loin of lamb and bonbon of the shoulder. A traditional side of potatoes and peas is enlivened with a dollop of yoghurt. The other red meat dish, grilled flat iron steak, bridges the land with the sea, in a classic Aussie surf n' turf preparation. The steak is topped with a butter-poached prawn, and a sweet onion ketchup and potato galette side it. Lastly, and for something lighter, the pan-fried barramundi is a solid alternative. This light, flaky fish is bulked up with saffron risotto, pickled fennel and accented with a delicious citrus tang.
The mains are accompanied by a glass of Grant Burge Cameron Vale Cabernet Sauvignon. Sporting the typical characteristic of this varietal from the Barossa, the bouquet offers dark fruits, a whisper of herbs and a hint of bitter chocolate. The palate continues with ripe fruit, spices and ends with a reminder of the French oak in which it was aged.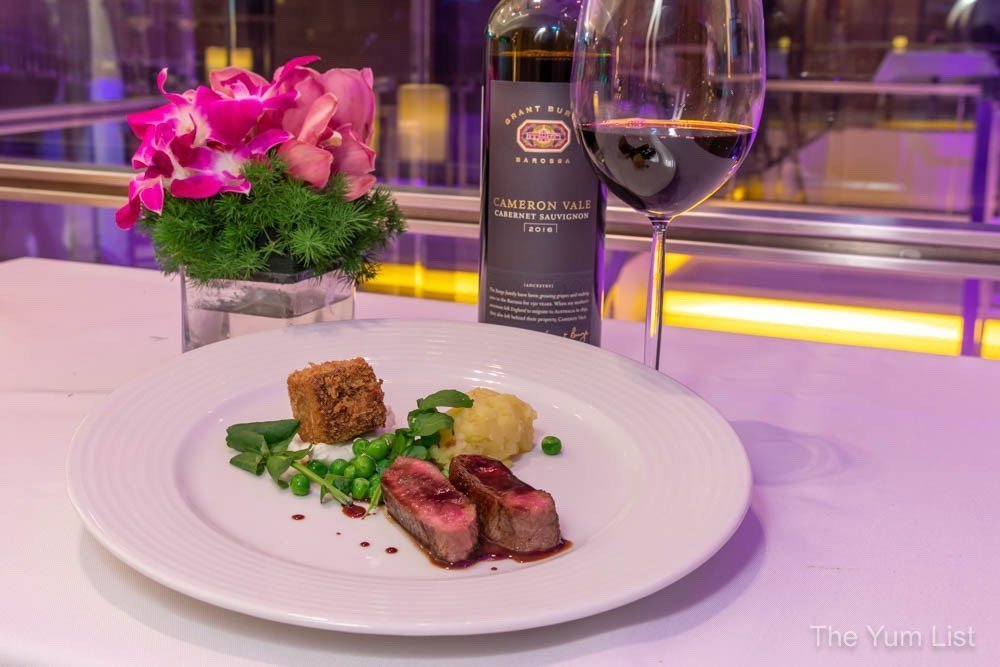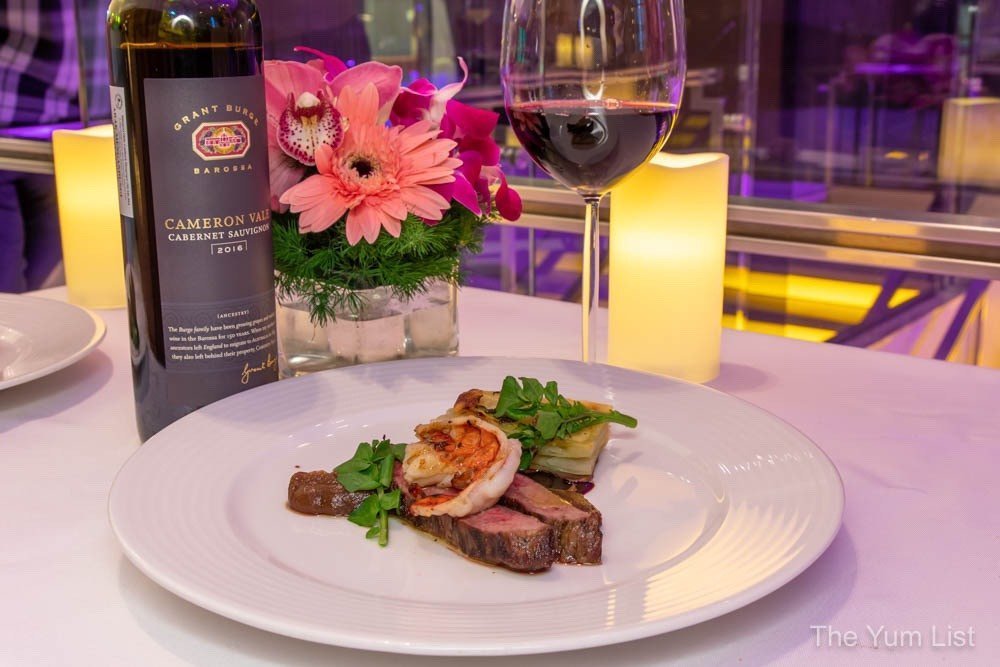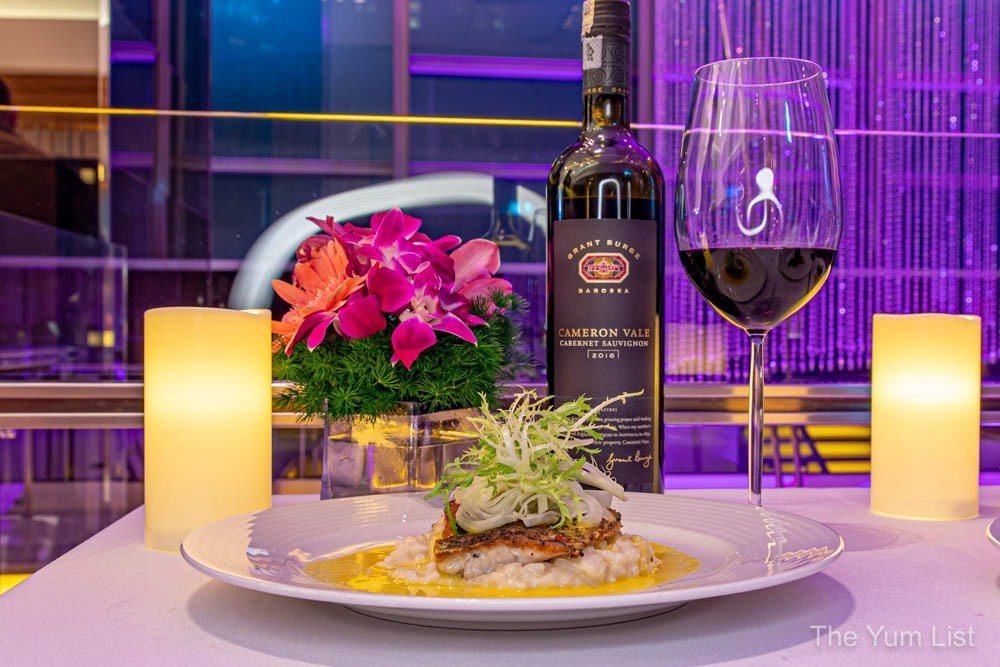 Sweet Temptations
The Australian Week KL degustation ends with strawberries, basil, meringue and vanilla cream. It's a lovely combination of fresh fruit and herbs given an additional boost of sweet and creamy with the meringue and cream. An appealing Riesling by Petaluma in the Clare Valley, Adelaide Hills completes the meal. It's wonderfully aromatic and bright in the glass. This dry wine sports high acidity with green apple and citrus at the forefront. This is followed by a deeper fruitiness leading out to a crisp ending. It is a pleasure to drink this wine now, but this particular drop has some excellent ageing potential.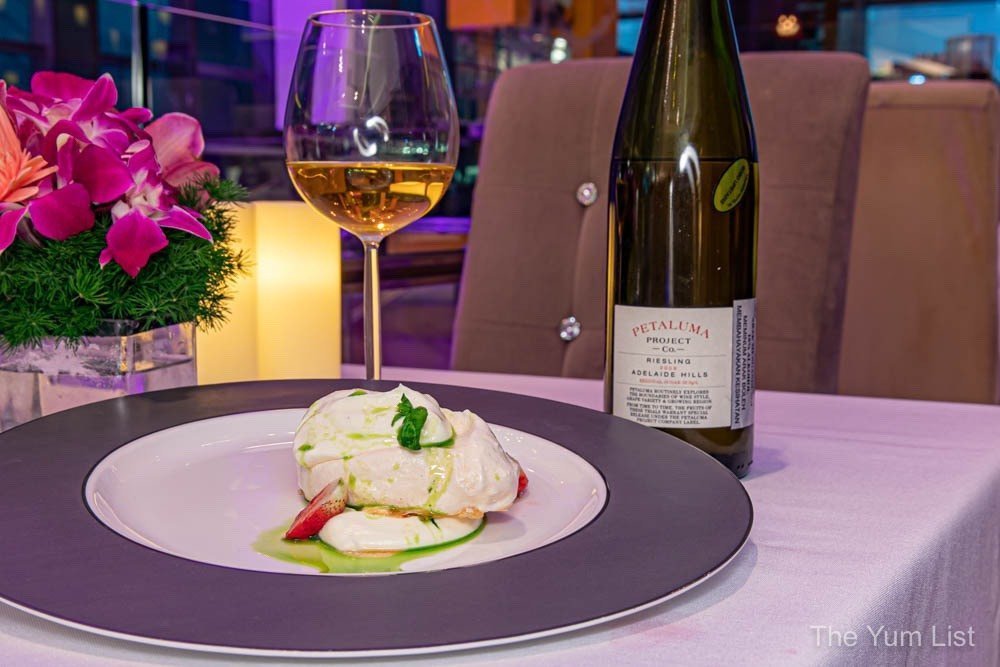 Reasons to visit Australian Week KL at Traders Kuala Lumpur: a chance to dine on cuisine by Chef Aaron Habgood, a Aussie MasterChef and former head of Michelin-starred UK restaurant Sienna's; enjoy some wholesome Australian food and beverage; do give Poor Toms Gin a try and don't miss a class of the Petaluma Riesling.
Australian Week KL @ Traders Kuala Lumpur
Gobo Upstairs Lounge & Grill
5th Floor Traders Hotel
Kuala Lumpur 50088, Malaysia
+6 03 2332 9888
www.shangri-la.com/kualalumpur/traders