Mama San KLCC
Words: Monica Tindall   Photos: Rich Callahan
When Mama San KLCC first opened in Kuala Lumpur in 2015, it was akin to taking a virtual culinary voyage through South East Asia. Four years on, the menu continues to reflect pages of a passport with stamps from Indonesia, Thailand, China and even parts of Europe but has evolved to find firm grounding in its host country, Malaysia.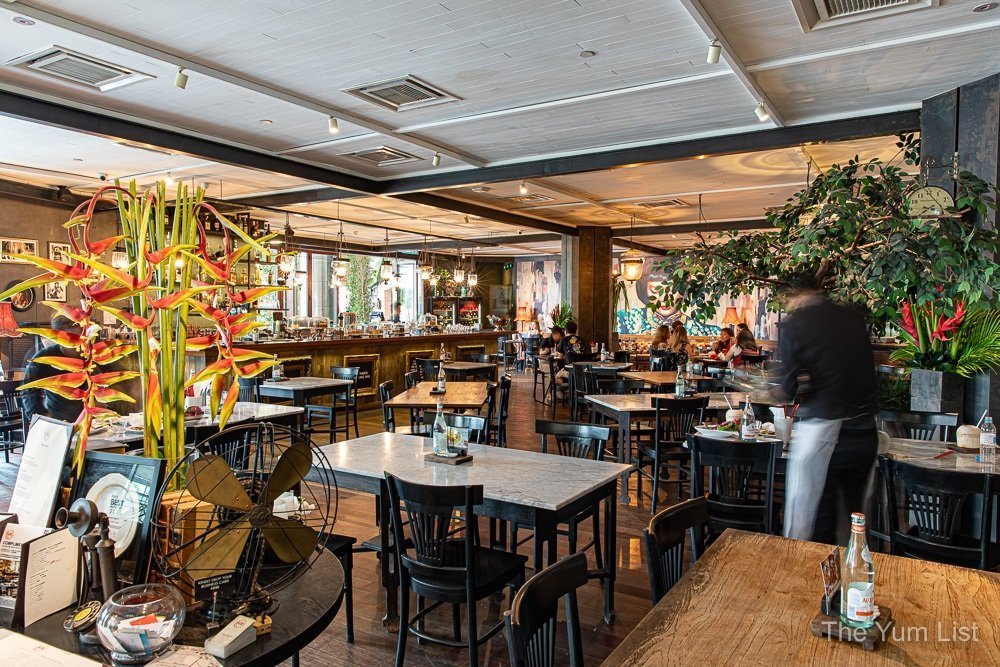 Mama San KLCC
Once you enter its threshold, Mama San KLCC evokes another era. It combines the nostalgia of a long-gone, colonial Asia, replete with black and white photographs, with industrial touches, such as the hanging hurricane lamps scattered throughout the establishment. The most stirring feature in the restaurant, however, is the stunning mural of an elegant Mama San, looking downwards and demurely overseeing all of her patrons.
Mama San KLCC Menu
The menu at Mama San KLCC is diverse. Beginning with a light breakfast, the offerings proceed later in the day to sharing plates and single serves, to afternoon tea to cocktails and supper.
Drinks
We quench our thirsts on this unusually warm afternoon with Watermelon Juice (RM 21) and a Coconut (RM 21). There's nothing like tropical fruit to satisfy in the tropics, and both of these fresh beverages are served well-chilled.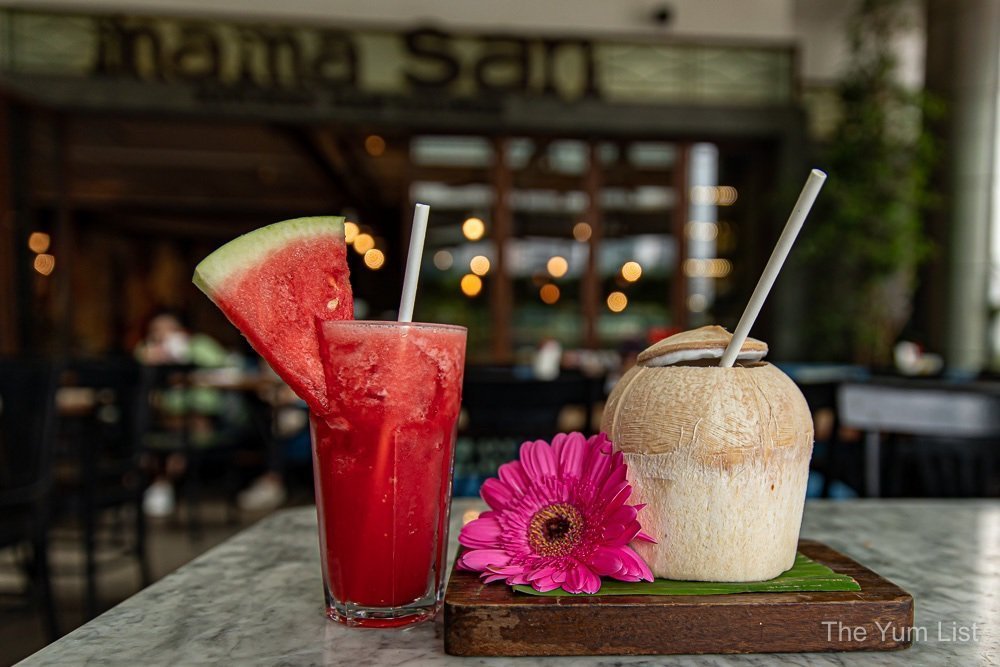 Also worthy of a look-in are the craft cocktails at Mama San KLCC. Refashioning the classics, both the Gin Passion Mule (RM 26) and Chilli Lime Margarita (RM 26) stimulate the palate with some local influence in ingredients. The former is much appreciated with its tangy passionfruit component, while the latter adds just the right amount of kick to a traditional Margarita.
Starters
Mama San KLCC's menu provides both sharing plates and individual serves. Dining in a group today, we deem the sharing dishes the best way to enjoy a meal here and launch with salad and soup.
Pomelo Salad (RM35) makes good use of a locally grown fruit with the companions of shallots, coconut and roasted chilli paste. The juicy fruit pulp does particularly well in this climate with its bursts of mini liquid explosions. The coconut and spice serve to balance each other with the cream tempering the heat.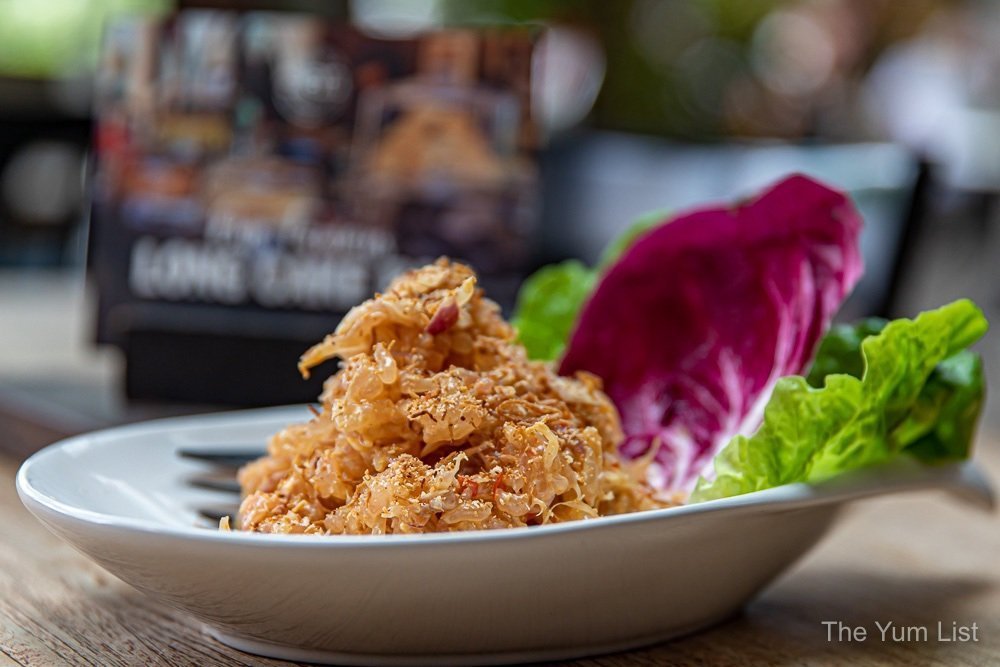 Chicken Soup (RM37) with coconut milk, lemongrass and fresh herbs is an easy crowd-pleaser. The ingredients are chunky. The dark meat of the chicken has loads of flavour, and the fresh herbs bring a pleasant moreishness to every spoon. I'm not particularly fond of the abundance of raw white onion in the broth, but that is easily avoidable. Rich, on the other hand, is keen on the onion. In the end, it's down to personal taste.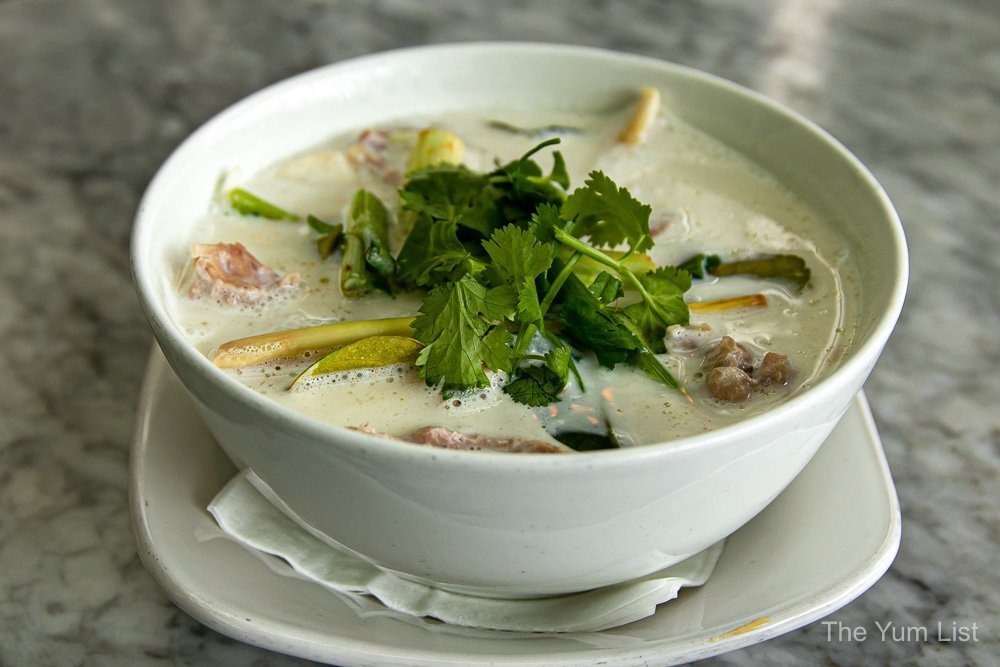 Mains for Sharing
While Mama San KLCC does list a variety of individual dishes, we think sharing plates and a group of friends allow you to get the most of what the kitchen has to offer. We request a few significant items across the menu and soak up every drop of the remains with Garlic Naan (RM13).
The namesake of the restaurant, Mama San Fish Curry (RM75), must be ordered don't you think? It comes with okra, tomato and tamarind and has that seductive sourness in the finish that I am ever-so-enamoured with. The Thai Panang Beef (RM67) is also a saucy little number. Red curry paste is rich with coconut milk. It's not overly spicy but ends with a beautiful tang as a result of the inclusion of kaffir and lime. Balancing out our protein trio with poultry is the Butter Chicken (RM47). The tomato and cashew nut gravy is enhanced by kasoori (dried fenugreek leaves). It's another fantastic preparation. Lastly, Stir-fried Water Spinach (RM28) with garlic adds some green to our mains. Superb!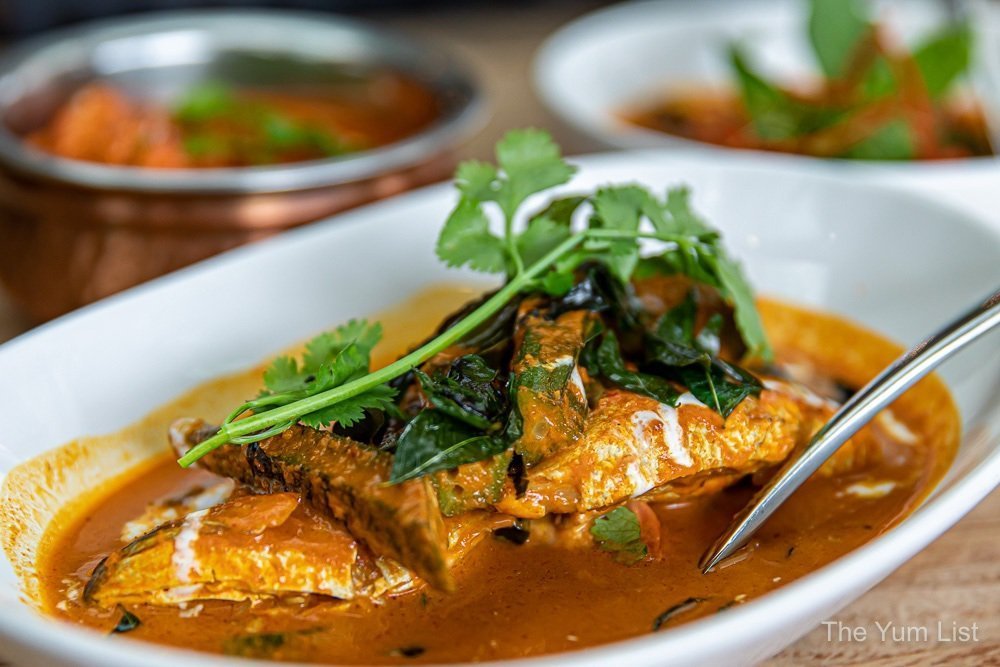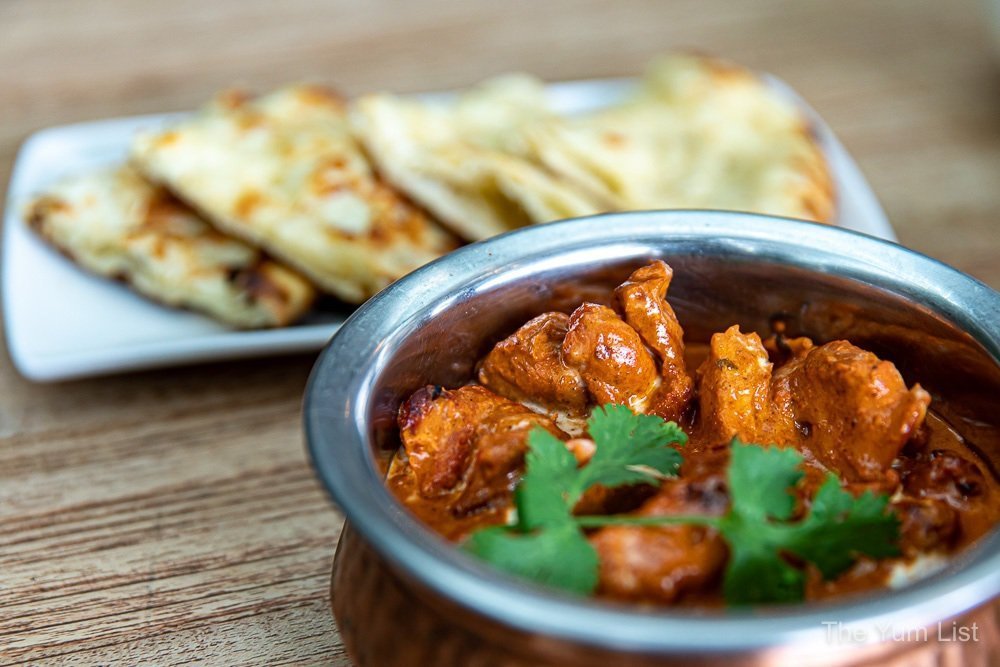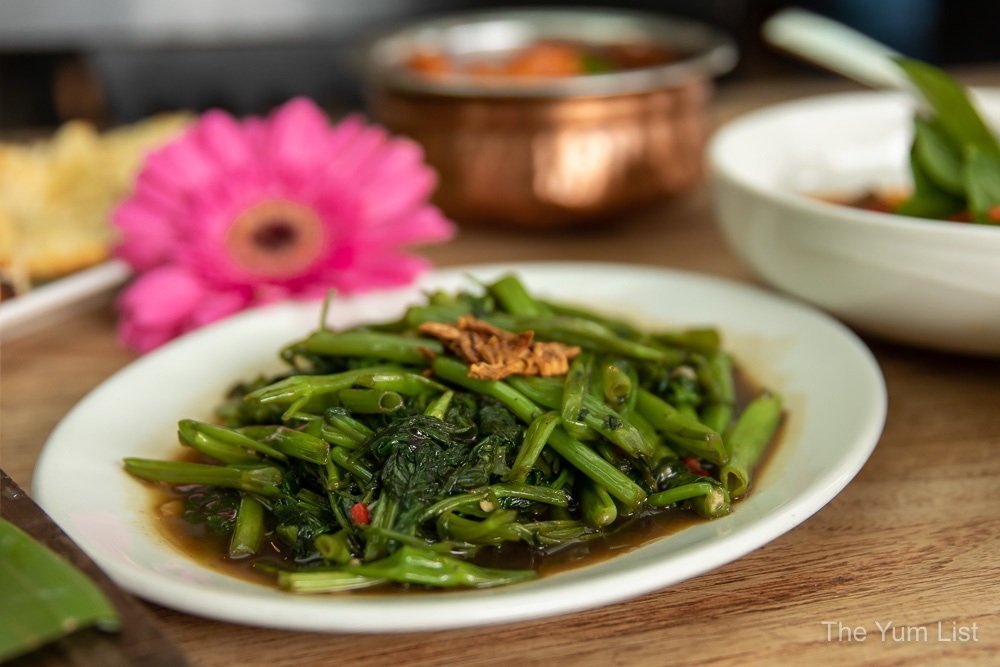 The Famous Cake Bar
The Mama San KLCC menu says, "It's tradition" to wander over to the Long Cake Bar after a meal. It would be rude not to follow the custom in your host's home, right? So, wander, we do. Our amble brings us back a generous slice of Caramel Macadamia Cheesecake (RM18) and another of Carrot Cake (RM17). The first is rich, dense and incredibly creamy. Sweet caramelized nuts break up its velveteen texture with an attractive crunch. The second is also superbly moist. Decadent with a liberal crown of cream cheese and seeds, this recipe would make any home cook proud.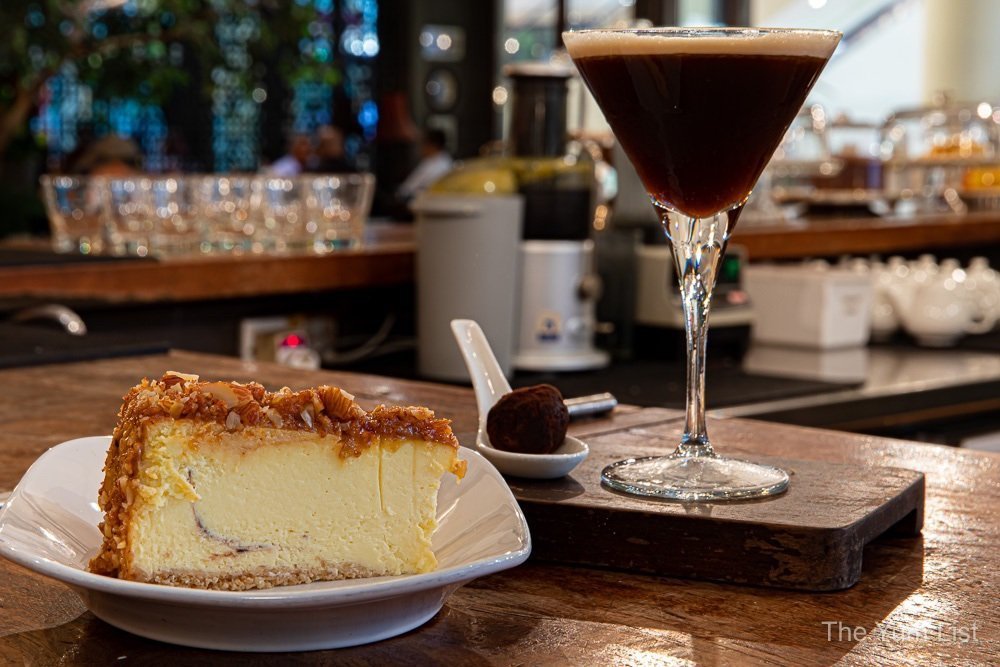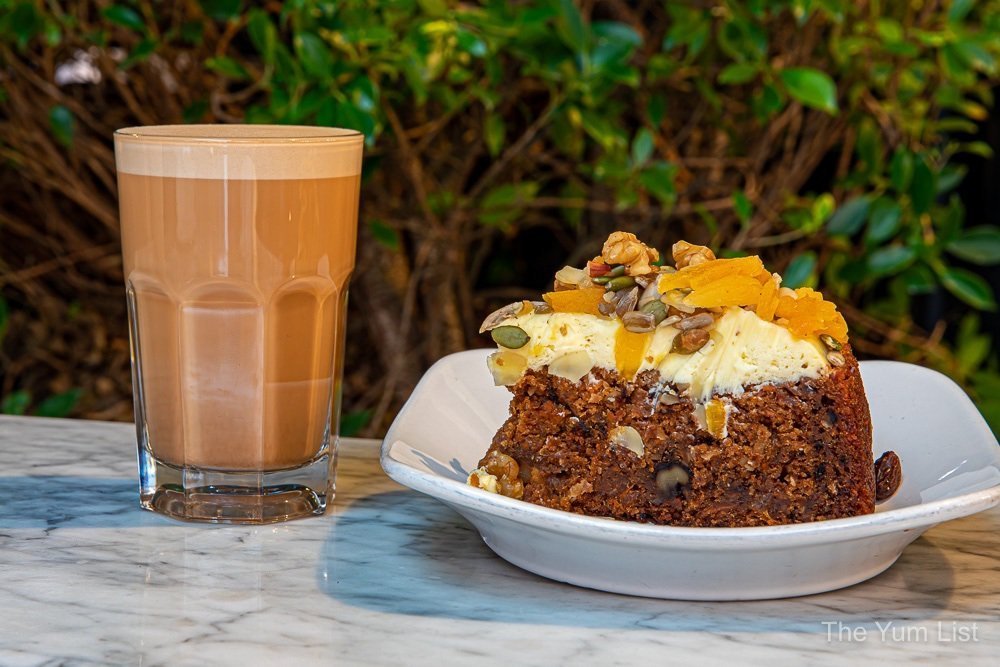 More Drinks
Rich ends with a local Teh Tarik (RM14), a new item on the menu, which pairs well with the carrot cake. I end with an Espresso Ginger Martini (RM31), which does okay with the cheesecake, but really is enough all on its own. The caffeine is spiked with the zestiness of ginger and a delectable chocolate truffle sides it on a wooden board. If you enjoy a good bitter finish, I highly recommend this as a fine conclusion.
Mama San KLCC Review
The views are fab. The location is convenient. The food is tasty, and the cocktails go down a dream. There's nothing to dislike about Mama San KLCC. It's a great spot to take visitors to KL or just meet up with a group of friends, enjoying some sharing plates and a cocktail or three.
Reasons to visit Mama San KLCC: feast or graze, there are several items to suit many preferences; full-flavoured South East Asian inspired food; contemporary plating; convenient location; nice views of the park and water feature viewed from alfresco patio; drink a fresh coconut or Gin Passion Mule; eat Chicken Soup, Butter Chicken and don't miss a slice of Carrot Cake; end the meal with an Espresso Ginger Martini.
Mama San KLCC
Suria KLCC, Lot G-46, Ground Floor
Park & Fountain Entrance
Jalan Ampang, Kuala Lumpur City Centre,
50088 Kuala Lumpur, Malaysia
www.facebook.com/MamaSanKL
+6 019 787 5810
Mama San KLCC Opening Hours
Monday to Friday: 8 am – 11 pm
Saturday & Sunday: 8 am – 12 midnight
Find more contemporary Malaysian dining experiences here.
Love food with a local twist? Why not try out these bars serving creative cocktails with a good splash of local? Here, here and here.