Copper Bar & Restaurant
Monica Tindall
Penang continues to up the game with yet another restaurant and bar set to leave its mark on gourmet registers; Copper Bar & Restaurant. This newly opened dining and drinking cove sports a sophisticated setting, contemporary food menu and meticulously curated drinks list.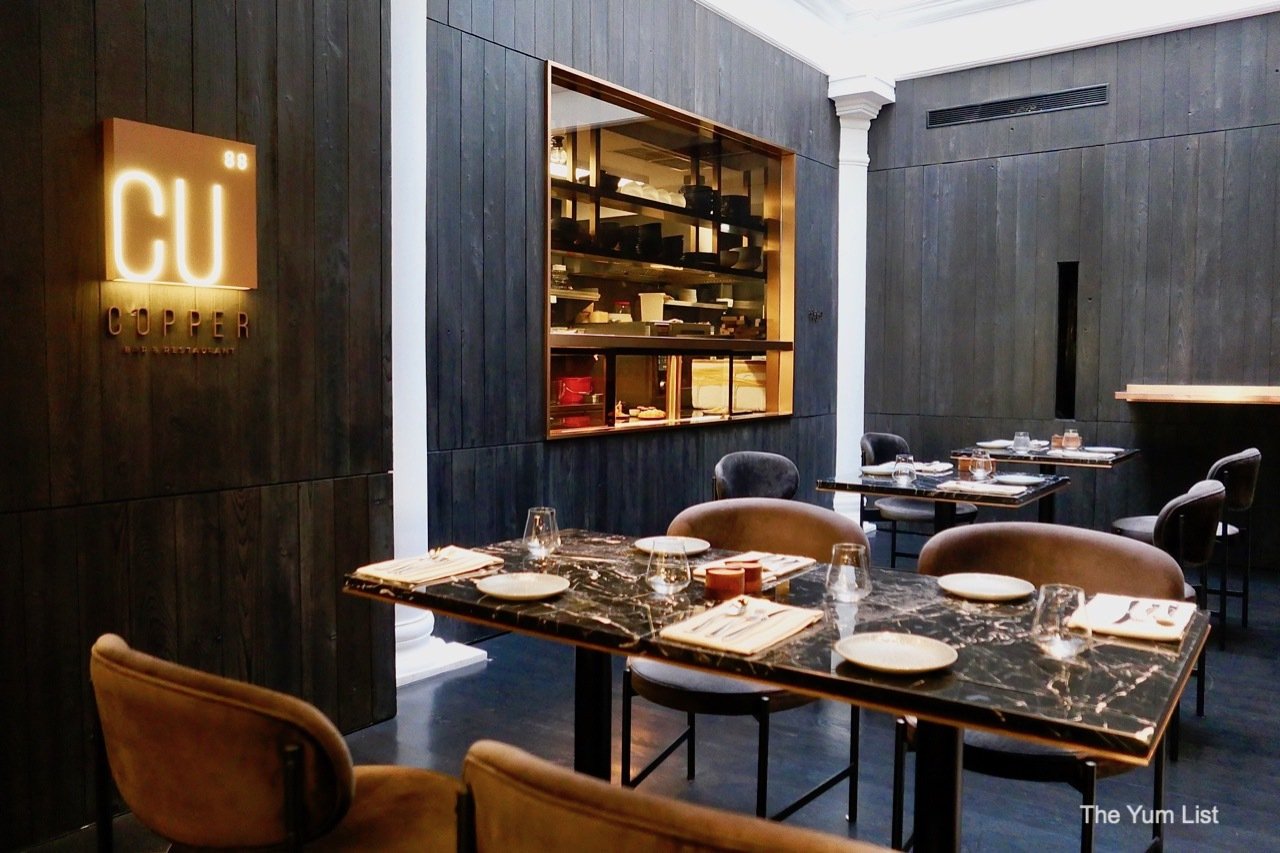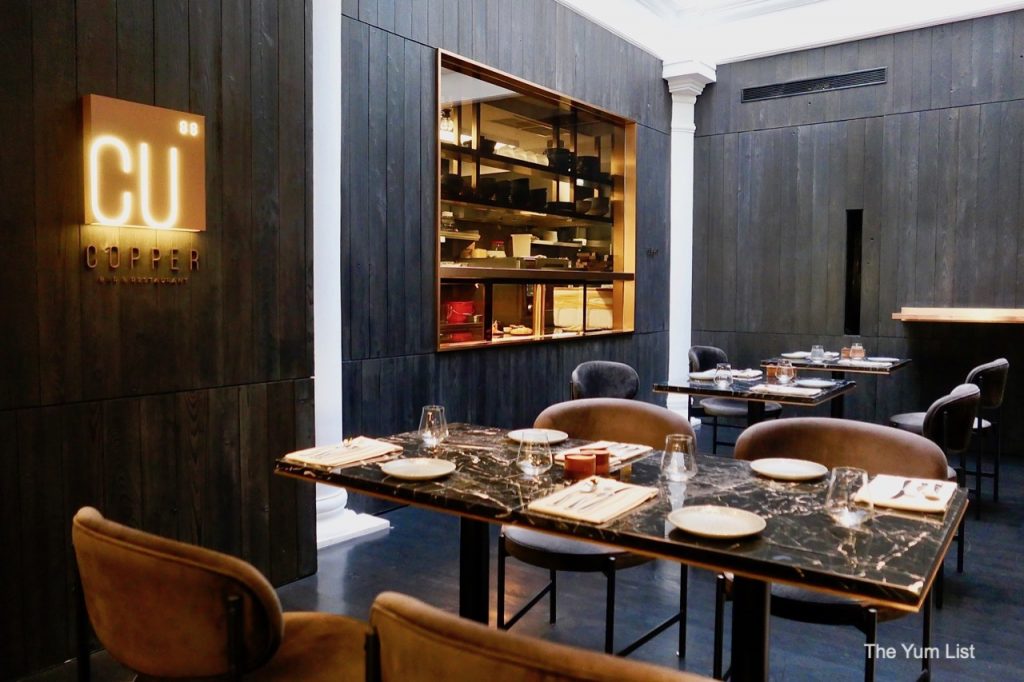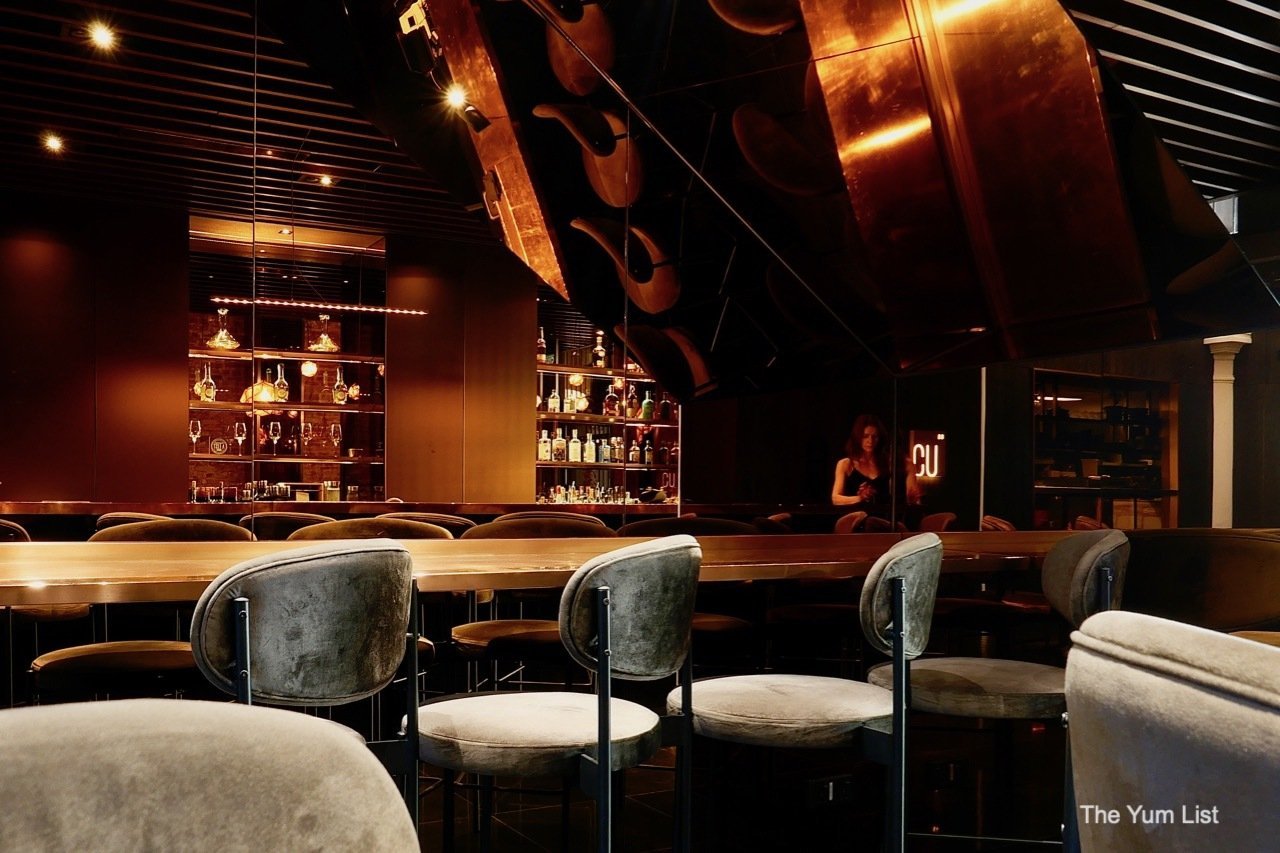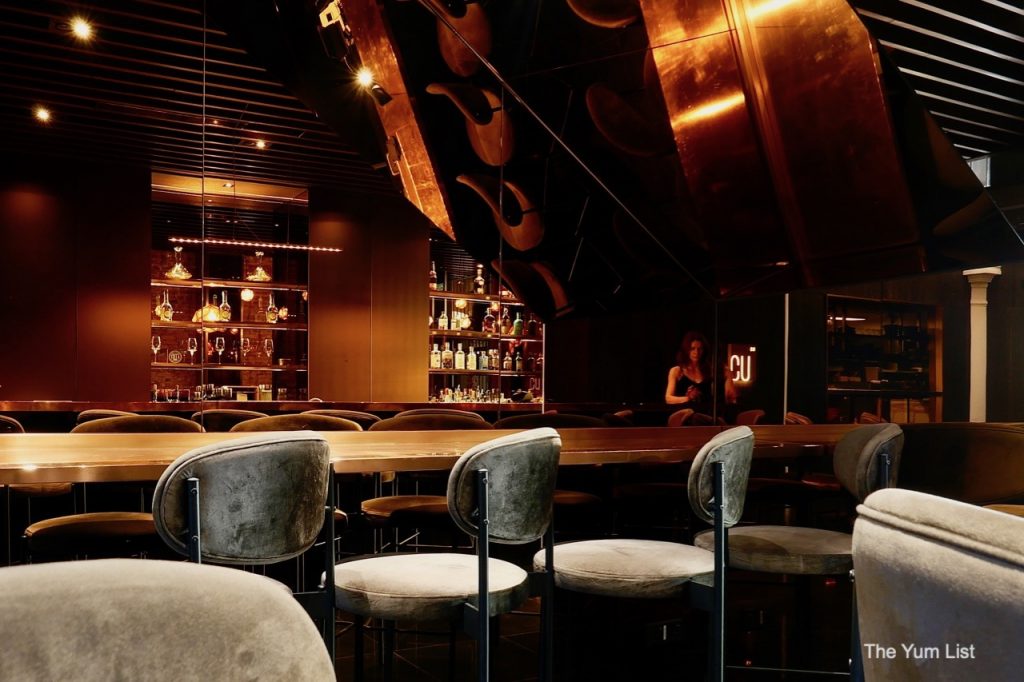 Copper Bar & Restaurant
Perhaps one of the most intimate dining spaces I've recently come across, Copper Bar & Restaurant in Penang oozes style and likeability. From the exposed brick wall to charred timber finishings, marble-topped tables and copper fittings, the setting exudes a warm, welcoming glow.
Drinks
The perfect spot to begin an evening at Copper Bar & Restaurant in Penang is at the bar. The long counter is a shiny copper top, reflecting the back bar glowing with premium bottles. Craft cocktails, boutique wines and small-batch spirits harmonize with the attention to detail given in both setting and food. We ease into the night with recipes by international beverage consultant, the Cocktail Professor. The compact list is divided into Baba and Nyonya showing a Peranakan influence, as well as a handful of Classics.
From the Nyonya section, we try Princess Hang Li Po (RM60). Created in honour of the namesake, a Chinese princess who was given in marriage to Sultan Mansur Sha of Melaka in 1459, it's spirit-forward with an attractive sour finish; perhaps similar to the princess herself? Apparently, five hundred Chinese handmaidens accompanied Hang Li Po, and they eventually married local Malay men. This is the beginning of the Peranakan trail, and so it seems justified to applaud her with a cocktail. Served in a delicate China teacup, the elegant presentation belies its strength. Rittenhouse rye whisky, soursop, honey flower tea and passion fruit foam provide quite a punch, much like the woman who inspired it we imagine.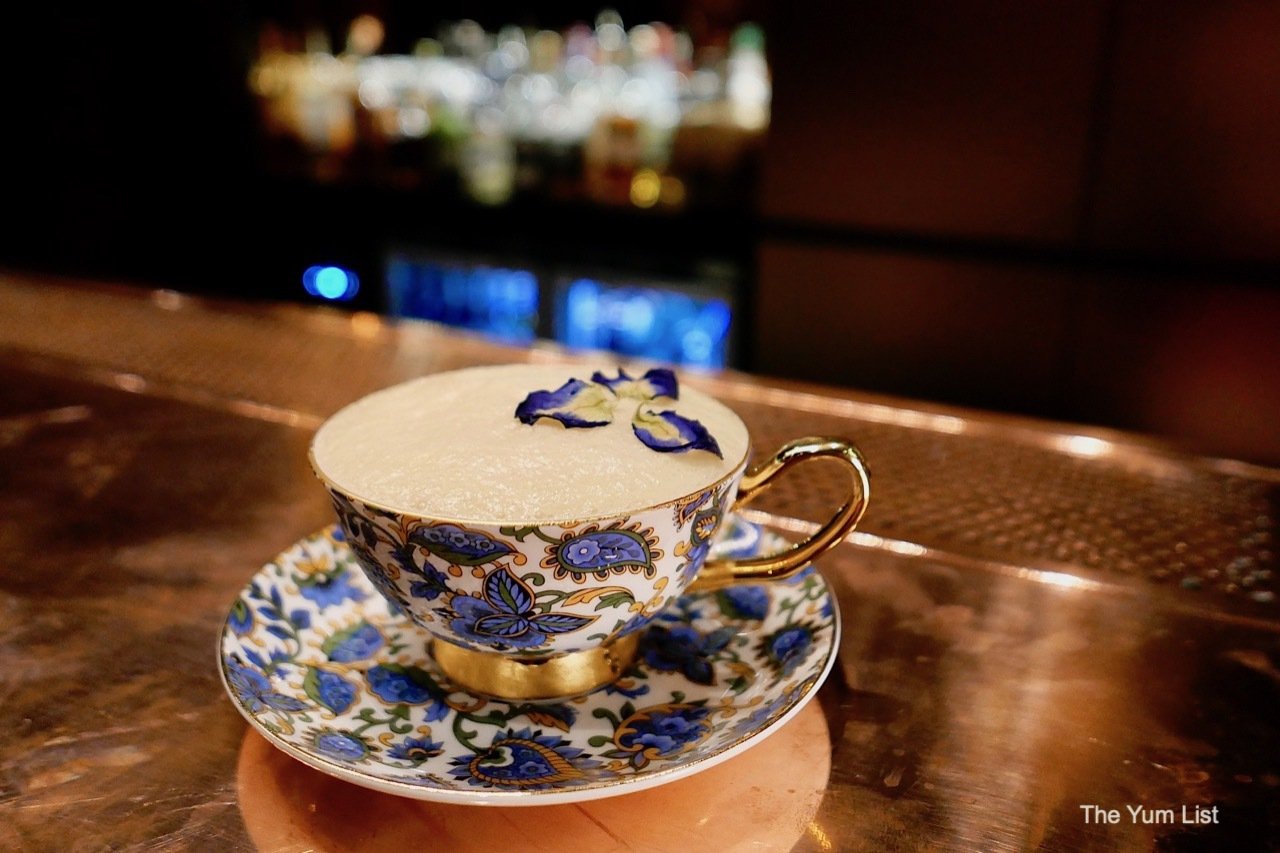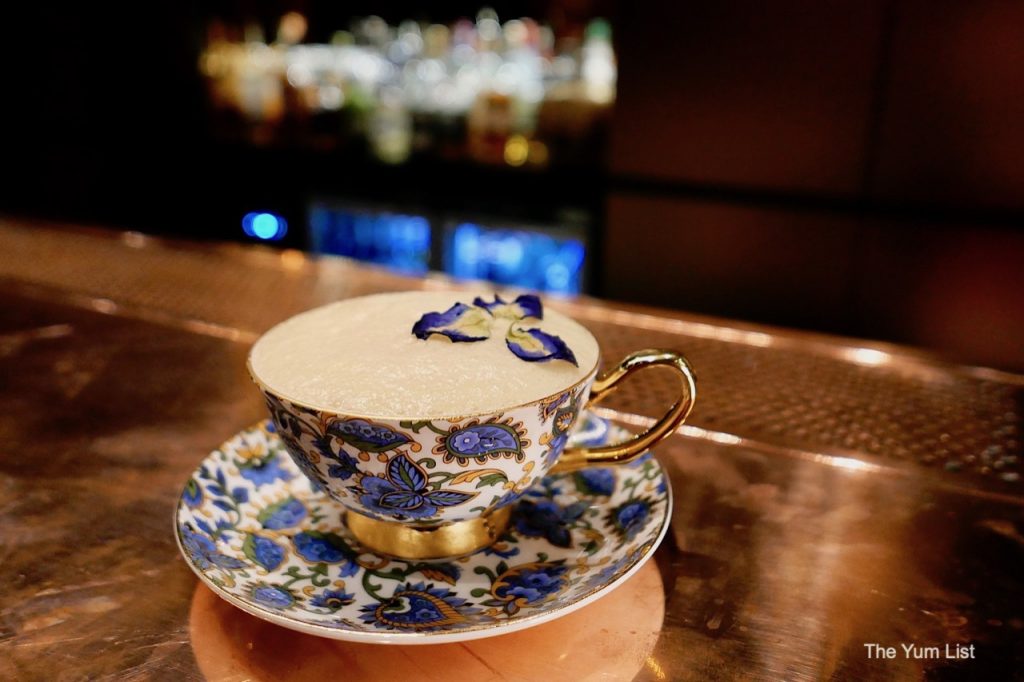 Going from the inventive to the classic, we can't resist a take on the Malaysian masterpiece, the Jungle Bird. Peranakan's Jungle Bird (RM55) is built on Mount Gay Rum, Golden Falernum (a rum-based liqueur) and the local addition of pineapple-flower honey. It's true to tradition in that it's fruity and powerful, but here it has a mild honeyed sweetness. It's a great drink; worthy of a repeat order.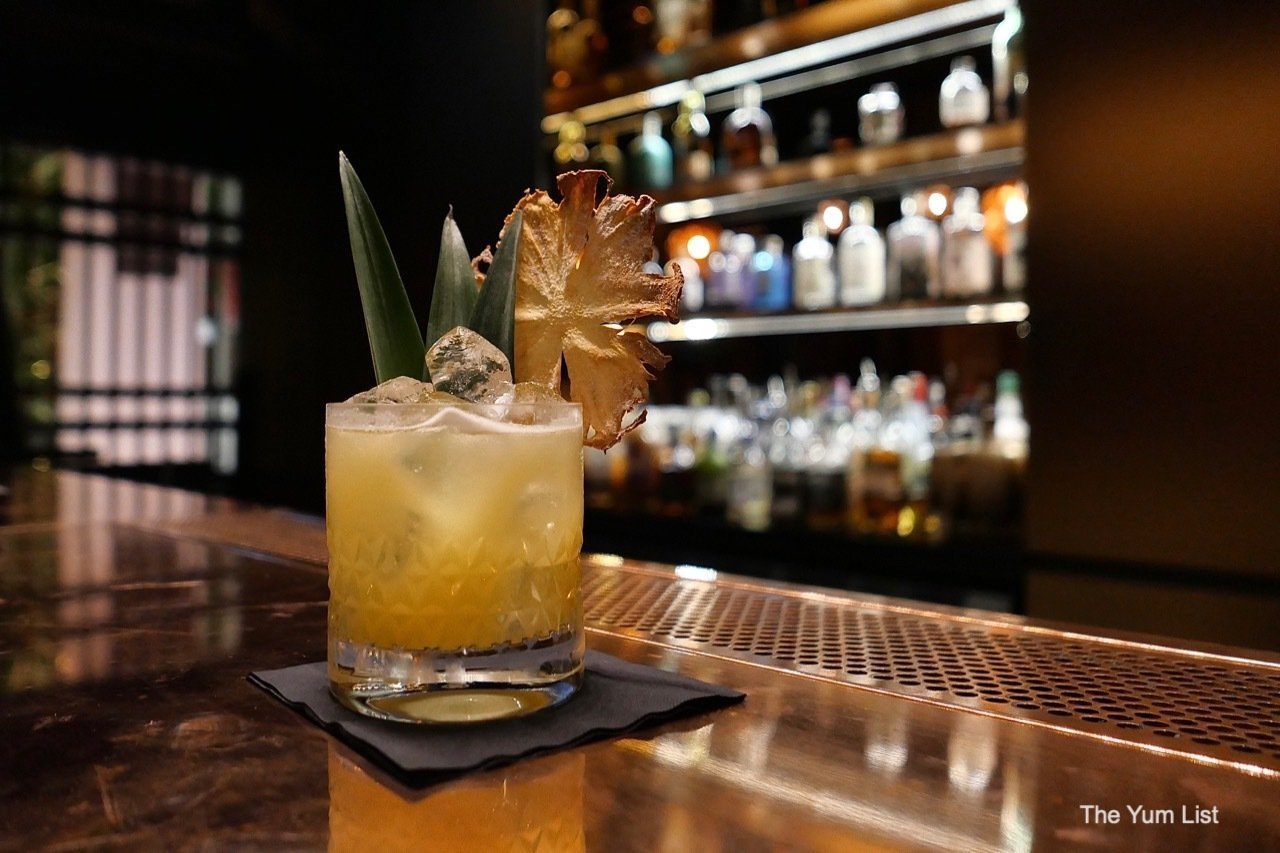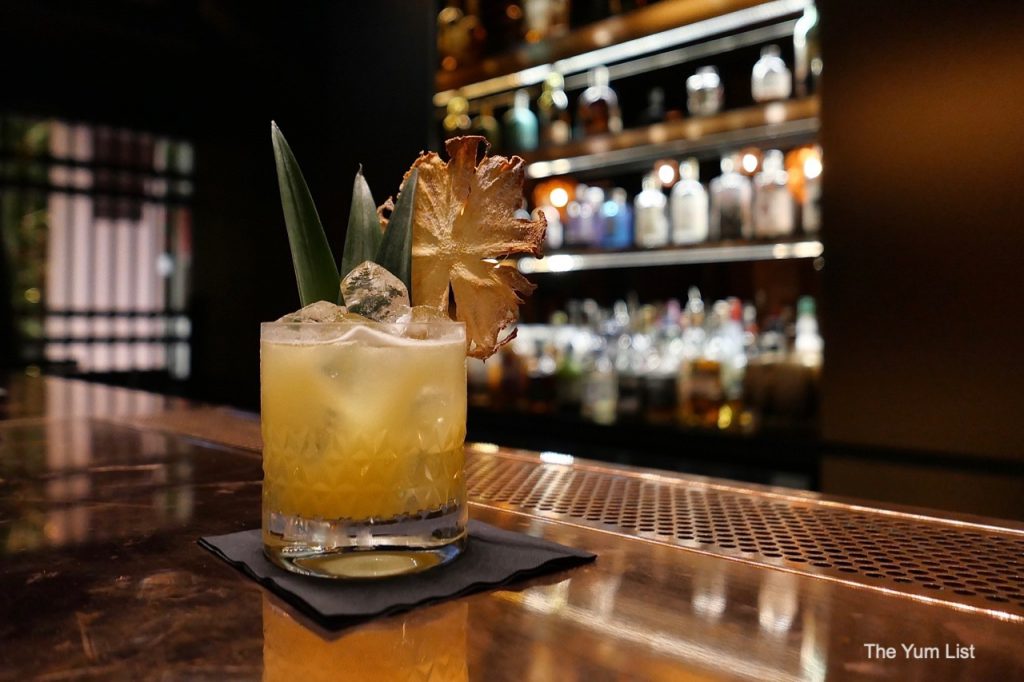 Boutique Wine Georgetown
Before we move to the dining table, we choose a wine for our upcoming Dinner for Two set at Copper Restaurant & Bar. Although we've chosen the beef menu, we've gone with a bottle of Pont de Gassac Blanc for the evening. Their rouge, no doubt, would do better with the red meat, but we're both rather lightweights these days, finding a white wine furnishing less complications the following day. This winery is a family-owned small producer in Languedoc producing quality organic wines. The bouquet of this white offers citrus, flowers and a hint of honey. It follows through with a mouth-filling palate, pleasant minerality and a smooth finish. It's quite a quaffer, making easy drinking on its own but going particularly well with shellfish and light chicken dishes.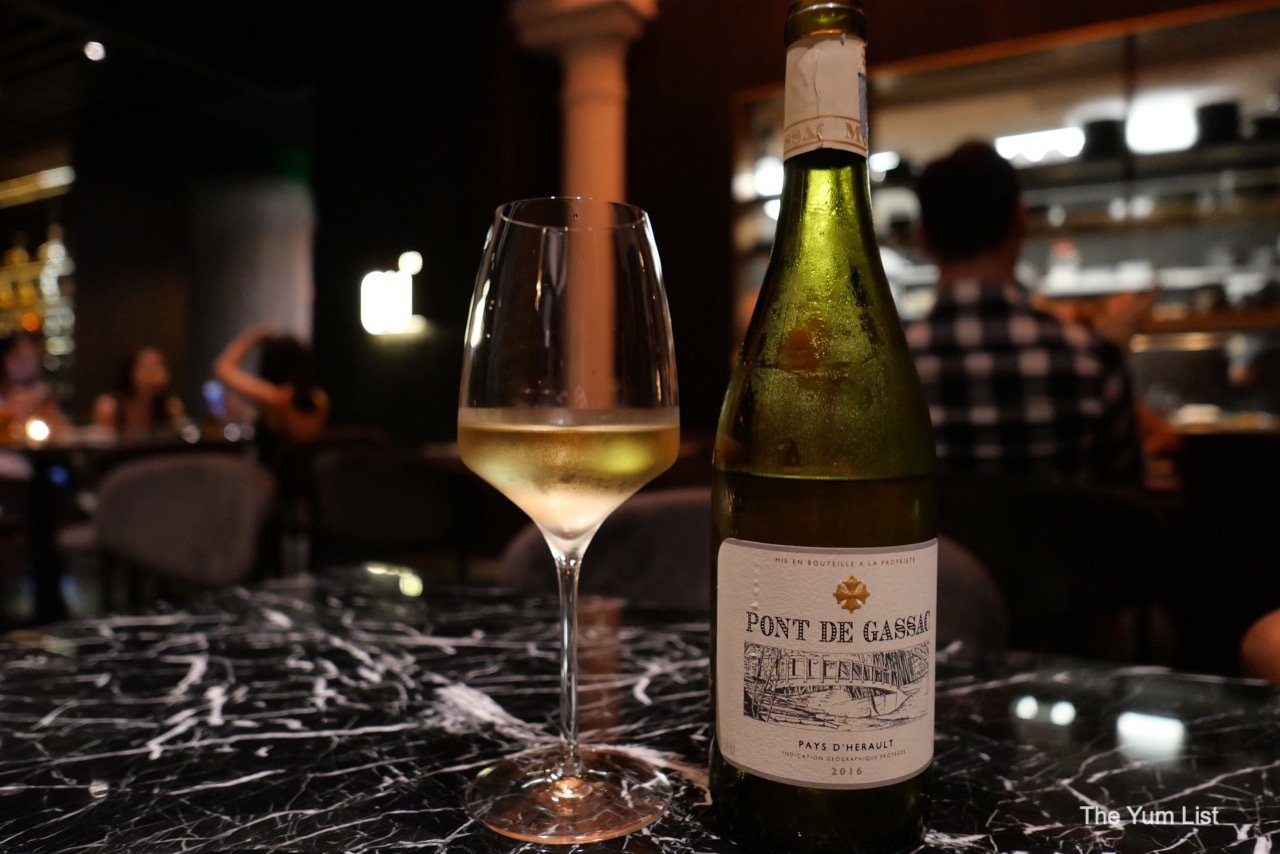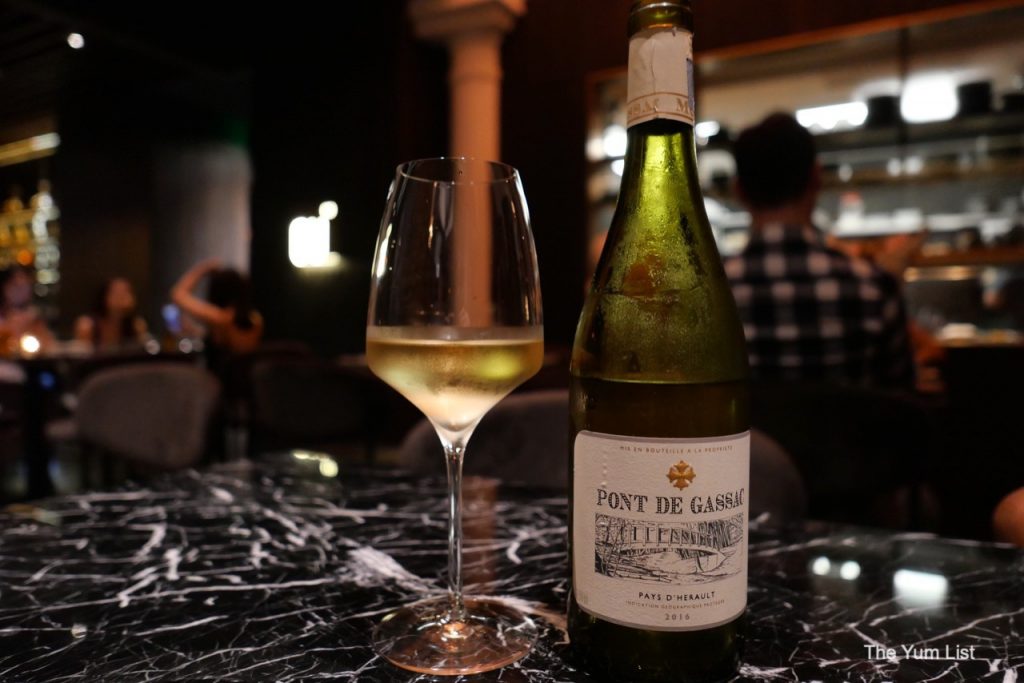 Copper Bar & Restaurant Menu
The team at Copper Bar & Restaurant combine modern cooking techniques and creativity while honouring local culinary heritage through the flavours and ingredients of Straits Chinese cuisine. Recipes here are familiar yet novel. Dishes are linked to the past but firmly planted in the present. A bridge across time seems to be built with this menu.
While there is an a la carte menu, making decisions is not my forte; I would much rather the chef choose for me. Dinner for Two sets make ordering easy with a duo of menus; one with beef and one without. Hubby insists on the one with beef, which seems rather good value at RM298 for two people.
Chef's Treat
We're already in favour of the chef at Copper Bar & Restaurant when the amuse-bouche comes in liquid form; home-made rice wine infused with torch ginger. It's bright and certainly stimulates the palate.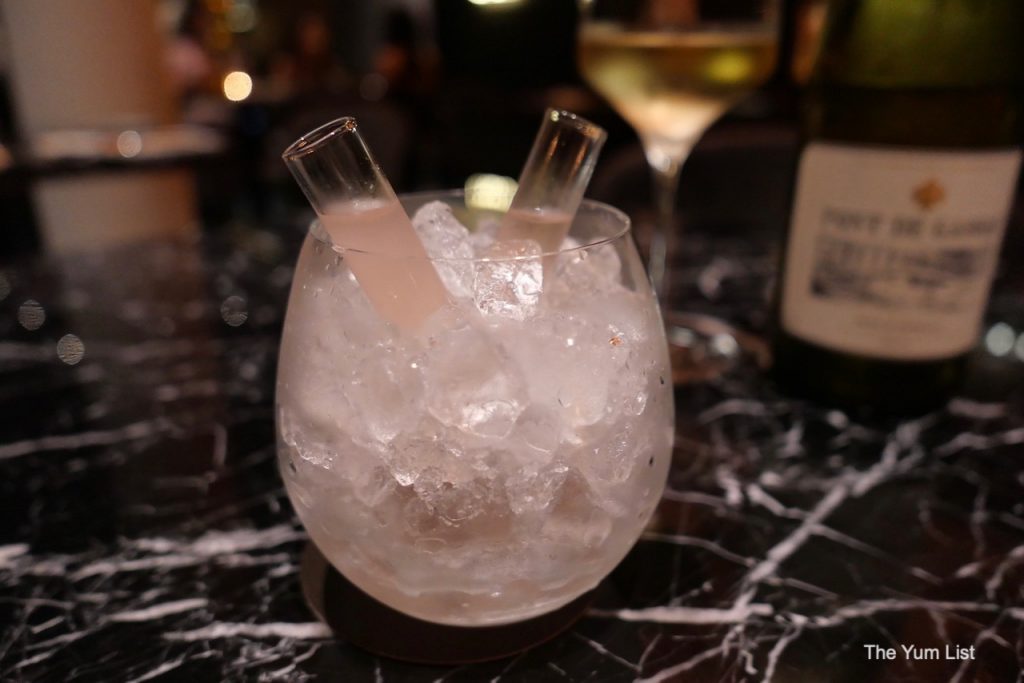 Seaweed Kerabu
Seaweed kerabu sees mini seaweed tempura taco shells filled with shredded radish, shallots, pickled garlic, pomelo, peanuts, kaffir lime leaf, coriander, mint leaves and ginger torch as the first course at Copper Bar & Restaurant. They're seasoned with ume boshi, peanut oil and lime juice. It's superbly fresh with a distinct acidic finish. It links well to the chef's treat with the common ingredient of torch ginger and further serves to open the appetite.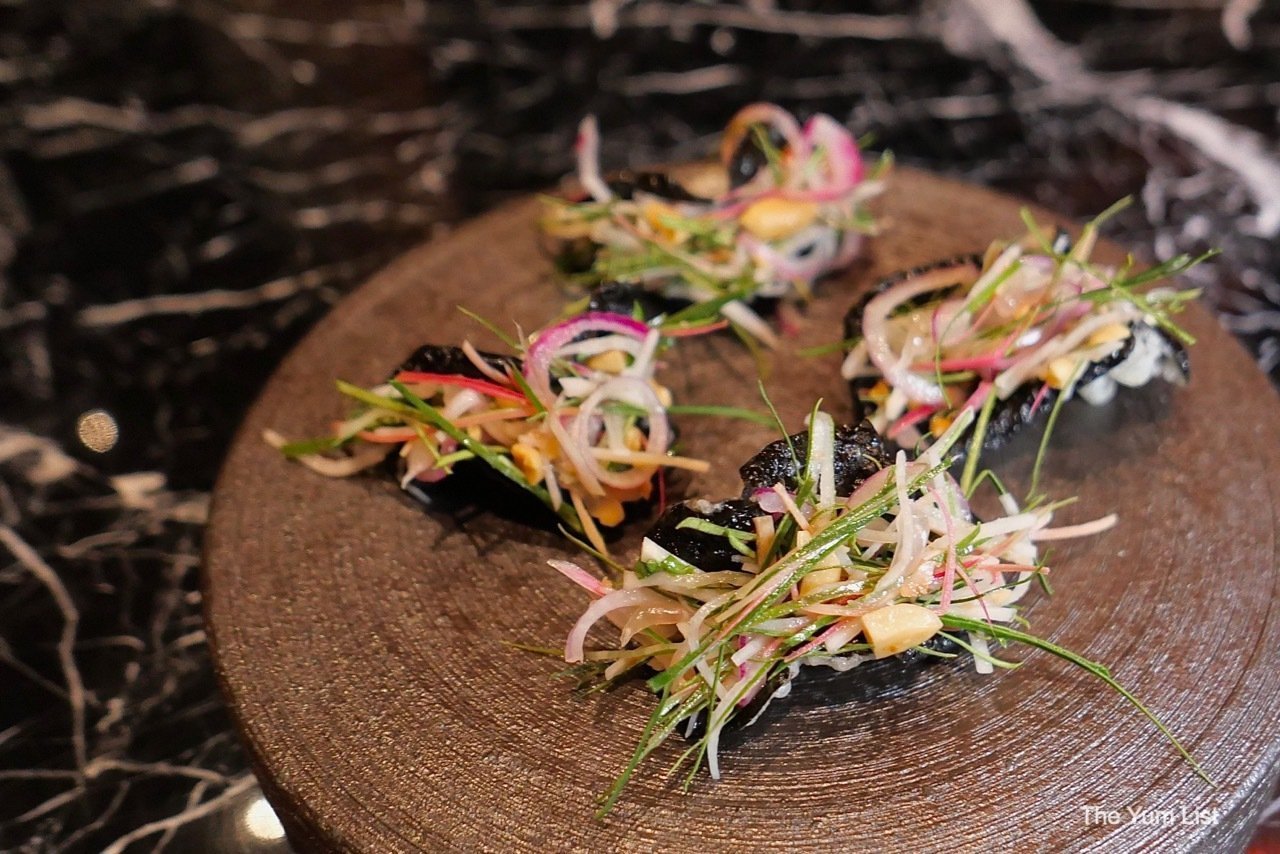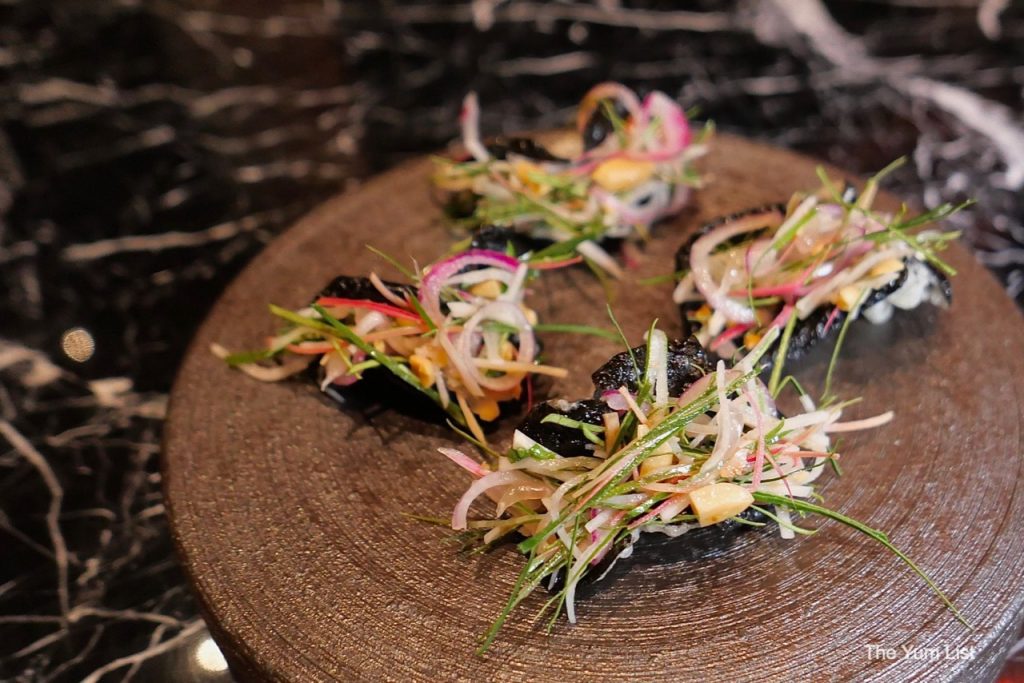 Beef & Pumpkin
Cubed beef is mixed with pickled mustard greens, shio kombu (seaweed), spring onions and macadamia oil in Copper's third dish. It's hiding underneath a cover of pumpkin compressed with olive oil. The recipe is slightly on the salty side, a nod to Hakka cuisine and its mui choy components. Hubby is particularly fond of this one; I'm hoping he doesn't lick the plate.
Tau Eu Mushroom
Tau eu (soy sauce) mushroom with water chestnuts presents a vegetarian option. Both have been braised. The fungi are slightly salty with the soy sauce, and the chestnuts are a little sweeter with coconut cream. There's a dangerous topping of sliced petai beans. Try at your risk but make sure your dining mate also eats the stinky beans so as not to knock each other out with your breath. The contrast in texture is fabulous.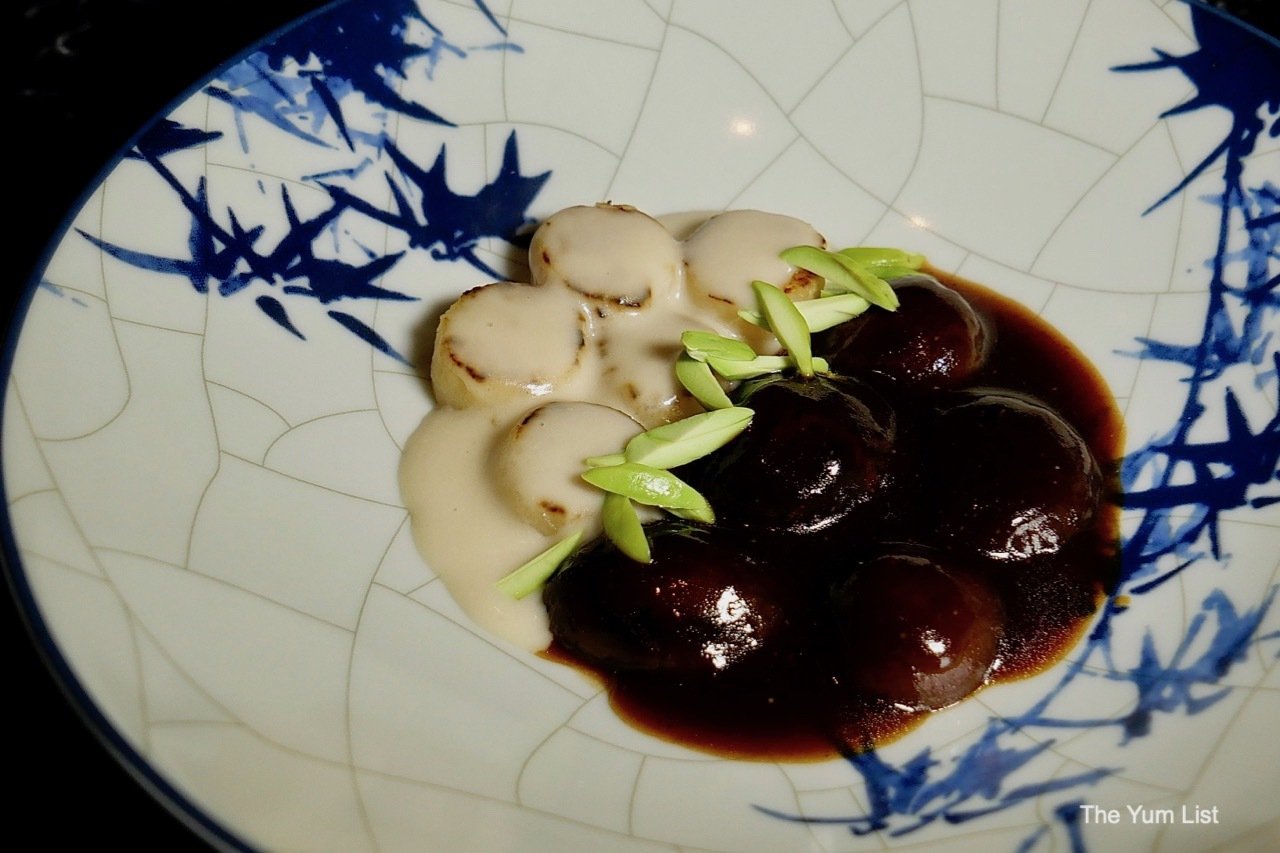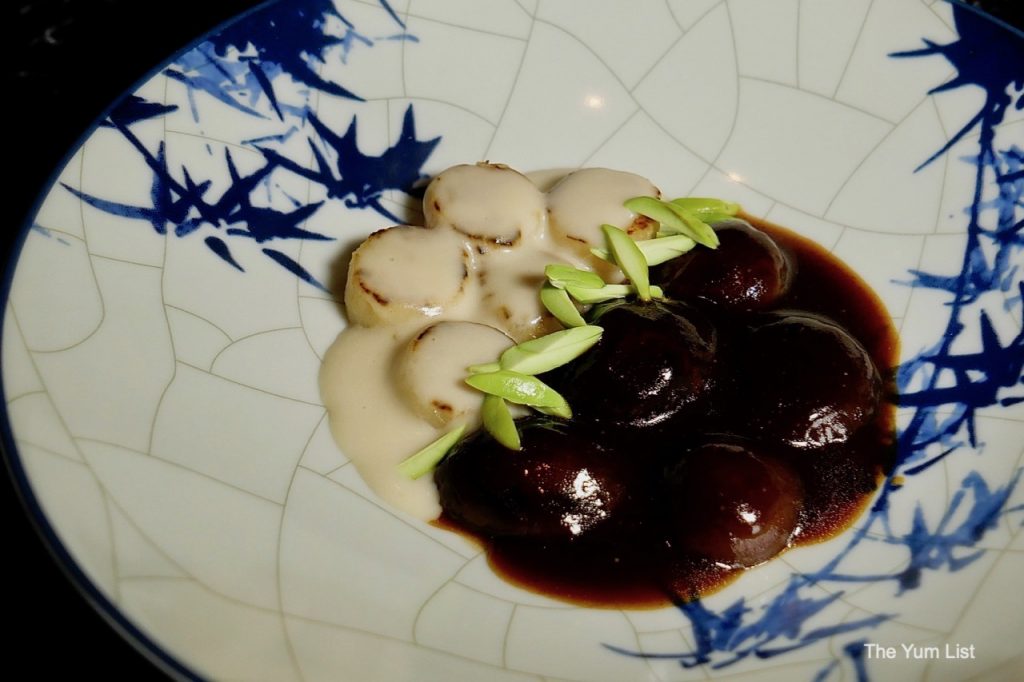 Chicken Wings
I can smell the chicken wings before they arrive. Aromatic with curry leaves, they are as equally tasty as they are enticing to the nose. Forget your cutlery with this course at Copper Bar & Restaurant; fingers are the only utensils needed. We suck the flesh, marinated in soy and garlic and doused in curry butter sauce, to the bone.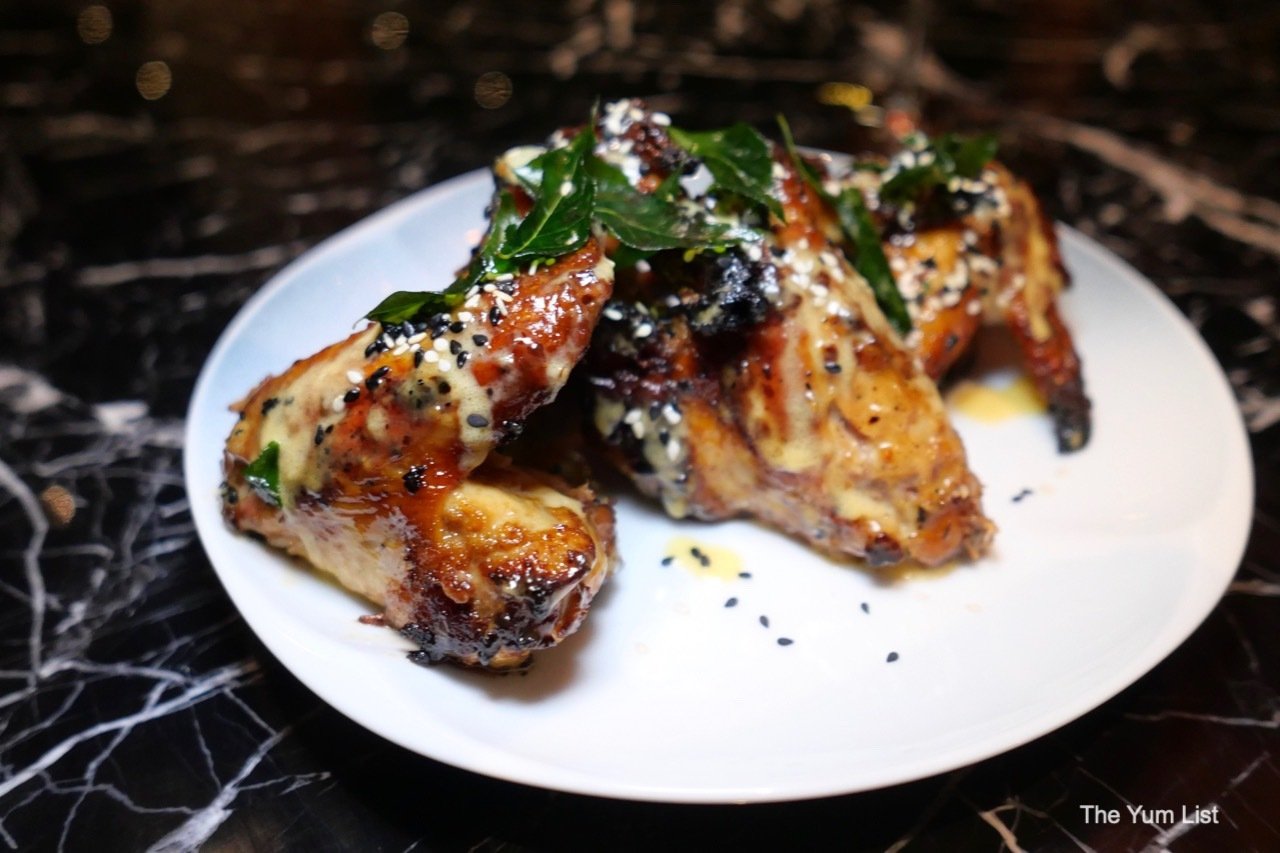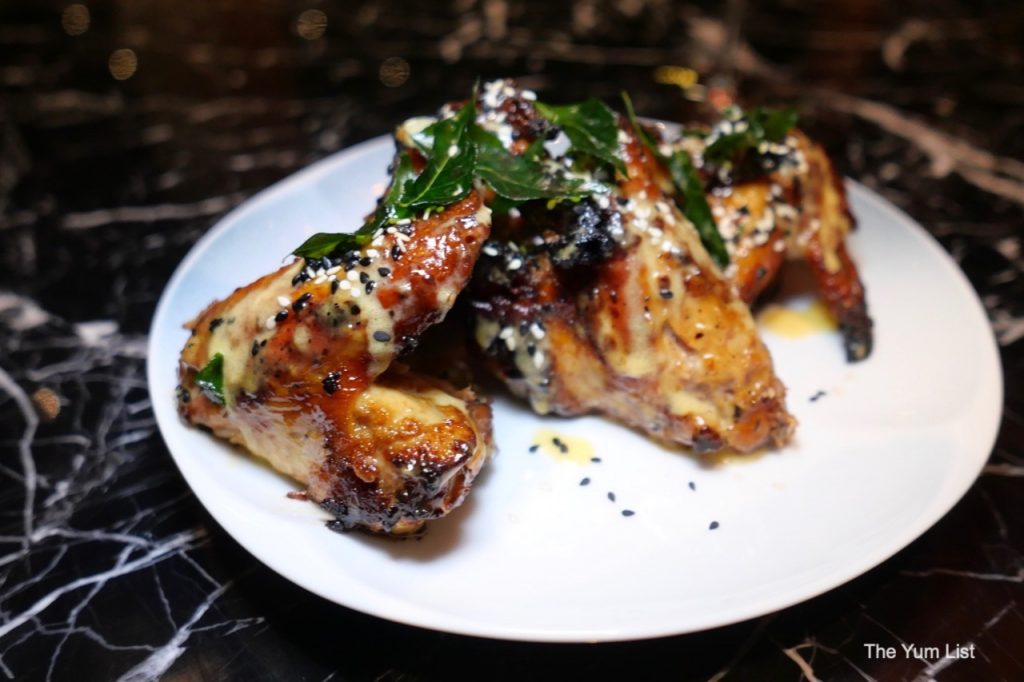 Australian Short Ribs
Braised for 18 hours, the Australian short ribs, in full cliché style, fall off the bone at Copper Restaurant & Bar. After braising, they're finished in the Josper oven with a roselle glaze. They're served with a crumble of cashew nuts, a puree of aubergine and buah keluak, and tempura of enoki mushrooms. The sauce is just the right amount of sweet and sour, which breaks the intensity of the rich, fatty meat. In hubby's words, "Oh-my-god, nommmmmm."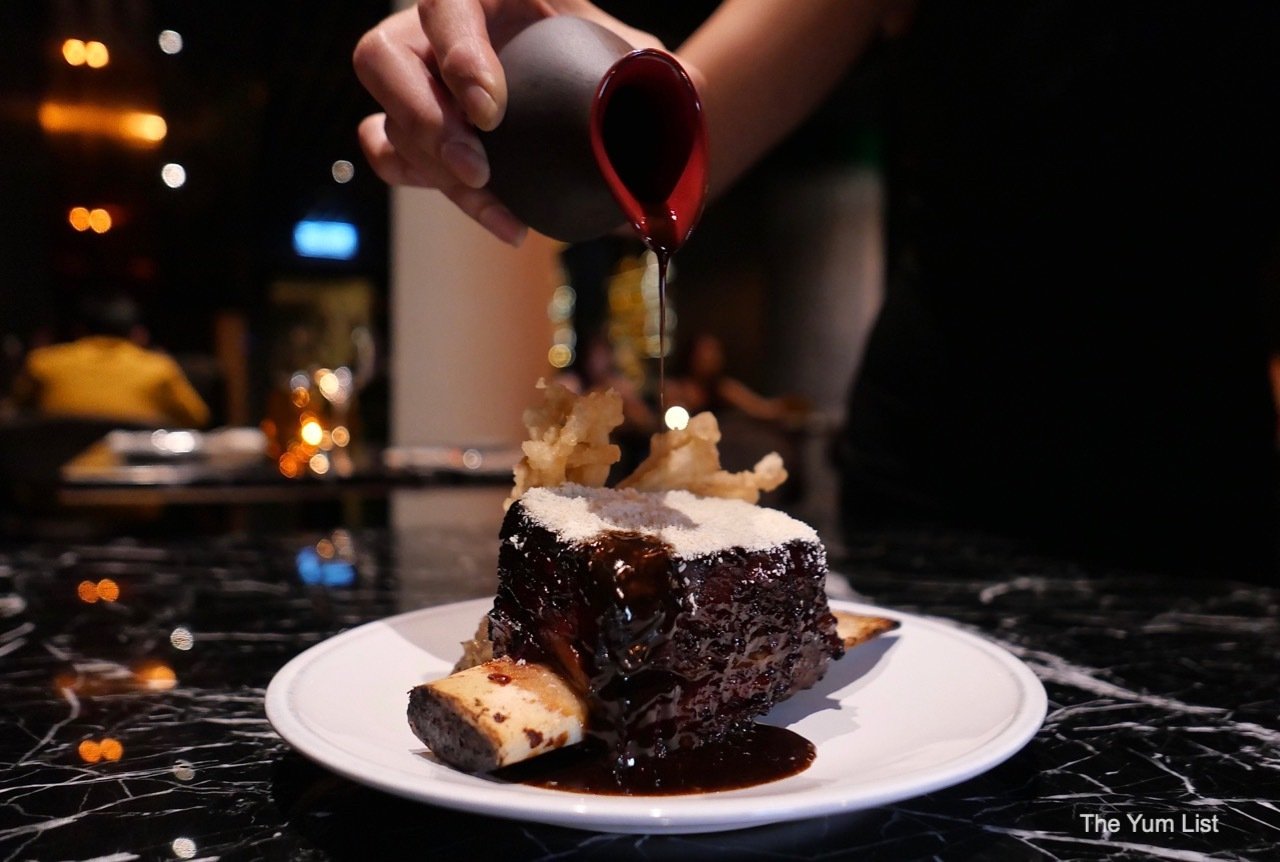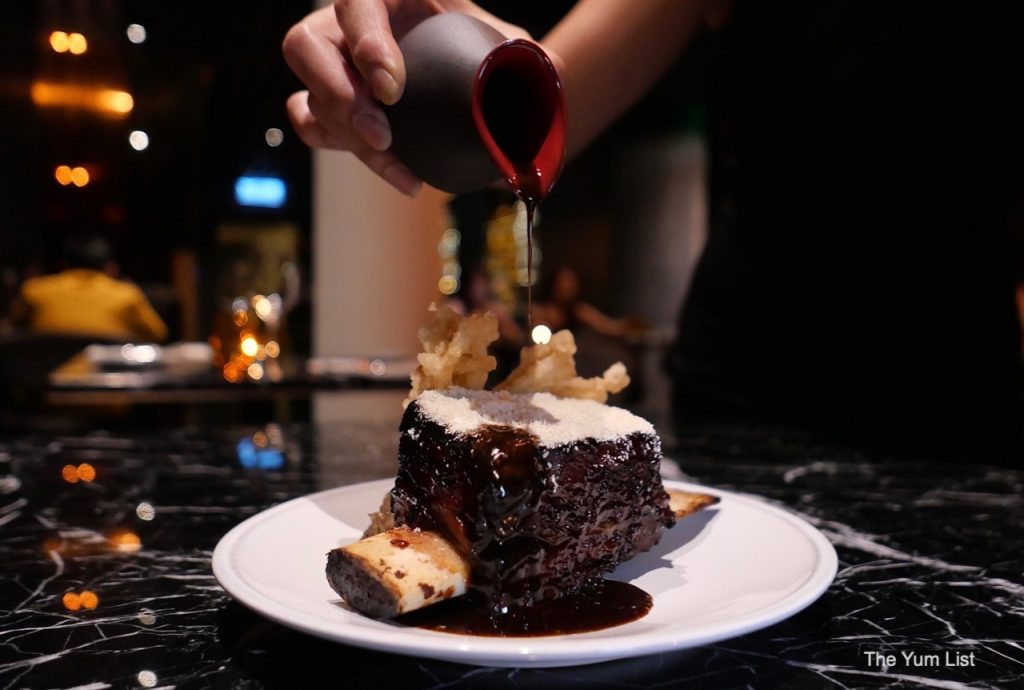 Pumpkin Tart
The pumpkin tart feels very seasonal with its bright orange squash and spiced ice cream. The pumpkin has been charred in the Josper oven giving a subtle smokiness to the overall profile. The crust is green pea – healthy right? And, the gelato made in house, has a fantastic creaminess contrasted with the roasted and braised-in-a-gula-Melaka-sauce pumpkin seeds.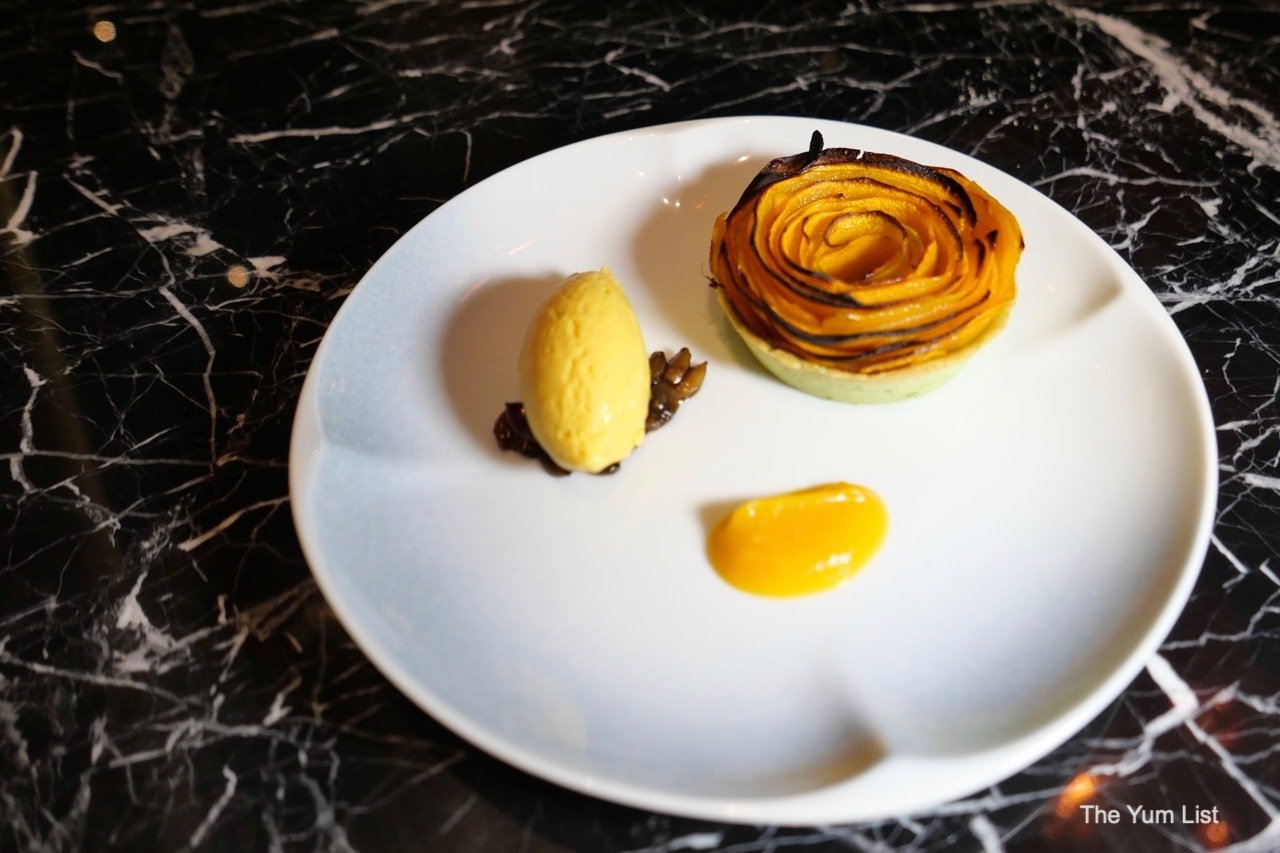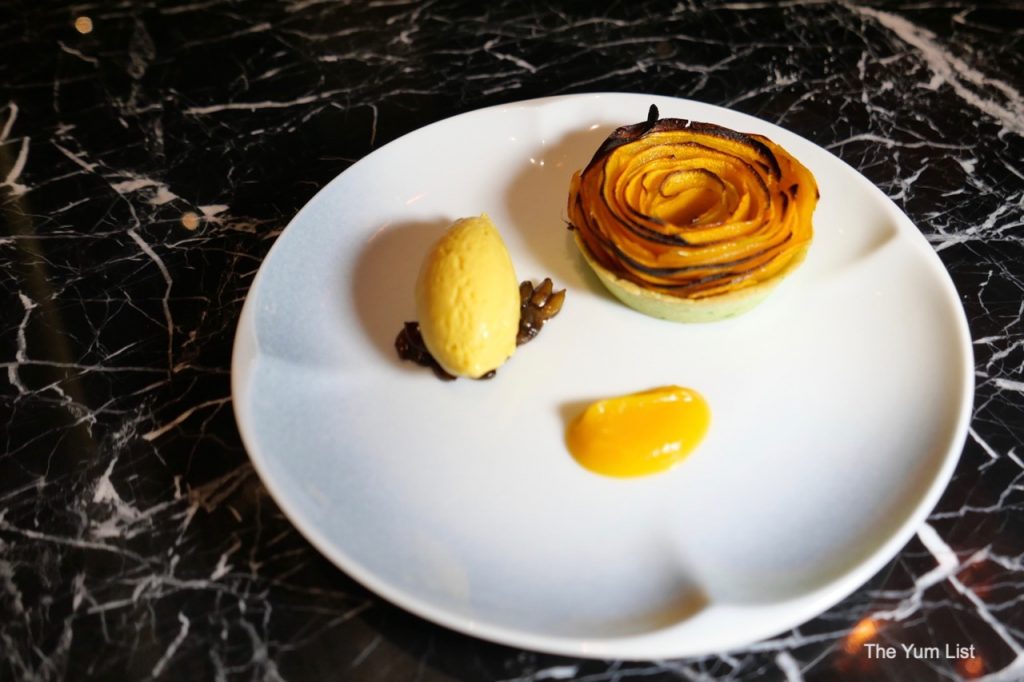 Petit Four
The meal concludes with artisan chocolate and a choice of tea or coffee. The petit fours have been curated especially for Copper Restaurant & Bar by Choc Concierge (Malaysia's premium chocolate artisan). Flavours are laksa, onda onda (coconut and pandan), salted caramel with soy sauce and black glutinous rice. They must all be tasted. Take all four and share a bite of each with your partner. They are something special.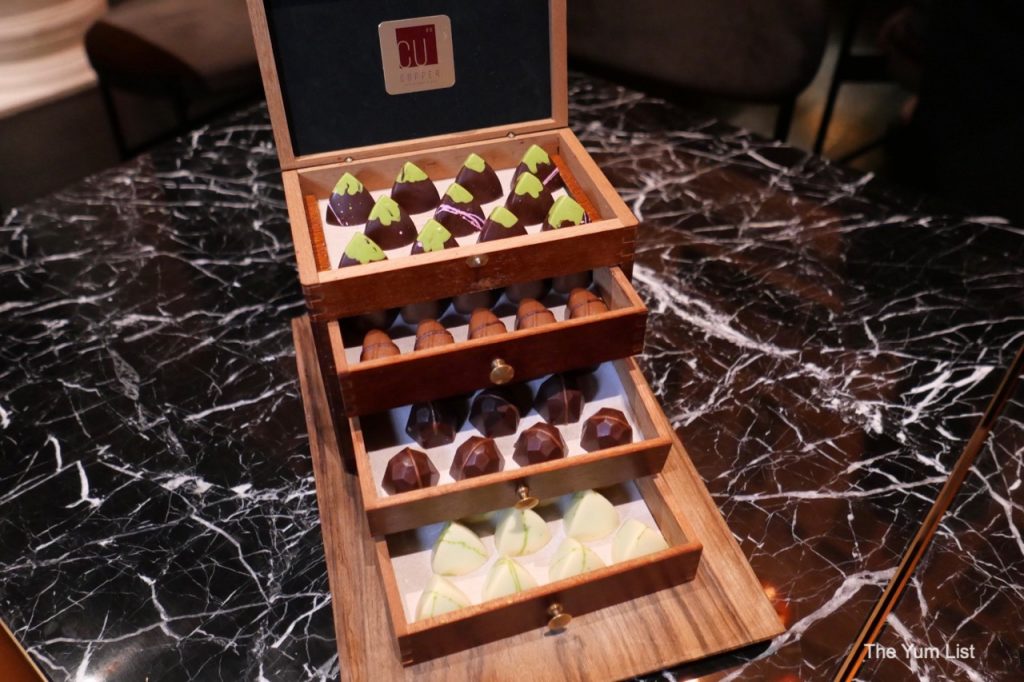 Copper Bar & Restaurant Review
Copper Bar & Restaurant furnishes a stylish and intimate space to share a contemporary take on Malaysian flavours. Service is exceptional. Food is exquisite, and the drinks menu is compact but boutique. It's a top-notch experience; a must-try in Penang.
Reasons to visit Copper Bar & Restaurant: try the dinner set for two to get a taste of what the kitchen has to offer; if ordering a la carte don't miss the Tau Eu Mushroom and the Australian Short Ribs.
Copper Bar & Restaurant
88, Lebuh Armenian,
10200 George Town, Pulau Pinang
Malaysia
+604 2611188
[email protected]
www.facebook.com/88copper
Copper Bar & Restaurant Opening Hours
Daily 9 am-midnight
Find more on Penang's vibrant gourmet scene here, check out the latest on the city's contemporary dining restaurants here, here and here and get a personally curated food, stay and travel package with Big Blue Holidays here.