Lash Lift KL
Monica Tindall
Discovering eyelash extensions was a life-changing event for me. Having long thick lashes enhanced my eyes and saved me a bundle of time in the daily makeup routine. I loved them so much that I was getting them done about every six weeks. After too many sessions, though, the health of my lashes started to decline. My therapist warned me to take a break. She said she'd even noticed bald spots!
Disappointed but not wanting to compromise my lash wellness any further, I sought a healthier alternative in KL and found a lash lift.
What is a lash lift?
A relatively new treatment on the market in Kuala Lumpur, lash lifts (or lash perms) curl the upper row of eyelashes upwards. This opens the eyes and essentially makes the lashes appear longer. Combined with a tint, the lashes are darker and stand out.
Lash Lift KL Procedure
You need an hour to 90 minutes for the procedure. Your eyes should be completely clean with no lash extensions remaining and no makeup. The therapist, in this case, Christine from Eka Roots, cleansed my eye area, but you will make more efficient use of your time if you come 'naked'.
Once the area is clean, the bottom row of lashes is gently covered out of the way to avoid contact with the perming solution. Soft rods are then placed across the upper lid, and the lashes brushed up to curl around them. The perming solution is left on for around 10-minutes for it to work its magic.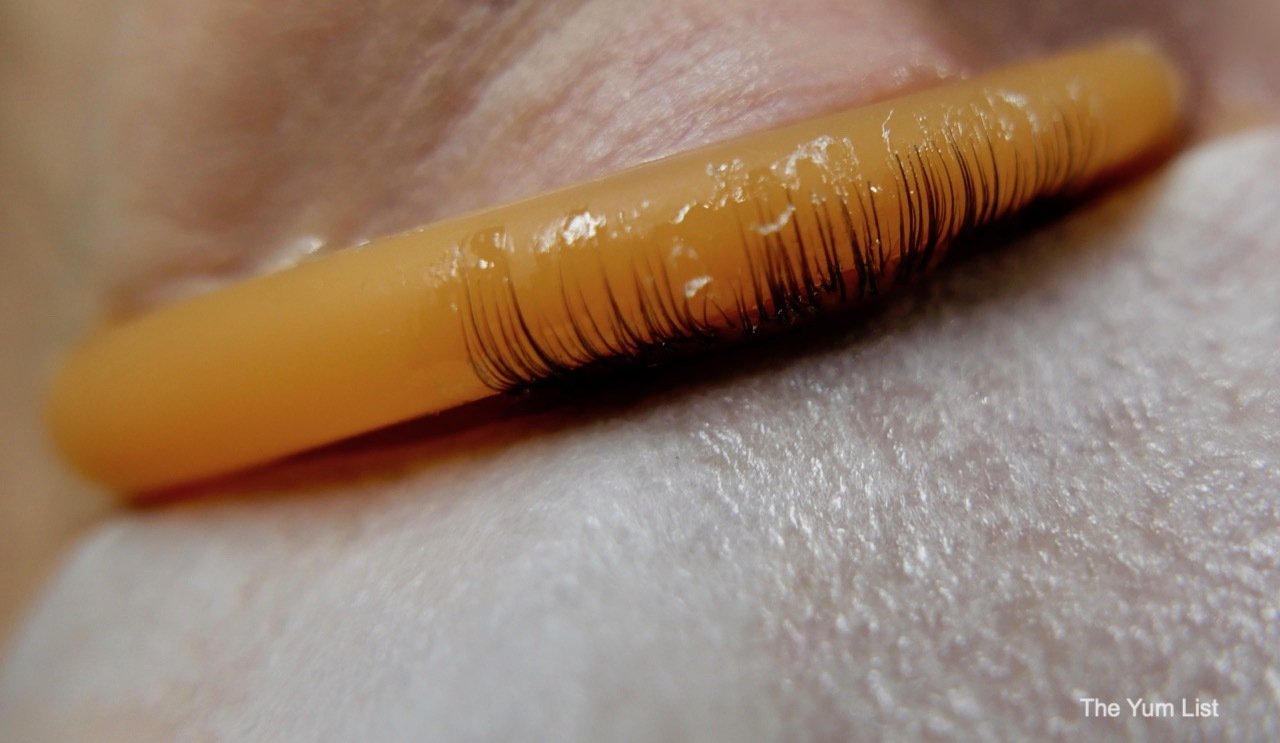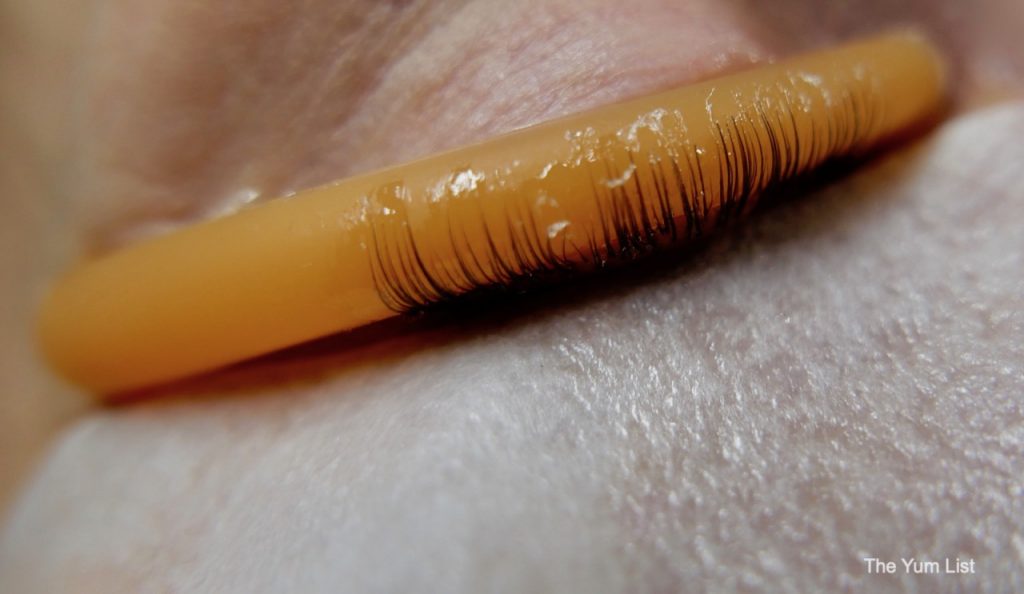 Following the perm, a serum is applied and again left for several minutes, nourishing the lashes and making them strong.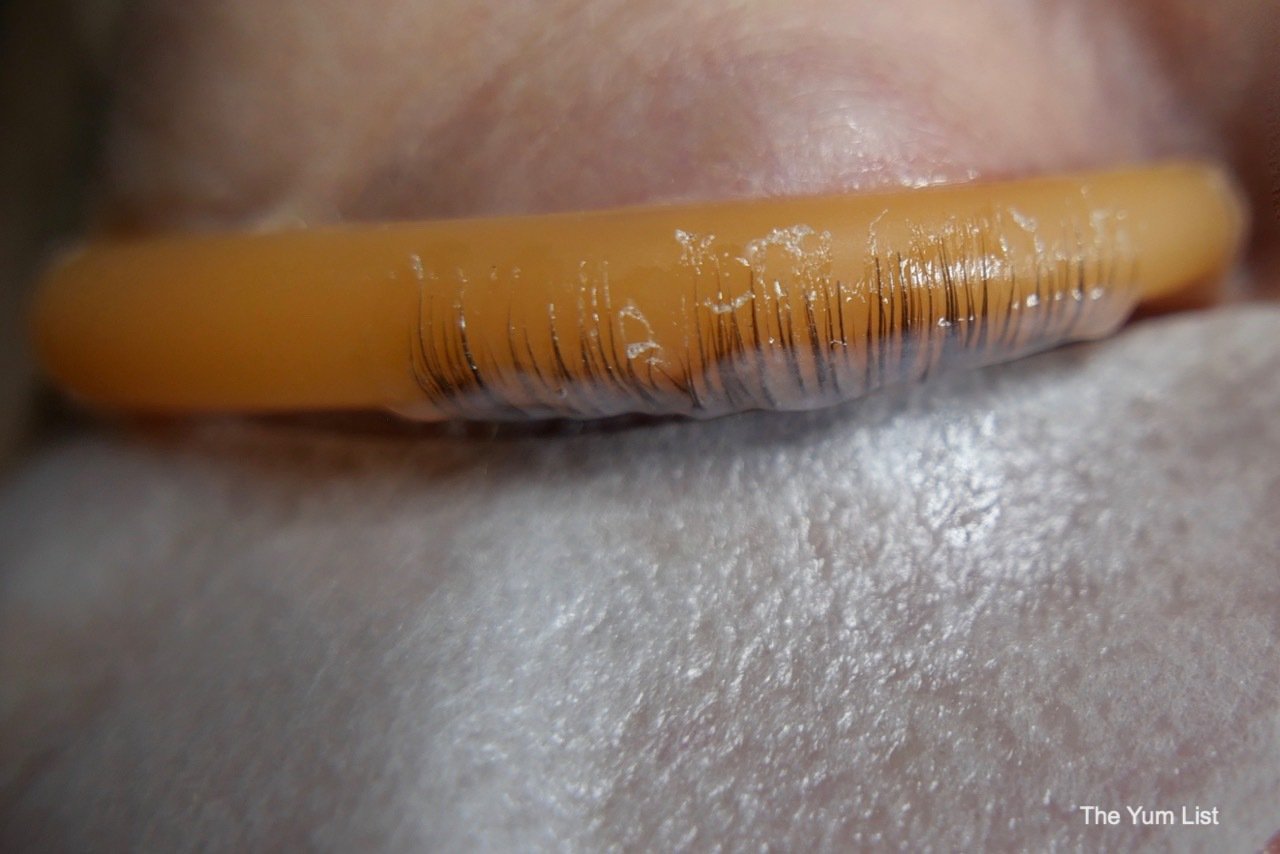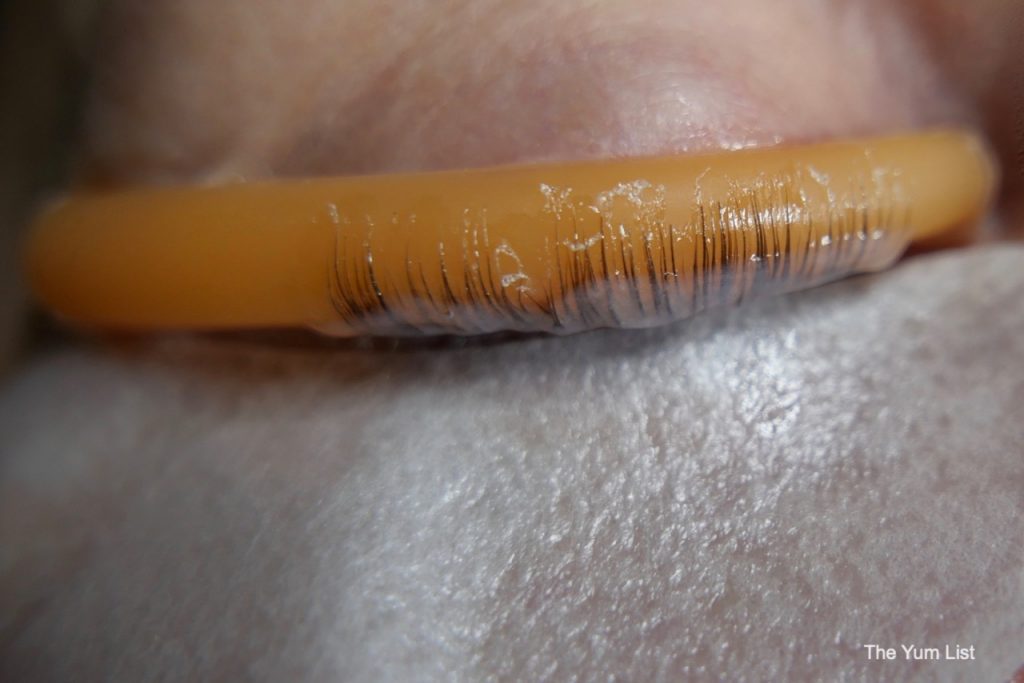 Lastly, the tint is applied and again allowed to set for some time before the excess is rinsed off.
Your eyes remain closed for the entire time. Christine helped me get comfortable with a pillow under my knees to relieve pressure on my back, and I snuggled under a blanket throughout the procedure. Christine was gentle and, arriving after a long workday, I pretty much slept the entire time.
Lash Lift KL Results – Before & After Photos
As you can see, my lashes are certainly not as long and thick as they were in my younger years. The results of the lash lift and tint, however, are very noticeable.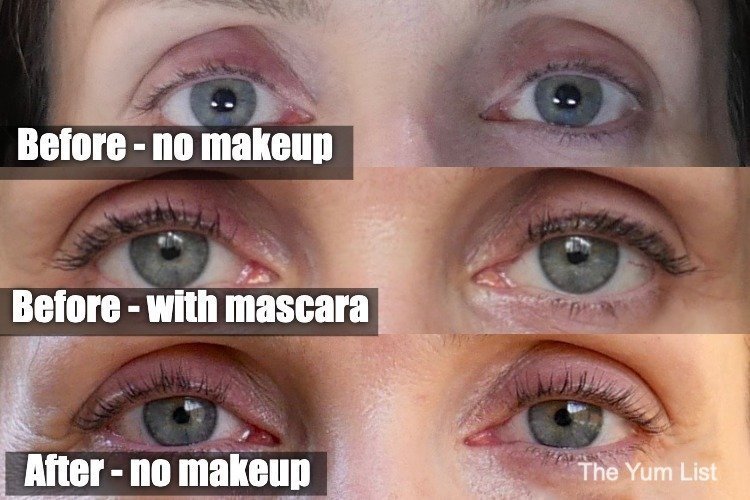 How long does a lash lift last?
A lash lift is said to last around six weeks. I'm only on week two as this is published, but the curl has held, and so has the colour.
Post Care
The only post care needed for a lash lift is to avoid getting your lashes wet for 24 hours. Other than that, you can resume all activities are normal.
Lash Lift Price Malaysia
Christine at Eka Roots charges RM180 for a lash lift. For November, however, she is offering a 20% discount if you are following The Yum List on Facebook and if you like and share the Eka Roots Facebook page. Tint can be added from RM30.
Lash Lift Versus Lash Extensions
So, how does a lash lift compare with lash extensions? The effect of extensions is more dramatic than a lift. Extensions do require extra care. Once they start to fall, they can leave untidy and noticeable gaps (which put me in the cycle of getting them done again and again in the first place). A lash lift means life-as-usual with no additional care. Wash, swim, sweat – no problem. With pricing comparative, and taking the health of lashes into consideration, I'd recommend a lash lift as the regular routine and lash extensions saved for a couple of times a year for special occasions.
Other Discounts at Eka Roots for November
If you mention The Yum List when making an appointment for November you will receive a 20% discount off the following prices.
Microblading – RM1118
Lash Lift – RM180
Body Wax – RM30
Henna Brows with Shaping & Trimming – RM150
All Hair Colouring including Highlights – Less 11%
Additionally, if you like and share this post from The Yum List's Facebook page, you will receive a RM30 voucher valid from January 1, 2020, onwards.
Lash Lift KL
Eka Roots, 123 Jalan Maarof, Bangsar
59000 Kuala Lumpur, Malaysia
www.facebook.com/ekaroots
www.ekaroots.com
+6 03 2856 0775
Find more reviews and recommendations for spas and beauty treatments in Kuala Lumpur here.