Damai Studio & Café
Words: Monica Tindall    Photos: Rich Callahan
Housed in a peaceful bungalow on the edge of downtown KL, Damai Studio & Cafe is a refreshing escape from the city's bustle. A dedicated space for spiritual and holistic practices such as pilates, yoga, dance and meditation, is combined with a vegan café. I'm delighted to find healthy choices in such a relaxing setting just minutes from home.
Damai Studio & Café
Offering vegan, gluten-free and raw dishes, Damai Studio & Café is a dream for many a health-conscious soul living in this area. Providing enough variety to make breakfast, lunch and dinner visits enticing options, we do our best to sample from across the menu.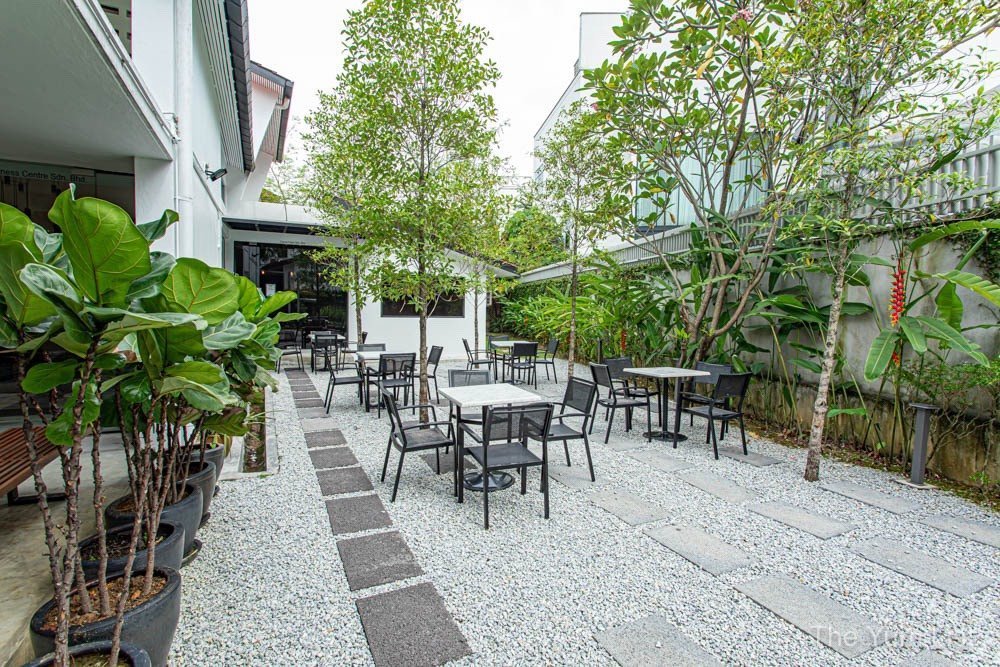 All-Day Breakfast Ampang
The Big Breakfast (RM27.90) is sure to set the day right with its abundance of goodness. Scrambled tofu, seasoned with spices and coconut milk, resembles actual eggs. It's supported by tempeh sausages (nicely charred on the coat and moist in the middle), shitake mushrooms, mashed green peas, a halved roasted tomato and two slices of rye toast. It looks strikingly like sausages and eggs.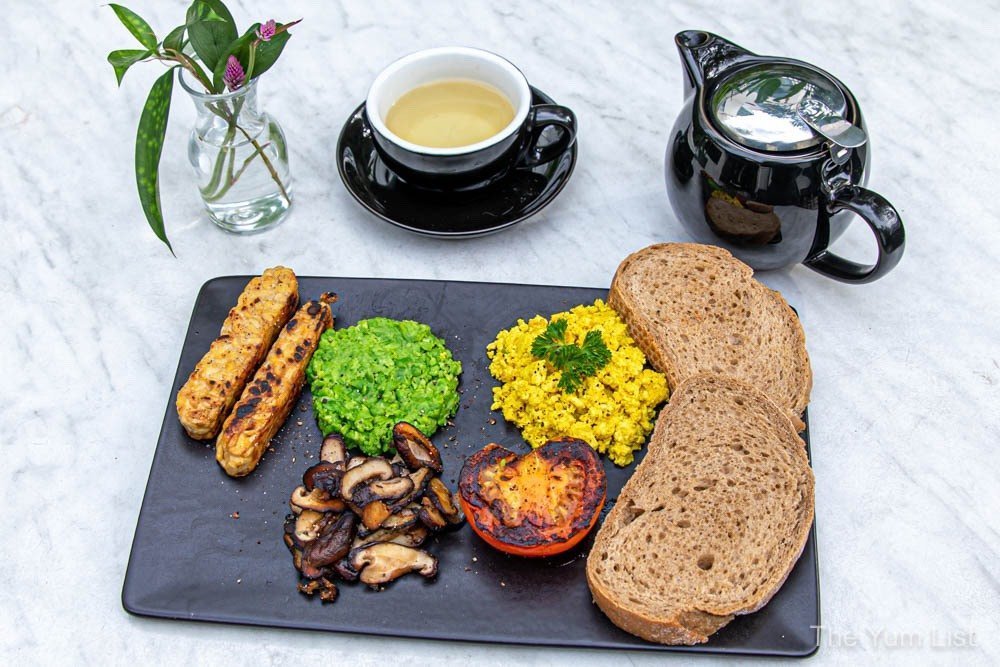 Soups & Salads
From the soups and salad section of the Damai Studio & Café menu, Forest Dweller Salad (RM11.90) is both vegan and gluten-free. It's an irresistible order with its primary ingredient of fern leaf. This Malaysian green is packed with nutrition and is unique to this region. It's backed up with shallots, ginger flower and peanuts. Tossed together with a chilli and lime dressing, this is a fresh, light meal (and immediately becomes my favourite).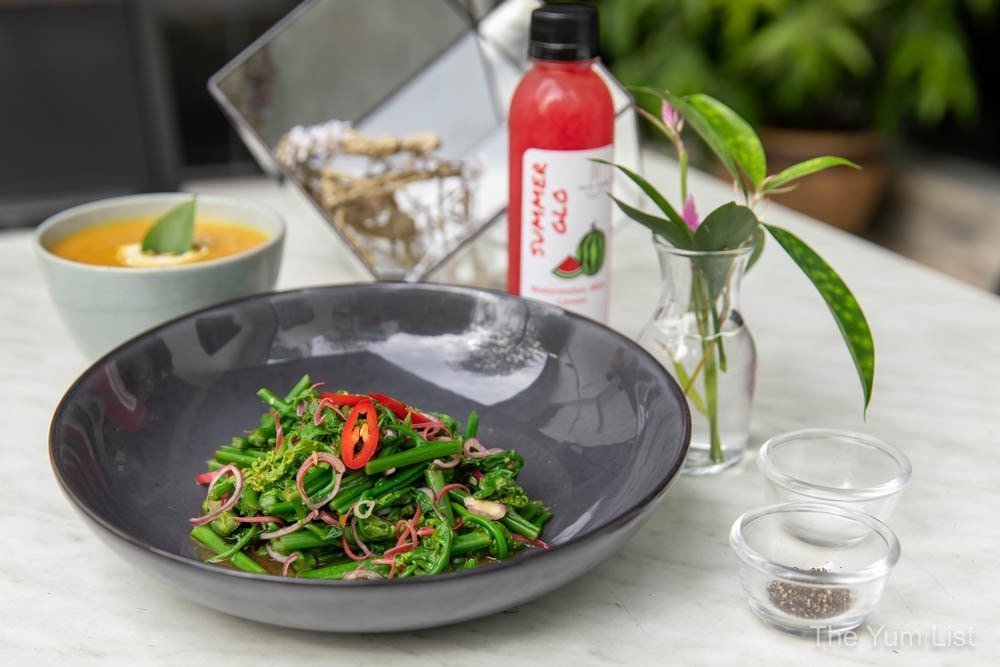 Another vegan and gluten-free option, Thai Pumpkin Soup (RM13.90) sounds delicious with its coconut-milk base. It's so much more though. I taste ginger, lemongrass, galangal, kaffir lime, cumin; flavours similar to tom yam without the chilli. The soup is thick and textured. It's a deceptively filling dish.
Burgers Wraps & Sandwiches
The Portobello Mushroom Burger (RM 25.90) is rather eye-catching at Damai Studio & Café with its whole portobello mushroom stuffed with pesto hugged by a wholemeal bun. Lettuce, tomatoes and cashew mayo add crunch and lubrication. The side of baked sweet potato fries is all gone before we know it (or before Rich realizes there were even any there to begin with).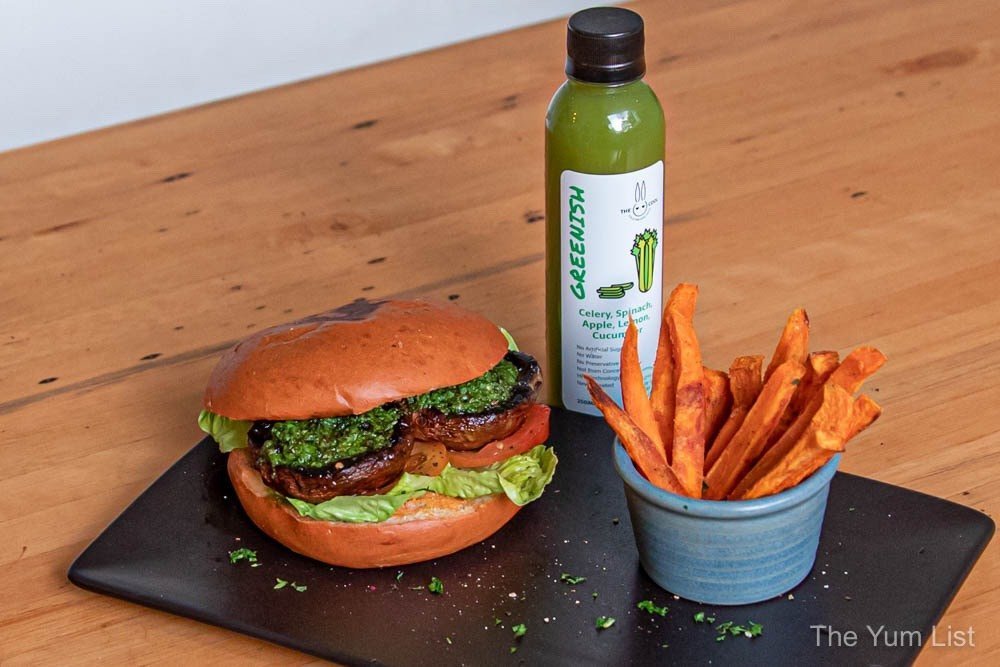 Pasta
Joy (RM23.90) is the studio manager's most beloved dish. She likes to "ask for joy." It ticks a trio of boxes being vegan, gluten-free and raw. In this recipe, zucchini noodles are coated in a cashew and miso sauce and served with cherry tomatoes, smoked paprika, parsley and Vegan parmesan.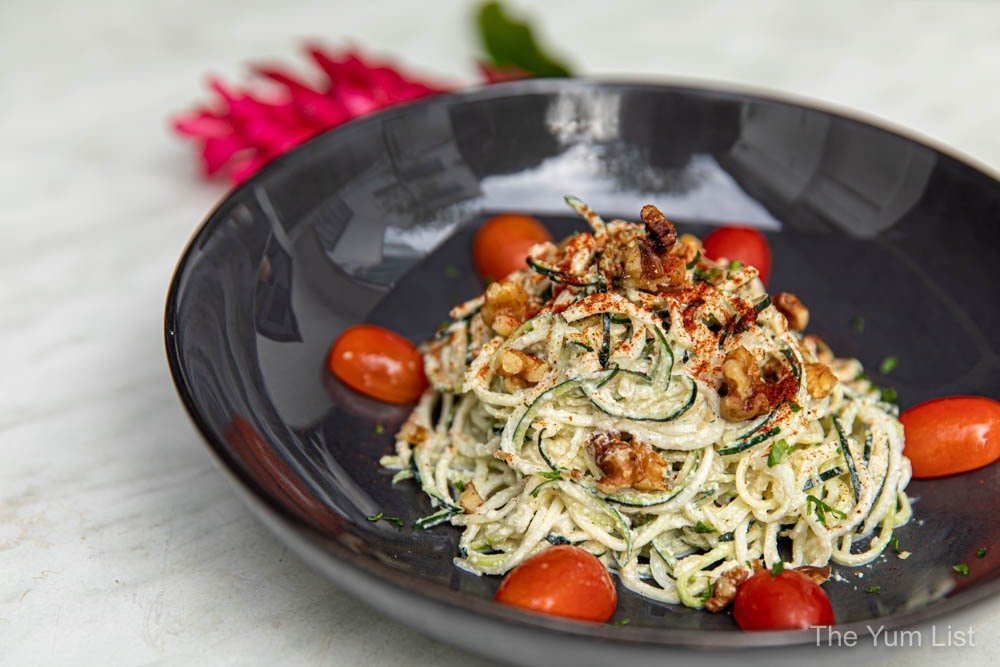 Rice
The Damai Bowl (RM 25.90) follows the "bowl" trend of a healthy assortment of ingredients placed in an orderly fashion around the centre, waiting for diners to mix it at their own leisure. It offers a vibrant palette of red, purple, green and orange with shredded purple cabbage, edamame, avocado, carrots, homemade pickled ginger and sweet potato. Served with brown rice and a sesame sauce, it's another option that is both vegan and gluten-free at Damai Studio & Café.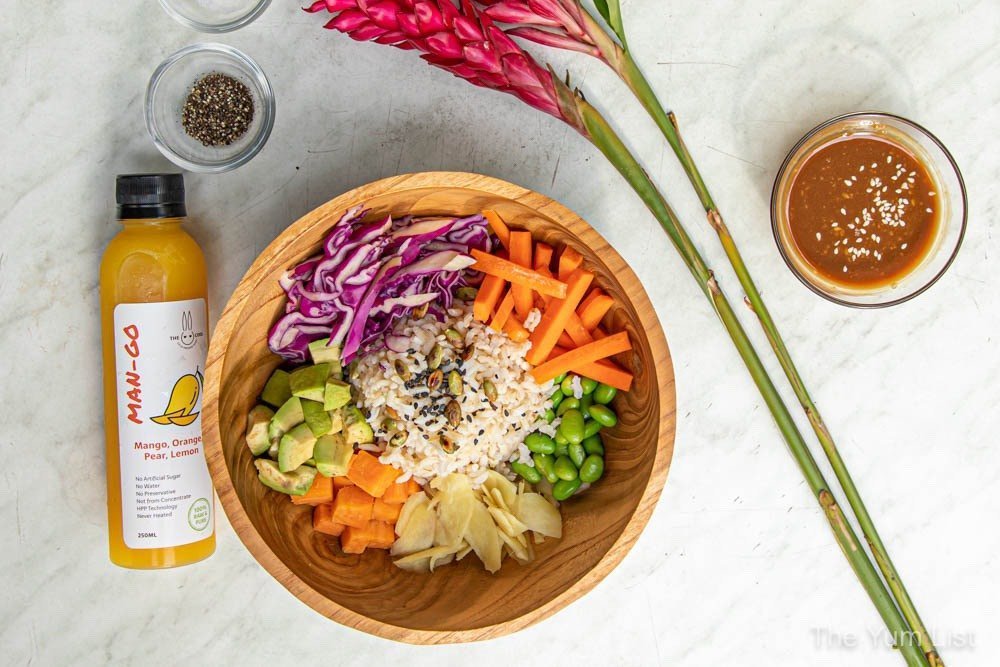 Raw Desserts
Raw desserts at Damai Studio & Café change regularly. They're all made in house and in small batches so are always at their freshest. Today there's I Am Surprised (RM 15.90), I Want A Kiss (RM 8) and I Want A Date (RM 8). The names come from associating dessert with pleasure. Even though you're not hungry, a new desire is created with their presentation. We're happy to run with that and yearn for them all.
The first sweet we try at Damai Studio & Café is a raw vegan cheesecake. It's made with cashews, dried coconut, coconut oil, coconut nectar and miso. A sprinkling of dried rose petals acts as a simple yet effective garnish. The balls are different rations of nuts and cacao. The first is a little drier with dates, raw cacao, coconut, hazelnuts and macadamias. The latter is a tad moister with dates, oats and peanut butter. I find love in the I Want A Dessert, while Rich thinks the I Am Surprised worth recommending.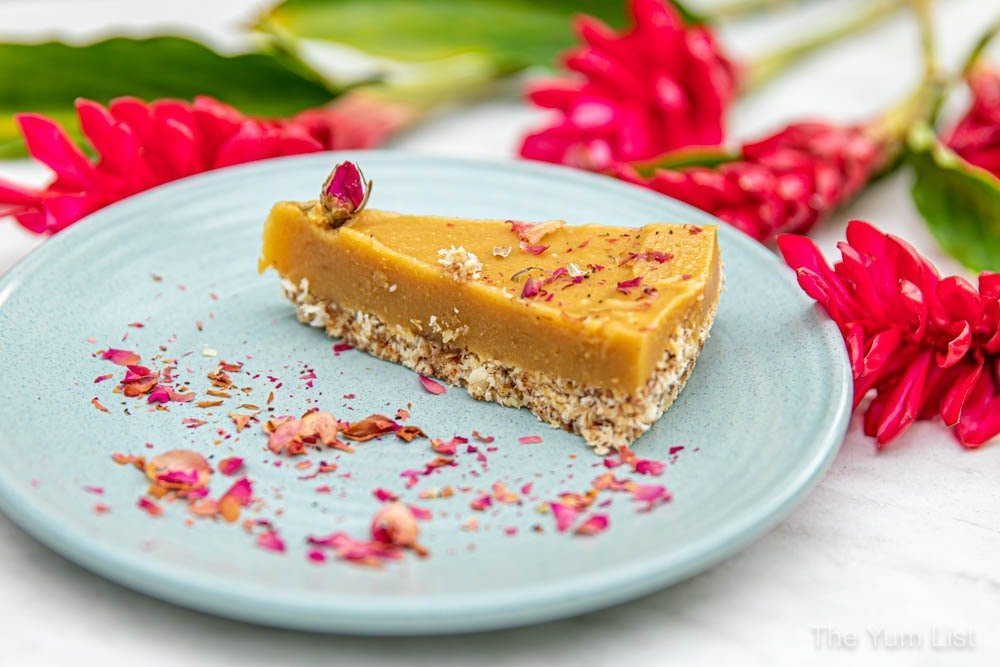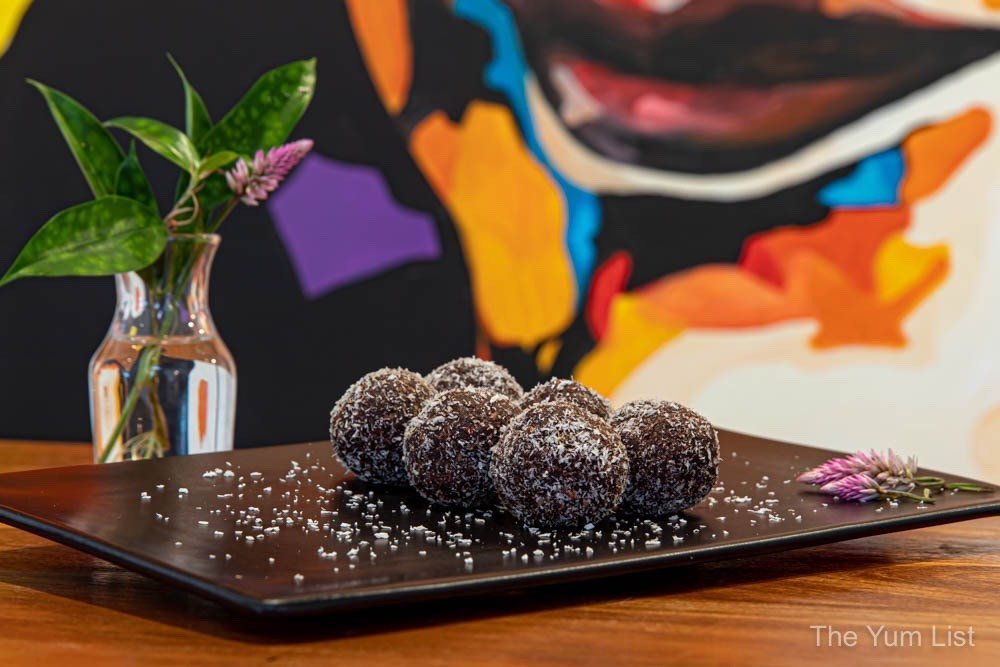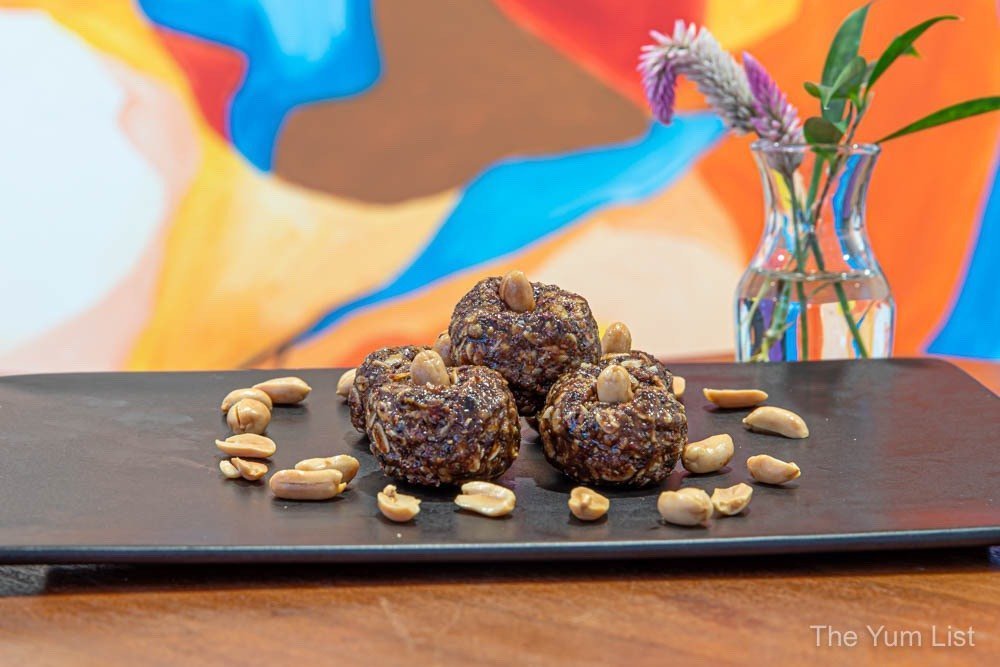 Also, in the dessert counter, are jars of homemade tahini, peanut and almond kinds of butter. They're just nuts and salt. All are very good.
Drinks Menu Damai Studio & Café
The drinks menu at Damai Studio & Café is just as nutritious as the meals. The Cacao Ceremony (RM18.90), is a must for those wanting a little decadence without the guilt. This beverage is built on raw Ubud cacao, dates, cinnamon, chilli padi, Bentong ginger powder, orange essential oil and coconut milk. It's rich and powerful; I can almost feel the antioxidants at work. For owner Bee, this drink is very close to her heart. She says it activates your heart chakra – you surrender when you drink this. It plays well on the dreamy match of cacao and orange, with the other spices a gentle thread in the background.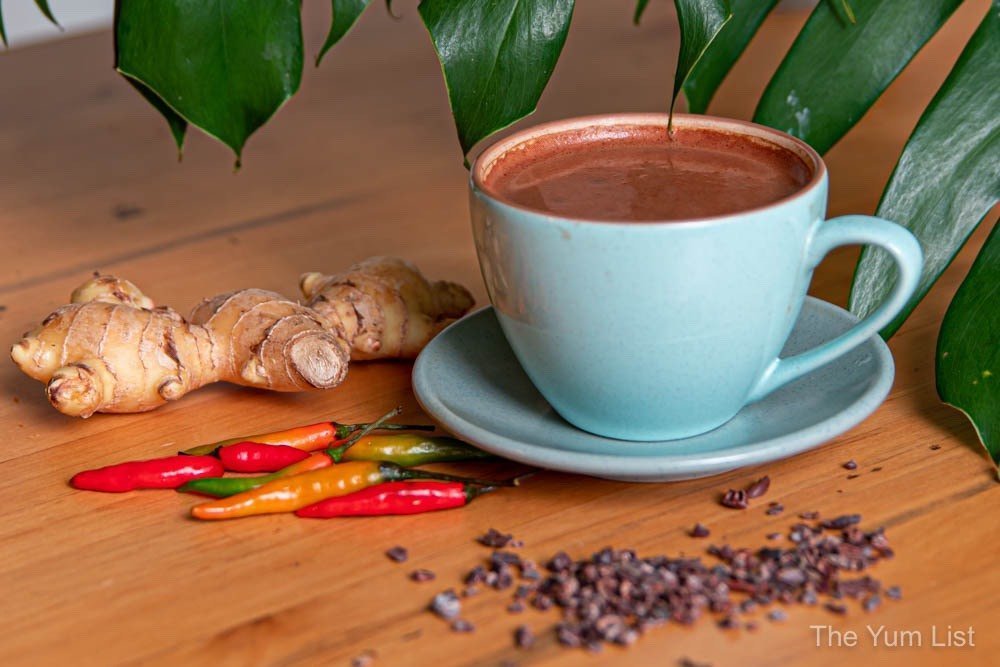 For something on the cooler side, the Tropical Ballad (RM15.90) is fresh and fruity. Mango, banana, turmeric, lemon juice, coconut sugar and chia seed make for a filling drink; one that some might consider a meal in itself.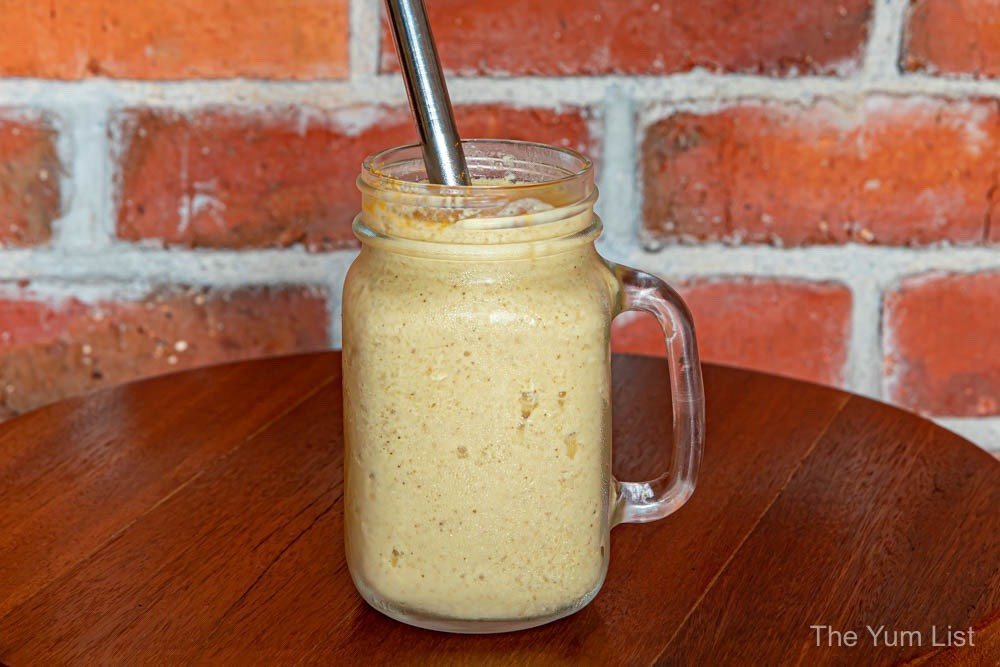 Damai Studio & Café's tea selection (RM 12 per pot) is quite special. There are a few here that you'll recognize such as jasmine tea, and some original creations too. Lemongrass & Pandan is one that is made in house, so I think it even more enticing. Cats Whiskers is another appealing brew. Holding claims to several health benefits, this herb is asserted to assist with cleansing and detoxing; especially good for the kidneys. All teas are loose-leaf; better for you and the environment.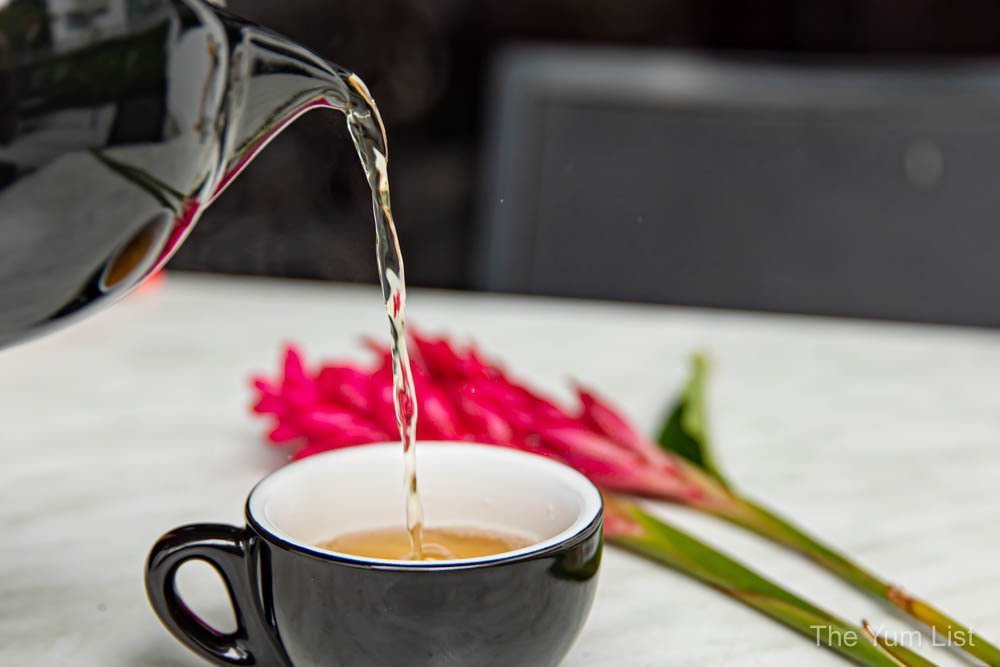 Lastly, we try Magic (RM 18). It's a new addition to the menu and features coconut milk, gula Melaka and a double shot of espresso. Poured over "snow" (ice blended coconut milk), there's a little drama in the beginning – indeed it does feel (and taste) like magic.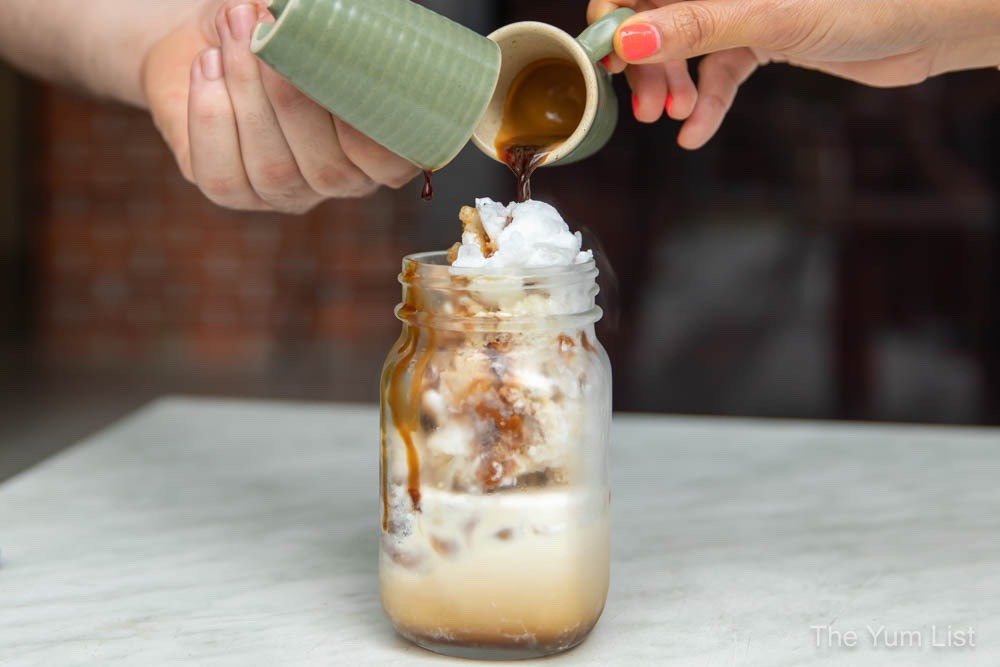 Damai Studio & Café Review
Damai Studio & Café offers a peaceful setting, delicious food and guilt-free indulgence. I'm happy to have found it in this part of town, and I bet more contemporary thinkers will soon make this their personal haven too.
Reasons to visit Damai Studio & Café: tranquil environment; excellent range of vegan, raw and gluten-free recipes; must try the Forest Dweller Salad and Thai Pumpkin Soup; be sure to save room for a raw sweet and give Magic a whirl if you're in need of a pick-me-up.
Damai Studio & Café
23, Jalan Damai
55000 Kuala Lumpur, Malaysia
+6 012 814 9100
+6 03 21816100
www.facebook.com/mydamaikl
Damai Studio & Café Opening Hours
Tuesday to Sunday: 8:30 am – 6:00 pm
Find more on KL's vibrant cafe scene here and a list of our favourites cafes in Ampang here.