Christmas at Hilton Kuala Lumpur 2019
Monica Tindall
For many, Christmas speaks of abundance and a time to indulge. Friends and families join together to enjoy each other's company over festive treats made only once a year. It's a period when belts are let loose, and calories don't count. If you're also of this mindset, then the Christmas buffet at Hilton Kuala Lumpur 2019 has a line-up set to make your eyes bulge.
Each restaurant in the hotel has a special menu for Xmas. Still, if you're with me on the relinquishing of portion control, then the Christmas buffet at Vasco's is the place for you!
Christmas at Hilton Kuala Lumpur 2019
The two highlights at Vasco's for Christmas at Hilton Kuala Lumpur 2019, are the roast section and the dessert tables. There's lots of food that is worthy of a second look in-between, but if you truly want to maximize your festive feeding, I suggest you focus your time between these two.
Xmas Roasts
The meal for Christmas at Hilton Kuala Lumpur 2019 is not limited to a single roast turkey but an entire counter dedicated to baked dinners. Of course, there's turkey but what is far tastier and more interesting is the Turducken; a turkey, stuffed with a duck, stuffed with a chicken! This combo is so full of flavour, there is no need for a single drop of cranberry sauce – although there is a bounty of seasonings in just about every recipe to choose from.
Then you've got your beef ribs. A whole section sits upright, charred on the outside and beautifully pink in the middle. Roulade and lamb further back up this display along with an excellent beef wellington and an entire garden of roasted vegetables to balance. The chicken pie is a must-try with its flaky pastry top, as too is the salmon wellington with an equally desirable coat.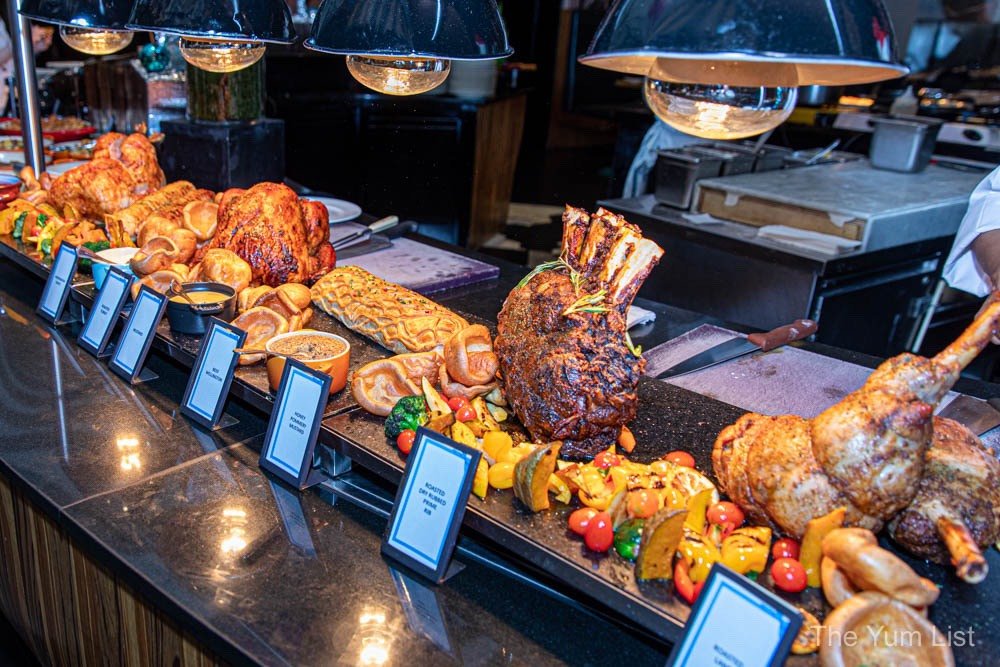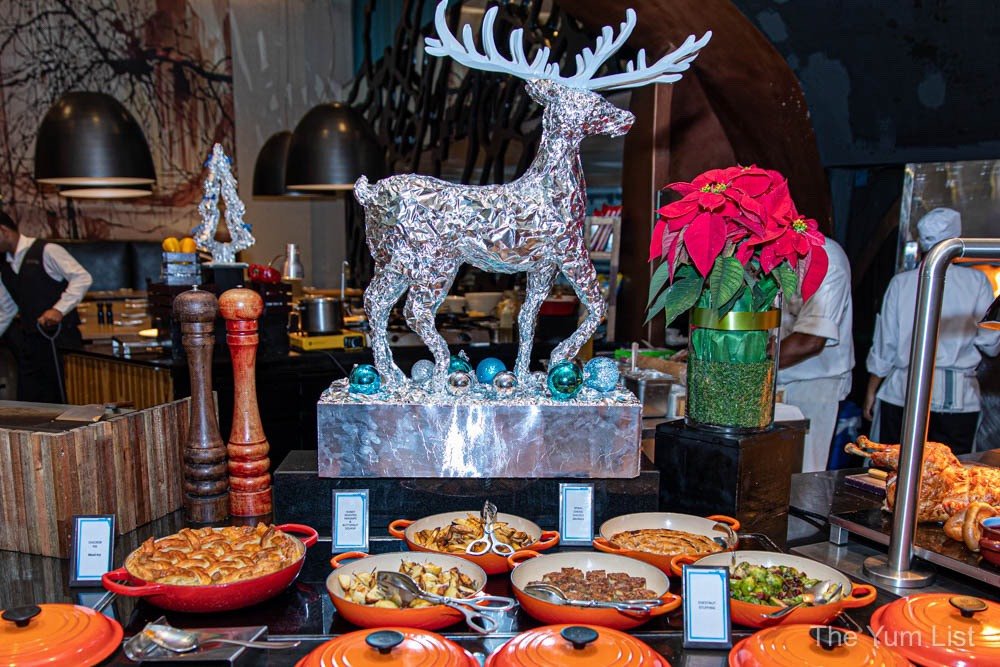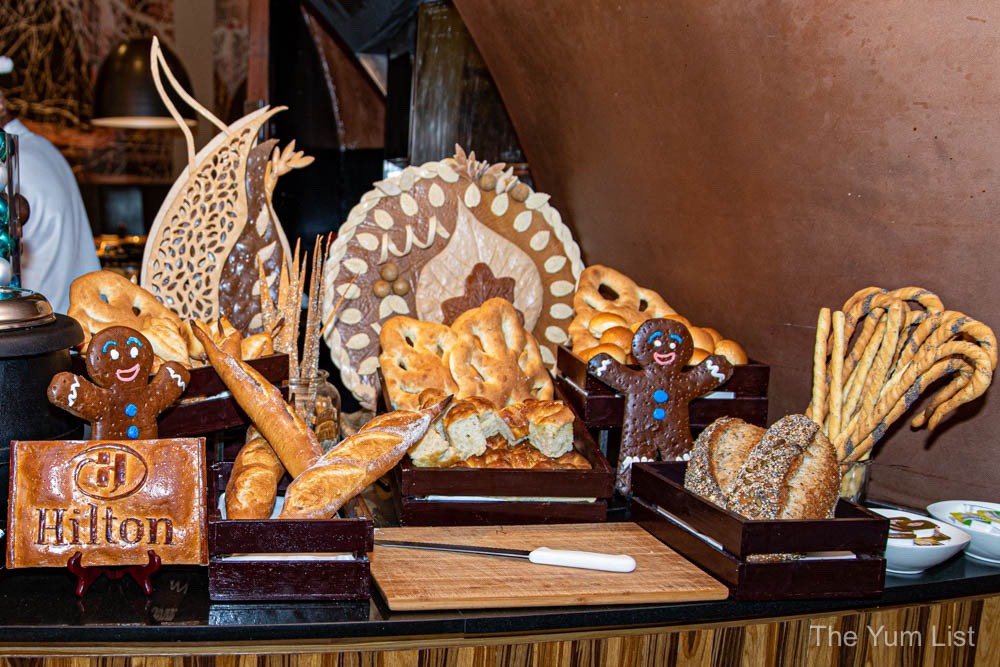 In Between
In-between the roasts and desserts, we find a fantastic array of fresh seafood. Those of us from Down Under is known to consume ridiculous amounts of prawns, oysters and other fruits from the sea on sweltering Chrissy days. There's another reason this area is so fabulous though; assistance of the team from Iketeru upstairs. The Hilton Kuala Lumpur's Japanese restaurant specializes in the freshest of produce prepared with the meticulous craft of a Japanese chef. So, if you dare to diverge before you hit the dessert counter, the sashimi and sushi items are highly recommended.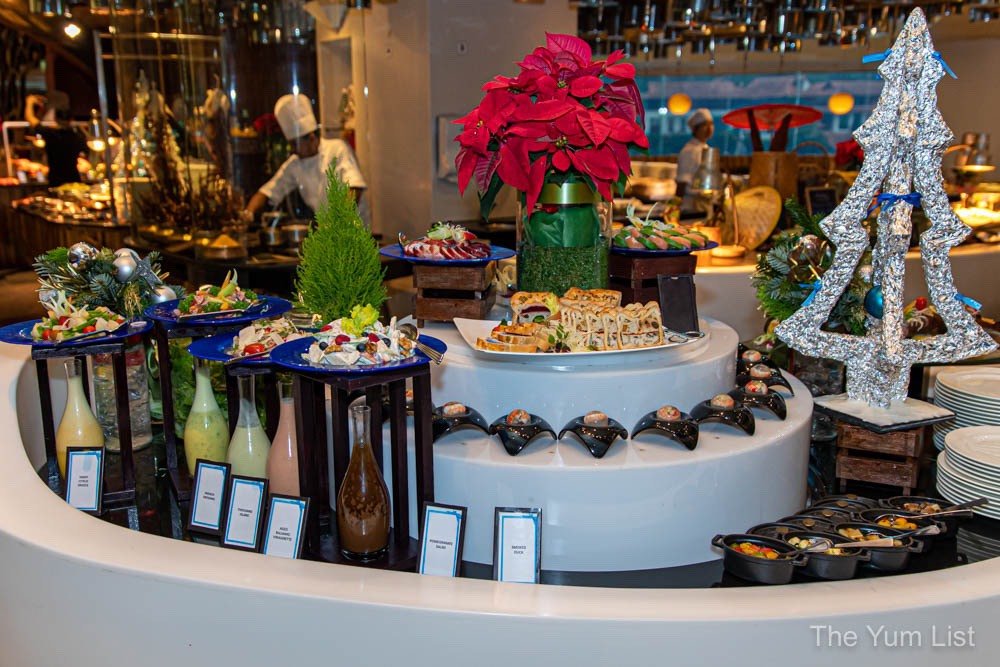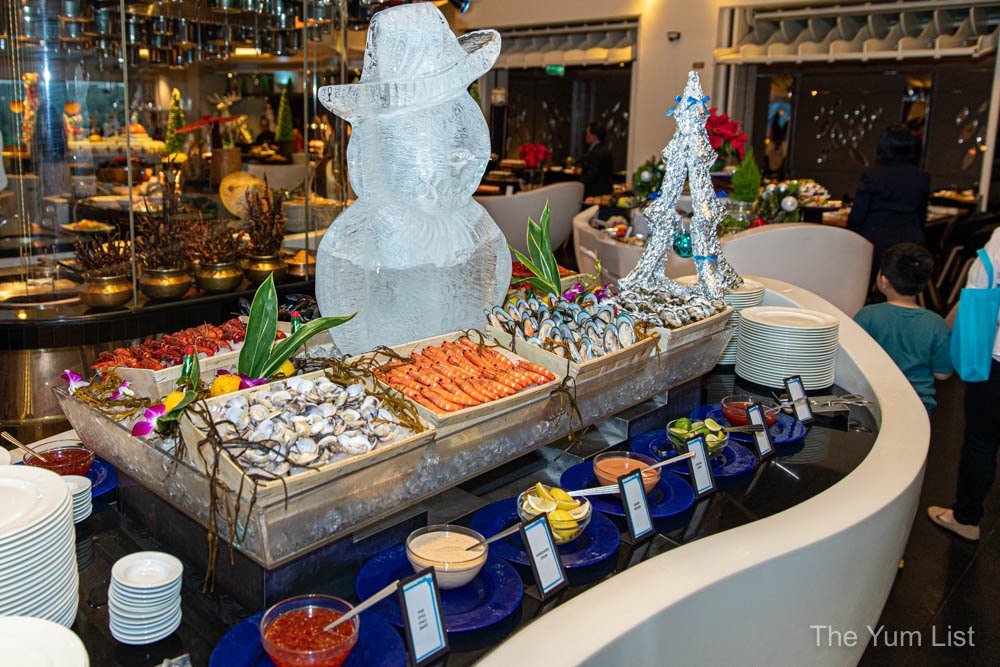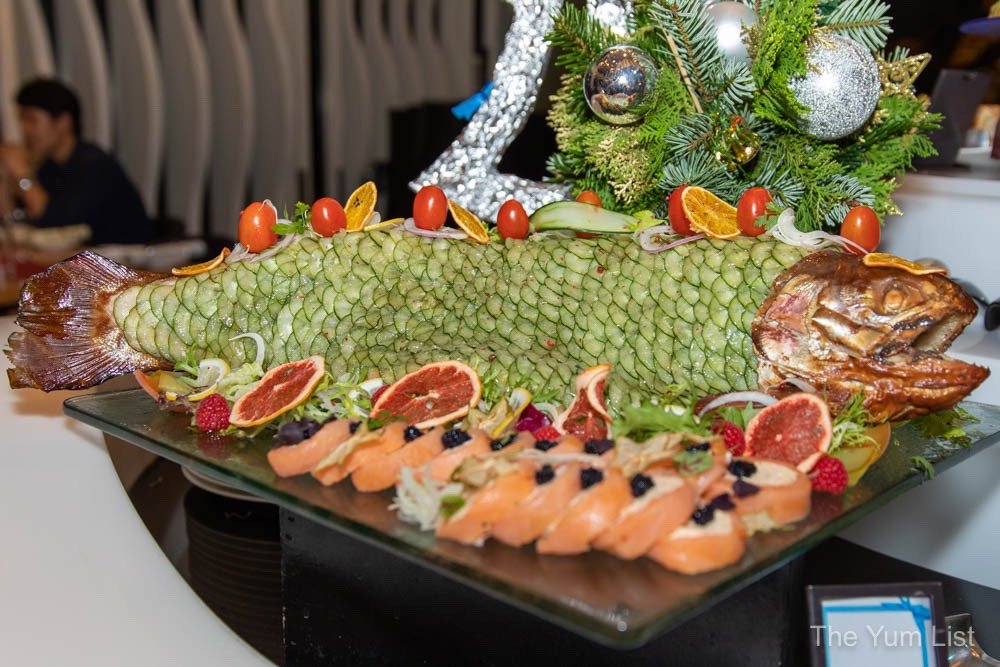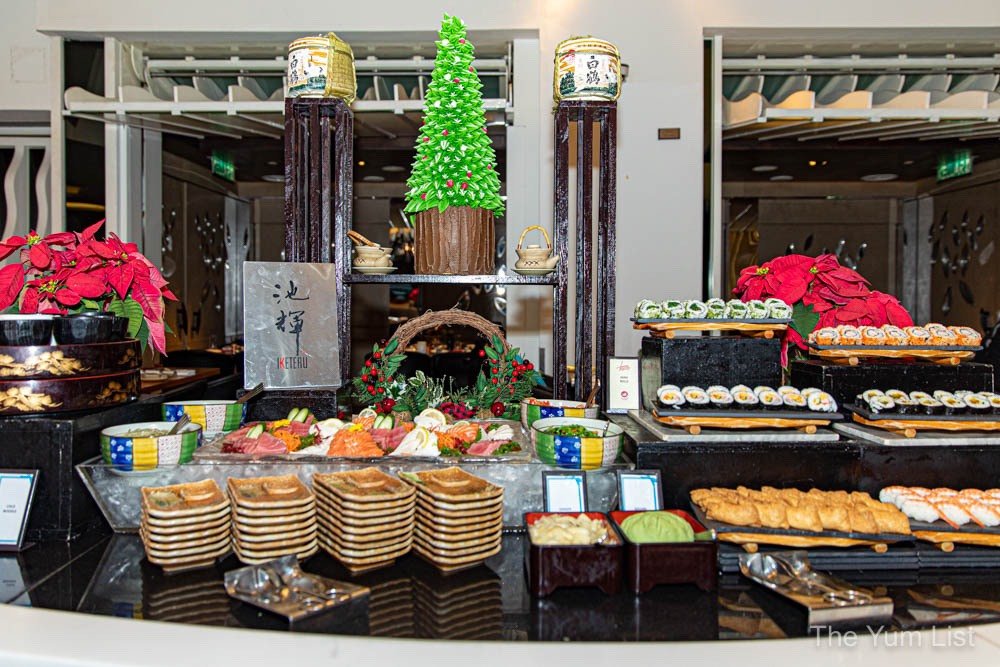 Local Xmas
Christmas is not only celebrated in the west, but many locals have their own version of the custom. Here you can enjoy Indian, Malay and Chinese fare, which guarantee you'll be loosening the belt more than a single notch. I didn't sample a single local dish though; after my stomach quickly filled with the roasts, I thought it wise to do a double recon of the sweets.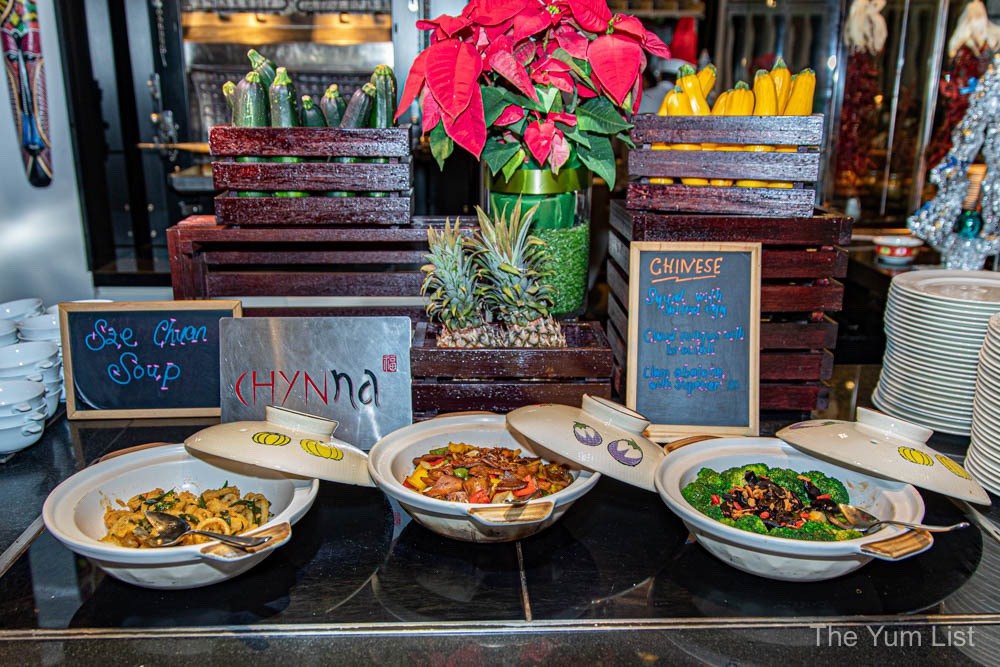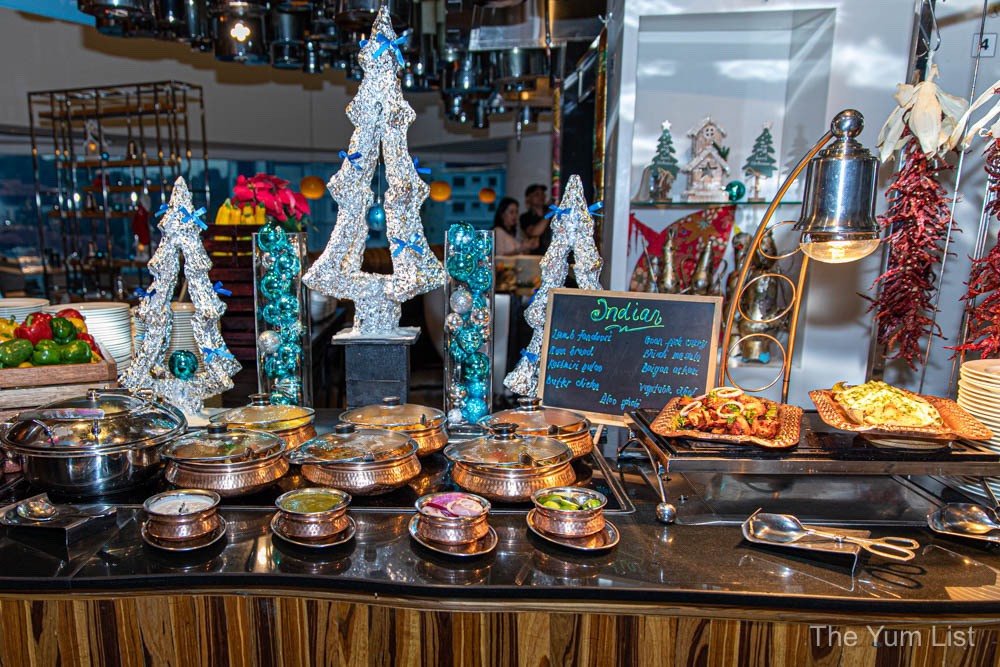 Christmas at Hilton Kuala Lumpur 2019 – Dessert
The current executive chef of the hotel, Brett Muller, was a former pastry chef. And, this little fact just may have had some influence on the… not one, not two, but three dessert counters!
There are countless temptations here, but for me, it's all about the Christmas memories – pudding! When your mum has a recipe that the whole family loves, it's always going to be a challenge to find something that even comes close in comparison. But, the pudding for Christmas at Hilton Kuala Lumpur 2019 sure is a beauty. It's chock-a-block packed with fruit and nuts – so much so that I'm doubting the addition of more than a teaspoon of flour. It doesn't stay together in a single slice but rather crumbles as the knife slices in – not in a dry cookie crumble style but rather in a seductive "I'm so full of ingredients that I can't contain my edges" kind of way. The only thing that is missing is a dose of rum (or brandy) in the batter (but you could always cheekily add that in yourself if you bring a little hip flask – promise I won't tell).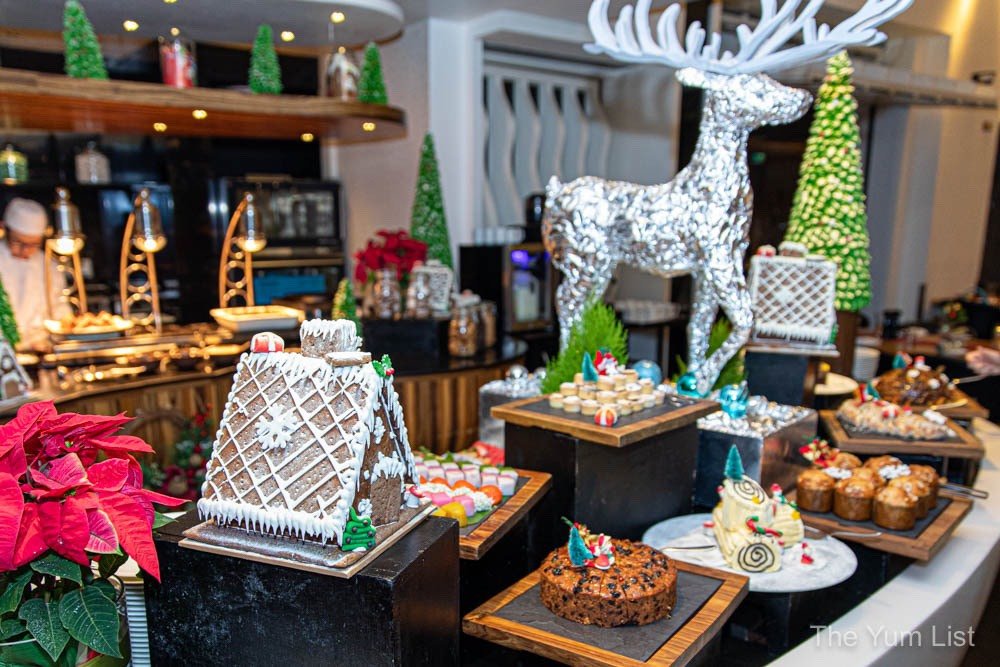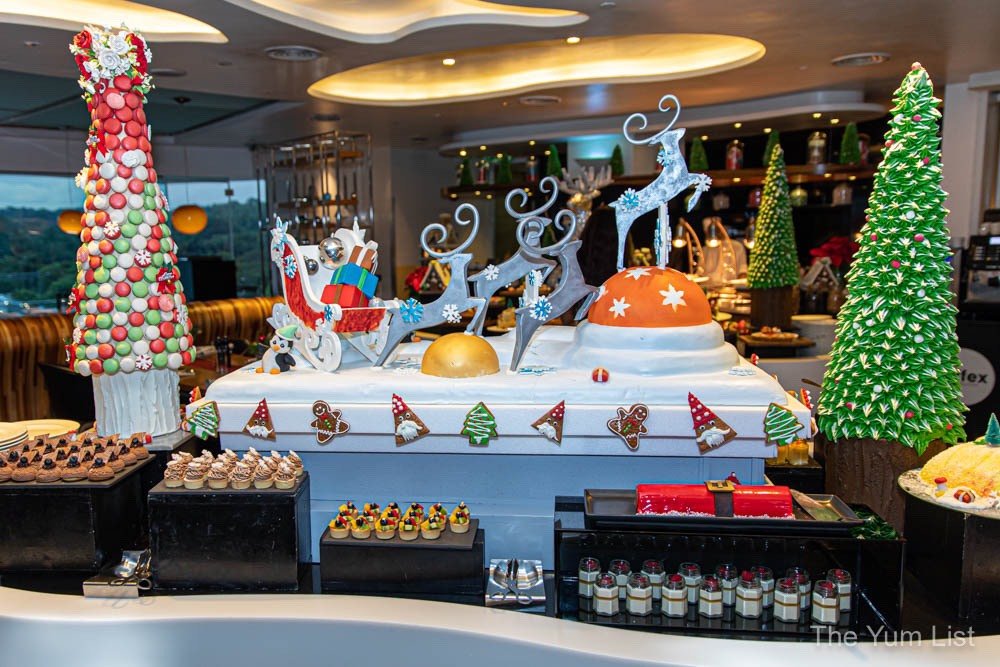 Reasons to celebrate Christmas at Hilton Kuala Lumpur 2019: the roasts and the desserts!
Christmas at Hilton Kuala Lumpur 2019
Hilton Kuala Lumpur Hotel
Lobby Level, 3 Jalan Stesen Sentral
Kuala Lumpur 50470, Malaysia
+6 03 2264 2264
http://www.hilton.com
* Pork free
Vasco's
Christmas Eve Dinner Buffet
24 December 2019 | 6pm – 10:30pm
RM228 nett per person | RM98 nett per child
Christmas Lunch Buffet
25 December 2019 | 12pm – 2:30pm
RM200 nett per person | RM98 nett per child
Christmas Dinner Buffet
25 December 2019 | 6pm – 10:30pm
RM228 nett per person | RM98 nett per child
Christmas Caroling – December 24 & 25, 2019
Santa makes an appearance on December 25, 2019
From 1 – 20 December 2019, each Hilton hotel in Malaysia will be giving away a 2-day 3-night stay inclusive of breakfast buffet to one lucky winner. To stand a chance to win, participants have to like the hotel's Facebook page, share the post and leave a comment with their most memorable dining experience with loved ones during the holiday season.
For more information and reservations, please call Hilton Kuala Lumpur at +60 3 2264 2264 or visit www.life.hiltonkl.com.