Coré The Korean Cuisine
Words: Monica Tindall    Photos: Rich Callahan
Coré, The Korean Cuisine on the ground level of Tropicana Avenue, feels immediately welcoming. Its clean lines, natural woods and plenty of greenery boast a cool, serene mood. While the interiors might initially entice us inside, the menu of delicious Korean dishes keeps us firmly stationed.
Coré The Korean Cuisine
Owner, Ben wanted to create a restaurant where guests could enjoy a mixture of old and new. With a focus on jijimi (Korean pancakes) and mak guli (Korean rice wine), he hopes to provide diners with a taste of contemporary Korea. It's a place where traditions are respected, but the context is firmly planted in the present.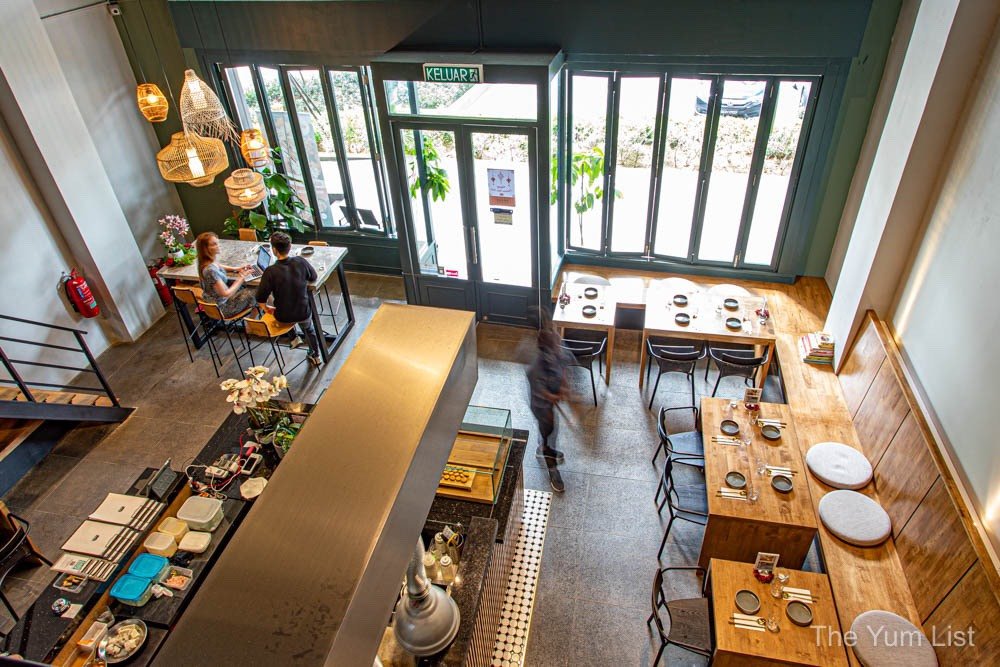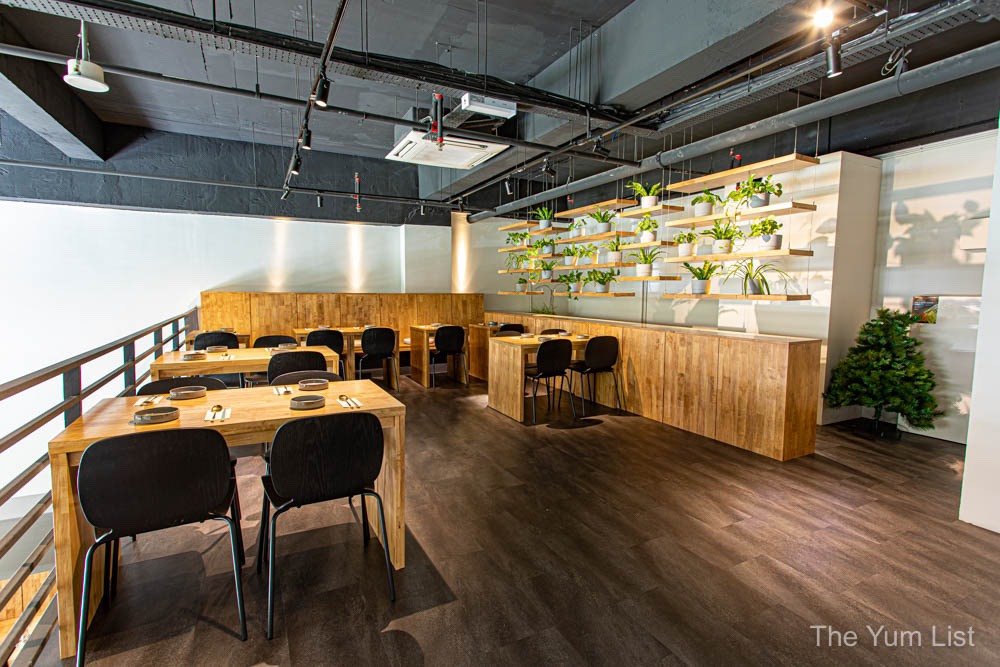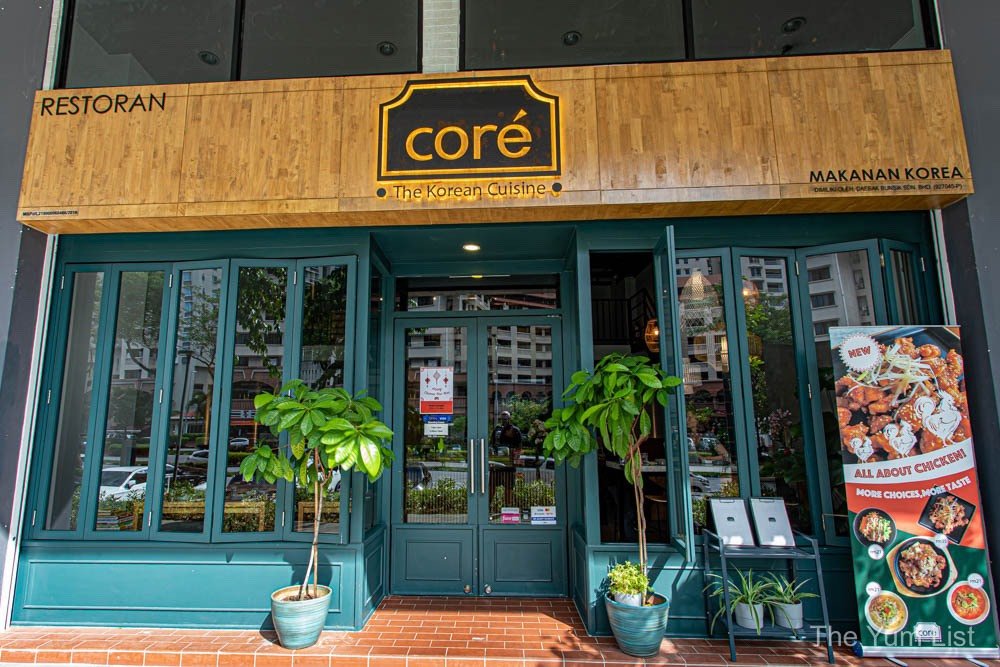 Coré The Korean Cuisine Menu
Many Korean restaurants in Kuala Lumpur offer barbecue as their central concept. At Coré The Korean Cuisine, however, you can expand your palate and discover some other equally as popular (although not marketed in KL) Korean recipes. Here we find a focused menu. Ben wanted to concentrate on quality, removing subpar extras and only serving the best. You won't find excessive amounts of banchan (the small plates that automatically come with a meal). Instead, the number is reduced, and each item presented has gone through a careful selection process.
Jijimi – Korean Pancakes
Firstly, The Korean pancake platter, Jijimi Modeum (RM48), is a great way to get a taste of Coré The Korean Cuisine's top sellers. Assorted vegetables, seafood and meat, are coated in an egg and flour batter and pan-fried. Served on a wooden board, the set includes kimchi jijimi (kimchi, onion, seafood), haemul pajeaon (spring onion and seafood), nokdu jijimi (mung bean, beansprout, pork), gogi wanja (pork, chives, carrot, onions), ae hobak jijimi (air-flown Korean zucchini), dongtae jijimi (pollocks), seaweed jijimi and dubu jijimi (organic tofu).
Once you recover from the initial thrill of seeing so many choices in a single-serve, take a look at the presentation. They're served atop a custom-made wooden serving board, which elevates them, just as deserved. And, boy do they merit some promotion. These easy bites come in such variety that there is something for everyone to enjoy. Rich finds the kimchi pancake irresistible, while my fondness is nested in the zucchini. An onion sauce sits unassumingly on the side. Despite its lesser role, though, don't let it go untouched. It is delicious!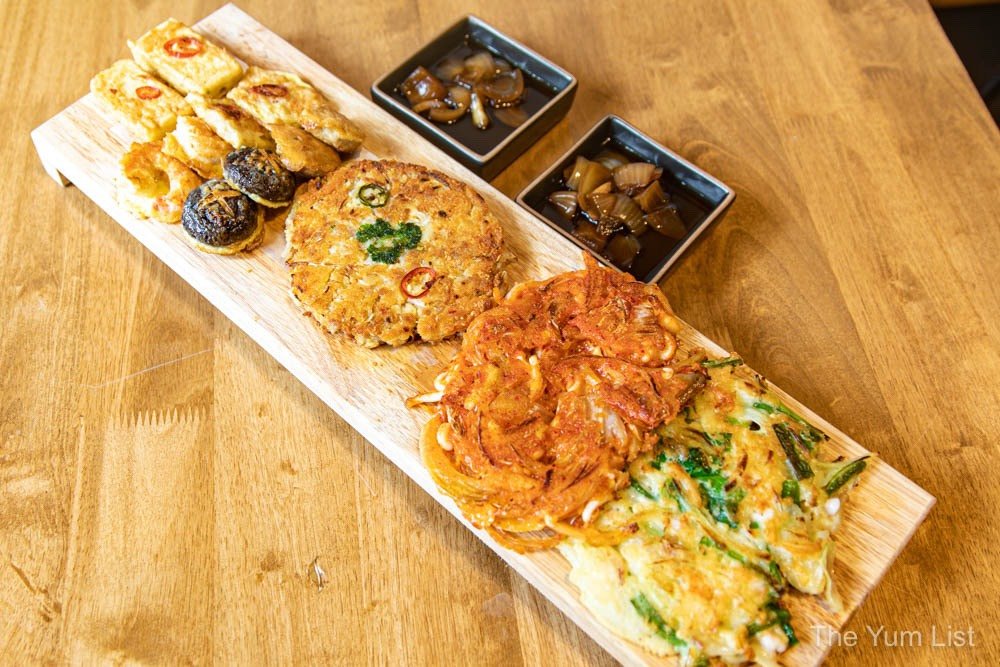 Korean Restaurant Tropicana Avenue
We follow up with Maewoon Pork Galbi (RM 45), sweet and spicy pork ribs served with rice cakes and spring onions. The ribs are braised Korean style for around half a day. Just before ordering they're pan-fried, then the sweet sticky sauce is added. After that, they're garnished with toasted sesame seeds, red and green chillies. The fried rice cakes – often found on skewers and a childhood favourite amongst many nationals – are dense and chewy. On top of the taste, I find the texture so tempting that I have to stop myself from filling up on them and save some space for the meat.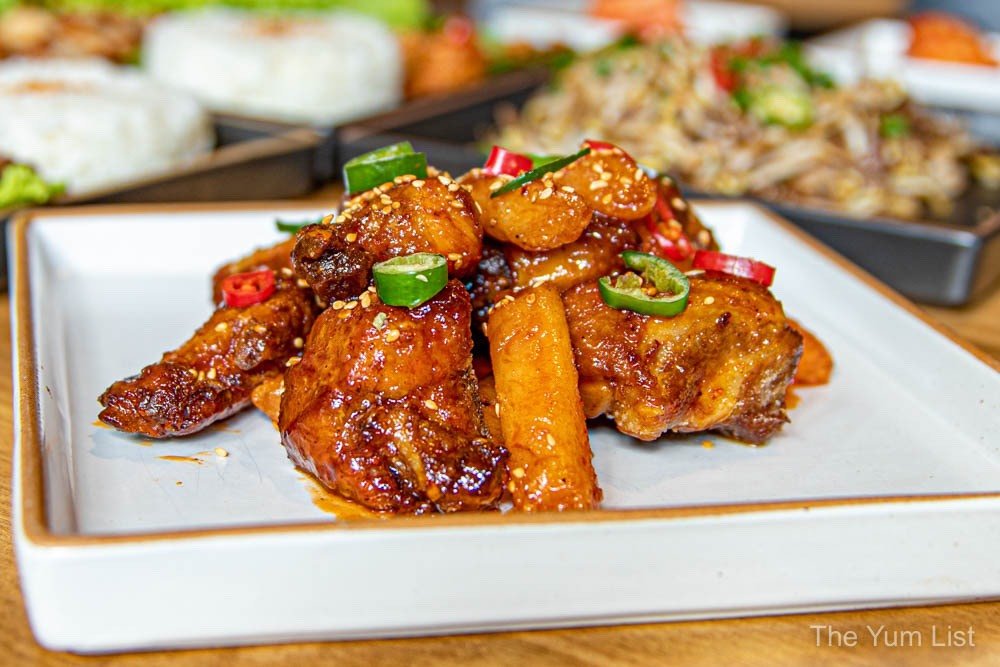 Korean Barbecue
A new addition to Coré, The Korean Cuisine's menu, is Bulgogi Ssam (RM 38). Although a recent entry, the sweet soy-marinated beef is bound to become a popular order quickly. Using Australian sirloin, the meat is grilled with a caramelized onion sauce. It's a classic barbecue dish. Unlike grill restaurants, however, here you can enjoy it without the smoke and noise as the prep is all done for you in the kitchen. Resembling a Korean taco, the meat, rice and condiments are best gloved in a lettuce leaf and relished together in one bite.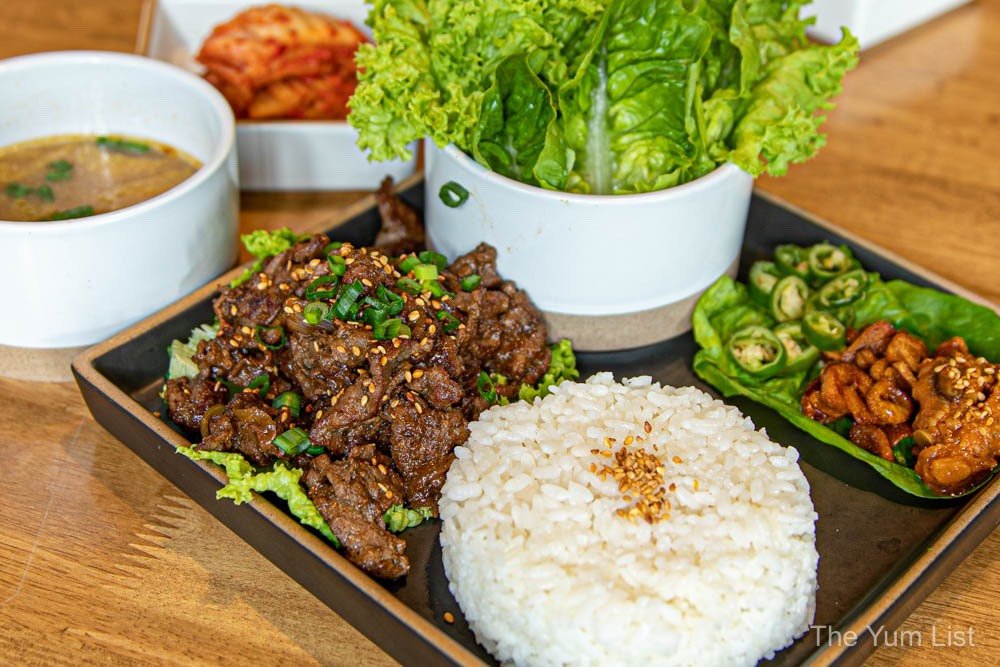 In contrast to the beef "taco," Gang Daen Jang Ssam (RM 38) provides a savoury alternative. The barbecued belly comes with the same condiments of bean paste, fried garlic, chillies and sticky Korean rice. Before dinning in, it's recommended to fill a lettuce leaf with a piece of pork belly and scoop of rice. Next, season this with a little sauce, some garlic and chilli. Lastly, fold over the greens to create a parcel and pop the whole thing in your mouth. I find the chewy garlic alluring and, with no consideration to the nasal comfort of those around me, pile up my bundles with loads of the stuff.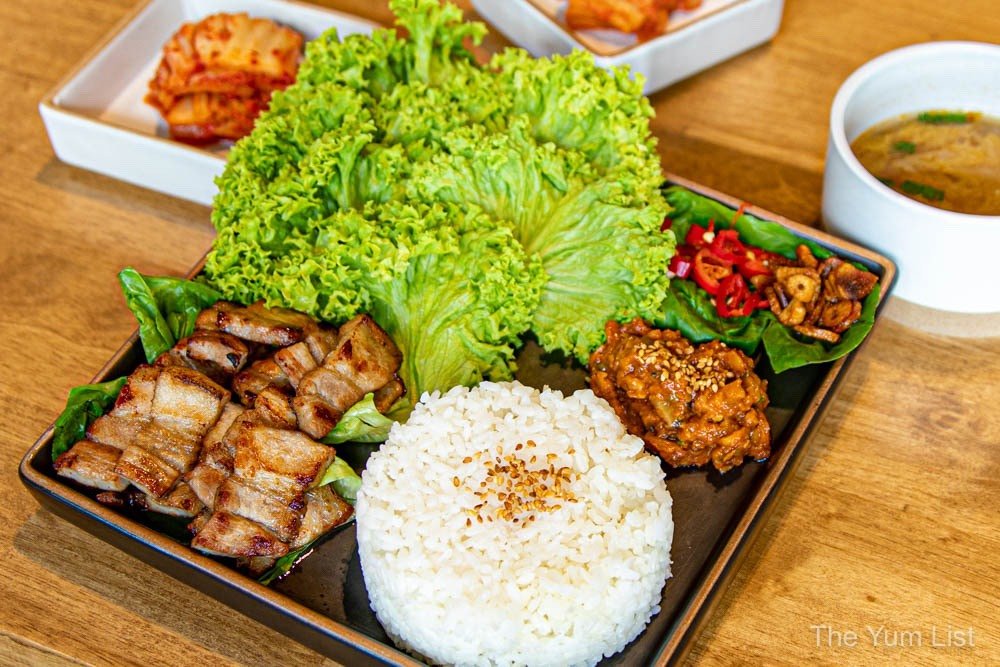 Following up with another savoury recipe, Chadol Sookju Bokeum (RM 32) features sliced sirloin, stir-fried together with beansprouts in a black pepper sauce. Just like the barbecue items, red and green chillies add a pop of colour to the top. It's fresh and easy to eat.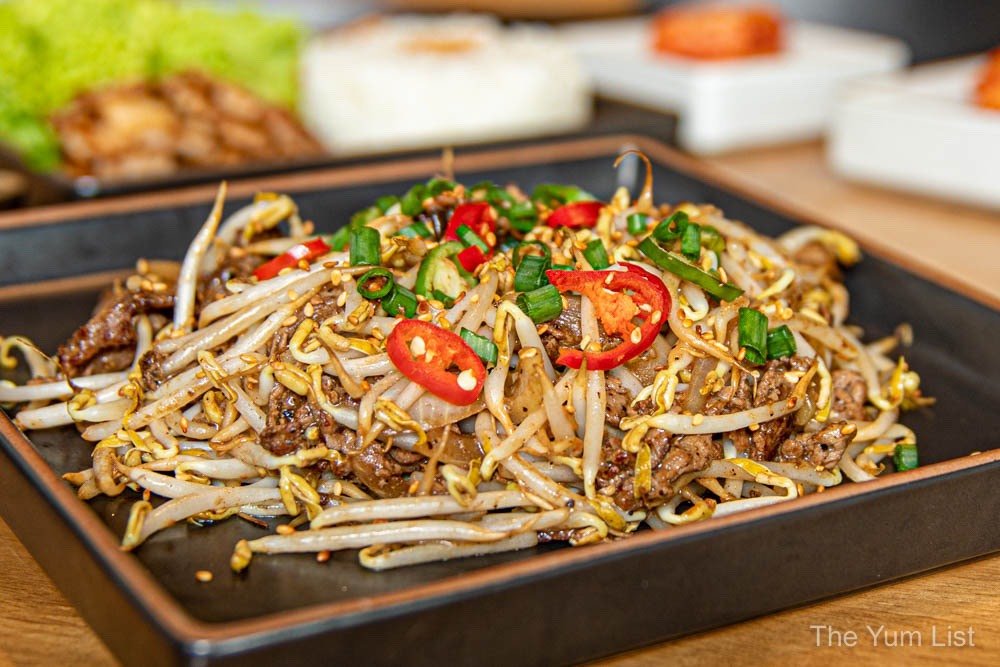 Soup
Definitely, Kimchi lovers must order the Kimchi Jjigae (RM 25). This Korean classic, features house-made kimchi bulked up with organic tofu, pork, onions and spring onions. Despite kimchi's powerful reputation, this home-style of cooking ensures the recipe is flavourful without being overly pungent. Indeed, it is nicely balanced. Illustrated by the empty bowl, I think Rich agrees.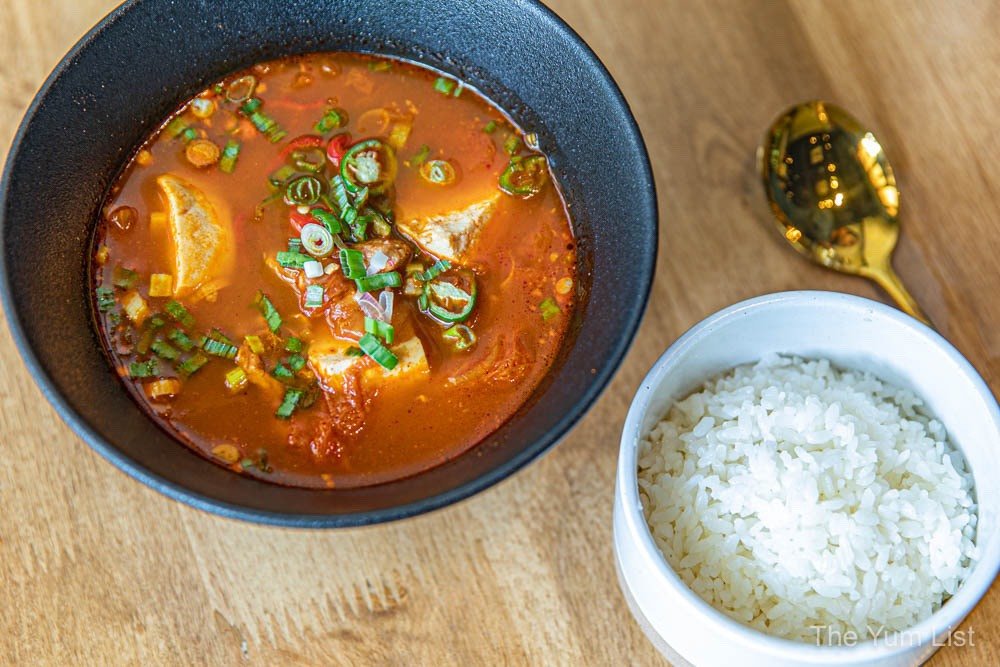 Vegetarian Option
Although meat is definitely at the heart of Coré The Korean Cuisine's menu, the Farmer's Bibimbab (RM18) is a decent vegetarian option. In this recipe, Korean mixed rice bases a black ceramic bowl. It is covered with assorted vegetables and their house-made bean paste sauce. Usually served with a rich chilli sauce, the colour is most often red. Instead, here, they've used a bean paste to make it more accessible to diners.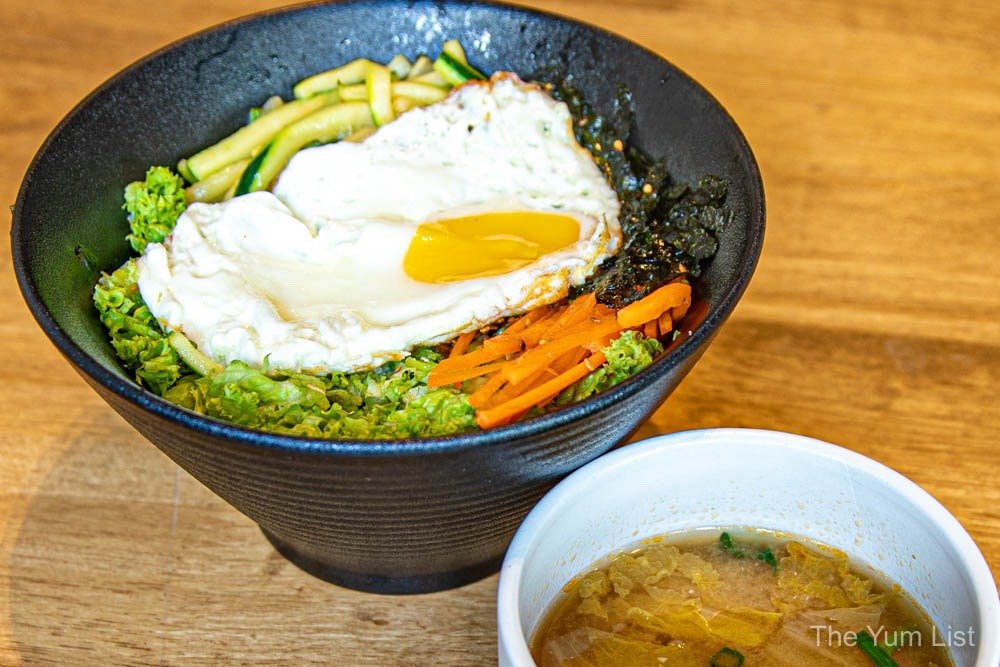 Drinks
Complementing the food, a concise drinks list keeps the menu focused at Coré The Korean Cuisine. Besides some local beer and soft drink, the remainder of beverages is distinctively Korean. From the boozy side, Mak Guli a Korean rice wine furnishes enough versatility to be enjoyed throughout the meal. Serving five to six glasses to a bottle, it's a steal at only RM30!
On the lighter side, the flavoured version of mak guli is a gentle introduction. I try the mixed berries recipe, which is fruity and sweet and work my way up to the unadulterated version. The stainless-steel cups coloured bronze not only look appealing, but they also keep the beverage superbly cold – the only way to enjoy this drink.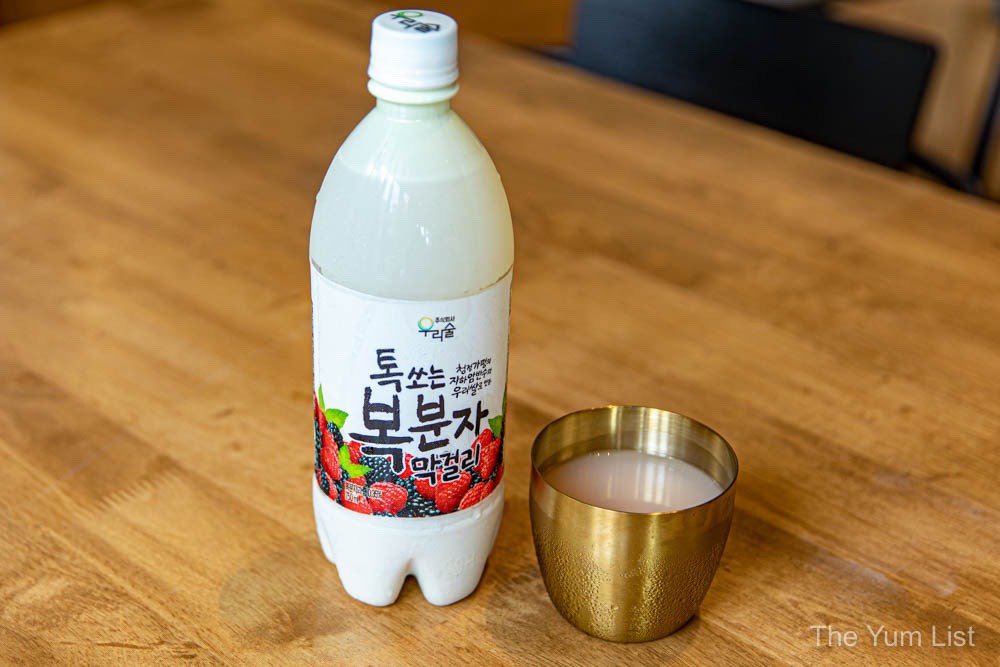 Coré The Korean Cuisine Review
In summary, Coré, The Korean Cuisine, is an intimate restaurant with clean, contemporary appeal. The menu is focused and offers diners a chance to expand their palate with something other than Korean barbecue. It's a great addition to the neighbourhood of Tropicana, and I wish them much success.
Reasons to visit Coré The Korean Cuisine: sleek, welcoming setting; focused menu; affordable drinks; must order the Jijimi Modeum, Maewoon Pork Galbi, Kimchi Jjigae and wash them down with copious amounts of very affordable Mak Guli.
Coré The Korean Cuisine
P-G-10 Tropicana Avenue
12 Persiaran Tropicana Petaling Jaya
47410 Petaling Jaya, Malaysia
www.facebook.com/coreTheKoreanCuisine
+6 03 7494 3801
[email protected]
Coré The Korean Cuisine Opening Hours
Tuesday – Sunday: 12 pm – 3 pm & 5:30 pm – 10 pm
Lover of Korean food? Find more Korean restaurants in Malaysia here, here and here.