Envi SkyDining
Words: Jack Perry    Photos: Rich Callahan
When your dining destination is the 36th floor of a KLCC tower with 360-degree-views and the iconic Petronas Twin Towers sitting in your lap, your expectations are going to be high. Ours were, and Envi SkyDining did not disappoint.
Envi SkyDining
To get there, a cosy glass elevator transported us from Level 33 to 36. When we exited, we were met with a shiny foyer adorned with sculptures, plants and votive candles. To my left and right, were doorways to what may be the largest curving outdoor bar terrace in KL. Additionally, dual sections made parts of it non-smoking, while in others smoking is permissible.
Kevin, our host, led Mon and me up a few steps, past the highly decorated, central bar, to an appealing table for four. Nestled in the corner of the room, it was covered in white linen and adorned with soft pastel placemats and a potted flower.
The dining space is voluminous. Floor to ceiling glass lets the sunlight flood in, and the diverse mix of natural stone surfaces, dark metals, wood accents, plants, and sculptures creates a great impression. At sunset, the alabaster pendant lights and LED accents along the walls activate the space in a completely new way. It all reminded me of the interior of a long-established private club; upscale, chic, and eclectic yet warm and inviting. As a result, I was surprised to hear that they had only been open barely over one month.
Now to eat. Envi SkyDining has excellent views and the entire 36th floor to themselves, so just what kind of culinary delights could this chic and eclectic place offer? And, would they encourage us to return again, and again?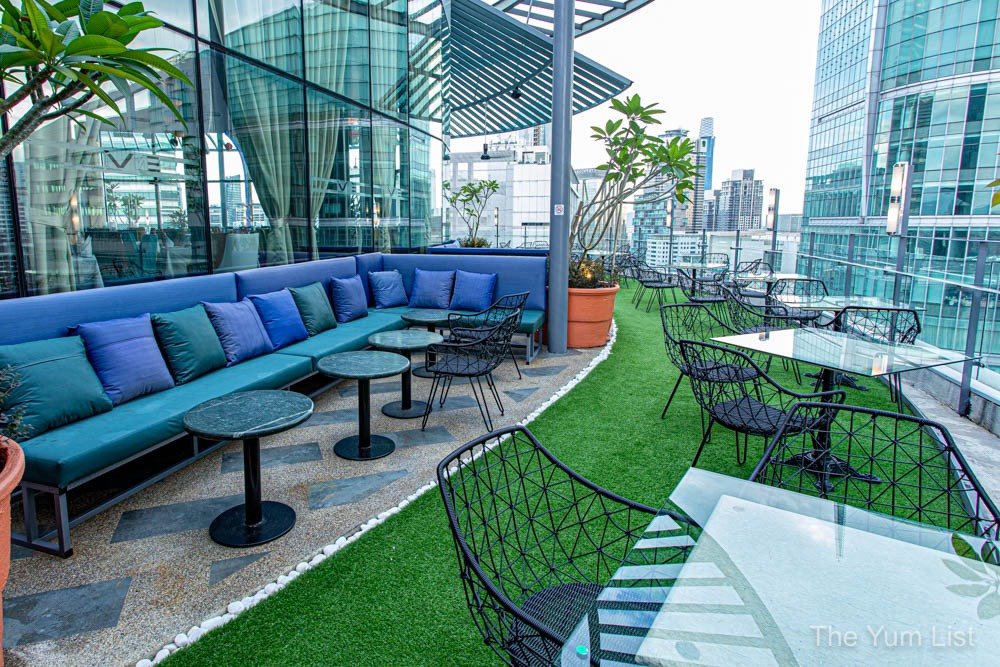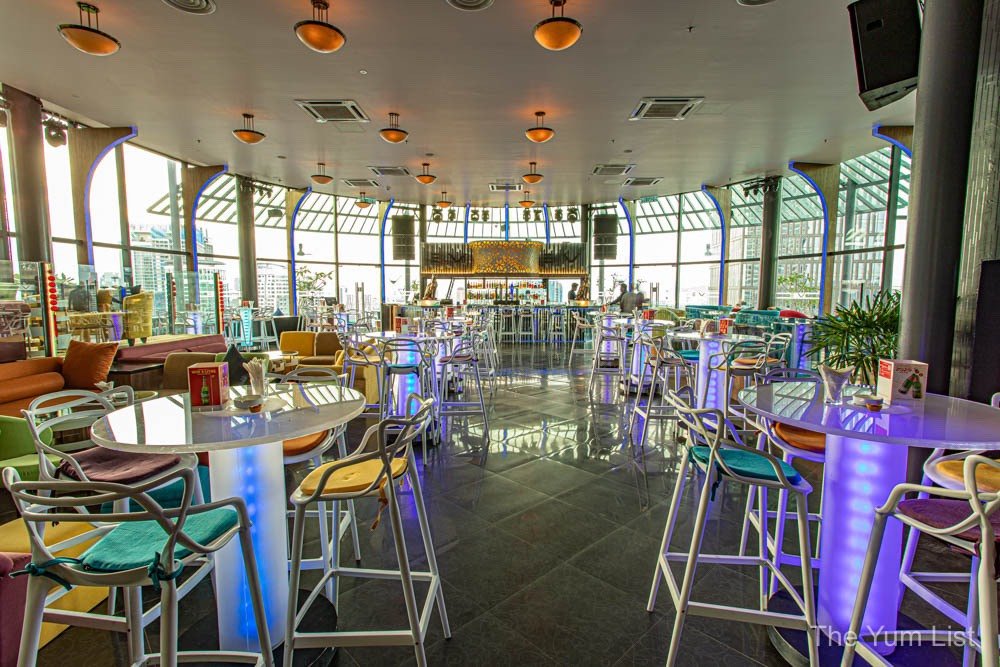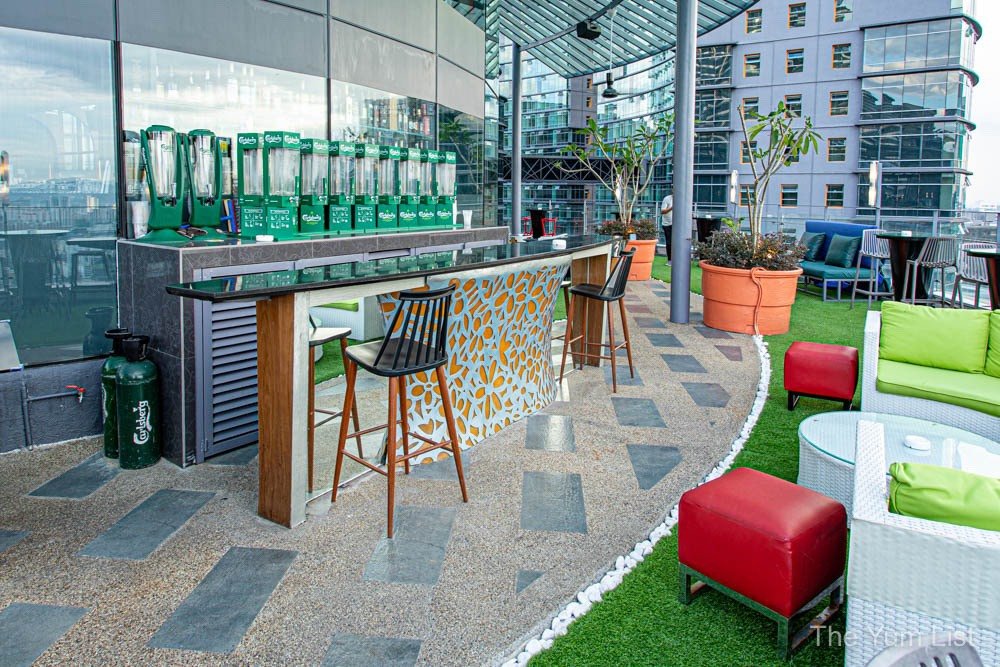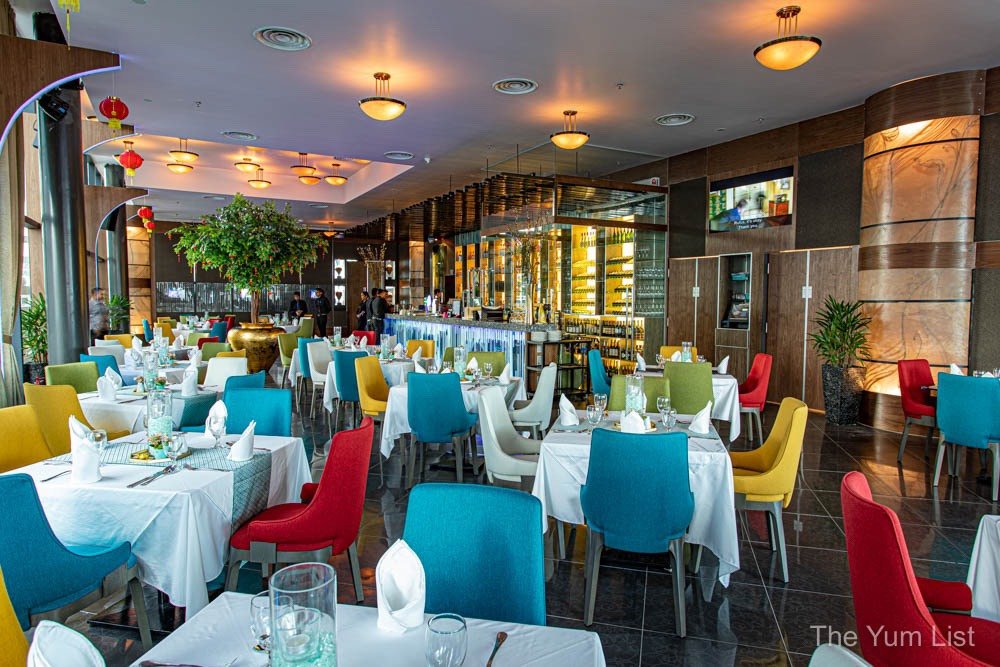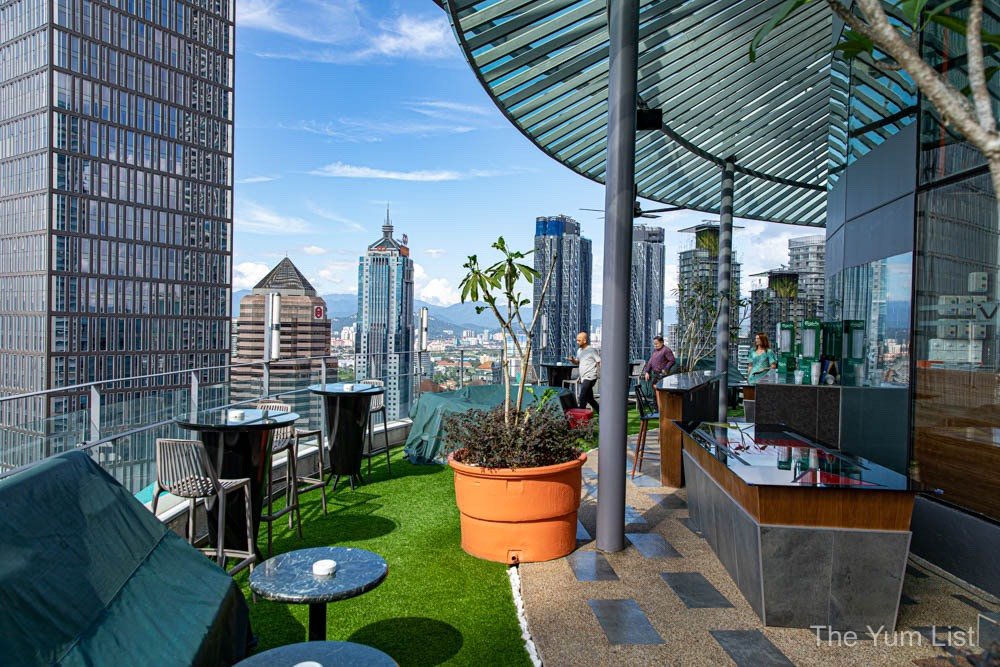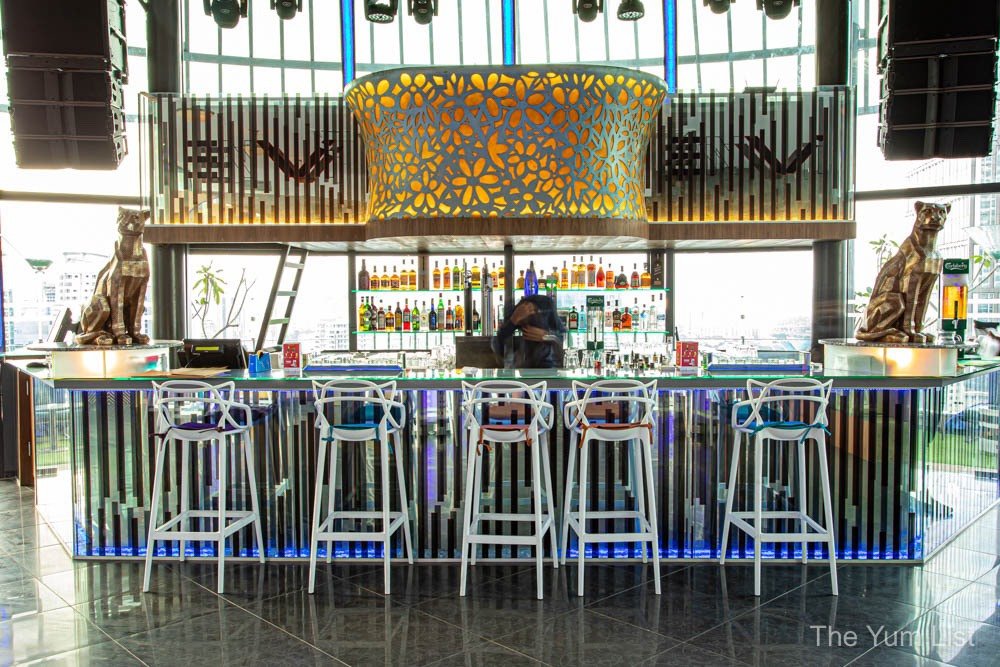 Rooftop Bar KL – Drinks
To begin, the drinks list at Envi SkyDining offers a variety of bottled and beers-on-tap, wine, hard liquor, cocktails and mocktails, fresh juices, soft drinks, coffee and tea. Furthermore, the wine list provides wine by the glass and by the bottle.
We opted for a bottle of Cloudy Bay Chardonnay 2015 (RM350/bottle). It presented a bouquet of blossoms, a hint of citrus and nuance of smokiness. Following the aromas, there was plenty of freshness with further flavours of stone fruit in this medium-bodied wine. Concluding with a thread of toasted hazelnuts, it led out to a pleasing finish. Mon and I had no trouble enjoying this across multiple courses.
While we enjoyed this New Zealand drop, apparently the Jacob's Creek 2018 Chardonnay (RM 250), is one of Envi SkyDining's best-sellers. Worth noting also is the establishment's very generous, 5 to 9 pm Happy Hours. Attractive pricing should be especially appealing for the after-work or pre-dinner crowd. For instance, at 5 pm, you'll pay only RM 10 for a glass of Carlsberg beer, with a RM 1 increase each hour. House pour spirits (gin, whisky, rum, vodka, tequila, brandy) are only RM 10 a shot, and there are a bunch of bottle specials too!
Envi SkyDining Menu – Food
Browsing the menu, we saw lots of western influence in the dinner menu with distinctively local (and very affordable) options for lunch. We decided on a wide variety in an attempt to understand how the Envi SkyDining menu might appeal to both the experienced food aficionado as well as to picky eaters and younger diners.
Lunch
As mentioned, the lunch menu at Envi SkyDining is excellent value. Most meals are less than RM 15 and come with iced tea or hot tea or coffee! The Flat Noodles with Beef, Ginger and Spring Onions (RM13.80) is set in a subtle, creamy sauce and accompanied by soy sauce and chilli padi. Certainly, you might find similarly good deals in the street food stalls around KL, but none provide a view with lunch like this.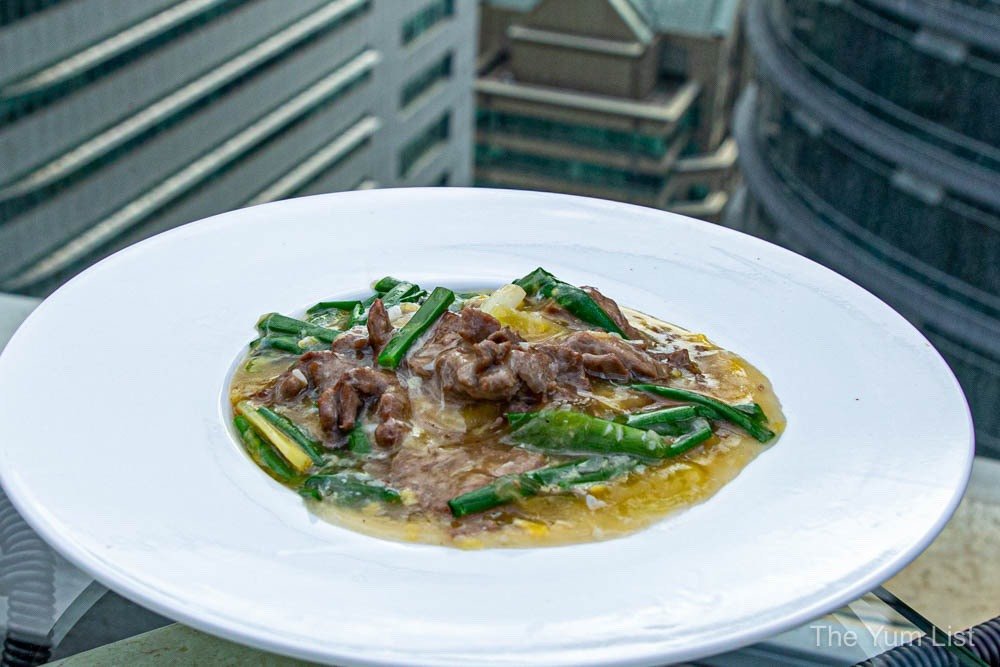 Dinner
Starters
Our first selection on Envi SkyDining's dinner menu was an Avocado Chia Seed Salad (RM22). This heaped mixed-green plate was accented by red cherry tomatoes and thin soft-pastel green avocado slices. The dressing was light and creamy, and I could easily eat just this one salad and be quite satisfied.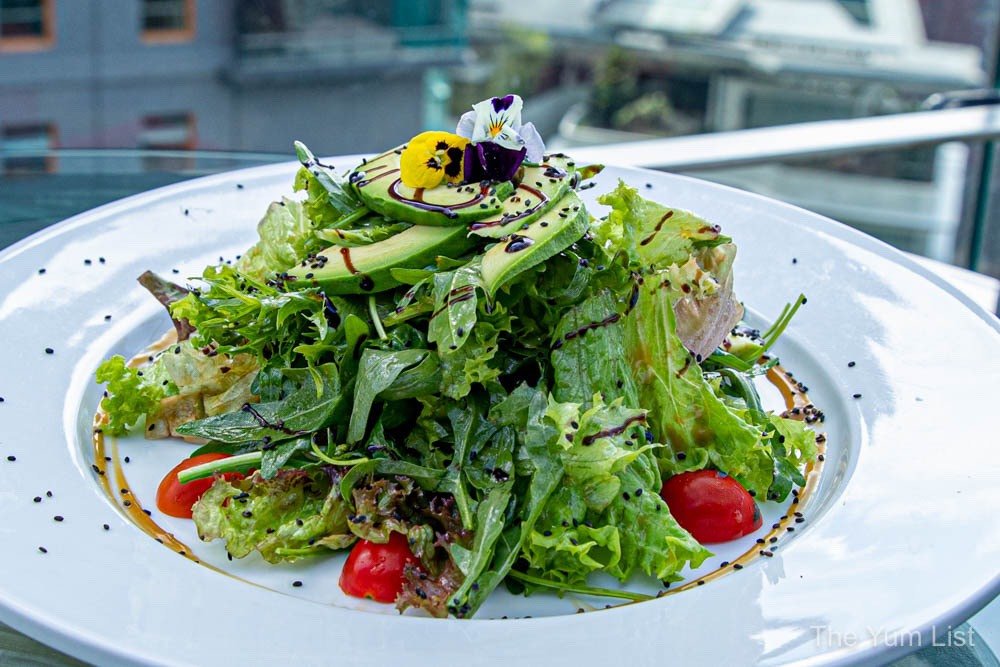 Another vegetarian recipe keeping Mon happy was the Braised Eggplant (RM20). It was set in a rich, robust red sauce with an immediate aroma of smoke coupled with spice. Three pieces of toast accompanied the dish, but the sauce was so good, we asked for more!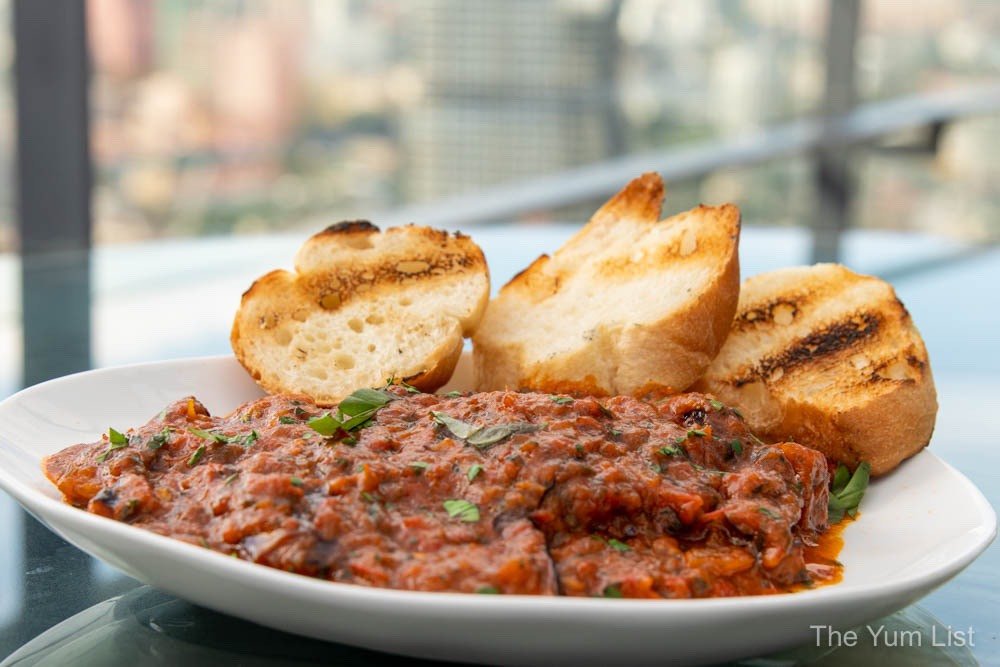 Due to its infrequent inclusion on menus in KL, we also requested the Spanish Seafood Soup, Zarzuela de Marisco (RM18). This colourful dish was plumped by three good-sized prawns, calamari, mussels and clams. Besides the abundance of seafood, the tomato broth, packed with herbs and garlic, was noteworthy all on its own. Of course, a dash of Pernod didn't go unnoticed either.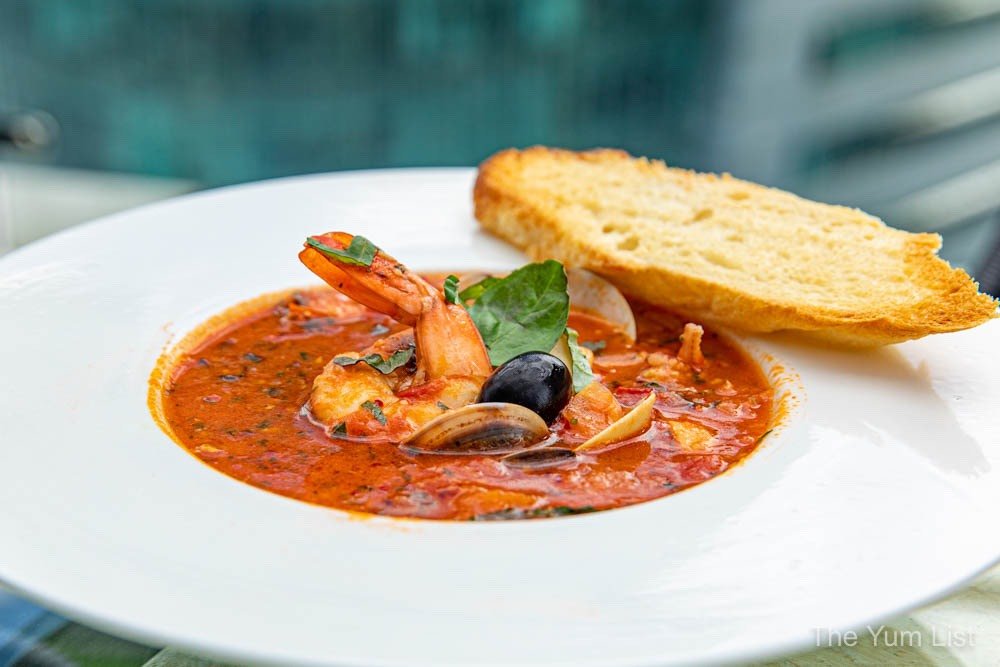 Pizza and Pasta
With nine pizza options, we chose a basic Margarita (RM28) to evaluate the foundation of Envi SkyDining's pizza preparation. The crust was thin and crispy, and the tomato sauce packed a decent amount of flavour. While a bottle of Tabasco is served along with the pizza, my secret pleasure is a drop of Balsamic vinegar. It makes a great happy hour companion. Moreover, for the finicky eater, there's a half and half option.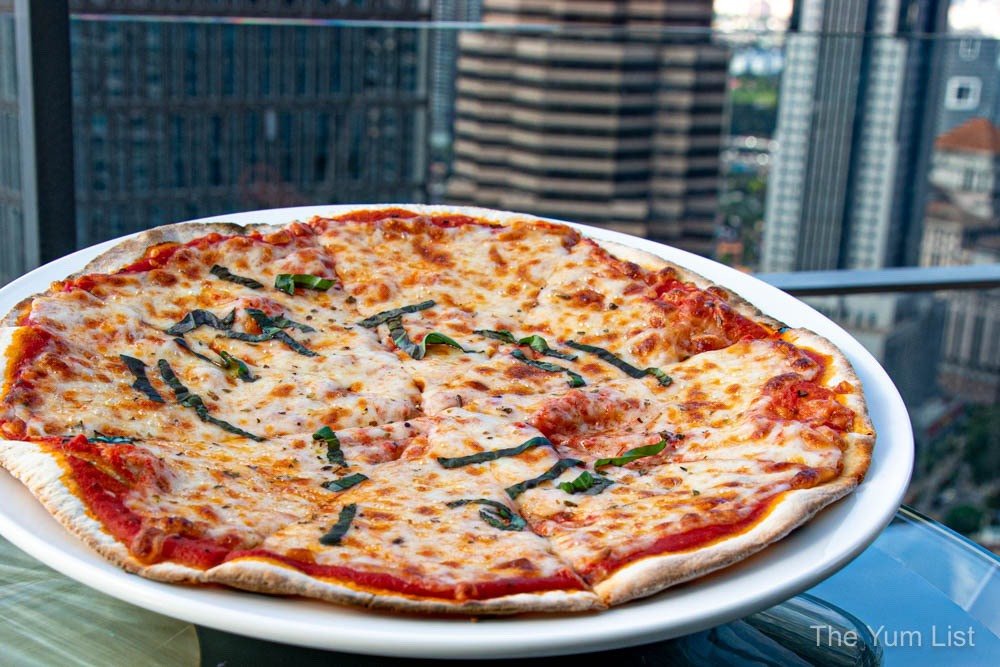 The next dish opened my eyes to some of the largest parcels of ravioli I've come across. The giant-sized Mushroom Ravioli (RM58) at Envi SkyDining is set in a generous pond of intense, green pesto and cream sauce. The ravioli was firm but tender, and if you are a sauce fan, you'll have no complaints about the kitchen's generosity.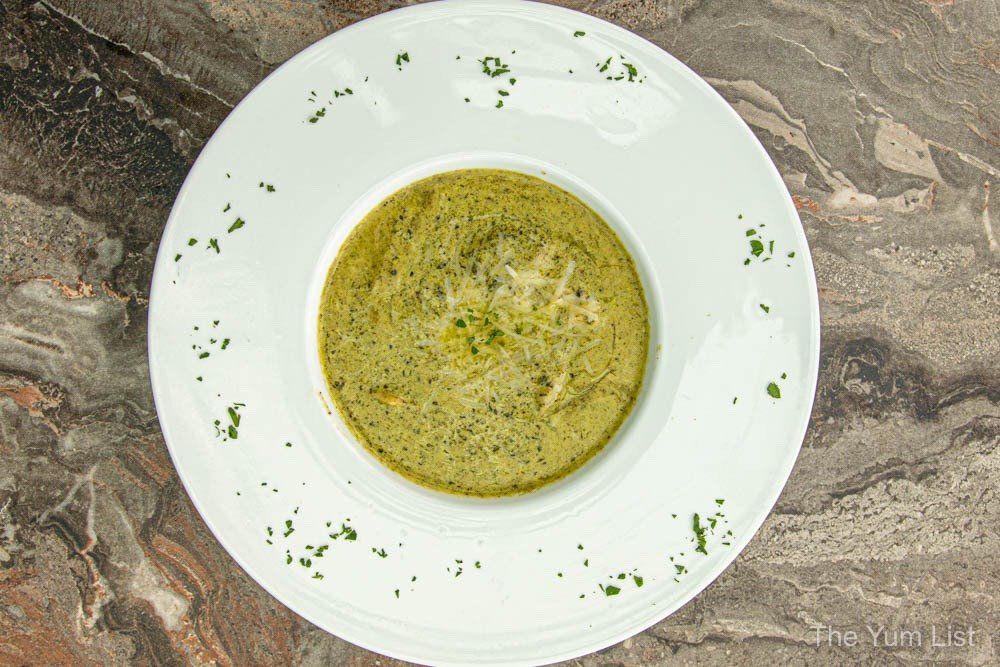 Mains
Of six appealing burger options, we excitedly selected the Wagyu Avo Burger (RM48). The large plate held a sizable and robust burger patty that was built-in-house. Along with that, melted cheese, avocado aioli, pickles and grilled vegetables were also hugged by the soft white bun. On the side, tortilla chips, a cup of French fries and a bowl of ketchup completed the meal.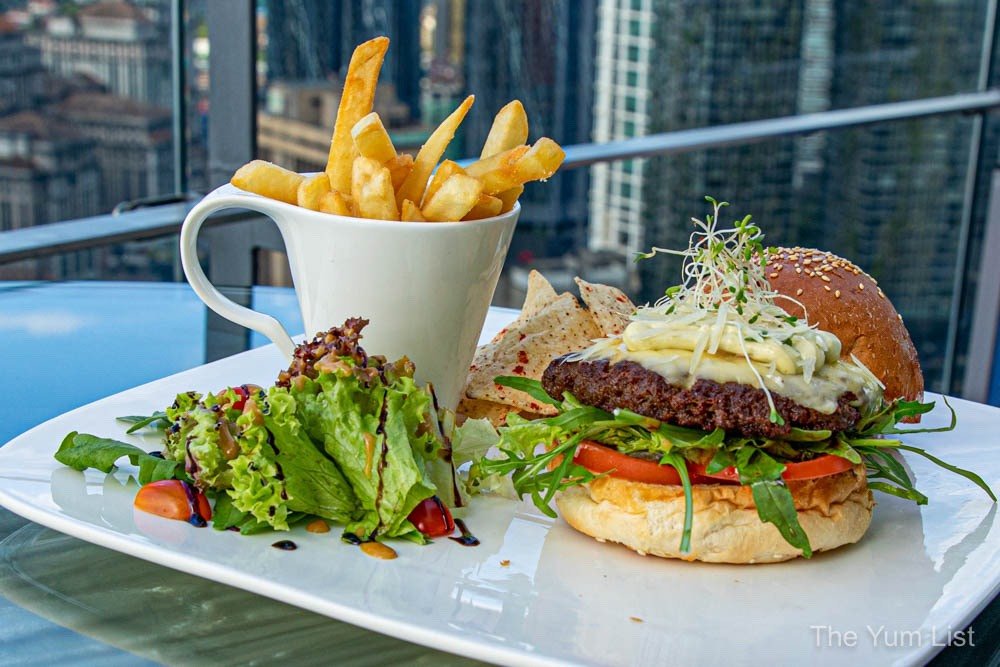 Three sizable Grilled Lamb Cutlets (RM88) were happily undertaken next. They rested on a bed of creamy mashed potatoes. They offered a wonderful bouquet thanks to Envi SkyDining's in-house rosemary sauce and truffle oil. The lamb was tender, succulent and lean. We'd order this again.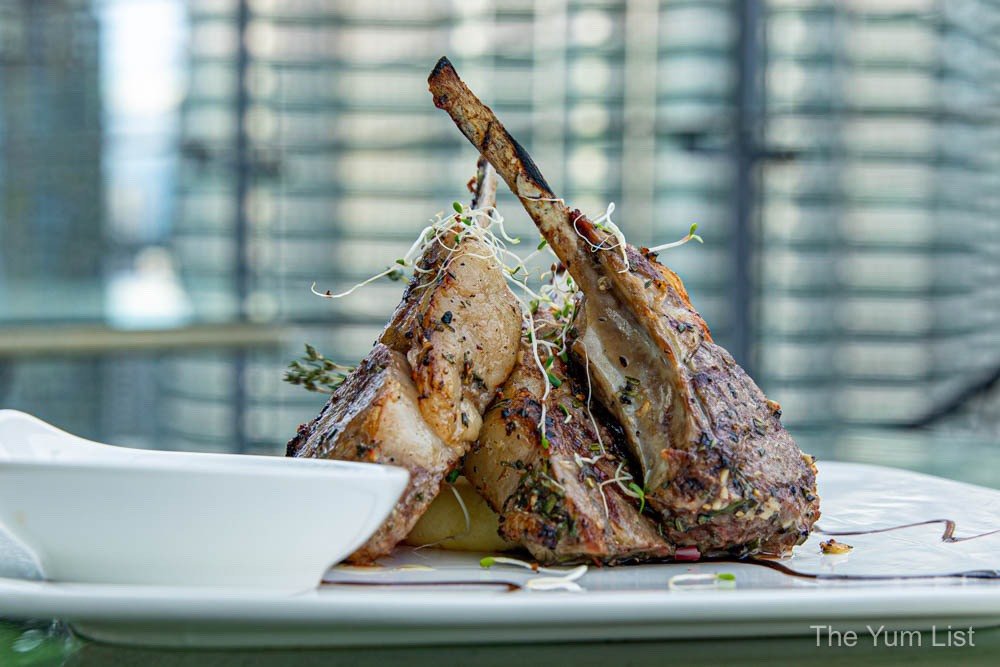 Desserts
It's not common to see a menu with a full ten dessert choices. Our server suggested we try their signature Crepe Suzette as it's flambeed table-side upon serving. A small glass of Grand Marnier is warmed and ignited and poured over the crepe. It mixes with the vibrant orange sauce, and the final addition of vanilla ice cream melts enticingly into the mix. This went particularly well with our last few drops of chardonnay.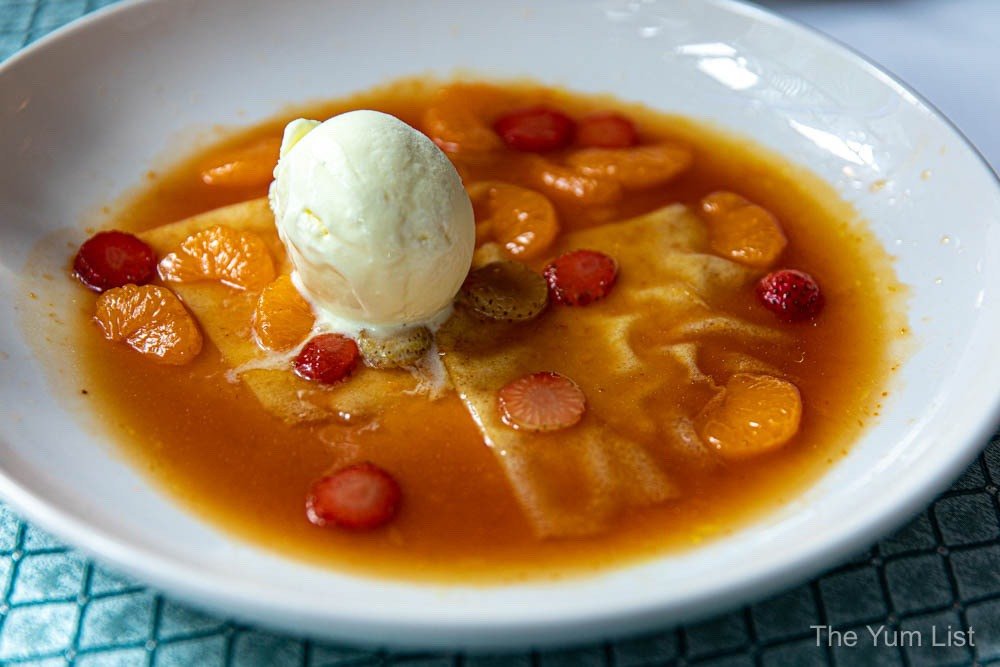 Envi SkyDining Review
In summary, Envi SkyDining Club, Bar & Restaurant is a rooftop dining and drinking experience that provides 360 Degree views from KL's city centre. Cheap lunch deals are a bargain considering the location, as too are happy house deals on beers and bottom-shelf spirits. You can sip and savour at reasonable prices while rush-hour traffic creeps along, 36 floors below. Stay a little longer, and there is a comforting dinner menu too.
Reasons to Visit Envi SkyDining Bar, Club & Rooftop Restaurant: Happy Hours – 5 pm to 9 pm daily; unforgettable 360 Degree views; pleasant indoor-outdoor spaces – the terrace is especially attractive in the evenings.
Location
Envi SkyDining – Bar & Club
Level 36, Rooftop Menara TA One
(Take core lifts to 33, separate lifts to 36.)
22 Jalan P Ramlee
Kuala Lumpur, Malaysia
[email protected]
www.facebook.com/enviskydining
+60 19 771 7170
Envi SkyDining Openings Hours
Lunch, Dinner, Dessert, Drinks/Cocktails and Coffee
Daily, Lunch: 12:00pm – 3:00pm
Dinner: 6:00pm – 11:00pm
Later in the evening, the dining area opens up to the adjoining Club Space for late night/early morning toasts.
* Casual chic attire
** Street and underground tower parking
*** Reservations accepted online, and for events, marketing and collaboration and reservations of groups of eight or more, please call +60 19 771 7170
**** Pork-Free. Meats Halal-certified
Find more rooftop bars with excellent KL views here and check out Envi SkyDining's sister rooftop bar, Roofino, here.