De.Wan 1958 by Chef Wan
Words: Anna Chew   Photos: Rich Callahan
How often have you been invited to dine in a Malay family's home? If those invitations are not as often as you'd like, you're in luck! The concept behind De.Wan at The Linc KL is to provide meals home-cooked in style, for individuals or groups. Founded by the effervescent Chef Wan, the décor is reflective of his character; bright, bold and cheery. It allows for many beautiful Instagram moments, but not to be overshadowed is the food. If anyone has created mod-Malaysian, it is Chef Wan.
The team at De.Wan, headed by Executive Chef Zabideen, keeps things lively, changing the menu every three to four months. Utilizing Malaysia's vast culinary culture, they bring dishes from each of the country's 12 states. Since opening, they've added a high tea menu, served from 2:30-4 pm, and that is what we're here to try today.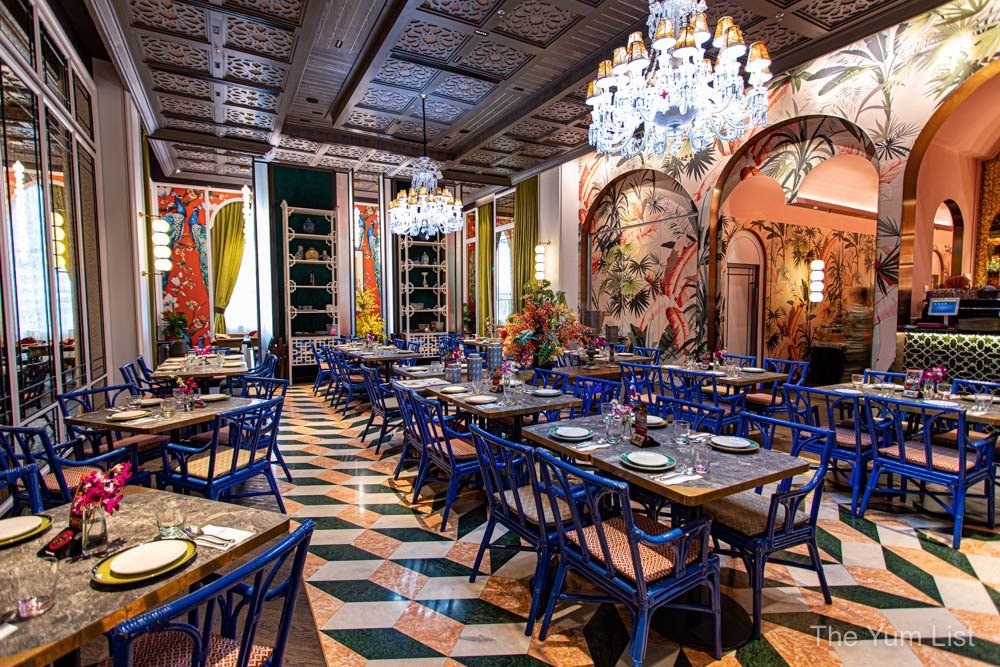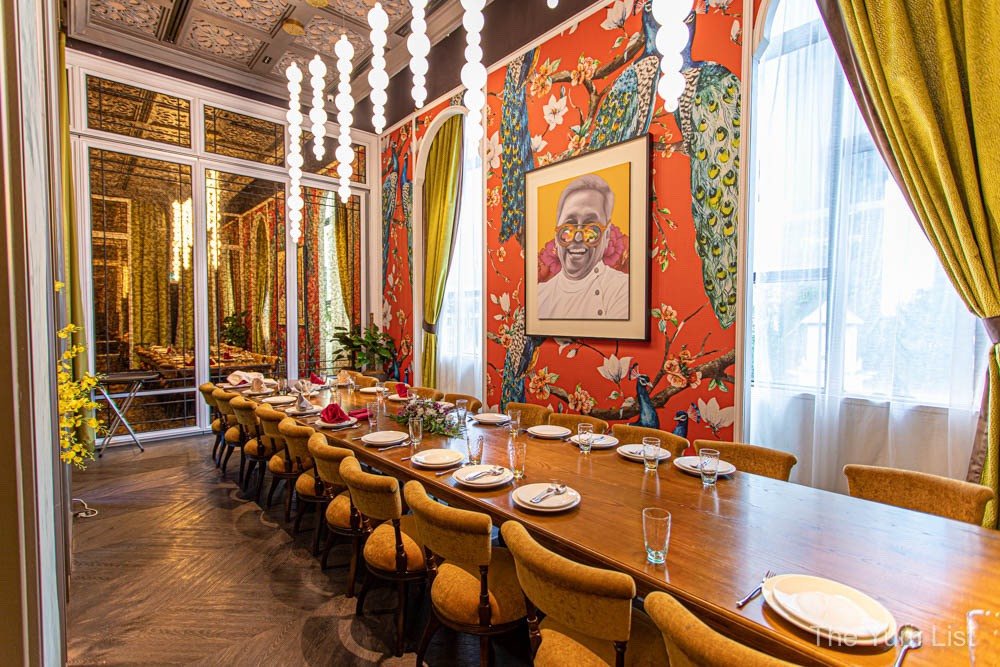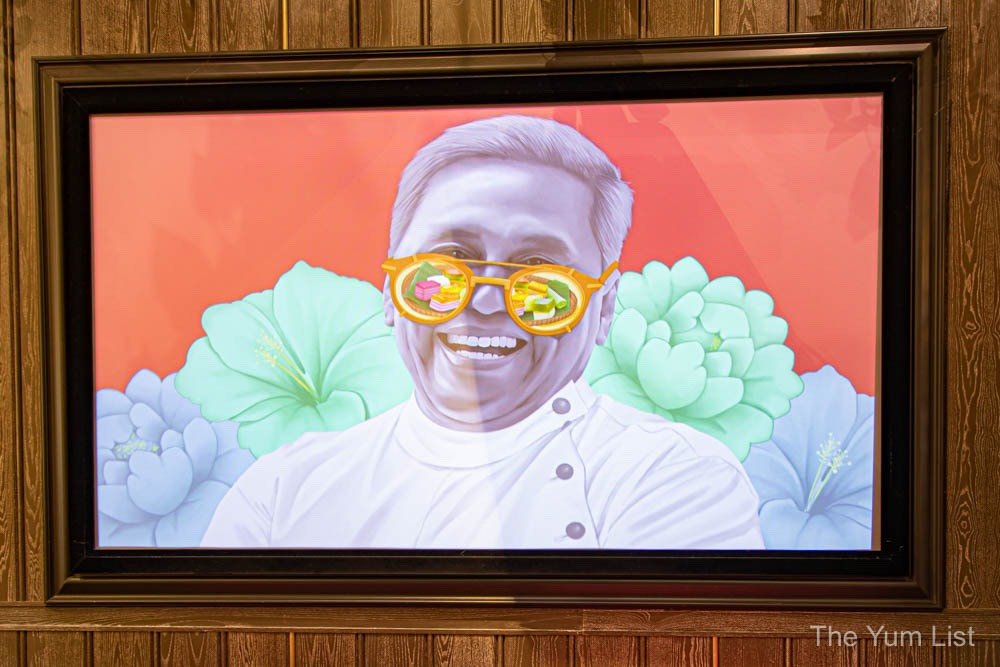 De.Wan High Tea Menu, The Linc KL
De.Wan's High Tea (RM168++ for two pax or RM258++ for four) comes with a mixed tier of sweet and savoury items, two noodle dishes, a cendol dessert and tea by the pot. Apart from this, you can top up with two cold-pressed juices for RM29++.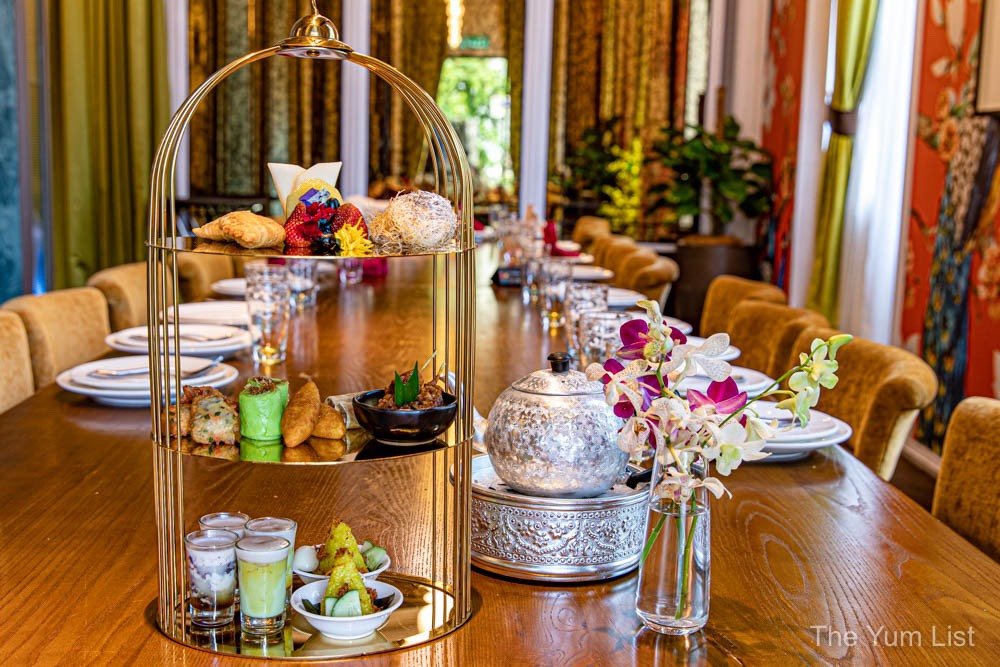 To begin, three tiers promise some memorable Malay recipes. We especially enjoy the pulut kuning (yellow sticky rice) with serunding. That's a winner! The texture of the rice along with the finely pulled spiced beef (floss) is a rare offering. In addition to this, the celebratory dish is often served during Ramadan and is unlikely to be found on many menus in the city. Another treat, the curry puffs are encased in flaky layered pastry, and the satay is chunky yet tender, with a lovely thick peanut sauce.
While the savouries might be the best place to begin, do be sure to save room for the sweets. There is a good selection of kuihs (bite-sized desserts) and the bubur (local porridge-style sweets) are lovely, providing a good balance of sweet and savoury. A hit with everyone is the pandan crepes rolled with grated coconut and palm sugar. Last but not least, the flavours of pandan, coconut and gula Melaka (palm sugar) are also reflected in the puddings. Yum.
The Rest of the High Tea Set at De.Wan
Alongside the set, you can choose between Laksa Johor and Chef Wan's Mee Rebus Udang in a half portion for the noodle selections at De.Wan KL. Additionally, they can also be ordered from the Malaysian Tea Delight Menu for a full portion.
Especially mouth-watering, Laksa Johor (RM32 – full portion) is served with spaghetti and topped with a spicy and fragrant sauce thickened with shredded fish. This is a dense, flavourful (almost dry) broth and is one of the best, I think, in town. Homemade chilli sauce adds a further kick without burning your tongue off. Apart from this, there's a nice crunch from the bean sprouts and so much freshness from the abundance of herbs. Of equal importance, the bean sprouts are served without the root head. I am certainly appreciative of such detail and highly recommend this dish.
The other option with the High Tea set (but can also be ordered as a main) is the Chef Wan Mee Rebus Udang (RM38 – full portion). With a beautifully infused prawn broth, we've heard that this is the chef's personal comfort food. At De.Wan KL, it is upscaled with huge plump prawns. Differing from many on the market, we love the thickness of the broth; nothing is watered down here. Beware, however, if you are not used to such pungent flavours, this could be a bit much for newbies to Malay cuisine.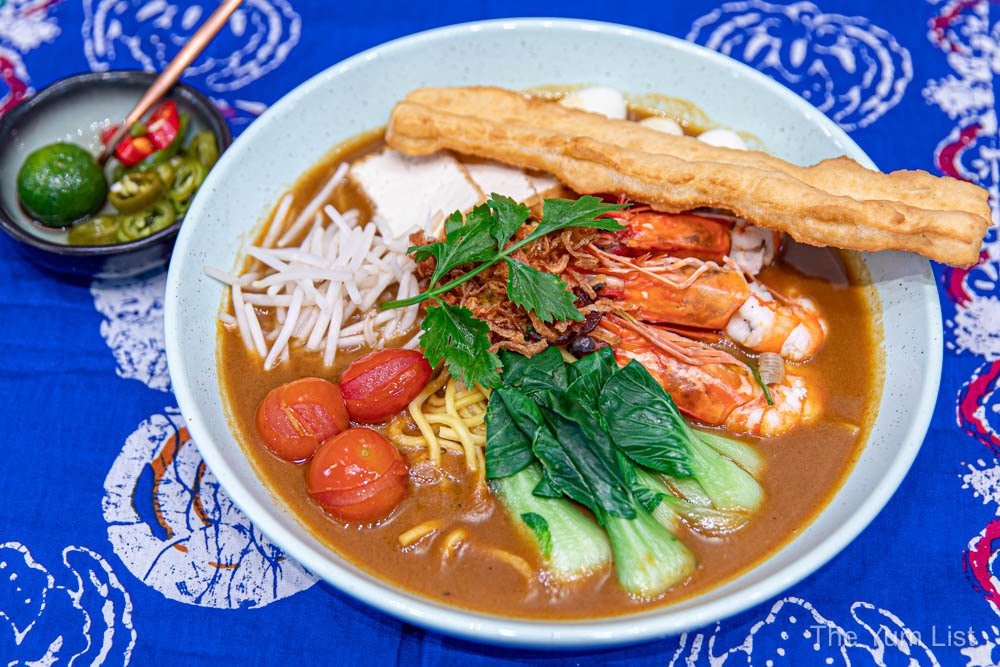 Besides a pot of tea, we have two cold-pressed juices (RM29++ for 2), a top-up available with the High Tea set at De.Wan. The Kale & Green Apple is a delicate balance of herbal and sweet. On the other hand, the Beetroot & Red Apple offers an earthy foundation with a pleasing zing in the finish.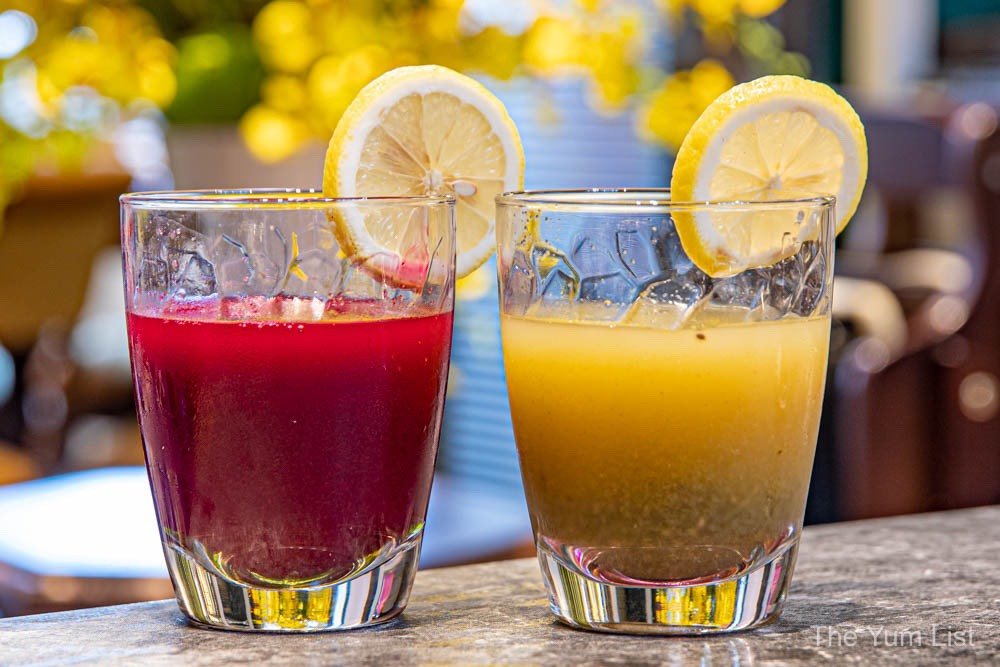 Tea Time Mains
In addition, for a heartier afternoon meal, guests can order from the Tea Time Mains menu between 2:30 and 4 pm. There is a mix of snacks and mains, which can be shared, and these are all familiar local favourites. The portions are very generous!
Firstly, we highly recommend the Cucur Udang (RM26), which comes in two ways. One option is crispy, the other softer to the bite. Fresh tiger prawns, dried shrimp, bean sprouts and chives plump up the former, while the latter is without the prawns. Coupled with Chef Wan's signature sauce, a sweet chilli sauce, and a peanut sauce, it's a great choice.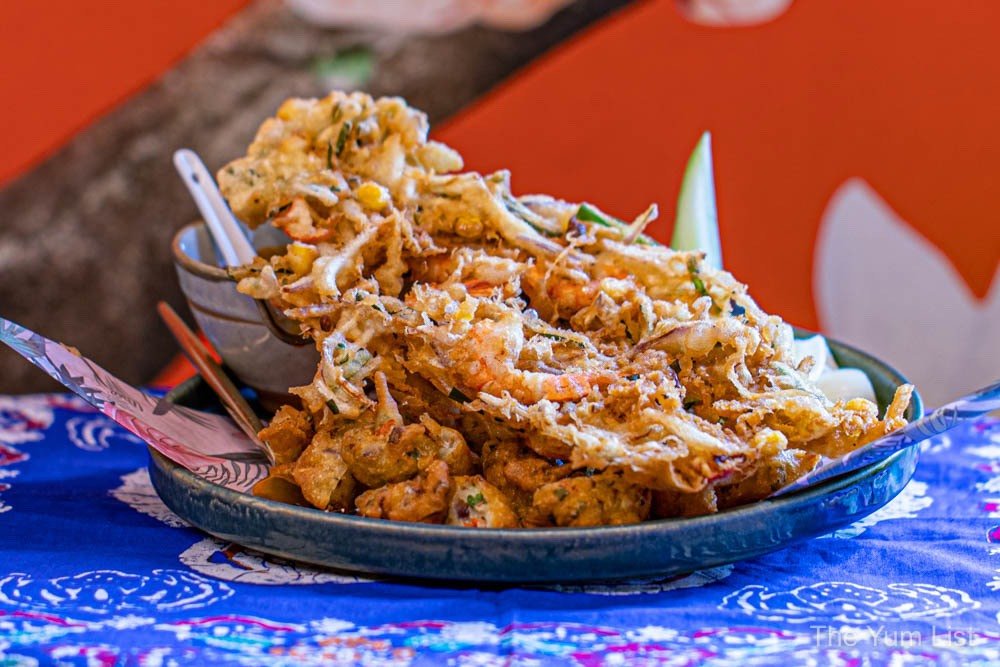 Alternatively, meat lovers should enjoy the Aneka Satay (RM36), an assortment of juicy, tender charcoal-grilled chicken and/or beef skewers. They're marinated with local spices and served with traditional steamed rice cakes, fresh cucumber and red onions. Equally important, the peanut sauce is thick and rich but not oily, a flawless mate for the well-marinated meats.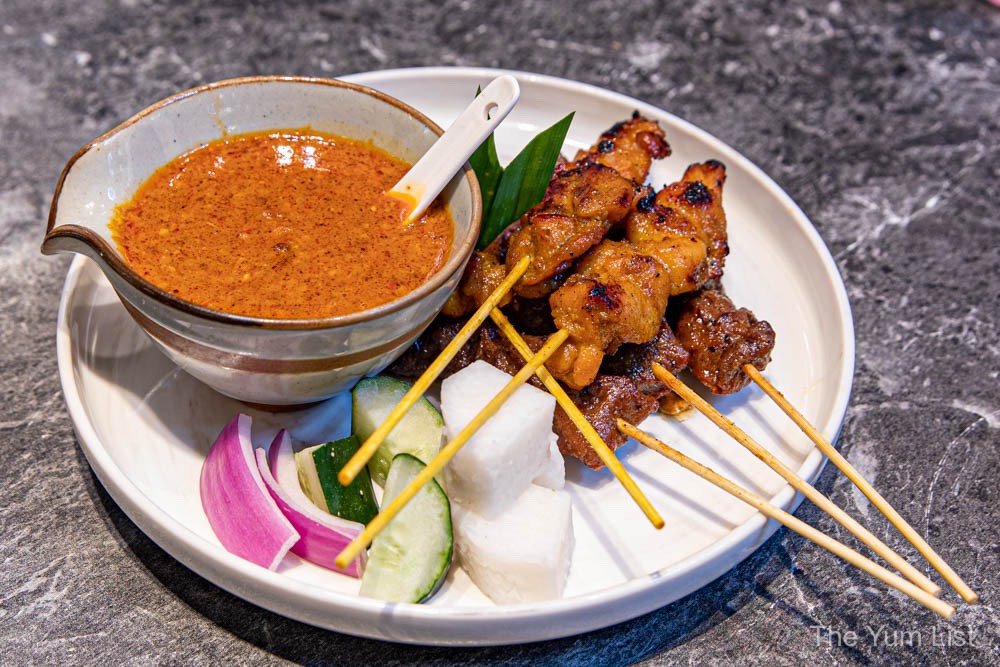 Our Favourite Dishes
Unquestionably, we've saved our two favourite dishes to last. For those craving the ever-popular local breakfast dish, there is the Nasi Lemak Pandan (RM32). It comes with sweet cuttlefish sambal (warning – spicy) and tasty, aromatic chicken. Screwpine is responsible for the green hue of the rice, a tropical plant known here locally as pandan. Furthermore, halved boiled eggs, crispy anchovies and peanuts finish off the dish with a change in texture and a bit of saltiness.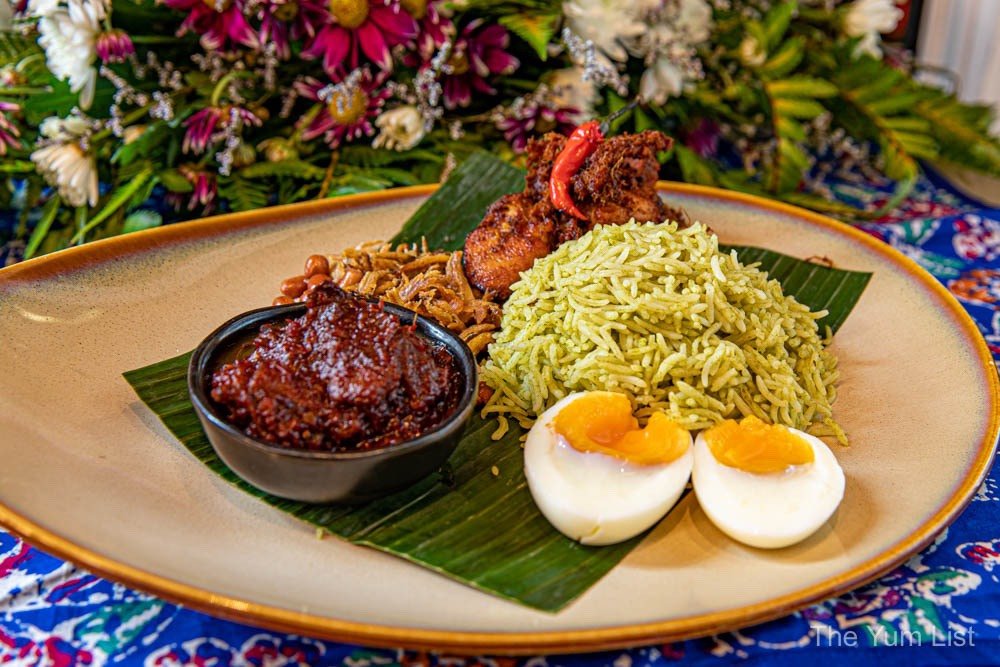 Possibly saving the best for last, Kerabu Mee Hoon Nyonya Bunga Telang (RM28) is a must-have and an absolute feast for the eye! Another rare traditional dish, the one at De.Wan KL has a modern style of presentation, yet the taste is reminiscent of old. With their special garlic plum sauce, it is light and refreshing with a plethora of flavours and colours. Moreover, crunchy dried shrimps provide additional texture and taste – they're just one of thirteen ingredients incorporated into the butterfly pea flower-stained glass noodles.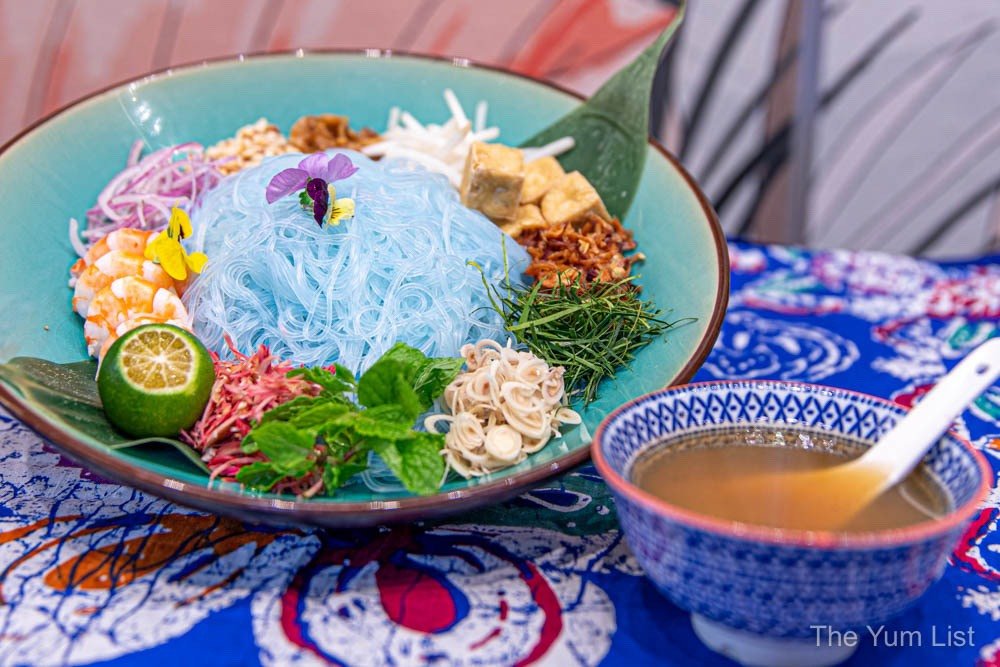 De.Wan at The Linc KL Review
To sum up, De.Wan at The Linc KL is a fantastic spot to take visitors or to enjoy a delicious afternoon in a beautiful environment. Recipes are founded in Malay tradition, and the presentation is eye-catching. The team here provide a quality meal and friendly service in an attractive setting.
Reasons to visit De.Wan 1958 by Chef Wan: family recipes not often found in restaurants in KL; OTT décor (love it); must order the Nasi Lemak Pandan, Kerabu Mee Hoon Nyonya Bunga Telang and Johor Laksa.
De.Wan 1958 by Chef Wan
Lot 2 – 2, Level 2 The Linc KL
No.360, Jalan Tun Razak
50900 Kuala Lumpur, Malaysia
www.facebook.com/dewan1958bychefwan
+60 10 207 0383
* Pork-free
De.Wan 1958 by Chef Wan Opening Hours
Monday-Thursday: 11 am-4 pm (Tea Time 2:30-4 pm), 6 pm-10 pm
Sat & Sun: 11 am-10 pm
Find more options for beautiful Malay cuisine here, here and here and a fun contemporary take here.