Lounge in the Sky Malaysia
Monica Tindall
Lounge in the Sky takes the meaning of sky bar quite literally! Hoisting guests, the lounge and waitstaff, 150 feet in the air, the open-walled salon really does have guests drinking in the heavens.
Lounge in the Sky is the newest addition to a group of attractions by TwoSpicy Entertainment. Dinner in the Sky, Plane in the City, Whimsy, Le Petit Chef, Marco Polo and Tropical Colada have pathed the way for the latest inclusion.
Originating in Belgium, the unique design of Lounge in the Sky allows for intimate groups of up to four people, a larger space catering for up to 32 people and an add-on stage allowing live performances or other presentations to take place.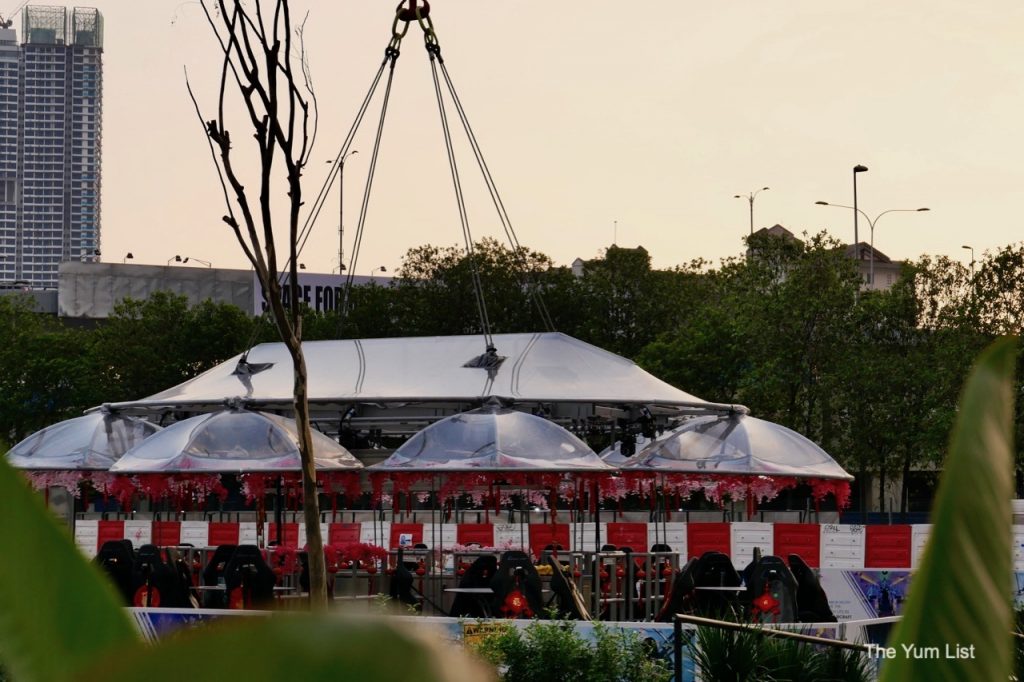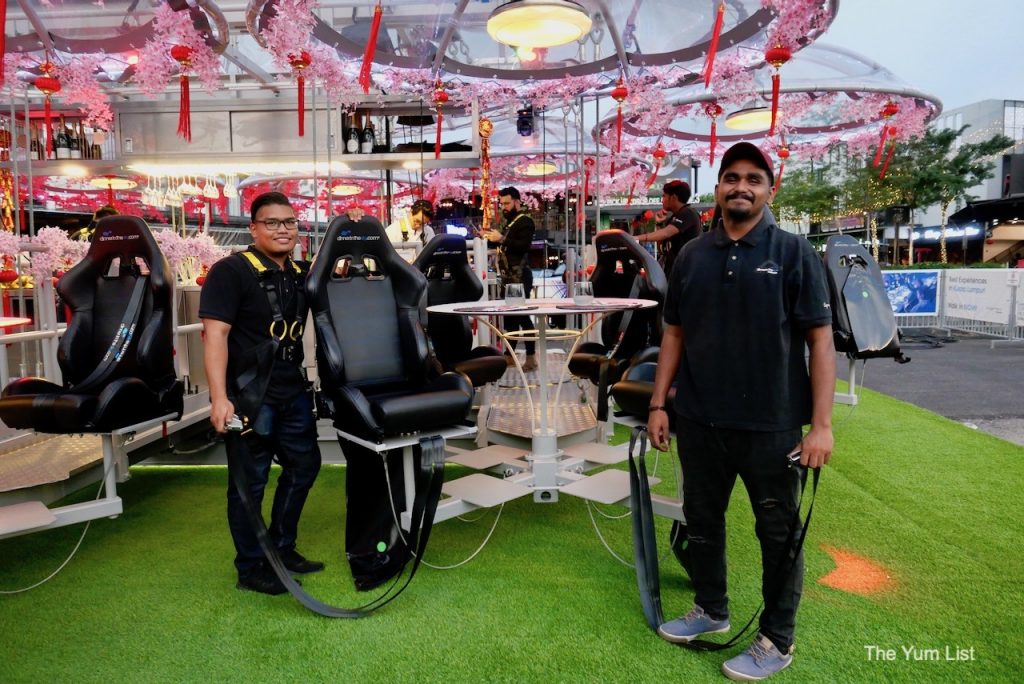 Lounge in the Sky Kuala Lumpur Menu
The views are not the only thing to feast your eyes upon. Chef Steve Ariffin has prepared a menu of canapes, and award-winning bartender, Osmund Bernard has curated a cocktail or two to sip on.
Our style preference is definitely boozy, so we skip the Queen of Dynasty and Yellow Fany mocktails and request the liquored-up recipe, Mother of the West. Tito's vodka, spiced red vermouth, peach tea, lemon and kaffir lime leaf blend into a vibrant drink perfect for bringing in the best of Chinese New Year luck. (We're here just days before the holiday, so have a good dose of celebratory spirit interwoven into the menu.)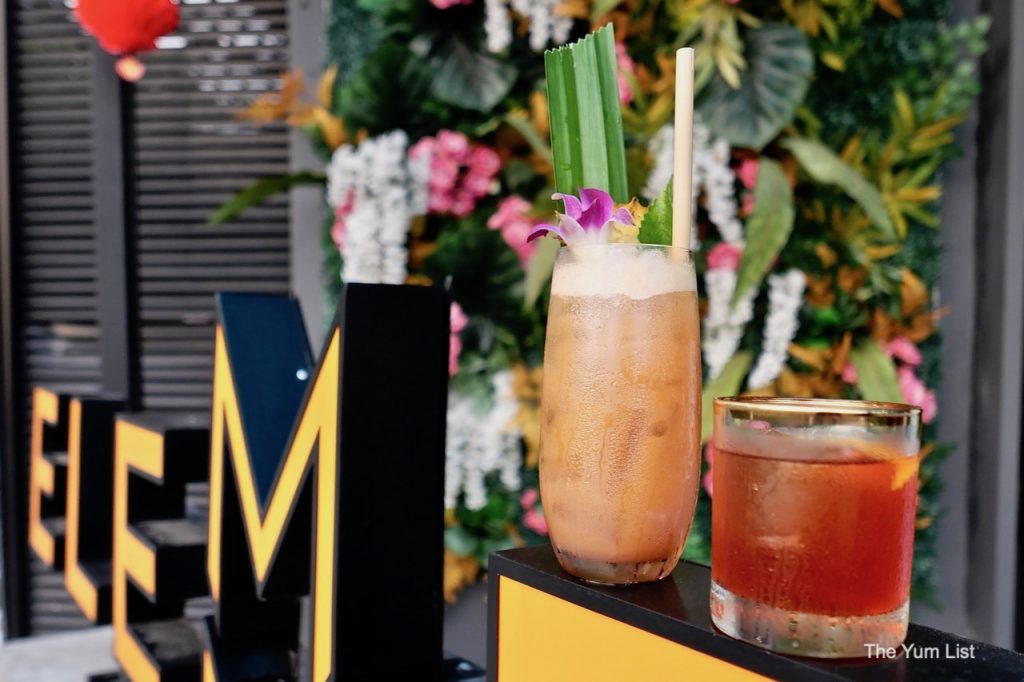 Canapes
Getting started, a platter of canapes provides something light to nibble on. And, perhaps keeps nausea at bay for anyone not convinced that floating in the air is such a good idea after all. Sesame chicken with foie gras emulsion and baby herbs, along with prawn and cabbage wrapped in a Chinese style crepe make up the starters. The savouries are balanced with a couple of sweet bites. Strawberry and red bean mochi has a smooth consistency and bouncy chew to it. Lastly, a twist on tradition is given with pineapple tarts served with vanilla custard.
Coinciding with Chinese New Year, there's a little something extra to ring in the festivities – yee sang. The famous salad typical of Malaysia and Singapore is served with each component separately arranged around a plate. Later we toss it together with especially long chopsticks – the higher the toss, the more prosperity will come your way. I guess we're at an advantage here already being so many metres above the ground!
The Lounge in the Sky menu presents this dish with Atlantic salmon sashimi, salmon roe, marinated baby octopus, nutty bits (almonds, cashews and wasabi coated peanuts), crispy bits (gyoza chips & nori flakes), veggie bits (white radish & carrot), and finally, fruity bits (dehydrated mandarin orange and pomelo pulp.)
Additionally, we're given mandarin oranges, and the bar can provide additional drinks for a price.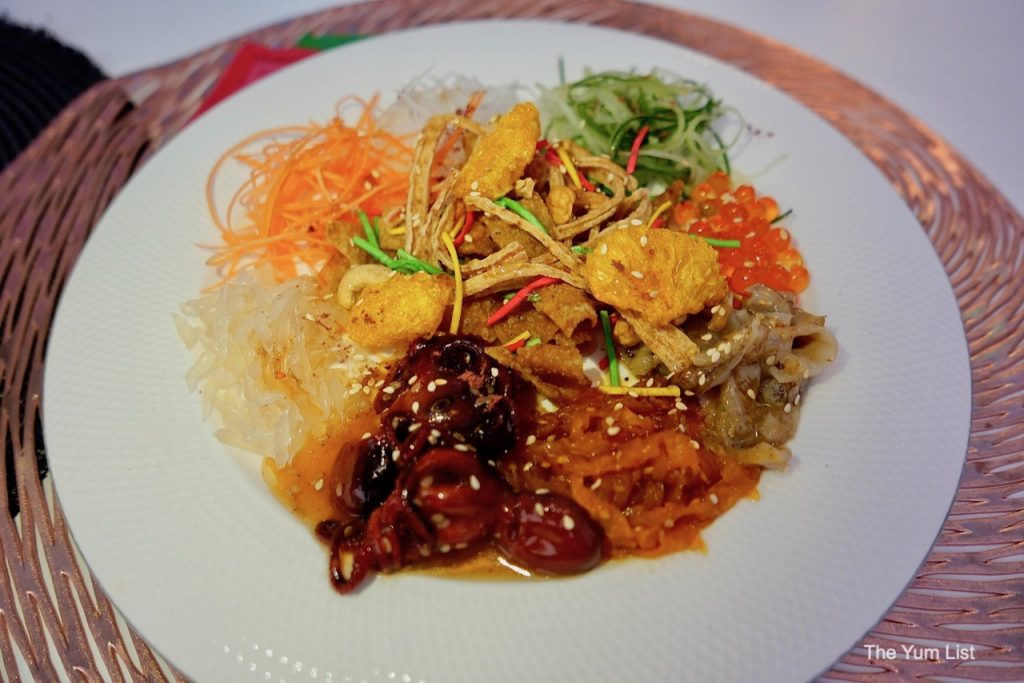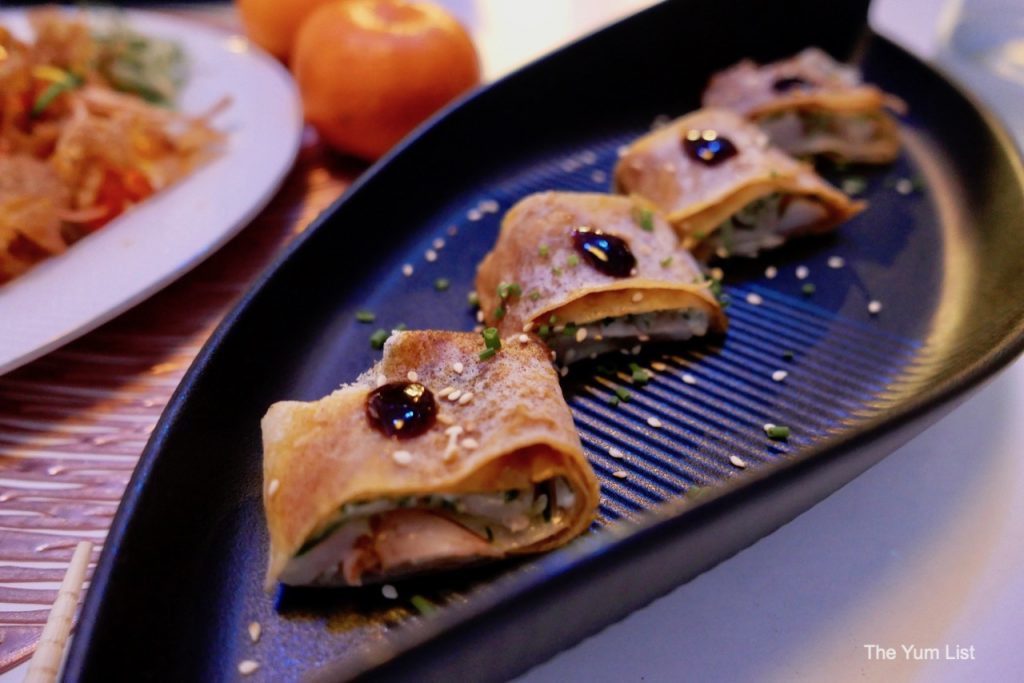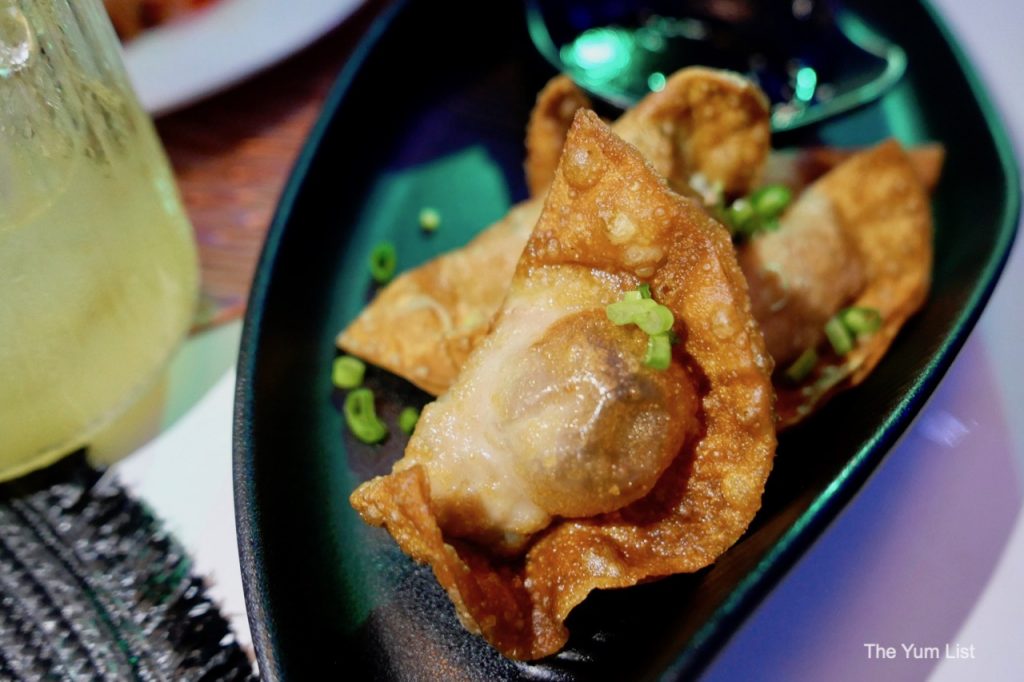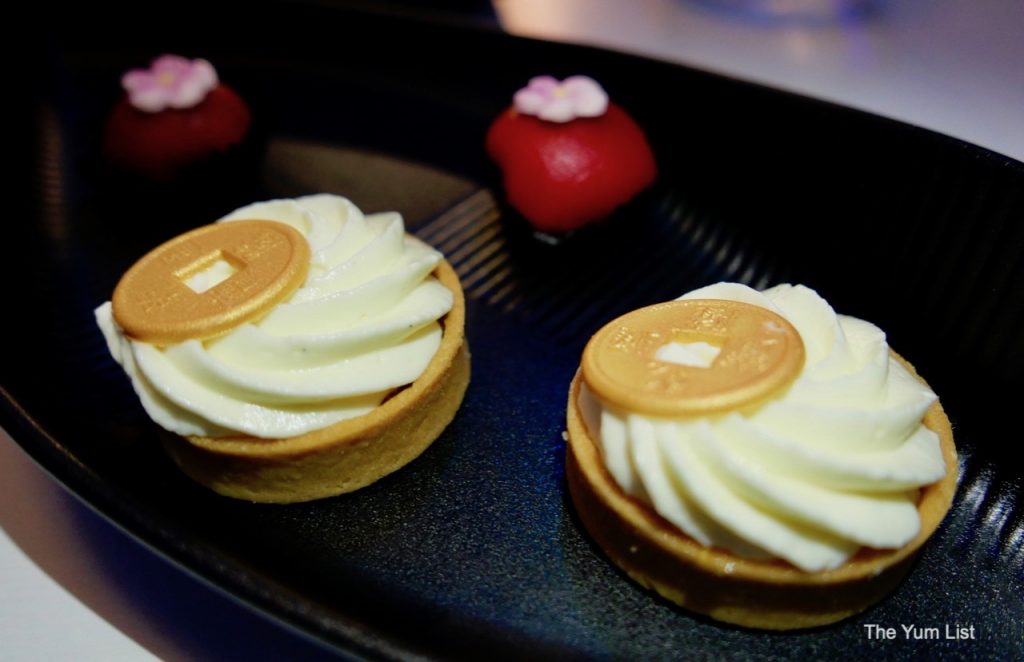 Entertainment
On top of the thrill of floating in the sky, a DJ pumps out some party beats and staff are full of energy adding to the party atmosphere. They offer to take photos on our own devices but also capture a few professional shots with props (signboards and Chinese New Year scrolls). Later, photos can be viewed and purchased (2 for RM 49) back on the ground level.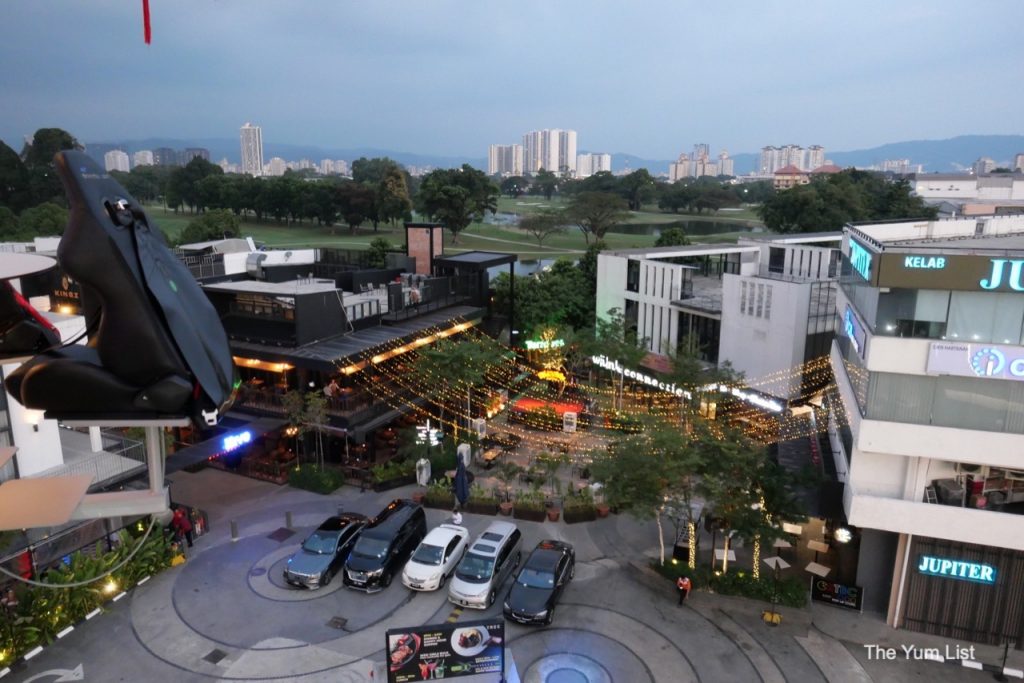 Lounge in the Sky Malaysia Price
See the flyers below for specific inclusions, upgrades and prices for Lounge in the Sky Malaysia. All include entrance to Elements Lounge in The Sky, a lou sang in the sky experience, four-course canape platter and two signature mocktails or one cocktail. Usually, Lounge in the Sky KL lasts for 40 minutes each session. The special Lou Sang in the Sky experience, however, runs for a full hour.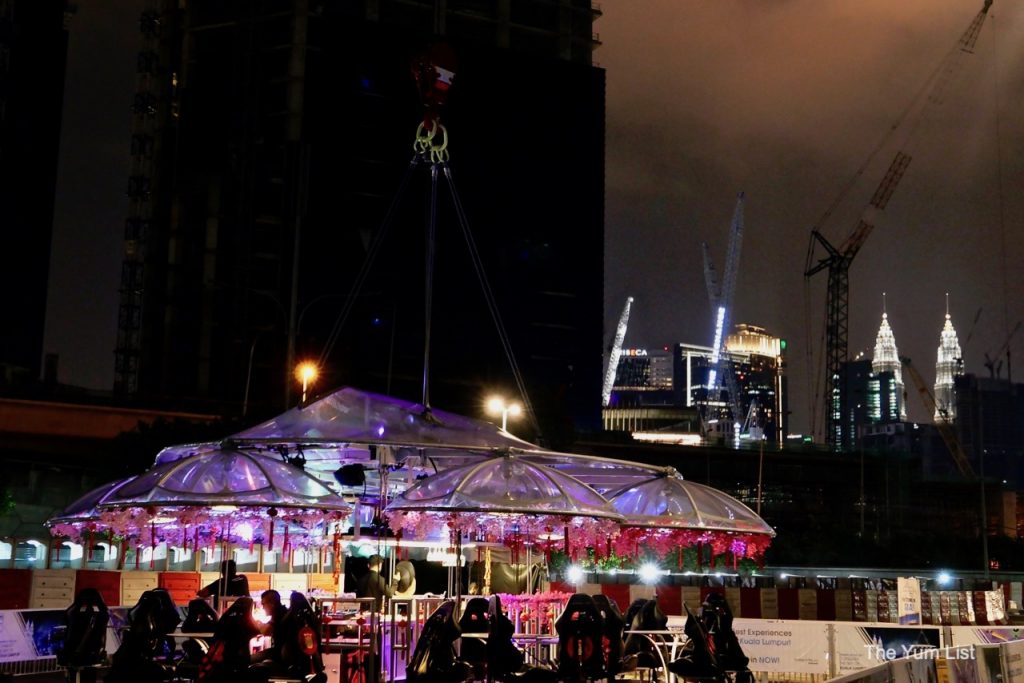 Lounge in the Sky Malaysia Review
To sum up, Lounge in the Sky Malaysia at Elements Kuala Lumpur is a fun and unique experience. It's a great way to mark a special celebration or even a date night that will give you lots to converse about.
Reasons to visit Lounge in the Sky Malaysia: fun and memorable experience; especially great during celebrations when fireworks are going off around the city.
Lounge in the Sky Malaysia
Elements KL
Hive, Unit H-G-11, Trec,
438, Jalan Tun Razak, Kuala Lumpur
Malaysia
+ 6 03 2282 6413
[email protected]
www.elements.my
Lounge in the Sky KL Operating Hours
Tuesday to Sunday
Four sessions every Sunday, Tuesday to Thursday (7:15 pm | 8:30 pm | 9:45 pm)
Six sessions every Friday & Saturday (7:15 pm | 8:30 pm | 9:45 pm |11:00 pm | 12:15 am)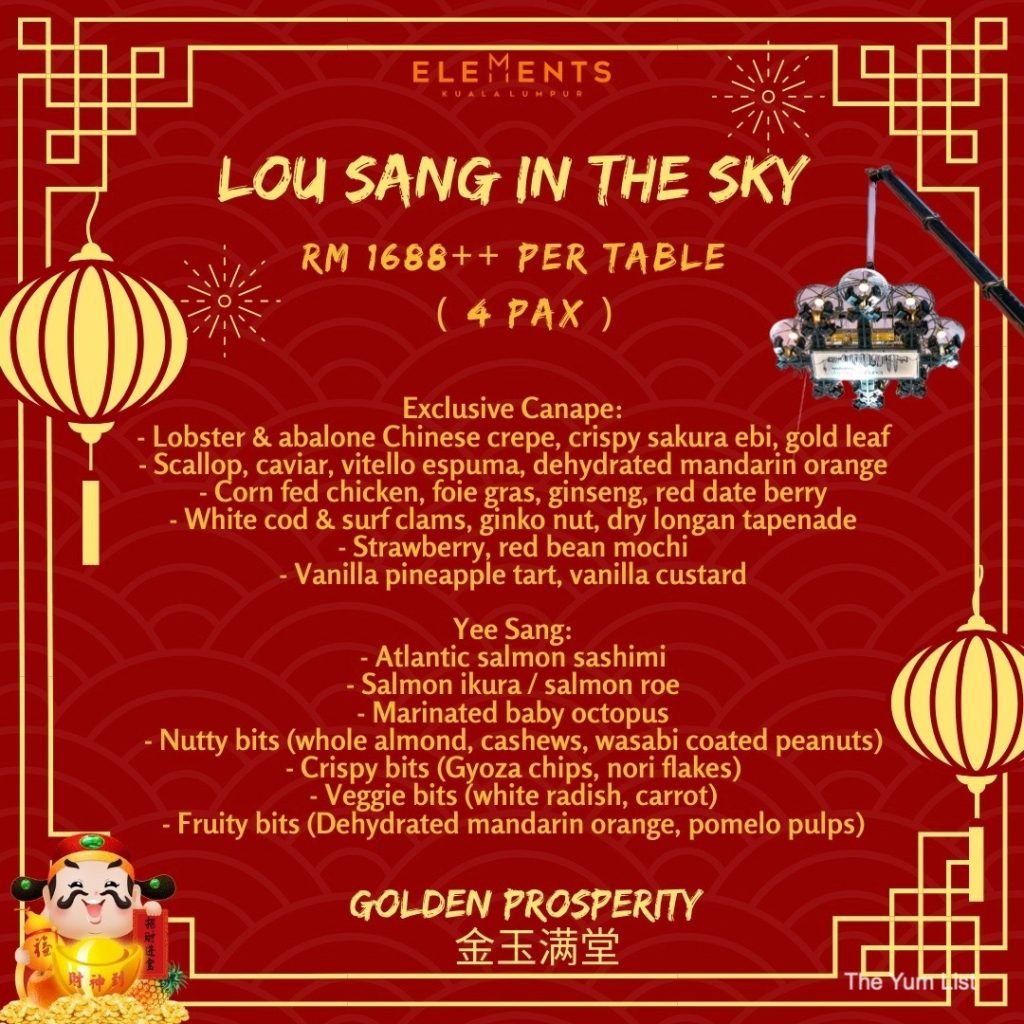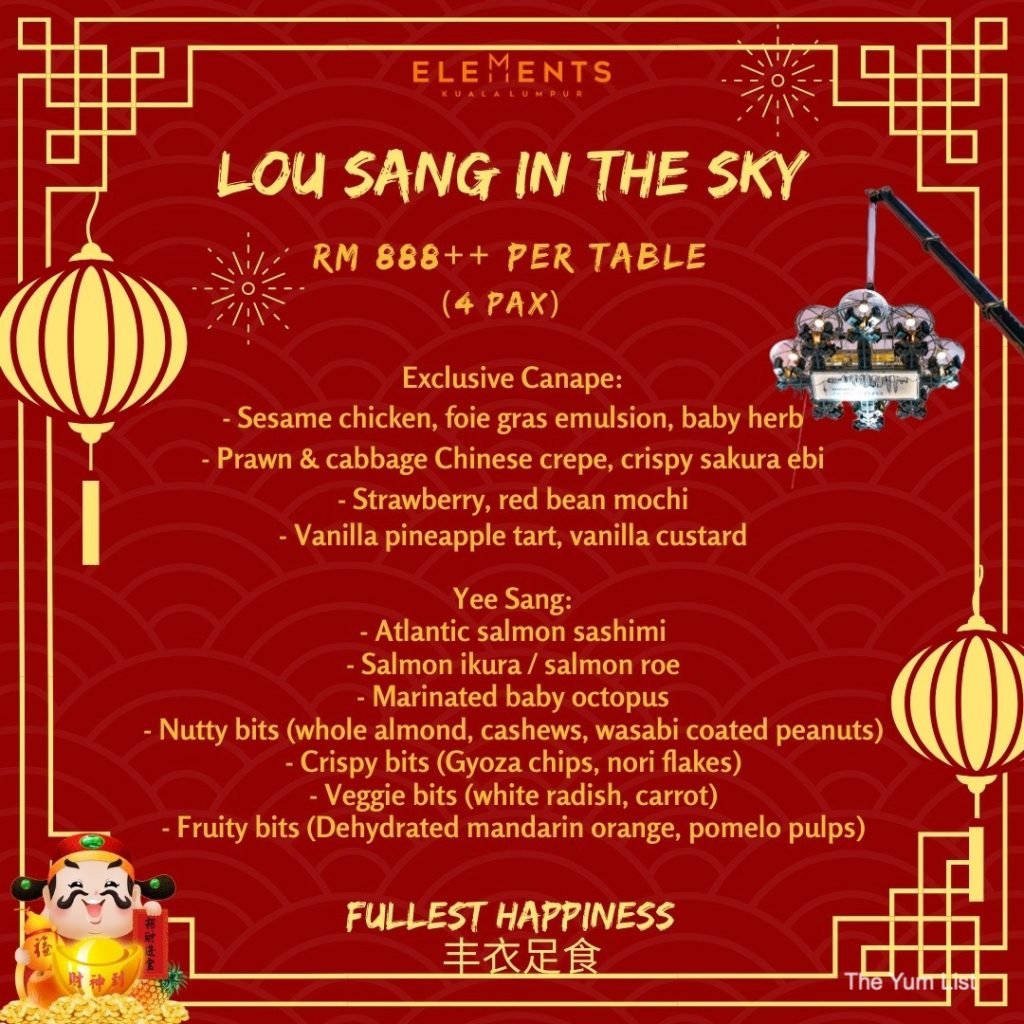 Find more experiences suited to celebrating special occasions in Kuala Lumpur here.