MoMosita
Monica Tindall
Coffee, cocktails and tacos – what more could you need? Chow Kit's latest casual dining outlet, MoMosita, brings all three to this under-explored part of the city.
On the ground floor of MoMo's Kuala Lumpur, a playful concept hotel by the Ormand Group, MoMosita is a self-service taco bar open to both in-house guests and the public. The space is loud and cheery with indoor and outdoor seating. Casual pink summer chairs add pops of colour to the lush gardened exterior, and the MoMo's sign in neon lights gives a hint to the fun found inside.
Regular musical events and pop-up performances complement the spirited vibe. On Friday night we visit, there are karaoke and a drag show. The mood is positively upbeat.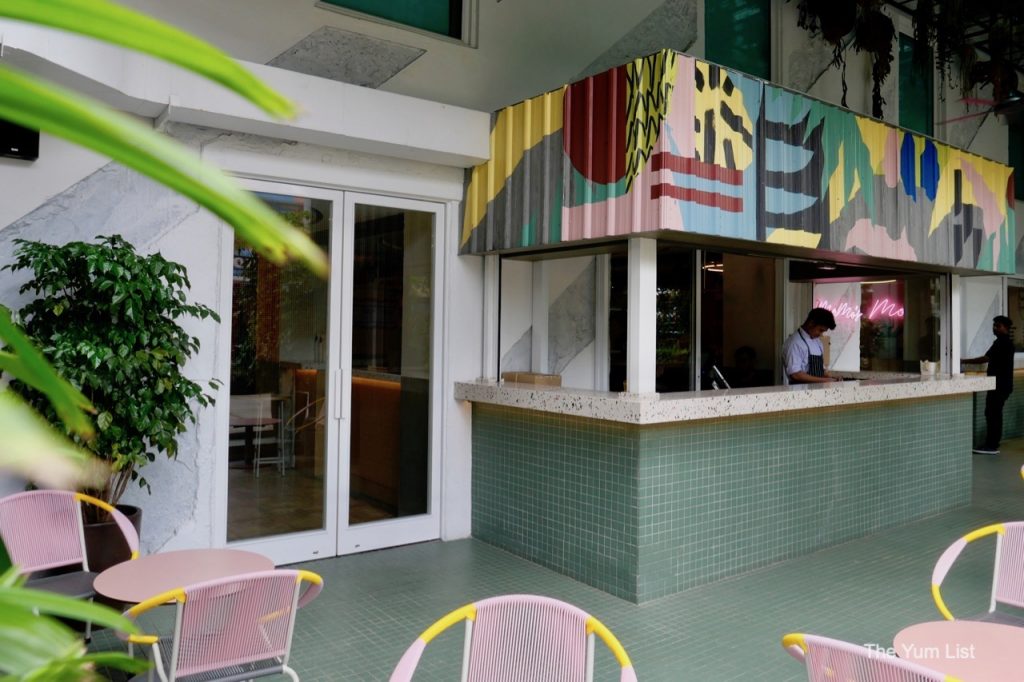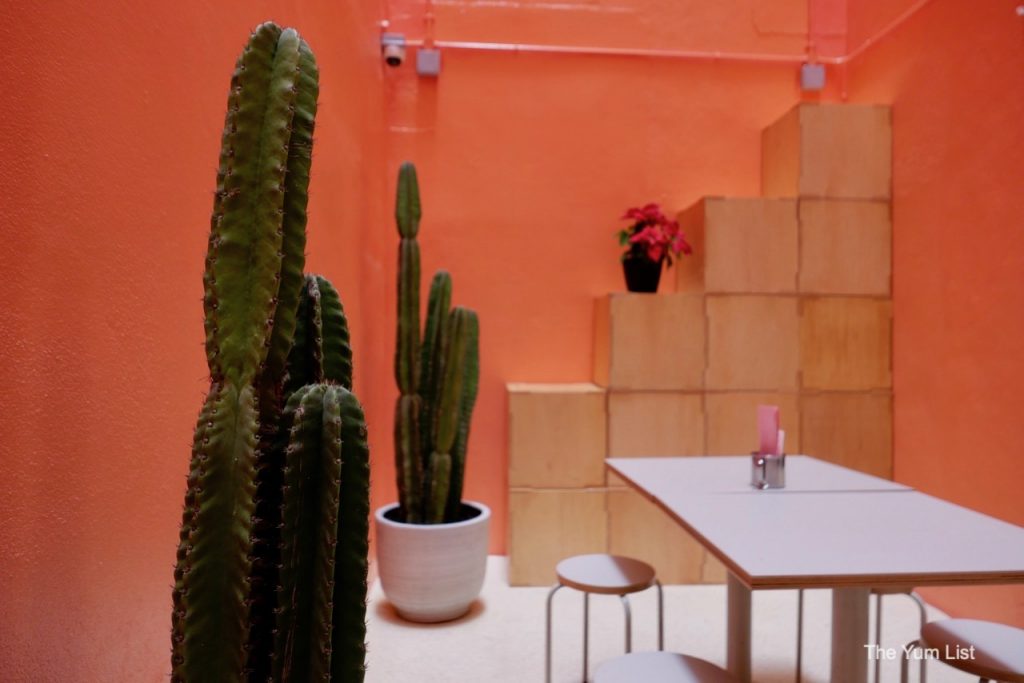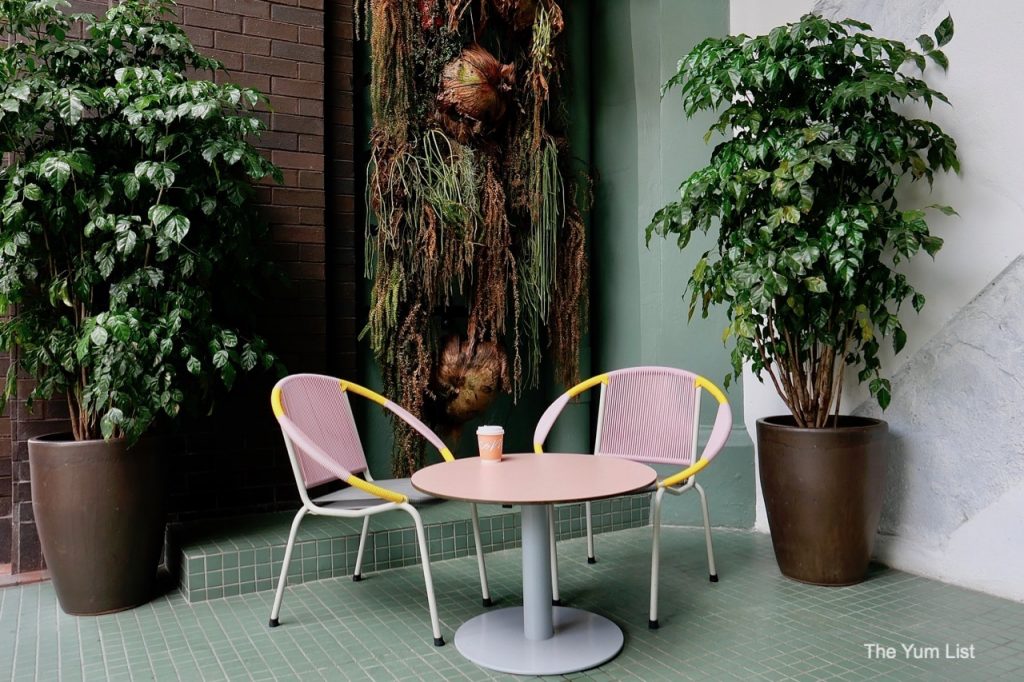 MoMosita Menu
MoMosita's menu is fuss-free on a single sheet with food on one side and drinks on the other. It's filled with bites that don't require utensils and drinks guaranteed to inspire a mood of a fiesta.
Antojitos
I'm keen on the plant-based options and the Cauliflower, and Lentil Tostada (RM10) fits my bill. Sauteed cauliflower, spring onions, mole rojo, black beans and chipotle mayo charge romaine lettuce gloves. Another vegetarian choice, the Corn Cake (RM16), is a tasty tummy-filler. The fresh corn and polenta cake is seasoned with nutmeg, cayenne pepper, corn and chilli salsa.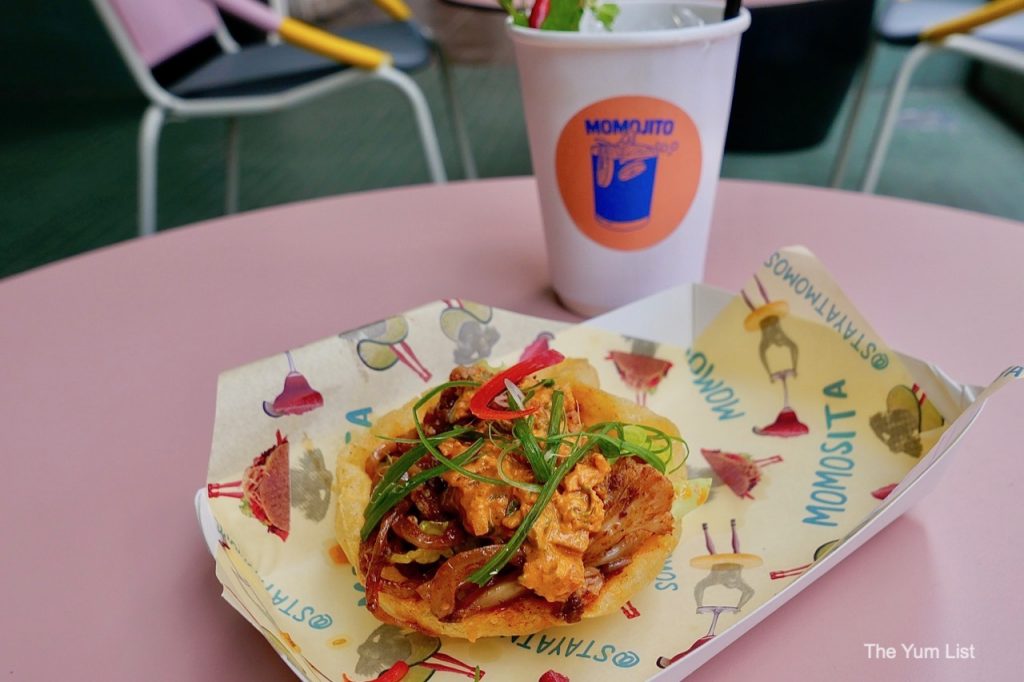 Lastly, from the antojitos menu, we can 't resist trying the Prawn Gorditas (RM14). A cousin to our beloved Venezuelan arepas, these corn-based pastries are stuffed with any variety of fillings, in this case, shrimp. Chipotle mayo, tomatillo pickles and black beans ensure the pockets are brimming at the edges.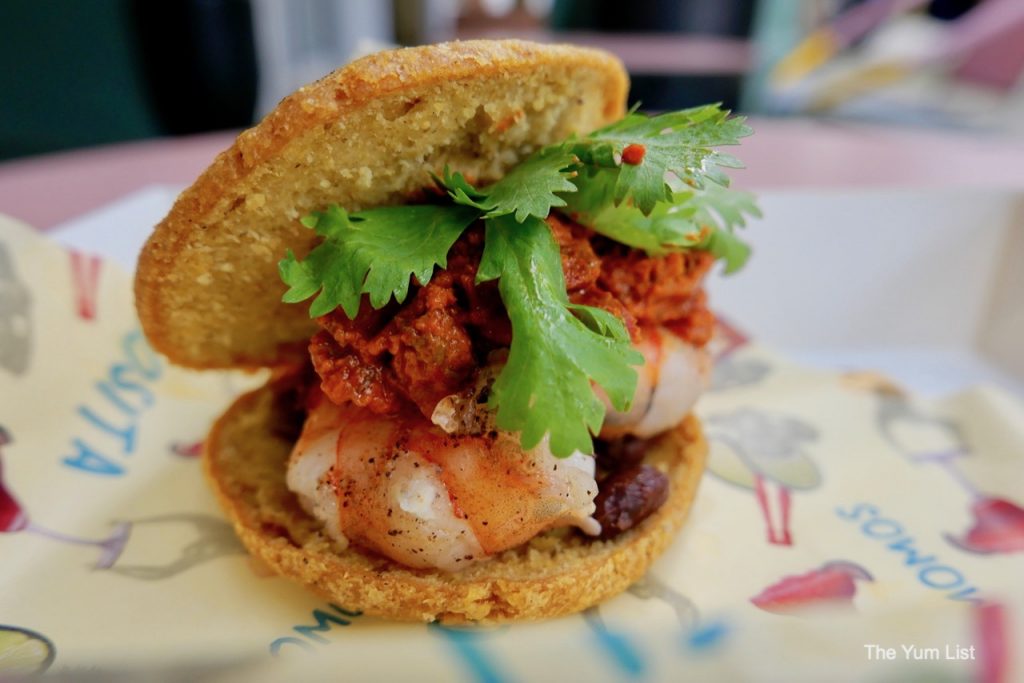 Tacos
Tacos are the main feature at MoMosita, and they come in chicken, beef and ox tongue, lamb and fish. All tortillas are made on a corn dough, which is made daily in house.
We begin with the Harissa Chicken Taco (RM12). Filled with grilled harissa-marinated chicken, tomatillo salsa, peanut mole, and tomato and black bean salsa, it reaches every corner of the mouth. There's plenty of lime, coriander and soft white cheese (queso fresco) to truly make this a mouthful bursting with vibrancy.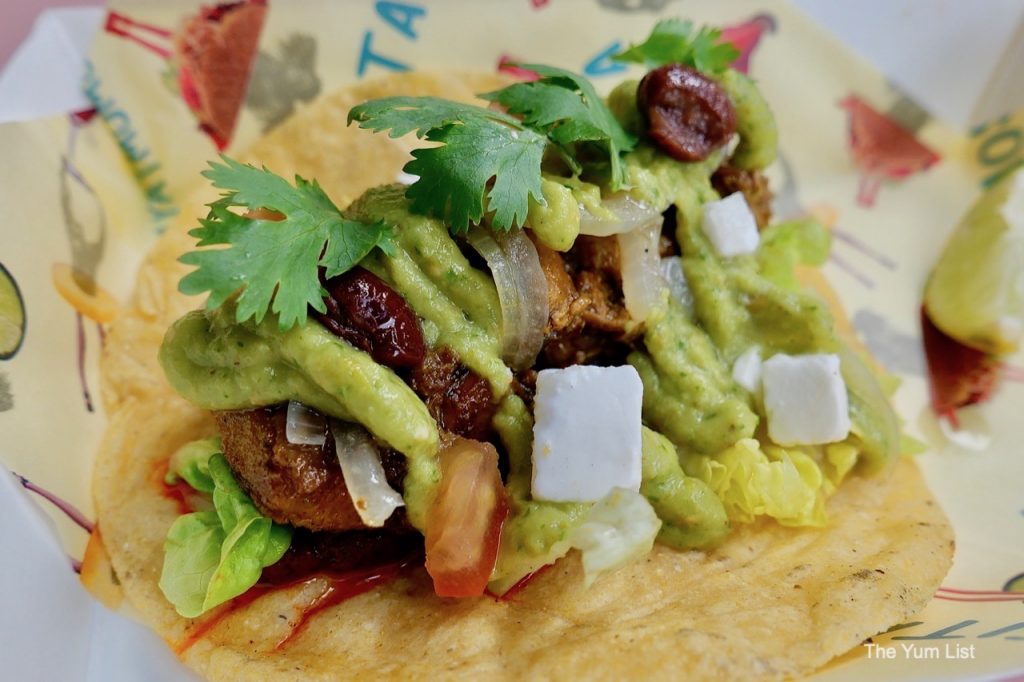 Lamb Barbacoa (RM14) is something special with the meat being braised for four hours in an ancho chilli seasoning, ensuring it is moist and soft. Roasted tomatillo mole, avocado and green apple salsa cut through the richness of the lamb shoulder and brighten every bite with a touch of acidity.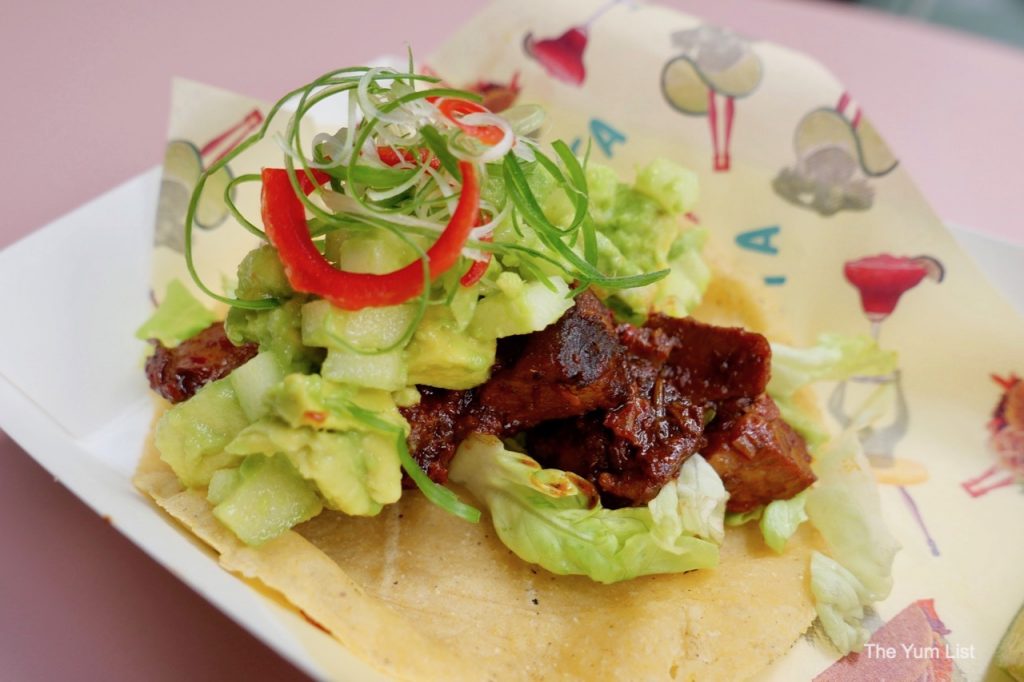 Summing up our taco tasting, we get a seasonal special, the Chinese New Year Taco. A crisp tortilla holds braised jicama and fresh salmon. It's finished off with pomelo salsa, coriander, seaweed and plenty of toasted crushed peanuts. The freshness of yee sang is ever-present with an underlying richness thanks to the peanuts having an almost peanut butter consistency.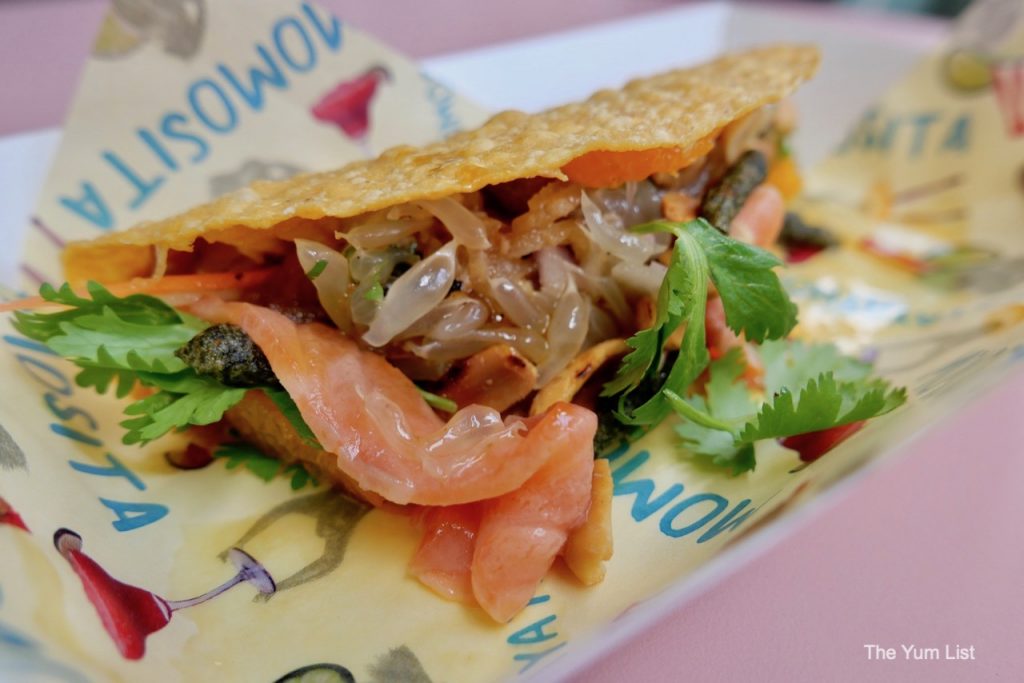 Ensalada
We balance out our taco indulgence with the Grilled Vegetable Salad (RM14). Eggplant, zucchini, baby elote (mini Mexican corn), chipotle aioli and fern make a nutritious mix with a good splash of local relish.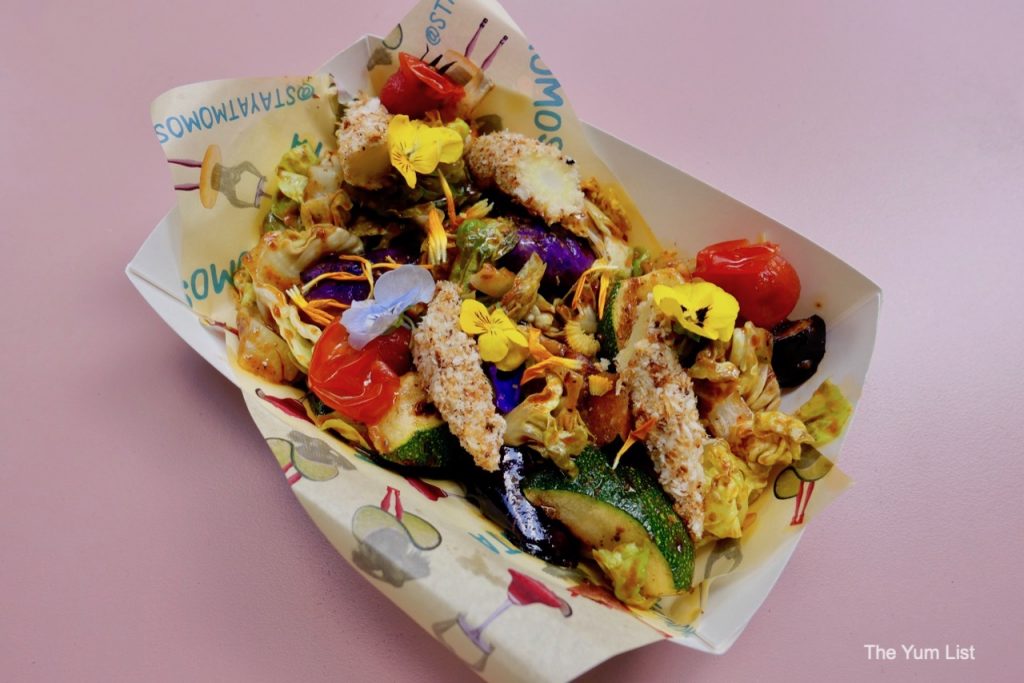 Dessert
There's only one dessert on the menu at MoMosita, so I guess it is a must! MoMosita's Famous Churros (RM18) is crispy on the outside and creamy on the inside. Choose between chocolate, vanilla or avocado sauce and enjoy the stick with a dusting of lemon sugar, cinnamon sugar, blackberry sugar or chilli sugar! Or have them altogether if you're game!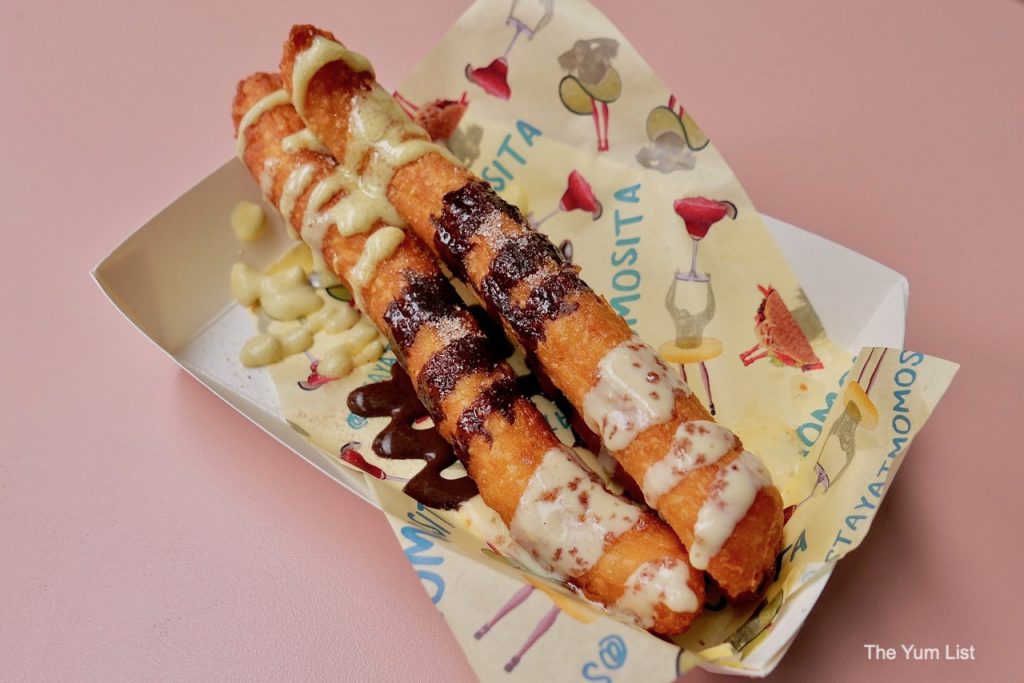 MoMosita Menu – Cocktails
Must try the namesake, right? MoMojito (RM28) is a twist on the classic with rum, backed up with lemon, lychee, chilli, ginger flower and basil. It's fresh and fruity with a great tang from the torch ginger.
There are so many of our Latin American favourites on this list that we find it hard not to indulge in them all. Next, Caipirinha (RM28) gives a nod to our Brazilian friends with its mix of cachaca, brown sugar lime and a splash of ingenuity with a top-up of apple soda.
Finally, the Margarita (RM28) arrives with tequila, Cointreau, and grilled lemon juice. The grilled lemon enhances the textbook base without changing its core.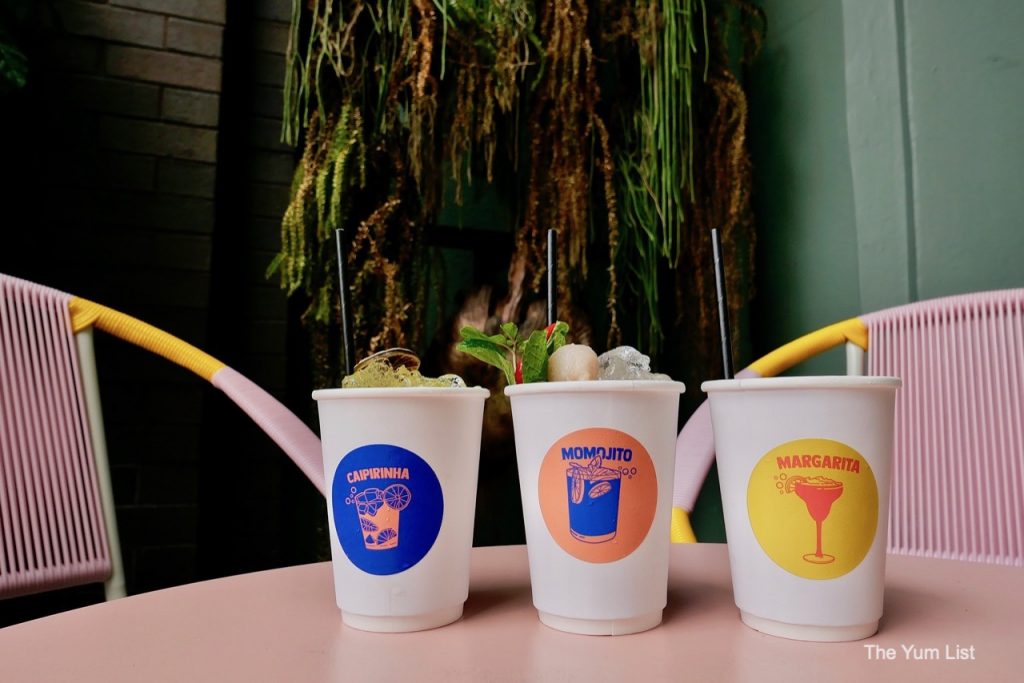 MoMosita Review
MoMosita offers a light, fuss-free menu. It's fun and easy. While the menu is geared towards a younger market, flavours are fresh and aplenty. It's a cheery place to be.
Reasons to visit MoMosita: fun, upbeat vibe. Regular events such as drag shows and karaoke.
MoMosita
Momo's Kuala Lumpur
316, Jalan Tuanku Abdul Rahman
Chow Kit, 50100 Kuala Lumpur, Malaysia
+6 03 2778 6666
www.stayatmomos.com/momosita
Stay up to date with the latest culinary happenings in KL here.