The Chow Kit Kitchen & Bar
Monica Tindall
The responsibility of two of KL's leading gastro-preneurs, The Chow Kit Kitchen & Bar comes with high expectations. Eddie Chew and Christian Bauer are behind Troika Sky Dining (Cantaloupe, Fuego, Coppersmith, Claret & Strato) and Mr Chews Chino Latino, some of the city's most successful food and beverage ventures. The team are renowned for balancing style with substance and we can't wait to see what they have dreamed up for KL's latest boutique hotel, The Chow Kit.
The Chow Kit Kitchen & Bar
We find a space mirroring the style of contemporary Malaysia – one that respects its foundations but is firmly planted in the present. Something that is proudly local yet well-travelled and informed. The space provides diverse seating with tables suitable for groups, couples or solo dining. Our initial roost, however, is at the bar for a pre-dinner drink. Built with sturdy marble, lacquered wood, brass and terracotta, we're reminded of a time when things were constructed to last, and style was considered essential to an evening out.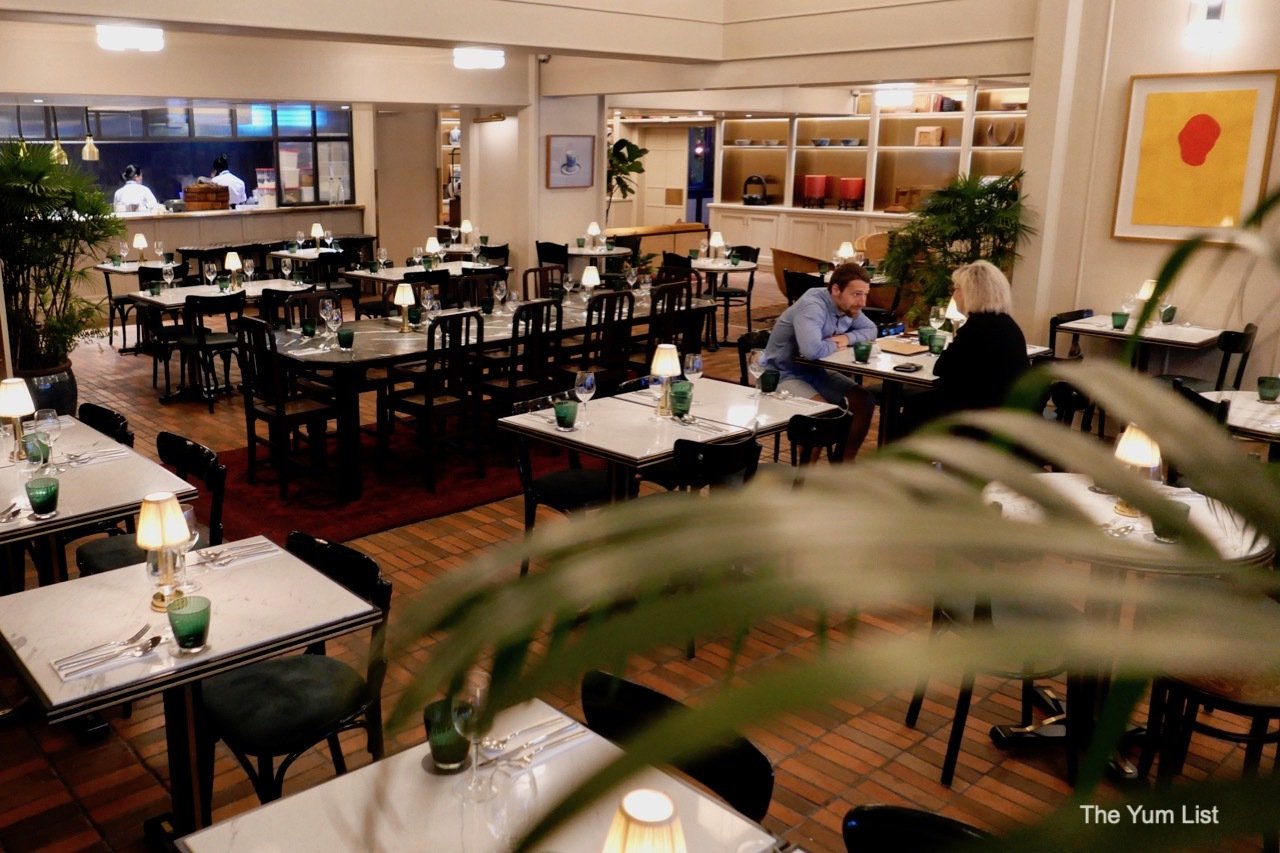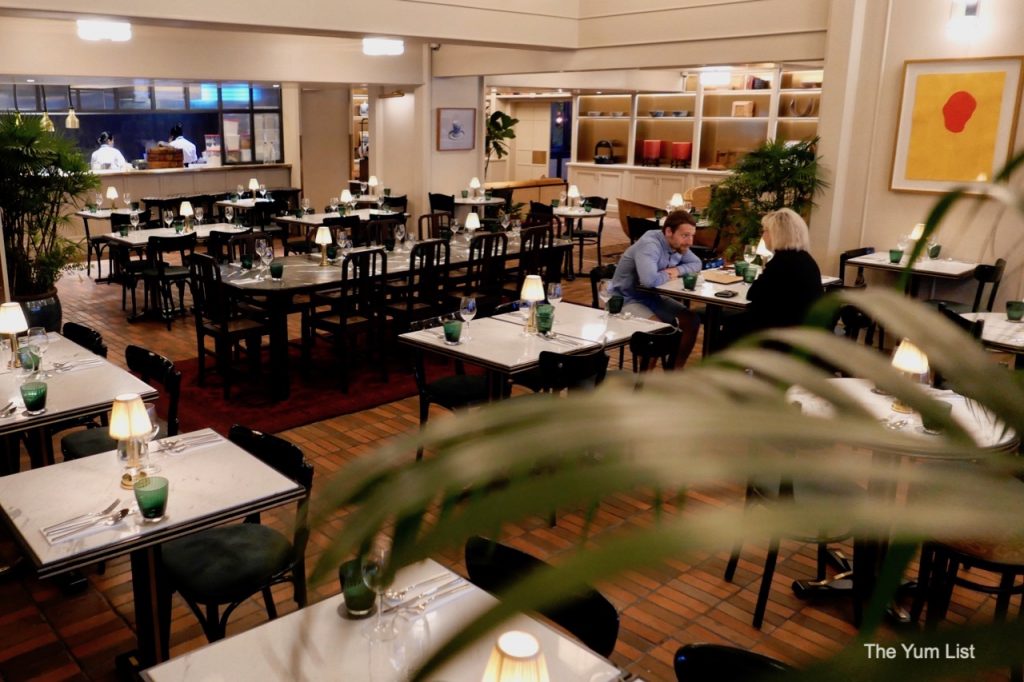 The Chow Kit Kitchen & Bar Menu
Cocktails
The Chow Kit Kitchen and Bar drinks menu is sizeable. Cocktails, spirits and wine are the highlights, but it's the craft cocktail section that grabs our attention.
Besides being named after the hotel, The Chow Kit (RM35) is on a base of Matusalem Platino Rum and Aperol giving us two more reasons to order it. They're complemented by lemon juice, homemade lemongrass liqueur and maple syrup. The sweet elements of the rum are enhanced and the sharpness of the Aperol mirrored with the mixers giving a tempting balance of sweet and sour.
Both gin and rum dominate the cocktails, and it's the juniper spirit that we next explore. Swettenham's Sundowner (RM 35) is appropriate for the hour, with its soft warm hue mirroring the skies. Gin and Campari are backed up with homemade ginger and pink peppercorn syrup, and topped up with grapefruit soda. Proving a flawless Friday afternoon thirst-quencher, we order another.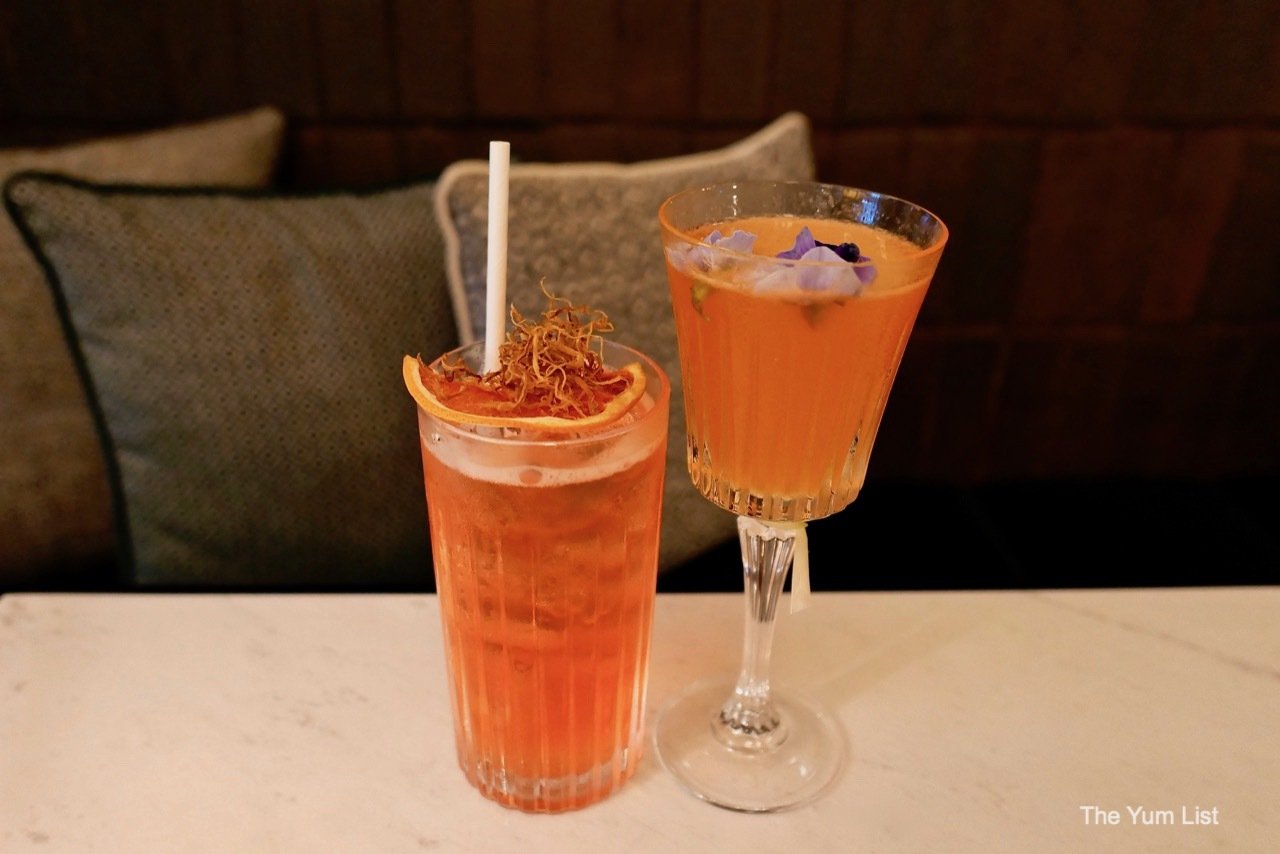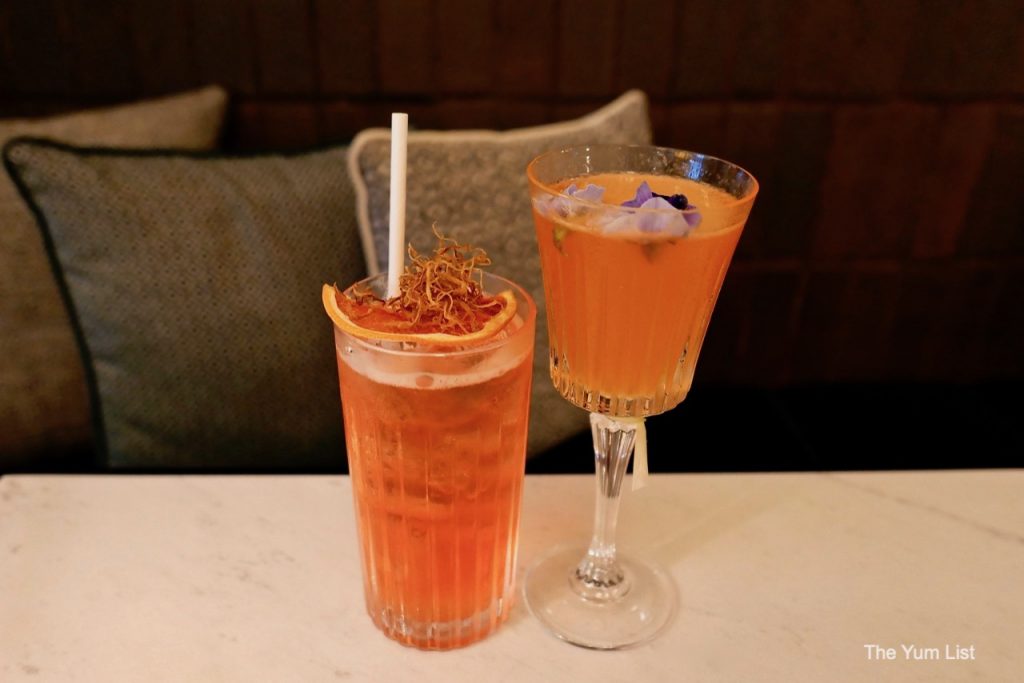 So, we'd planned on just having a cocktail each at The Chow Kit Kitchen & Bar and then moving onto dinner but the mixes here have been pretty good so we're encouraged to try some more. A lovely smokiness is the highlight of Robbing Kong (RM35). On a base of mezcal, it's a reasonably simple combo with lemon juice, pineapple juice, syrup and bitters. KL Hustle (RM 35) sounds too much fun not to order and, well, we are rather fond of gin. Orange juice, homemade apple and vanilla liqueur, red wine vinegar and bitters make a mouth-filling beverage – hitting every corner of our mouths.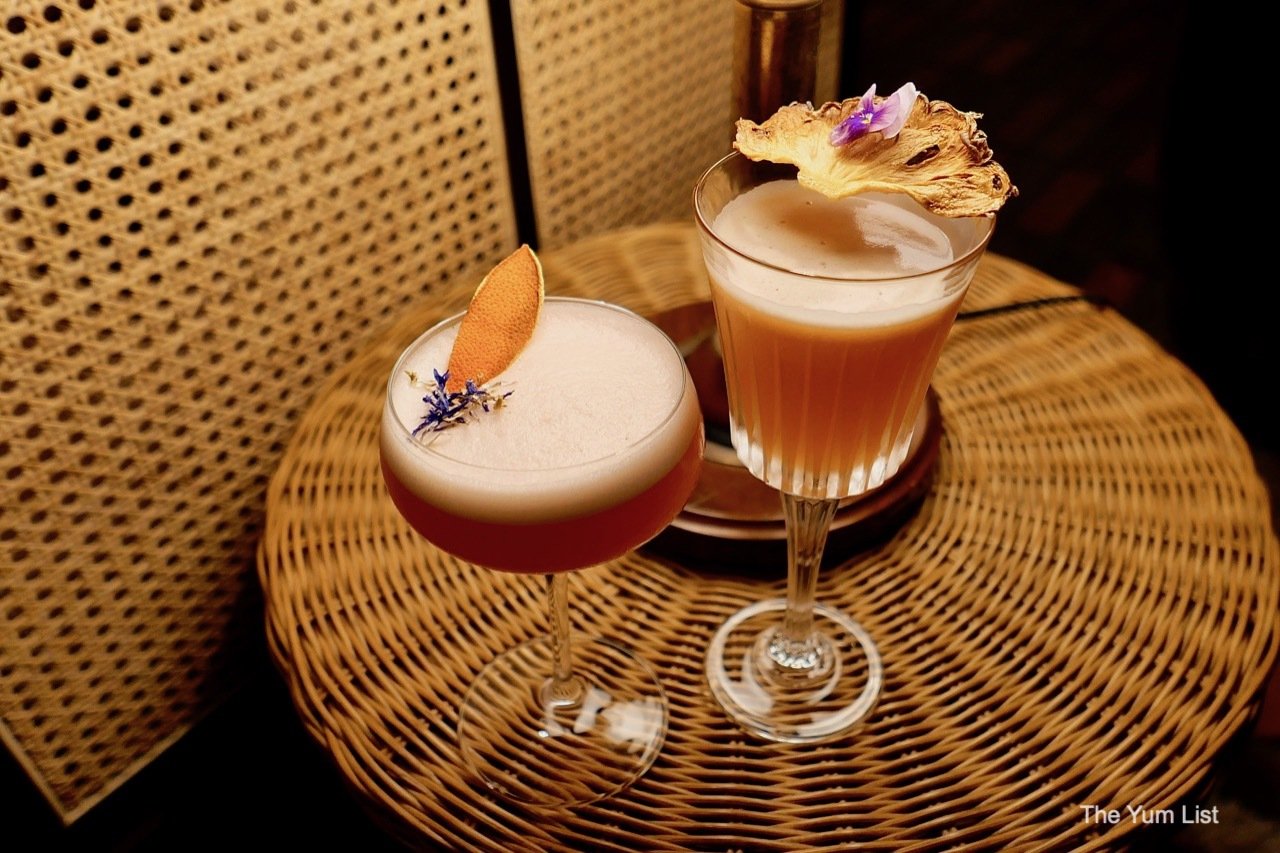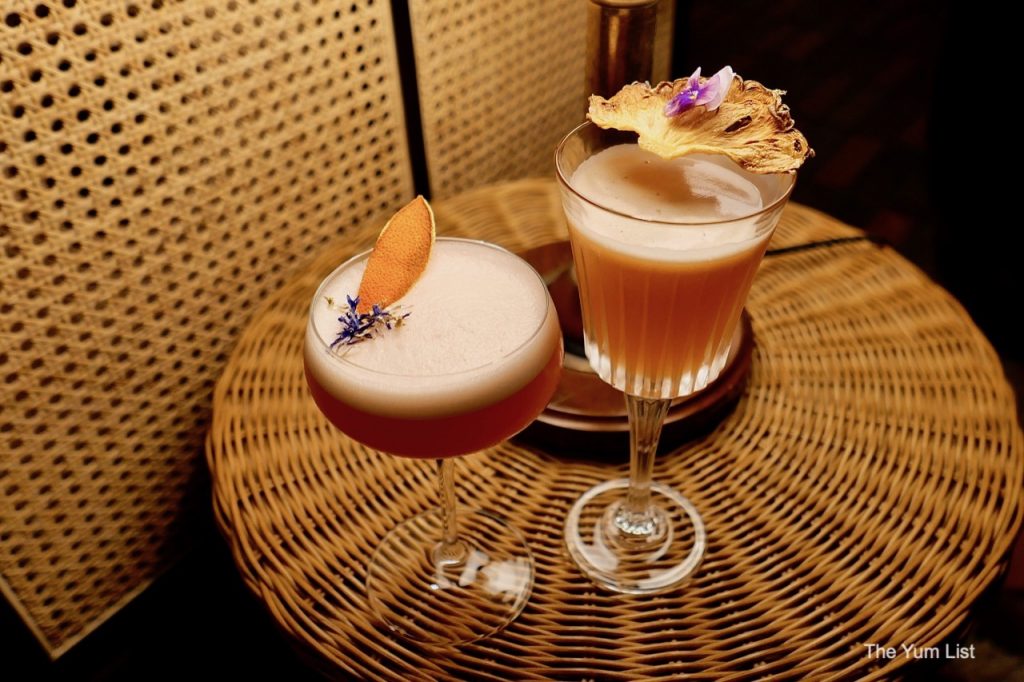 We continue to alternate between rum and gin with the Golden Khersonese (RM35) and a Roku Suntory Gin & Tonic (RM32). The latter is a simple mix of Japanese gin, tonic and a garnish of fresh Bentong ginger (a local root known for its top quality and bite). The former has a tropical touch with pineapple-infused Matusalem Anejo, Wild Turkey, lemon juice and honey.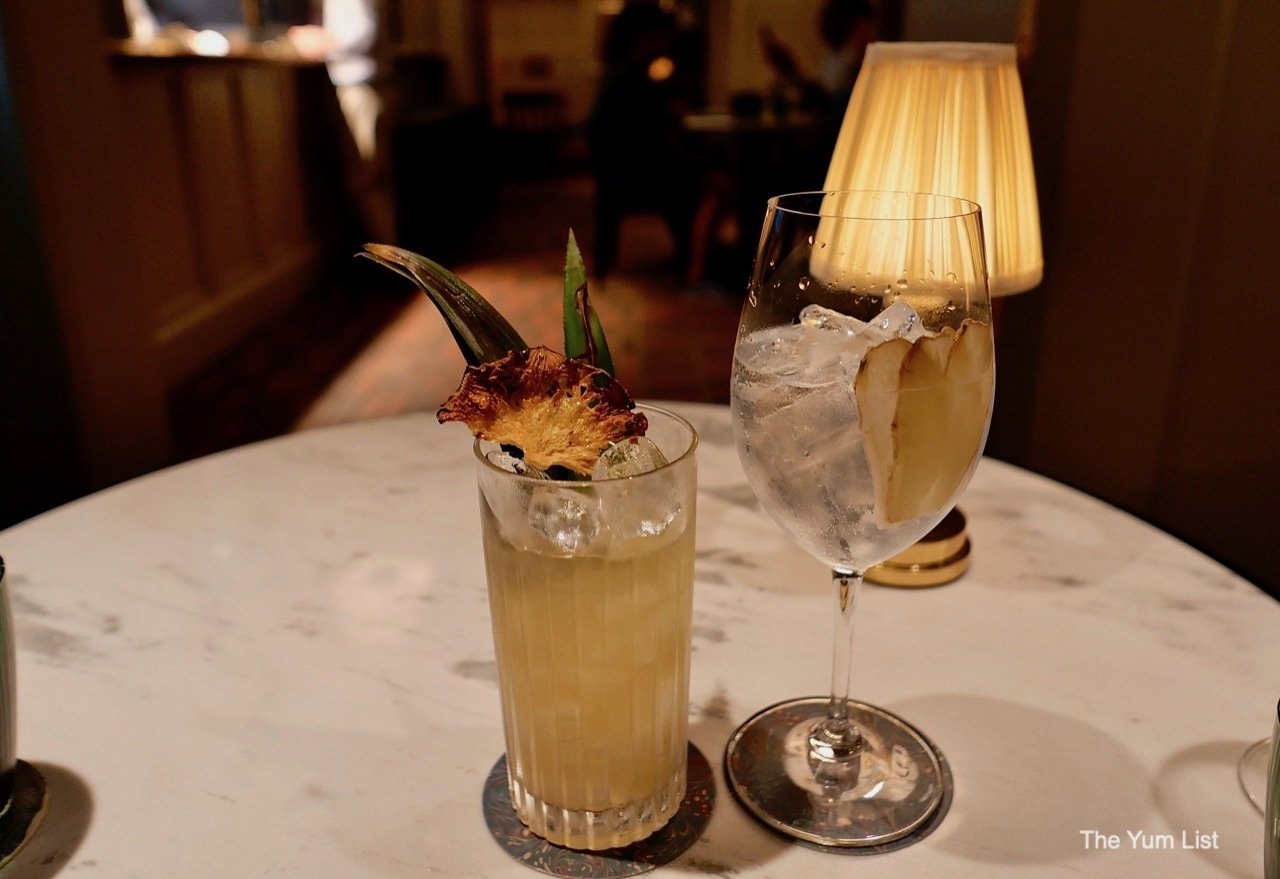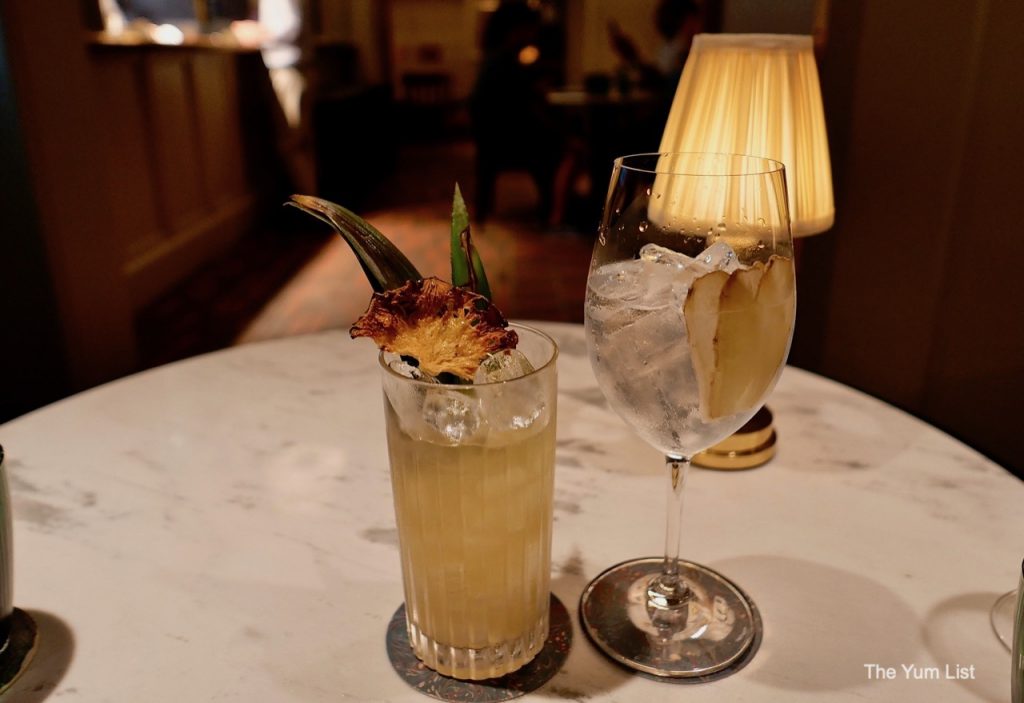 Snacks & Appetizers
Aiming to take the edge off our hunger and provide a nibble for our imbibing session, we try a bar snack and an appetizer. The Chow Kit Nachos (RM12) is a fantastic local spin on a classic. Sweet potato, yam and cassava crackers are enhanced with a tamarind glaze and with every bite we look forward to the next.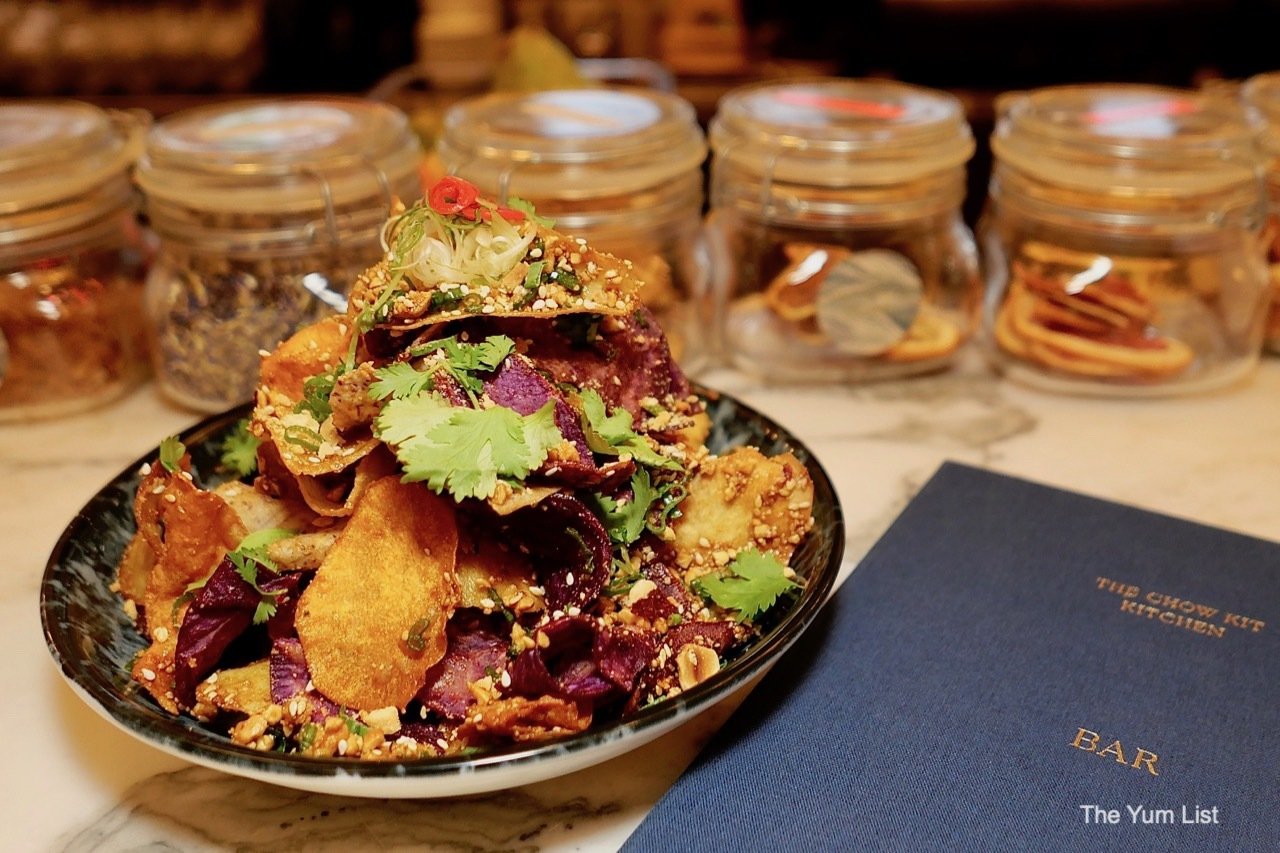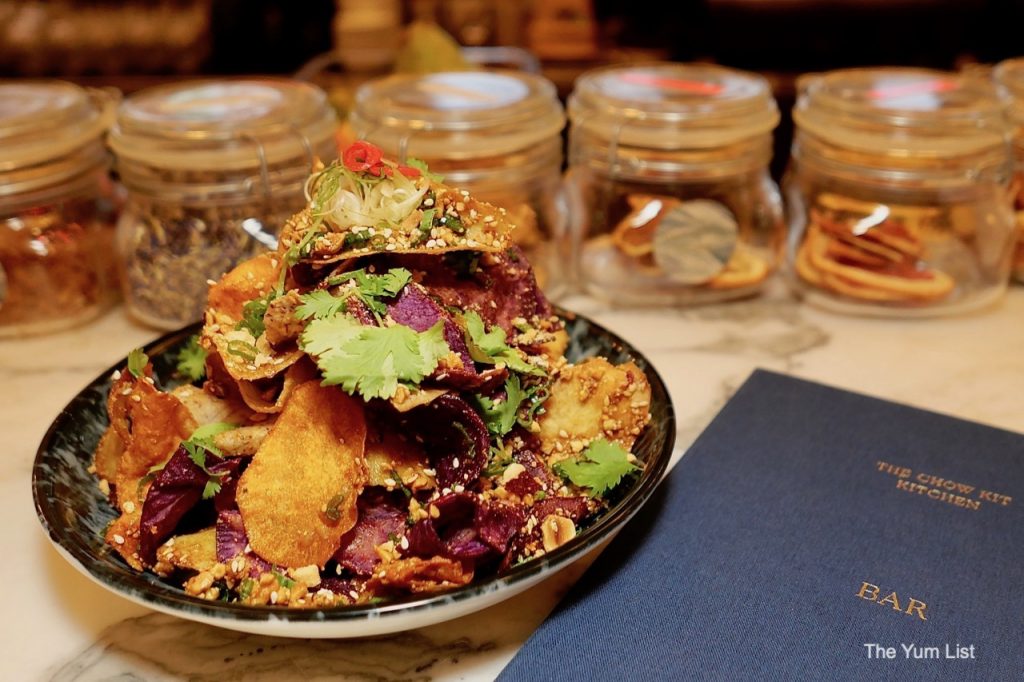 A fresh, healthy recipe is found in the Tapai Salad (RM22). Ulam (local leaves) and a mix of lettuce leaves come with fresh mango, rice crackers and tapai (fermented rice) dressing. This light plate goes especially well with our gin cocktails and leaves an unusual tang and earthiness in our mouths.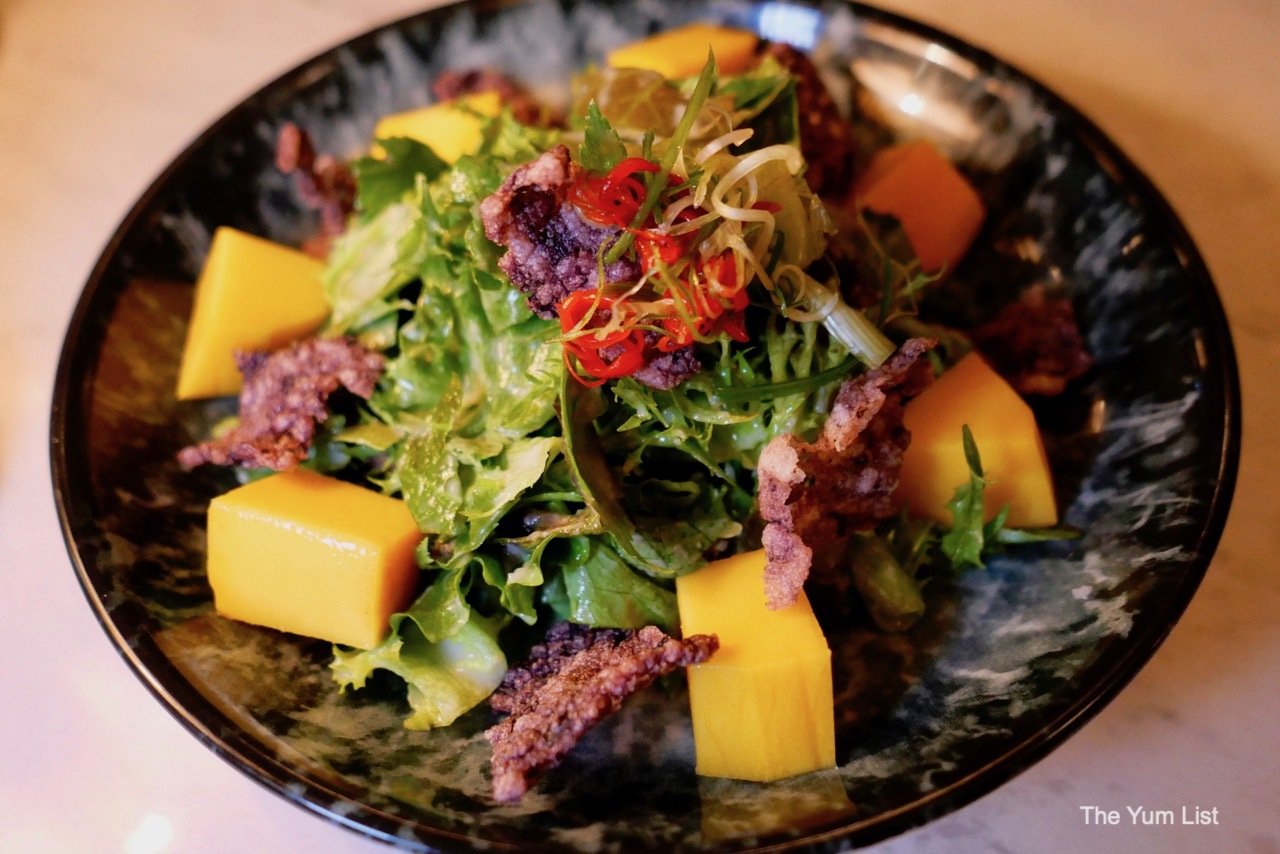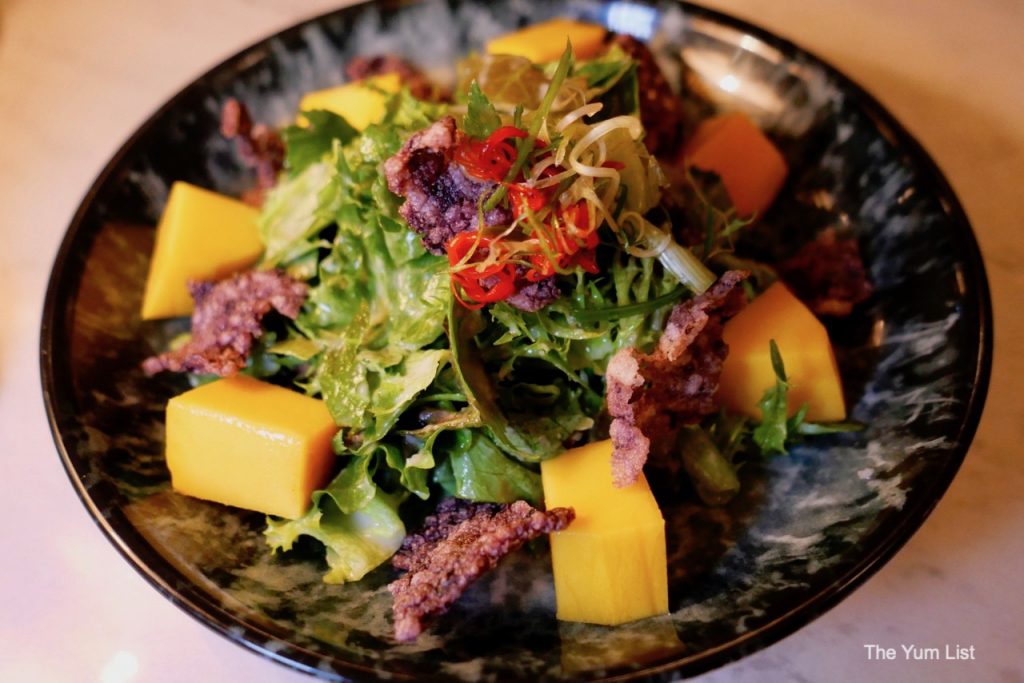 A Malaysian tradition, Rojak-Rojak (RM25) is fancied up at The Chow Kit Kitchen and Bar. Cucur udang (prawn fritters), coconut crackers, pineapple, fried tempeh, smoked tauhu (bean curd), a halved creamy boiled egg and shredded vegetables are served layered over a base of peanut and pomegranate sauce. We mix it together ourselves: hubby takes the top limiting the amount of dressing, and I dig in after getting right to the core. The mix of temperatures accessorizes the blend of sweet and spicy handsomely.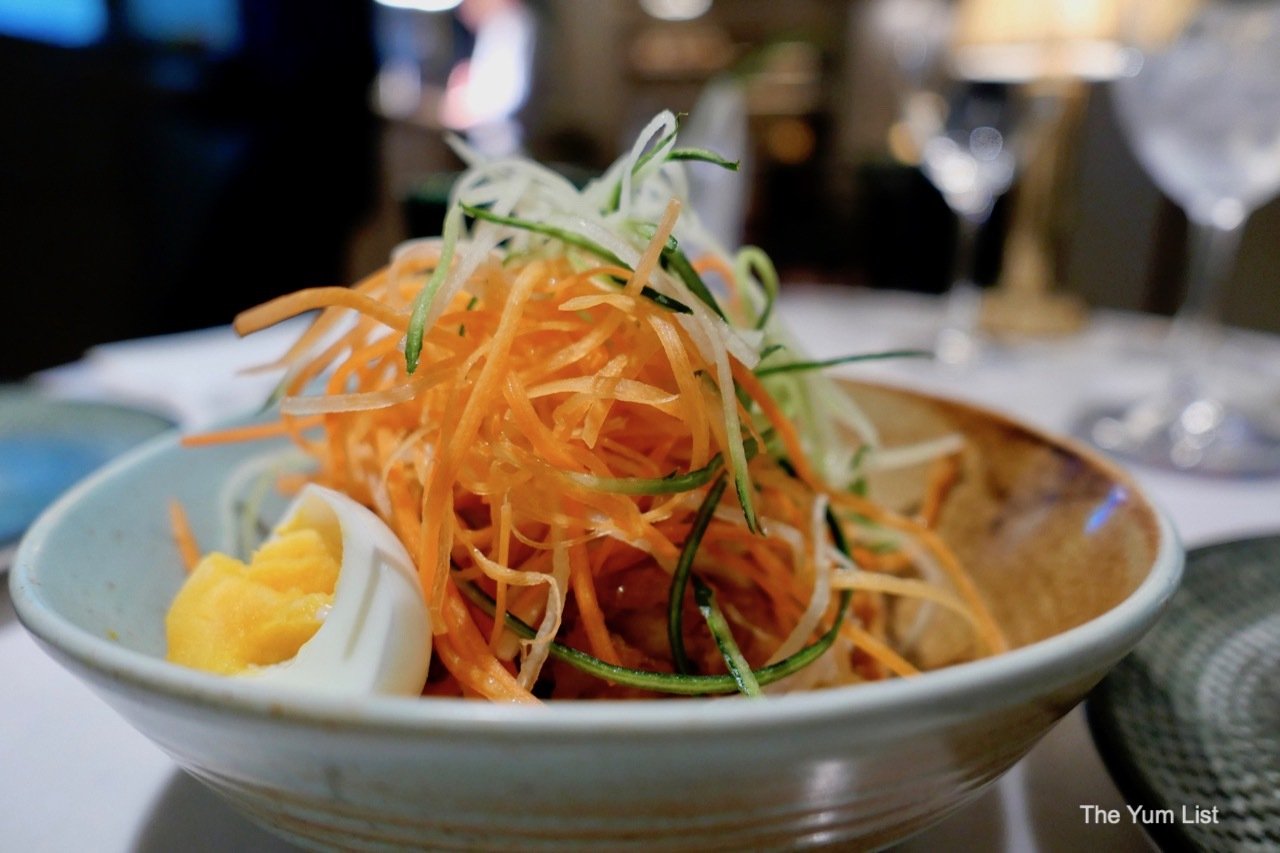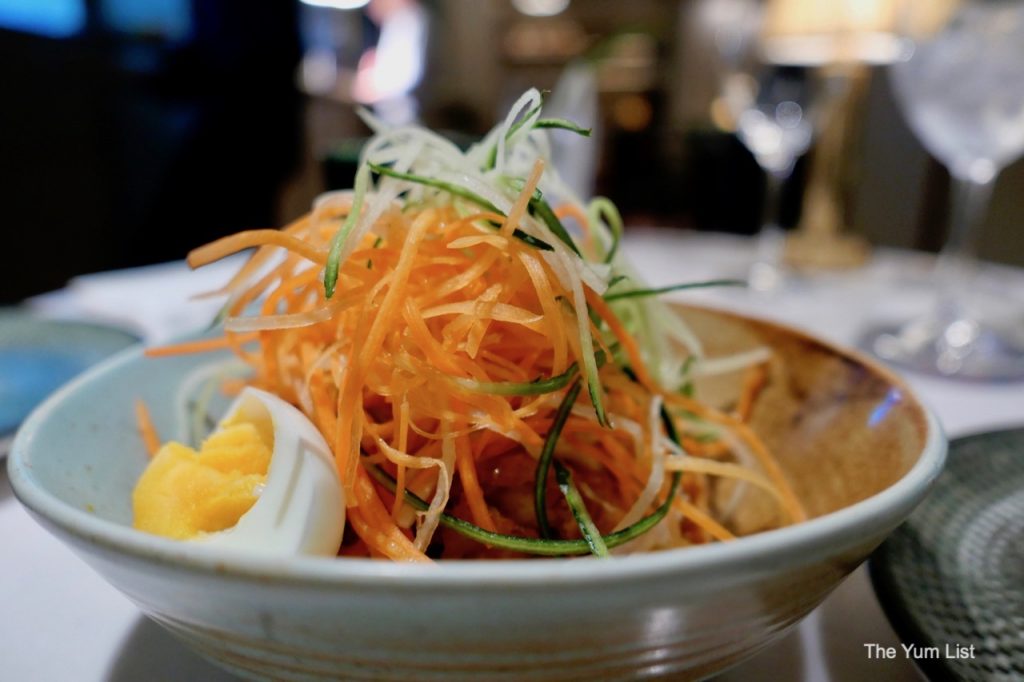 Mains
Moving from cocktails to wine and snacks to a meal, we take a seat in the main dining area of The Chow Kit Kitchen & Bar. There are six wines offered by the glass and a couple of handfuls more sold by the bottle. Europe features heavily in the menu and it's a French glass of rose that we continue our dining experience. The 2017 Ott Côtes de Provence (RM50 glass, RM250 bottle) supplies versatility in its berry and herb aromas, full body and zesty finish. It offers enough structure to handle the seasoning on our mains yet plenty of elegance not to overpower our poultry and fish choices.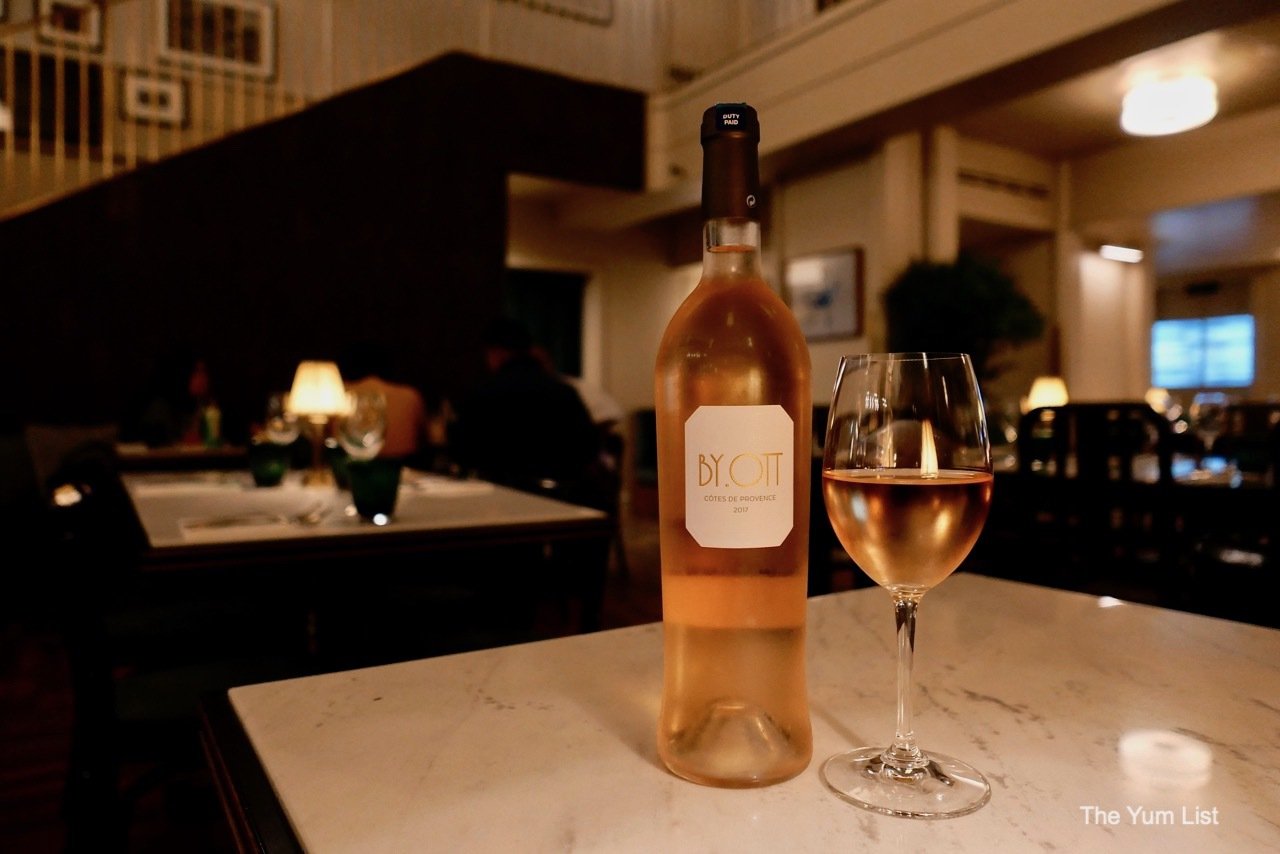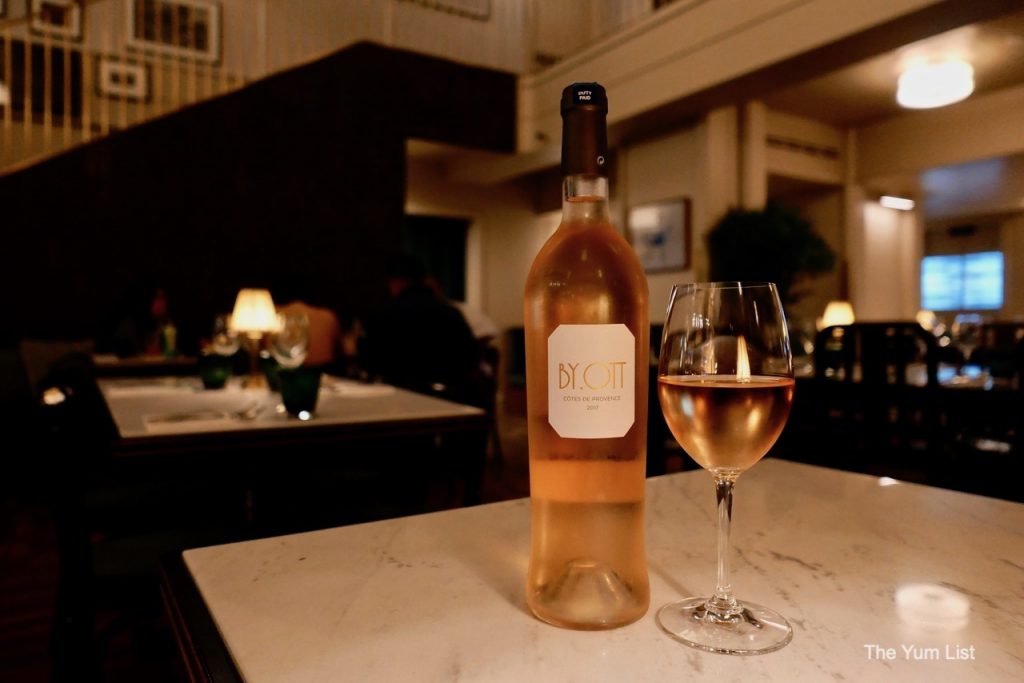 Our first main, Grilled Chicken Breast (RM49), sees tender breast marinated in chermoula paste and grilled until golden around the edges. It comes with a fresh shredded salad of carrot, zucchini and radish, alongside thick-cut fries and spicy mayonnaise. The chicken is superbly moist and generous in portion. This is hubby's favourite dish.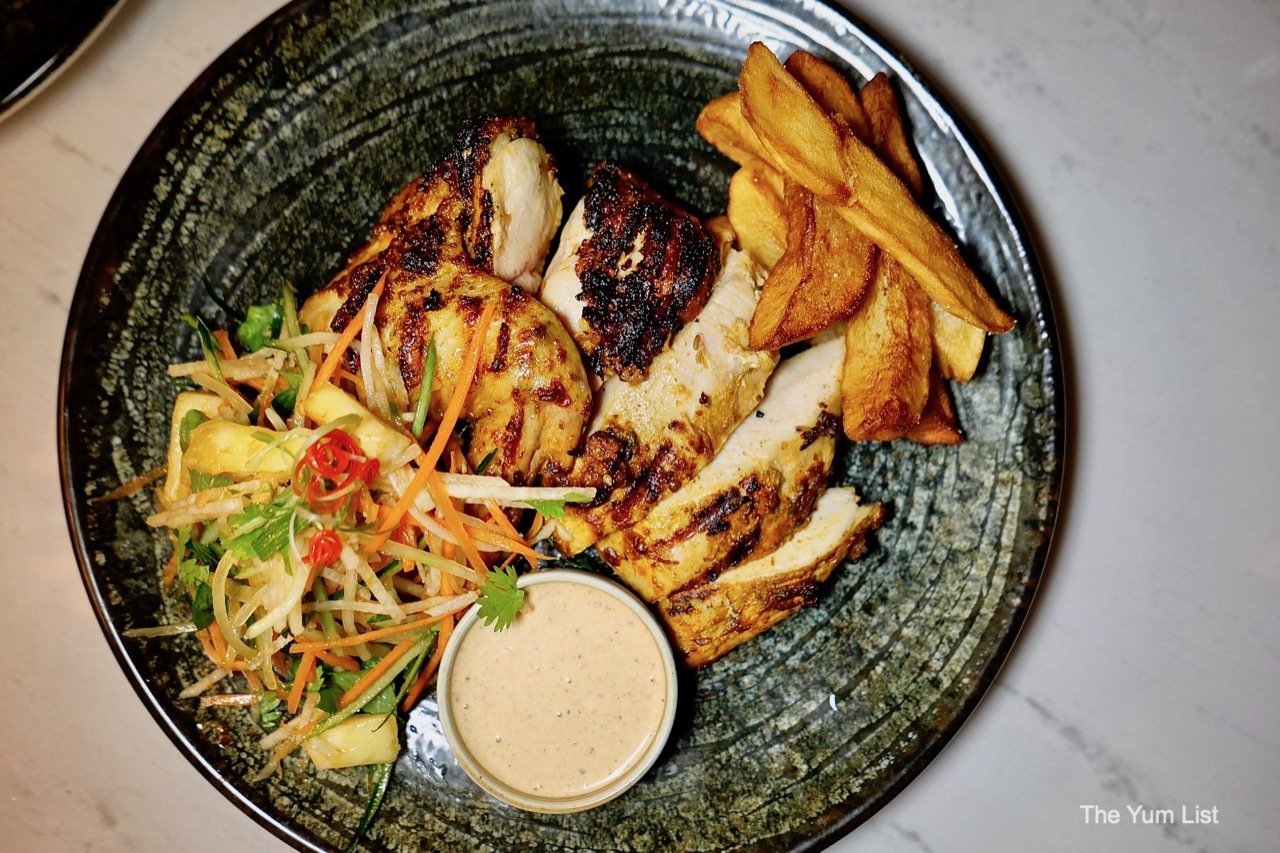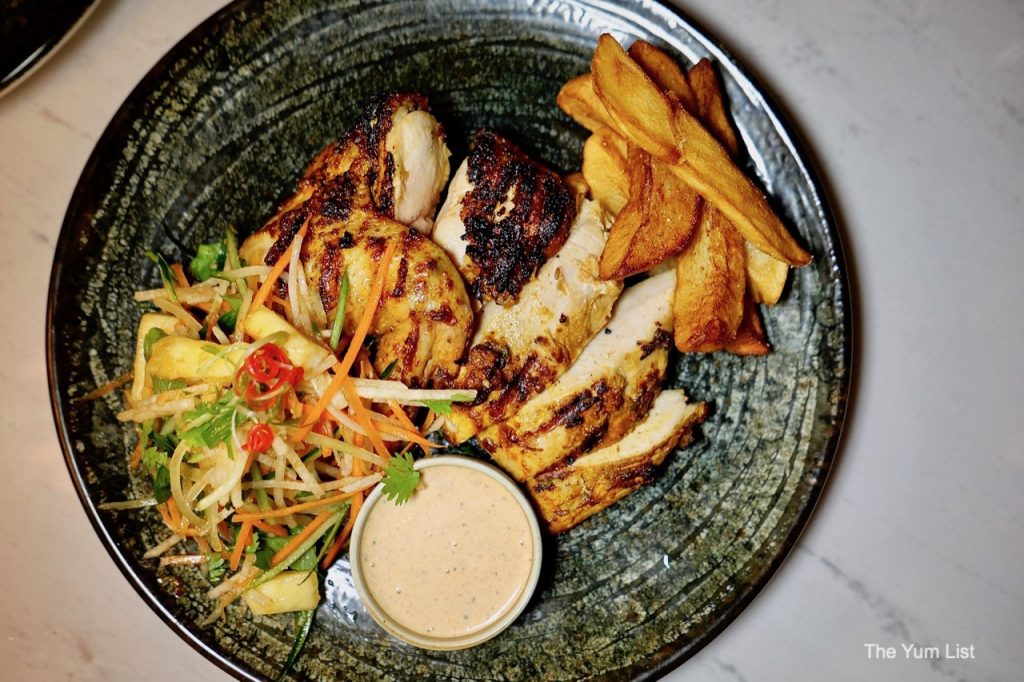 Barramundi with Rasam (RM52) is a seafood option at The Chow Kit Kitchen & Bar. Here it's been grilled in a banana leaf and served with tamarind sauce, pineapple chutney and saffron potatoes. It's a habit-forming mingling of sour, sweet and spicy. Just a hint of chilli leaves a tingle on the tongue and the tamarind zip is addictive.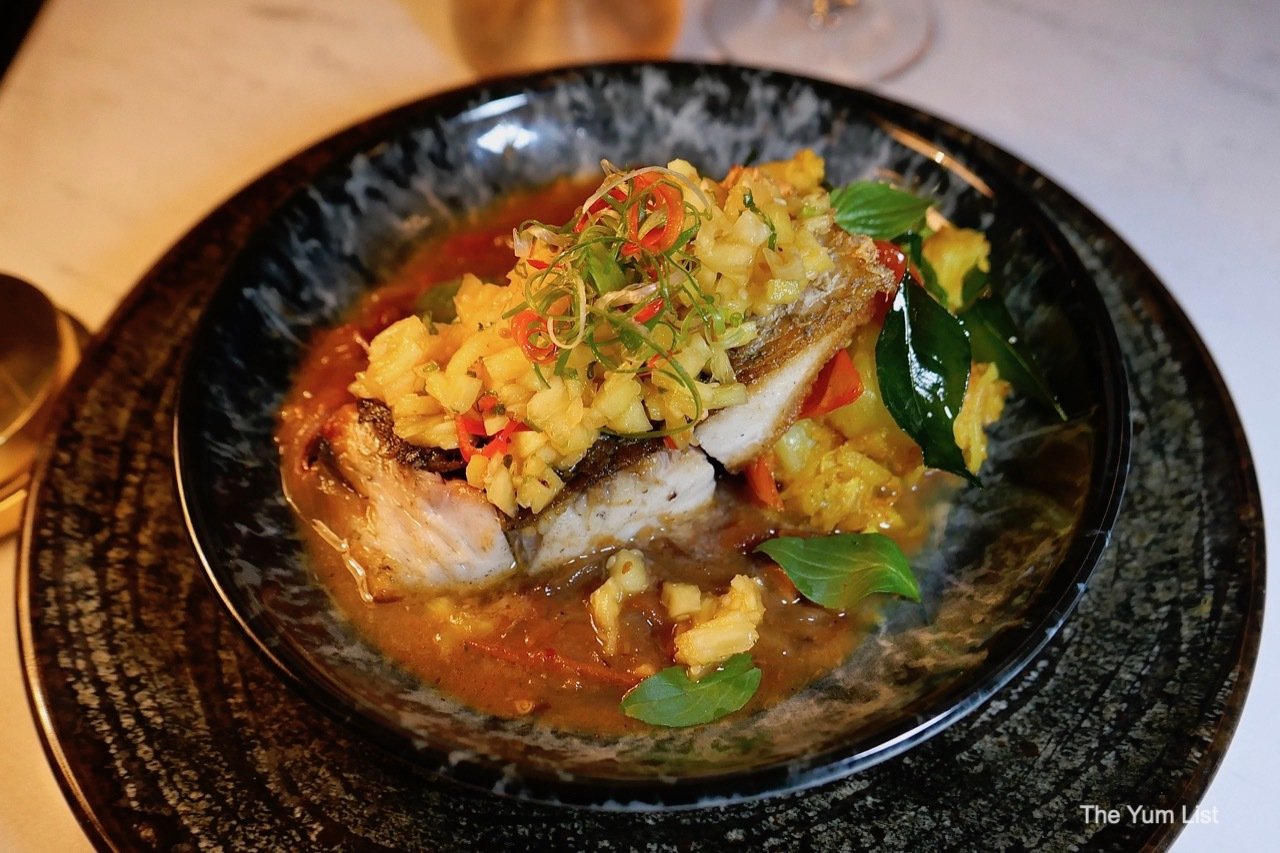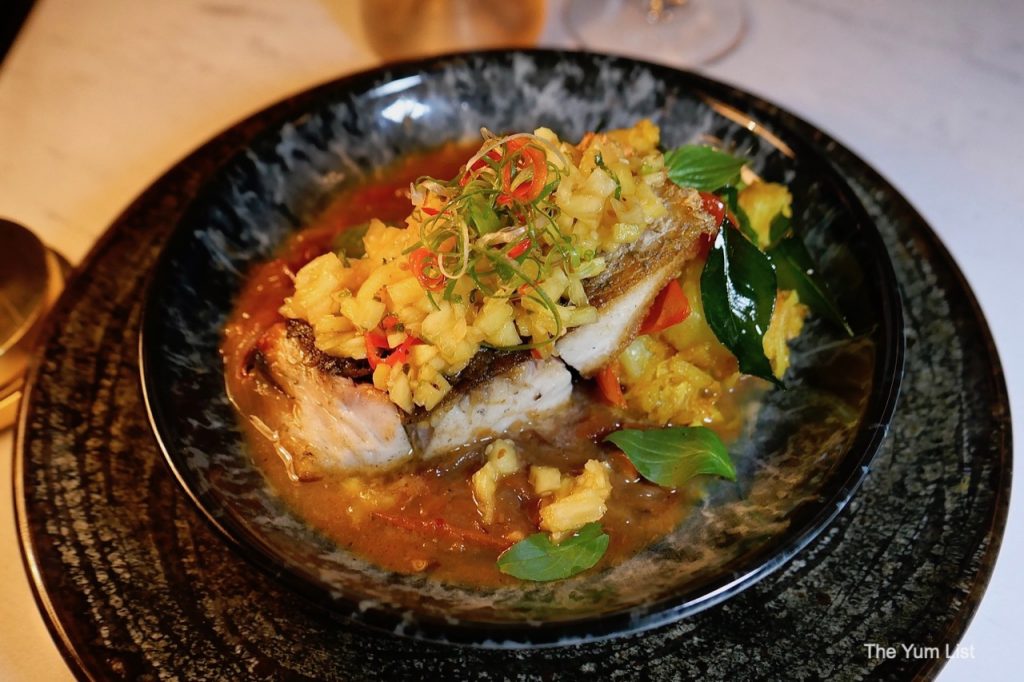 Impressed with our first dinner at The Chow Kit Kitchen & Bar, we return for a second round. We've been told that The Chow Kit Fish and Chips (RM58) is a must as it's both impressive in presentation and in flavour. When it arrives it delivers on both accounts. An entire tandoori marinated garoupa is served with crispy kale, thick hand-cut chips and a fresh and tangy tartare sauce (given its deliciousness with the heart of torch ginger). The white, flaky fish is encased in a crisp batter locking in its moisture. Hubby literally picks it up in his hands and picks it to the bone.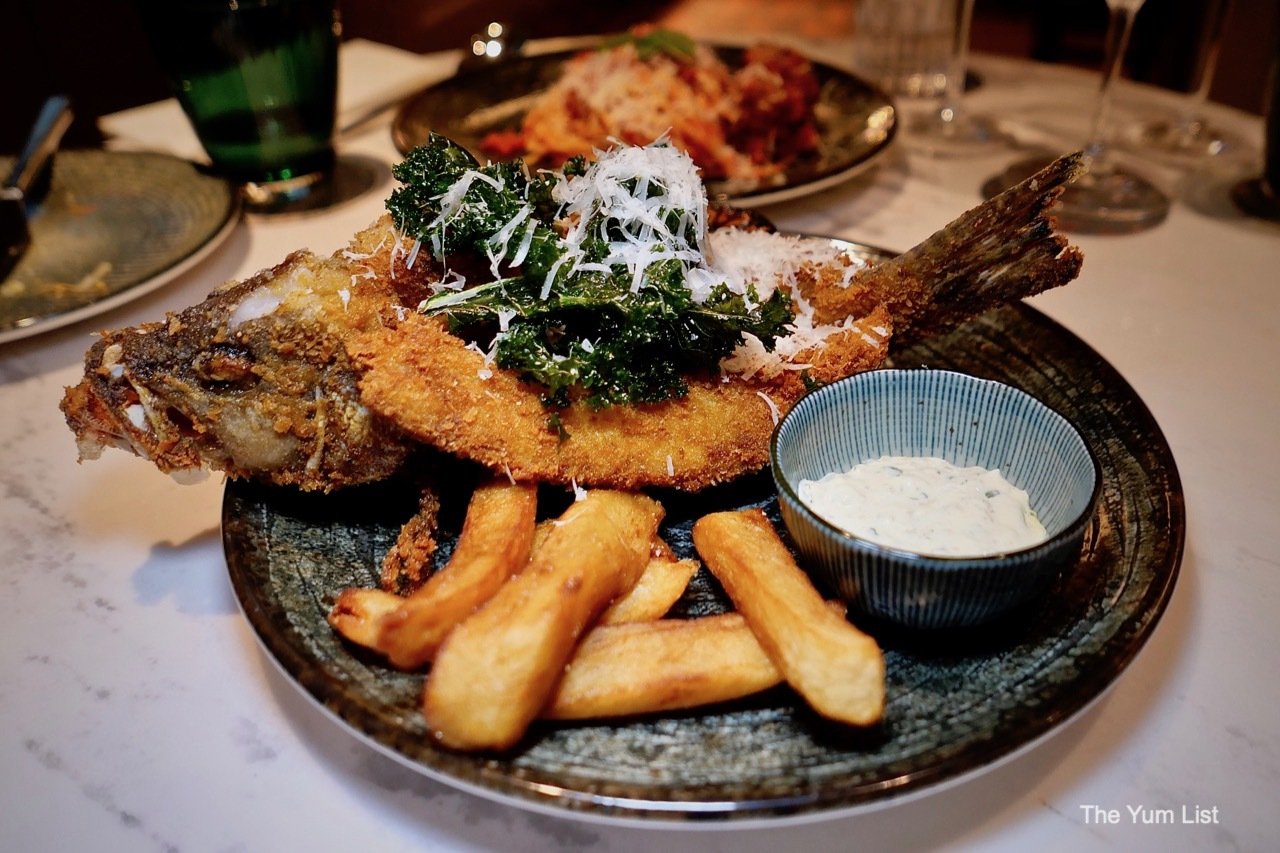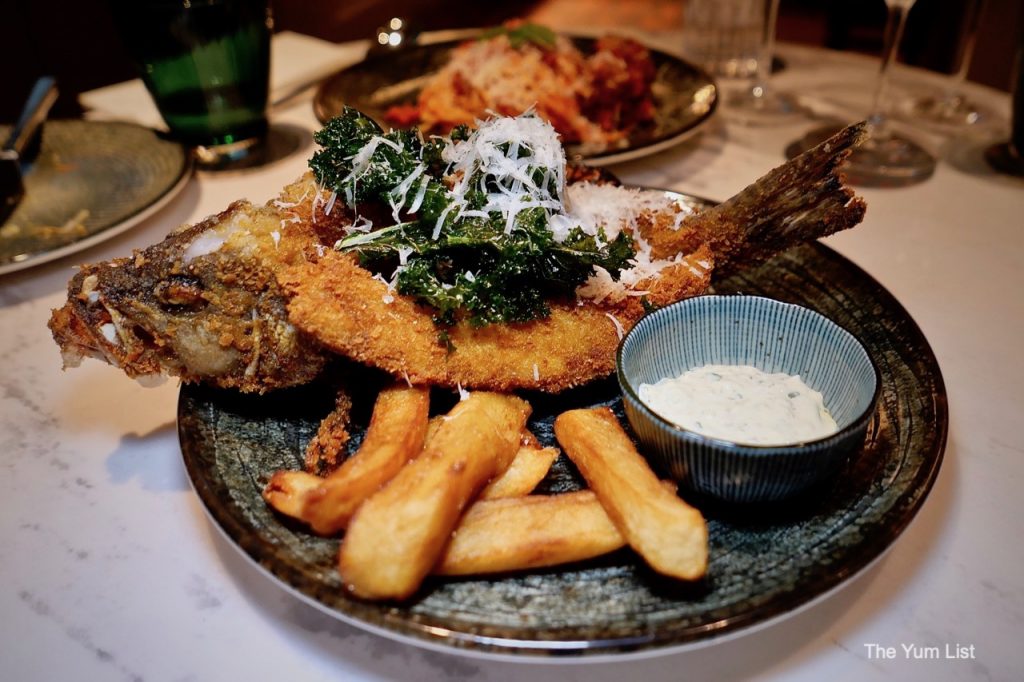 Spaghetti & Meatballs (RM25) could be one of the simpler items on a menu, but here it has been enhanced with lemongrass reminding us of our location. The hearty tomato-based pasta is loaded with three meatballs and topped with plenty of grated Parmesan.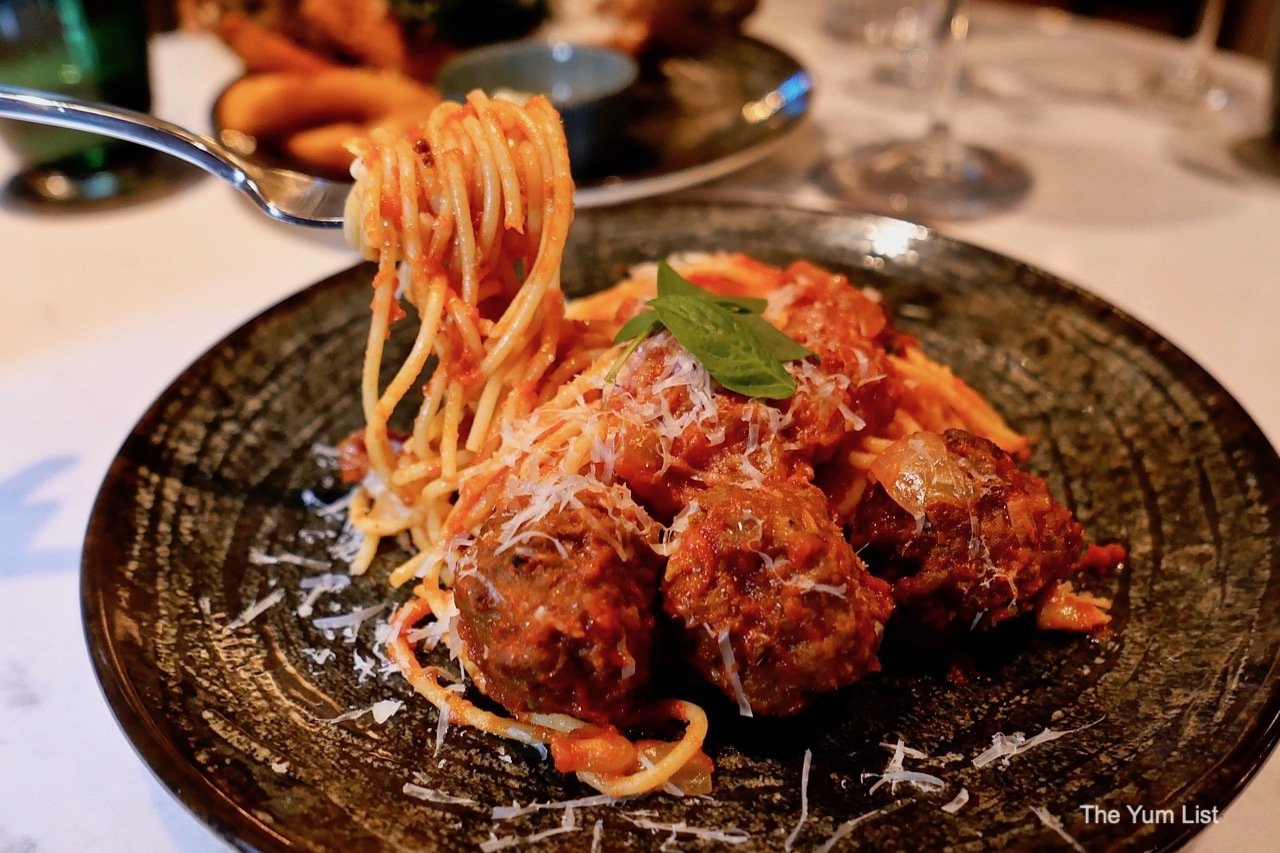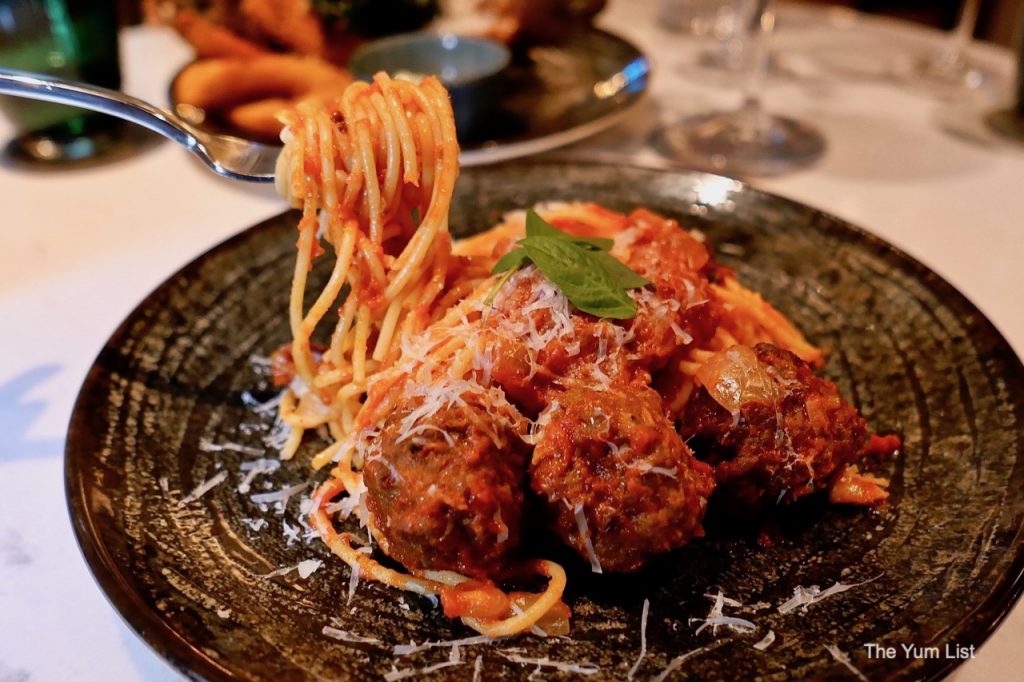 Small Plates
Avocado Fried Rice (RM22) lushes up a traditional garlic fried rice with mashed avocado. There's enough bite from the garlic to maintain its savoury status but the avocado provides a creamy coat tempering the tang.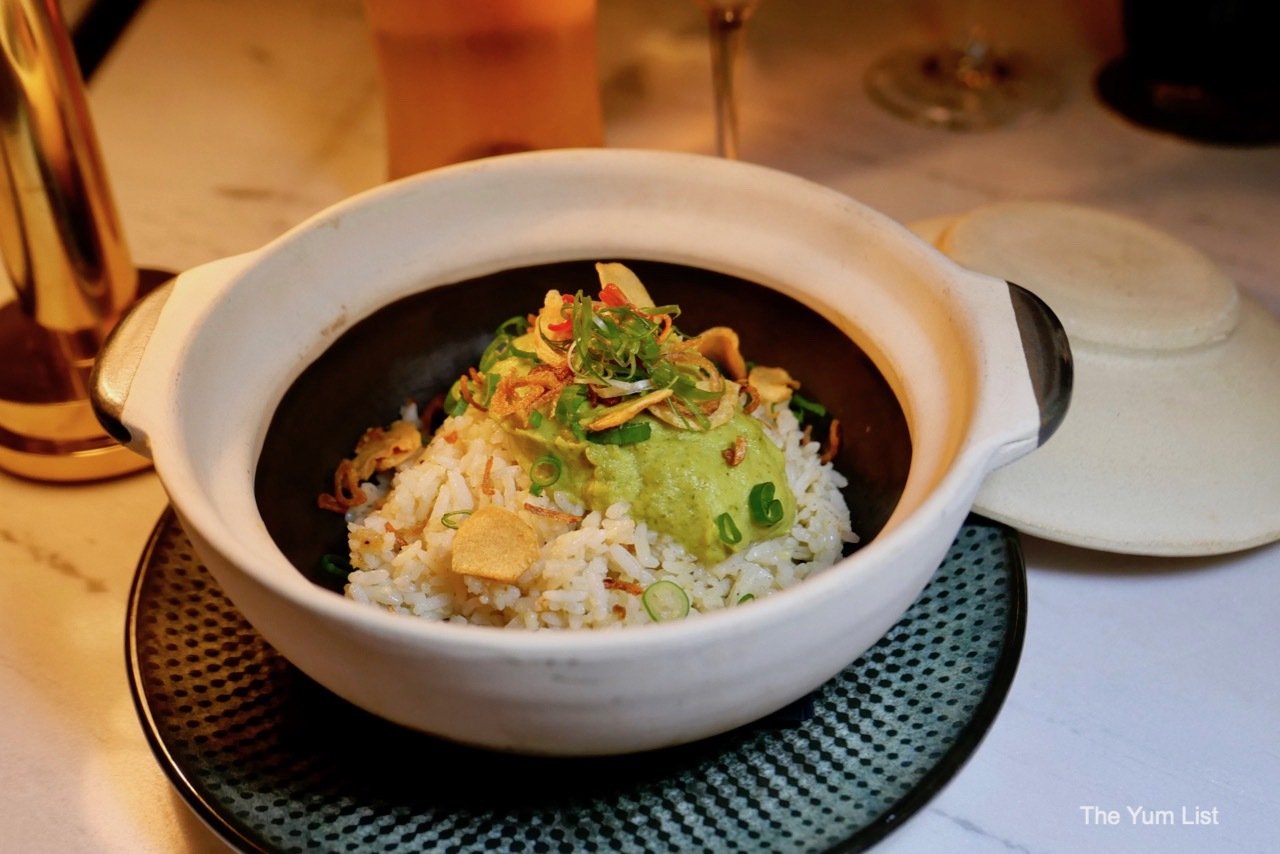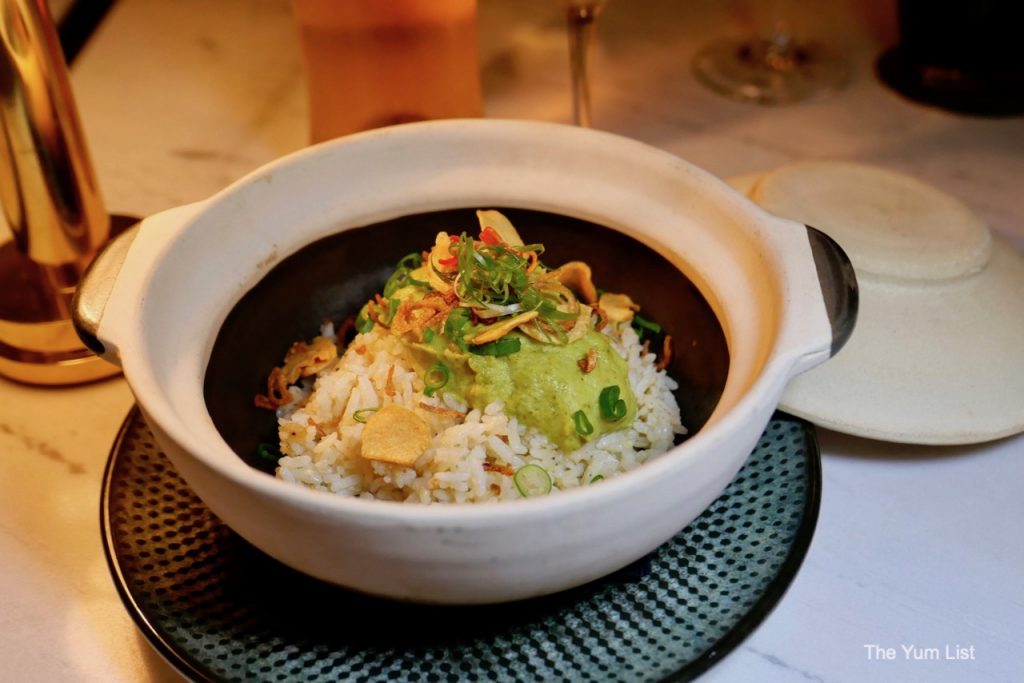 Balancing out our proteins with greens, the Kailan with Tempeh (RM18) sees the local veg done two ways. Steaming and frying mix up the textures and the addition of spicy sambal and tempeh could almost turn the recipe into a main dish for a small eater.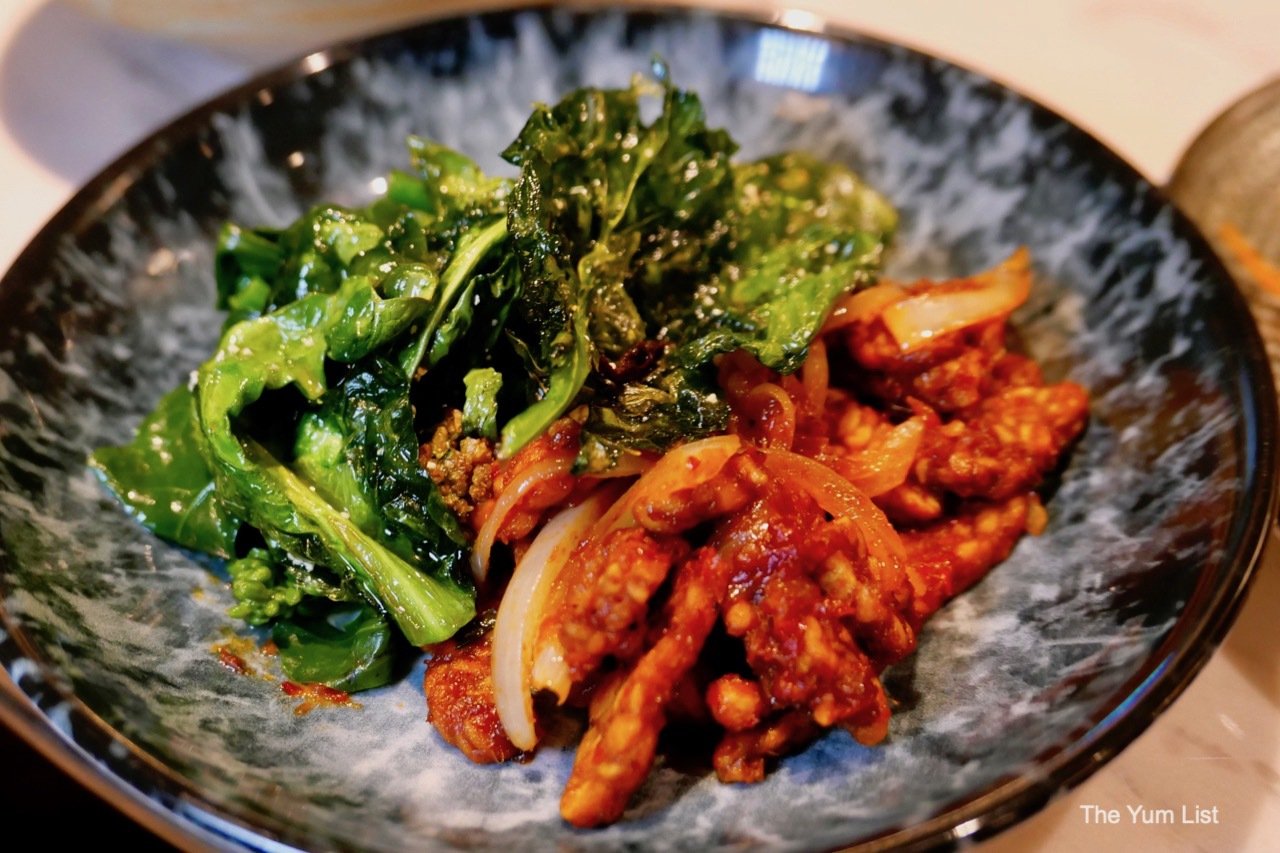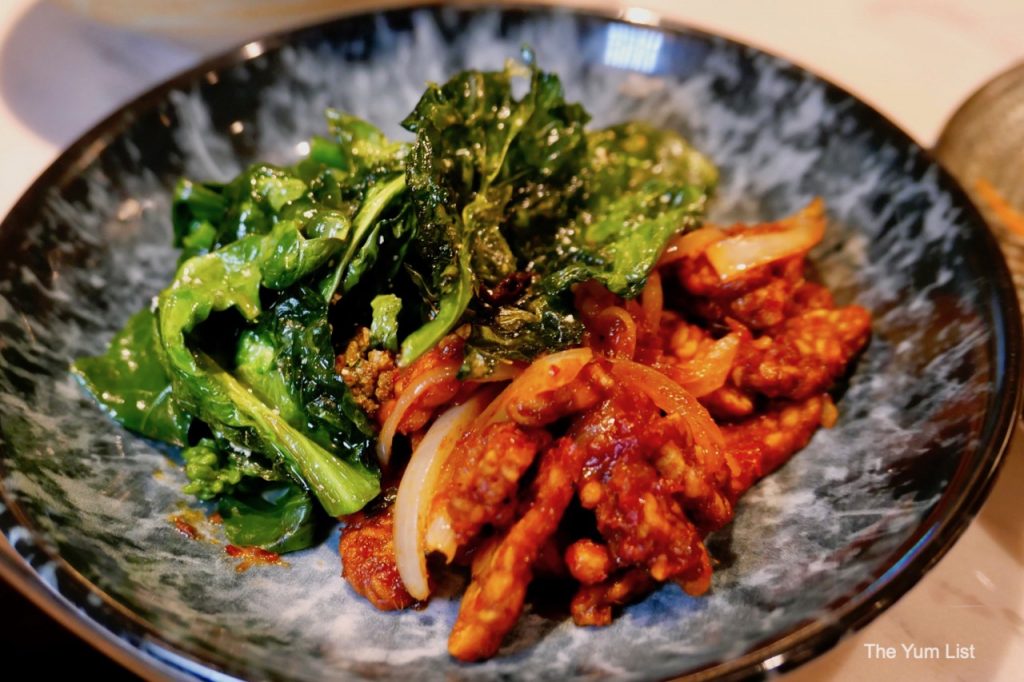 Desserts
Coconut & Pandan Pudding (RM18) utilizes two of Malaysia's most well-received ingredients. The fluffy coconut cream topping is gifted a trace of savoury with a sprinkling of salt. The next layer is a vibrant pink of sago coloured with rose, while the pudding base is a pale green due to pandan leaf. It's drizzled with a delectable gula Melaka (palm sugar) syrup. The composition is fabulous.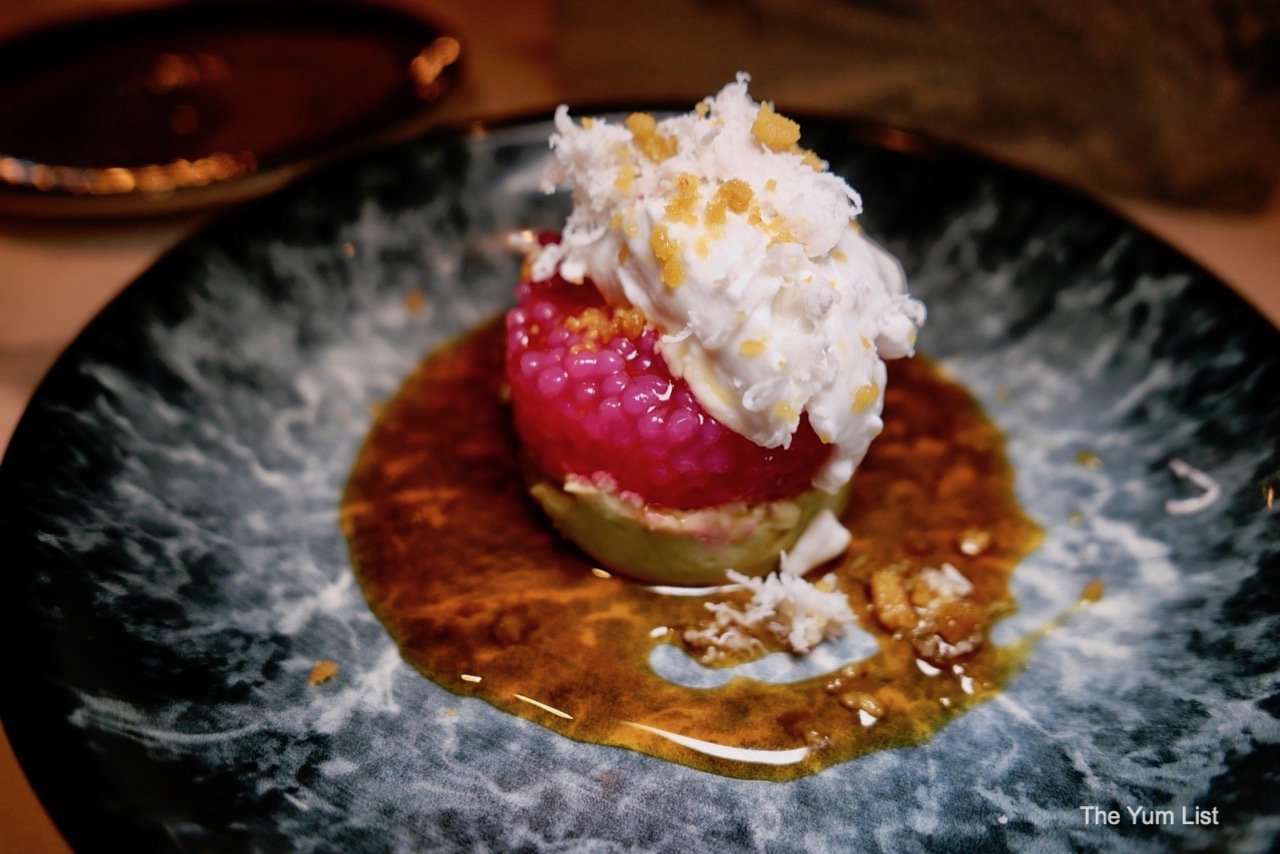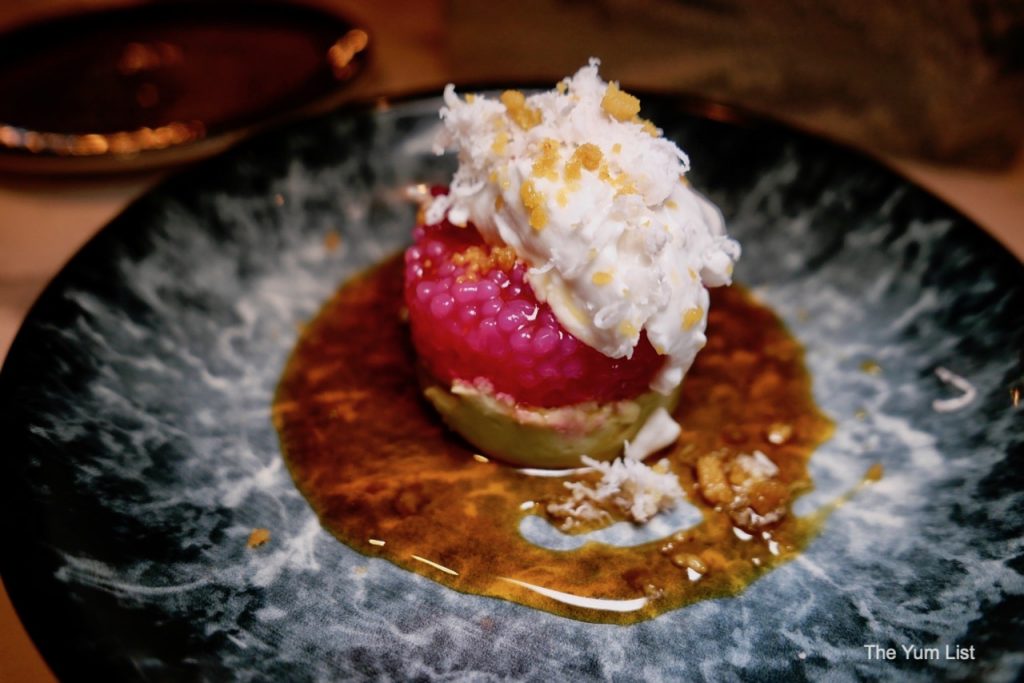 The Chow Kit Crème Caramel (RM18) is the restaurant's signature cendol flavoured custard. The distinctive cendol green noodles have risen to the crown of the baked cream and they're topped with gula Melaka caramel. Moating the centre are stewed red beans and sago. I'd happily ask for more sago and discard the beans if given a choice, but I know others would love the extra protein. Sweet and creamy – a great ending.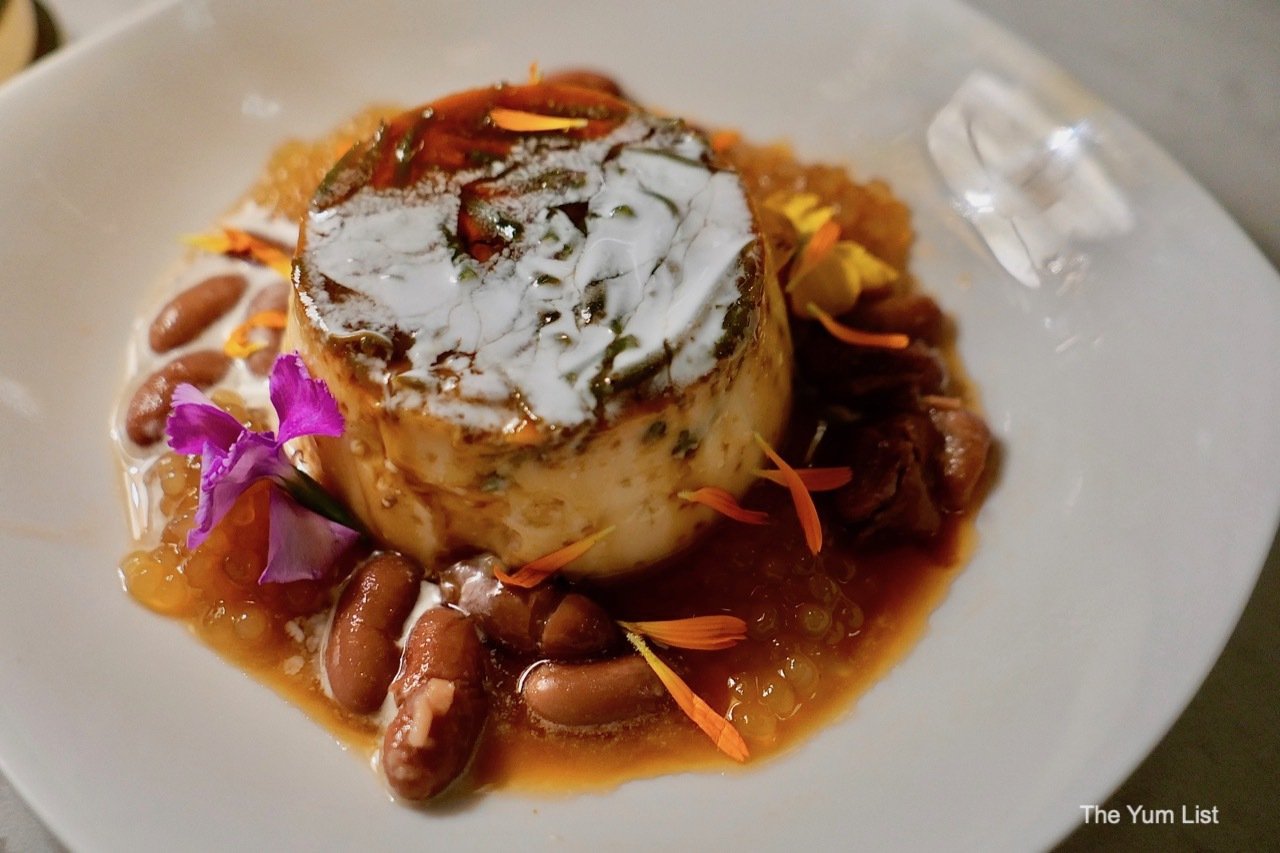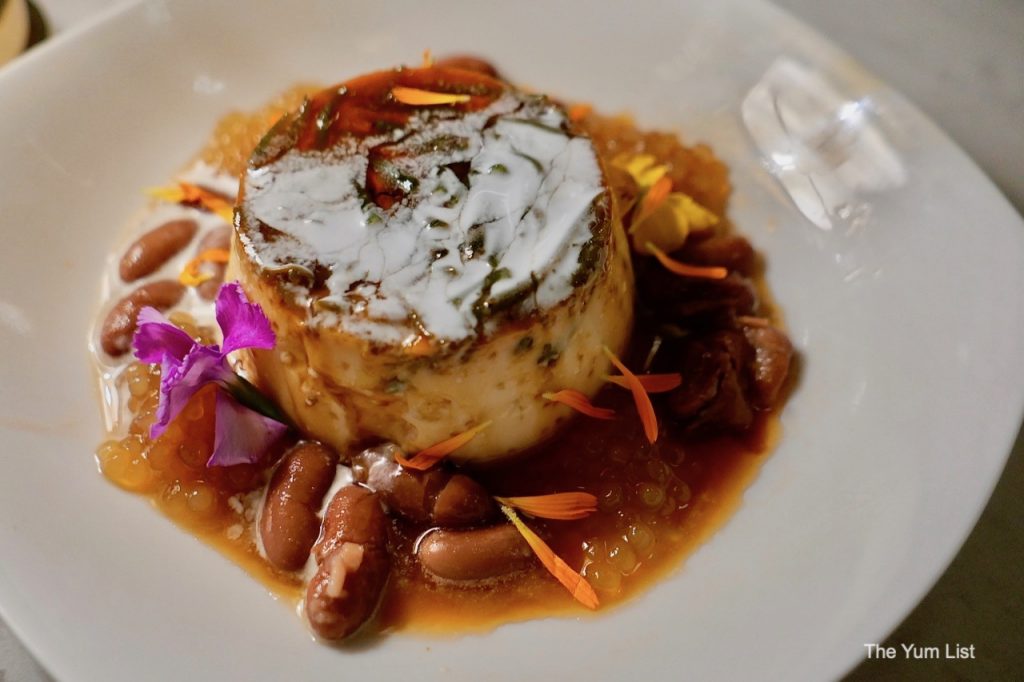 The Chow Kit Kitchen & Bar Review
Come for a drink and stay for a meal. Start with a meal and continue on for a drink. The stylish space and contemporary menu at The Chow Kit Kitchen & Bar has plenty to hold attention for several hours, or even over a weekend stay.
Reasons to visit The Chow Kit Kitchen & Bar: great bar that supports the restaurant; excellent mix of local and international flavours founded on substance and fashioned on contemporary flair. Must try The Chow Kit cocktail, The Chow Kit Nachos, Grilled Chicken Breast, The Chow Kit Fish & Chips and the Crème Caramel.
The Chow Kit Kitchen & Bar
The Chow Kit, 1012 Jalan Sultan Ismail
Chow Kit, Kuala Lumpur, Malaysia
+6 03 2778 6666
www.thechowkit.com
The Chow Kit Kitchen & Bar Opening Hours
Monday to Friday: 6:30 am-midnight
Saturday & Sunday: 7 am-midnight