Tapestry Dining
Words: Monica Tindall
Photos: Rich Callahan
You may already know Tapestry via their Rise & Shine brunch menu. This wonderfully photogenic restaurant quickly topped the lists of Instagrammers in KL as the place to shoot on the weekends within days of opening. Once the buzz subsided, however, guests soon discovered a menu worth contemplating – contemporary Malaysian recipes with a good dose of international influence. Recently introduced, Tapestry Dining morphs from day to night with dinner offering a modern western grill concept.
Tapestry Dining KL
The streams of natural daylight shift to soft lamp-sourced illumination in Tapestry Dining. The cloth hanging from the ceiling is given a softer mood with the dimming of the lights. And, instead of coffee cups brimming over the edges, wine glasses clink and sounds of celebrating the day or cheers of gratefulness for the weekend are heard.
Tapestry Dining Menu
The menu is divided into Drinks, Small Plates, Bigger Plates and Desserts. The team value sourcing ingredients that are fresh, seasonal and sustainable, and prepare them on the grill in modern recipes.
Drinks
To get started, a short list of wines, craft beer, juices, coffee, and other soft beverages make up the drinks list. Of note is an Orange Wine (RM39), Il Carpino Exordium IGT Della V.G 2012, a natural drop from Italy. It's a deep yellow in the glass, and bold in the mouth. The wine is versatile with enough structure to last over several courses.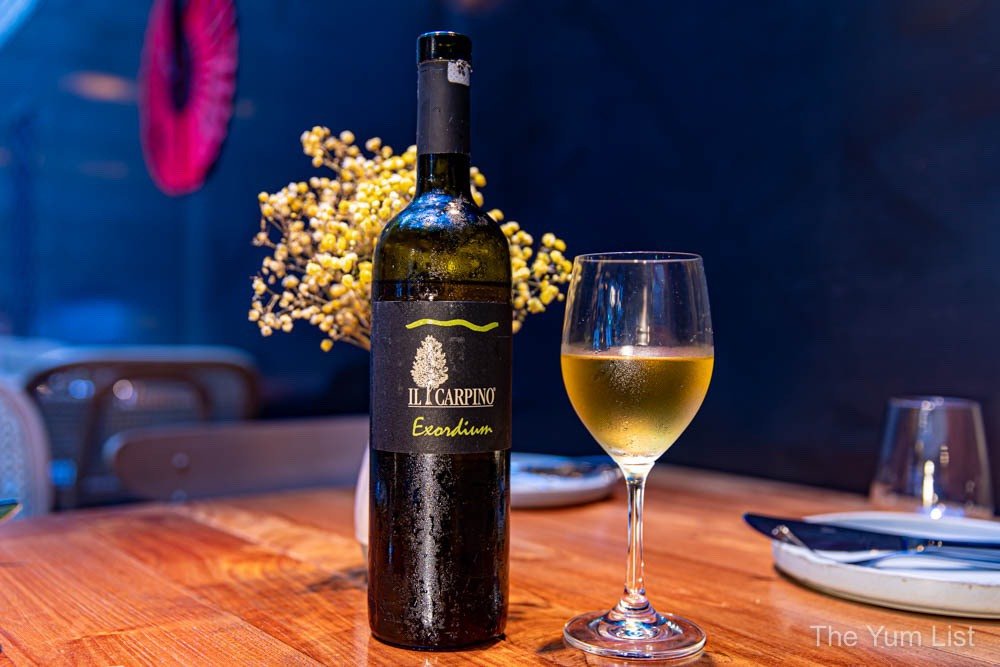 A non-boozy option, Mighty Green (RM 12), is a nutritious blend of celery, green apples, cucumber and baby spinach, great for new year beginnings. Fruits are quick-frozen and then blended keeping the whole fruit and veg, which maintains the fibre, making the drink more filling and maximising nourishment.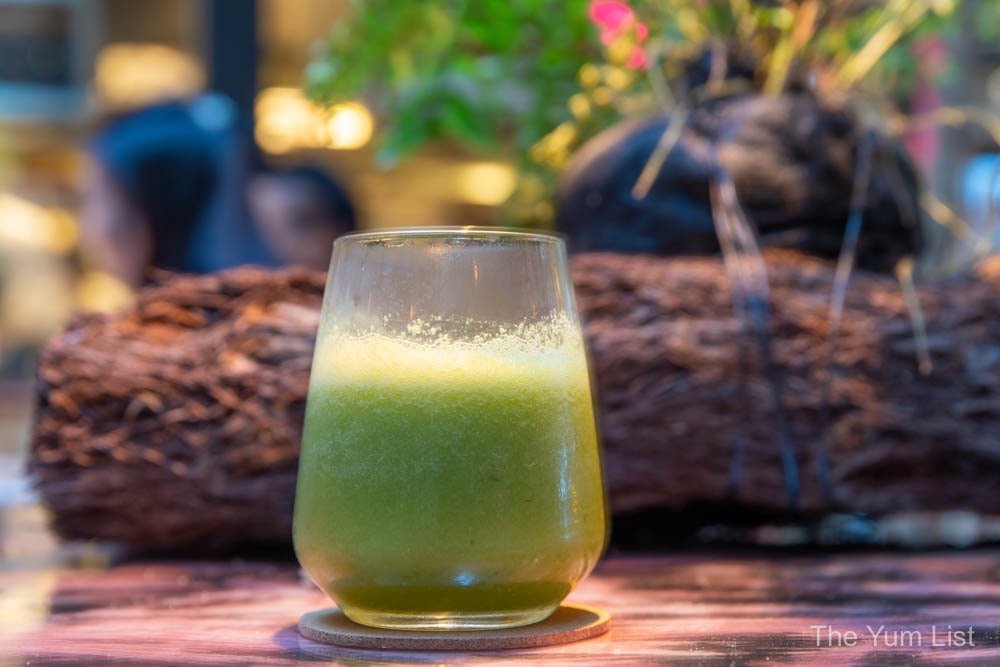 Small Plates
We launch with the Grilled Watermelon Citrus (RM 18). A small mound of melon cubes is piled atop one another with a tangle of Vietnamese coriander, mint leaves and toasted white sesame seeds. This simple combination of compressed grilled watermelon and yuzu is irresistible.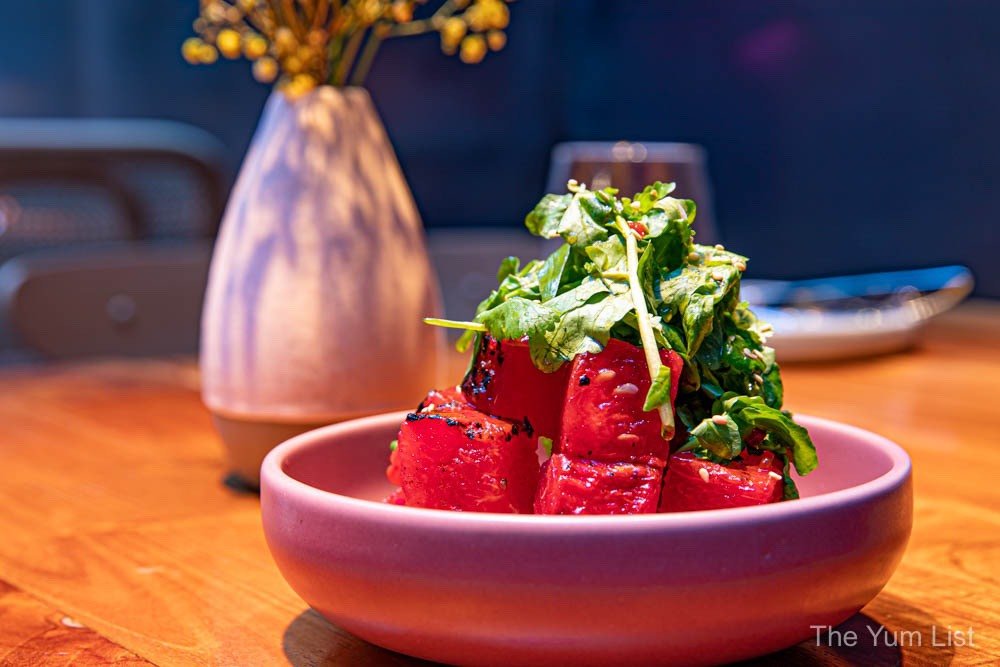 Zucchini Barramundi Otak-Otak (RM 25) upgrades the local recipe with zucchini flower, barramundi otak-otak and sambal aioli. Instead of the traditional otak-otak leaf wrapping, zucchini flower encases the ingredients making the entire tube edible. The sambal is delicious, not what I had imagined at all. Not super pungent and spicy, it's rather balanced, creamy and addictive.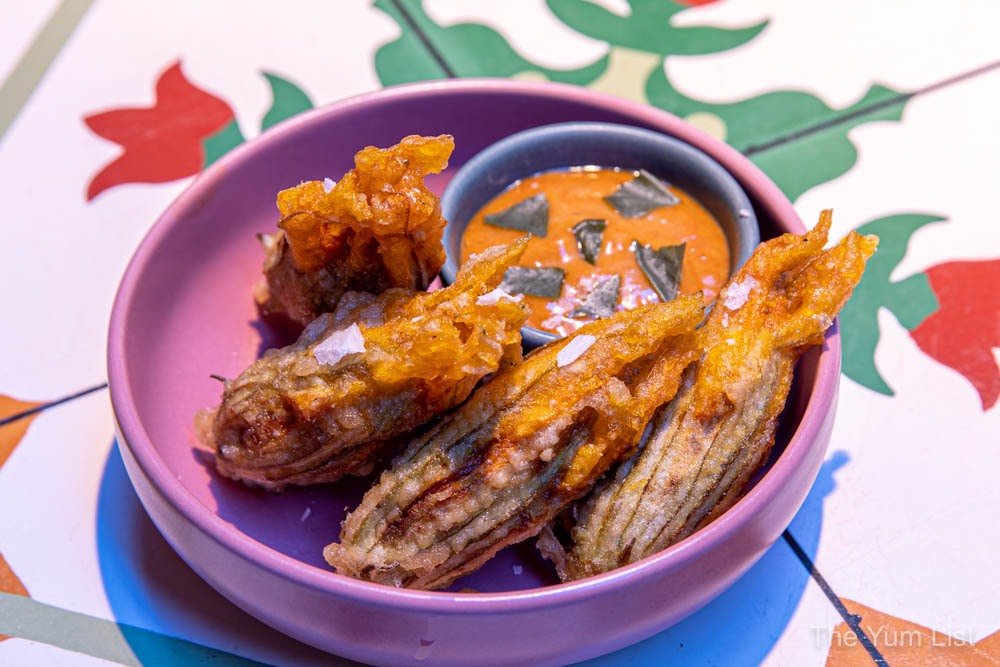 The third small plate can be made vegetarian by taking out the beef. Rich and hubby are happy we get the meaty version though and find the Janda Baik Purple & White Corn (RM 32) one of their favourites. The sweet, juicy kernels are given a savoury edge with Spanish air-dried beef, charred tomatoes and sambal aioli.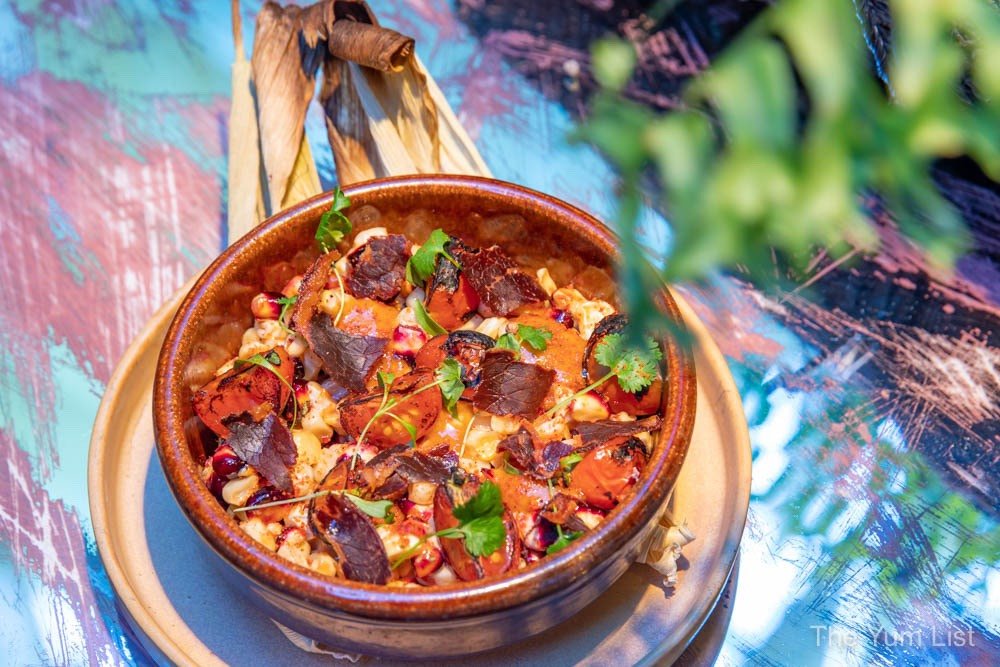 We've hit a trifecta with the small plates at Tapestry Dining; let's hope the mains continue the ride.
Bigger Plates
Moving onto bigger plates, local poultry is the foundation of the Confit Kampar Duck Leg (RM 66). They have managed to create a wonderfully succulent recipe, which is only enhanced by a generous bean stew. Made with chickpeas, kidney, black-eye and black beans, the stew serves as a bed to the duck. Orange duck fat financiers are an exciting, and welcome, side addition.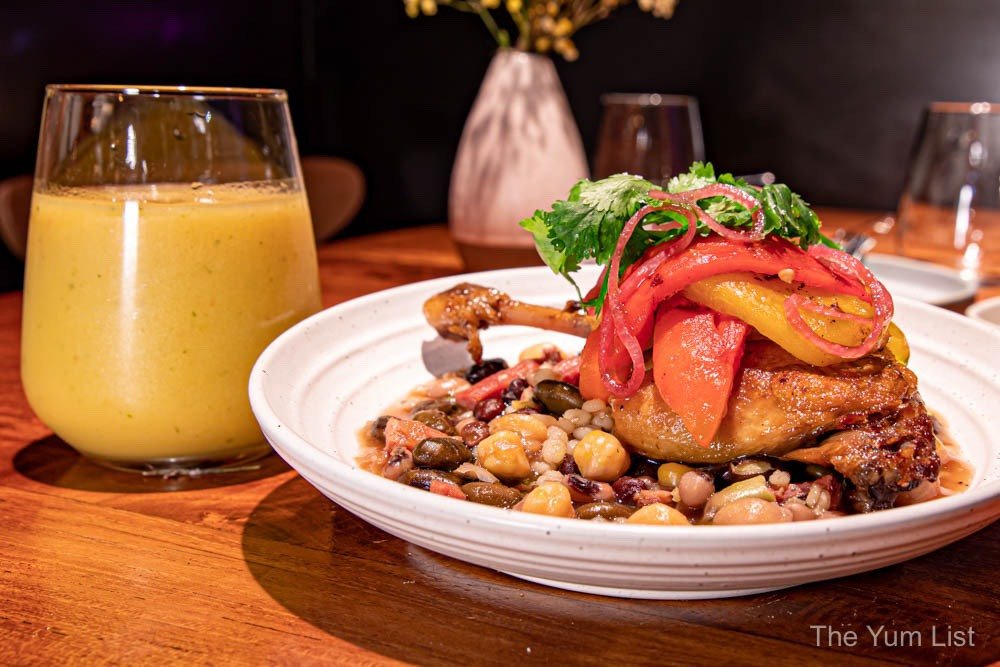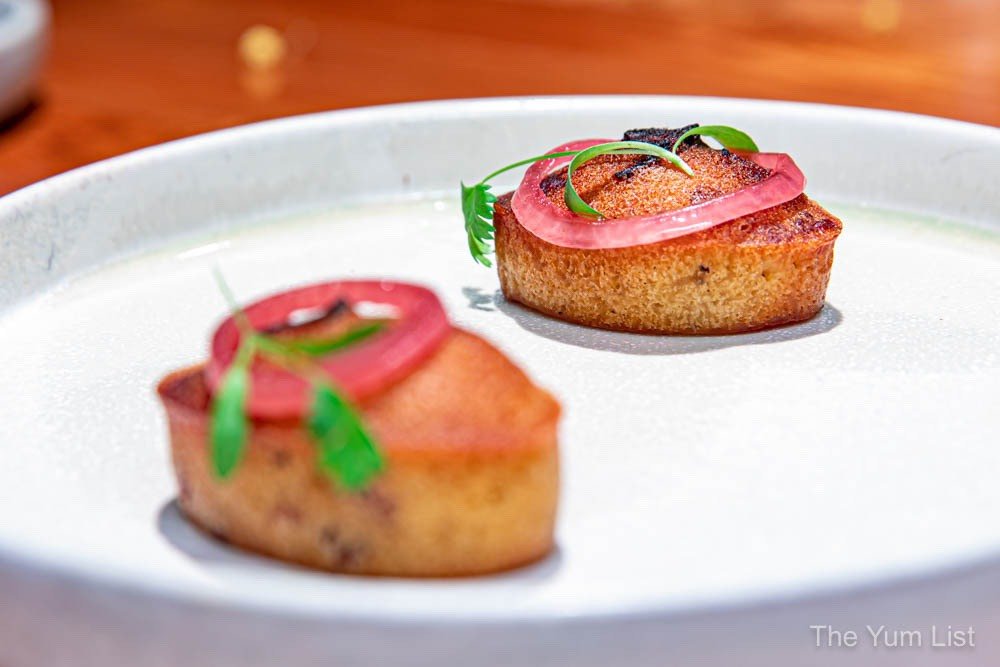 We love the inclusion of a rarely used ingredient in the next dish, Sarawakian Native Job's Tears "Risotto" (RM 66). This gluten-free grain is combined with barley to make a chewy risotto topped with succulent Sabah seafood. Today's catch is prawns, fish and squid. Drops of aioli add coriander adorn the crown. Cooked in a cast-iron skillet, it's nicely caramelised around the edges. Moist and comforting, I highly recommend this pick.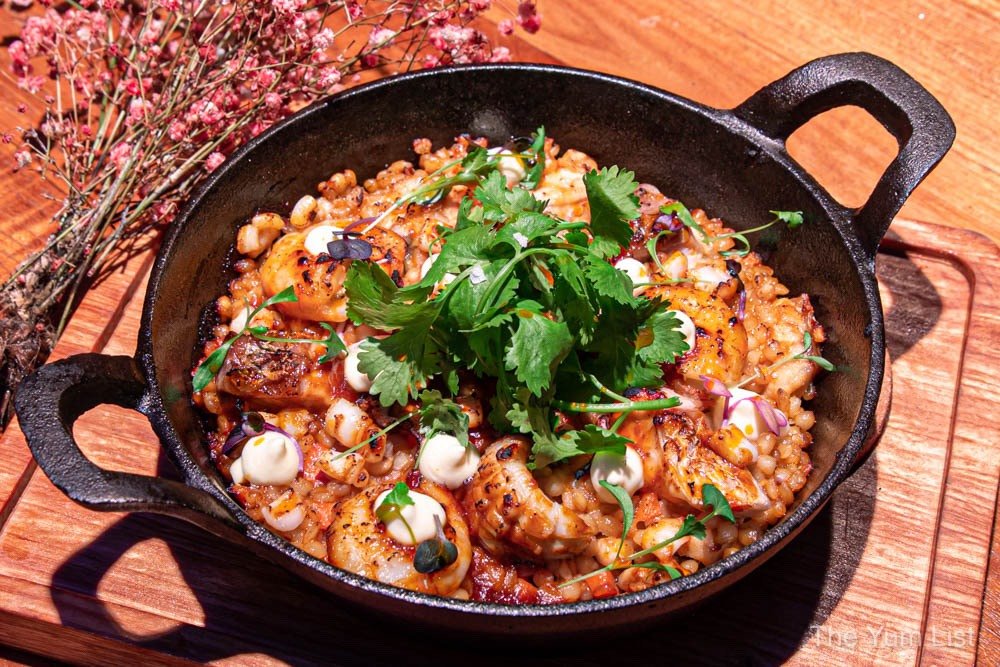 Our last order from the Bigger Plates section at Tapestry Dining is another pleasing dish for the gentlemen, the Australian Wagyu Beef D-Rump MS 6-7 (RM 110). This cut of meat is full of flavour and the local leaf, daun kesum, makes a fine chimichurri freshening the palate. There is an intriguing undertone in the character of the meat. With a little prying, we learn that brine and "moisturiser" made with coconut water, cardamom, mirin and tuak have a whisper of influence. By default, the meat is grilled medium-rare, to chef's perfection. (Be sure to state your preference when ordering, if this is not your desired doneness.) Mushroom salt, cardamom salt and yuzu kosho are fun seasonings provided to experiment with but not needed as the dish is already well-balanced.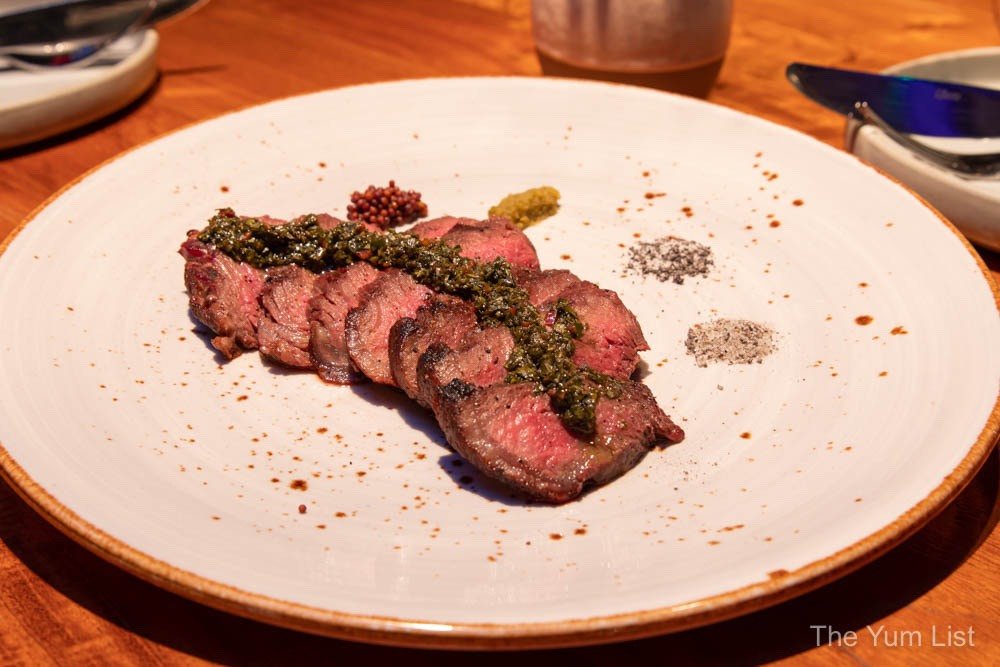 Desserts
We're hoping the desserts are also of "Bigger Plates" in nature as both today sound temptingly delish. Sarawakian Pineapple Tres Leches (RM25), as with everything else, is made in-house. The South American three-milk recipe is soaked in sponge cake and is layered with pineapple compote. Chef delivers it tableside and flambes the centrepiece with some rum right before serving.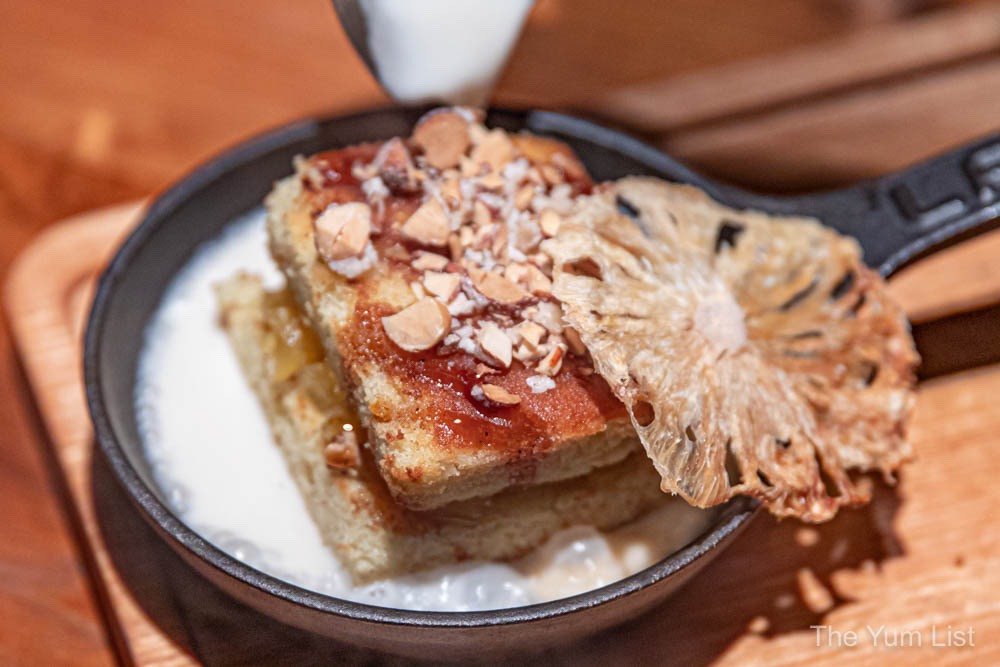 Lastly, Coco Natta (RM 28) is a tropical twist on panna cotta with toasted Hawaiian-style coconut and espresso. The name is not the only reason we smile; the velvety smooth dessert is gently sweet, and the threads of coconut and coffee are enticing.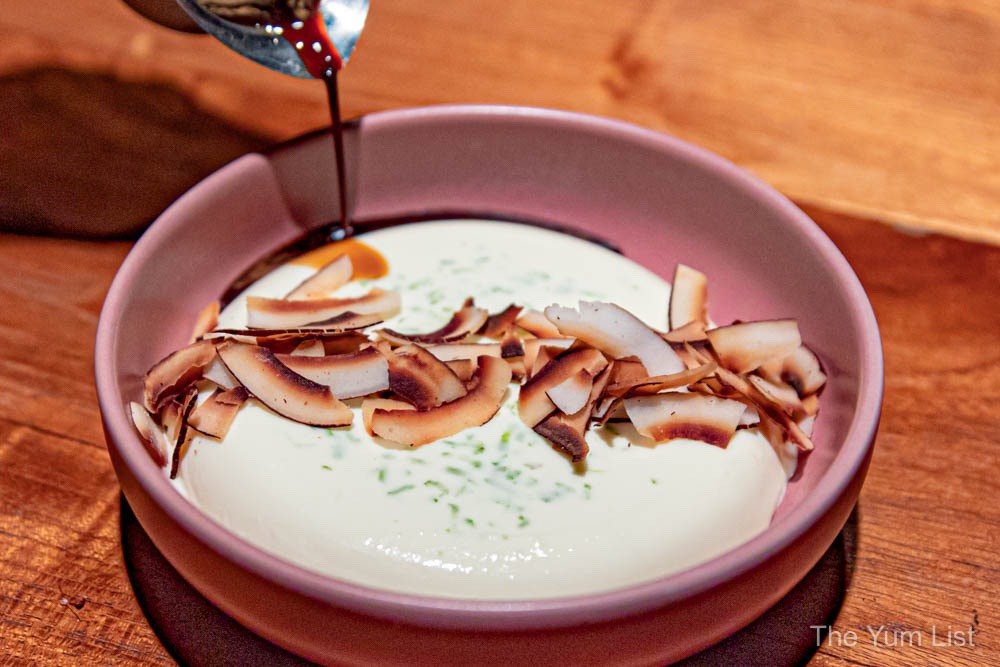 Tapestry Dining Review
Tapestry Dining is set to become a hot destination for date night or intimate groups of friends. The stylish setting is supported by well-run service and a contemporary menu that is both delicious and comforting.
Reasons to visit Tapestry Dining Chow Kit: local produce, modern flavours on the grill; stylish setting; there was not a dish we tried tonight that we didn't like – if forced to narrow an order though – don't miss the Zucchini Barramundi Otak-Otak and Sarawakian Native Job's Tears "Risotto."
Tapestry Dining
28 Jalan Kamunting, Chow Kit
50300 Kuala Lumpur, Malaysia
www.facebook.com/tapestrykl
+60376228787
[email protected]
Tapestry Dining Opening Hours
Wednesday to Sunday: 6:30 pm – 10:30 pm
* Pork-free