Brew & Bread Jalan Ampang
Words: Monica Tindall   Photos: Rich Callahan
We're rather excited about the small section of Jalan Ampang near our home that has seen an increase in café openings in recent years. The strip from Hock Choon grocers to just past Ampang Park station is brewing with coffee options. And, Brew & Bread Ampang, contributes something unique to the scene.
Located in Wisma MCA, with Citibank and the InterContinental hotel right next door, Brew & Bread Jalan Ampang is bound to make many office workers and travellers just as happy as we are to have them nearby. Deep blue counter and kitchen back, soft beige and grey eating area and walls resembling corrugated iron create a cool, fresh setting. A quieter area upstairs, busy seating by the coffee machine, and a decently-sized outdoor patio make good use of space. Potted plants, aromas of freshly brewed coffee and just-toasted bread enhance the welcoming mood.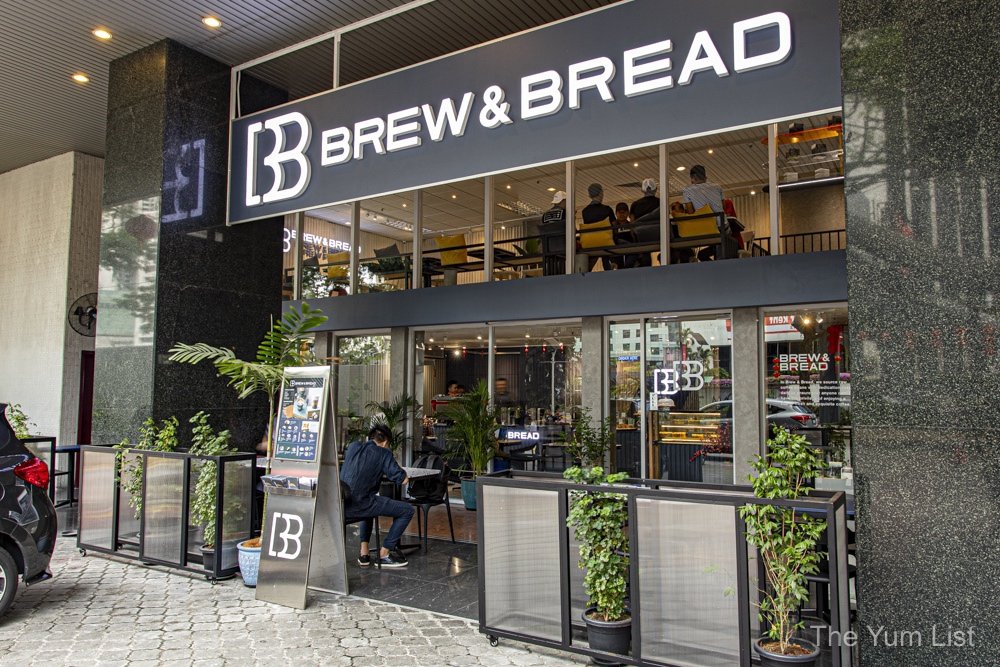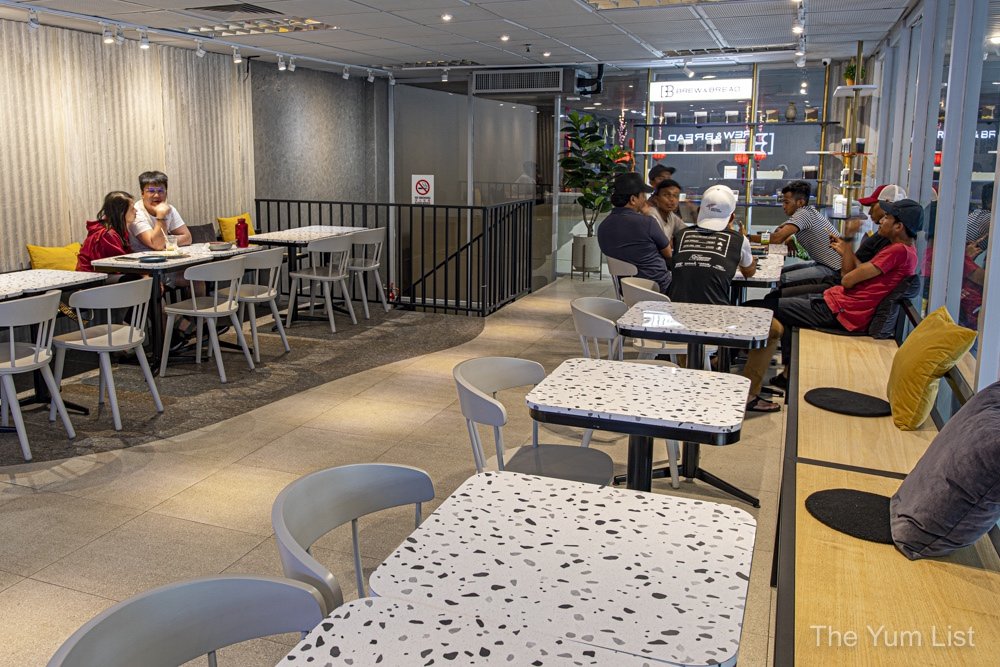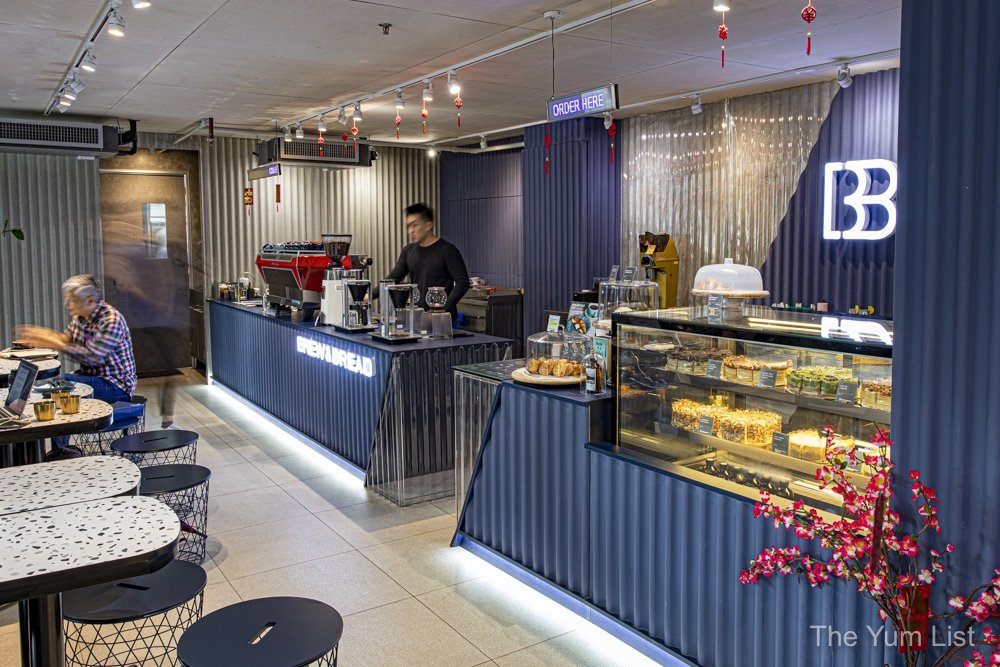 Brew & Bread Jalan Ampang Menu
Breakfast
As you've probably guessed, the menu at Brew & Bread Jalan Ampang centres around coffee and baked goods.
To begin a morning, The Breakfast Set (RM11.90 – 13.90) is an affordable option. Featuring the brew of the day and a sandwich, it's a quick meal to get energized before work or a great little pick-me-up mid-afternoon. There's a choice of three sandwiches – turkey ham cheese, seaweed bonito or double cheese garlic. We try the first and find sliced turkey meat with a folded omelette, cheddar cheese and sriracha cream, warm and melty between thick slices of toasted white bread.
Alternatively, you could plump for something sweet. A steal at RM6.90, the warm Kaya Butter Croissant is freshly baked. It's a little bite of decadence with grandma's recipe of kaya and squares of butter filling the flaky pastry.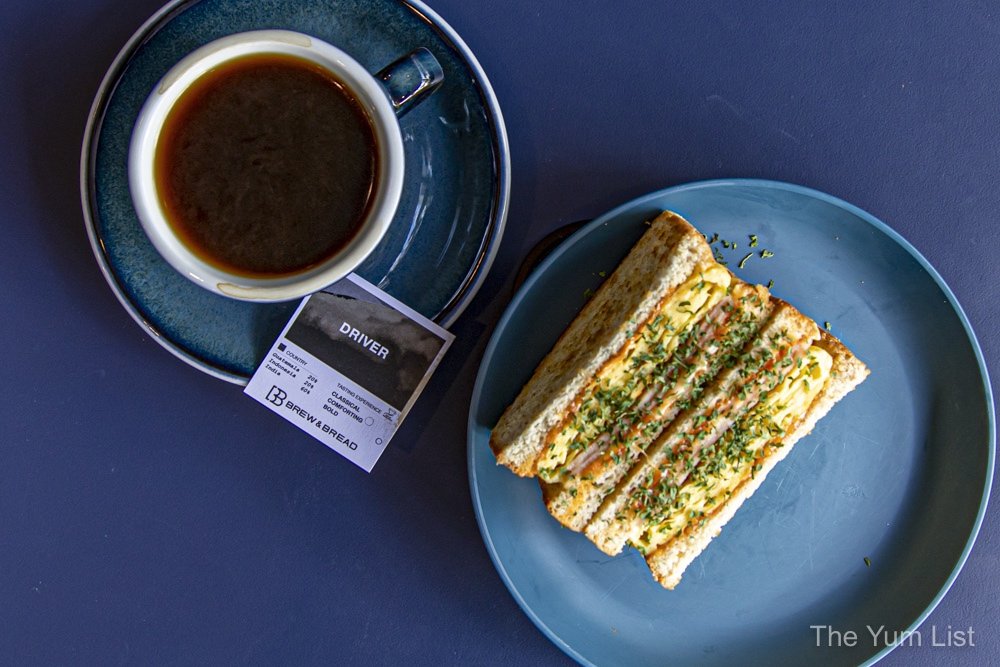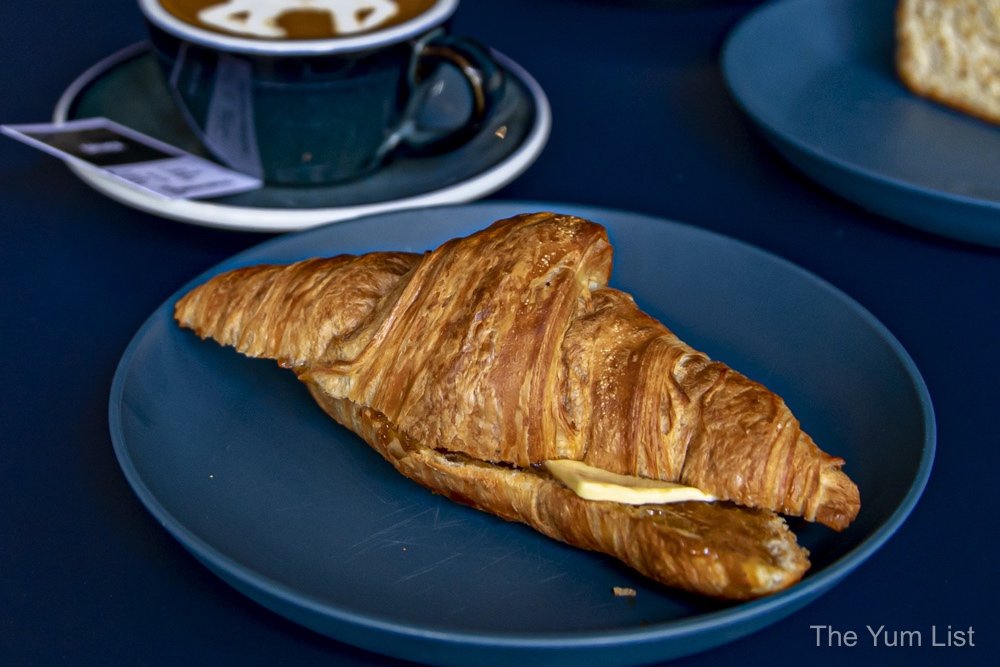 Appetizer
Later in the day, you could opt for something light from the appetizer list at Brew and Bread Ampang. We add some veg to our meal with the Thai Telur (RM13). Coral lettuce, lime, red onion, red chilli and lemongrass bed chopped Thai-style fried omelette. Sweet and spicy, the sauce from our northern neighbours complements the egg quite well.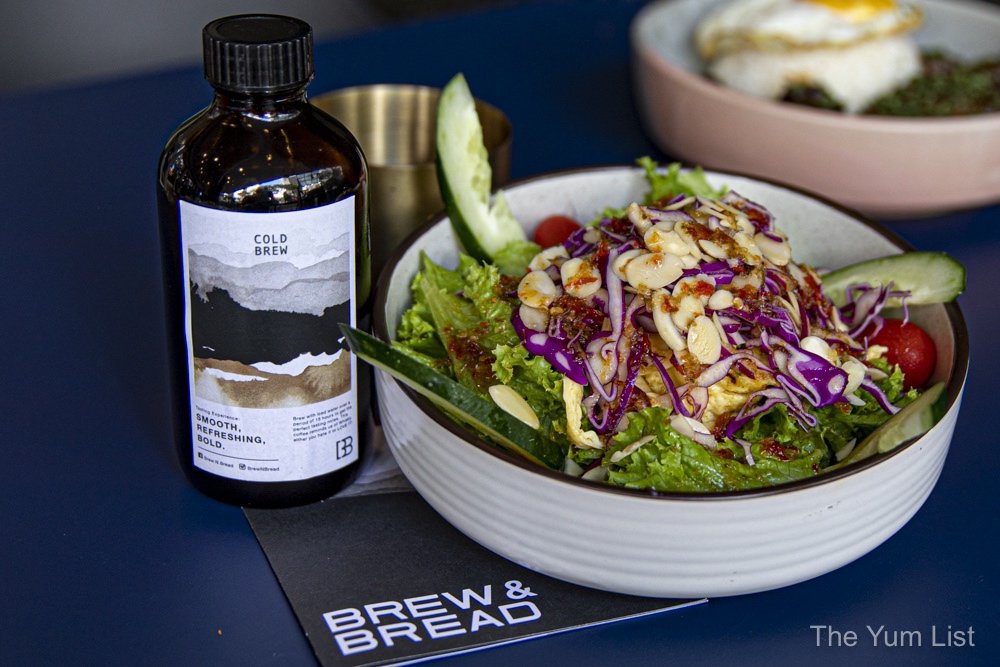 Rice & Pasta
Additional variety is found in several rice and pasta bowls, which also make speedy lunches. We've been informed that the Hot Bunny Crab Pasta (RM 25) quickly became a best-seller within weeks of opening. Plenty of fresh crab meat tops flat ribbons of pasta – linguine. An old English recipe of turmeric, spices, carrots and grated cheese make a tasty sauce with a spicy thread gently weaving its way through.
Lastly, from the rice and pasta section, Ayam Pongteh (RM18) swaps the wheat carbs for fragrant rice. It's crowned with double-boiled mushroom and bean paste chicken. An obligatory sunny-side-up egg smiles from the crest. The rich gravy and tender poultry prove a gratifying dish.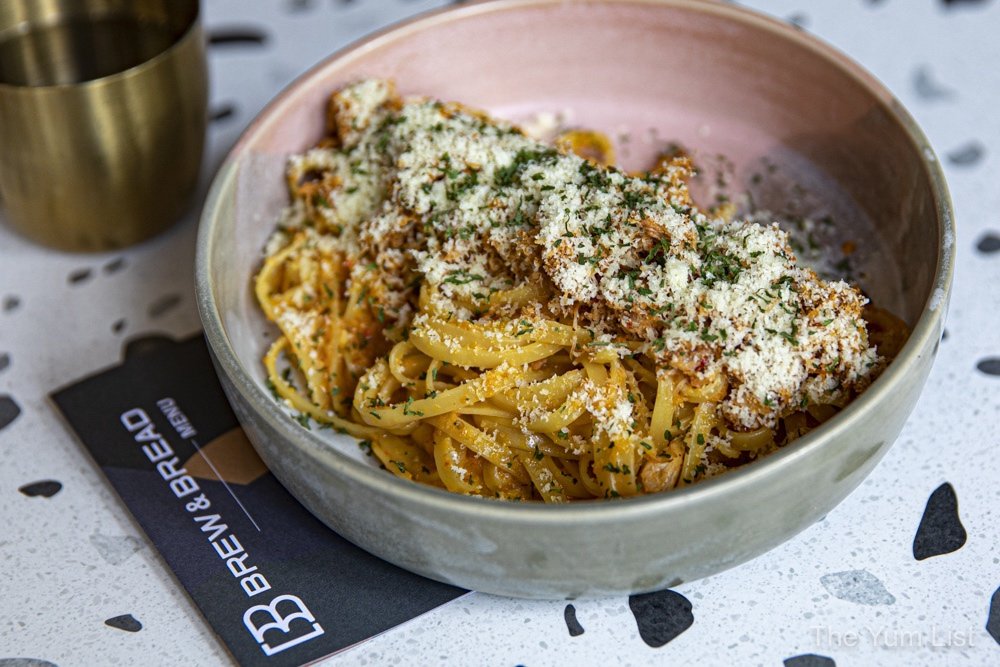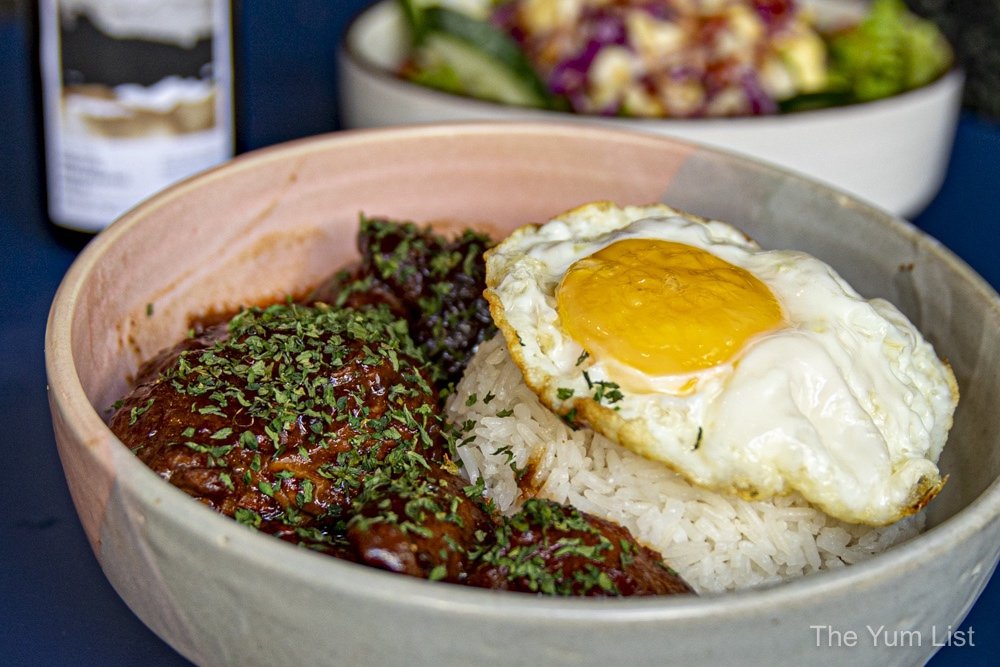 Sweets
Supplementing the savouries, Brew and Bread Jalan Ampang has an assortment of sweets on display. Rotating regularly, you are never too sure what will disappear or enter next. Today we satisfy our sugar cravings with a slice of Green Tea Chocolate Crepe (RM17) and Almond Tiramisu (RM13).
In the former, matcha-hued crumble with chocolate buds cover the top of a multi-layered green and brown-striped slice. The sheets of crepe and filling are so thin, it's hard to tell them apart. The cream softens the bitterness of the tea and cacao.
An Italian classic is glammed up in the latter. Served and sliced in cake form, the outer is coated in a thick, seductive layer of caramelized almonds. It's a sight to behold and hard to resist if you are a nut lover like me. Almond essence replaces the boozy kick and the inner layers of cream and sponge temper the sugared overlay.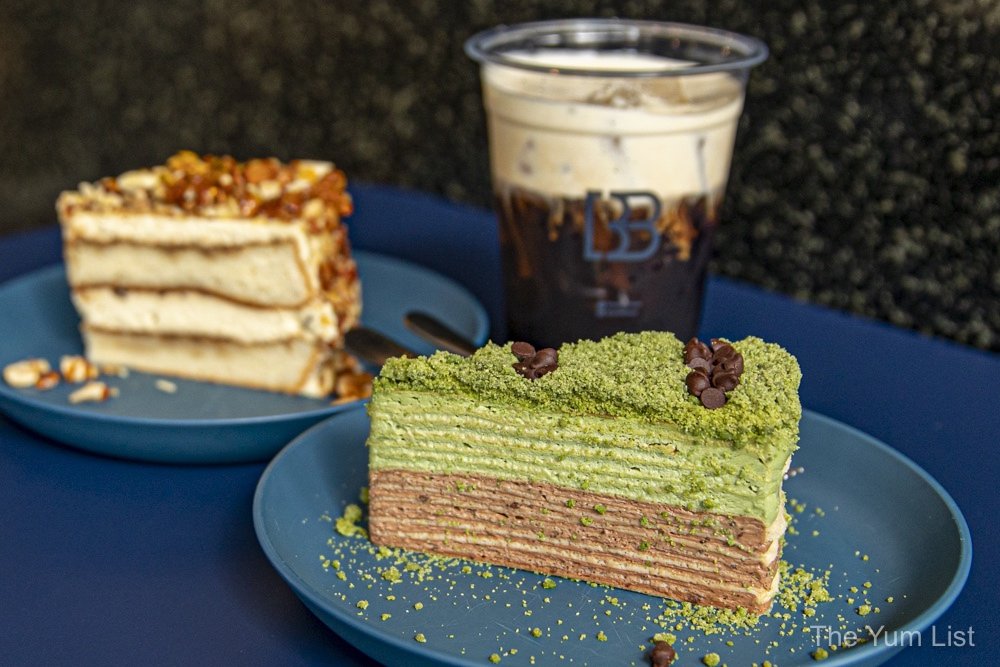 Brew & Bread Jalan Ampang – Coffee
Now down to the serious stuff; the reason why Brew & Bread was conceptualized in the first place – the coffee! With a license to import green beans, the team at Brew & Bread Ampang have full control of the coffee journey from farm to cup. These guys roast their own beans and the owners and chief roaster have judged countless competitions and boast a page full of certifications. The larger production space is far from KL's city centre in Shah Alam. Therefore, we are especially happy to enjoy their hard work now much closer to home.
Expect to find masterful blends and single-origin selections at Brew & Bread Ampang. From espresso-based drinks with milk such as Lattes (RM9) to speciality drinks, including Cold Brew (RM15) and Snow Black (RM15) there's something to appeal to all coffee-lovers' fantasies.
The Snow Black has become somewhat a signature in the mother outlet and continues its fame here in Jalan Ampang too. Cold-brew sits in the bottom of a clear cup. It's then topped with milk cream and a sprinkle of pink Himalayan salt. As it stands, the layers of milk slowly sink down into the coffee resembling the peak of a snowy mountain. Don't drink it with the straw, sip it from the cup, so you get the different layers in your mouth.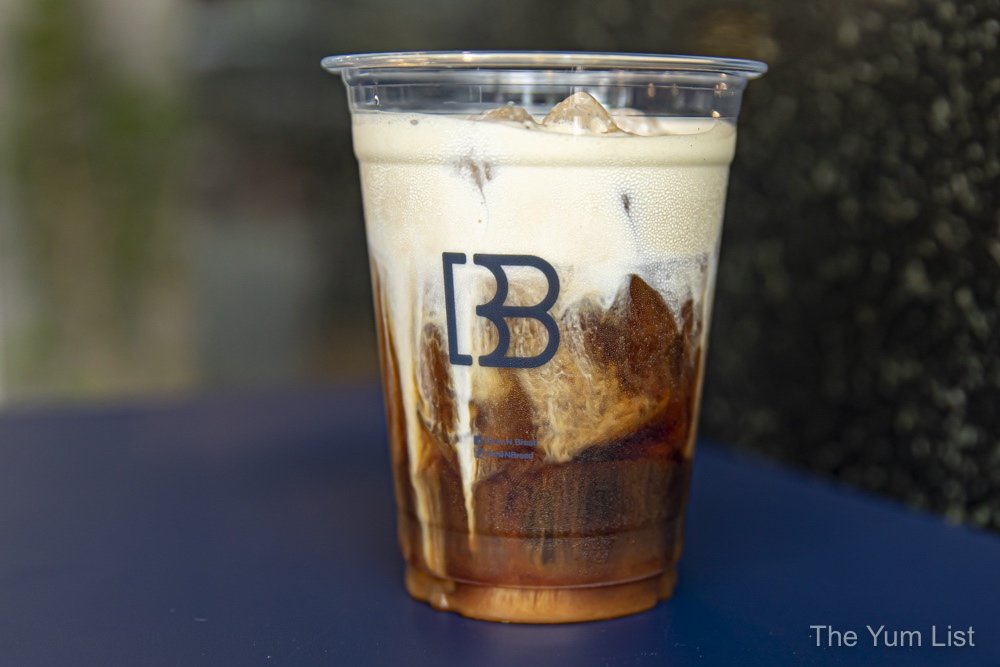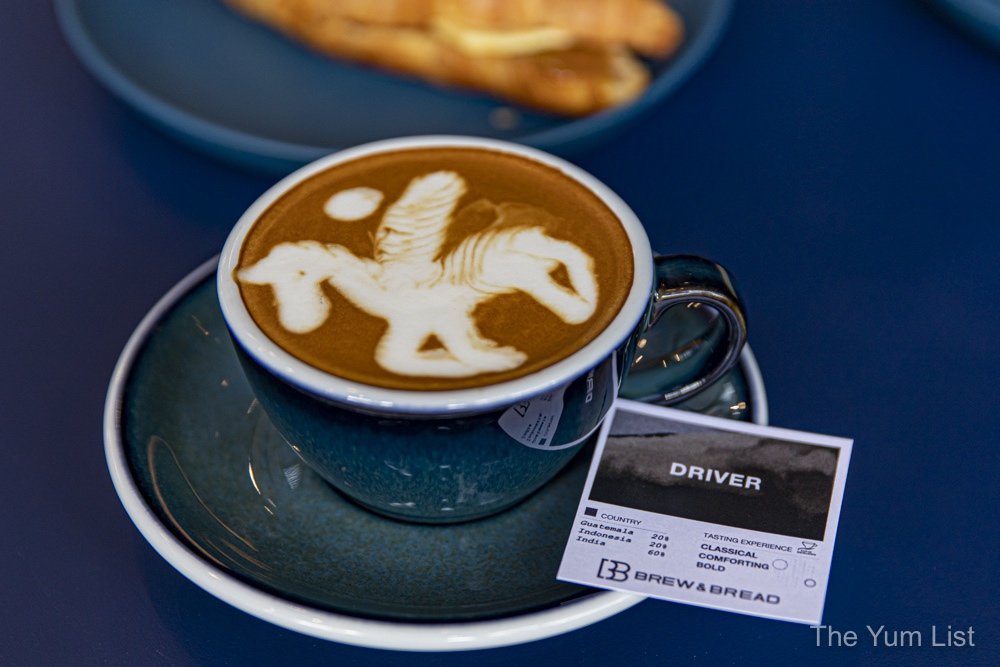 Beans-to-go!
Before you leave, consider grabbing a pack of beans to go, or even a box of drip coffee that's super convenient for the office. Although the drip wrapping is a rainbow of colours, it's all Brew and Bread's house blend, Driver. So named because it's what "drives" people's day, the blend combines Indonesian, Guatemalan and Indian beans making a classical, comforting and bold brew. There are a deep sweetness and sturdy body to the profile that does well both on its own and with milk.
Brew & Bread Jalan Ampang Review
Brew & Bread Ampang purveys excellent coffee in a cool, clean setting. Having an import license for green beans allows the team additional control of their product. Stop in for a coffee and remember to take a bag home of your favourite brew too.
Reason to visit Brew & Bread Jalan Ampang: great coffee; upbeat and pleasant setting; value for money breakfast sets; they're open from 7 am!
Brew & Bread Jalan Ampang
Wisma MCA, Suite G-03
163, Jalan Ampang
50450 Kuala Lumpur, Malaysia
www.facebook.com/Brew.n.Bread
[email protected]
+6 03 2715 6966
Brew & Bread Jln Ampang Opening Hours
Monday to Saturday: 7 am – 5 pm