Cuisine Boleh Private Chef KL
Words: Jack Perry & Monica Tindall
Photos: Rich Callahan
Taking the toil out of dinner parties, Cuisine Boleh offers private chef services in your home or in their cooking studio in Mont Kiara. Keeping the fun but discarding the drudgery, you and your guests get to dine on a menu uniquely curated by a professional French chef, without the labour of prep and clean-up.
Cuisine Boleh was created by wife and husband chef duo, Karine and Jean. And, not only can you contract them to come to your house to cook but also to provide interactive cooking classes. Serving ages from six-years-old, and having worked as lecturers in various institutions, the pair are skilled in sharing their knowledge and passion.
Cuisine Boleh – Private Chef Service KL
For the private chef experience at Cuisine Boleh, Jean and Karine suggest choosing from their set French and Spanish menus of two (RM150 per person) or three courses (RM190 per person). Alternatively, you might like to have them cater tapas for a party (RM90-130 per person) or select their finger food sets (RM38-65 per person). Guests wanting something in particular are invited to craft their own Cuisine Boleh menu with the chefs' guidance.
A full gastronomic adventure can also be planned. You may want to sample some canapés while sipping Champagne in the living room before seating at the table for a wine-paired degustation menu. Finish with a traditional cheese course punctuated by dessert. Bring the campaign to a conclusion relaxing with a Cognac, or two. You can bring your own wines (no corkage fees) or enjoy a selection by Cuisine Boleh.
French Meal in Cuisine Boleh Cooking Studio
We partook in a private chef experience with Cuisine Boleh in their home and cooking studio in Mont Kiara. Jean and Karine's 20th-floor residence bestows an inviting setting. The large and well-lit space incorporates a comfortable living room with a bright glassed-in sunroom. A unique dining area that features a long curving natural timber table with comfortable chairs, and a convenient powder room nearby. The natural wood table is set with simple placemats, wine glasses, white ceramic plates, and sturdy, dark-anodized cutlery.
In the kitchen, colourful, professional mixing machines are proudly displayed on a natural wooden sideboard. Art and maps adorn the walls, and fresh roses, daisies and orchids are abundantly placed. With French music quietly playing in the background, and a traditional porcelain rooster cresting the service counter, I and am warmly reminded of my own gastro-extravagant days when living in Paris.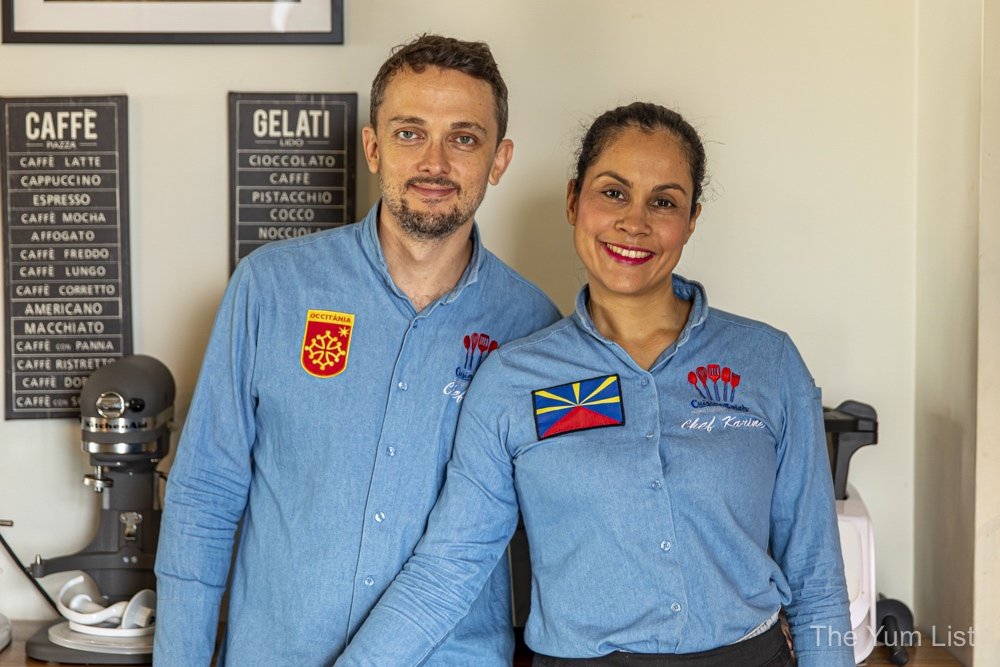 Wine
Before seating, we were asked if we would prefer white or red wine? Mon and I are white wine fans, but with chef Jean curating the menu we deferred to his judgment on the best drop to complement the feast.
Jean opened a bottle of 2017 Roche Mazet 'Les Accords, Syrah & Marselan. We experienced the full body of a Syrah grape coupled with the fruity aromatics of the Marselan. This red wine's deep purple colour is a reflection of the fresh dark fruits of blackcurrant and blackberry and is enhanced with sweet spices. It is grown and bottled in Beziers close to the Mediterranean Sea, and is surprisingly good for a low-cost wine.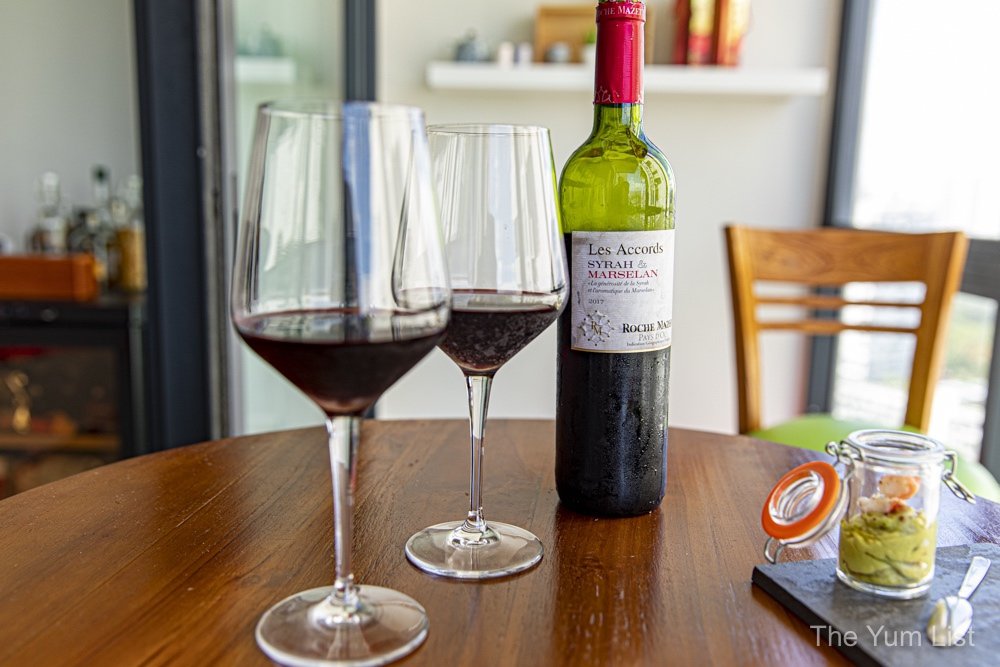 Cuisine Boleh Private Chef Menu
Starters
A duo of small bites began our meal at Cuisine Boleh. First, a petite salmon and onion quiche, sported a crust so light and flaky that it melted in our mouths. Invented in Alsace-Lorraine around 1920, I think quiche is the perfect anytime-of-day meal. The second was also well-received; creamy guacamole topped with a prawn. The vibrant dip was blended with Espelette pepper, a rich red pepper found in the French Basque region, giving it a faint thread of spice.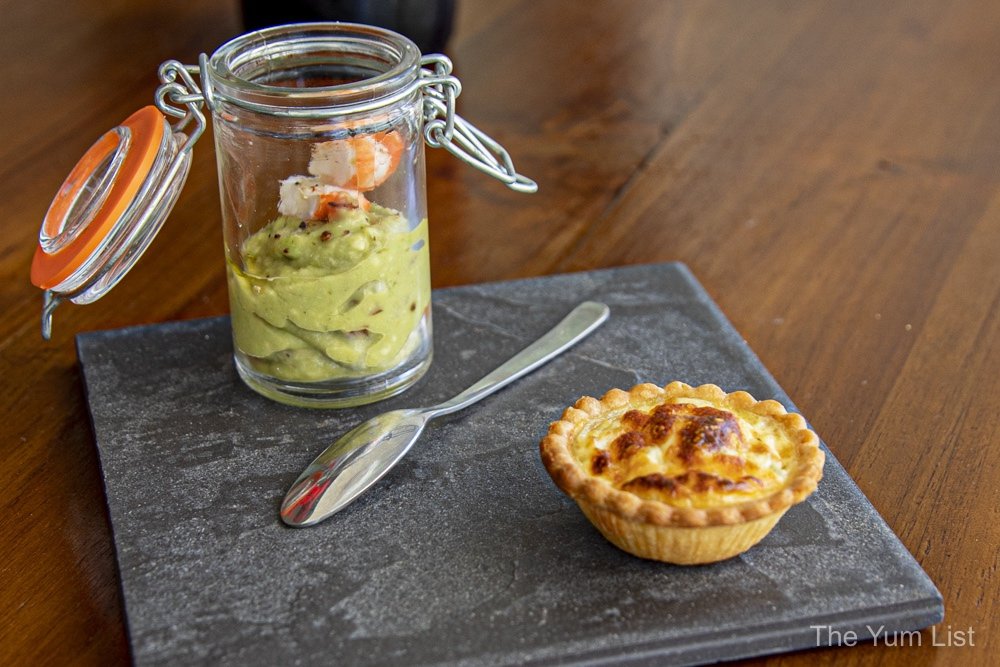 Bread
Sourdough bread and a small crock of butter enhanced with an elegant truffle scent came next to our table. Needless to say, all of us had the first sampling, and later, a second (someone may have even asked for a take-away of the butter!).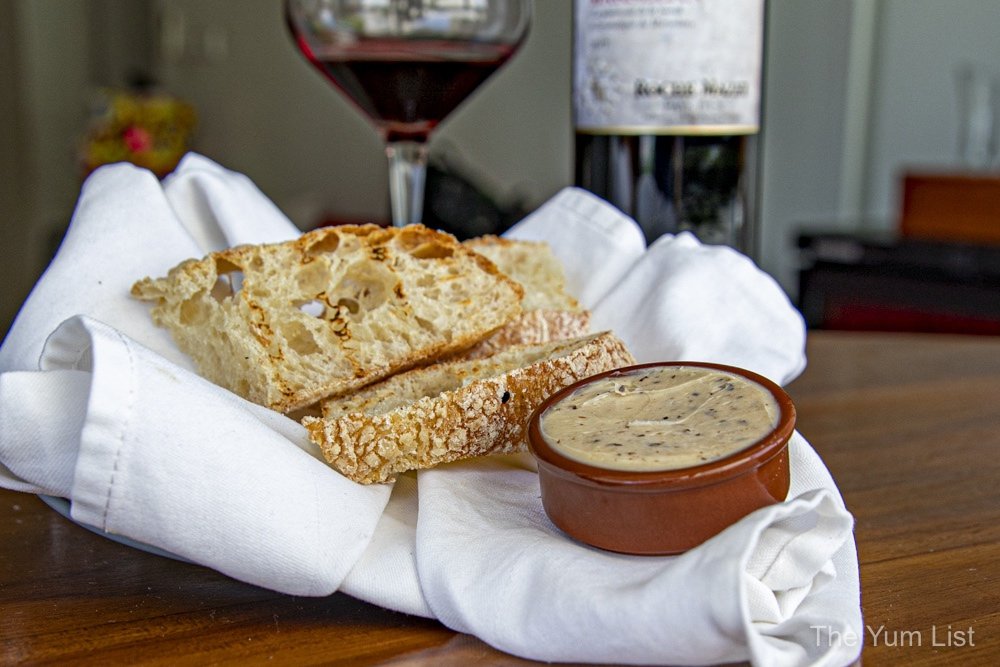 Soup
The next plate at Cuisine Boleh was mushroom velouté and the perfect egg. The egg gets its flawless title as it's been cooked sous-vide at 63°C for an hour to get the barely-set white and thickened but still runny middle. A large white bowl held a deep soup reservoir where a hearty shitake mushroom base was pronounced with a hint of olive oil. The dish was finished off with oysters, a tiny stalk of chervil, and that perfect egg. As instructed, we took our spoons and carefully mixed the soft yolk into the creamy base. Bliss!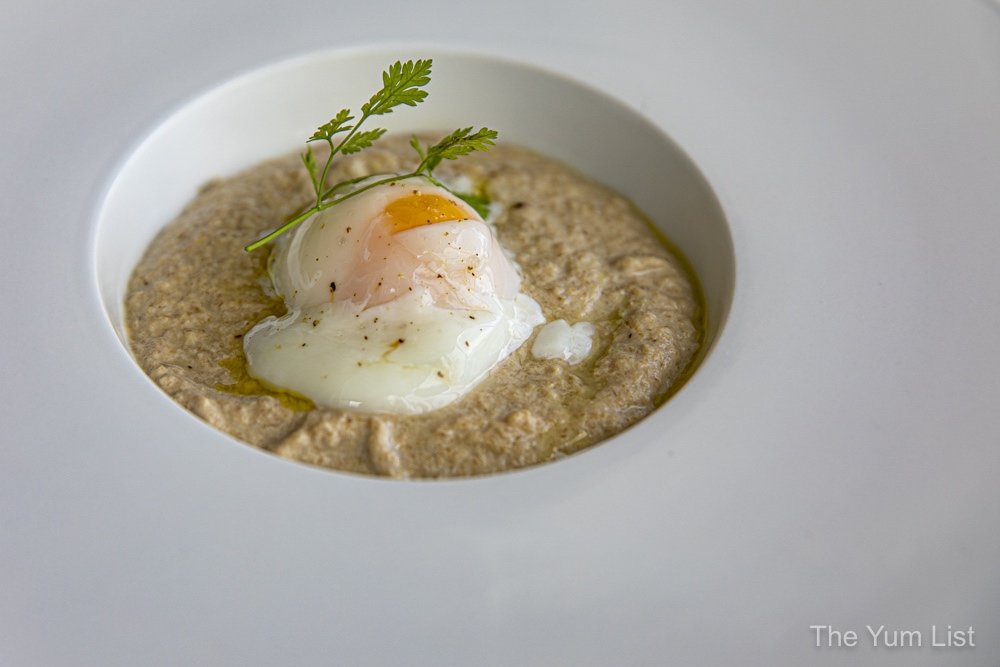 Main
Moving onward, three pieces of locally-sourced pan-seared duck were the focal point of the main at Cuisine Boleh. Though duck is often considered white meat, it has its own tell-tale reddish-brown colouring. Since waterfowl have more insulating fat between the skin and the flesh, the additional lipids help in seasoning and provide protection from the searing heat.
Alongside the duck was a gratin dauphinoise that has its roots in the Dauphine region of south-east France. This hearty and straightforward combination incorporates multiple, coin-thin layers of potato baked in milk. The top is crisp and golden-brown, while the sheets below are soft and rich. Escorted by several dollops of orange pumpkin puree, a broccoli mousseline, carrots, asparagus, and a brilliant blueberry sauce, the plate was pretty as a picture.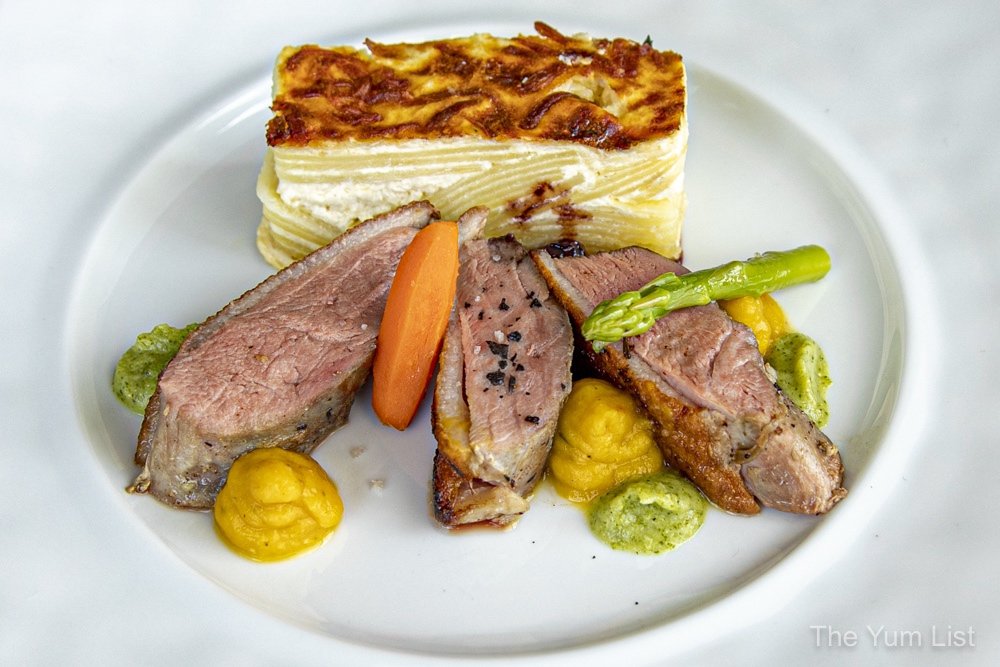 Desserts
One might opt for the traditional dessert specialities of Paris. Hot picks are Cuisine Boleh's Tarte Tropézienne (named by actress Bridgette Bardot while filming 'And God Created Woman' in Saint-Tropez) or a galette de rois (king cake). We highly recommend, however, Cuisine Boleh's signature piece d' résistance, their mini dessert assortment.
A long black platter in the shape of a giant fork carried three mini desserts. The first was a delicate, viola-topped vanilla mille-feuille resembling an elegant piece of jewellery. Adjacent was a straightforward but expertly prepared tiramisu. Finally, a lemon meringue tart that was flambeed just seconds before serving was our last bite.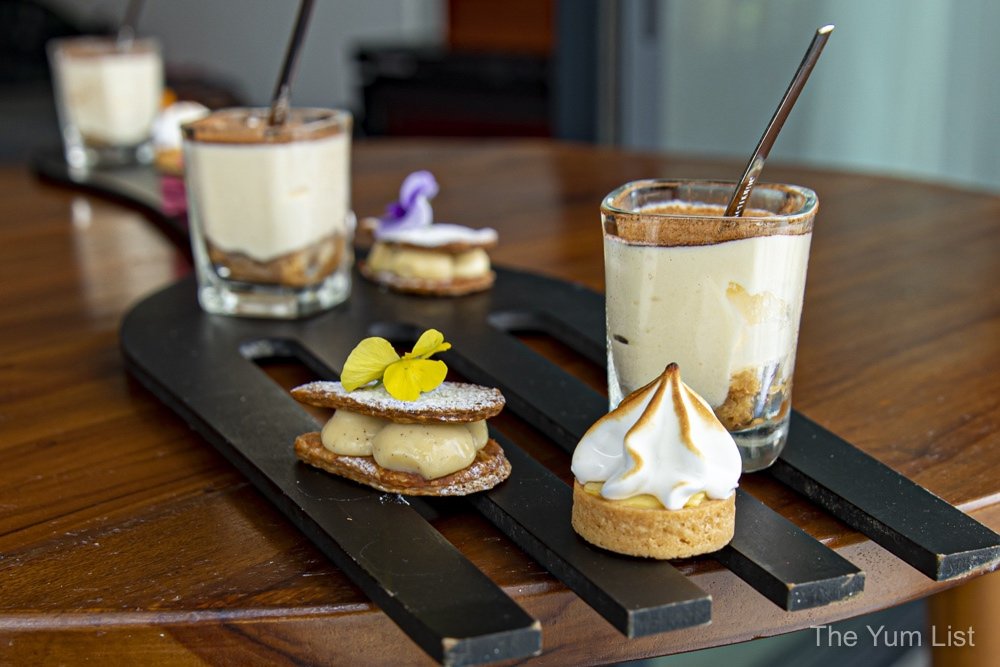 Cuisine Boleh Review
In summary, Cuisine Boleh offers a comprehensive and appealing menu that will please the least to the most experienced fan of French and Spanish Cuisine. Portion sizes were spot-on; from small gems to ignite the palate to heartier recipes that were satisfying yet not overwhelming. Each course was a small work of visual and gastronomical art.
Reasons to use the services of Cuisine Boleh: professional private chef service; cooking classes; flexibility in curating menus for specific guest requirements.
Cuisine Boleh Private Chef & Cooking Classes KL
Concerto Condominium – Block C, Floor 20
C-20/1 Concerto North Kiara Jalan Dutamas Raya
Kuala Lumpur, Malaysia
Check-in at the front Security Gate
+60 18 977 6687
[email protected]
FB @cuisineboleh
Instagram @cuisineboleh
Cuisine Boleh Bookings
Appointments by phone with flexible times w a preferred one-week notice
*Guest parking at the condo garage or ask Grab to drop you at 'Tower C.'
**Reserve cooking classes, enquire about school events, marketing, collaborations, and reservations for home-based entertaining via email or phone.
***Halal and non-halal meals can be arranged
Find more on KL's vibrant food scene here.
Check out another private chef and catering service in KL here and discover more European dining options in the city here.