Valentine's Afternoon Tea KL
Words: Monica Tindall
Photos: Rich Callahan
Extending the days of love, Shangri-La Kuala Lumpur is putting on a Valentine's Afternoon Tea running from the 10th to the 29th February 2020. Guests can truly savour each other's company by avoiding traffic and the crowds on the evening of the 14th. Instead, they can relish a fancy mid-afternoon spread avoiding the throngs by setting their own schedule.
The elegant lobby lounge of the Shangri-La Kuala Lumpur is one of the nicest places to enjoy afternoon tea in the city. Its double-storey glass walls look out over a water feature and lush garden. Live music contributes style to the mood, and friendly, smartly dressed staff make the overall experience very pleasant.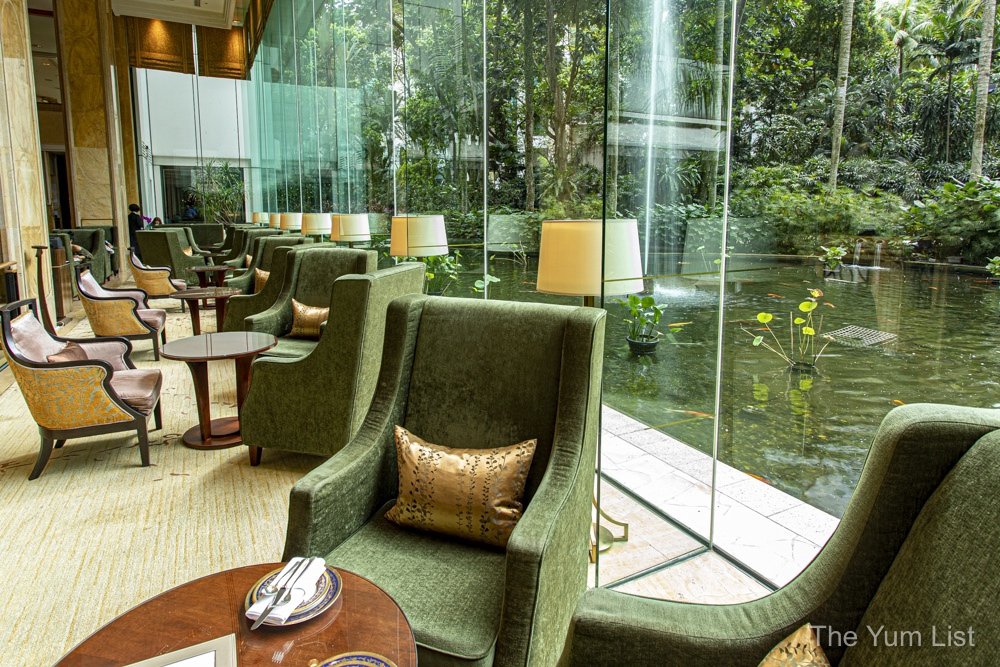 Valentine's Afternoon Tea KL – Shangri-La Kuala Lumpur
The tiered Valentine's Afternoon Tea set (RM 85 nett per person) at the Shangri-La Kuala Lumpur comes with savouries, sweets, scones, and your choice of tea or coffee. Swank it up a notch with a glass of Veuve Clicquot Ponsardin Champagne for RM 150 nett per person.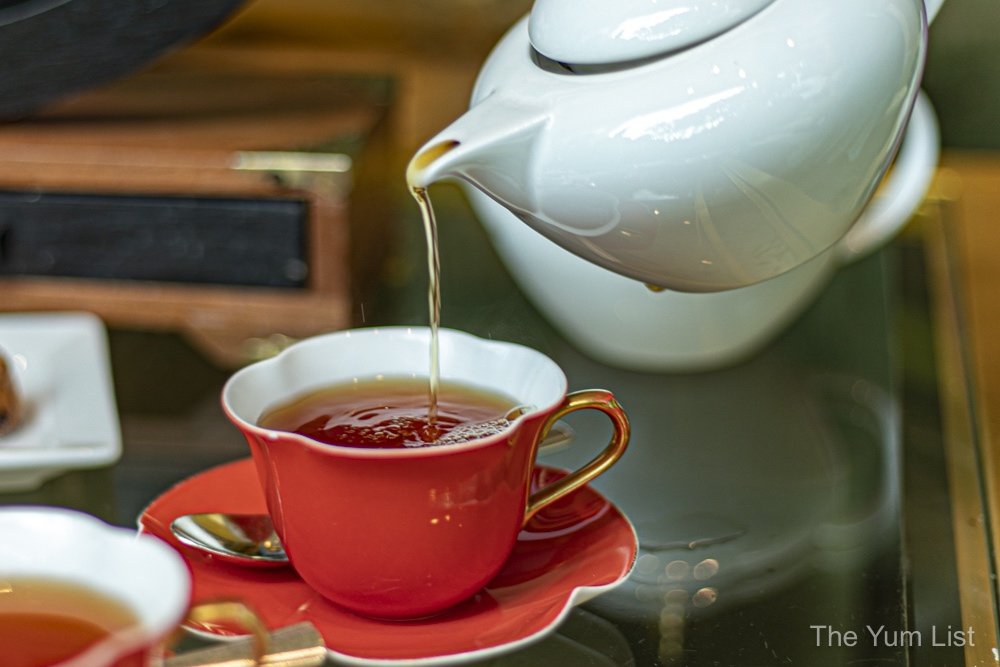 Savouries
We think savouries are a sensible place to begin and it's with a variety of sandwiches and hot pastries that we enter. House-smoked salmon napoleon with crème Fraiche and caviar is both fresh and rich on lavash bread. More seafood comes in the form of sesame tuna tataki with caramelized mango, which is a delicious complement of fruity and sea-salty. Rich thinks the pulled beef éclair with hass pumpkin and pickle is the bomb. And, continues to sing praises with the smoked chicken vol-au-vent, avocado and herb cream for its buttery, flaky pastry. I appreciate the glimmer of a healthy choice in the Caprese salad with balsamic and sweet basil just before we dive deep into the sweets.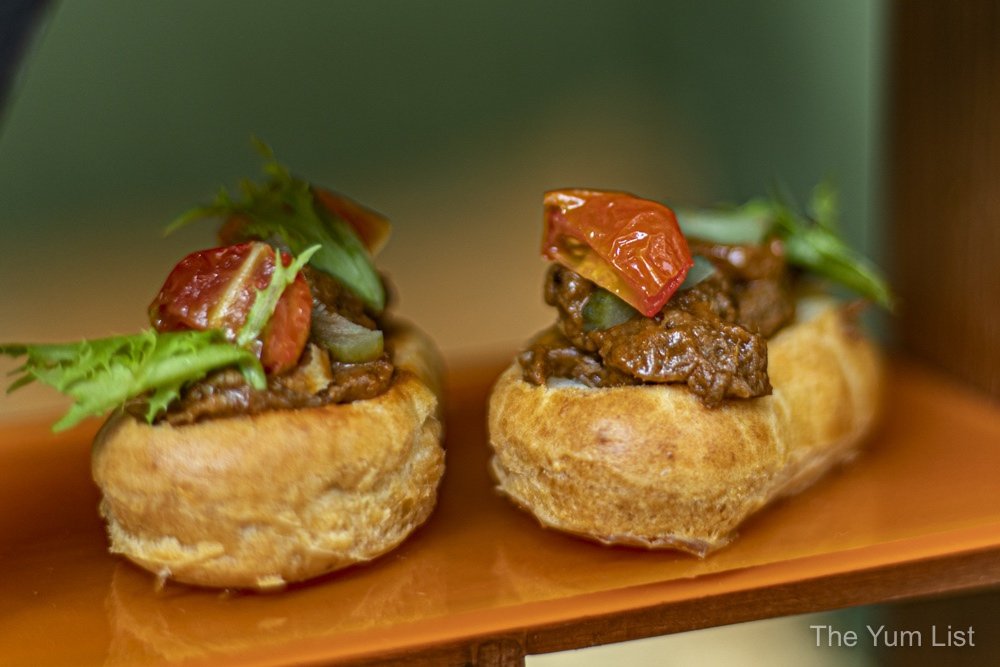 Sweets
Red seems to be the agreed-upon colour of love, and the pretty selection of sweets in the Valentine's Afternoon Tea at Shangri-La Kuala Lumpur doesn't disappoint. Rose lychee white chocolate mousse is just as it sounds – aerated with a hint of floral and fruit. More vibrancy is found in the Thai tea strawberry cremeaux, and the coconut banana crunch puff infuses a good dose of local with its tropical flavours. The pistachio strawberry tart celebrates produce from the Cameron Highlands and the Middle East. Don't confuse this, however, with the baked raspberry almond tart – they look similar, but the berries and nuts are distinct.
Resembling a cake pop, only it's a macaron on a stick, is a dark chocolate and rose French classic. Raspberry jam heart cookies are pretty pictures and also make good dipping for our hot tea. Lastly, romance is evoked with Romeo and Juliet chocolate. And, just like the story, a tale of intricate layers is woven to complete the whole, with dried fruit and nuts added texture to the bitter cacao.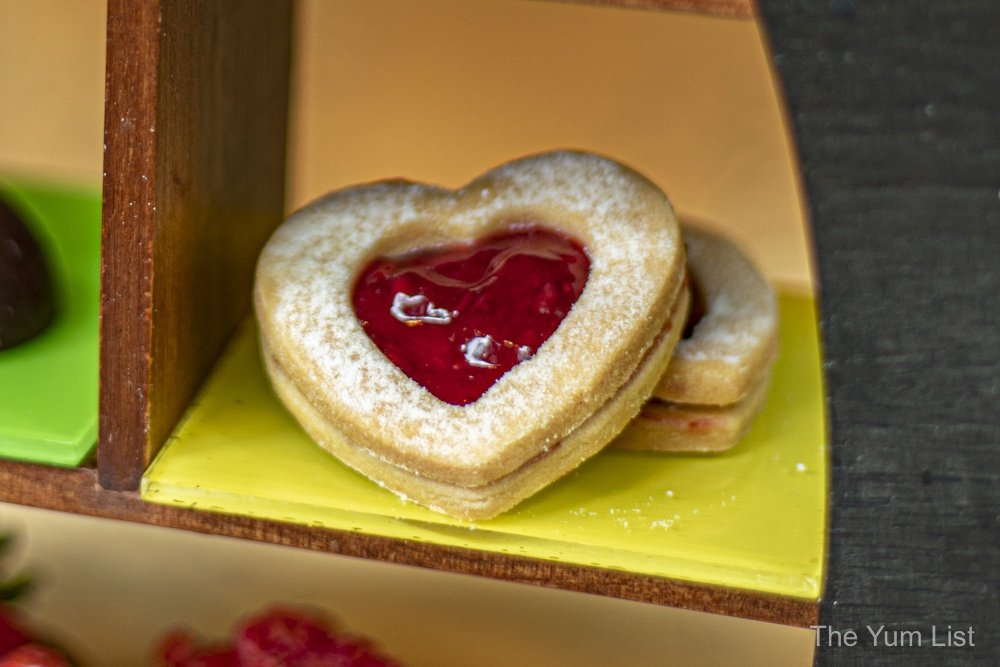 Scones
I am rather fond of a classic afternoon tea and am happy to see scones continue the tradition. Both plain scones and dried cranberry heart-shaped scones are offered with raspberry jam, lemon curd and clotted cream. They're best eaten straight from the oven. Start with these before they get cold.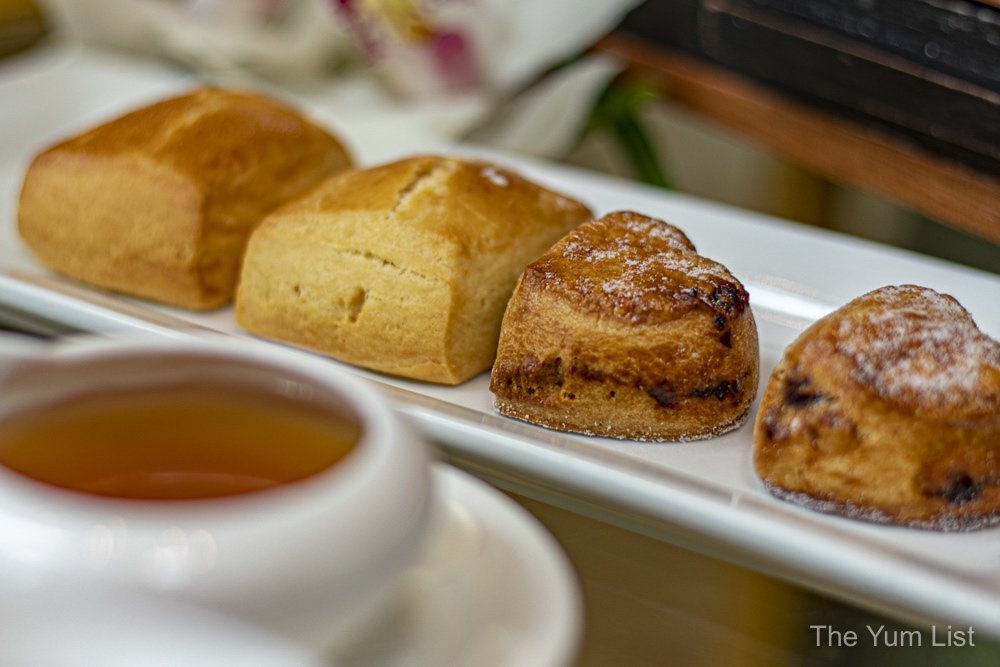 Valentine's Afternoon Tea KL Price & Details
Valentine's Afternoon Tea at the Shangri-La Kuala Lumpur is running from 10th February to 29th. Tea time is 3 pm to 6 pm daily. The set is priced at RM 85 nett per person including a choice of coffee, tea or a mocktail, or RM150 nett per person inclusive of a glass of Veuve Clicquot Ponsardin Champagne.
Reasons to celebrate love with Valentine's Afternoon Tea KL at Shangri-La Kuala Lumpur: elegant setting with attractive water feature and garden views; gracious service; a classy way to treat a loved one with the option of avoiding the crowds on the 14th.
Valentine's Afternoon Tea KL
Lobby Lounge
Shangri-La Hotel
11, Jalan Sultan Ismail
Bukit Bintang, 50250 Kuala Lumpur
+60 3 2032 2388
www.shangri-la.com
More ideas for Valentine's Day 2020 in Kuala Lumpur here.
Stay up to date on the latest happenings in KL's culinary scene here.