Café Deli by El Meson
Words: Monica Tindall
Photos: Rich Callahan
El Meson sure has grown over the years. What started as an authentic Spanish restaurant in Bangsar in 2009 has since expanded and morphed into three Café Deli's by El Meson. The first rebranding happened in 2019 in Desa ParkCity, and this is where we are today to check out the changes.
Immediately evident is the casual, family-friendly setting. The atmosphere is decidedly relaxed and the variety of seating, both indoors and out, encourages diners to come as they are. If the weather's not too hot, my preferred roost is out back, overlooking the park and lake. A small patio out the front, however, is also fetching bordered by potted plants and provides an opportunity to people watch as the crowd flow in and out of the shopping complex.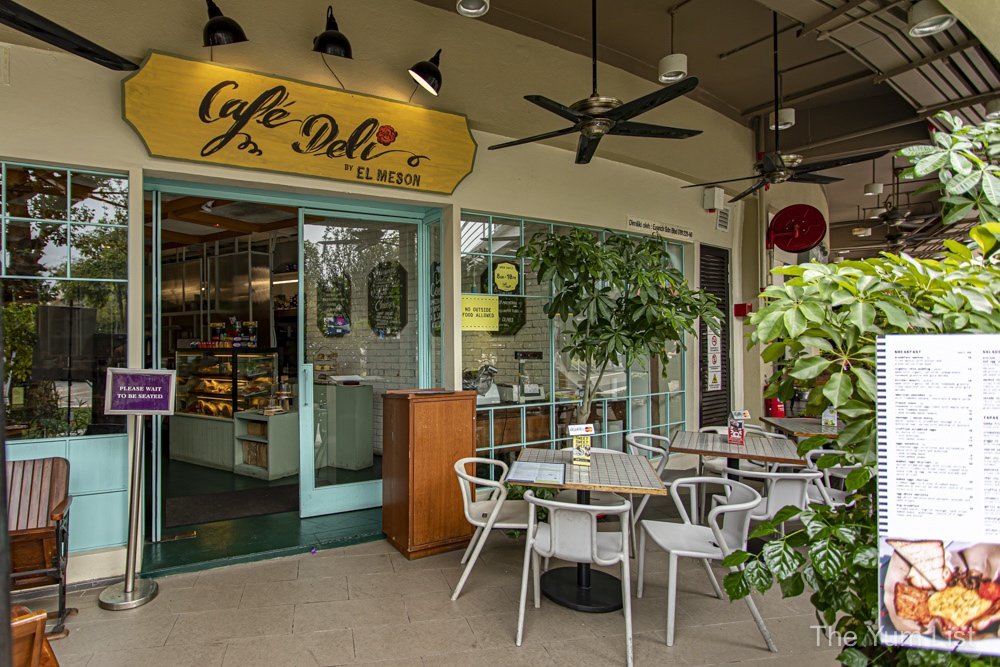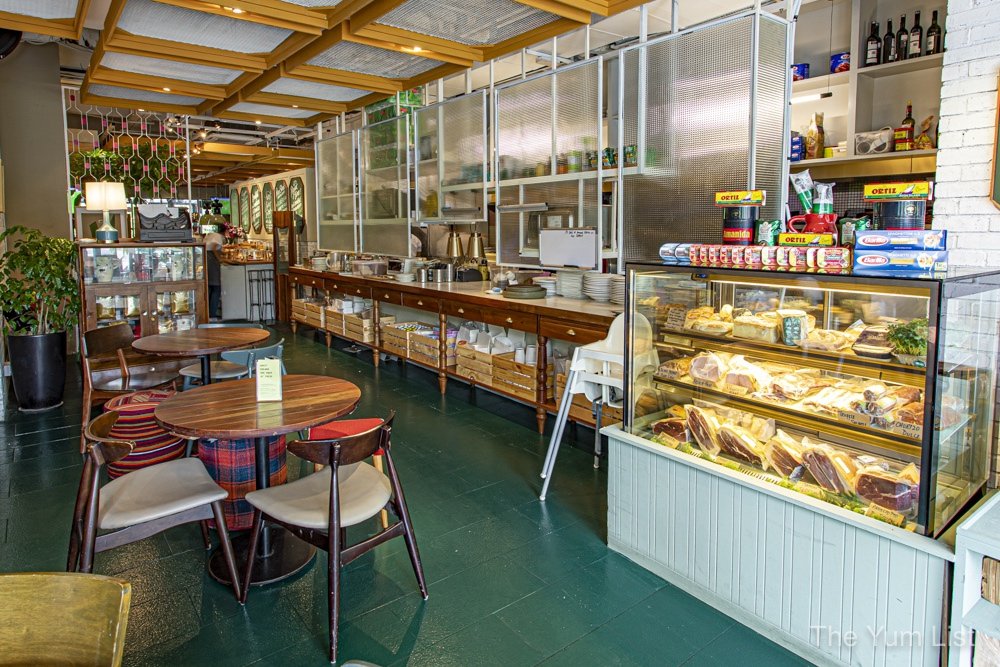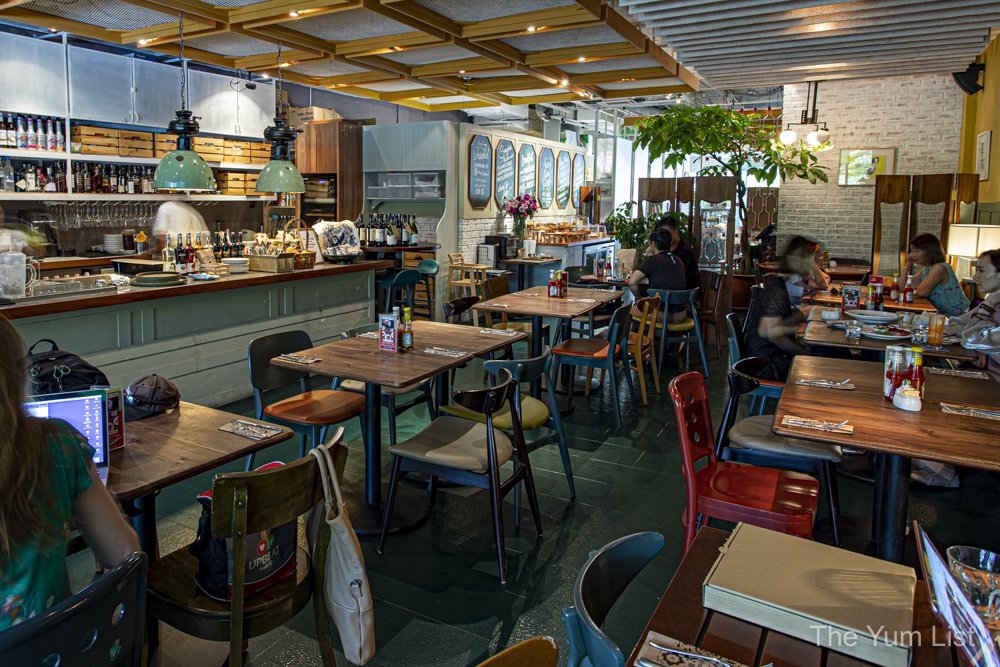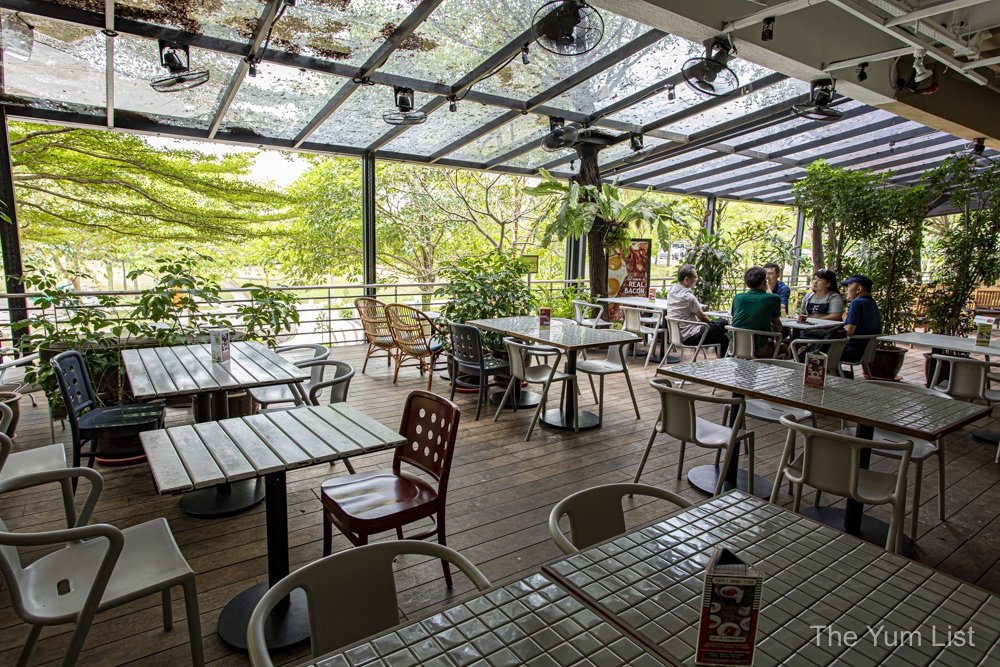 Café Deli by El Meson Desa ParkCity
So the setting has had a revamp and so too has the menu. While the core at Café Deli by El Meson remains authentically Spanish, it has been bolstered with a beautiful bakery counter as well as some local and western favourites. Pork continues to stake a proud position but there are lots of plant-based options too. Opening from 8 am daily, the all-day-dining restaurant serves breakfast, lunch, dinner and lots of in-between refreshments such as coffee and cake, tapas and sangria.
Bakery Counter
As we enter we can't miss the eye-boggling display of fresh bakes and pastries. Flaky croissants, Danishes, French pastries, pies, puffs, scones, cakes, biscuits, cupcakes – you name it, they've got it. We happily head straight to dessert with a tarte Tatin, warmed and served with a scoop of vanilla ice cream. Slices of green apple are caramelized in butter and sugar just before baking in a crust. It makes a highly enjoyable sweet and goes great with coffee. The Vittoria beans used by Café Deli by El Meson make a consistent cup.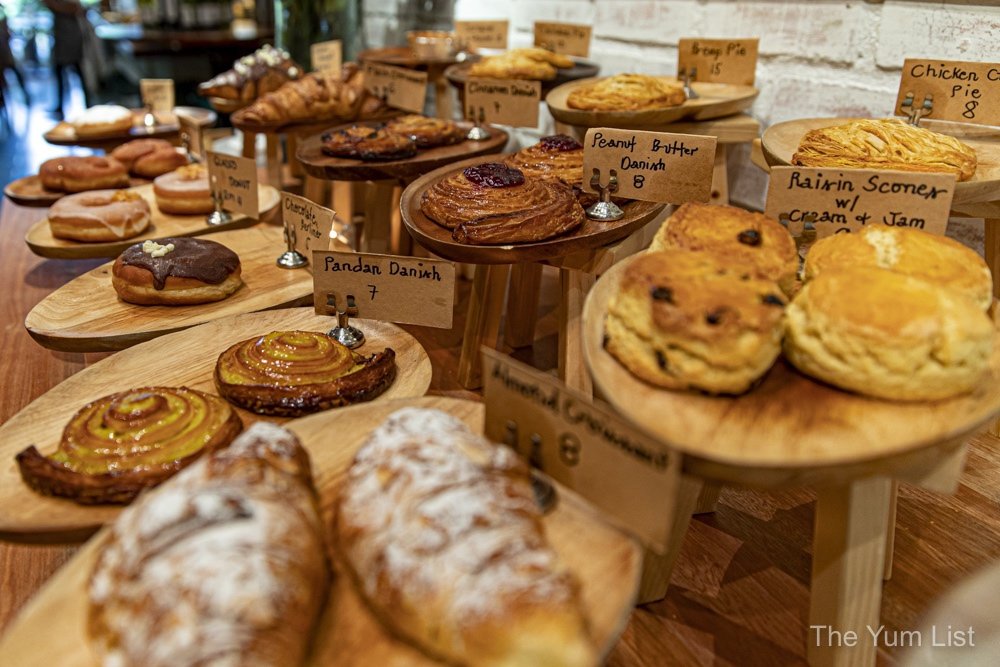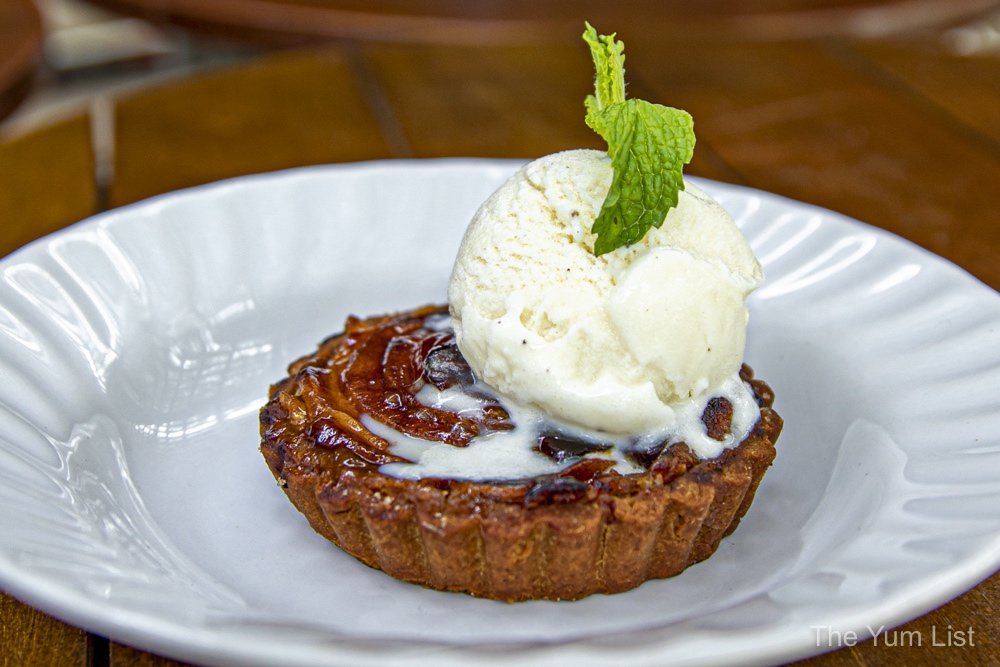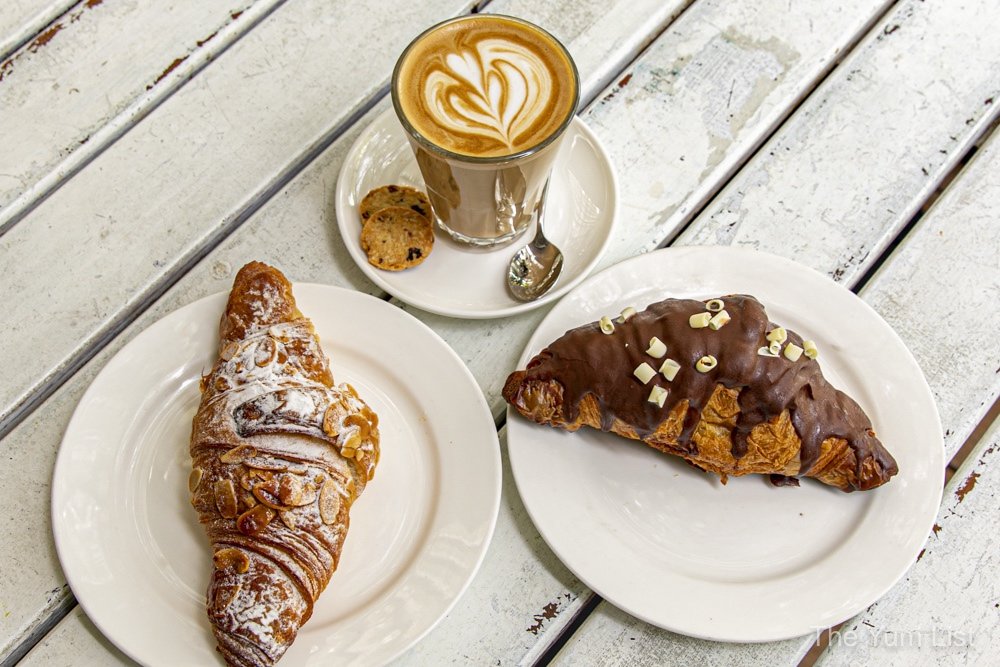 Deli Counter
Once you've stopped ogling the pastry display, you might also consider the deli counter. Available from 12 noon daily, guests are invited to browse the range of imported charcuterie and cheeses, build their own plate or order a platter from the menu. We can't decide, so leave the picking to the experts in a ready-made suggestion from the list. Premium Cold Cuts Platter (RM 55, 40 grams of each cut) fans slices of French ham, Iberico ham, Virginia ham and truffle salami around a plate with bread and pickles as companions. It works wonderfully with a glass wine or sangria.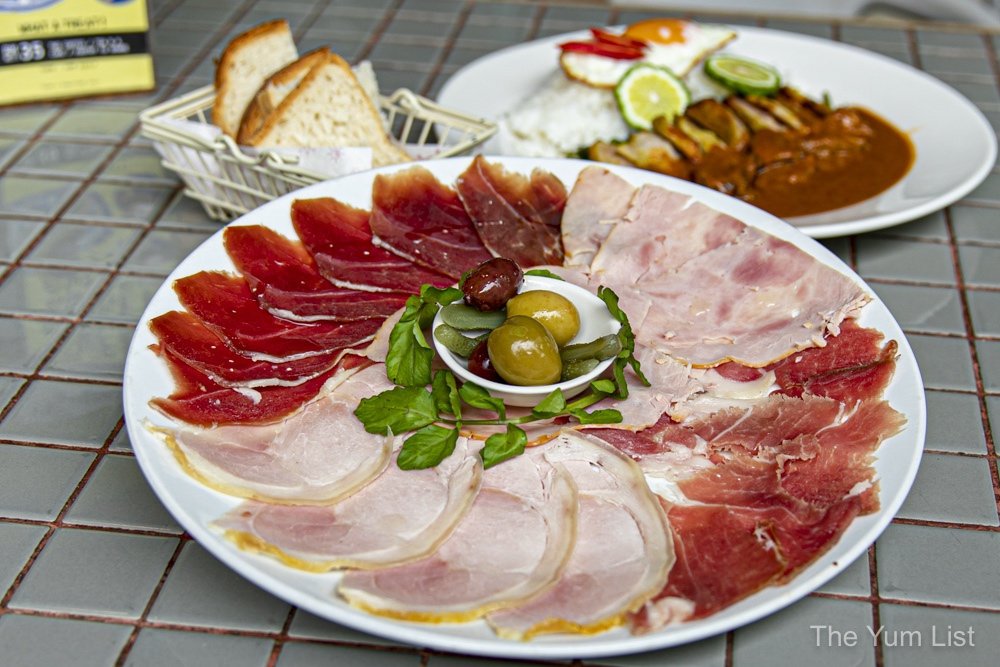 Oriental Section
A new addition to Café Deli by El Meson is the oriental segment of the menu. Showing a clear adoration for pork expect to find dishes such as Hokkien mee, Ipoh bak chor mee, pork 'mantou' (fried bun) and pancetta siu yuk. We try the Thai Pork Curry (RM 24), which is nicely laid out with grilled lemongrass pork generously drizzled in Thai curry sauce. Kangkong supplies some obligatory greens and jasmine rice, a fried egg, kaffir lime and red chilli garnish complete the plate. It has quite a kick but Rich enjoys this and happily takes over my share.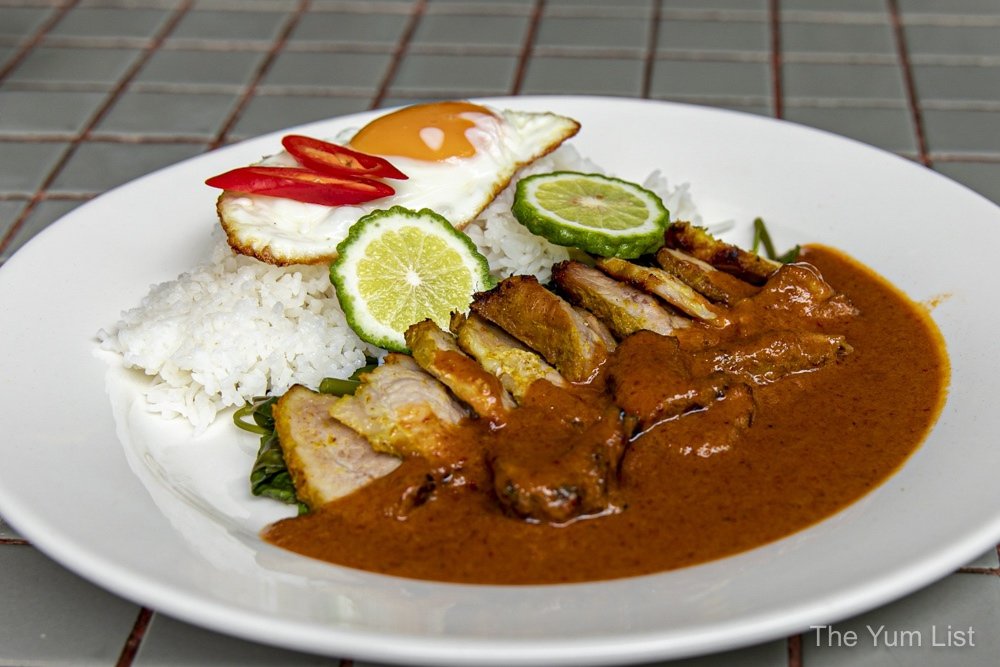 Western Dishes
Café Deli by El Meson in Desa ParkCity also has its fair share of western comforts. Salad Niçoise (RM 36) is both fantastically plated and delicious. A golden can holds premium Spanish Ortiz tuna and all of the other ingredients are arranged separately around the plate. Sweet corn, romaine lettuce, boiled eggs, onions, beautiful olives, green beans and potato salad are lightly dressed in balsamic and olive oil. I would definitely order this one again.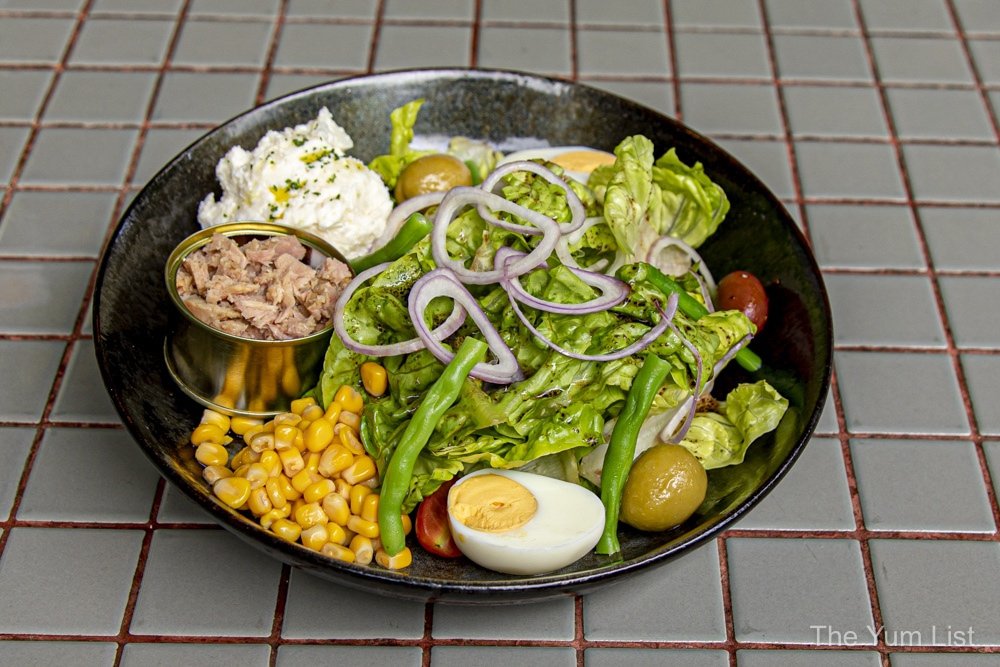 Another popular new item is Bangers and Mash (RM 28). This hearty portion of two pork sausages atop creamy bacon mash with onion gravy could suit some for breakfast, lunch or dinner.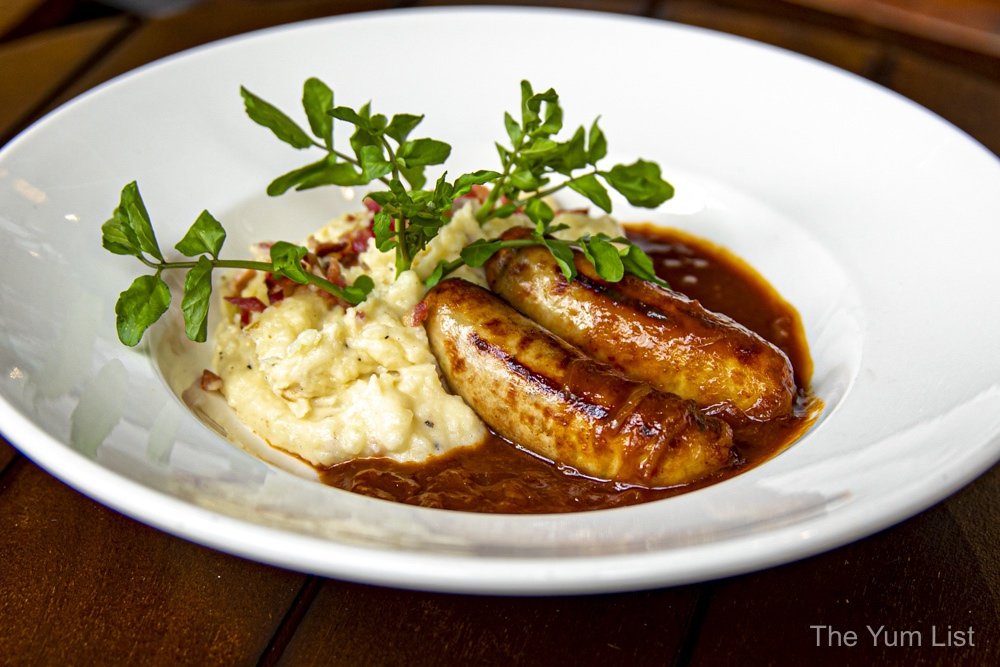 Breakfast
Both early and later diners will be happy to find breakfast served from 8 am until 3 pm daily. While Rich is excited about a big porky breakfast, my heart calls out to the vegan brekkie. Organic Chia Pudding (RM 14) is made on a base of oat milk. It's topped off with homemade granola, pomegranate and strawberries. A small jug of gula Melaka syrup sides it awaiting addition to your discretion.
A flawless partner is found in the Green Juice (RM 16), which is commonly found around KL in hipster cafes these days. What is not ordinary though, is the inclusion of green pepper and bitter gourd. On top of the usual suspects of celery, apple, cucumber and kale they give a distinct bite to the juice.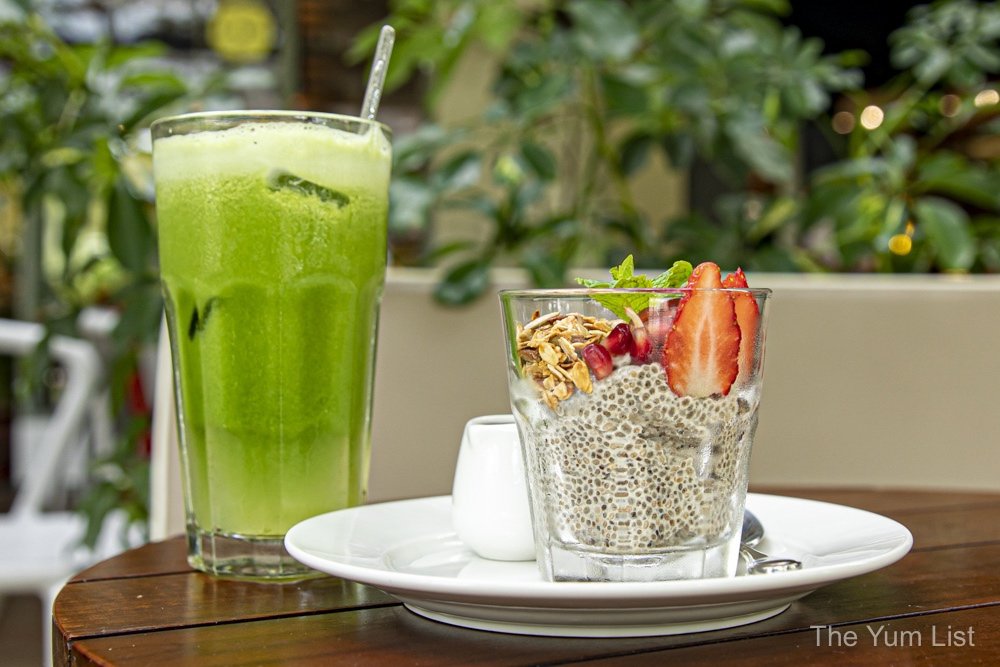 Spanish Favourites
Last, but certainly not least, and taking us back full circle to where Café Deli by El Meson all began, are Spanish favourites. Besides a long list of tapas, two types of paella, Mixta (RM 78) and Negra (RM 78) remain on the menu. It's advised to allow 25 – 30 minutes for preparation. We order the first and find plentiful meat and seafood amongst tender grains of rice.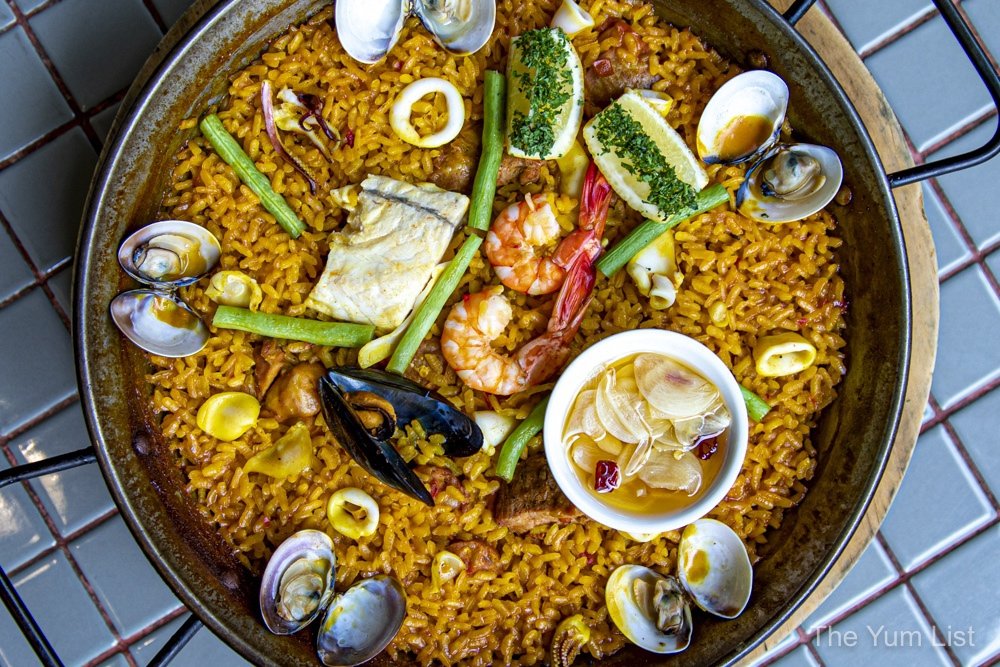 Drinks
At first glance, the alcoholic beverage selection at Café Deli by El Meson might seem limited. Guests, however, are welcomed to order drinks from sister restaurant, The Social, next door. This expands the basic menu of house pours to a full wine, beer, spirit and cocktail list.
Ideal drinking for a Spanish café, however, is Sangria and here they have seven varieties. They've livened the standard red and white recipes with fruit infusions such as watermelon and lychee. The Apple Sangria (RM 26) is approved by our waitstaff, Matthew, so we take a detour from the norm. The garden-green liquid of white wine, rum, Sprite, fresh apple juice and apple liqueur looks appealing in the large bowl glass that envelopes it. It's a little on the sweet side for my palate. Consequently, I'd ask them to switch out the Sprite for soda if ordering again. All in though, it's easy-sipping on a warm afternoon.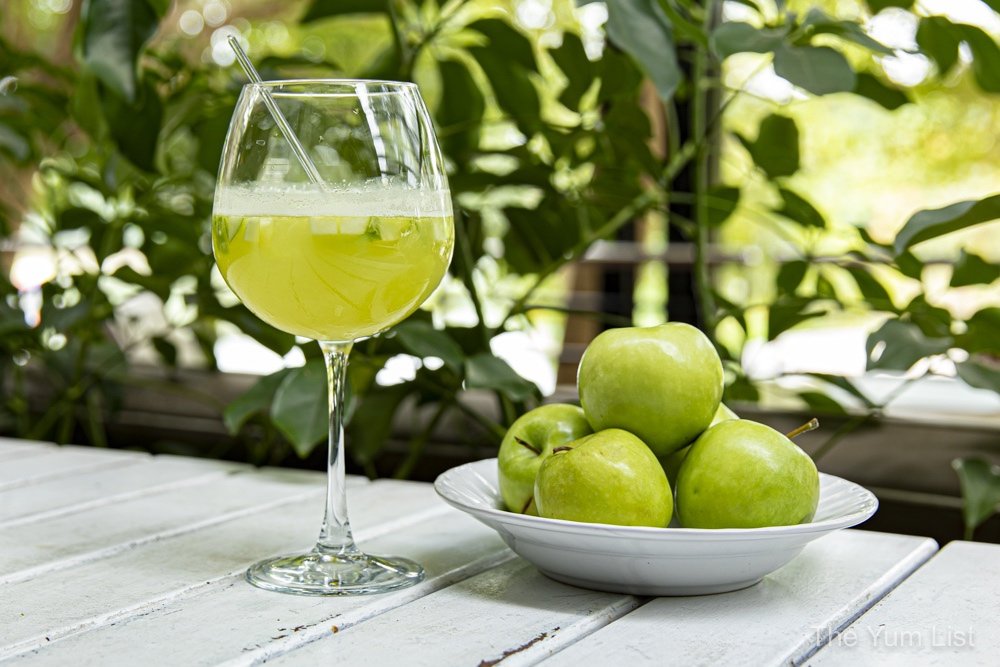 Of course, there is a bounty of non-alcoholic choices on the menu; coffee, tea, coolers, juices, ice blended and soft drinks. The Bari-Star 2019 Winner: Apple of My Eye (RM 12) sounds so terrible I have to order it! This espresso-based coffee is combined with Monin apple syrup, apple and celery juices, and creamy milk foam. As I sip I try to keep an open mind. It's not as horrible as I was expecting. The tartness from the apple and freshness of the celery combine surprisingly okay with the bitterness of the coffee, which are all smoothed over by the syrup anyway. Still, it's not something I'd repeat.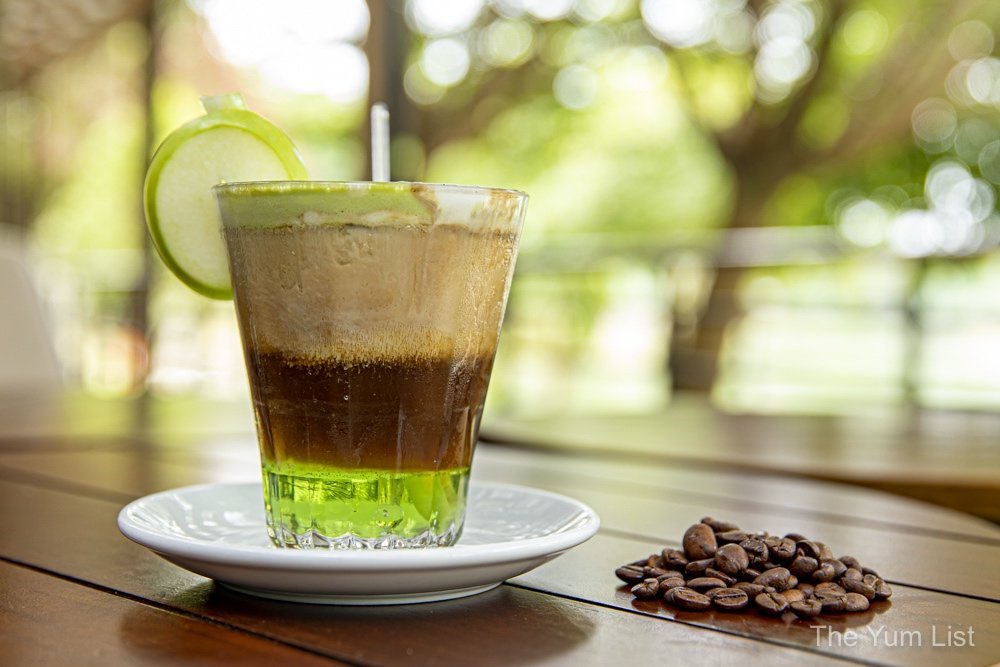 Café Deli by El Meson Review
To sum up, Café Deli by El Meson in Desa ParkCity is a welcoming and attractive setting. The variety of seating and options for both indoor and outdoor tables bordered by plants is appealing. The revamped menu sees choices suiting several preferences making it an excellent location for dining with the family or a group of friends.
Reasons to visit Café Deli by El Meson: Portions are generous; bright, relaxed and attractive setting; easy to satisfy many taste preferences; lovely freshly baked pastries; menu suited to all-day-dining; don't miss the Salad Niçoise.
Café Deli by El Meson Desa ParkCity
Lot GF5, The Waterfront @ ParkCity
Persiaran Residen, Desa ParkCity
52200 Kuala Lumpur, Malaysia
elmeson.com.my
+6 03 6263 6227
* Café Deli by El Meson is currently open in 163 Mont Kiara and Desa ParkCity. The Bangsar Telawi outlet will undergo refurbishment mid-March, ready to open in April.
Café Deli by El Meson Opening Hours
Daily 8 am – 10 pm