DIY Meals at Home
Monica Tindall
Businesses need to get creative if they are to survive current conditions and Skillet & Beta KL have done just that. Besides providing a menu for take-away and delivery during the Movement Control Order, they're also offering a Do-It-Yourself component. Their DIY Meals at Home come with the prep completed. All you have to do is carry out one or two steps to have restaurant-style meals on your table. Now you can more truthfully say, "I made it myself!"
DIY Meals at Home
Beginning March 29, 2020, Skillet & Beta KL have both fully prepared To-Go meals and DIY options. As mentioned, you only need to perform a couple of things to get DIY meals at home ready. Short video instructions are found on Skillet & Beta KL's Instagram highlights.
It's always a good idea to cook with wine, don't you think? Especially, when we are unsure of what the following day will bring, a nice glass calms the nerves. This fresh, crisp drop from Cloudy Bay, a sauvignon blanc, is a typical expression of the grape from this part of the world, New Zealand. With citrus on the nose and stonefruit in the palate, this a beauty on its own, or with the seafood dishes we are about to prepare.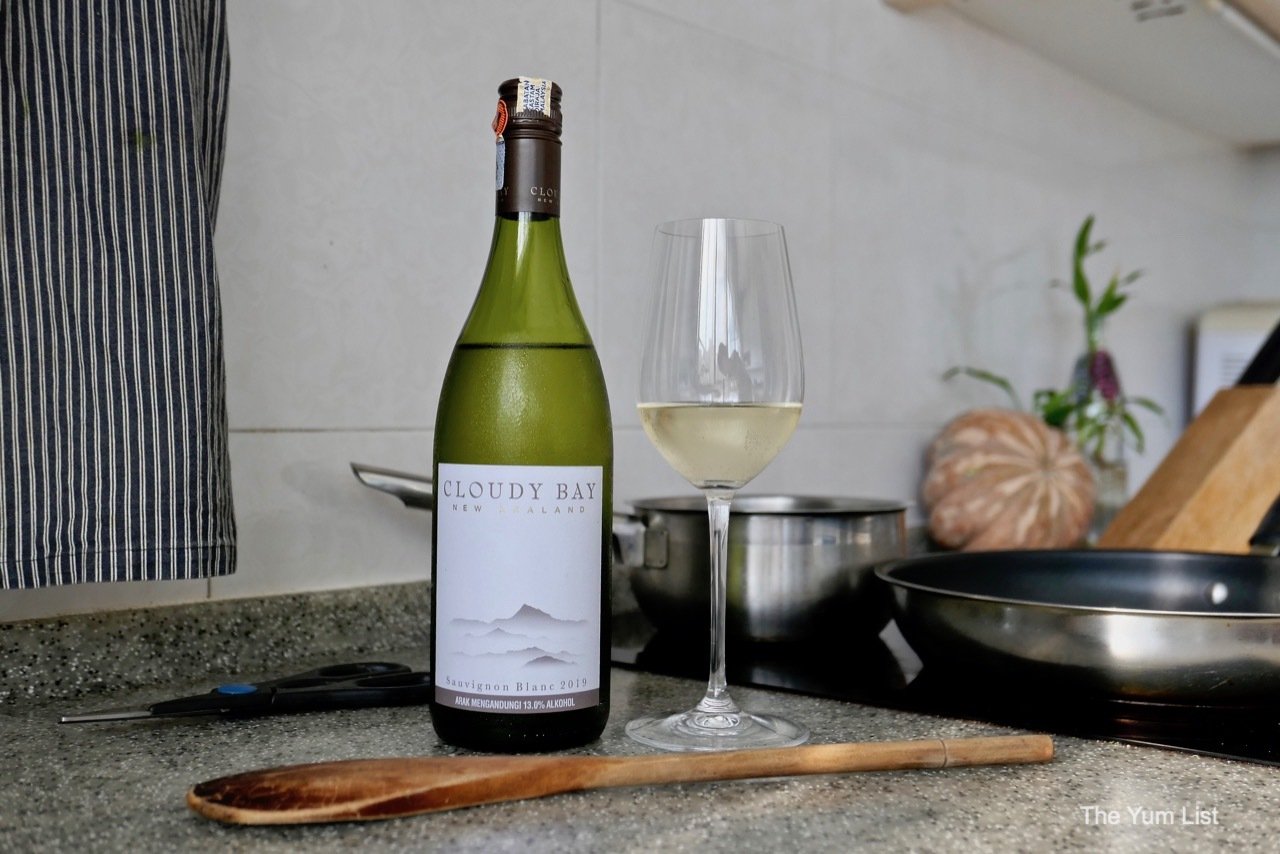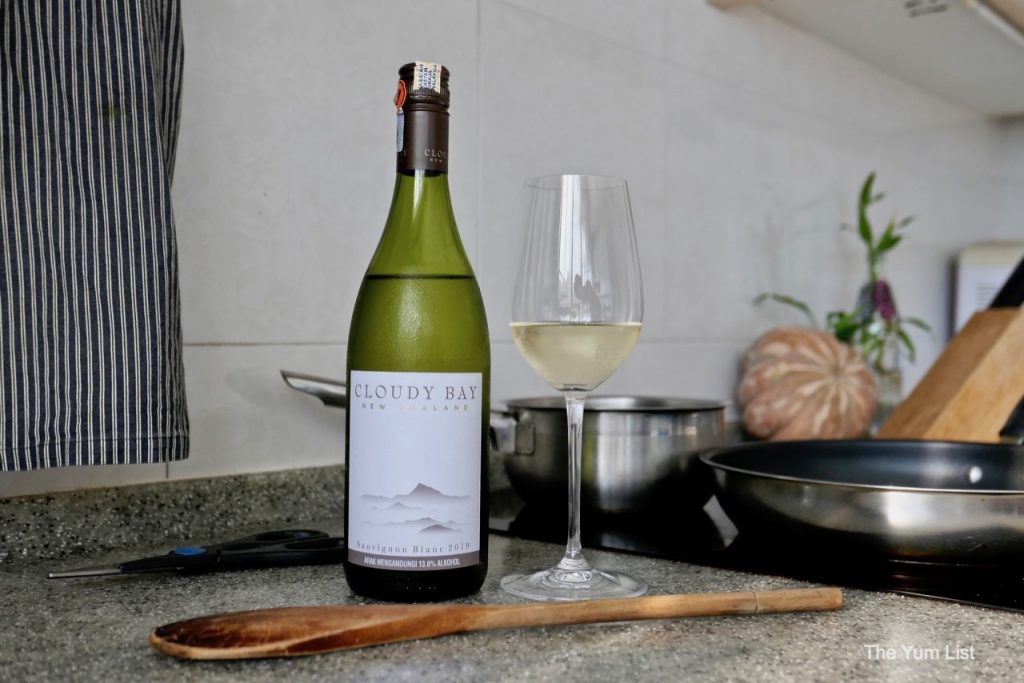 Appetizers
Our first appetizer from the DIY meals at home menu is Sous-vide Norwegian Salmon (RM35+). It's more of a plating exercise than a cooking drill; a gentle introduction. The salmon, pickled kombu, pickled white fungus, beetroot, and lime and honey dressing come in air-tight packages. Despite my unsteady hand not quite mirroring the skilful presentation of the chef, the food was delicious. The slight tang from the pickles accompanied by the sweet and sour of the dressing provided an attractive complexity of flavours. This is not something I'd have the patience to prepare at home in full. I am incredibly grateful to enjoy it thanks the hours of prep from the kitchen team at Skillet & Beta.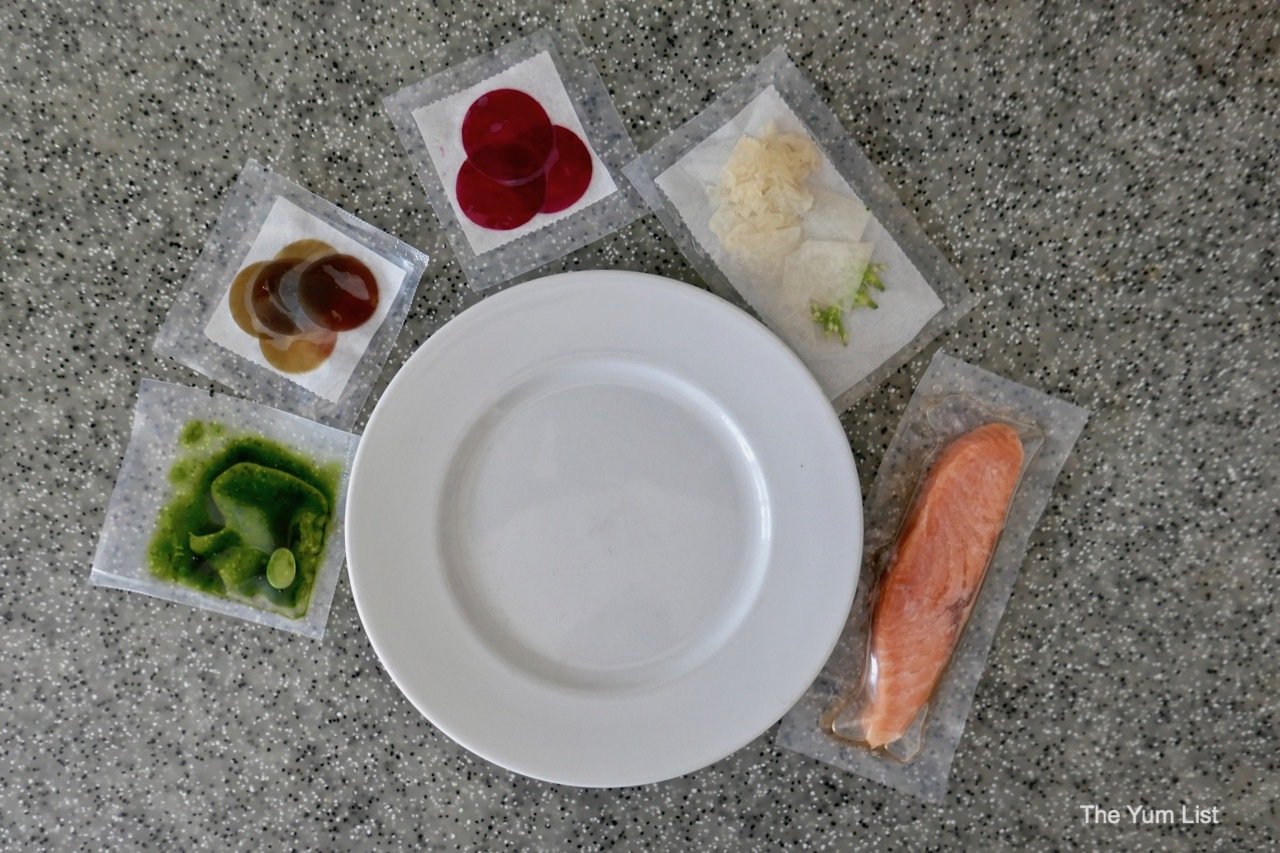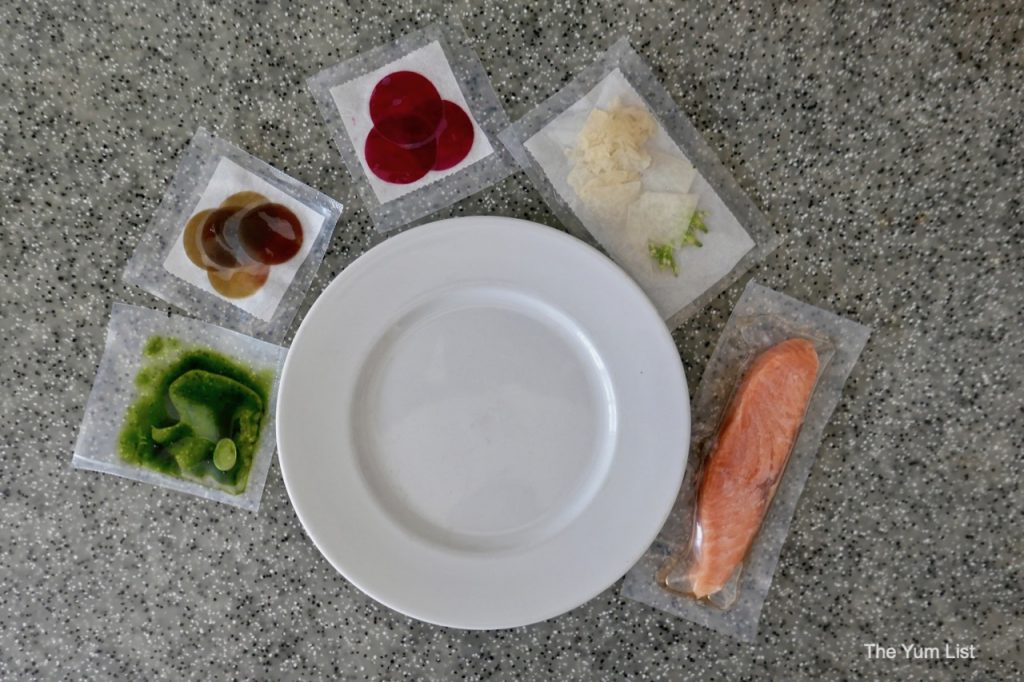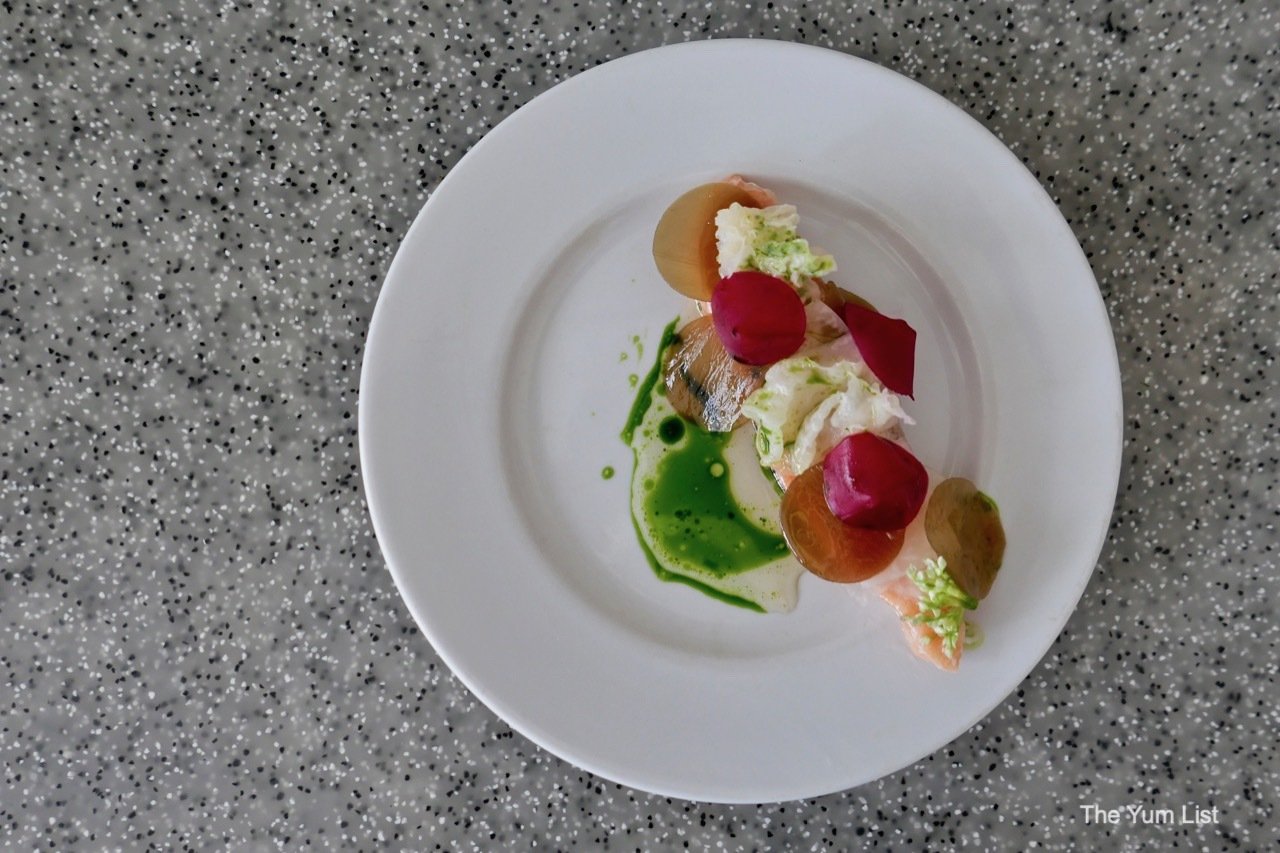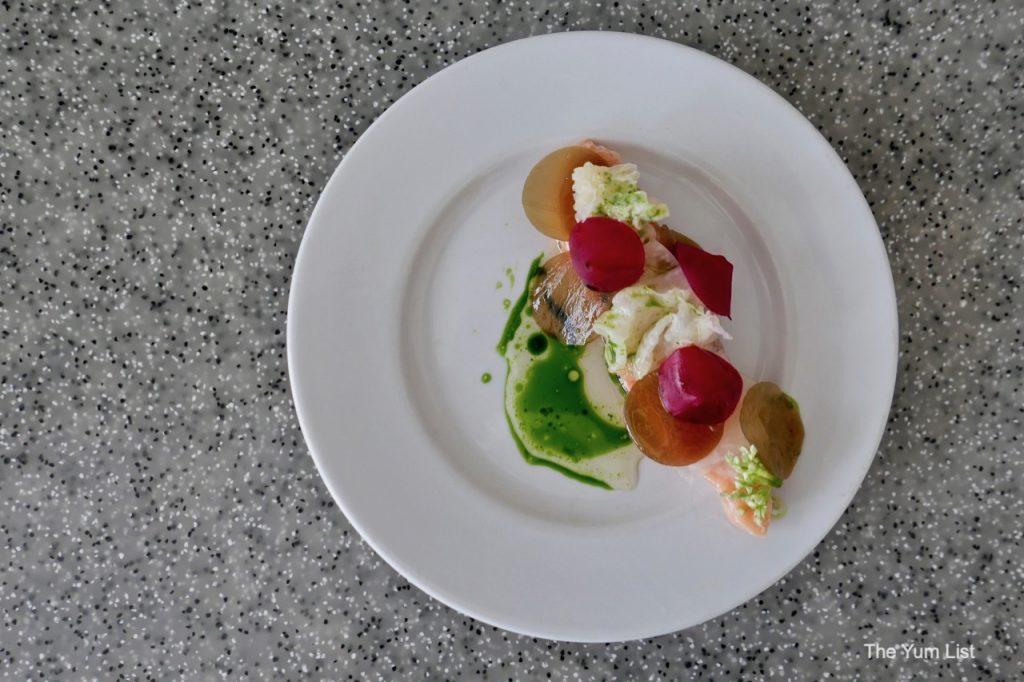 The two parts to prepare the Mushroom Soup (RM25+) is a simple reheating and adding the cheese croutons and truffle oil to the top. Textured with a variety of mushrooms, this is not even related to the canned soup variety that many #lockdown residents might be familiar with.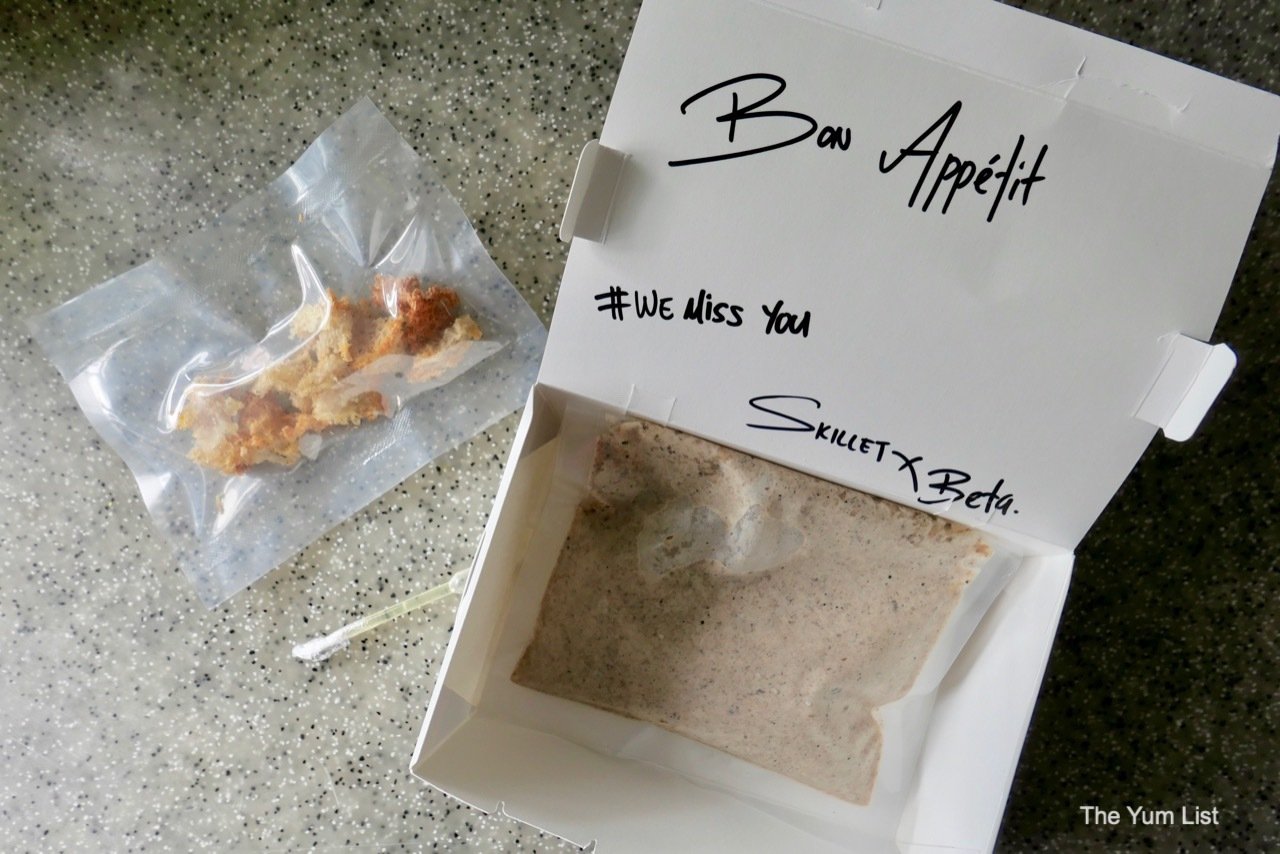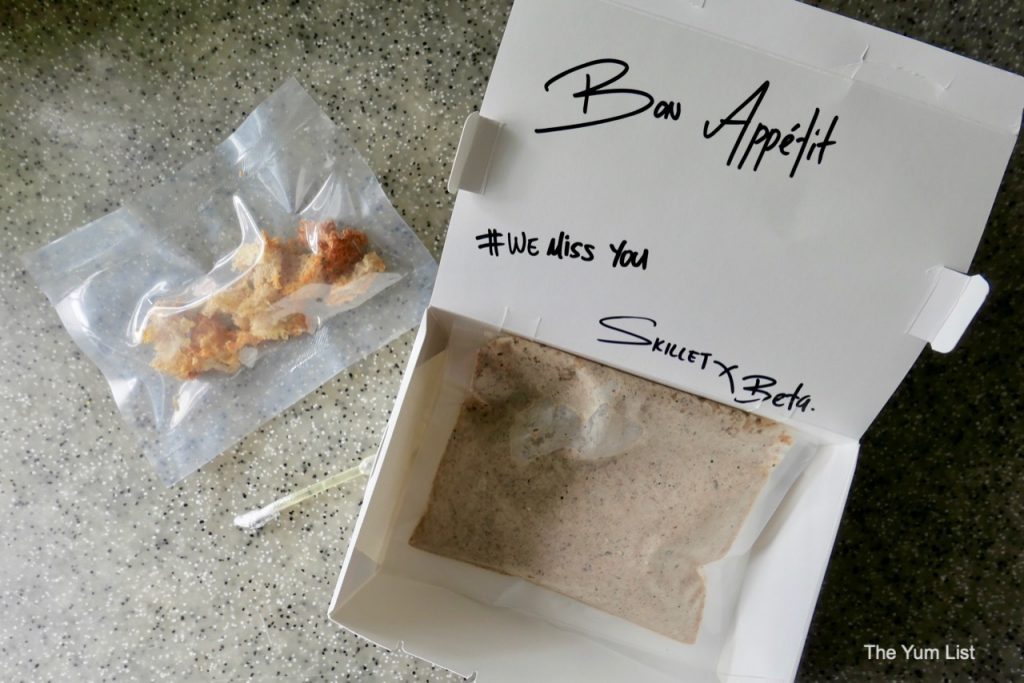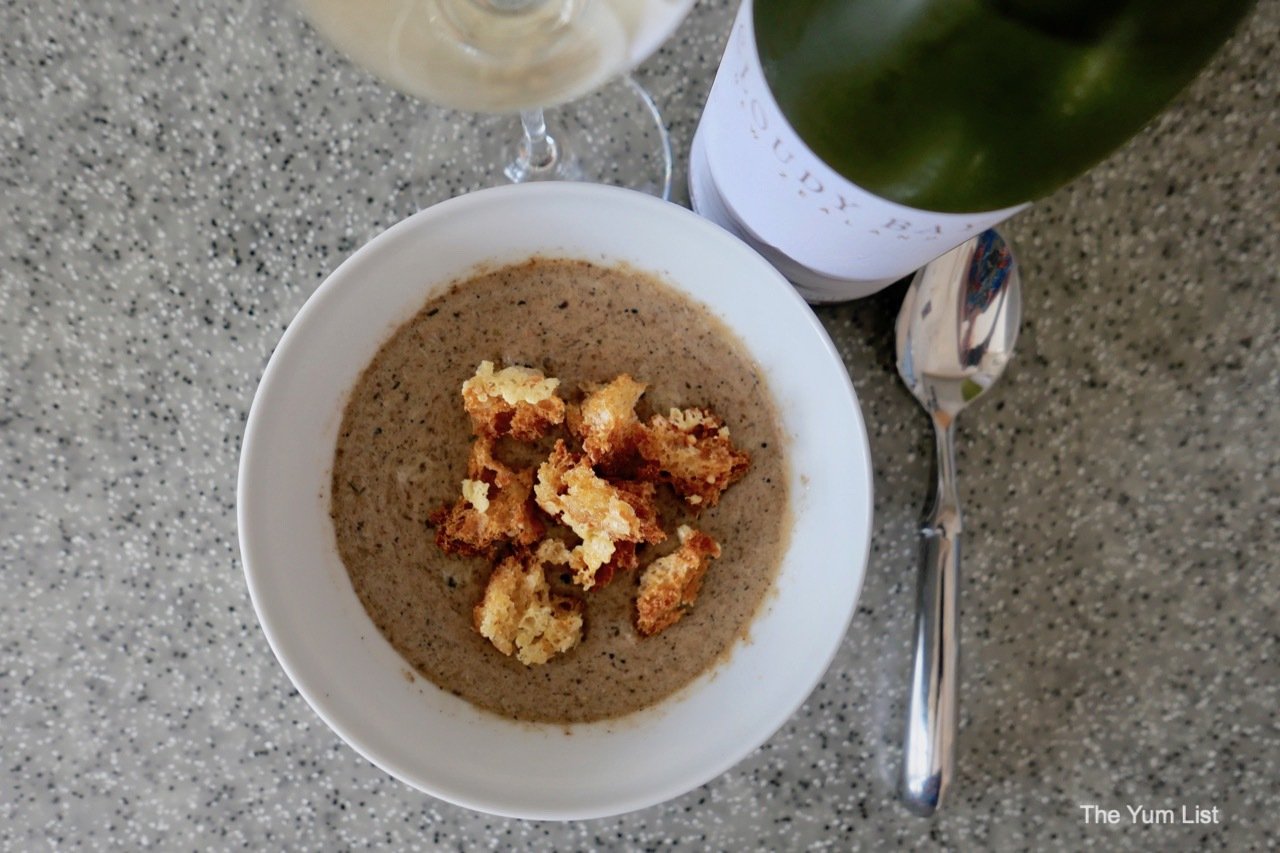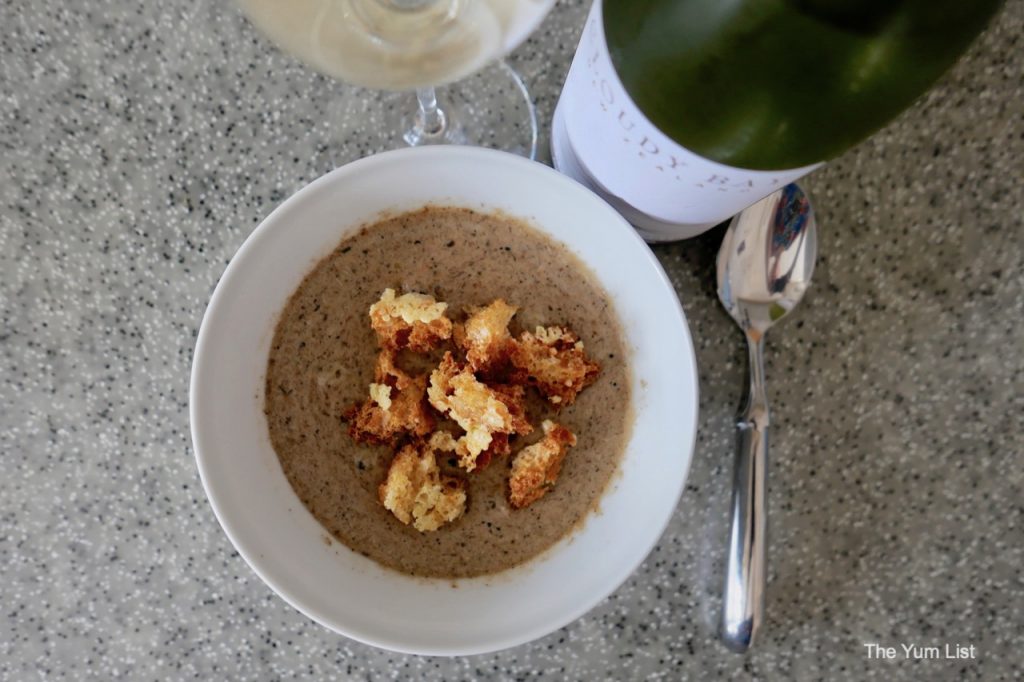 Mains
The appetizers warmed up my brain so now I'm ready for a little more challenge (not too much) with the mains. Confit Pongteh Duck Leg (RM55+) has been pre-marinated and sous-vide for hours to make it tender. All I have to do is pan-fry it in some oil to crisp up the skin. I heat up the pomme puree and broccoli and add the pickled onion as garnish. And, voila, I have a luxurious French dish on my plate, that I "made myself."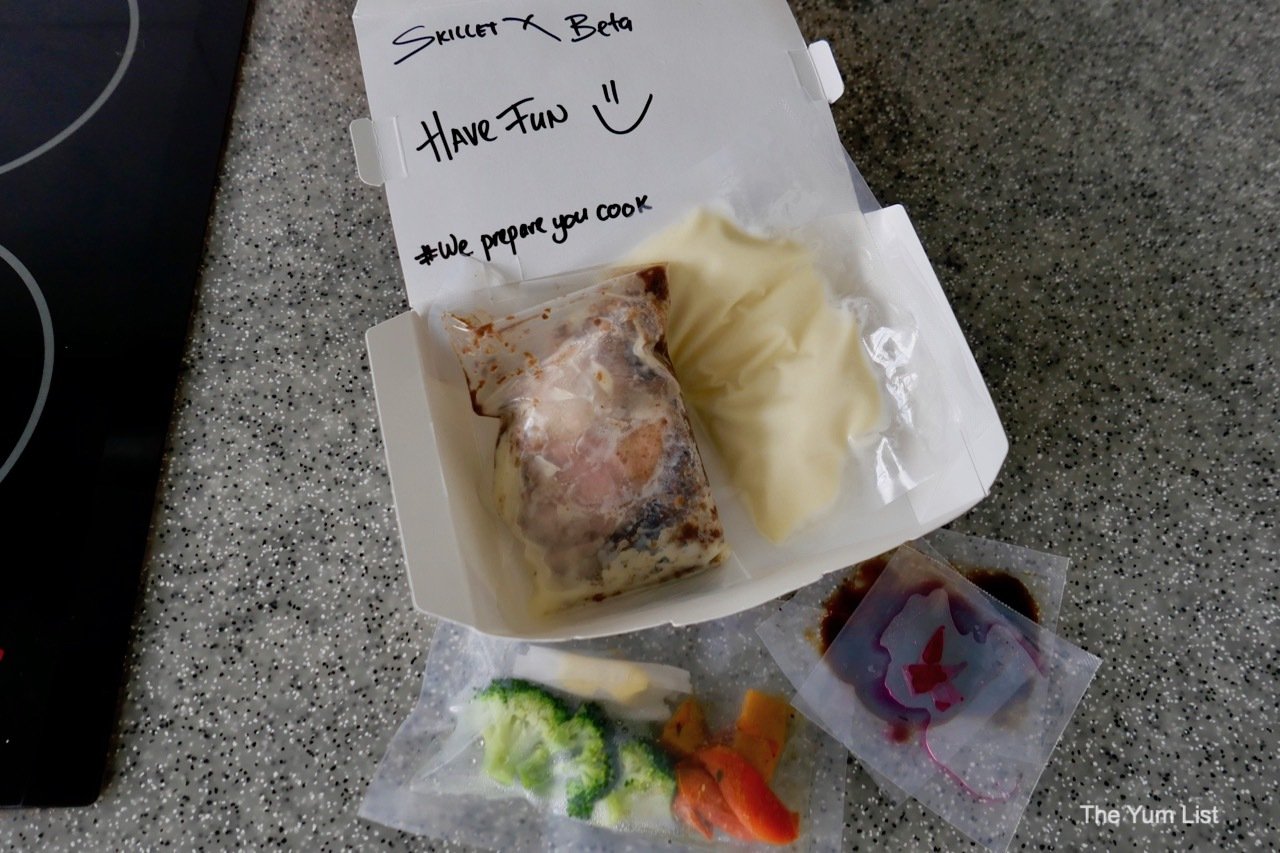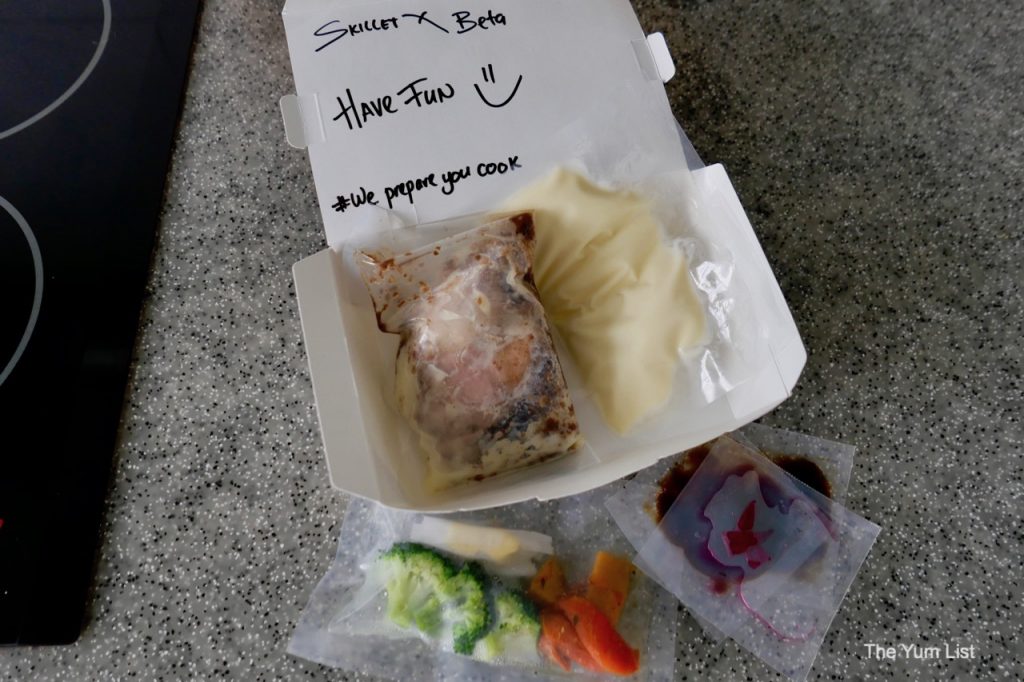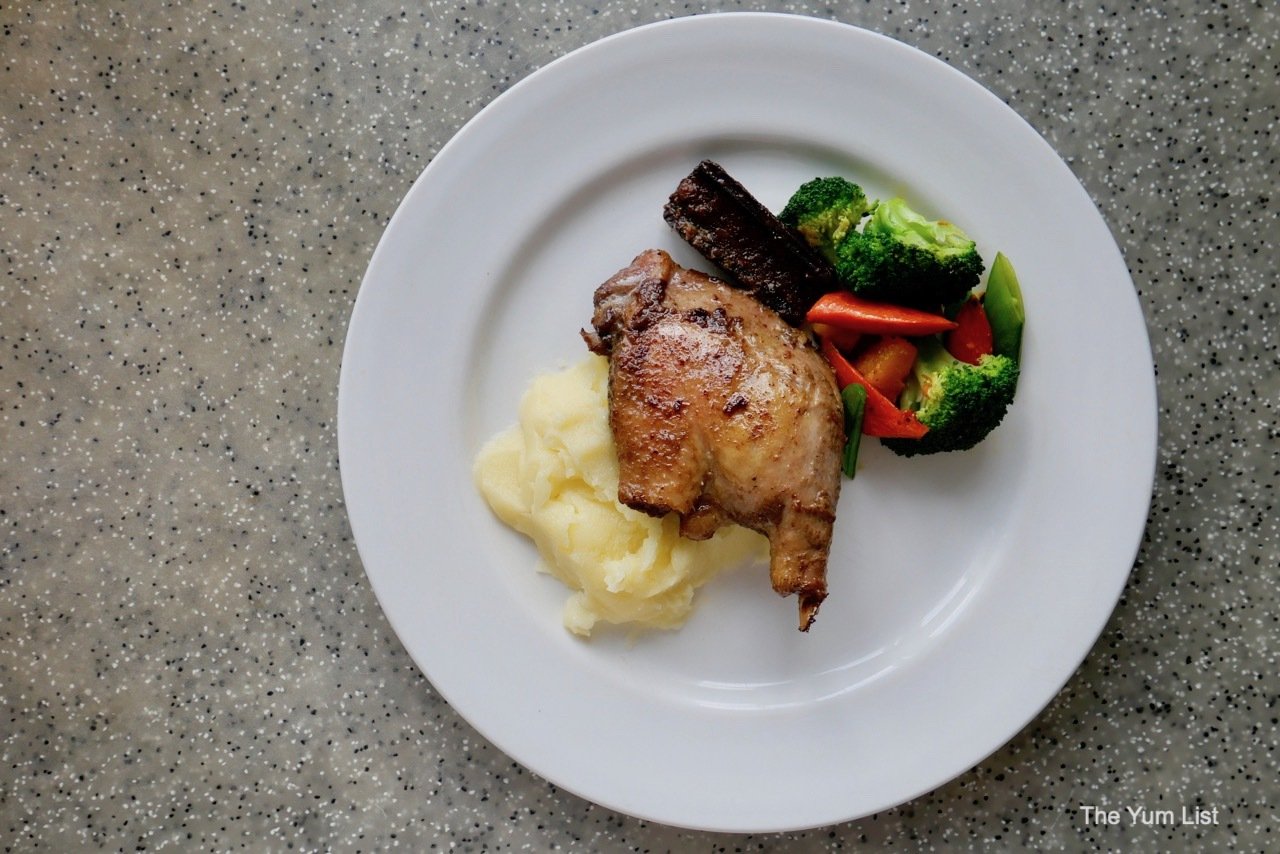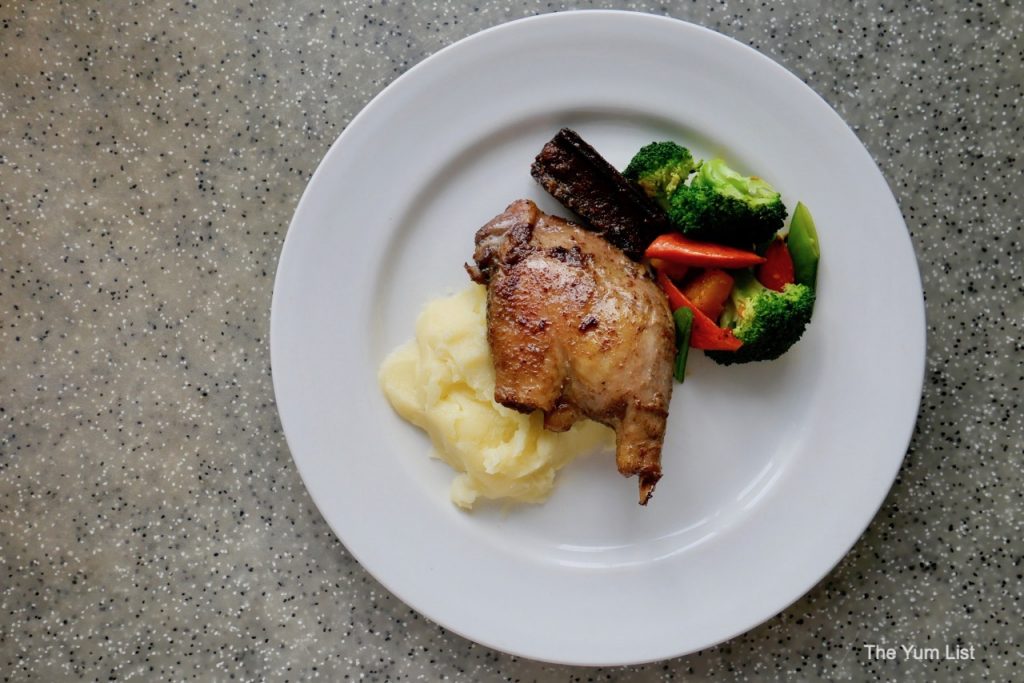 One of my favourites on the DIY meals at home menu is the Pan-seared Scallops with Lawas Highland Rice Risotto (RM78+). Beginning with the rice, it's cooked with water, butter and cheese until the liquid is absorbed. The scallops get a quick pan-frying until golden, and lastly, cordyceps flowers, edamame and a chive and honey dressing finish it off.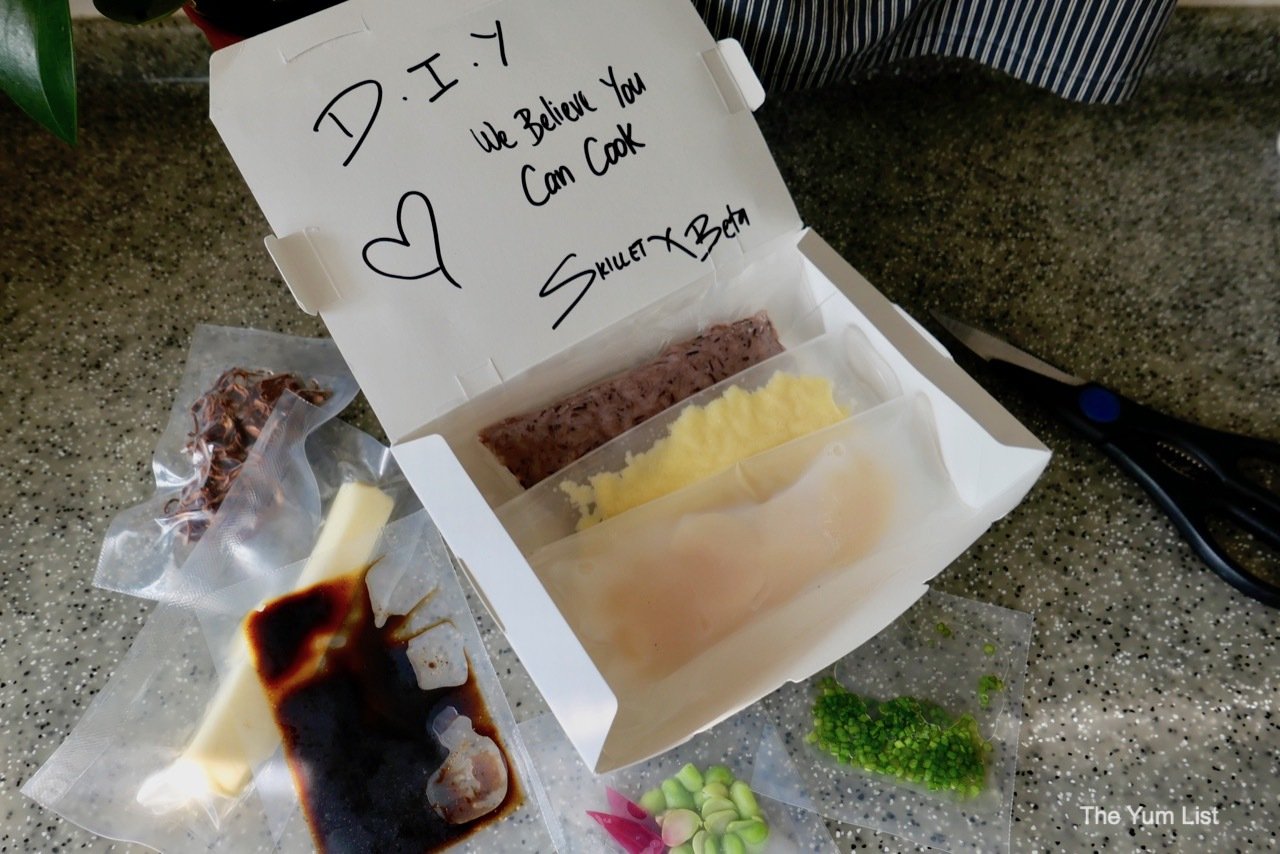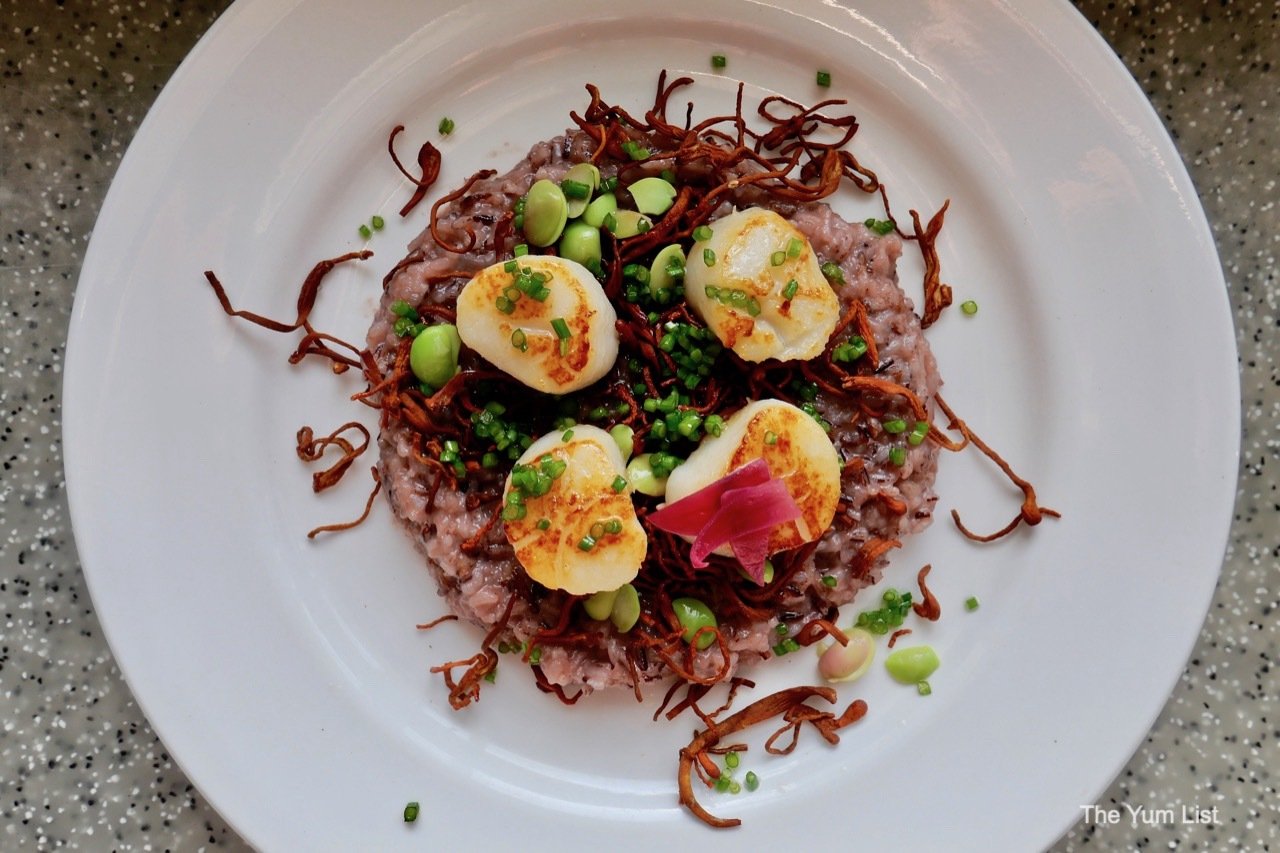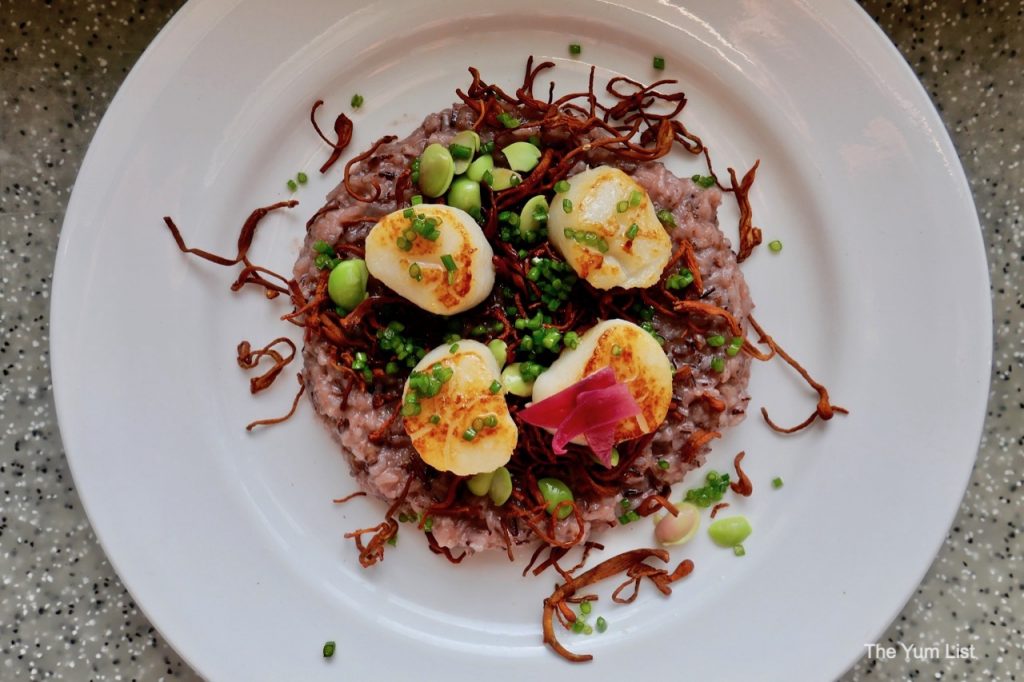 Perhaps the most luxurious item is the Lobster Pasta (RM80+). After quickly blanching the fresh handmade pasta ribbons, I toss them through the chives and honey dressing. Next, I heat the poached lobster in a pot of boiling water, place it on top of the fettuccine, and crown it with some crispy shallots.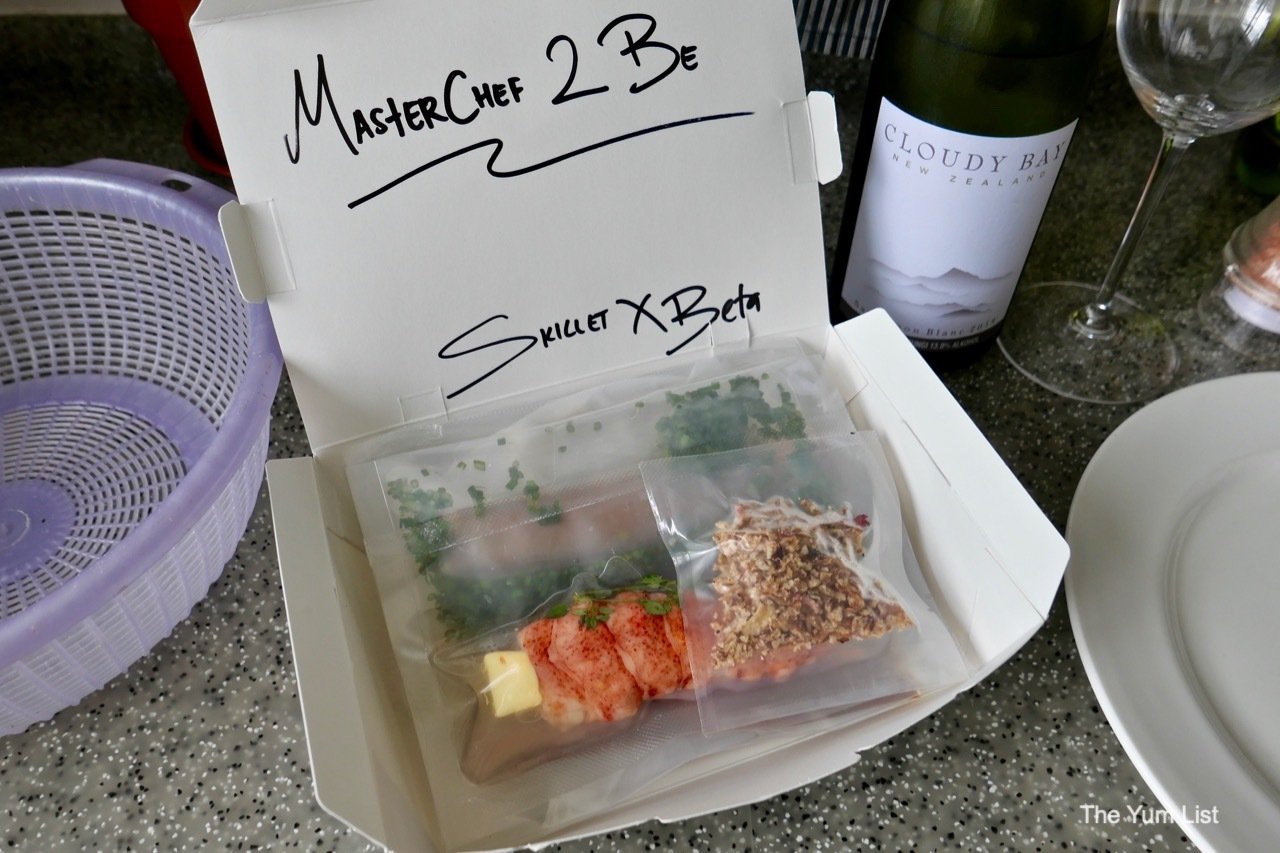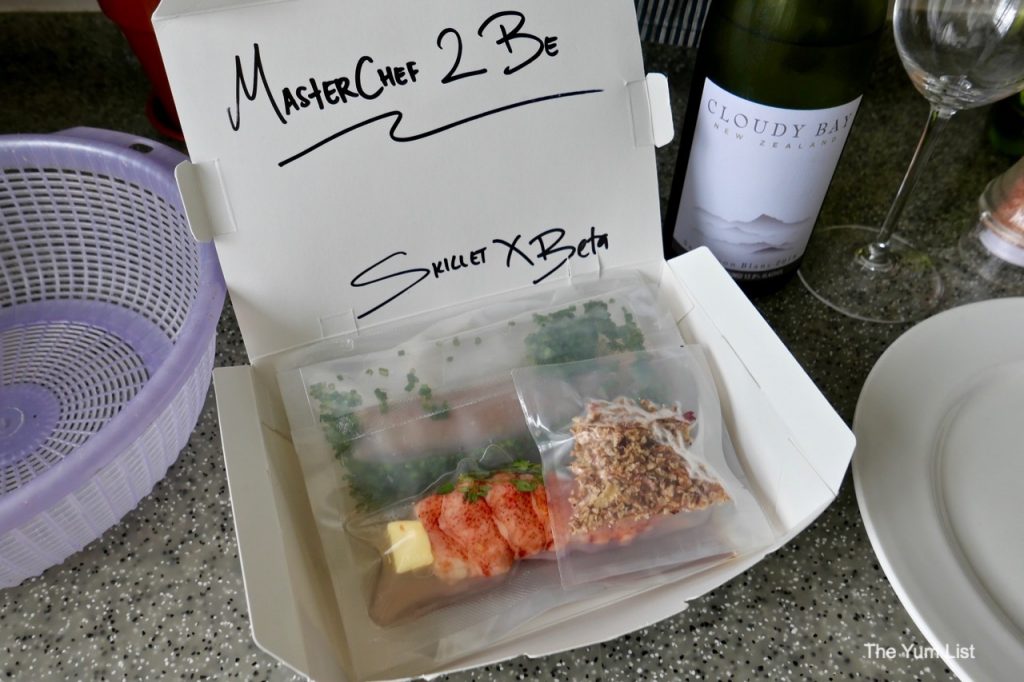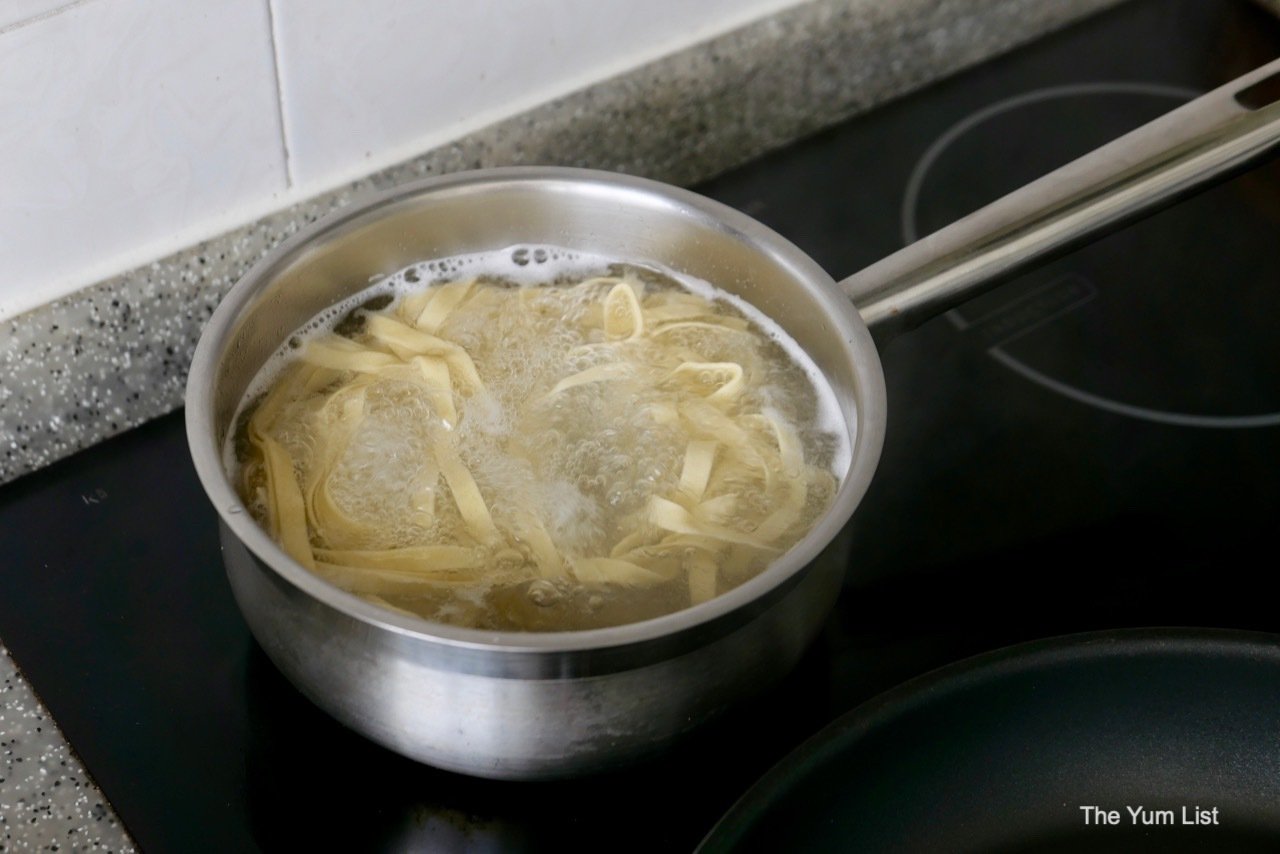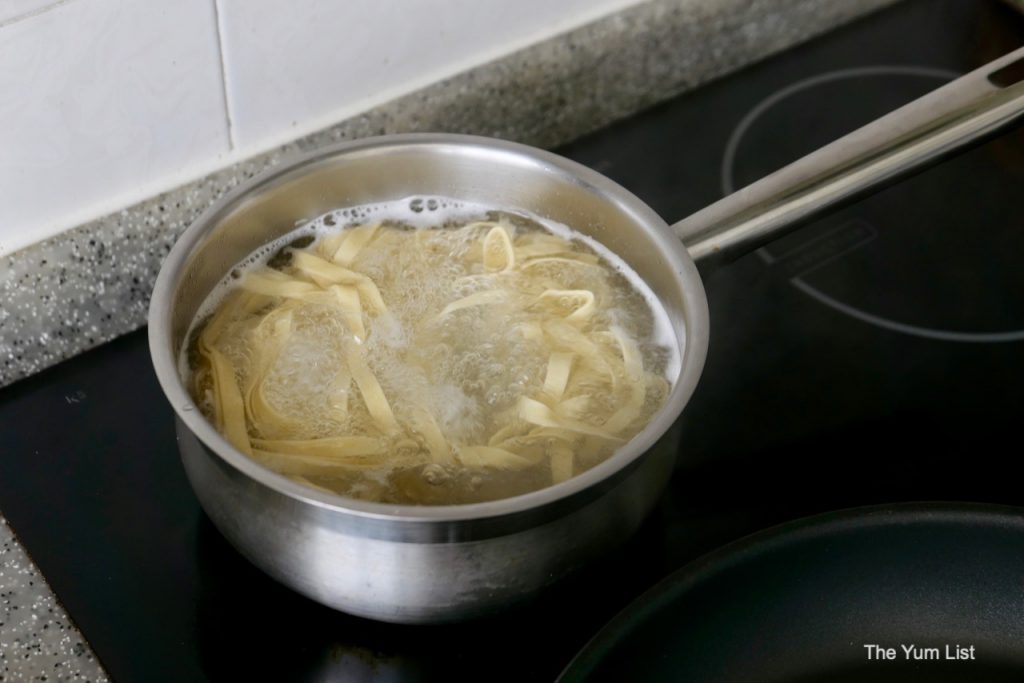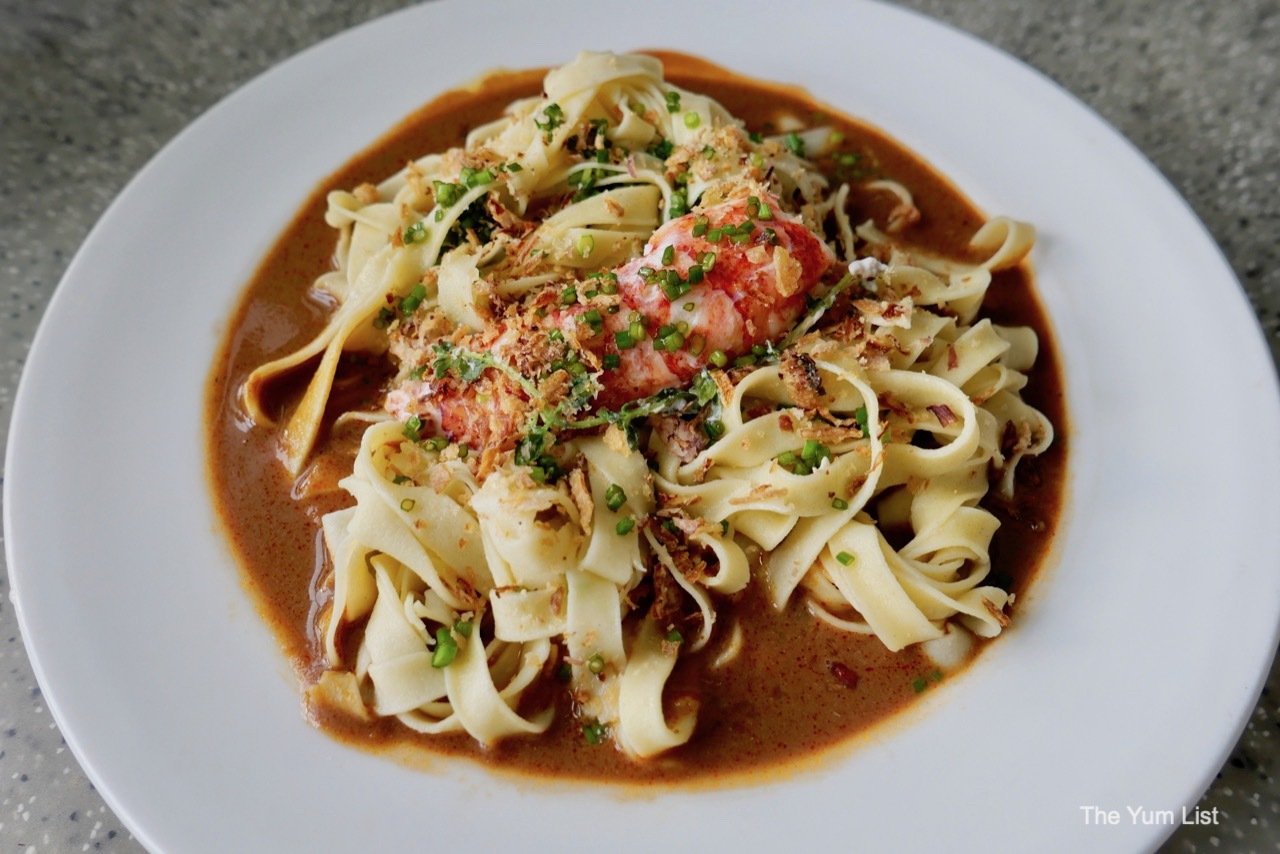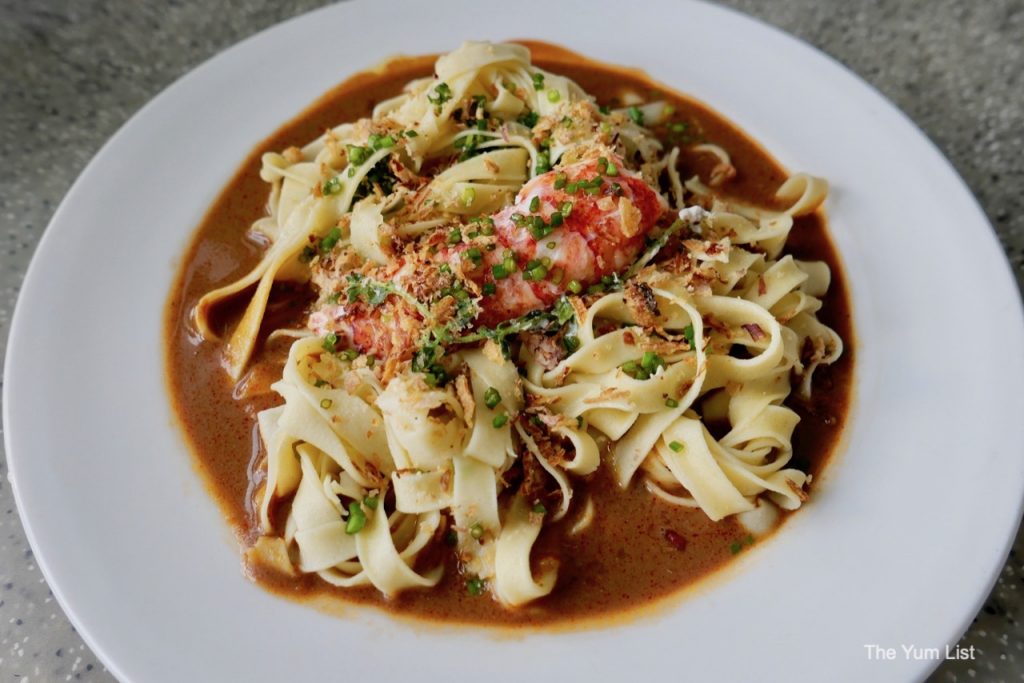 Dessert
It wouldn't be a "fine dining at home" experience without dessert, right? Following "all of that work" desserts are a simple matter of plating. The Sticky Toffee Pudding (RM25+) is as pretty as an Instagram post with cocoa soil and tuile adorning the cake, and a rich butterscotch sauce swirled around as you see fit.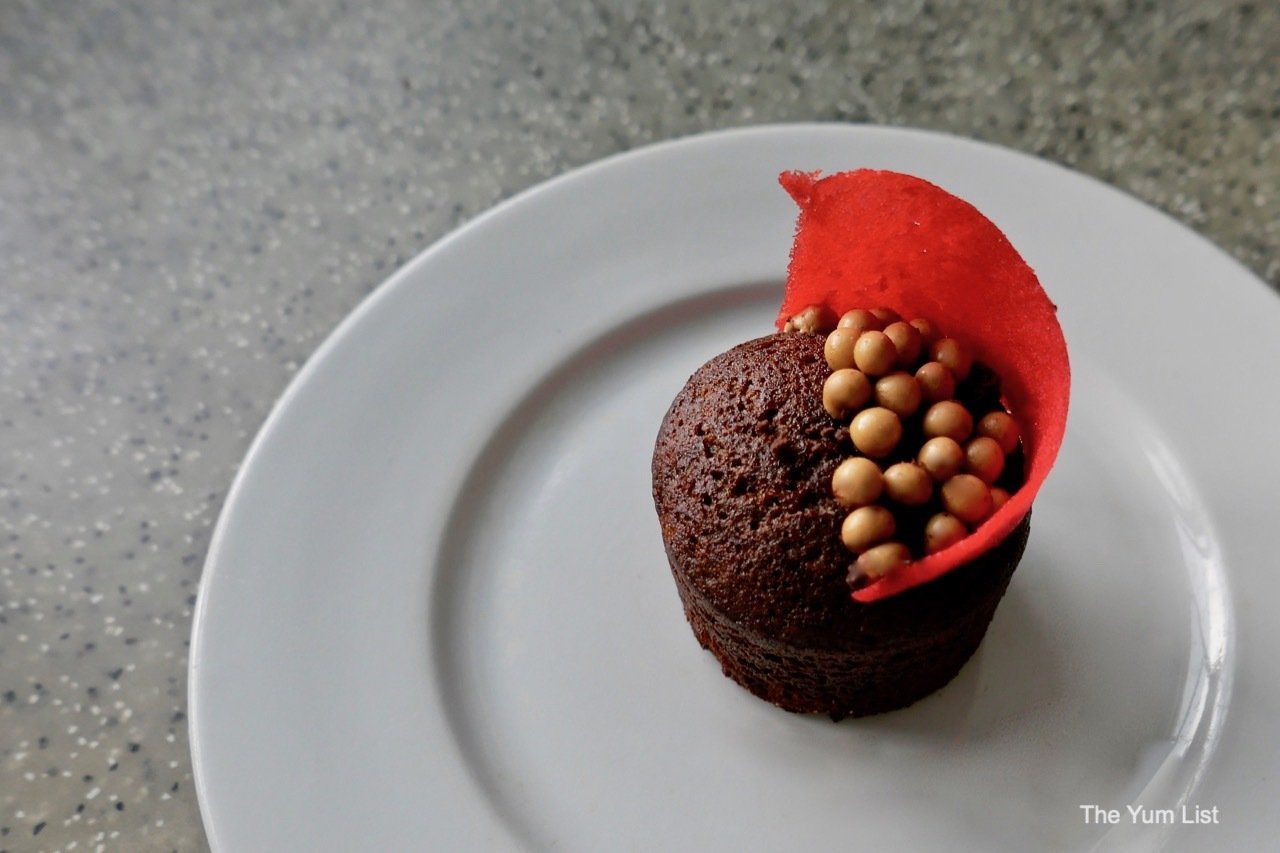 Finally, and not something I ordered, comes the Musang King Durian Mousse (RM35+). I am wondering if the kitchen threw this in as a little joke to add some spice to the relationship between hubby and me while we're locked up. (I am not a fan of durian and threaten hubby with a night on the couch if he chooses to indulge.) The mousse is aerated and ripe with the repeating flavour of the pungent fruit. Accompaniments of Pahang single-origin 72% chocolate and peanut croquant are a saving grace. Durian lovers are sure to find this enticing, especially as you are currently unable to head out to hunt for your own.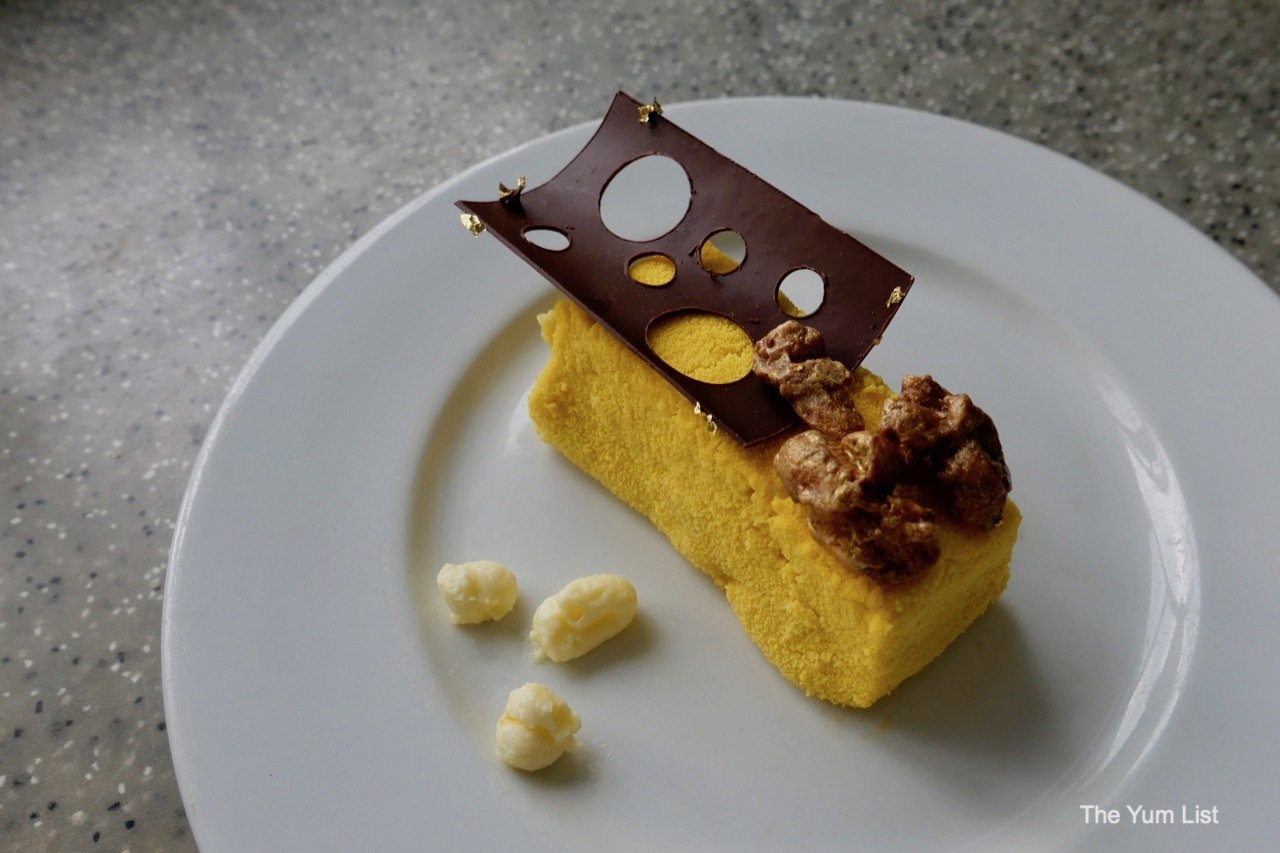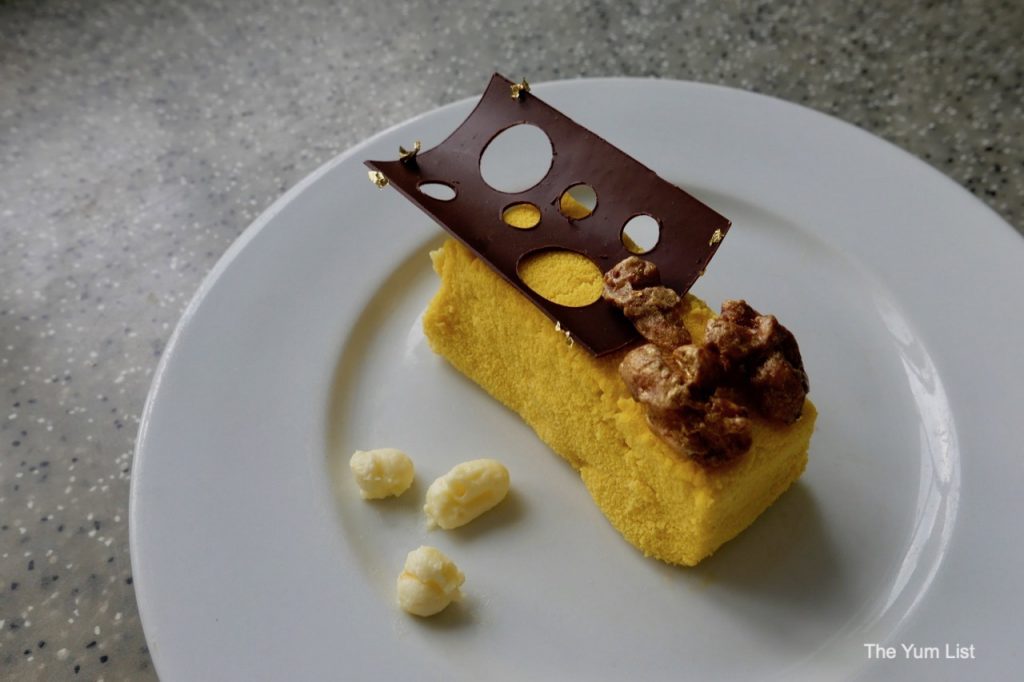 I personally know the team at Skillet and Beta KL and have no doubt that their professional kitchen is even more rigorously following strict hygiene guidelines given the current conditions. Additionally, in light of COVID-19, they report that they monitor staff members' body temperature three times a day. Their protocols of handwashing have increased along with the regular use of hand sanitising gel. And, face masks are now compulsory. Even though there have been no documented cases of transmission of the coronavirus via food, I still like to play things on the cautious side. Therefore, the DIY meals at home alternative is an excellent choice for me. I can heat the food myself, killing off any worries, reducing an already low risk to just about zero.
DIY Meals at Home Review
The DIY meals at home menu by Skillet & Beta is an excellent way to support local business. It's also a nice change from home-cooked meals and delivery. The option of having the prep done for you and just completing a couple of steps is especially fitting if you have a celebration during the Movement Control Order. It's a lovely gesture to surprise a loved one with restaurant-quality food that you've "cooked yourself."
Reasons to order Skillet x Beta's DIY Meals at Home Menu: help a local business stay alive during the Movement Control Order; a restaurant-quality meal on your own dinner table; all the hard work is done for you but you can technically claim, "I did it myself!"
DIY Meals at Home
Skillet & Beta
WhatsApp: +60192121240
+603 2181 2426
Instagram/ Facebook: skilletat163 & beta.kl
Stay home-Stay Safe!
#stayathome
#wecookforyou
#webelieveyoucancook