Nyght at Superfine
Words: Monica Tindall Photos: Rich Callahan
One of our most-loved cafes, Superfine, has launched a dinner menu – Nyght at Superfine. With the same attention to detail and creative flair Larry, Kennix and team present an enticing nighttime line-up.
There is an abundance of diversity in the dinner menu. Still, recipes are linked by the universal fact that every single dish is a favourite of owner Larry. A firm believer of "cooking what you love," diners get insight into to Larry's international tastes with flavours of north and South Africa, China, Japan, France, Germany and even a little of Argentina on the menu. It's not a fusion menu, though, it's a celebration of contemporary taste buds, and it all works tremendously well.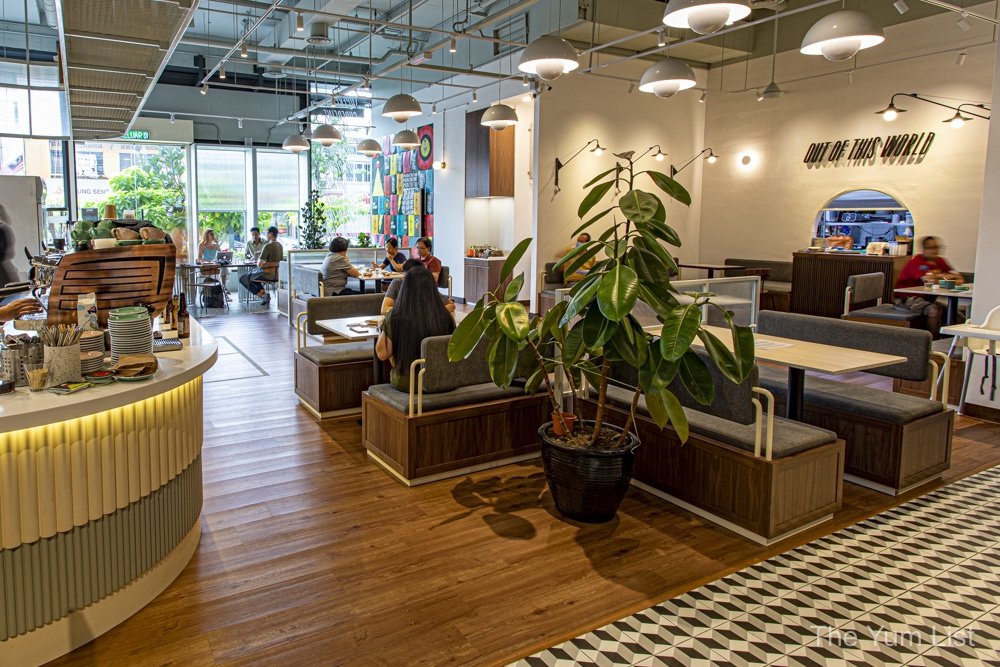 Nyght at Superfine Menu
Small
I'm excited to see Unthinkable Unagi (VG, RM 18) on the menu. A commitment to serving a decent and exciting selection of plant-based recipes is always welcome. This dish sees char-grilled vegan eggplant kabayaki prepared in traditional unagi style with mirin, sake and soy sauce. Pomegranate pulp and toasted almond flakes add colour, as well as bursts of juice and crunch to the top. It's amazingly similar in texture to the eel-inspiration with a good char and smokiness from the grill too.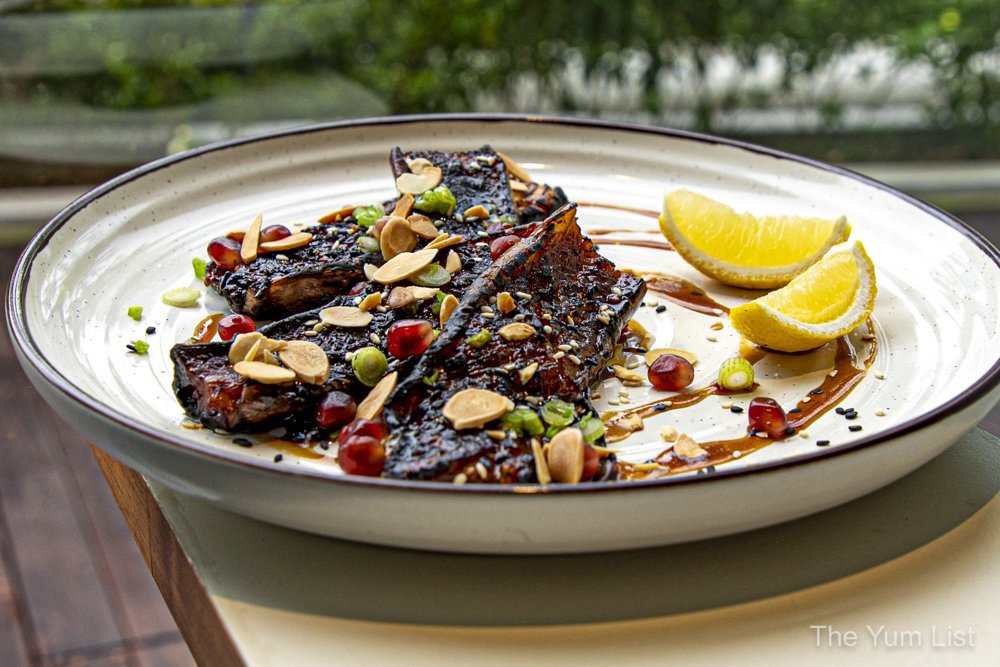 The Bacon Dumplings in Smoked Broth (6 pieces RM 22) prove that meat-loving preferences are just as well catered for as veggie inclinations at Nyght at Superfine. These pork dumplings are chewy with bacon bits and rich with XO sauce. Floating in a smoky bacon dashi broth with a bold heat from chilli on top, we challenge you to try to stop at just one.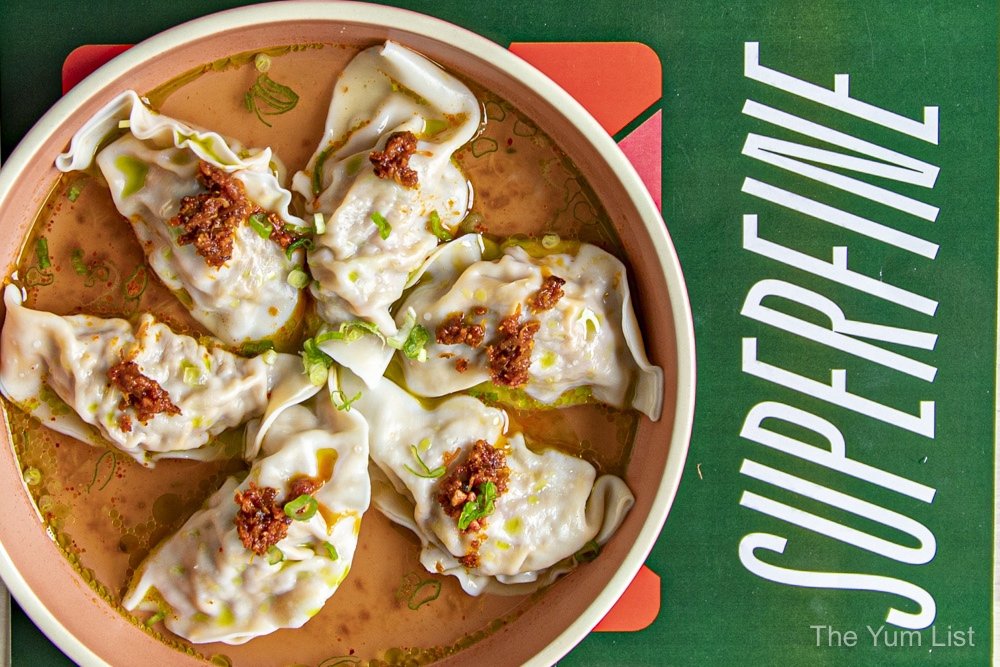 Mains
No one leaves hungry at Nyght at Superfine with the stout Lemon Crumbed Pork Chop (RM 35). The butter-basted sous-vide bone-in pork chop has a light, thin coat of lemon and Parmesan crumbs. A side of poached pears (with cinnamon, cardamom and clove), and fresh watercress and shredded green apple salad, freshen the pork and provide a plant justification for digging in for more meat.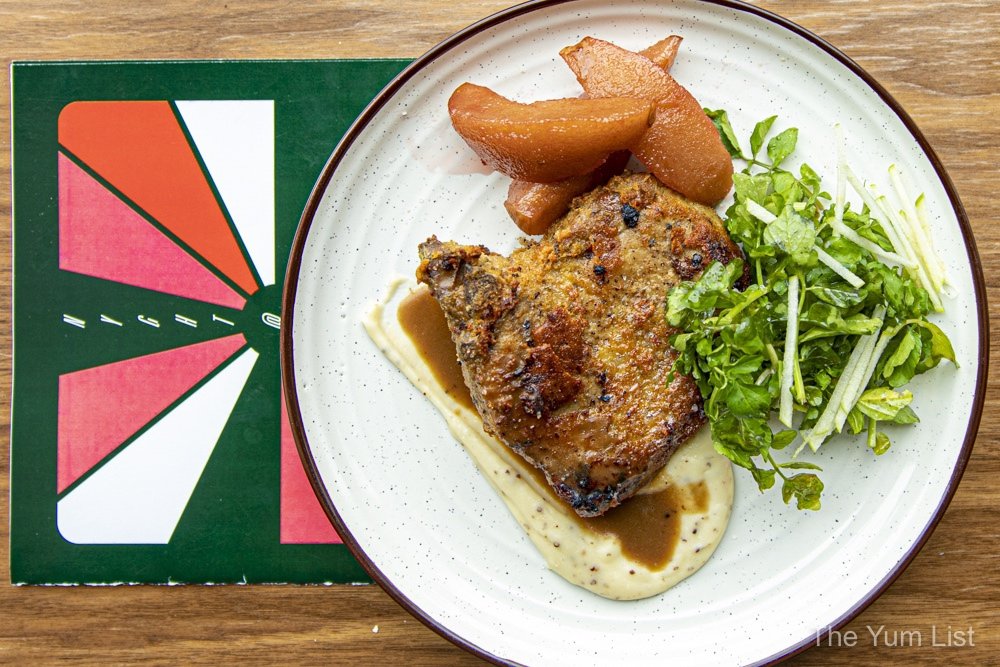 The beautiful Pesto Rice Bowl (RM 26) combines "8 ingredients of happiness" into a single dish. Japanese Calrose rice tossed in house-made pesto is a hearty base with just the right amount of chewiness to the texture. A fat strip of streaky bacon, ricotta cheese, charred pumpkin, radish, tsukemono (pickled radish), crispy kale and poached kampung egg hit every corner of the mouth in balanced harmony. It could have been my top pick today until I meet the next item.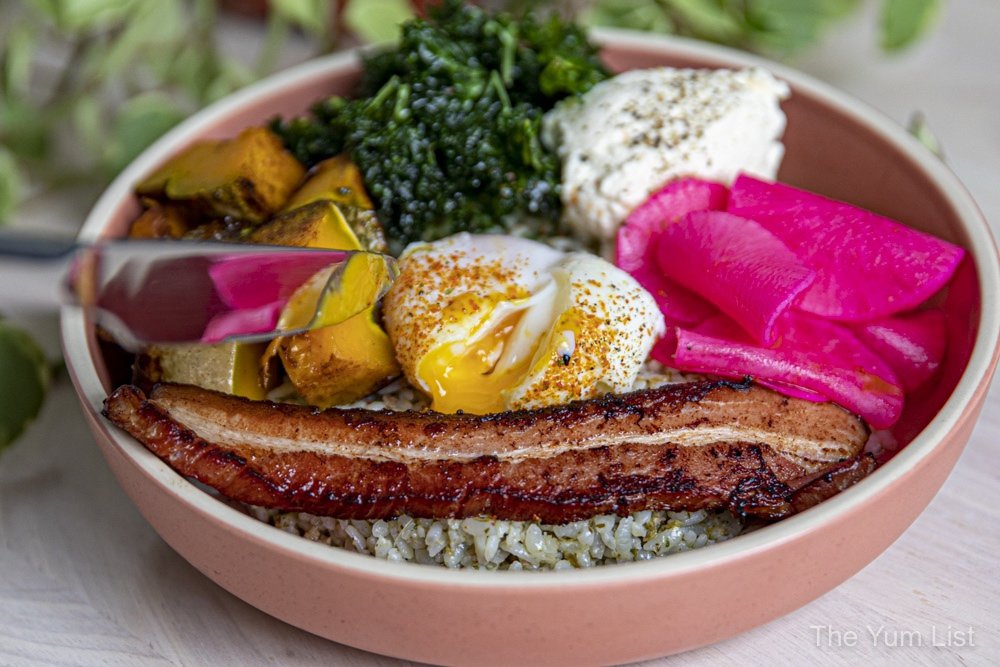 Large
The super-sized plate of Roasted Cauliflower with Salsa Verde (VG, RM 26) is made for sharing (although Rich seems to think he could eat this one all to himself). Zaatar spice gives the charred cauliflower steaks an addictive savouriness. Salsa verde, toasted pistachios and sesame, and pomegranate seeds make a fabulous crunchy, juicy crumble. Love, love, love this dish.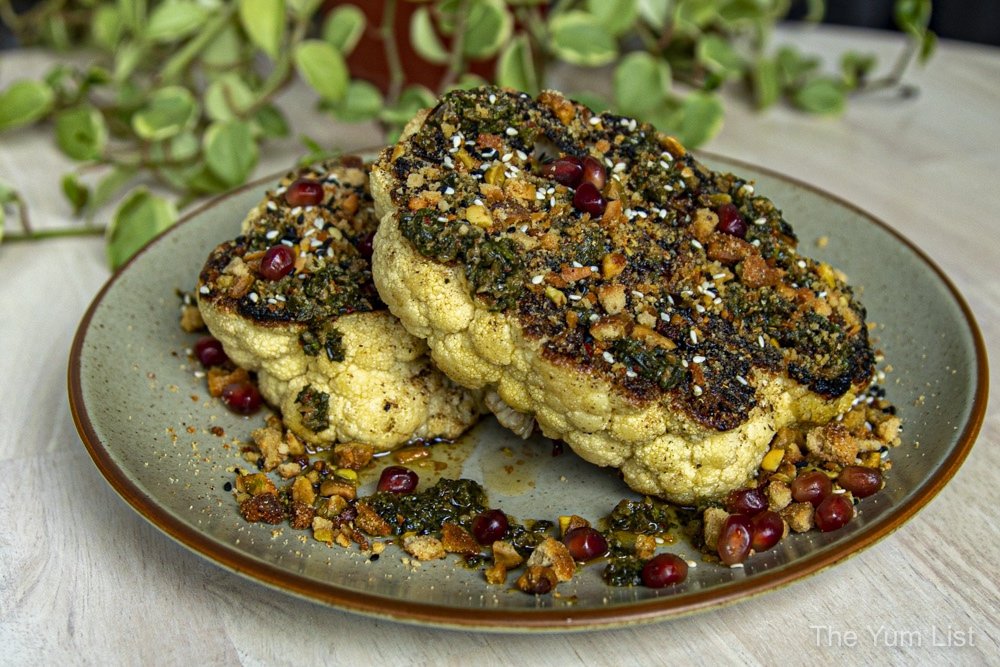 Our last large plate is the Piri Piri Chicken (half RM 39, full RM 65). The bird is boneless, has been sous-vide and grilled in a spicy Portuguese-style rub. It's finished off with an eye-catching, rustic, lemony Piri-Piri sauce. Fermented chillies are the secret to the slow deep burn of the sauce, which makes a vibrant contrast to the sunny yellow corn on the cob on the side. Sporting the marks of the grill and doused in shaved Parmesan and chilli-lime salt, they are much more than a simple companion to the poultry.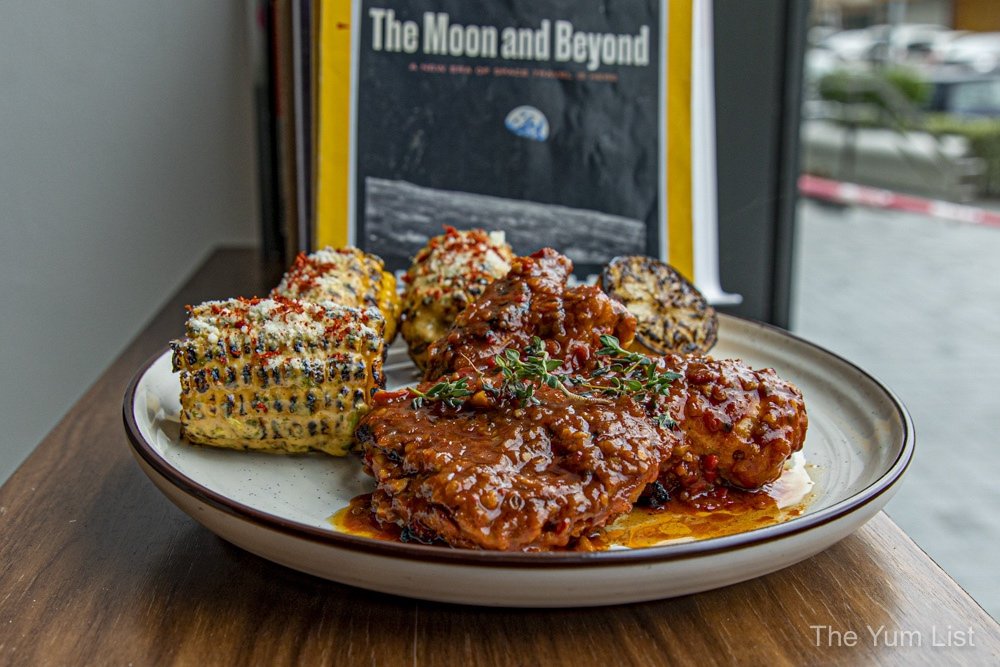 Drinks
Take a look under the window facing outdoors, and you'll discover a fermentation cabinet. With a little humour, each ferment has a name or a "hotel", and it's here where the home-brewed Kombucha (RM 16) takes form. Flavours change with the season, and today we have two, Beetroot Ginger and Orange. Both are tasty and round, very approachable – even Rich is warming up to the idea.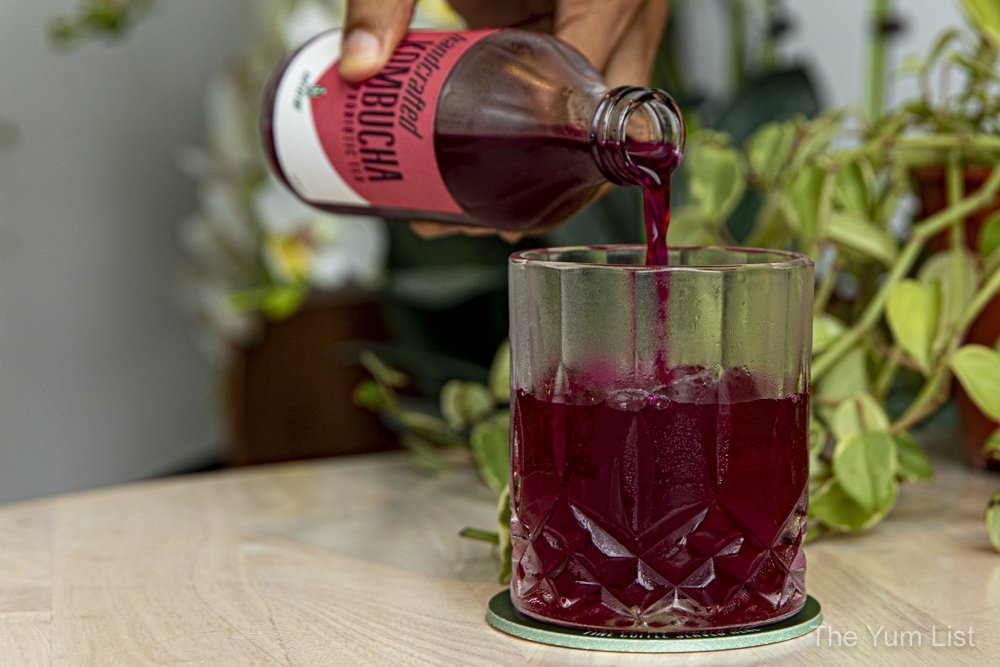 Also taking advantage of the ferment lab, Tepache (RM 20) is an excellent combo for the tropics. Using the Latin American method of fermenting a whole pineapple with chilli, black pepper and cloves, it's then filtered and given the Larry touch with a top-up of Tiger beer. Essentially, it's a beer cocktail, a must-try.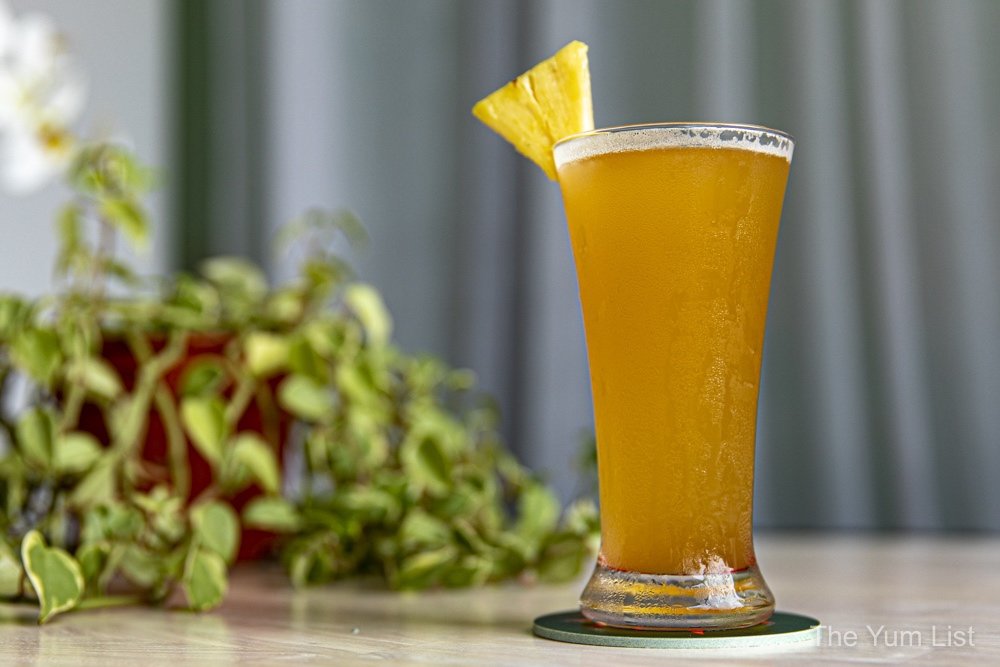 Newly added to Nyght at Superfine is a refrigerator of craft beer along with some take-home items such as house-made cranberry jam and duck egg kaya.
Lastly, and, of course, coffee is superb here.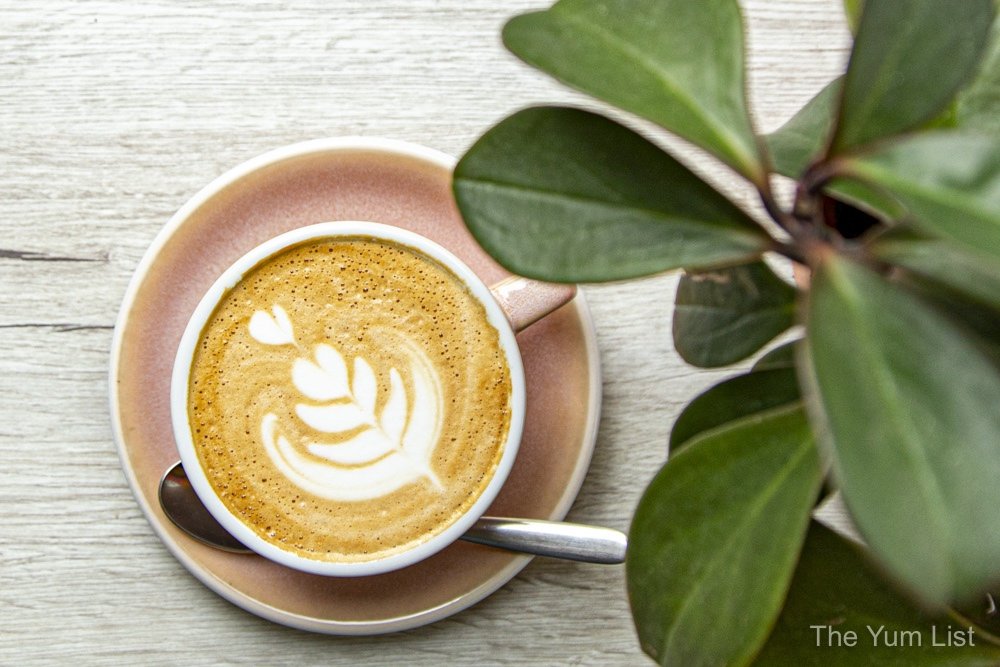 Reasons to visit Nyght at Superfine: a diverse menu that fits well together; plenty of both plant-based and meat-loving items; must try the Unthinkable Unagi, Roasted Cauliflower, Pesto Rice Bowl, their house-brewed Kombucha and Tepache.
Nyght at Superfine PJ
Seventeen Mall
L01-L02, Jalan 17/38, Seksyen 17
46400 Petaling Jaya, Malaysia
www.facebook.com/Superfinekl
· Non-halal
Nyght at Superfine PJ Opening Hours
Dinner served daily from 6 pm until 10 pm
Running at about 50% capacity due to social distancing norms.
Find more restaurants in PJ here, and stay up-to-date on KL's food and beverage scene here and here.