Vegan Food Desa Sri Hartamas,
Words: Monica Tindall
Photos: Rich Callahan
Sala, a café serving vegan food in Desa Sri Hartamas, sure has changed since our first visit. The original outlet was humble, tucked away in a low traffic area in Galeria Hartamas. That didn't stop the crowds from coming, however. Word-of-mouth quickly grew the plant-based restaurant into one of the most popular meat-free outlets in the area. A second branch recently opened in KL's city centre at The Row with much success, and, recent partnerships and collaborations are only continuing to take the brand from strength the strength.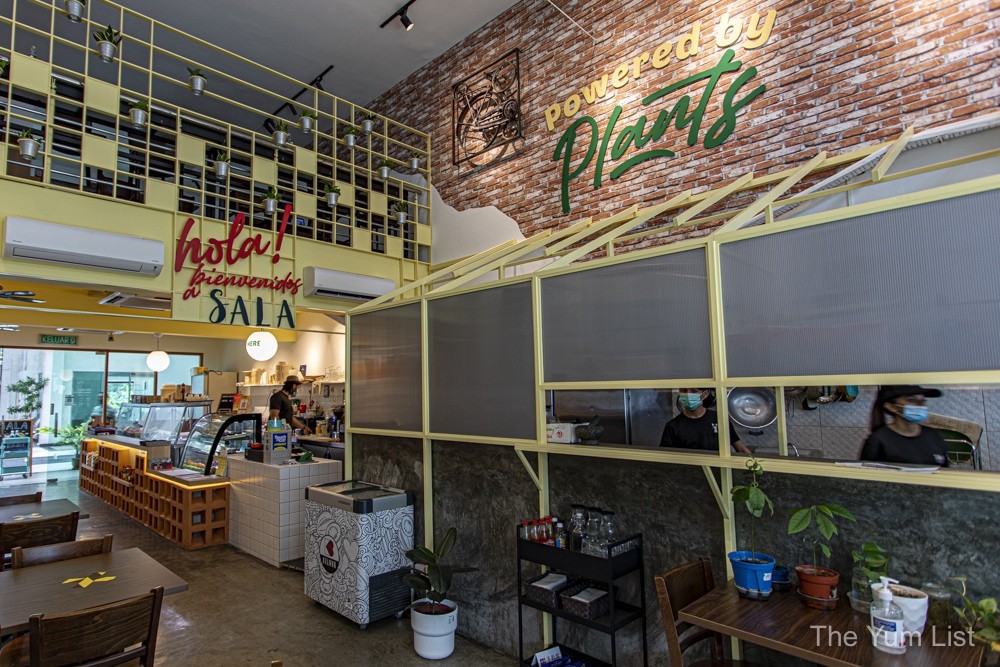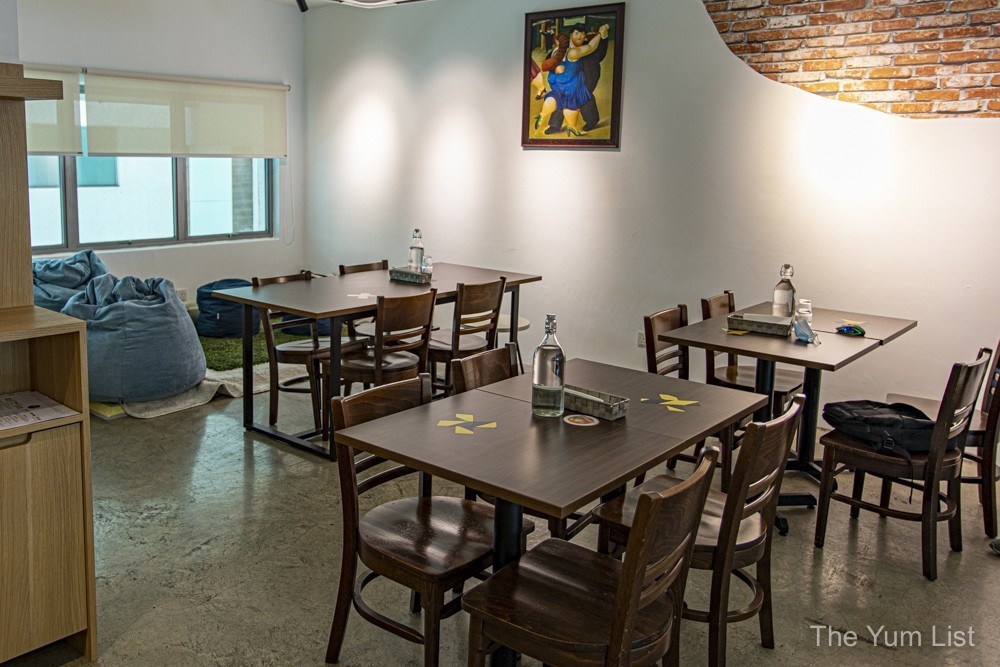 A New Partnership
Coming in right after the first MCO, Berjaya Food International Sdn Bhd began a partnership with Sala. With the common goal of promoting conscious consumption, the team plan on making meat-free options more accessible and desirable to the masses. With the resources of the group and passion of founder Fauzi, they aim to advance care for our earth and ethical food choices.
Championing environmental awareness, one of the recent introductions as a result of the partnership is compostable packaging. It's made of cornstarch and biodegradable so can go straight into your compost. Living in an apartment I never have enough browns in my compost, so this is an excellent addition. Here's a resource on edible balcony gardening in Malaysia and an informative piece about composting versus recycling.
Collaborations
In addition to Sala's partnership with Berjaya, founder Fauzi firmly believes that we are much stronger united than divided and hence fosters collaborations with like-minded vegan food providers.
First off, a relationship with Forest Smoothie, sees vegan food outlets around the region making their own green smoothies. With every purchase of a Forest Smoothie, one tree gets planted in Borneo, Indonesia. Sala's recipe blends banana, pineapple, moringa, spirulina, hemp protein, pegaga, chia seeds and goji berries into a thick refreshing beverage. It's a delight to sip on, not only because it's delicious and does wonderful things to the insides but because someone somewhere is planting a tree because of my purchase. Imagine if I bought one every day for the entire year – that's 365 trees I would nearly be responsible for planting.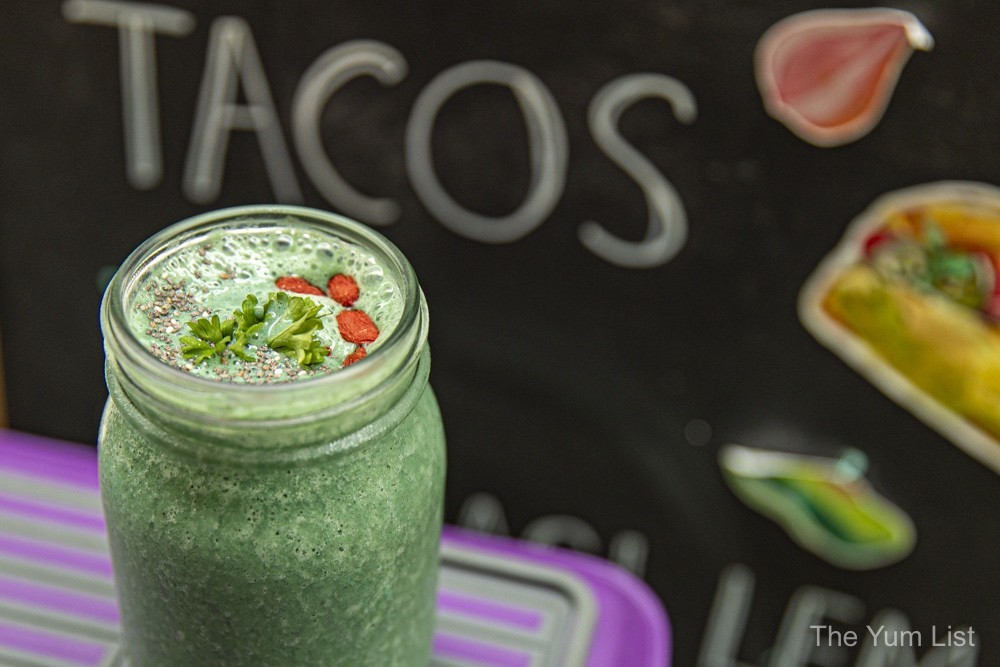 "You know what I like about this…dessert comes first," says Rich as we dive straight into two more collaborations. The first, Heart and Halo Bakery, brings vegan cupcakes to Sala and the Pandan (RM 8) that we try today is incredibly moist. Frosting is a fluffy swirl of soy and coconut and there's a surprising middle of oozing caramel!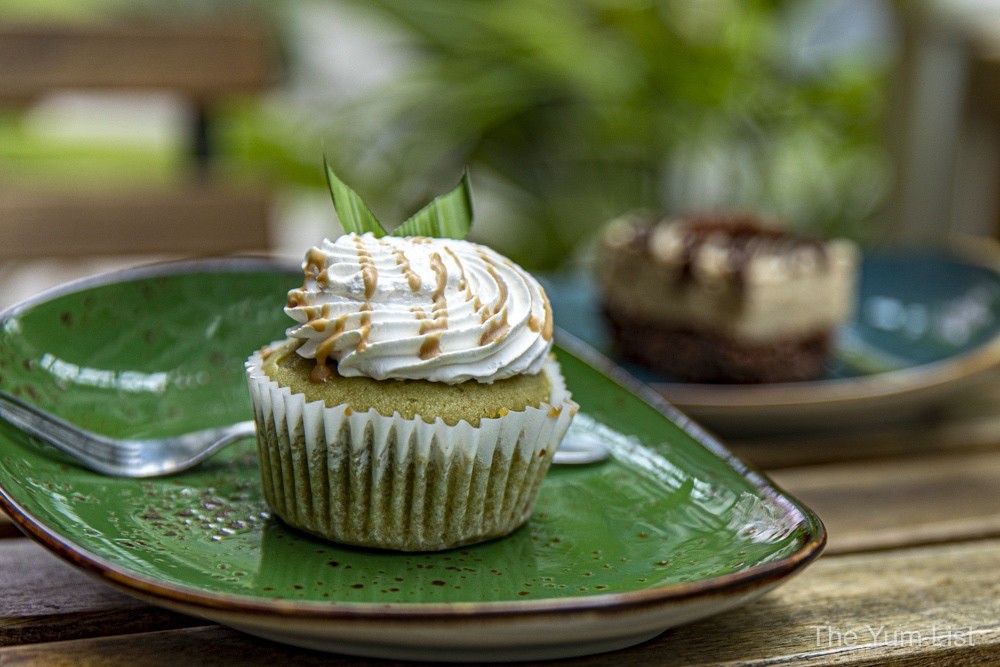 Holyshitaeke, an 18-year-old vegan baker in KL, provides the super seductive Peanut Butter Rice Crispie Chocolate Crunch (RM11). Not only is the name a mouthful, so too is its rich flavours and contrast of textures. Rich could be onto something; starting with dessert is quite a happy entrance to a meal.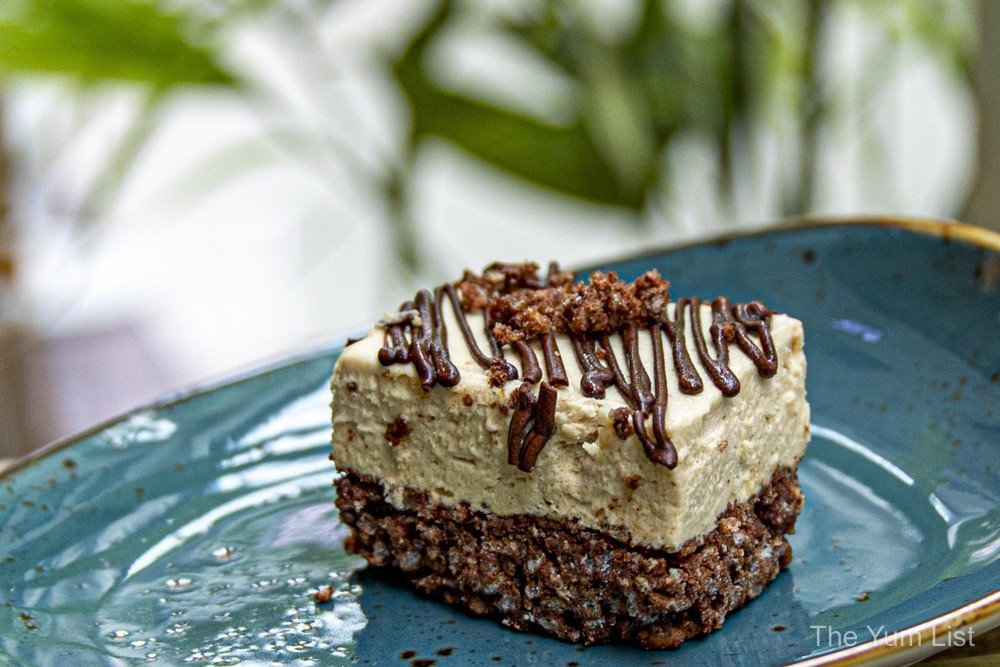 A savoury joint effort with Mushroom Lah sees their vegan recipe paired with Sala's nasi lemak. Here you can see that compostable packaging mentioned earlier as well. The mushrooms have such a great texture, that I bet many would not even guess that it's not meat.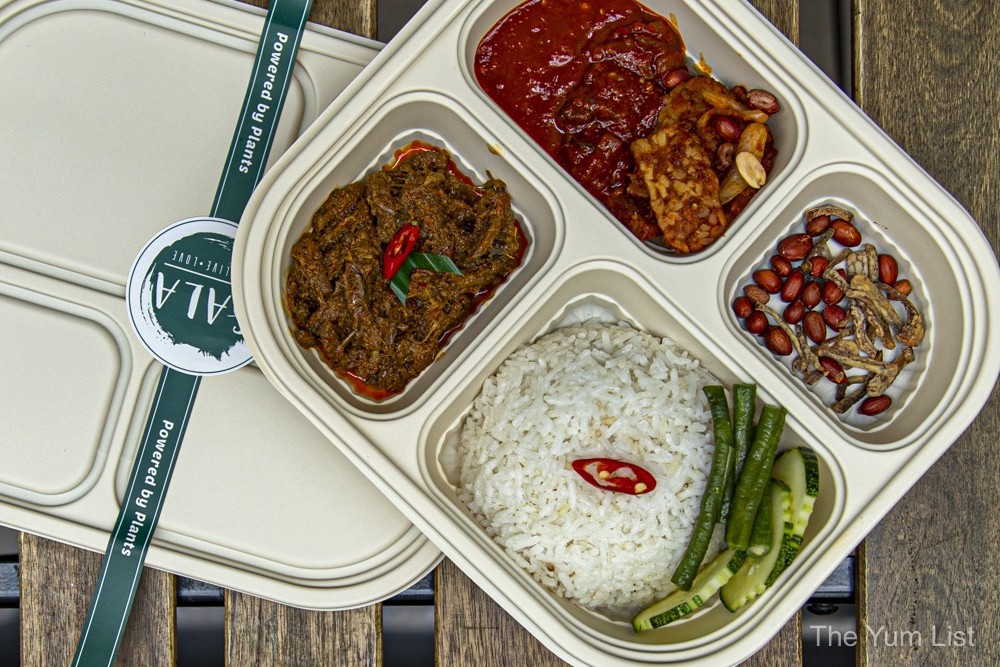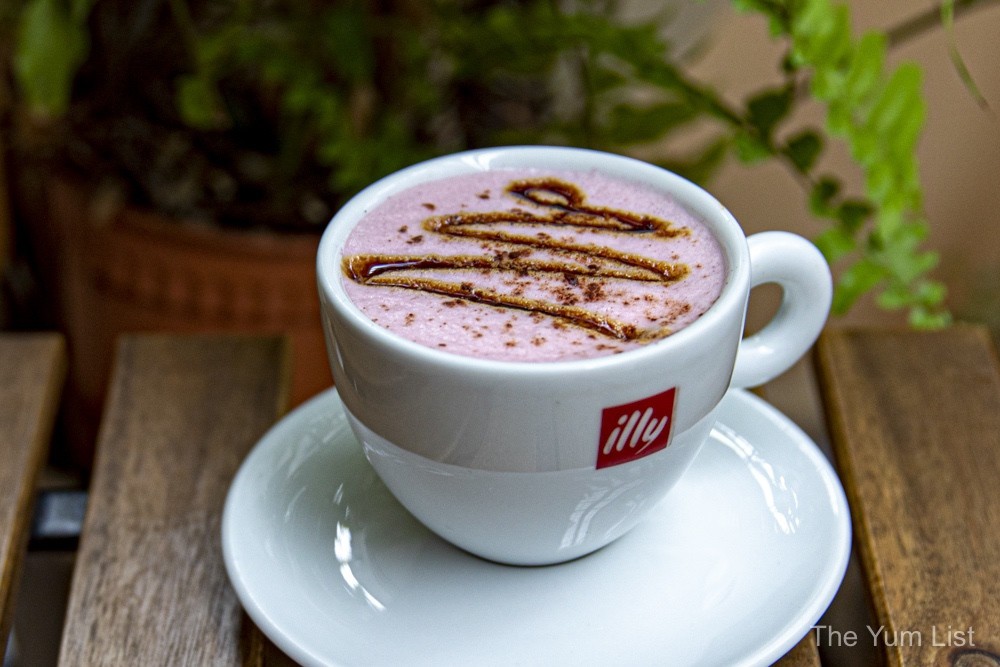 New Onion & Garlic-Free Options
Increasingly becoming aware of customers' desires, Sala continues to refine and expand their vegan food offerings. They have recently introduced a menu with no onion and no garlic for those with cultural and religious sensitivities. Verde Zen Bowl (RM 24) is one such item. Baby spinach, red coral, quinoa, seared tofu, grilled veggies, sliced cucumber, green beans, starfruit, walnuts, pumpkin seeds, avocado slices, nutritional yeast and balsamic vinaigrette fill the bowl with goodness.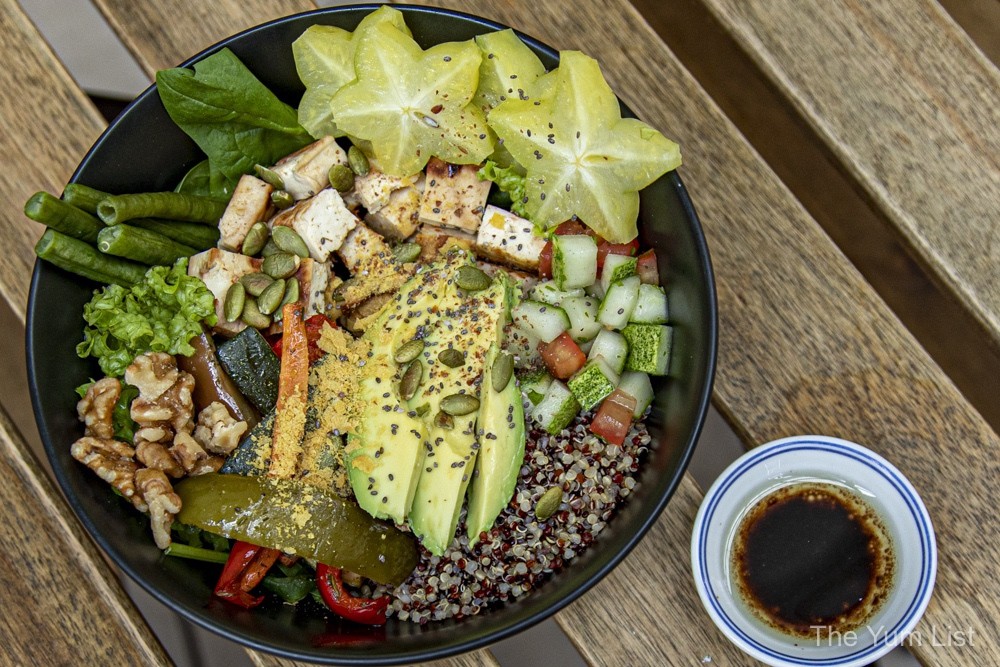 Vegan Food Menu Desa Sri Hartamas – Long Time Favourites
Snacks
From the regular menu, Rich has trouble believing that we have not yet tried the Loaded Fries (RM 25) and insists that we not miss it today. The term "loaded" is not to be taken lightly here as the fries are blanketed in a mound of toppings. Mushroom asada, pico de gallo, guacamole, vegan chilli, garlic sauce, sour cream and nacho cheeze sauce are in abundance.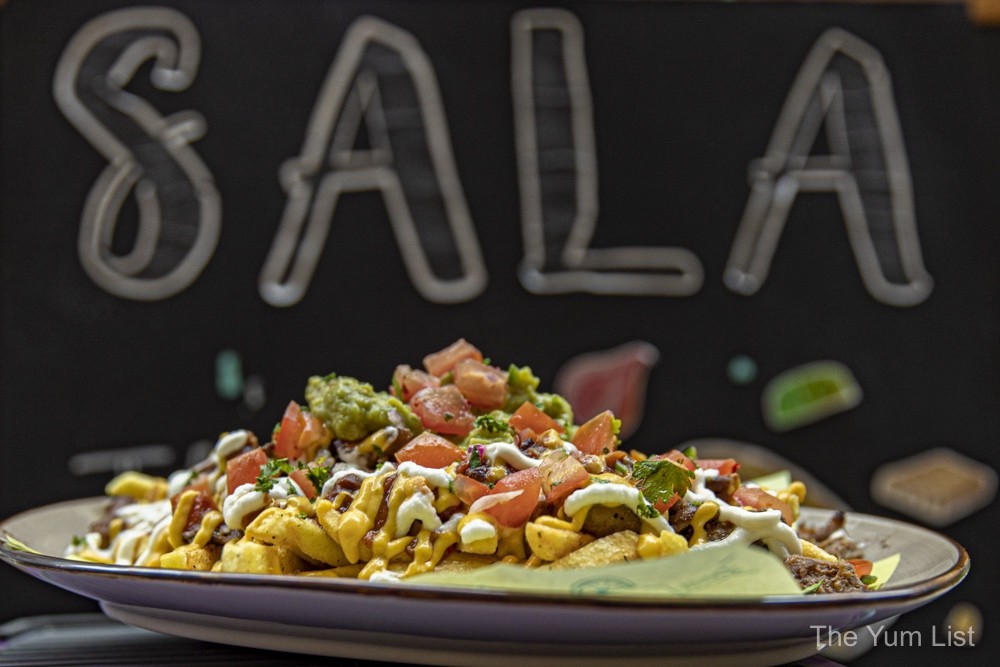 Burritos
The most popular item on Sala's vegan food menu is the Shrooms Asada Burrito but we've had that many times and attempt to expand our wings today (although I do highly recommend an order!). Instead, we mix things up with El Dominic (RM 23), a burrito with local gusto and named after a regular for his customized fillings. Wrapped in a flour tortilla, it's a spicy combo of tempeh, peanuts, dhal, mushroom asada, chickpeas, Sala's signature cilantro lime brown rice, slaw, baby spinach and sour cream. Packed with flavour and with a good hit of heat, the spice aversive should be wary, but lovers of a kick would do well to give it a try.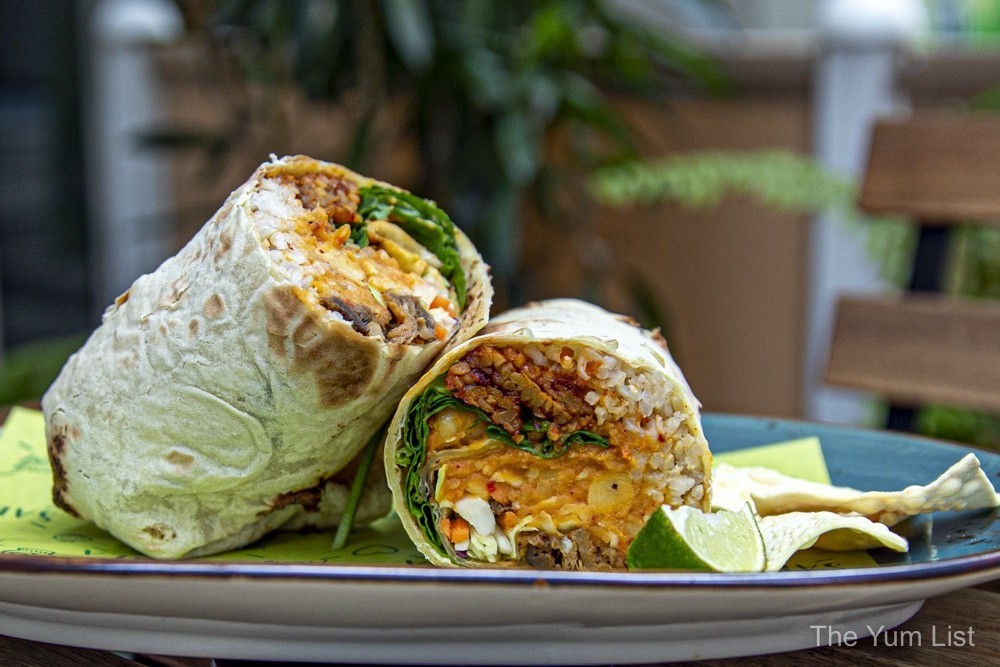 Reasons to try some vegan food at Sala, Desa Sri Hartamas: plant-based diets are healthy for the planet and for you; meaningful partnerships working towards the greater good; do try a forest smoothie, must order a burrito and finish off with a vegan dessert.
Sala, Vegan Food Desa Sri Hartamas
A-G 03 A Galeria Hartamas
No. 21 26A/70A Desa Sri Hartamas
Kuala Lumpur, Malaysia
www.facebook.com/salakl
Opening Hours
Daily – 11 am – 10 pm