Brasserie Fritz Review
Words: Claire Matheson Photos: Monica Tindall
Eddie Chew and Christian Bauer may well be Kuala Lumpur's most iconic restaurant duo; while KL epicureans are familiar with Mr Chew's Chino Latino Bar, Fuego, Cantaloupe, Claret and Strato, you may have yet to be introduced to their littlest darling in its new location: Brasserie Fritz. Prepare yourself for immersion in a moveable feast.
Each of Chew and Bauer's spaces has its own distinct identity and sense of self. Brasserie Fritz, delicately tucked in a secluded corner on Troika's Sky Dining level, carries itself with an air of elegant minimalism. The quietly enchanting decor draws the eye to the French restaurant's name in lights. The heightened light installation, devised by Head of Marketing Pierre-André Clergue, is subtly reflected in the grand piano's deep gloss. A tip of the hat to Hemingway, Stein and the Fitzgeralds' glittering Parisian '20s, a period of intense artistic inspiration coincidentally following a pandemic and dubbed Les années folles, or the Crazy Years.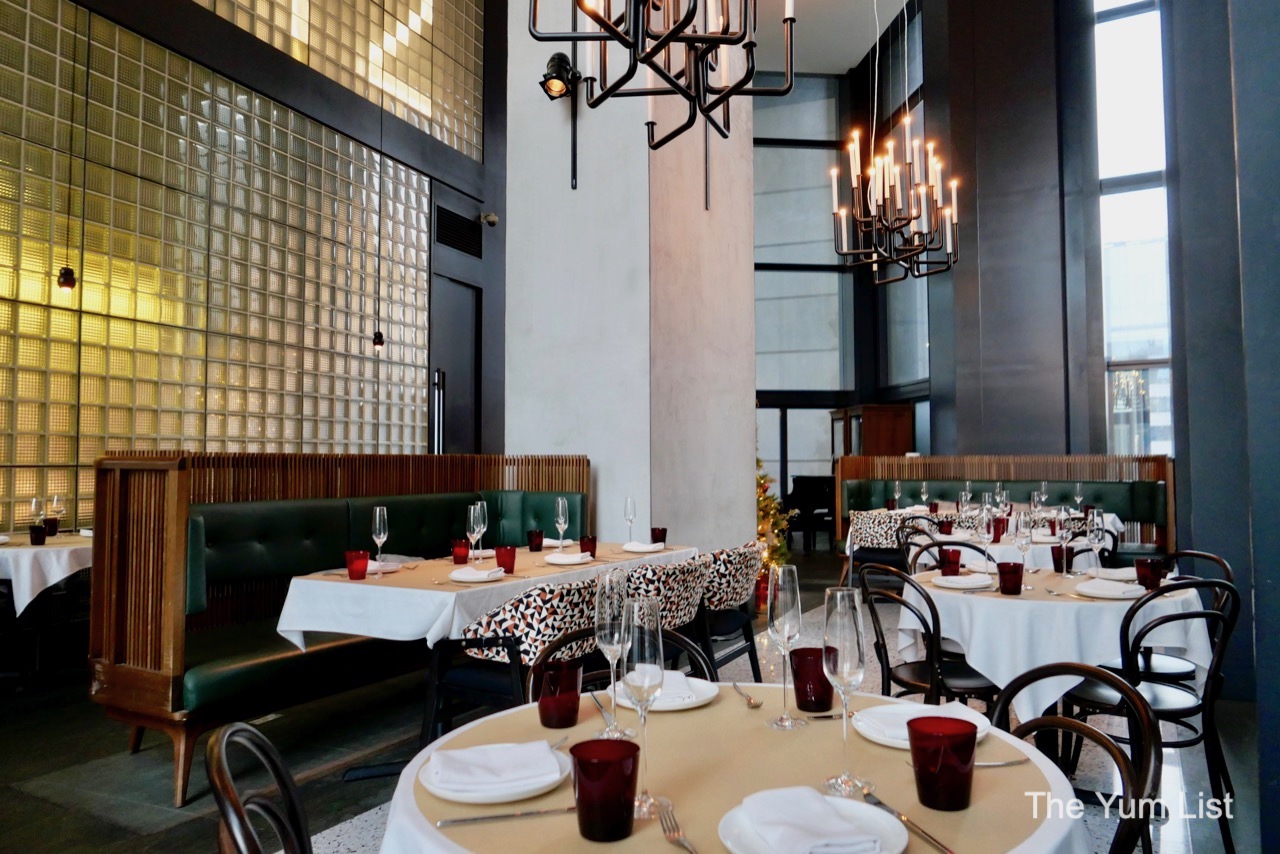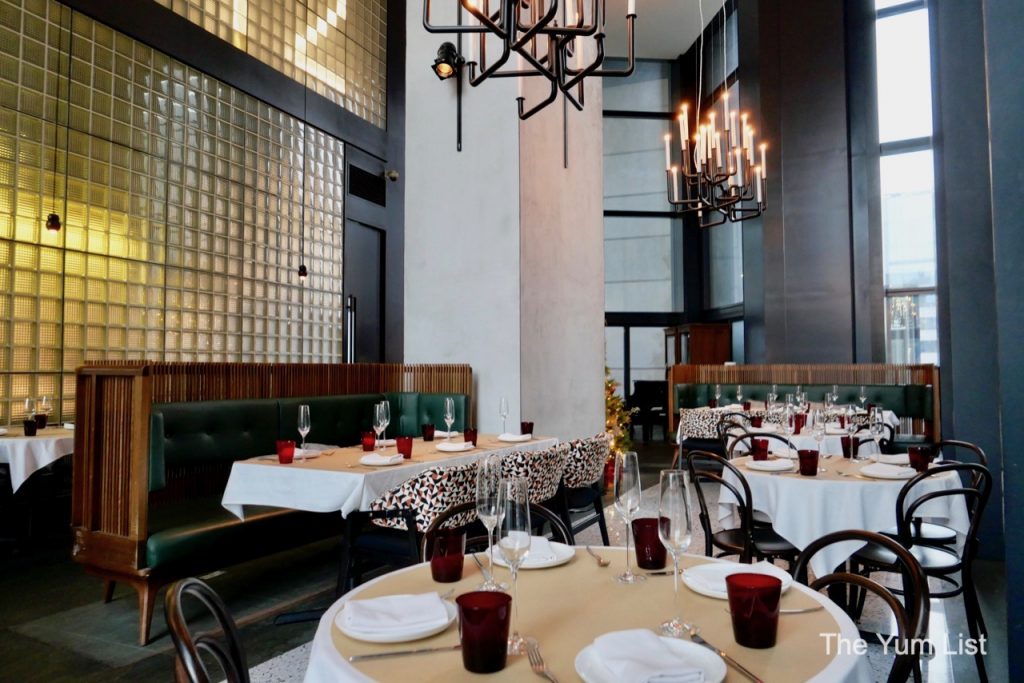 Cocktails
From our eagle's nest perch on Brasserie Fritz's open-air balcony dining, we survey the twinkling lights of KL's colourful streets, the kampongs and condos, towering skyscrapers and street food stalls set amid a backdrop of rolling storms. A genuine appreciation of the KL skyline requires a cocktail in hand. The Daiquiri (RM42) is citrus light with a smoky lustre, built on a malted caramel base of Matusalem Añejo, a Cuban-styled Dominican rum Cointreau, lime, agave and yuzu. It's a Central American tradition with a splash of Eastern Asia, decorated with a slice of dehydrated orange.
If you're hankering for something a little more bitter and salty in just the right measure, opt for the Paloma (RM42). Herradura Reposado is mixed with grapefruit, agave, lime and soda. Mexico's Herradura is the world's most awarded Reposado tequila. It's been oak barrel-aged for eleven months to produce a smoother texture to its buttery vanilla and agave notes.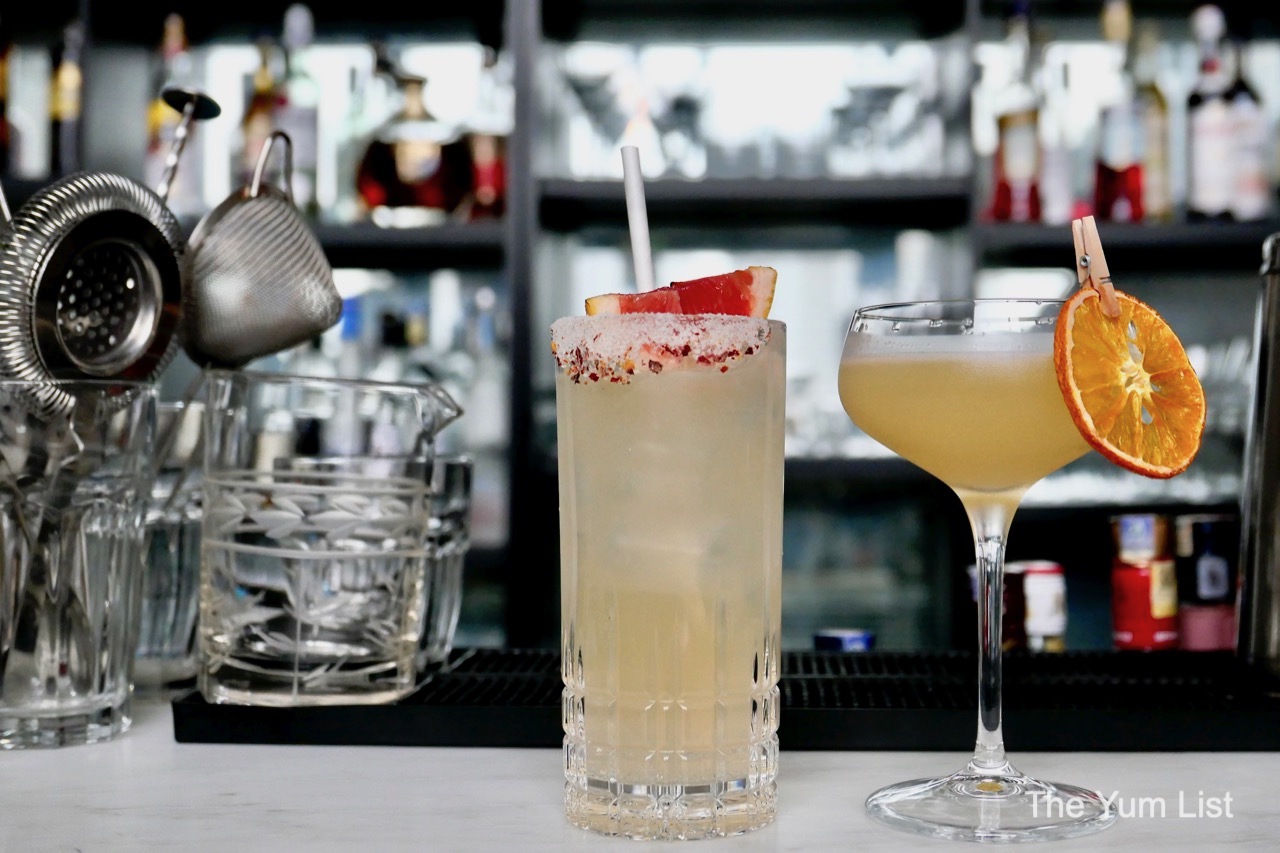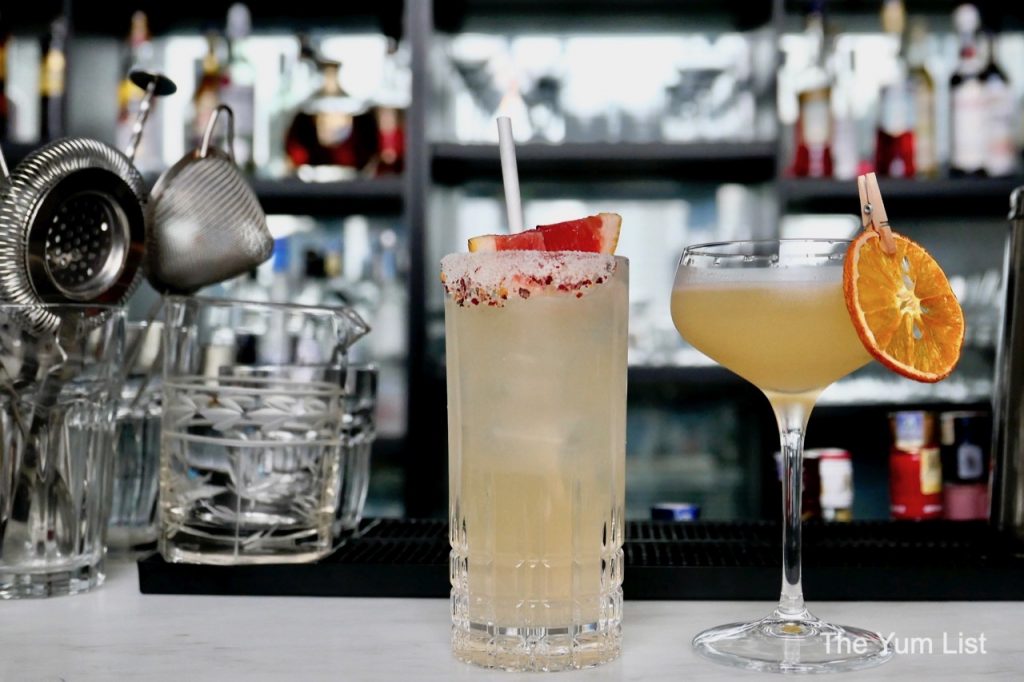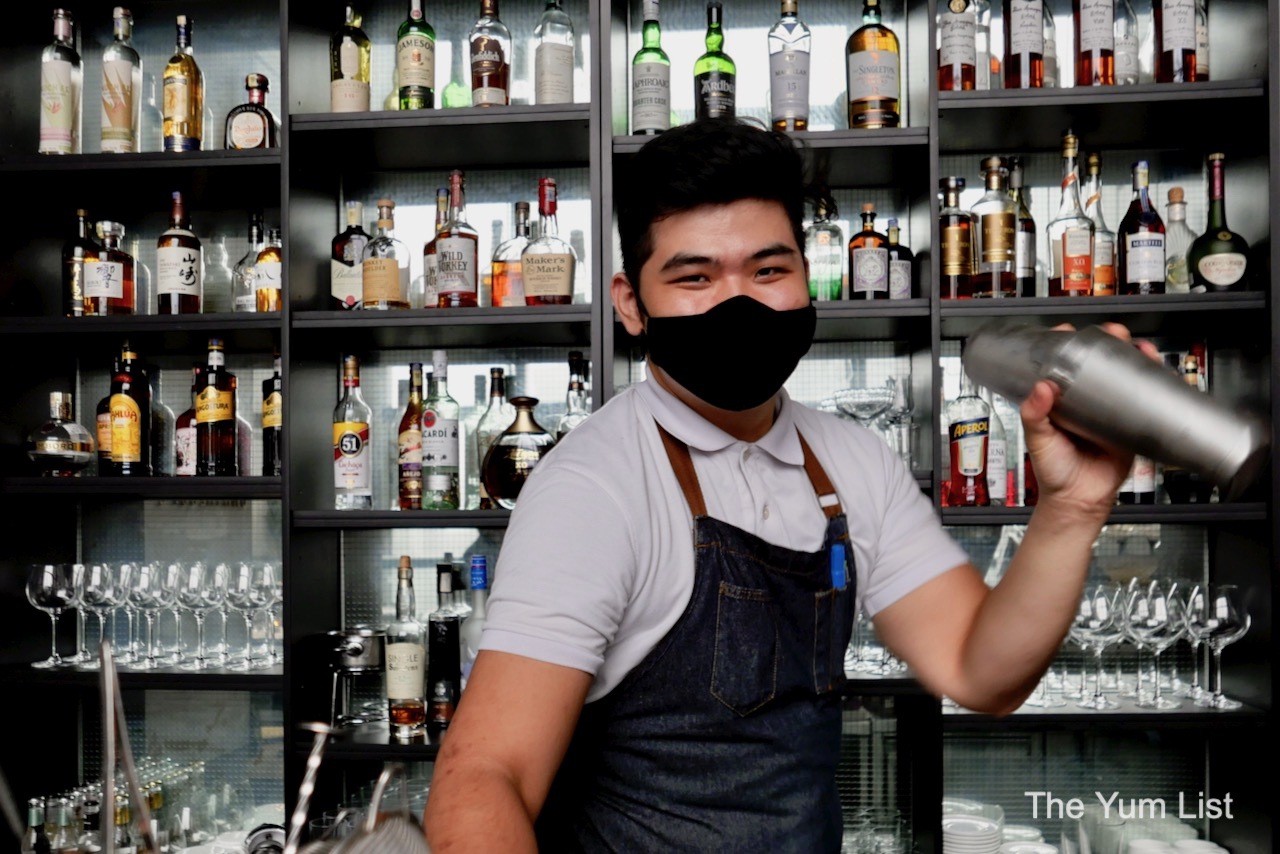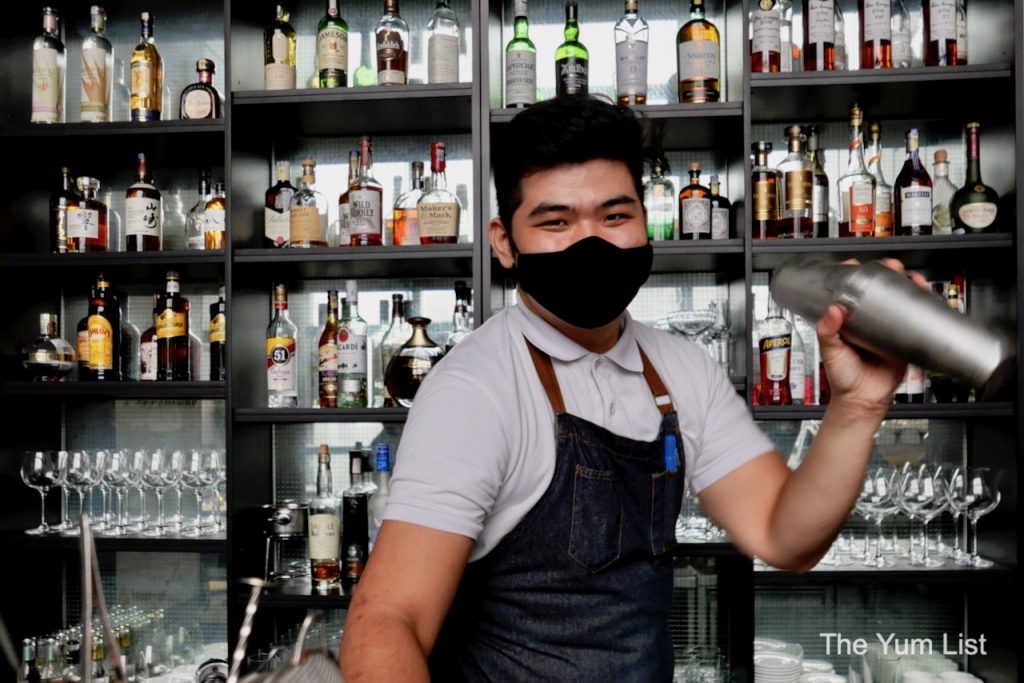 Wine List Brasserie Fritz Review
Brasserie Fritz and Cantaloupe's shared wine list is as individual and as rich in personality as its owners. Hemingway posited, "Drinking wine was not a snobbism nor a sign of sophistication nor a cult; it was as natural as eating and to me as necessary." It's an idea both Chew and Bauer would applaud, having visited each and every one of the independent French producers featured on their menu. They have selected only the most interesting and charismatic wines, many of which are organic or biodynamic. The list is a poem of classic methodology with minimal production. Each name is accompanied by its own prosaic story of discovery. There are bold protagonists and enigmatic supporting characters, with French viticulture regions reading like chapter headings.
We begin with the 2018 Morogues Blanc, Menetou Salon from Maison Henry Pellé in the Loire (RM48 per glass or RM240 per bottle) to open our meal. Minerally fresh with lemony citrus touches of pear and apple, limestone and bright acidity, it pairs well with the fresh seafood to come.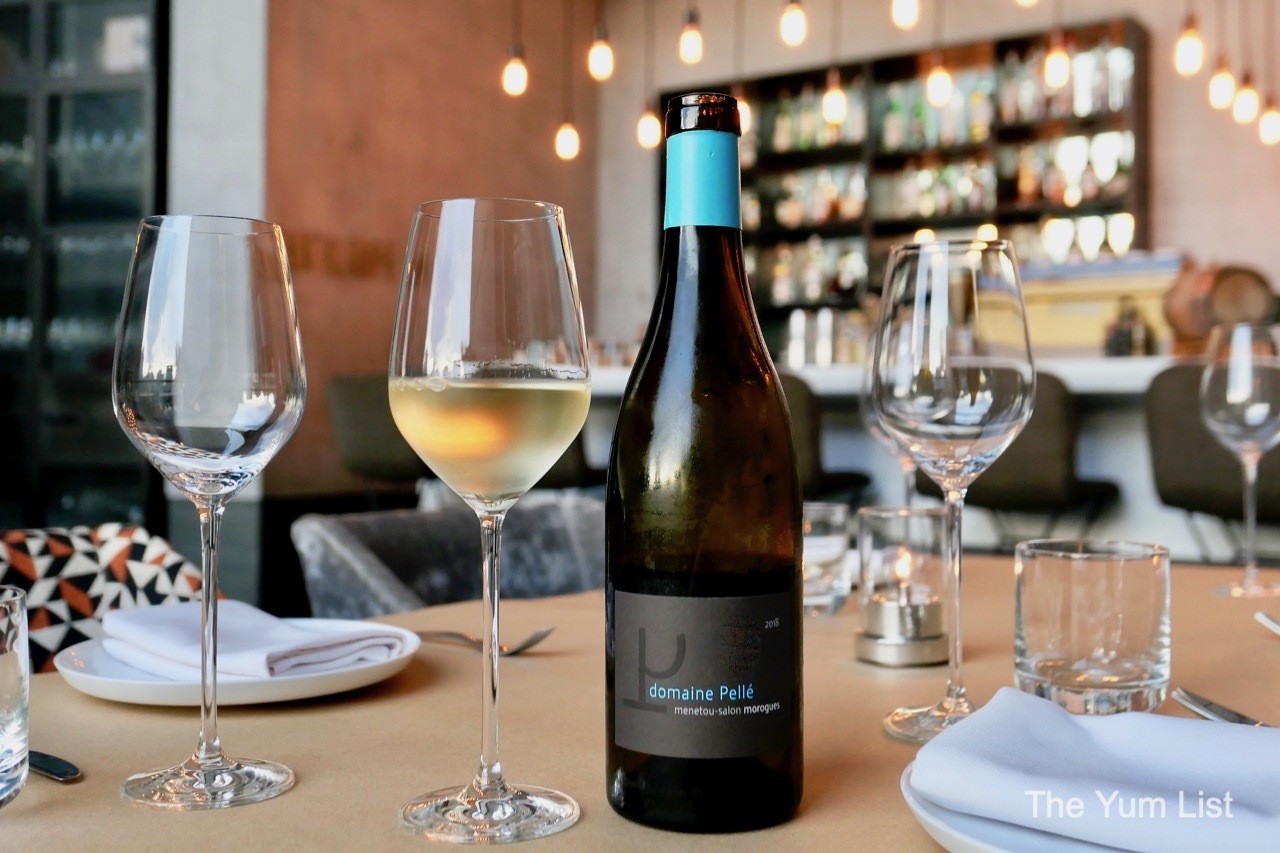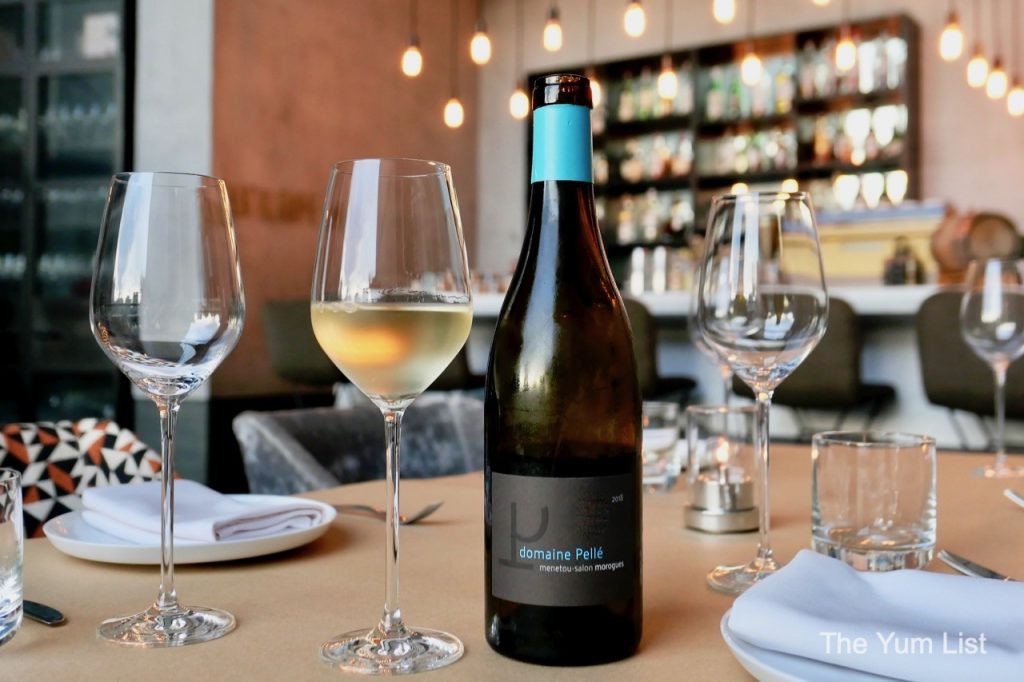 Starters
The Fruit De Mer menu features two sizes of mixed seafood platters. Pierre-André recommends ordering the smaller platter (RM150) between two or three people as a precursor to other dishes for those undertaking a dining adventure of an epic odyssey. The larger platter (RM265) is better suited to a more numbered table, or for those who feel the climax of fresh seafood cannot be outshone by future acts. Reclining on a bed of ice are naturally sweet oysters, monstrous king prawns, melting pillows of scallops, bursting mouthfuls of mussels and the unadorned beauty of sliced mackerel. Everything is so unerringly fresh I wonder if our eyrie-like location is actually perched on a sea cliff rather than the heart of KL. A trio of house dipping sauces – a tangy, spicy mayonnaise, a salty caper-packed tartare, and a bittersweet red wine vinaigrette lend further colour to the drama.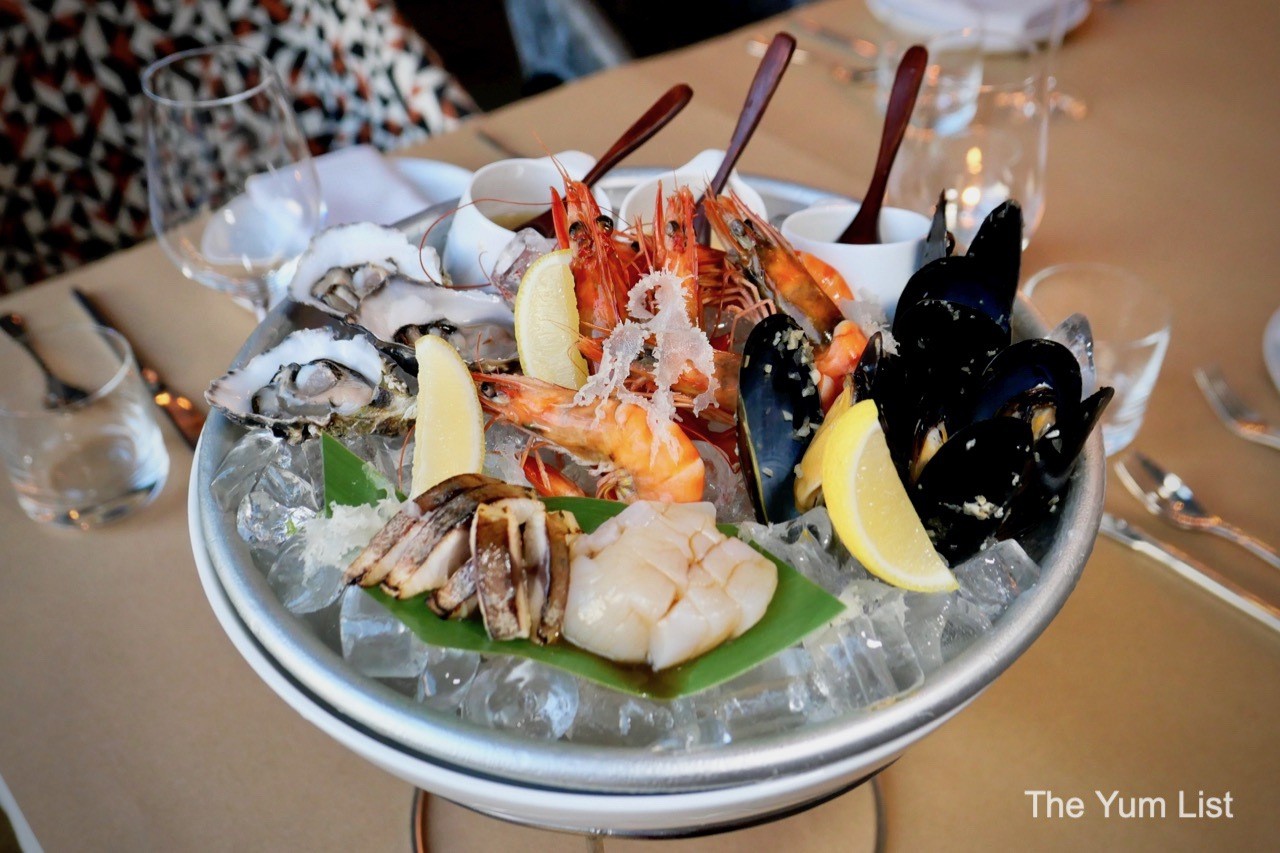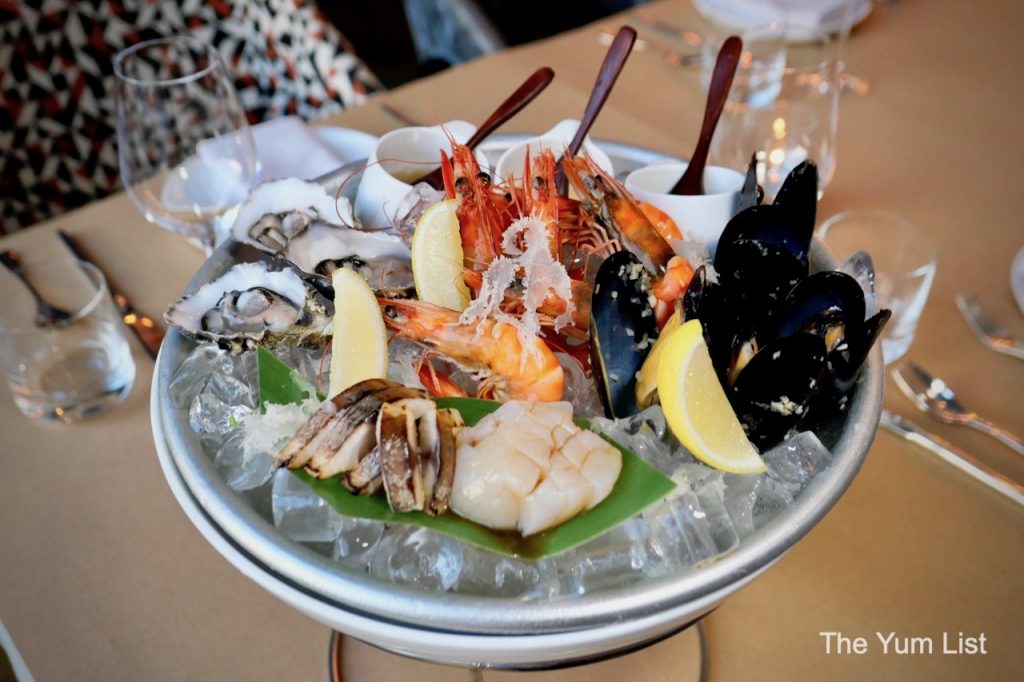 The Anchovies on Toast (RM38) is not to be underestimated. Fat, juicy semi-dried tomatoes lend a dark sweetness to the salty sharp anchovies and cream cheese spread over inhouse Patisserie Chef Ivan Ong's specialty sourdough. Crisp rings of onion are further adorned by edible butterfly pea flowers, maple butter and a drizzle of olive oil and balsamic. The dish is an artwork on a plate.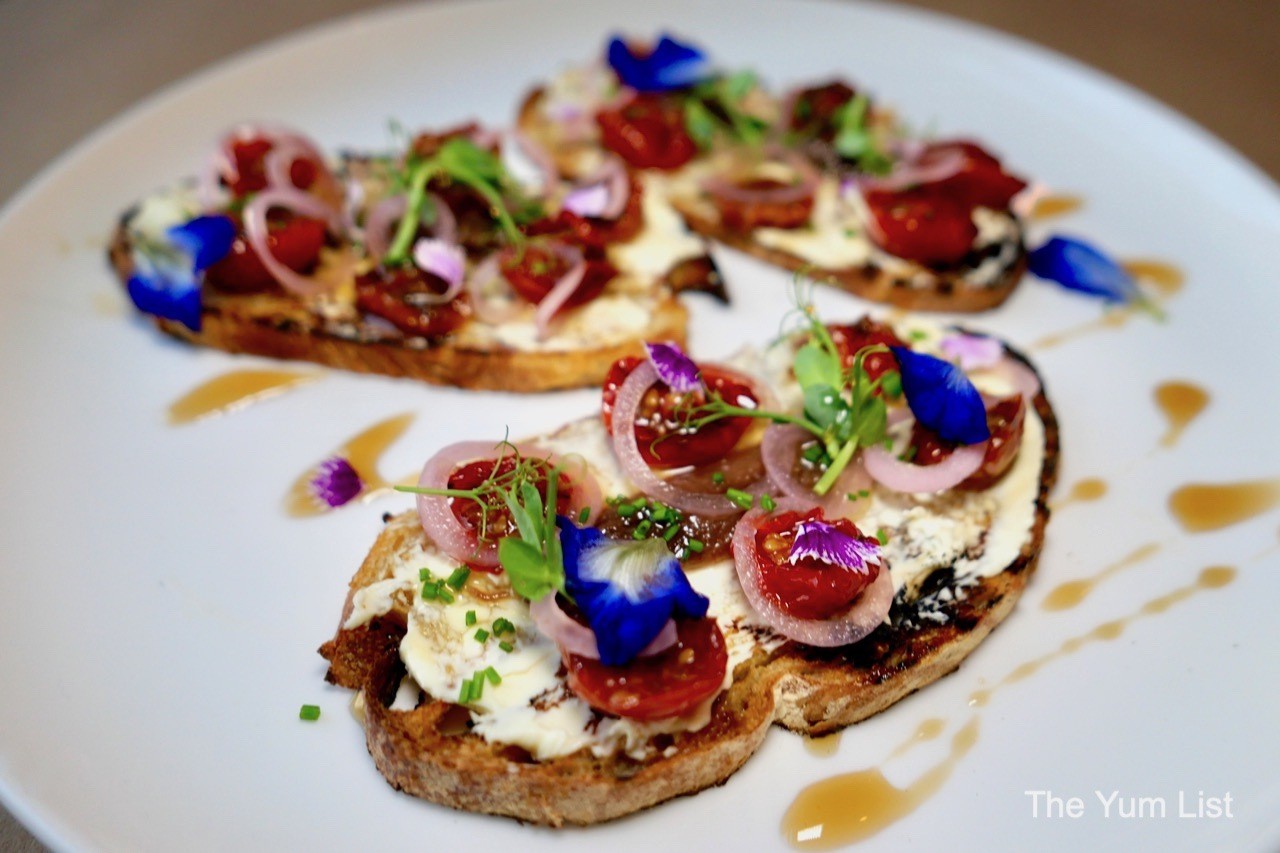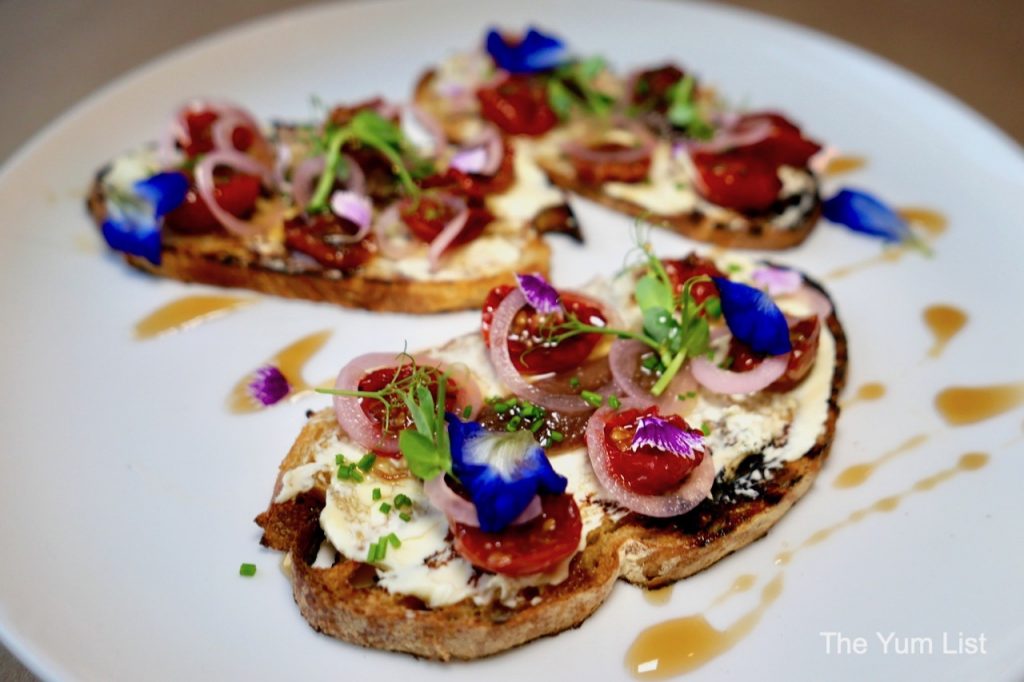 No French brasserie meal can be complete without the delicacy of Escargot. Brasserie Fritz styles theirs in the traditional de Bourgogne method (RM35), with lashings of garlic, butter and herbs. If you've never had snails, imagine the juiciness of your favourite crustacean with the loaminess of a roasted mushroom. Ong again elevates this dish with a rustic walnut wholemeal loaf, stealing a good portion of the limelight.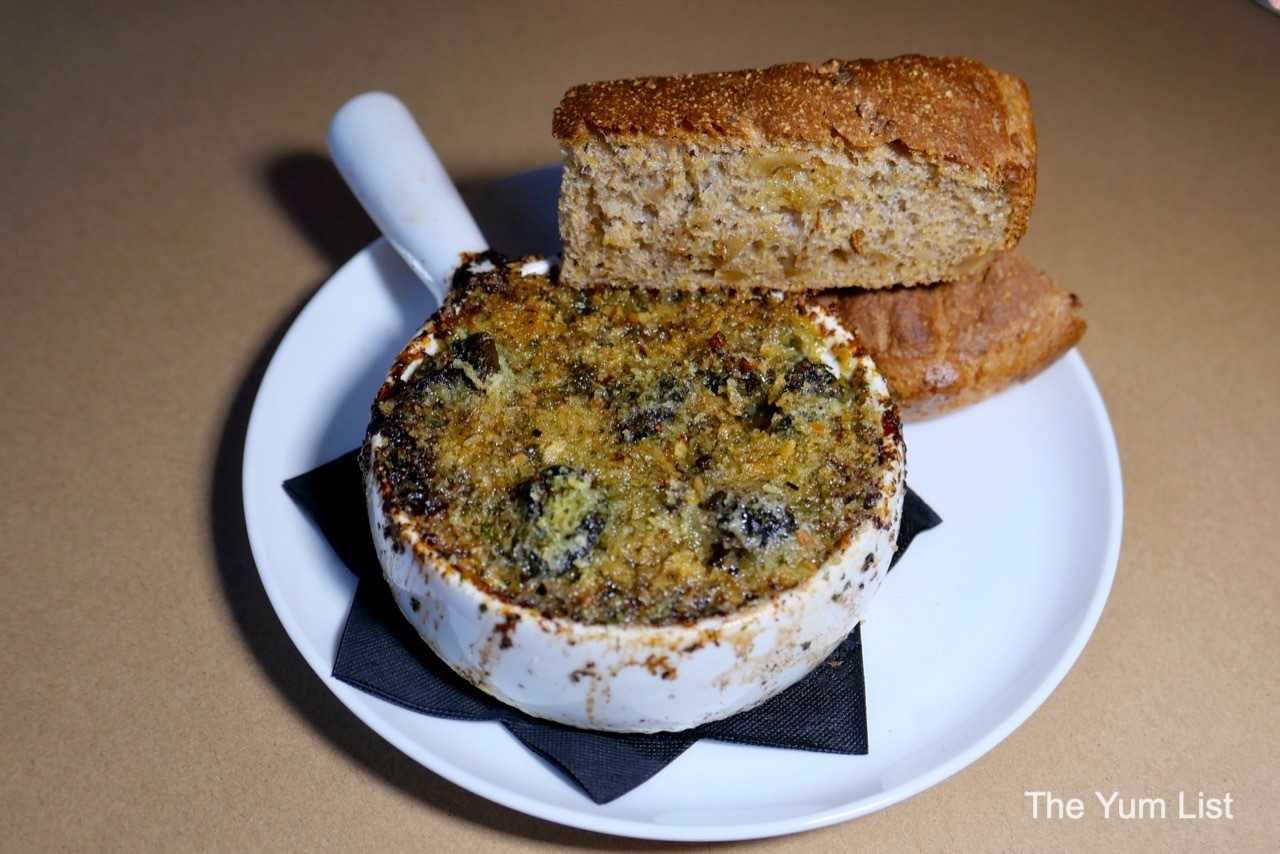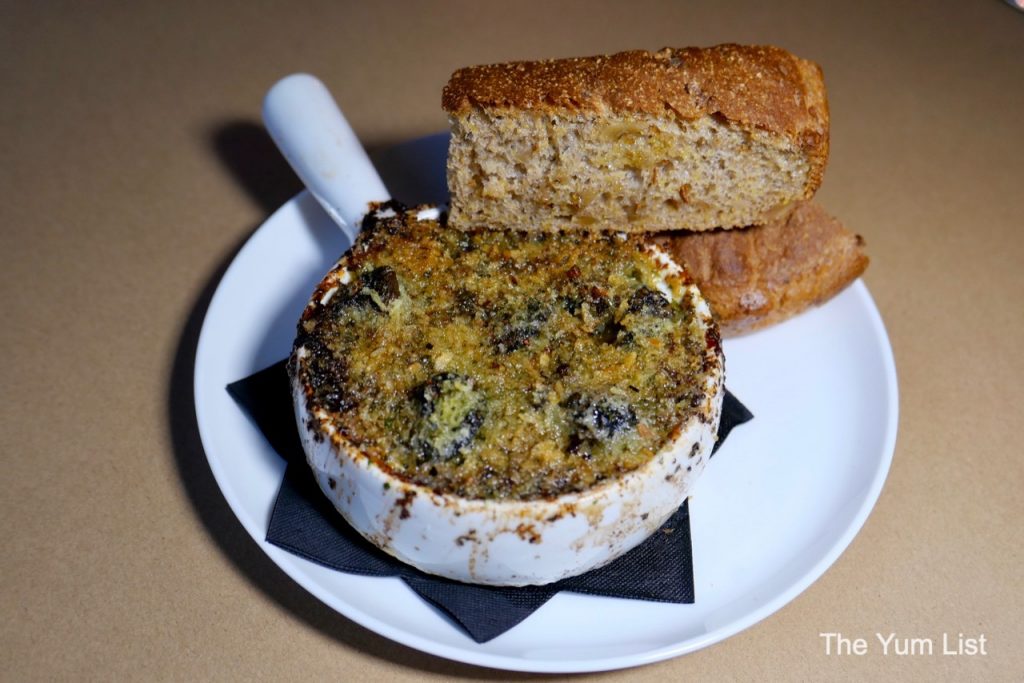 More Wine Please
As we move from the entrées into the plats, or main plates, we embark on a seasonal summer jaunt with a glass of the 2019 Corail Rosé, from Château de Roquefort in Côtes de Provence (RM48 per glass, RM240 per bottle). With rose, strawberry, and moments of spice, its silken finish is easy to drink. A complex blend of Grenache, Syrah, Cinsault, Carignan, Mourvèdre, Clairette and Rolle, the Corail Rosé is made with biodynamic origins by Raimond de Villeneuve, heralded as one of the finest winemakers in Provence.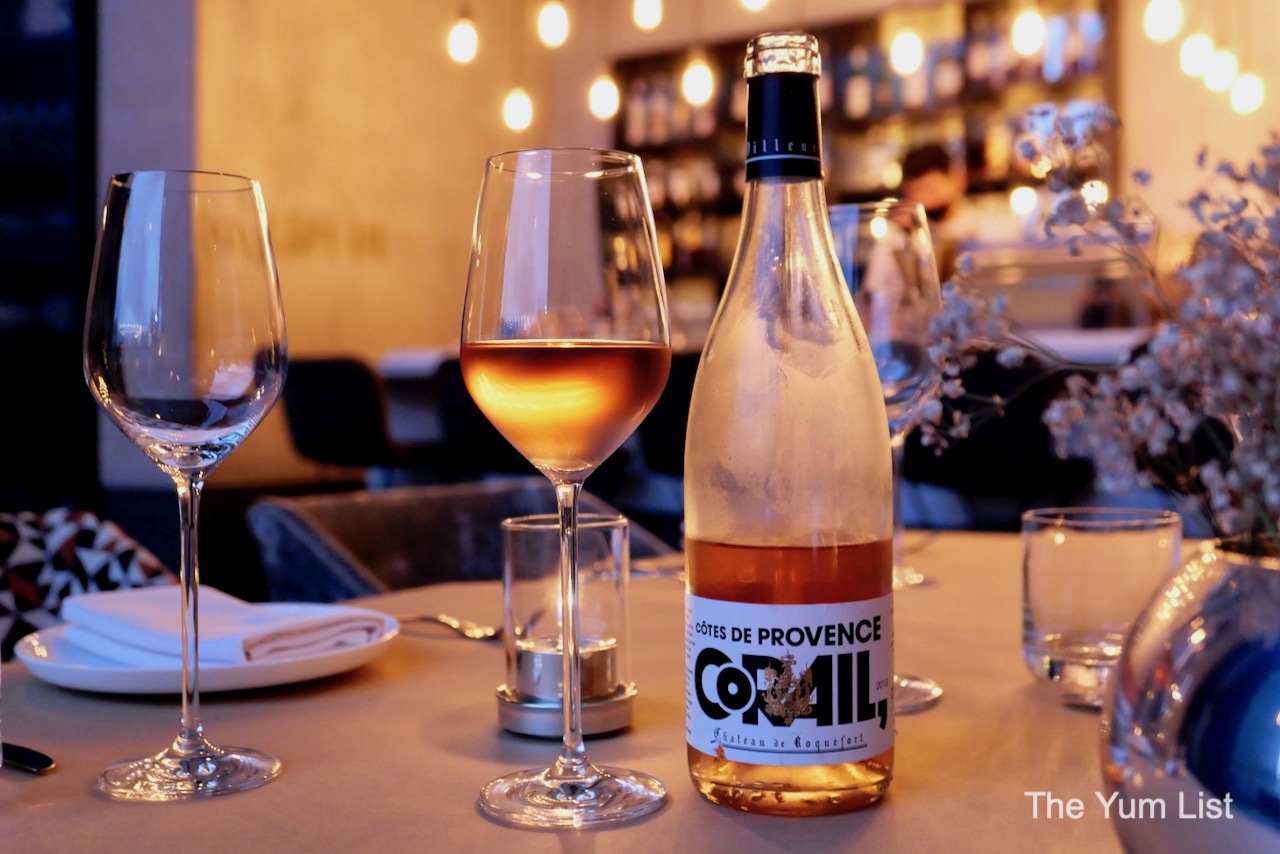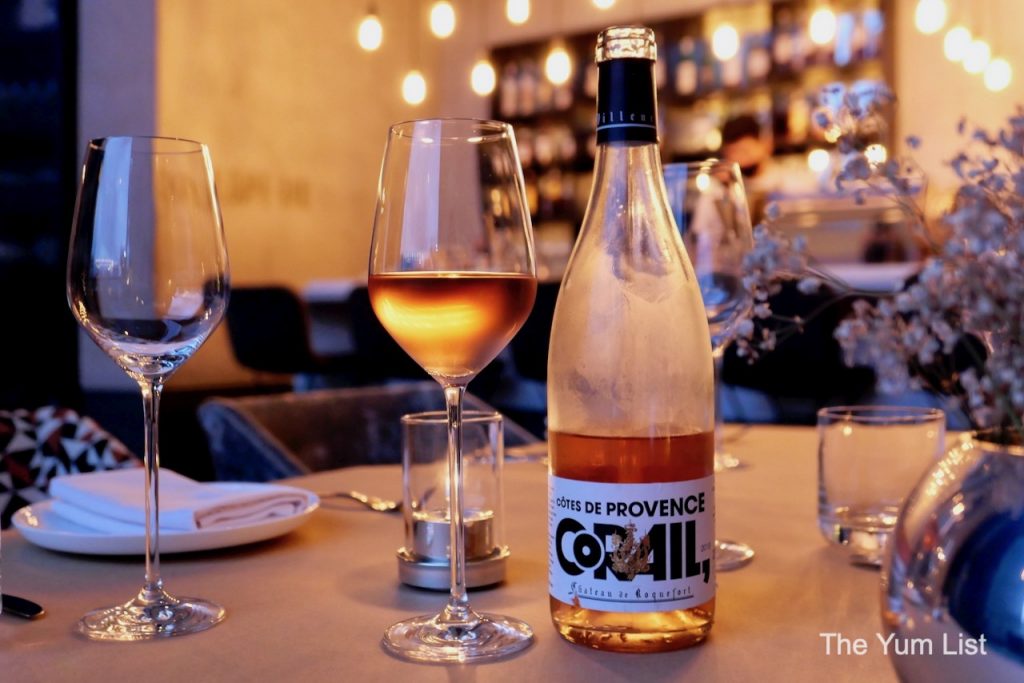 Brasserie Fritz Review – Mains
The measure of a good French establishment can often be taken in their Nicoise Salad (RM58). Here, generous chunks of pan-grilled fresh salmon are offset by the crunch of green beans and romaine lettuce, bursting, ripe cherry tomatoes, black olives, buttery potatoes, a just-boiled egg and an emulsified creamy herb dressing. Light, aromatic and prepared using the freshest local ingredients. The salmon is cooked to that elusive perfection, meltingly rare in the centre but with an outer sear locking in the delicate pan juices.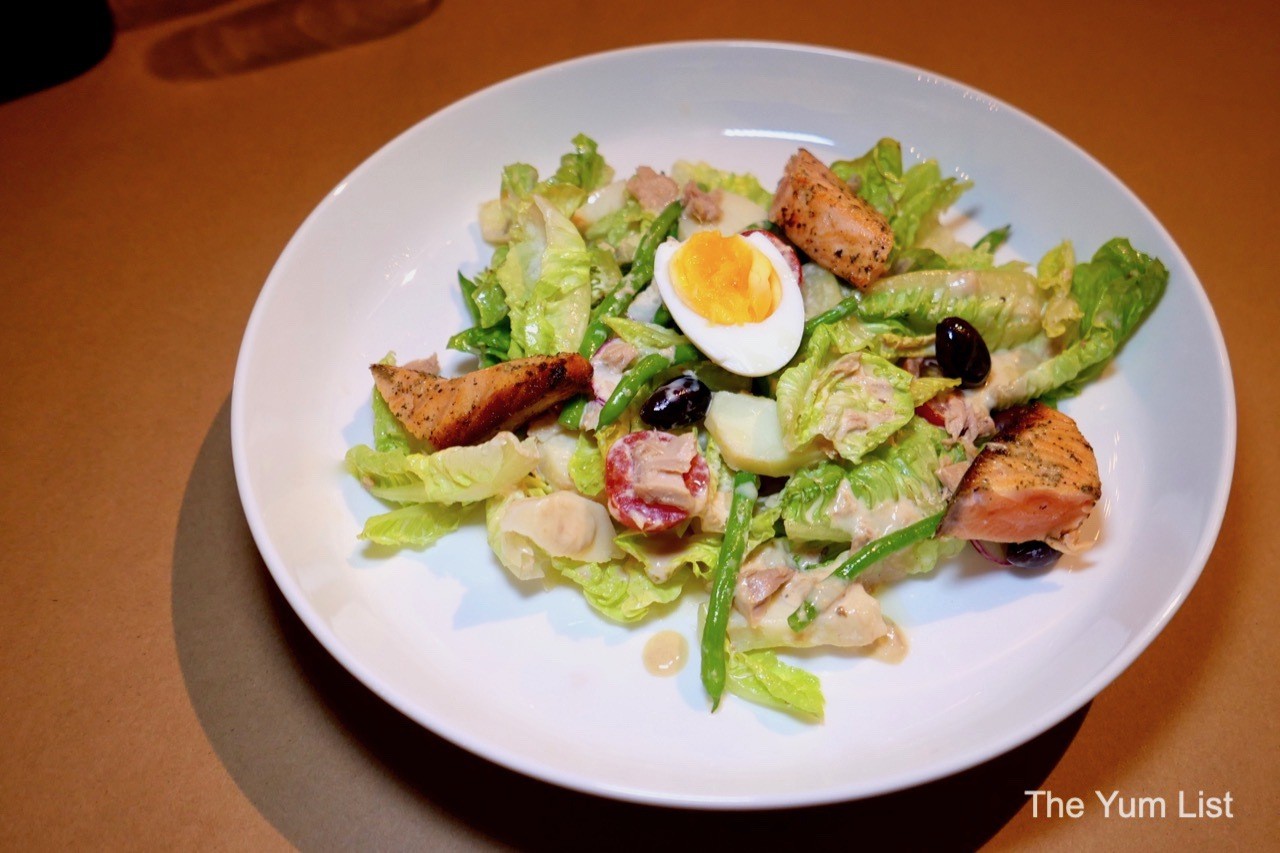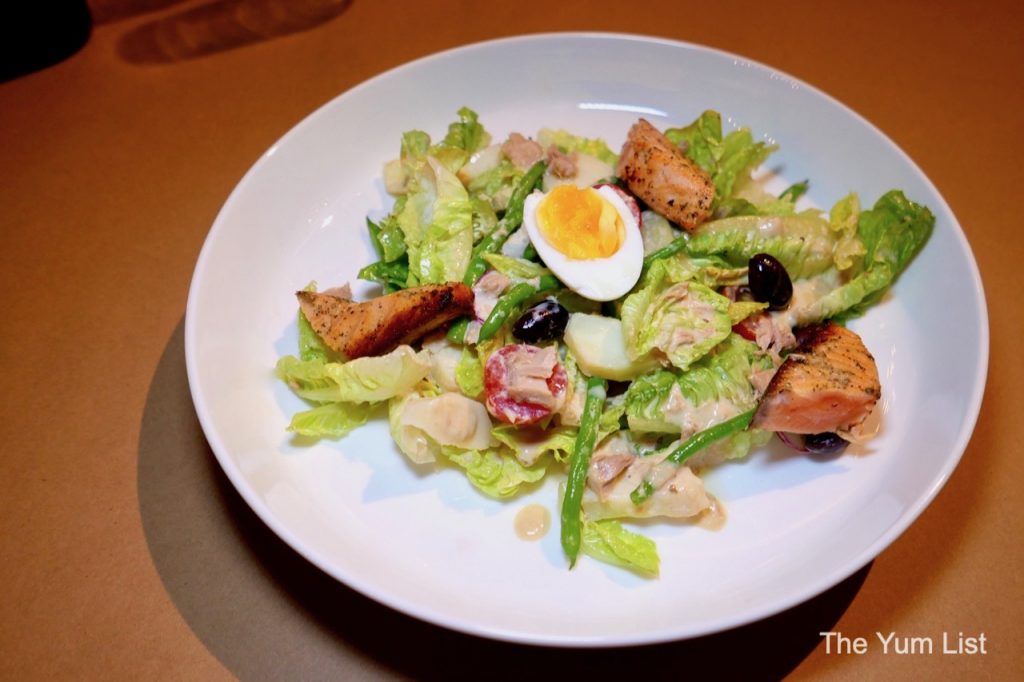 Not having had our fill of seafood, the Whole Rainbow Trout (RM90) raises the bar. A deboned pan-fried trout delivers all the joy of a whole fish without the nuisance of bones. Friable caramelised edges and a salty skin protect the precious inner meat, yielding and flaking to the touch of a fork. Roasted slivered almonds, silky potatoes, and fresh green beans provide contrasting textures of crunch and softness.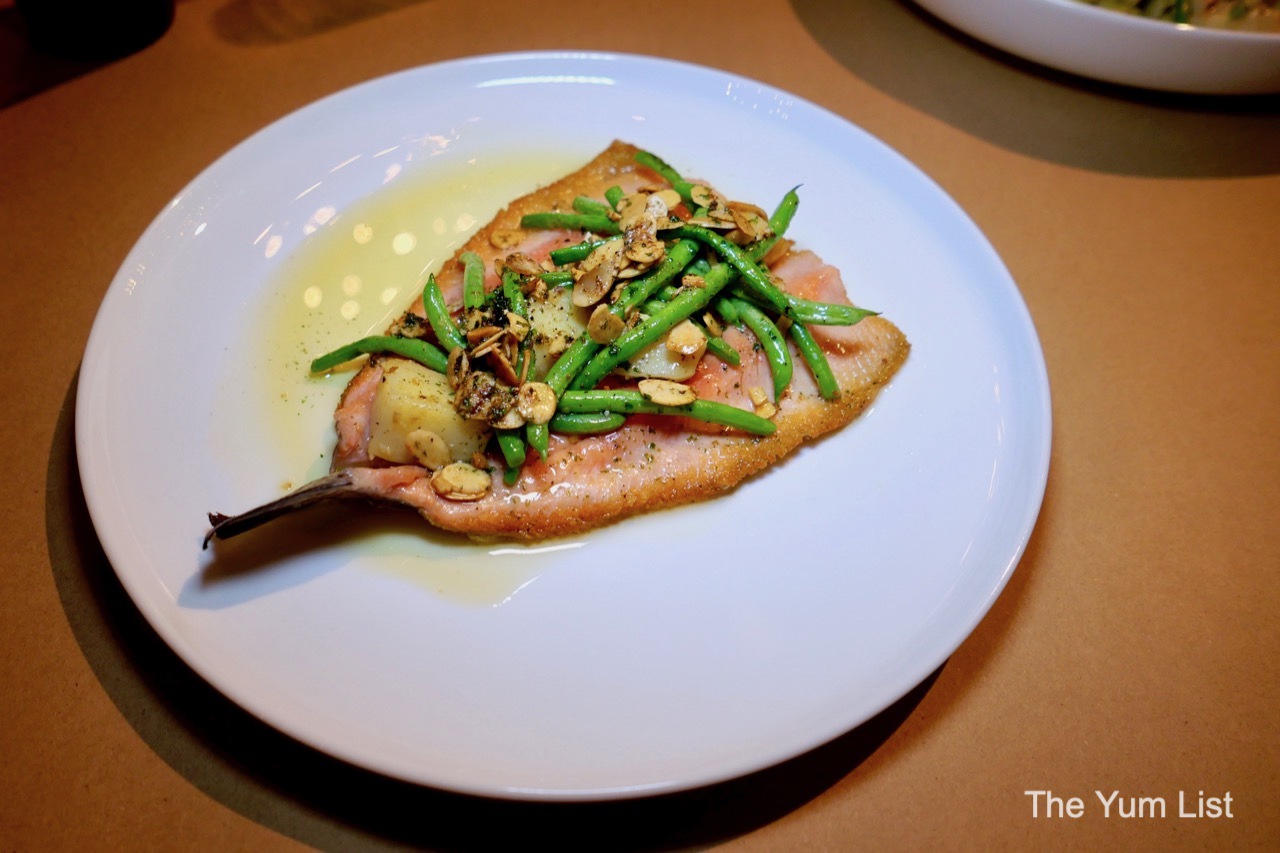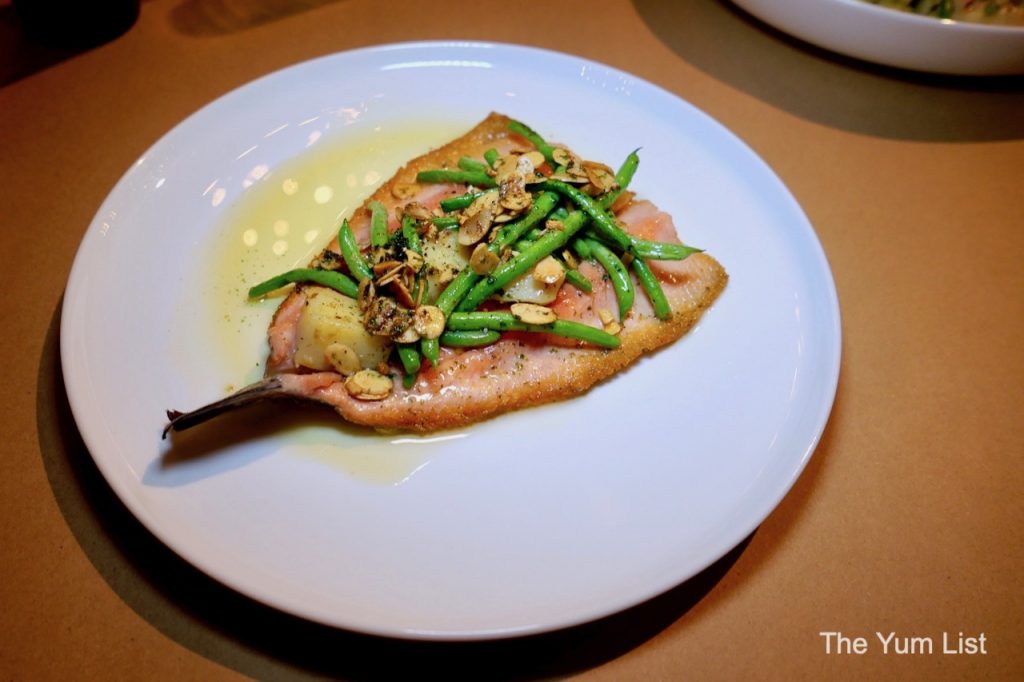 Our final main meal is the incomparable French classic, the Steak Frites (RM95). Succulent Australian grass-fed beef is thickly cut and bathed in its own juices, its pink flesh teasing you to have another bite, followed by another. There is no greater red meat than grass-fed, the unadulterated taste is cleaner, stronger and more clearly defined. Here its earthiness is allowed to shine, drizzled in butter and lashings of parsley and chives. The frites are nothing short of spectacular. Brasserie Fritz's most popular takeaway order is purposefully over-fried a shade, with an extra crunchy outer and feathery inner.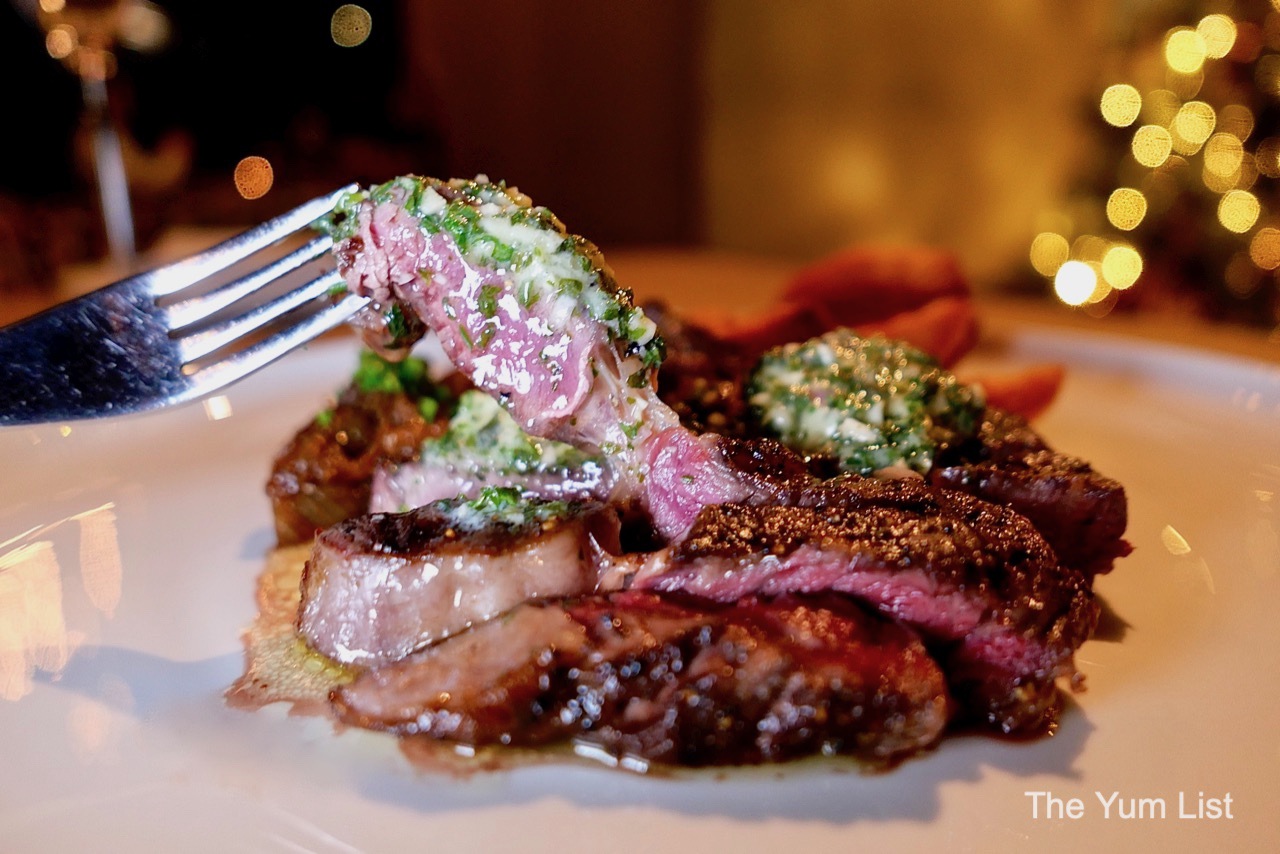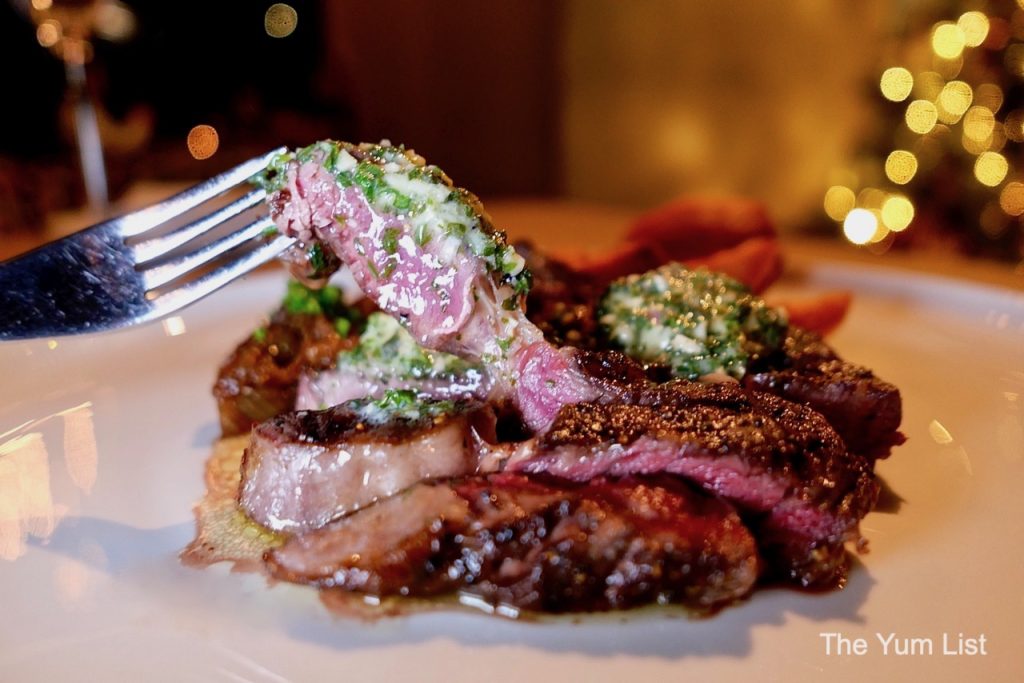 Red Wine
We are now ready for a heroic red wine. The Domaine Du Pech's 2015 Le Pech Abusé, Buzet from France's Sud-Ouest (RM62 per glass, RM310 per bottle) is green on the nose with a floral French perfume. An exceptionally low-yield, sulphur-free biodynamic, its purist winemakers were refused appellation accreditation due to its higher alcohol content and three-year oak cask aging process. Soft dark fruits and lingering oaky tannins are like a bottling of the French countryside.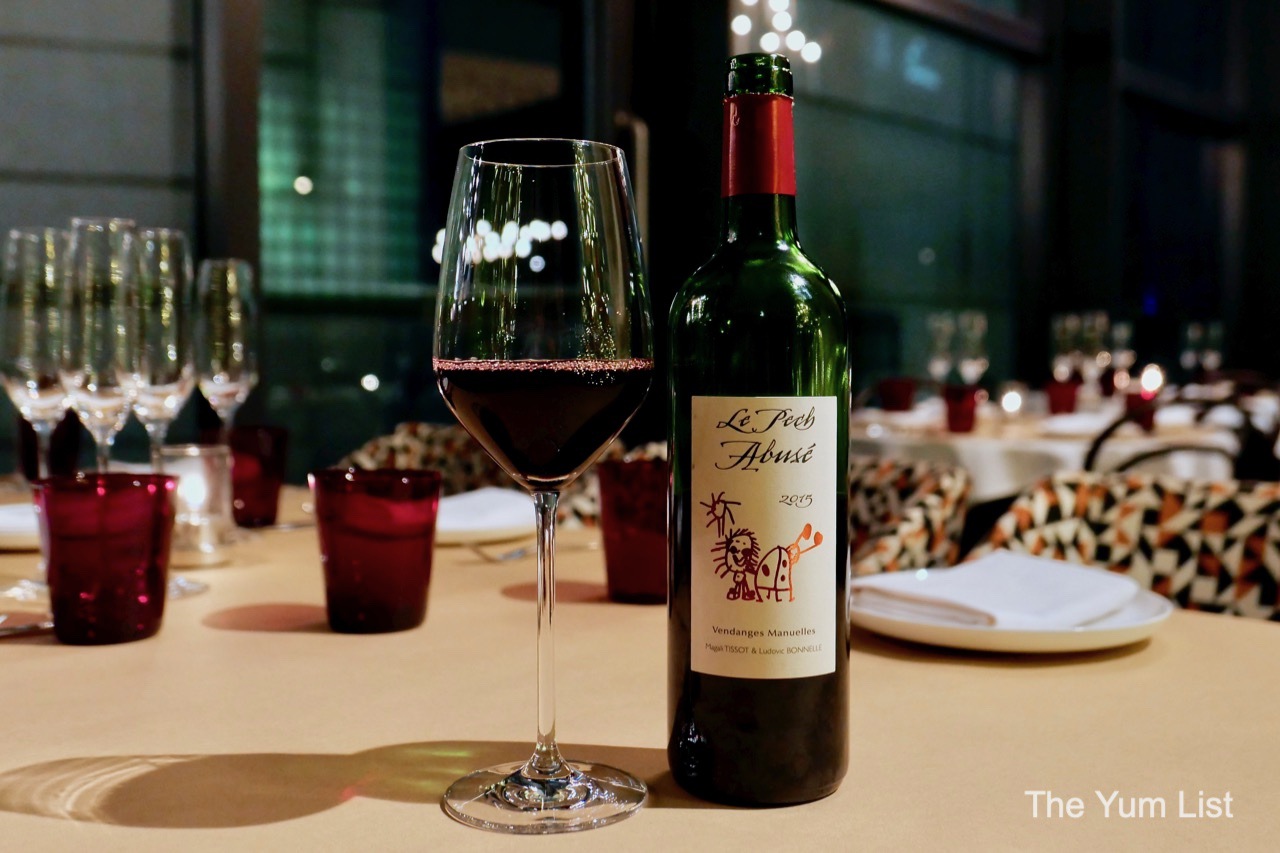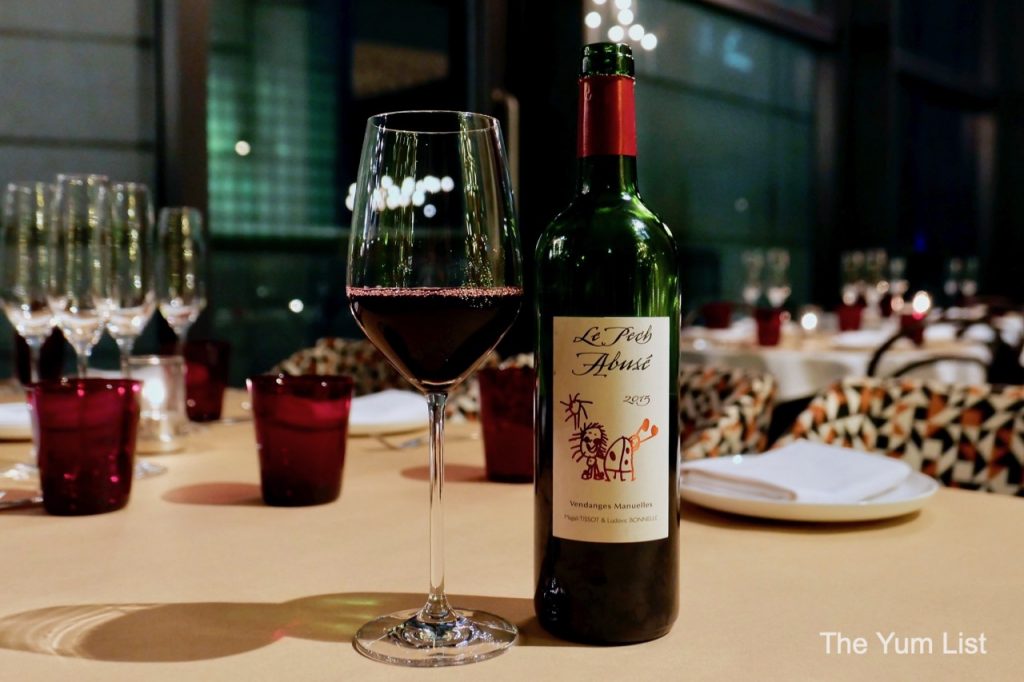 Dessert
Artwork brought to life, the Crème Brulée is served with theatrics (RM35). A glacée of brittle melted sugar topped crème brulée is stacked upon layers of vanilla ice cream and vanilla sponge. The accompanying cognac is flambéed tableside with finesse before slowing cascading down the sides of the creamy custard stack.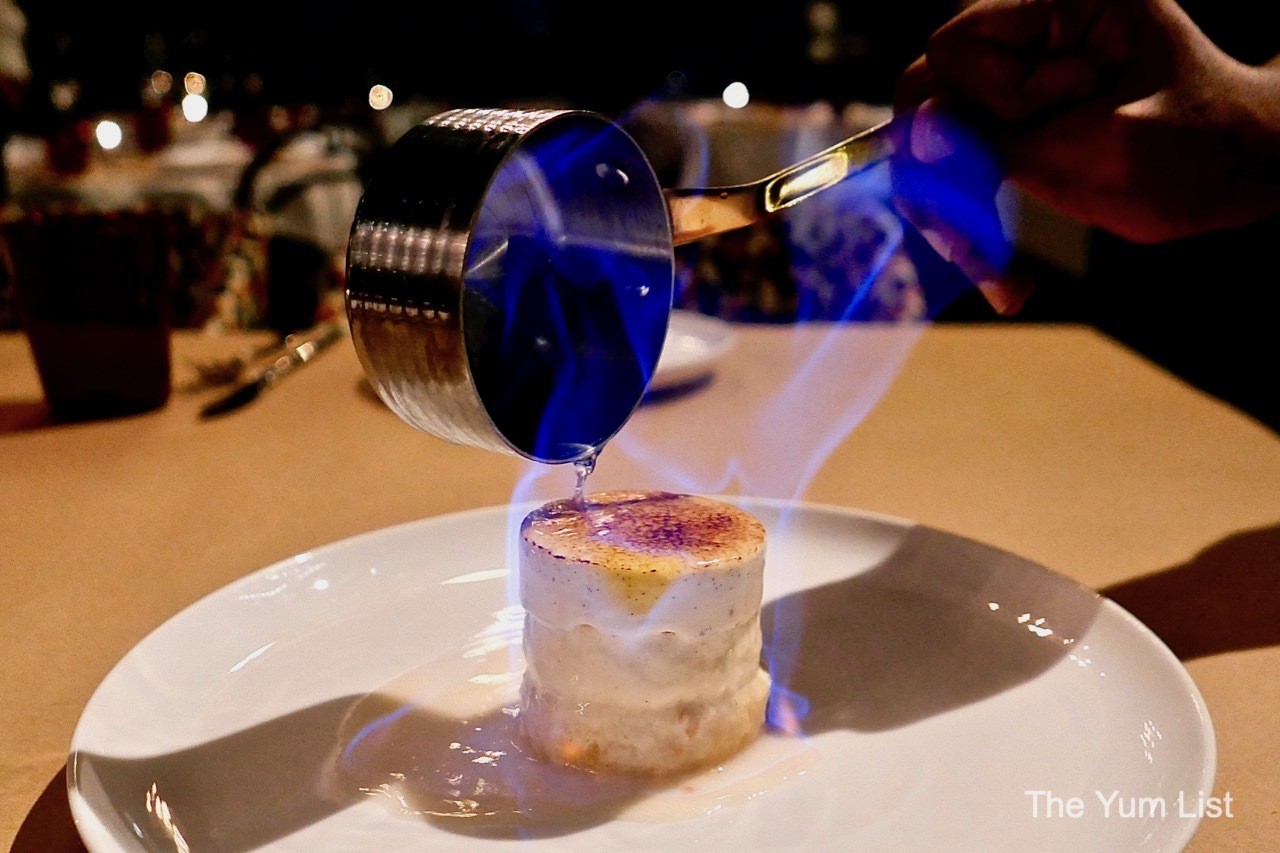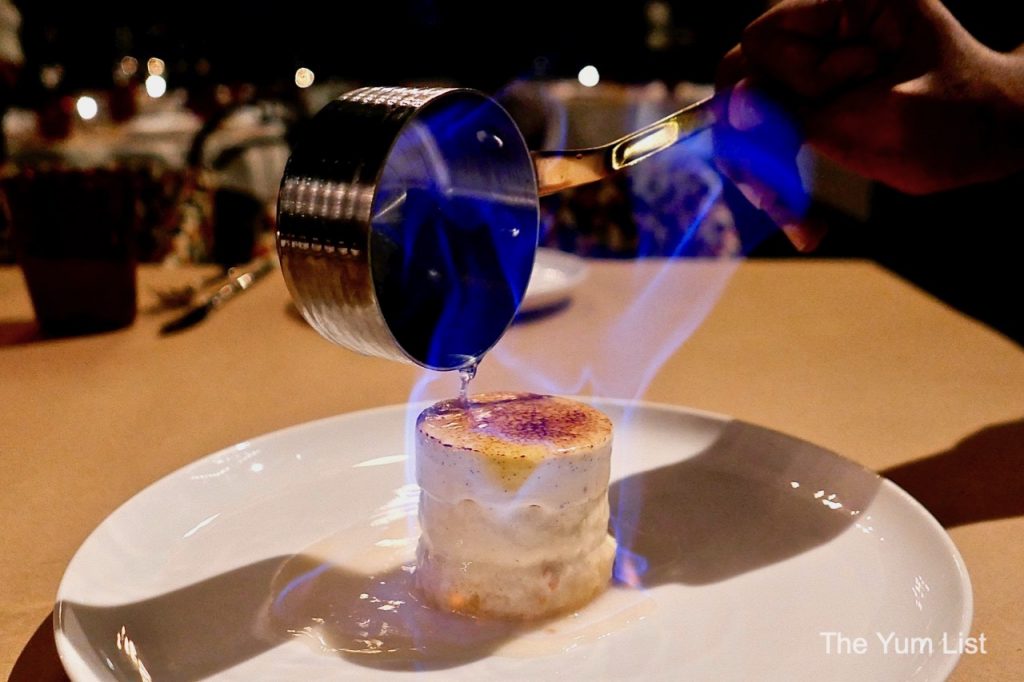 The Rum Baba (RM55) is a house specialty. Airy French brioche macerated in syrup is arranged alongside vanilla crème chiboust – meringue lightened chantilly cream and stewed caramelised pineapple. The Bon Matusalem Añejo rum is unapologetic. For good measure, Ivan Ong joins us, bottle in hand, and adds a generous top-up of the finely blended and aged rum to our dish, lining our stomachs with trailing warmth.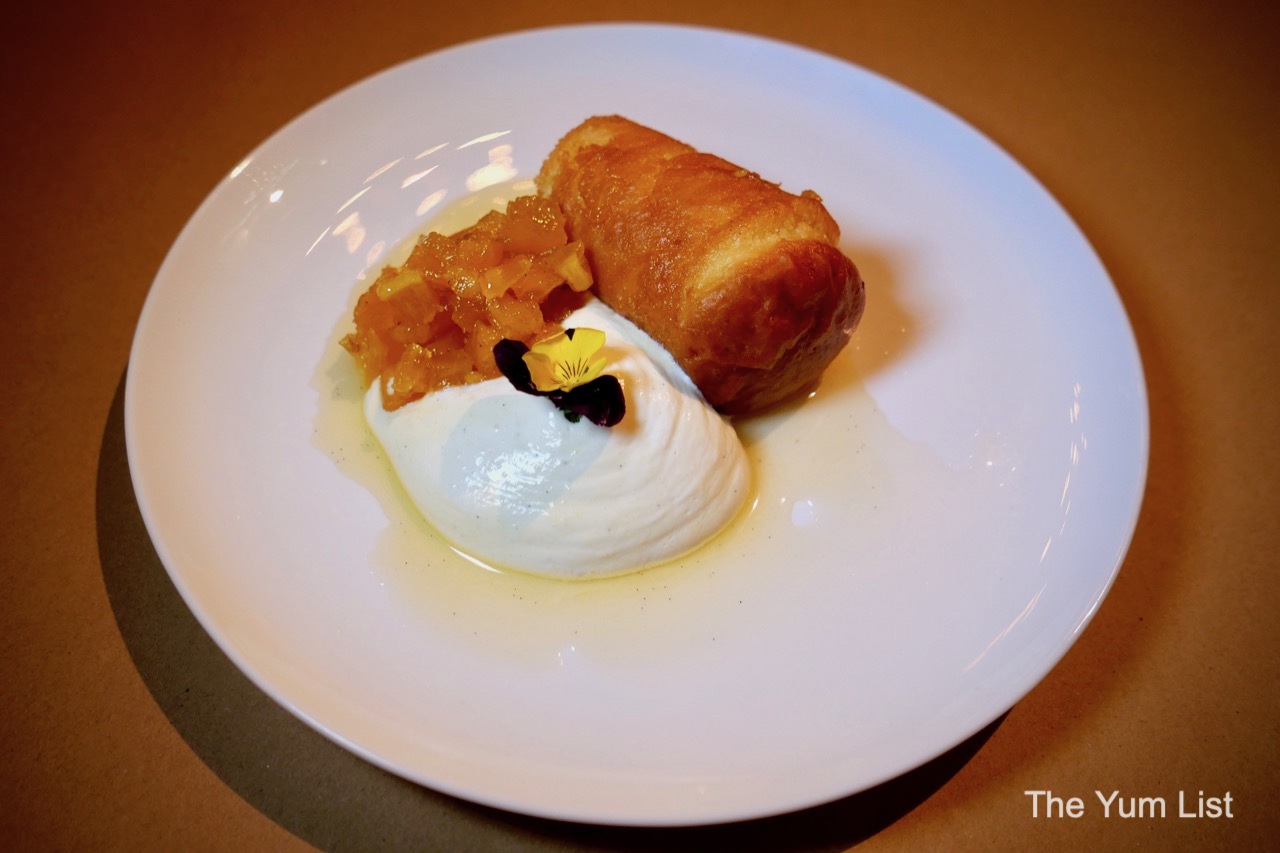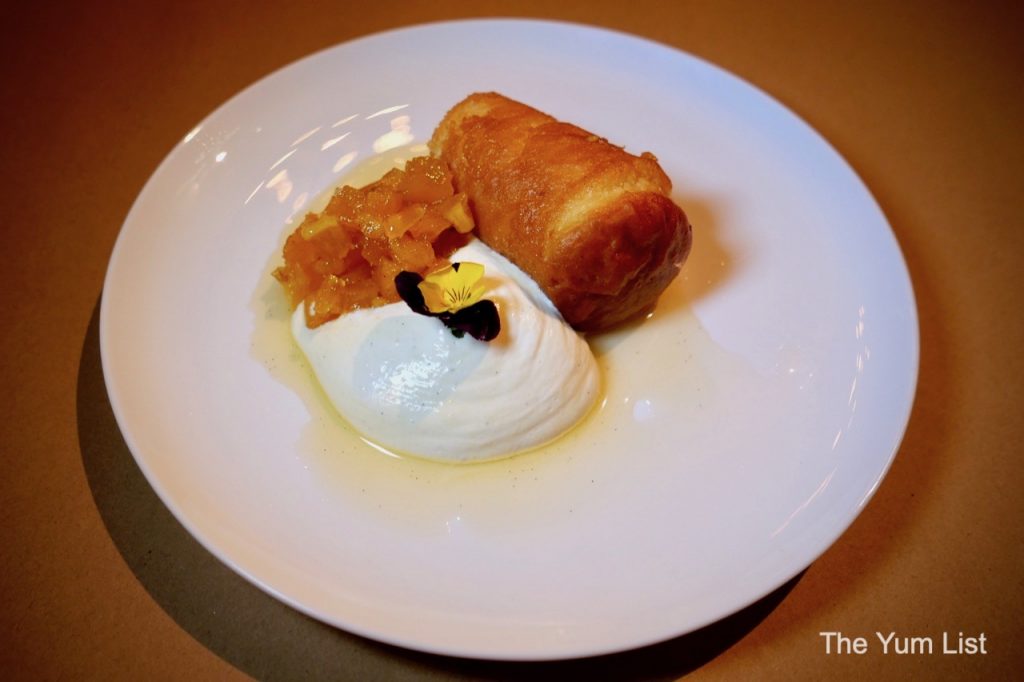 Brasserie Fritz Review
With movement restrictions being eased, a return to restaurant dining comes with a sense of daring. The elevated outdoor sky dining levels at Troika make them a more pragmatic choice for the conscientious diner. Their spacious alfresco balconies are well ventilated by the playful breezes only found in the heights above KL. Brasserie Fritz's small headcount exclusivity is a particularly welcome means of limiting exposure. Their floor to ceiling sliding doors open up internal areas to increased airflow when needed. Outside of your own home, Brasserie Fritz may well be one of the safest restaurant options in this new pandemic era.
We sit in good company, contemplating the state of the world and enjoying the simple pleasures that can only be found in the third glass of wine and a shared meal. We may be a world away from Paris with no hope of travel on the horizon. Still, here one can almost see Hemingway, Picasso, Dali and Joyce surrounding the piano, swapping theories and notions worthy of our artistic attentions. The reopening menu of Brasserie Fritz is indeed a cause for inspiration, a feast that will move you.
Reasons to celebrate Brasserie Fritz' reopening: fresh seafood and local ingredients, a largely organic wine list that will make you want to quit your job and become a sommelier, and French specialties Paris would be envious of. You will not regret finishing with the Rum Baba. A lovely spacious setting with options for al fresco dining.
Brasserie Fritz Review
Troika Sky Dining
Level 23A, Tower B, The Troika, 19 Persiaran KLCC
50450 Kuala Lumpur, Malaysia
+6 03 2162 0886

Find more French restaurants in Kuala Lumpur here and stay up-to-date on the latest gourmet and travel happenings around Malaysia here and here.