Valentine's Day Bangsar – In The Mood for Knowmance
Monica Tindall
Restaurants have to think quickly on their feet these days. Still, you can't tell with Knowhere Bangsar's Valentine's Day Four-course Dining Experience for Two. It is so beautifully packaged and presented, you'd think they'd spent months on the design. With the latest announcement, it is now available for both dine-in and delivery.
Valentine's Day Bangsar – In The Mood for Knowmance
Knowhere Valentine's Day four-course dining experience for two is available from February 11th until the 15th. They are now accepting reservations for both dine-in and delivery. Seats and boxes are limited, so book advance to avoid disappointment. The set is priced at RM288+ for two people (dine-in RM328++) and comes with two mains from a selection of three. Wine can be added on too.
The box resembles a giant pizza box with a full-cover sticker promising a mood for "Knowmance." Inside, the complete meal is neatly served in cardboard boxes, each decorated with the restaurant's Valentine's design.
Valentine's Day Bangsar – Amuse-bouche
To begin, quail tea eggs and crab meat cornets are settled in a kataifi nest. The eggs are prettily marbled with tea stains and the cones filled with beancurd mousse and ebiko.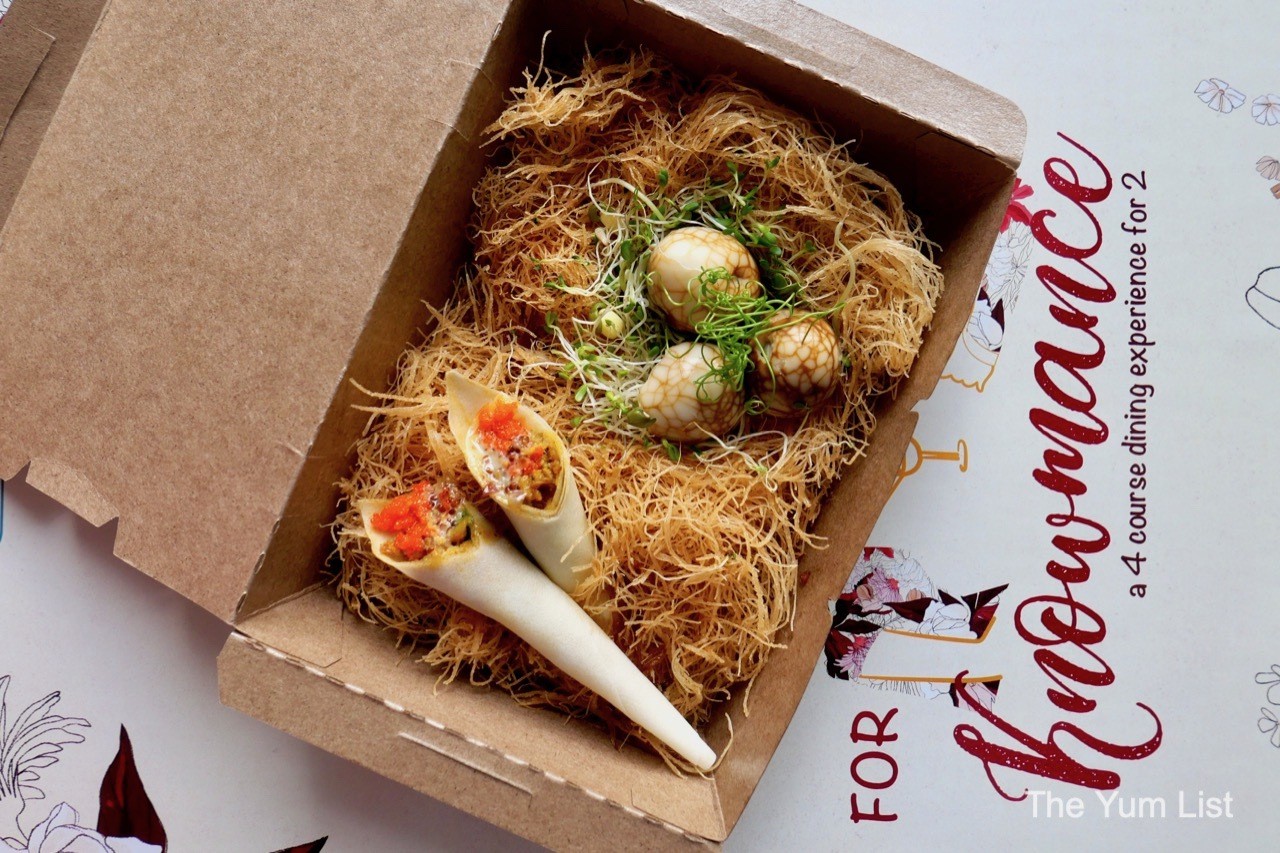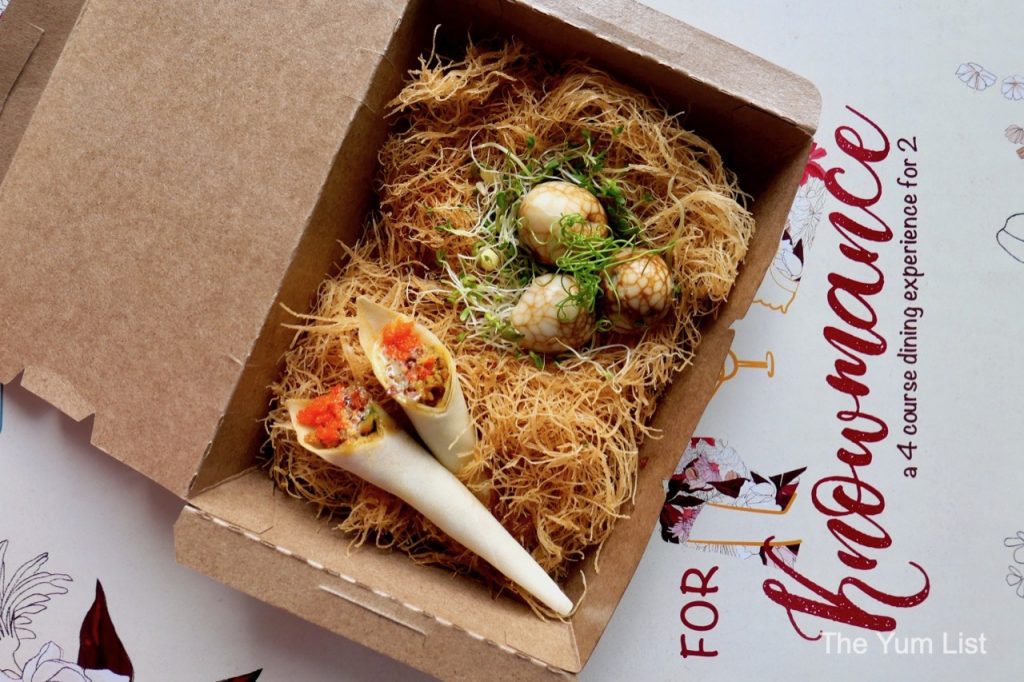 Appetiser
The appetiser is just as pretty and also plated with kataifi noodles. A row of seared Canadian scallops is golden on the edges and dressed with tofu beetroot puree, crisp lotus root and soy caviar. If you're not going to eat it straight away, I suggest a quick pan-fry to reheat these beauties.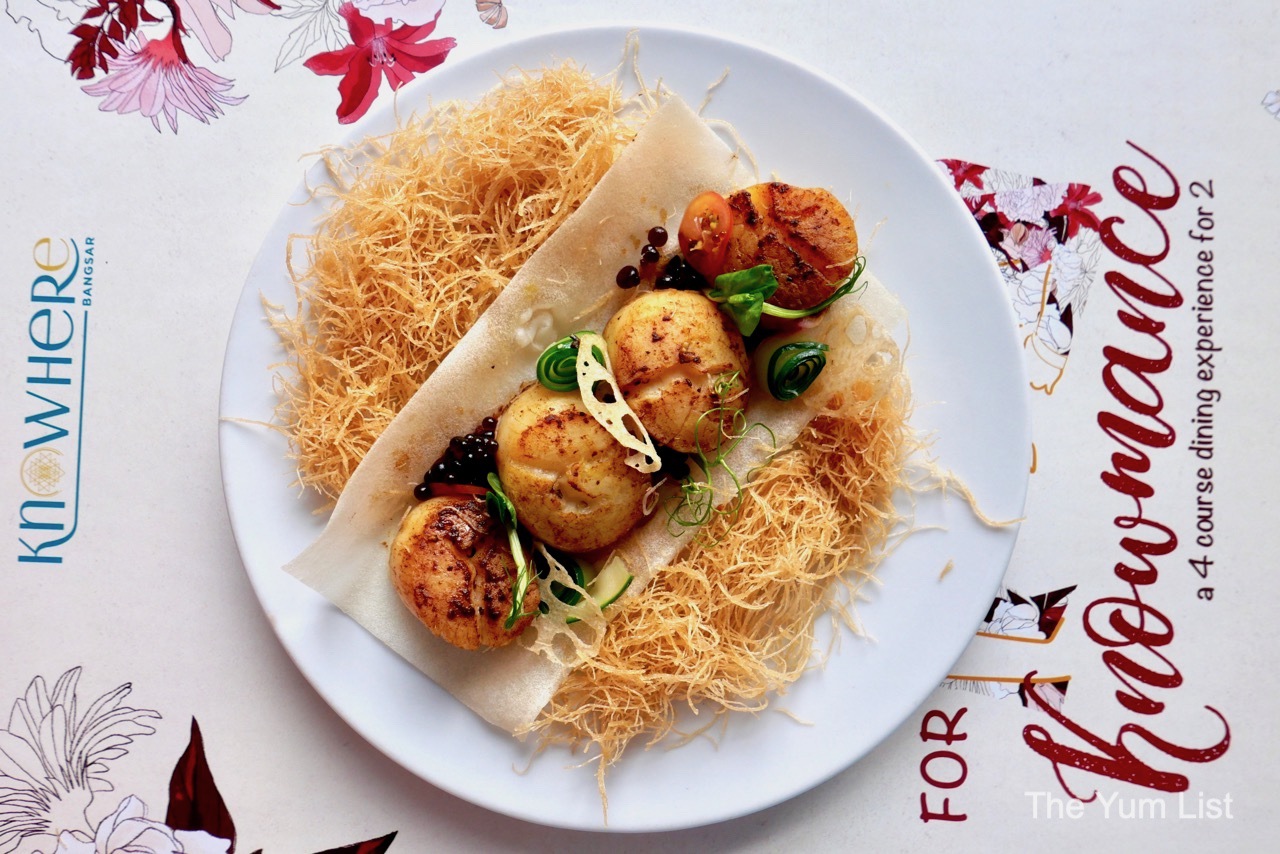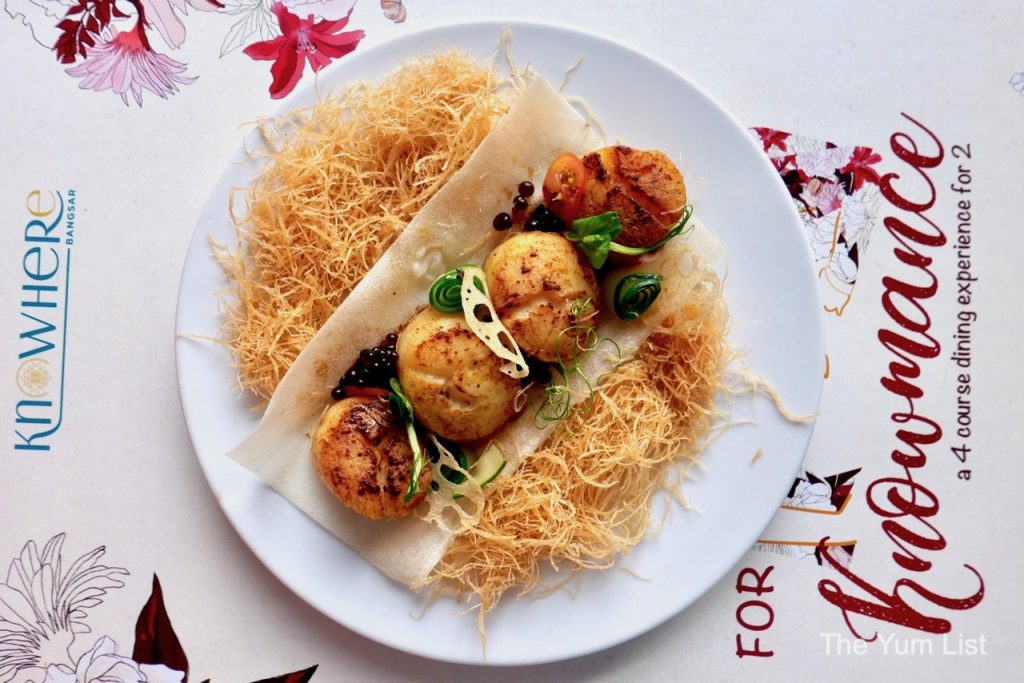 Valentine's Day Bangsar – Main Course
Customers may select two mains from a choice of lamb, fish or chicken. We were lucky to try all three with my favourite being the chicken and hubby most partial to the lamb. In any case, each again is plated with attention to detail and accompanied by a side of veggies to complete the dish.
Red emperor fish is a fat fillet complemented with a delicious ginger and soy sauce. It lays across a bed of greens giving vibrancy and nutrition to the plate.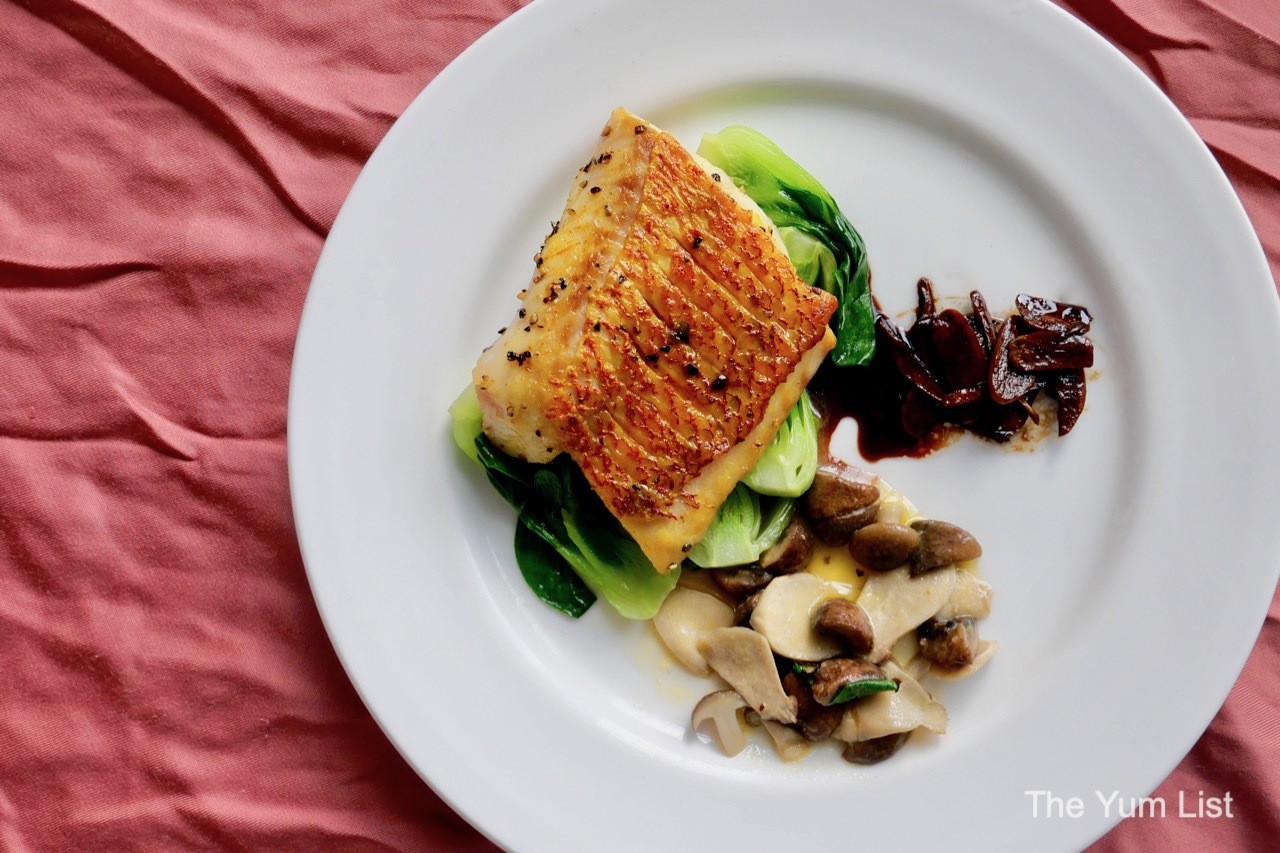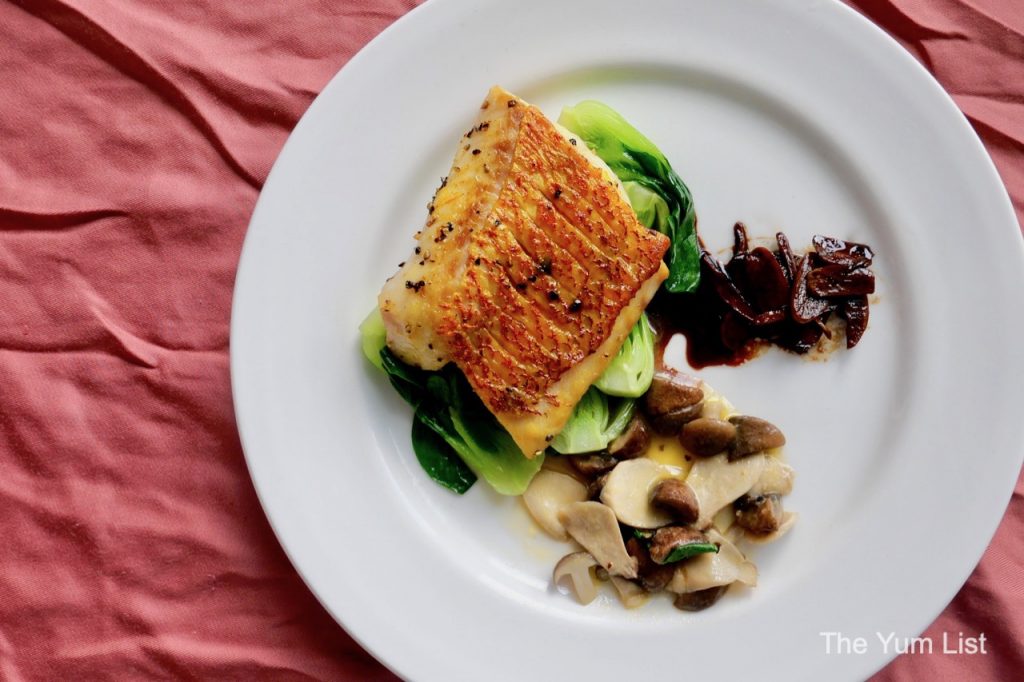 The whole roasted chicken leg is especially moist. It's brightened with a side of wok-fried carrots and spring peas and bulked with a rich shiitake scallion risotto. Soy au jus adds a boost of flavour but is not really needed.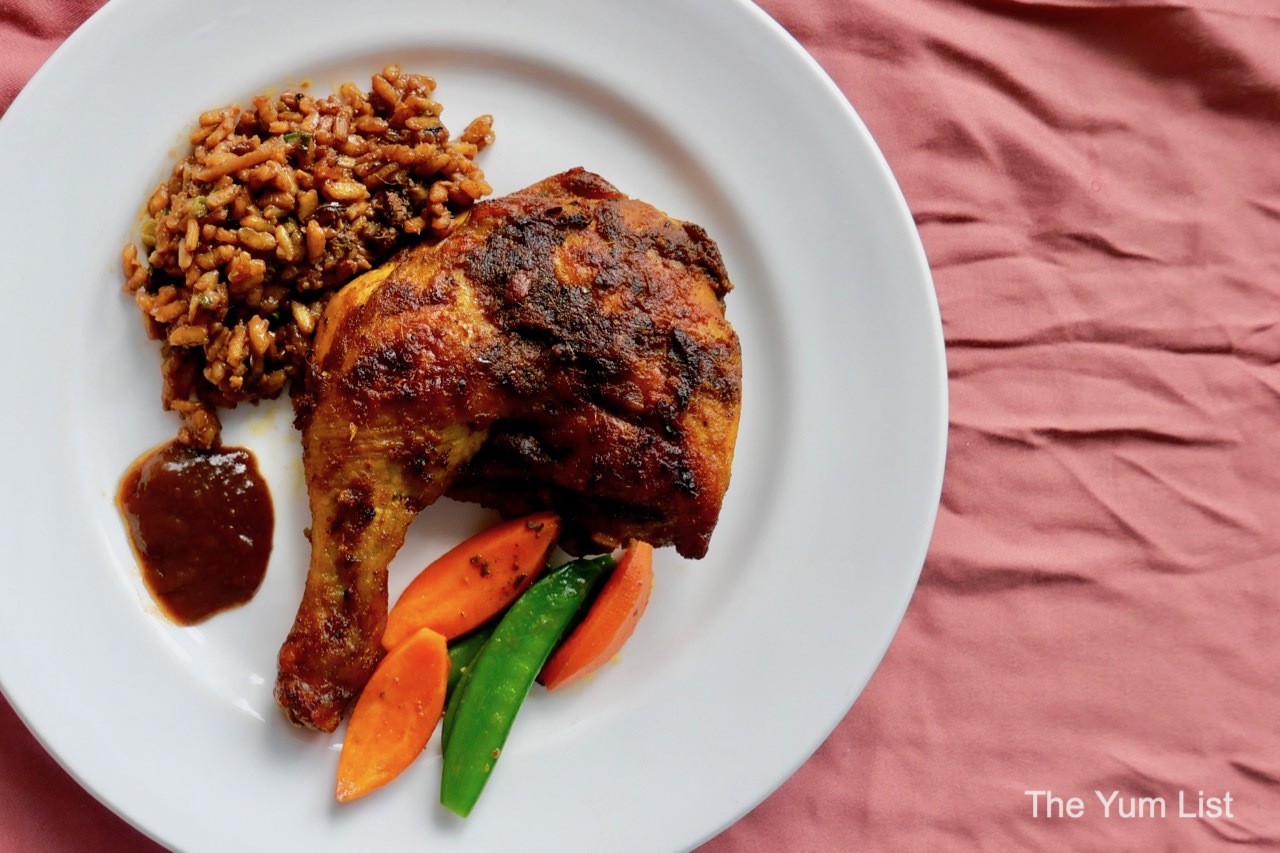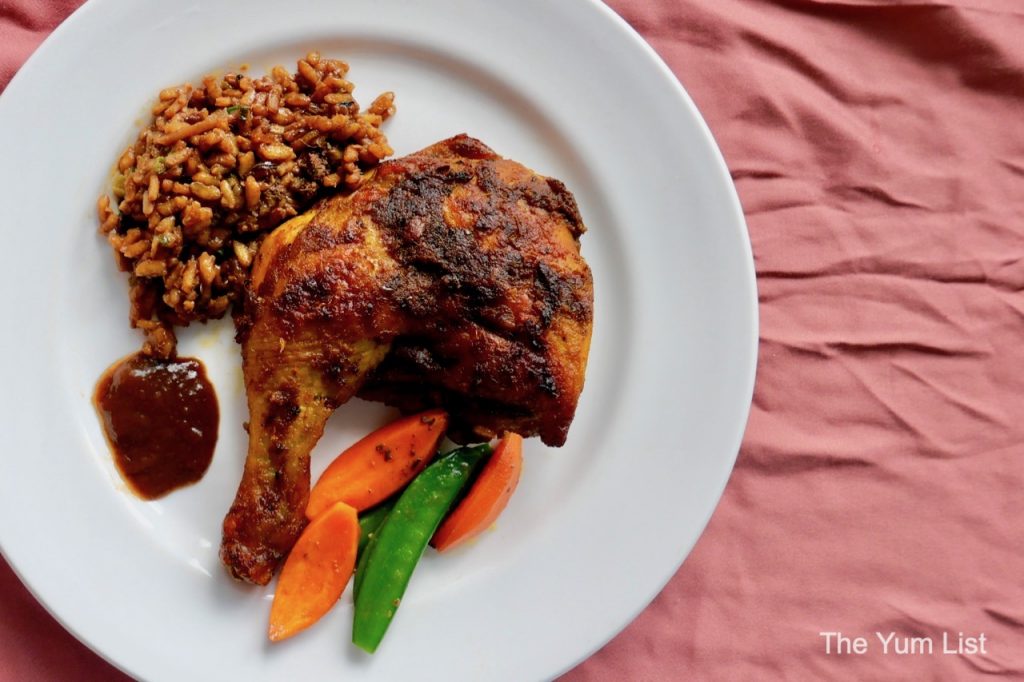 Lastly, the spice-marinated French lamb rack sees four ribs fanned and pink in the middle. Mashed potatoes, wok-fried carrots and spring peas, and king oyster mushrooms balance the plate. Szechuan au jus provides just a thread of heat; enough to slice through the fat of the lamb but not too much to overwhelm the natural flavours.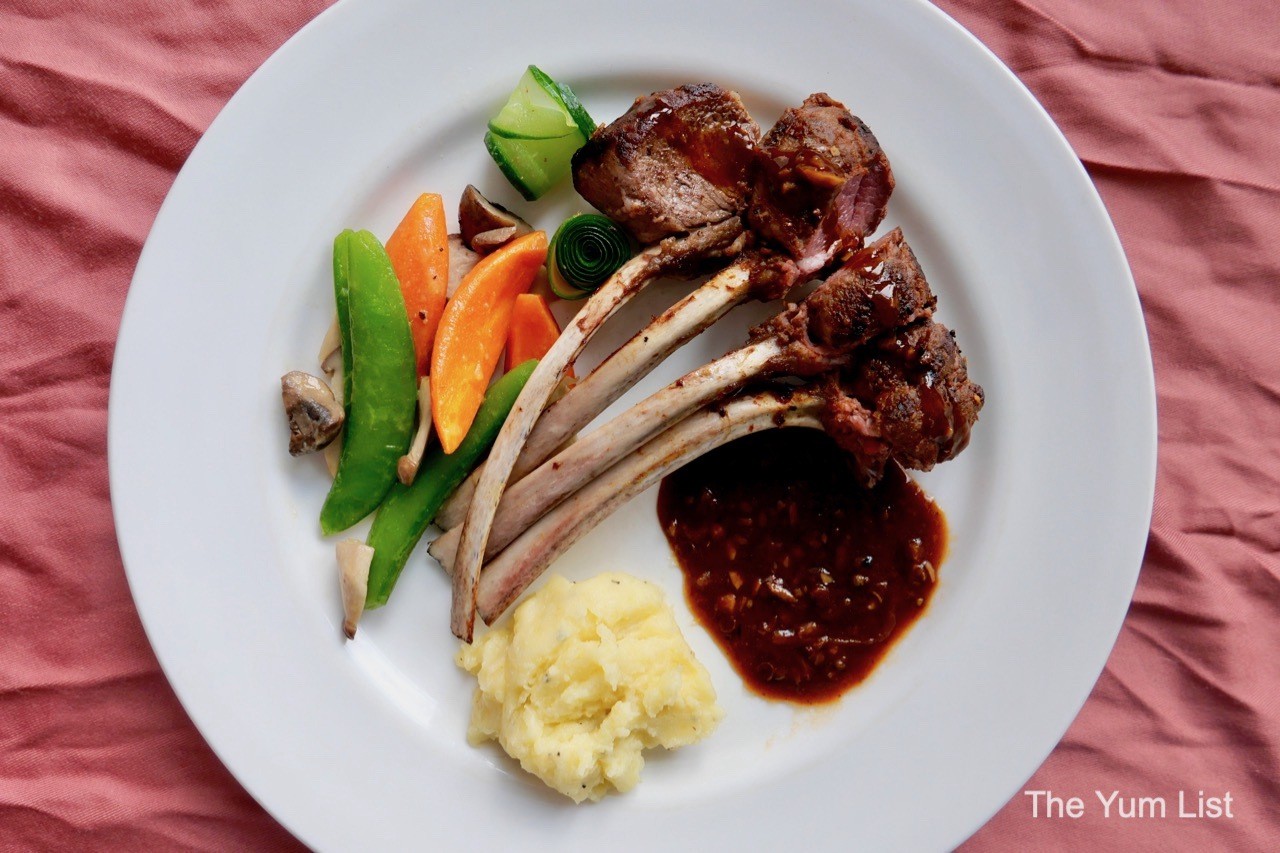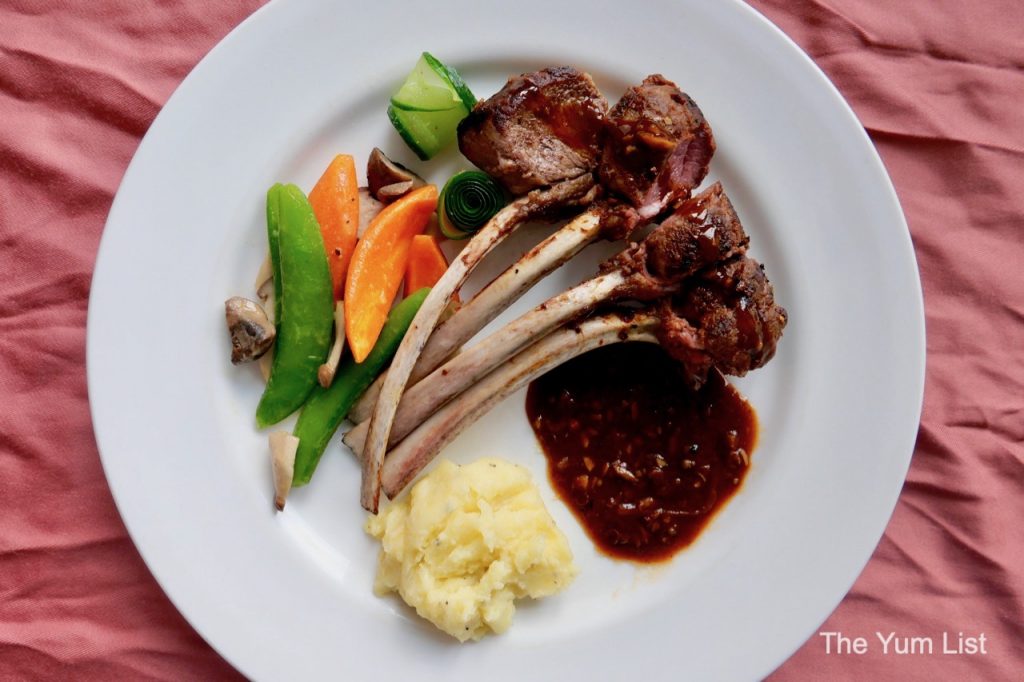 Dessert
To close, a duo of cakesicles is fetching on a bed of chocolate crumb. The darker of the pair is the Belgian cheese with caramelised hazelnuts, and the pretty pink number is filled with strawberry and peach cream.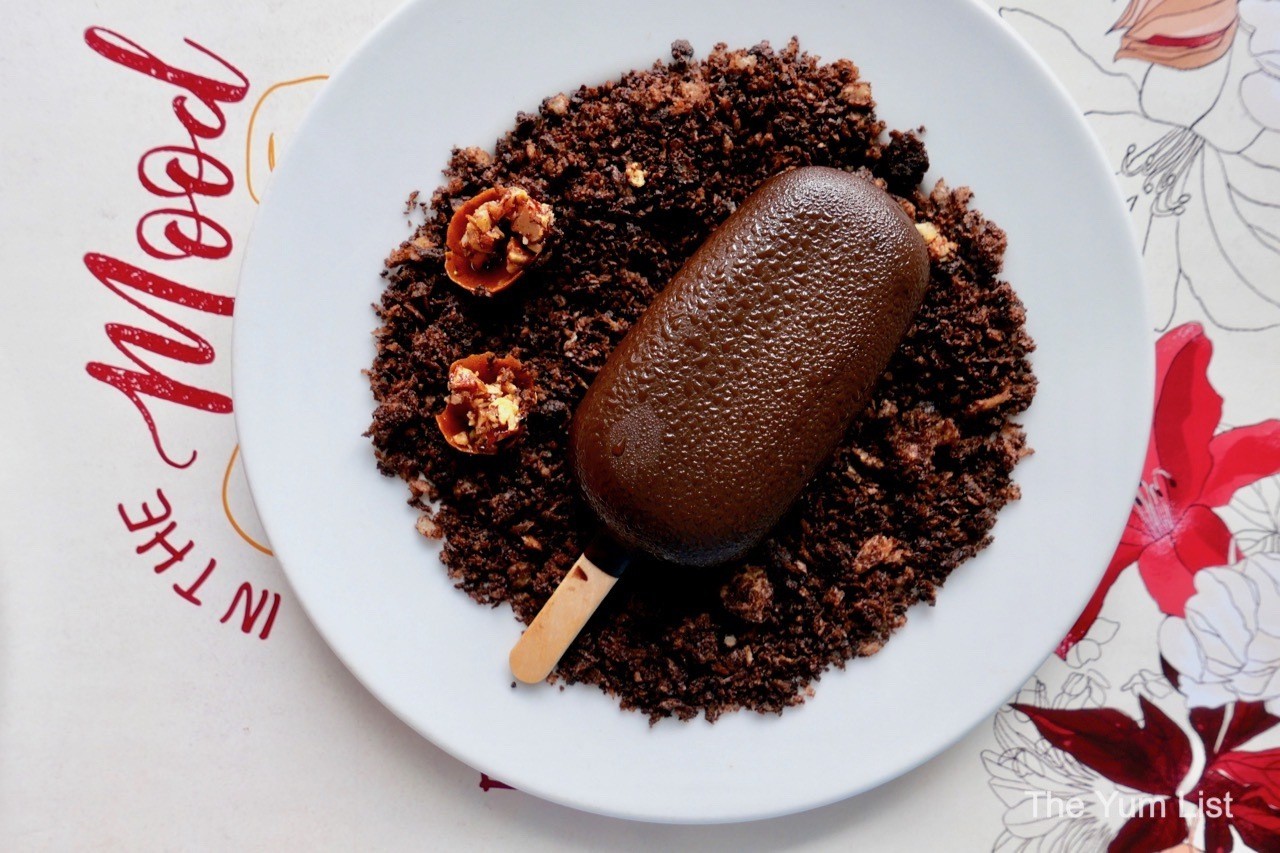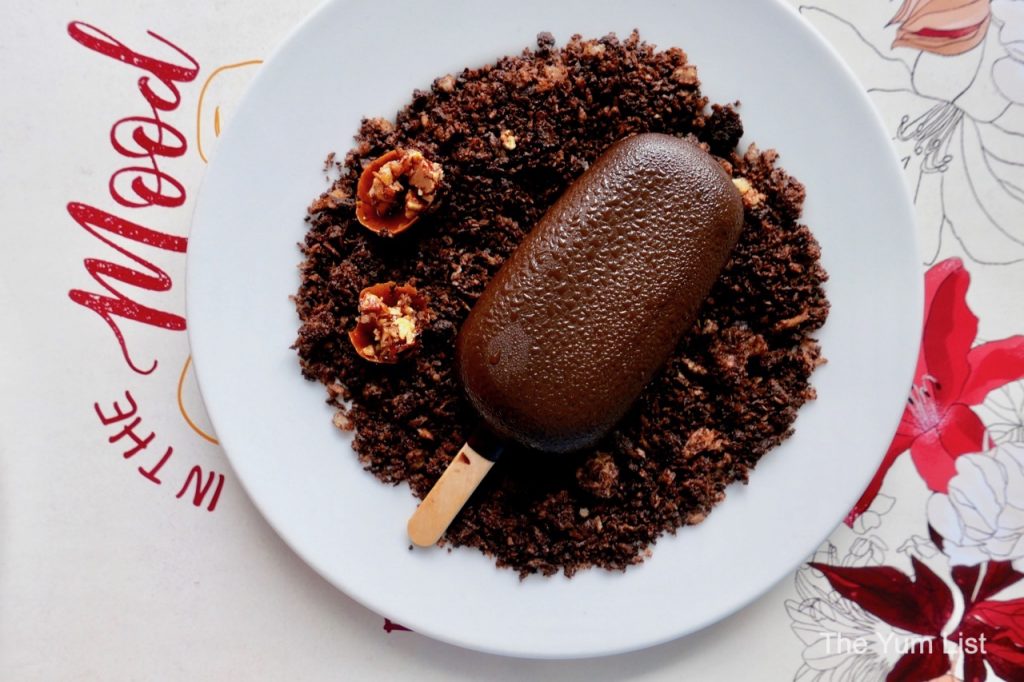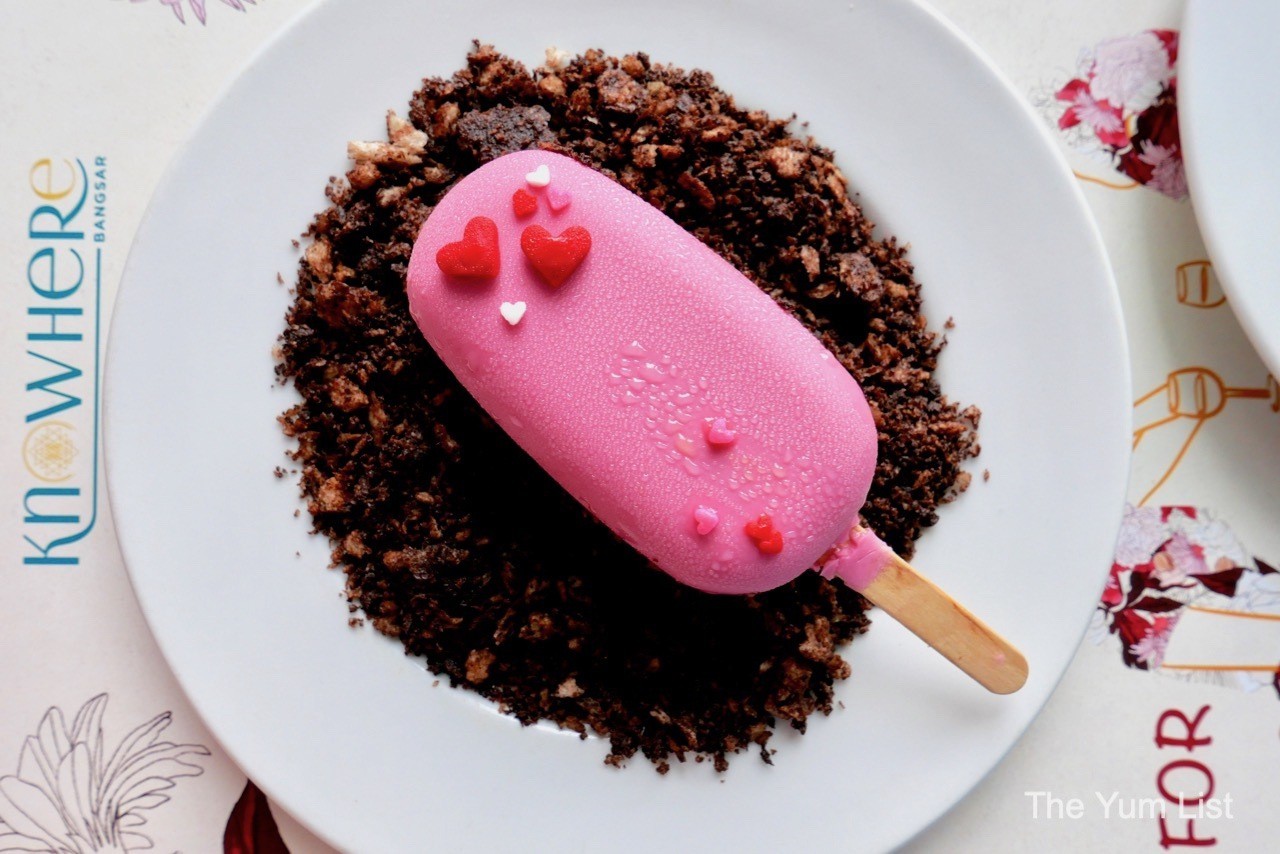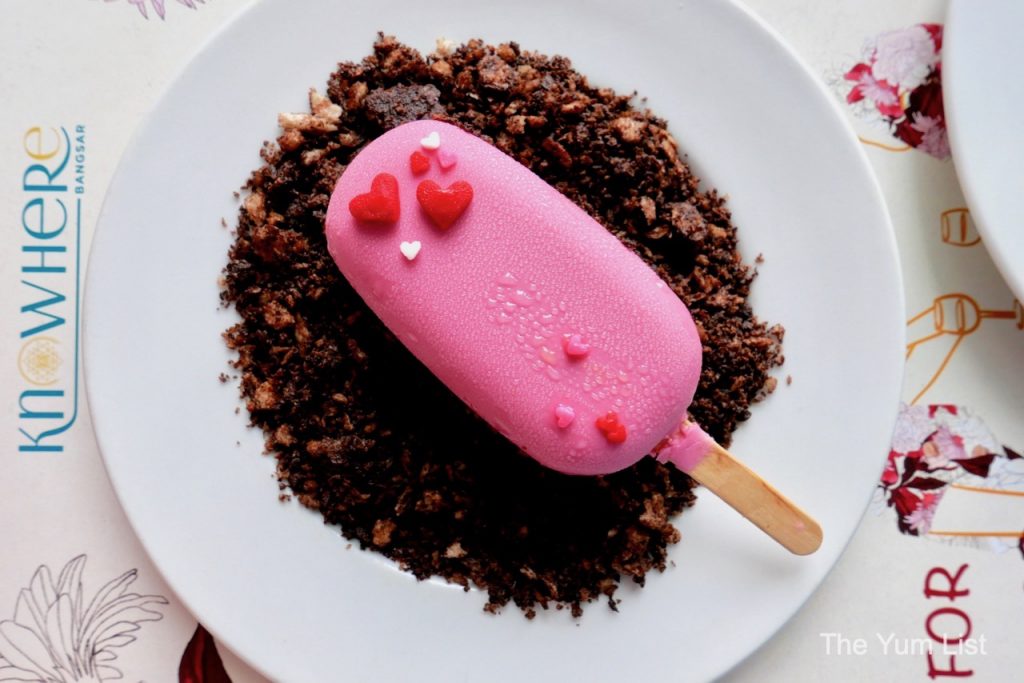 Wine
A bottle of Pascal Jolivet "Attitude," Pinot Noir, France is not only a delicious wine mate but the label also conveniently matches the Knowhere's Knowmance colour palette (promise we chose it for the wine, not the label ;-). It's a lovely, light and elegant wine with lots of berries on the nose and a delicate spice is woven in. It's balanced and smooth and concludes with a nuance of oak.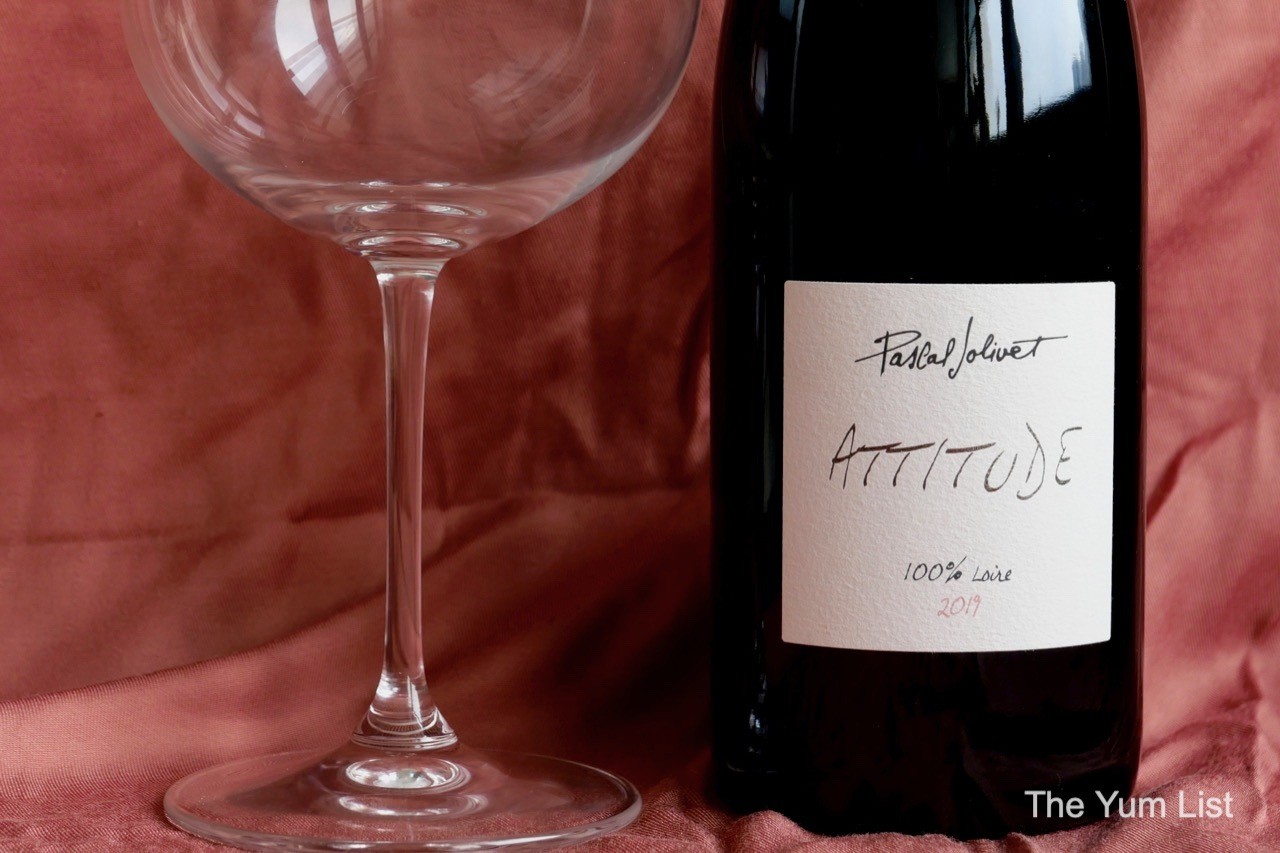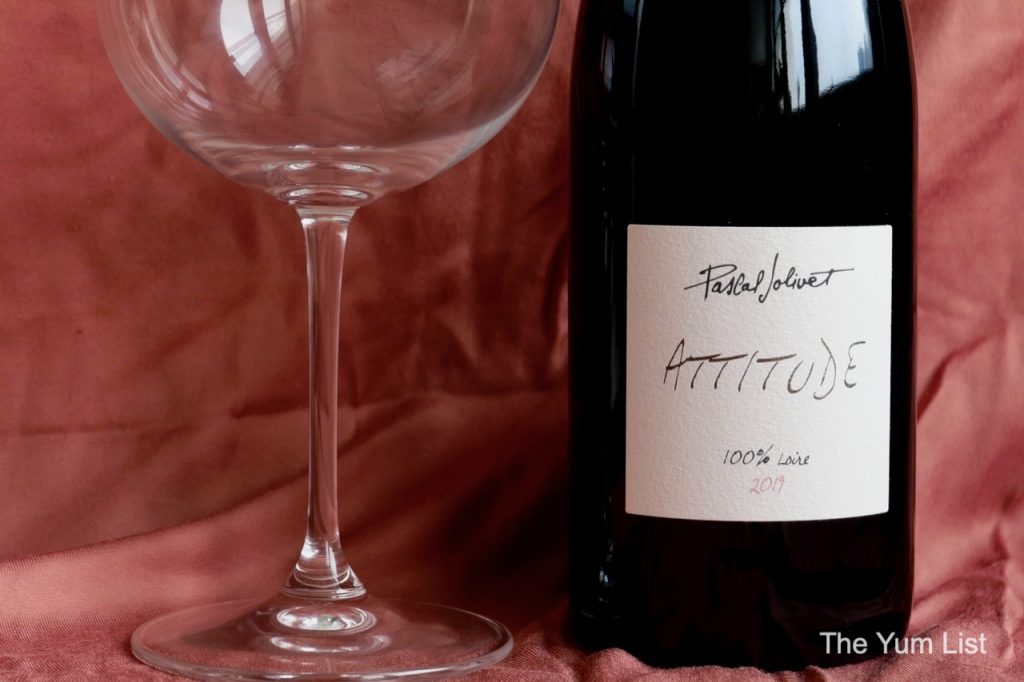 As mentioned, do order now if you're hoping to enjoy this set at takeaway or dine-in as both seats and boxes are limited.
Check out their Facebook page for more details or order directly on this number: +6 010 220 2358.
Find more food delivery services in KL here and stay up to date with the latest happenings around Malaysia here and here.