La Tasca Del Mercat Mont Kiara
Words: Monica Tindall Photos: Rich Callahan
We are blessed in Malaysia to be able to taste the world even though travel is restricted. Today we visit Spain on our tastebuds with breakfast at La Tasca Del Mercat in Mont Kiara. This little sister of Mercat Gastrobar Mont Kiara opened over the MCO and sells a comprehensive range of products both imported from Europe and made in house. Additionally, they've just begun to offer breakfast too.
La Tasca Del Mercat Mont Kiara – Breakfast Menu
Sandwiches
For something light and easy, I recommend a sandwich. Toasties are a staple breakfast food in Spain, but for a taste specifically of Barcelona, you must try the Bikini de BCN (RM 20). This ham and cheese toasted sandwich sounds as though it might be so-named for its resemblance to a string swimsuit. However, the historical version is that it comes from La Sala Bikini. This dance club was around during Franco's rule, at which time English and Galician words were disallowed. The Spanish version of a Croque monsieur was first named their "house sandwich" to avoid using the French title and later became associated with the club, and so the name stuck. As with just about everything here, the white sandwich loaf it's prepared with is made in-house.
One of the chef's recommendations and a nod to Latin America is the Cubanito (RM 29). It's a luscious mix of pork belly, ham, pickle, cheese and mustard. This one is value-for-money with fat slices of panini and layers and layers of pork making a monster mouthful. Lucky the gentlemen (Rich and hubby) are with me today, as this one takes more than one stomach to get through.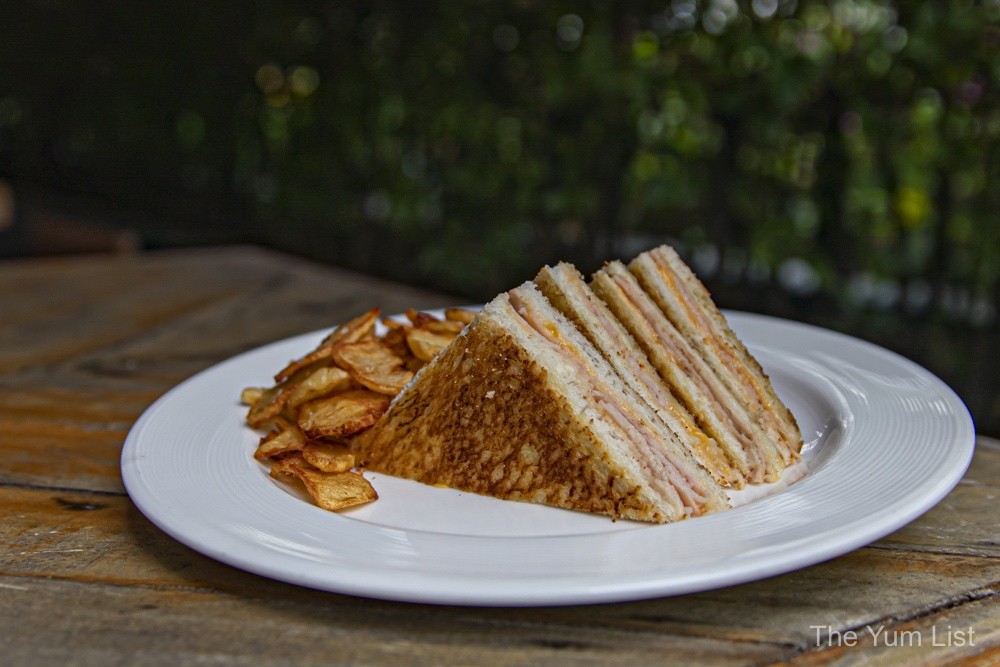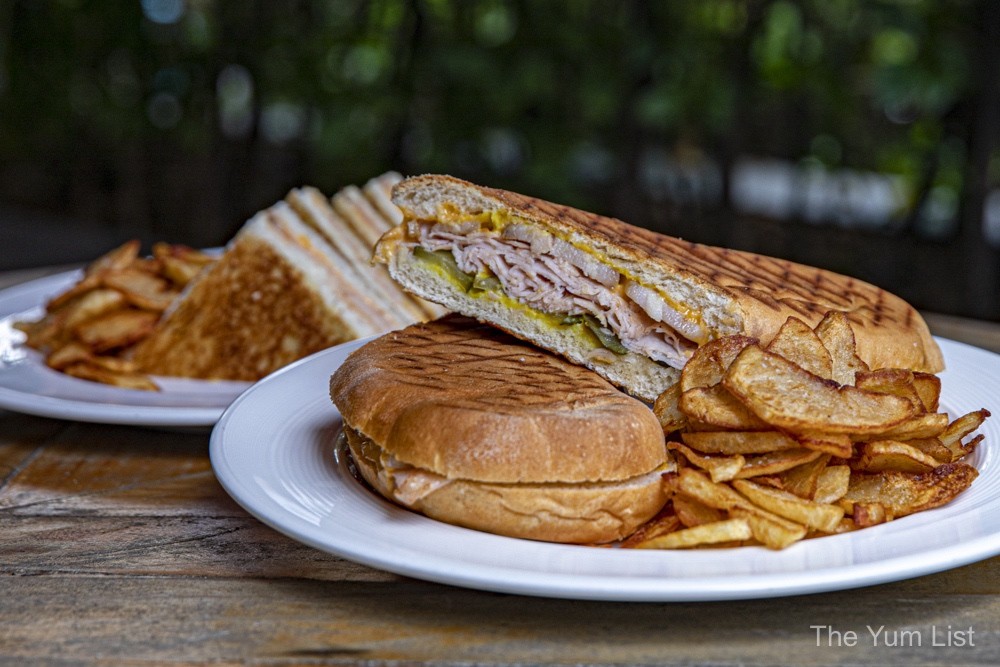 Chef's Special
When you need an energetic start to your day, the Catalan Breakfast (RM 34) is a fine pick. The Spanish version of a big breakfast is a plateful of pork sausage, egg, escalivada (smokey grilled veggies), roast potato with aioli, tomato bread and green sauce. Additionally, slices of Iberico abanico – the cut that wraps the ribs – is especially tasty thanks to liberal marbling.
Mercat Shakshuka (RM 24) is another special guaranteed to keep you going for hours. It's a rich, hearty pan of roasted vegetable pisto style. These stewed vegetables, a Spanish version of ratatouille, are topped with goats' cheese and sausage (+ RM9). Slices of country loaf are made good use of to soak up every last drop.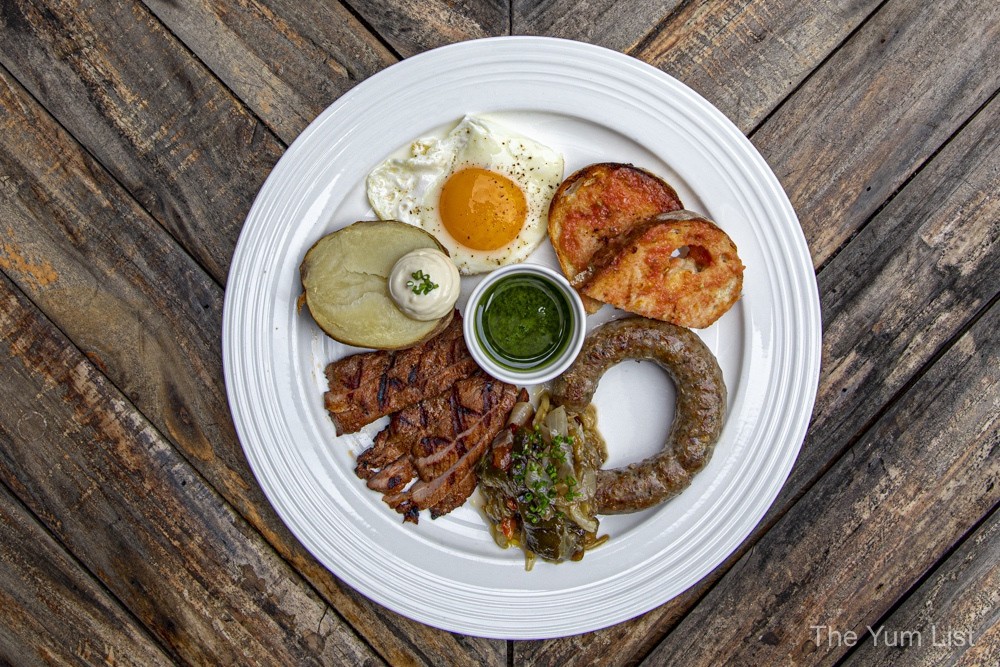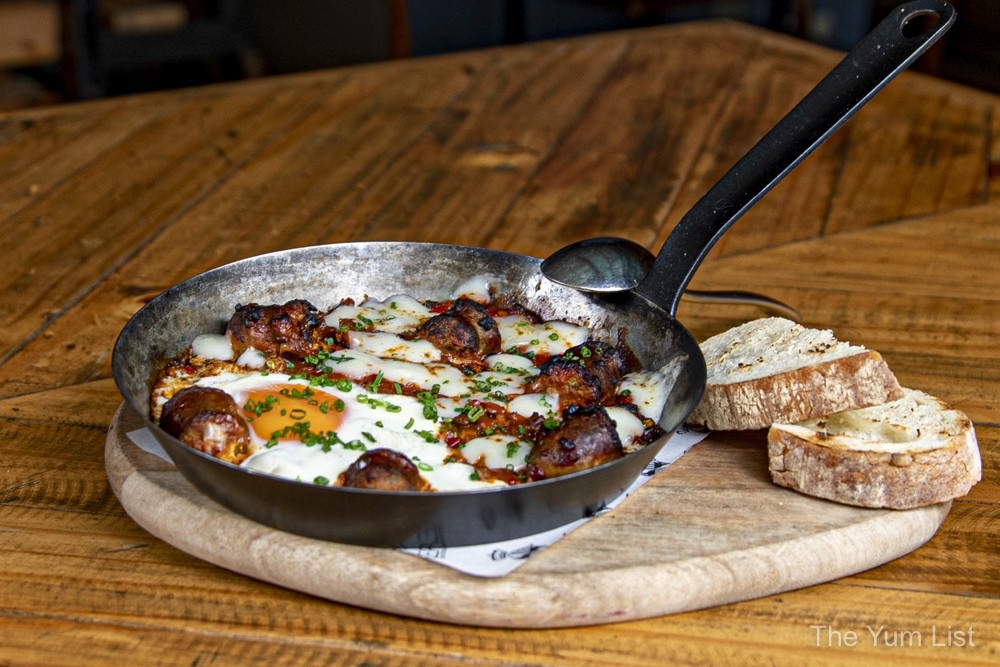 Salads
There are three salads on the menu at La Tasca Del Mercat, and all can be made vegetarian. The vegan Avocado (RM 26) takes our fancy. It's a pretty and unexpected arrangement of peeled tomatoes simply seasoned with salt, pepper and olive oil. A fan of sliced avocado covers the tomato, and onion and coriander balance the flavours.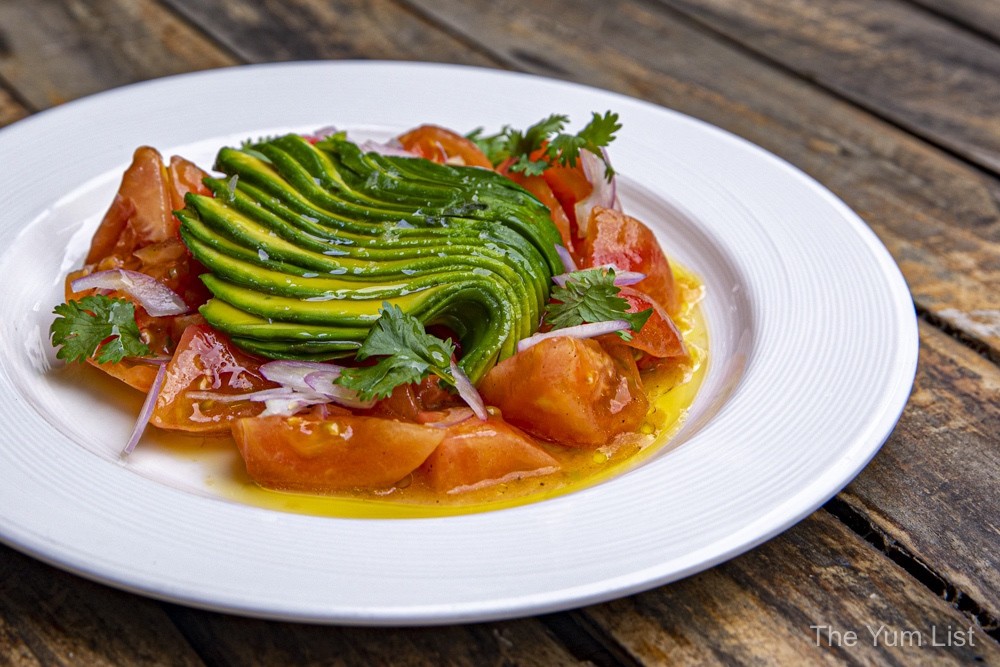 Eggs
Even the Benedict Eggs (RM 19) have their own Mercat flair here. Two poached eggs are the crowning glory over smoked salmon (+ RM 12) and a bacon potato cake. Hollandaise sauce adds both visual appeal and a creamy component linking all the ingredients.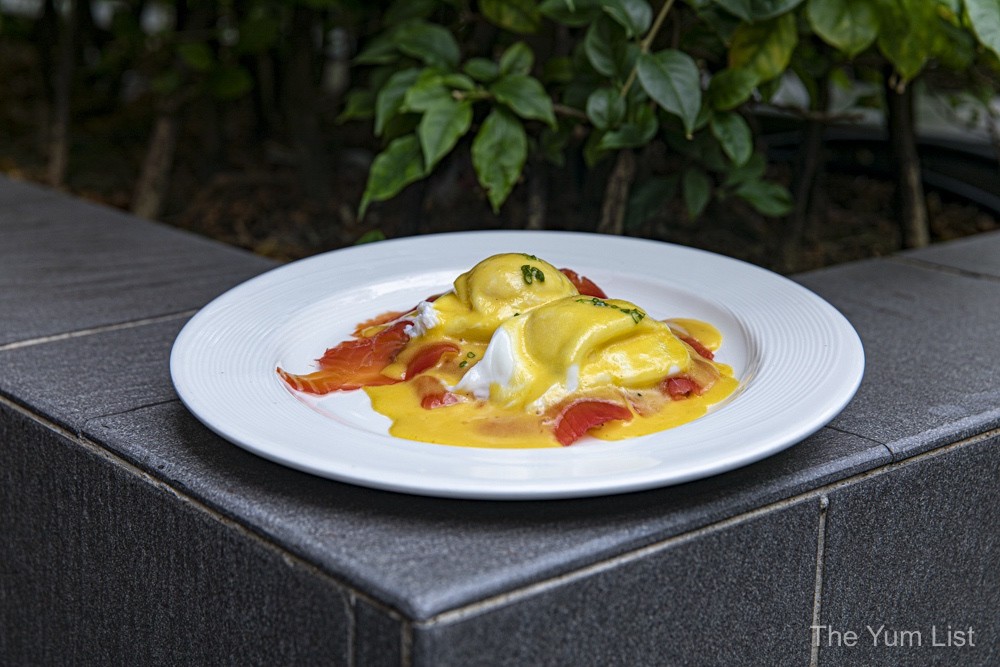 La Tasca Del Mercat – Drinks Menu
The drinks menu at La Tasca Del Mercat Mont Kiara is composed of the usual suspects. We approve of the European-sized coffees that come in large mugs. I'm grateful for a plant-based version with the Almond Milk Latte (RM 12). Hubby is equally content with the Cappuccino (RM 12). Vittoria beans are used in a darker roast producing a chocolaty, nutty finish. If you like the style, you can pick yourself up a bag to go. As with many things on the menu, the raw ingredients are often also available on the deli shelves.
Ideal for brekkie, La Tasca Del Mercat also does freshly squeezed juices. The Green Juice (RM 14) is a healthy blend of green apple, celery and ginger, and the Grapefruit with Honey (RM 14) is a good balance of sweet and tart.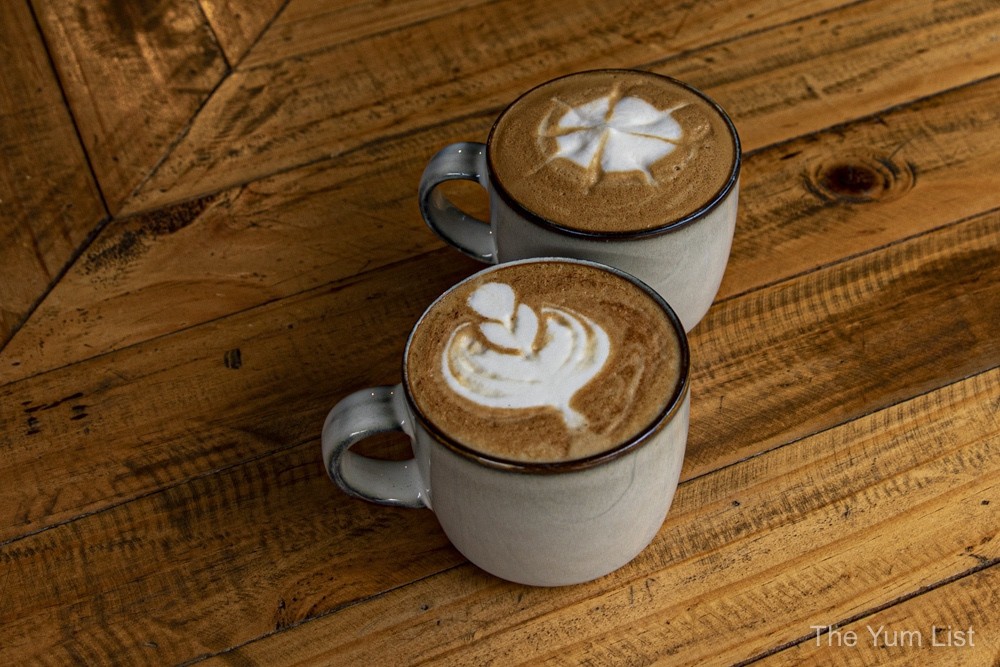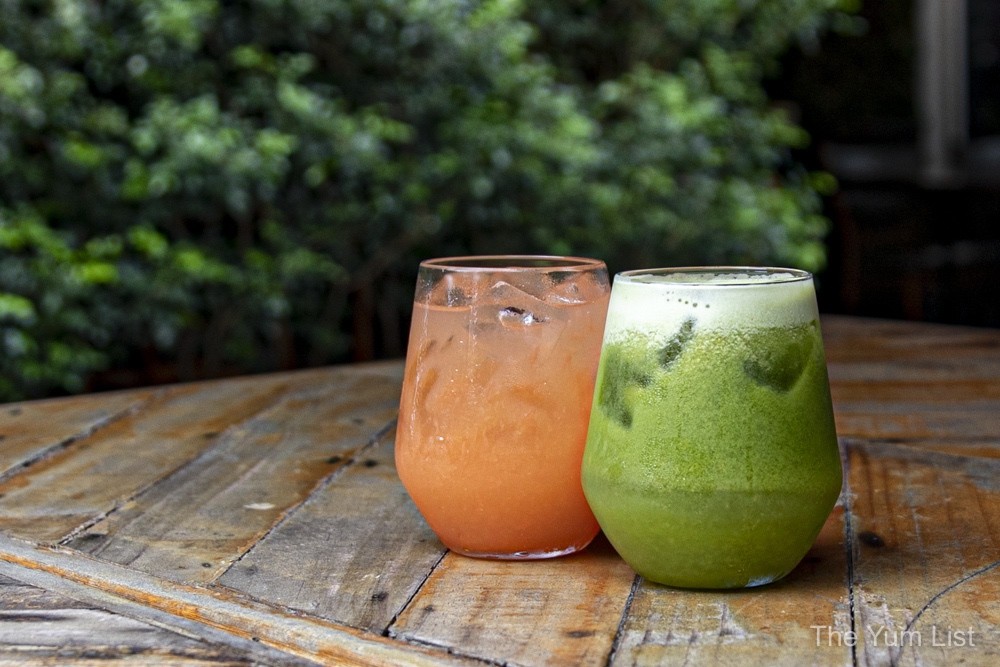 La Tasca Del Mercat Review
La Tasca Del Mercat is an excellent choice for breakfast in Mont Kiara. The setting is pleasant with its plant-lined walls, and the deli has an inviting European feel with its packed shelves. Toasted sandwiches and Spanish recipes are the highlights, and you can also pick up some goods from the deli on your way out.
Reasons to visit La Tasca Del Mercat: a pleasant spot for breakfast in Mont Kiara; Rich loves the Cubanito and Catalan Breakfast, my top pick is the Shakshuka and hubby loved the Eggs Benedict; pick up your favourite items from the deli before you go.
La Tasca Del Mercat
Lot G1 Mont Kiara Mall 1 Jalan Kiara Mall
Mont Kiara, 50480 Kuala Lumpur, Malaysia
www.facebook.com/MercatMontkiara
+6 03 6211 7969
La Tasca Del Mercat Opening Hours
Monday to Saturday: 7:45 am – 3:00 pm
Find more places for breakfast in Kuala Lumpur here and stay up to date with the latest happenings around Malaysia here and here.