Words: Matt Jones
Photos: Monica Tindall
Occupying its own little lush green wedge on the ground floor corner of 1 Mont Kiara, this vibrant indoor-outdoor oasis is a wonderful little discovery. Dedicated to bringing the Spanish market feel to Kuala Lumpur ('mercat' being Catalan for market), this recently opened Barcelona Gastrobar is sure to delight. The second of two Mercat restaurants, this baby brother to their Bangsar Baru bar has been alive and kicking since Christmas.
Mercat Mont Kiara – Barcelona Gastrobar
On a hot afternoon, the outdoor entry area with its shady green roof and walls of climbing vines offer a cool respite, as does the rather voluminously spaced interior. Matte black walls and ceilings, healthily covered in a chalk rendition of the KL skyline (hanging like some enormous one-dimensional chandelier over the bar) and colourful cartoon-like hand-drawn chalk images of some of their gastronomic offerings, create a black canvas base for the fit-out, while a Wedgewood-blue wall serves as an anchor point to house an enormous, equally cartoon-like artwork of daily Barcelona life. This restricted yet still vibrant colour palette extends to the rainbow of tabletop soda-stream bottles and navy blue bar stools, giving the place a distinctly and very on-trend 80's vibe. The addition of Caning's bright red golf pants only added to this rather fun and playful setting.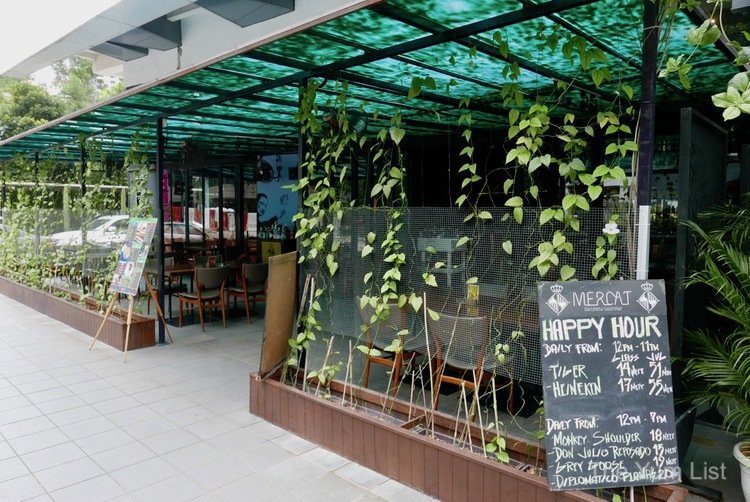 Drinks Menu Mercat Mont Kiara
Start with a drink? Gin drinkers to the front, as Mercat specializes in the Spanish tradition of offering as many kinds of gin in any configuration of mix you want. Their signature gin trolley is huge and I dare say weighs a ton (don't worry, there's two; one for inside and one for outside), replacing their former presentation style of bringing a bunch of bottles to the table so you can choose your regional tipple and have it mixed and made in front of you.
Caning took the gin option with a Caorunn (RM34), a heady mix of a double shot of the small batch Scottish gin, with lemon peel and red apple slices. Mon with a glass of Spanish white wine, and I went with Mercat's White Sangria (RM34) of home-made strawberry liqueur, strawberries and white wine, which was subtle and rather gentle on the palate.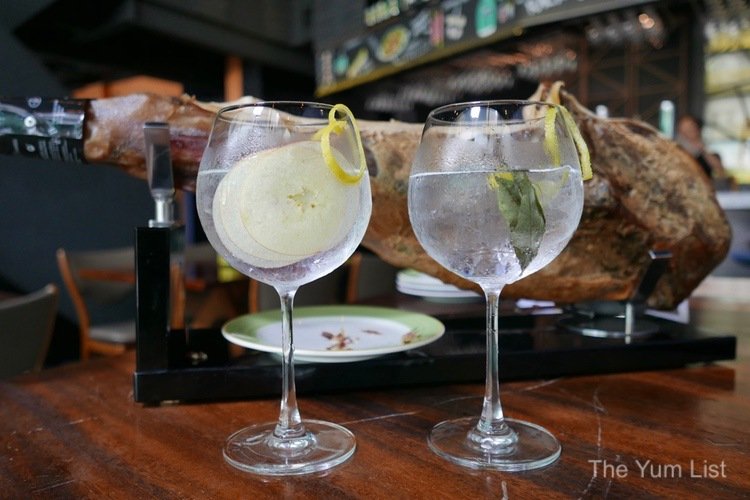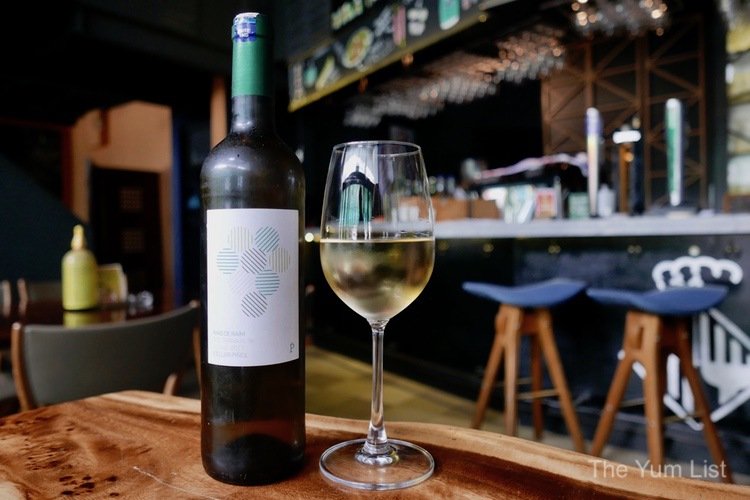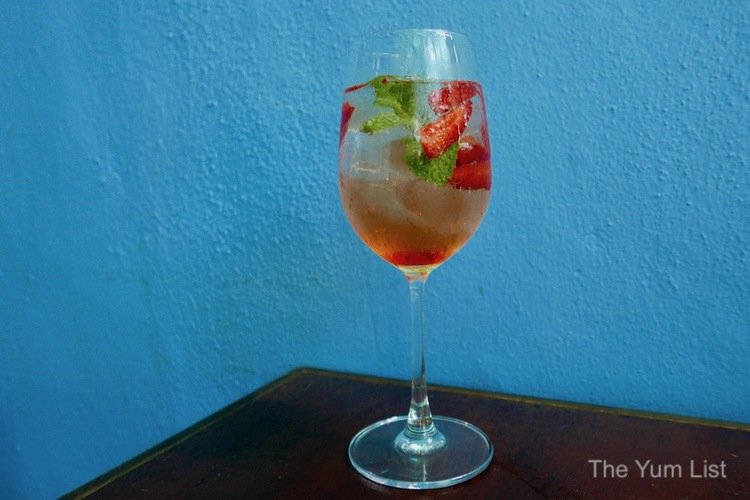 Proud supporters of "encouraging daytime drinking" beamed our hostess, Mercat buzzes with a jazzy, contemporary flamenco Spanish music ambience, and equally prides itself on its fantastic happy hours (Tiger and Heineken beers daily from 12pm – 11pm) and a selection of cocktails daily from 12pm – 7pm (including Grey Goose at RM19! I'll cheers to that!). Ladies, you get an entire weekend of happy afternoons every Saturday and Sunday from 12 – 6 pm. Between the amazing Spanish wine list, the extensive Gin trolleys and the happy hour cocktail lists, everybody wins.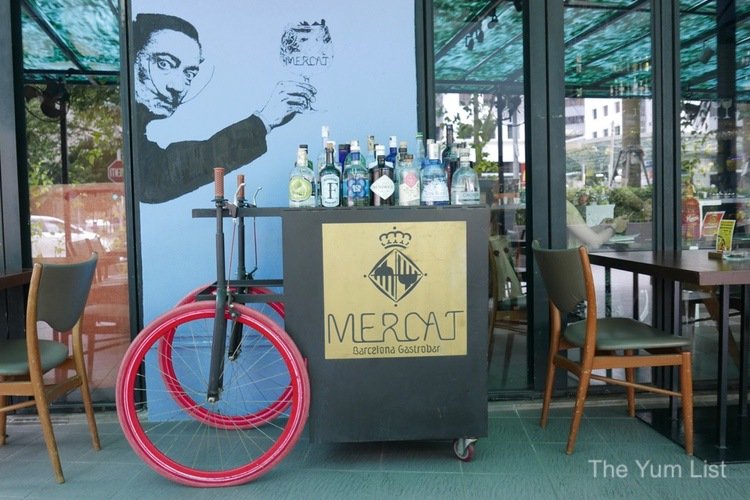 Mercat Mont Kiara Menu
Typically, tapas are the mainstay of any good Barcelona gastrobar so we started with the Iberico Ham (RM38/20g) hand-sliced just before serving from the cured leg on the giant butcher's block taking pride of place in the centre of the dining area.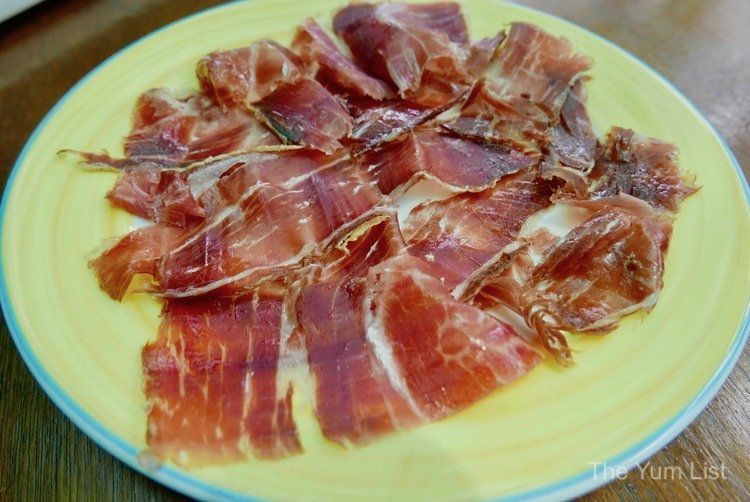 Lascas de Presa Iberico (RM19) is a fiery hot explosion of slices of Iberico Presa with Manchego cheese and green chillies. Hot, hot, super spicy and oh-so-yum. Nicely tempered by and a perfect accompaniment to the Pan Con Tomate (RM14), a mildly flavoured Spanish take on your typical bruschetta: traditional Catalanian bread rubbed with tomato, garlic and olive oil, generously portioned at six slices.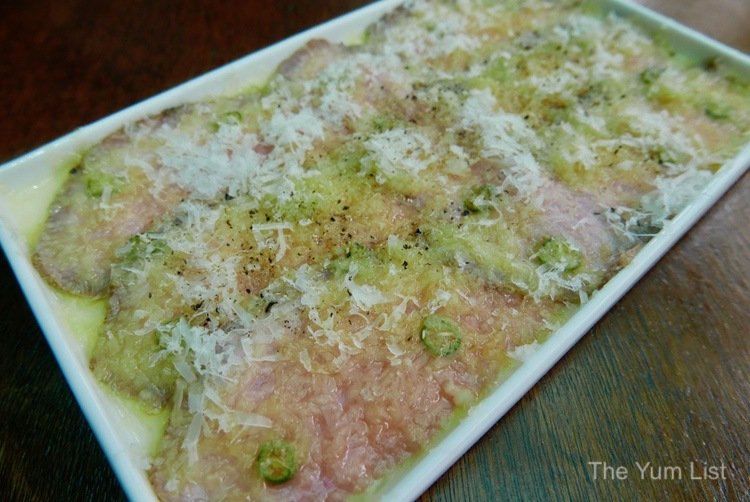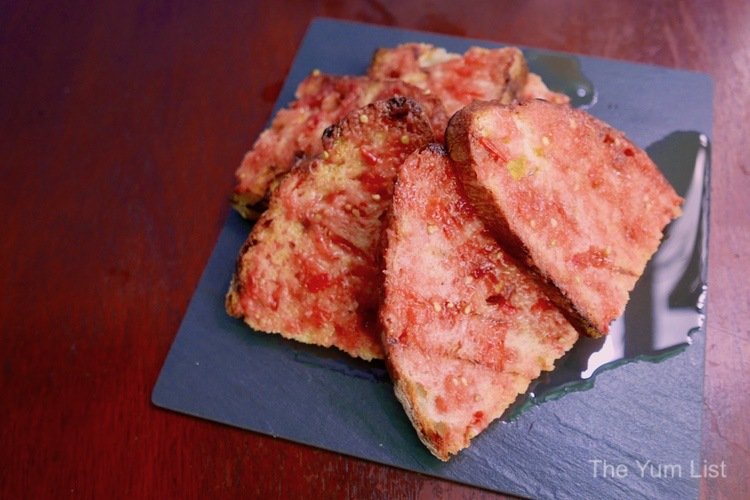 Fardos Ibericos (RM22) was clearly the winner for me, rolled-up slices of Iberico ham topped with truffle cream and a dollop of apple compote. Tiny morsels of little fat soldiers lined up on a slab of grey slate – superb.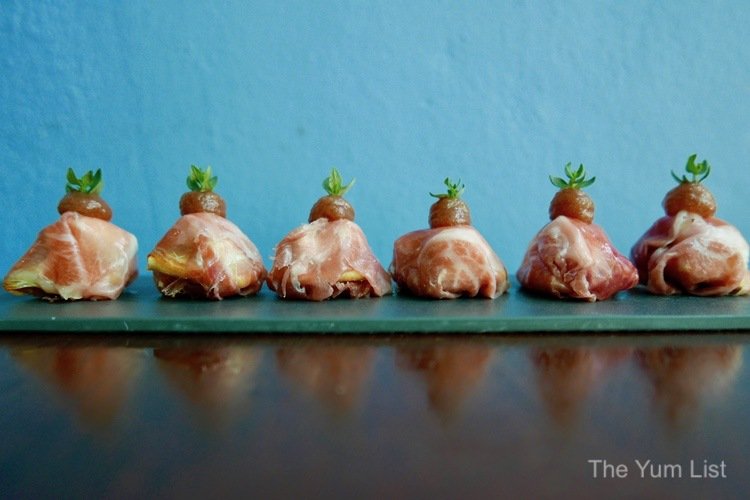 Monica second-helped herself to the Salmorejo Cordobes (RM32), a gazpacho-like traditional blended cold tomato soup from Cordoba. It's a super-luxe and rather decadent creamy bowl served with Serrano ham, boiled egg and tuna. Really, really good.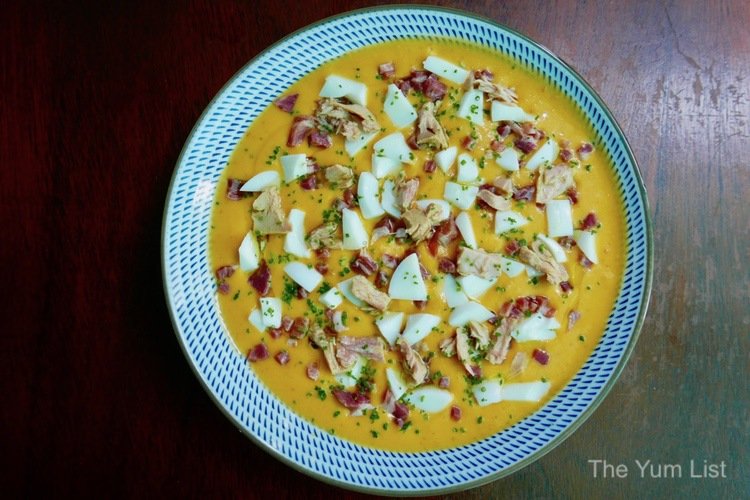 Boquerones Fritos (RM24) is a crunchy pile of deep-fried battered fish, a bit like whitebait, served with an aioli dipping sauce. They're tasty and would go well with an ice cold beer.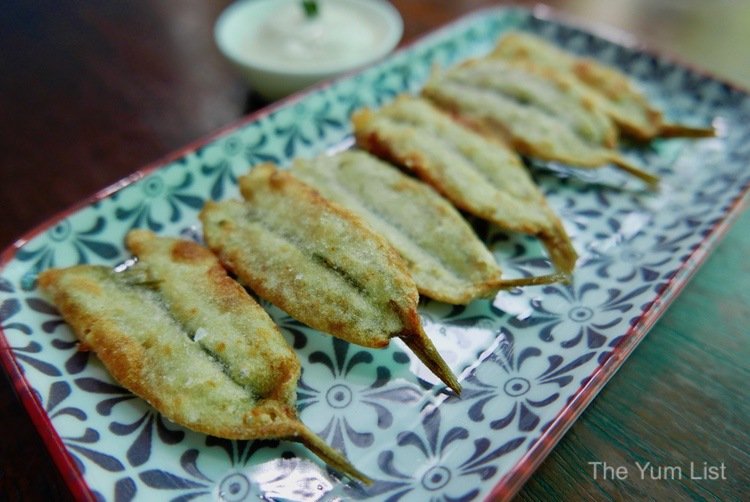 And then out came the Pork Guisantes (RM24), clearly for Caning being the royal family of Spanish dishes given his chorus of "Oh my god oh my god oh my god" (I think I counted at least 10), possibly the only thing louder in the restaurant than his bright red pants. But well-deserved too, as this hearty Catalan green pea stew with Iberico belly ham, blood sausage, tomato and bocconcini cheese, garnished with a flourish of mint was fresh, creamy and pea-green sweet.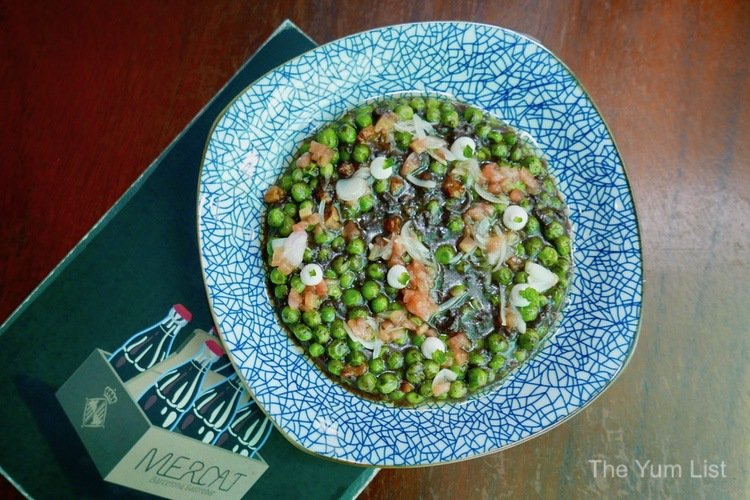 My other favourite dish of the day would have to be the Abanico Iberico (RM56), a perfectly cooked Iberian pork steak on a splash of mash, with a fat wedge of potato and bacon terrine with a cheesy crust. Sublime.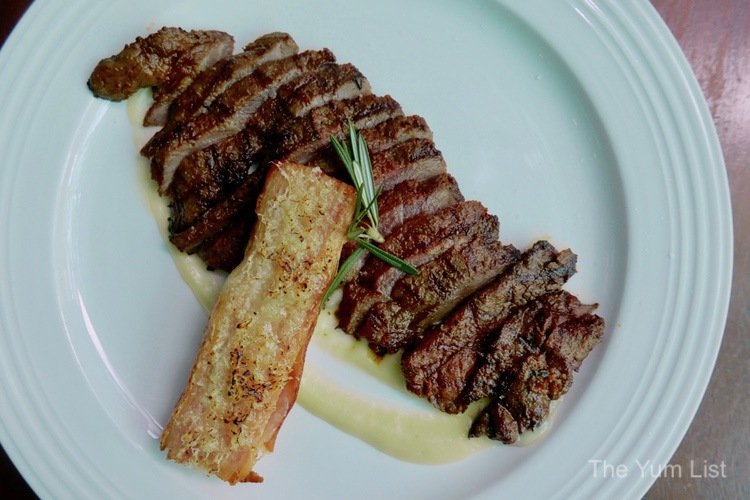 Our final sweet moment was a plate of the Torrijas (RM23): basically, a bread and butter pudding torched on top, a la crème brûlée, with a scoop of vanilla ice-cream. We teamed ours with a Carajillo (RM19); black coffee with a shot of whiskey, which no doubt, grew a few extra hairs on our chest.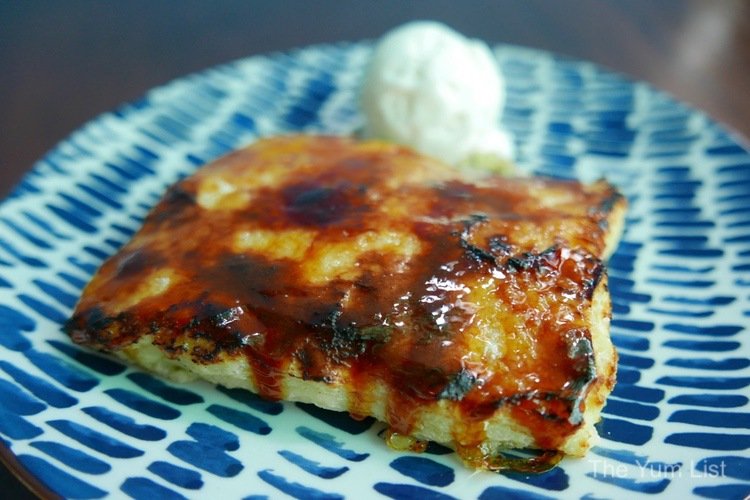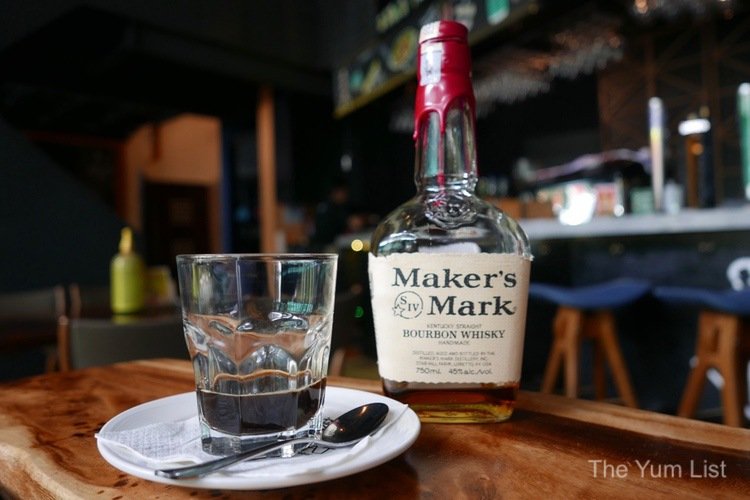 Reasons to visit Mercat Mont Kiara: great ground floor corner setting conducive to socializing; comprehensive gin menu; great happy hour drink deals; authentic Catalonian cuisine – must try the Salmorejo Cordobes (Mon's pick), Pork Guisantes (Caning's fave) and the Fardos Ibericos (my choice).
Mercat Mont Kiara
Ground floor, corner lot facing the street
1 Mont Kiara, Jalan Kiara
Kuala Lumpur, Malaysia
+6 03 6211 7969
https://www.facebook.com/Mercat.kl/
Check out our visits to Mercat Bangsar here, here, here and here.