Chef Jean Private Kitchen
Words: Rebecca Cannon
Photos Rich Callahan
My Spanish Mum was furious at me. "You lived in Galicia, the home of pulpo [octopus], for a year always refusing to eat it, then you move to Malaysia, and suddenly you decide to eat it?!" I thought to calm her by informing her that the chef was French- Catalonian. I'm not sure that helped, but whether she was more offended by the French or the Catalonian part, I didn't dare ask. What Spanish Mum didn't realise was how could I say no to a dish so perfectly made? I didn't care if I wasn't eating it in its country of origin, but more on pulpo later.
Chef Jean Private Kitchen Damansara Heights
How do you get to Chef Jean's Private Kitchen? There is a clue in the name. It is indeed a private kitchen (actually inside a family home) and in the lovely green suburb of Damansara Heights.
To get to the house, you first wind up and down the wide, green tree-lined avenues of Damansara Heights. Terraced houses in different styles make me envious. This affluent suburban part of Kuala Lumpur I never knew existed (I've only been here a few months). The entire downstairs area of Chef Jean's home is given over to the event space, garden included. Starting inside the house, there's a spacious living room, ideal for lounging as you wait for your friends to arrive. The house's open-plan living-dining room makes it easy to use this space to maximum advantage for all kinds of events.
Currently, Chef Jean is hosting a small gallery of works by renowned Spanish photographer Jose Conceptes. This has inspired Chef Jean to design a new Spanish food menu (RM250/pax) to complement the surroundings. However, if that doesn't meet your fancy fear not, Chef Jean is still cooking his French, Italian, original Spanish menus and a canape party menu for larger groups looking to socialise. Speaking of parties, there's a karaoke room off to the side. With its funky purple suede couch, you can't resist its pull.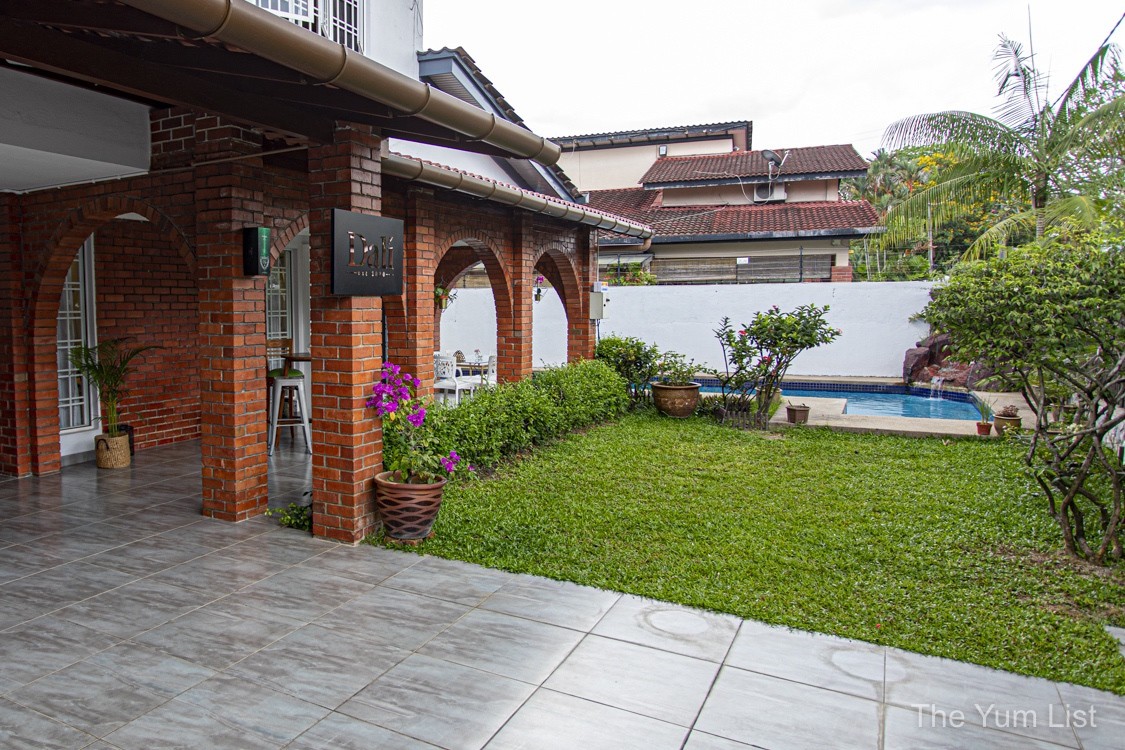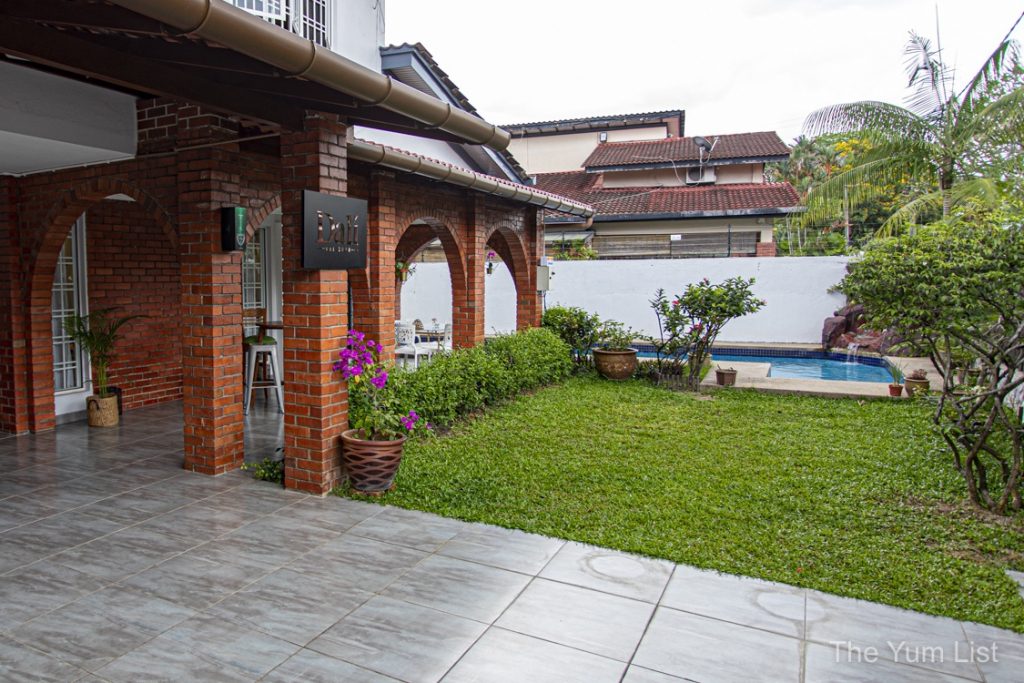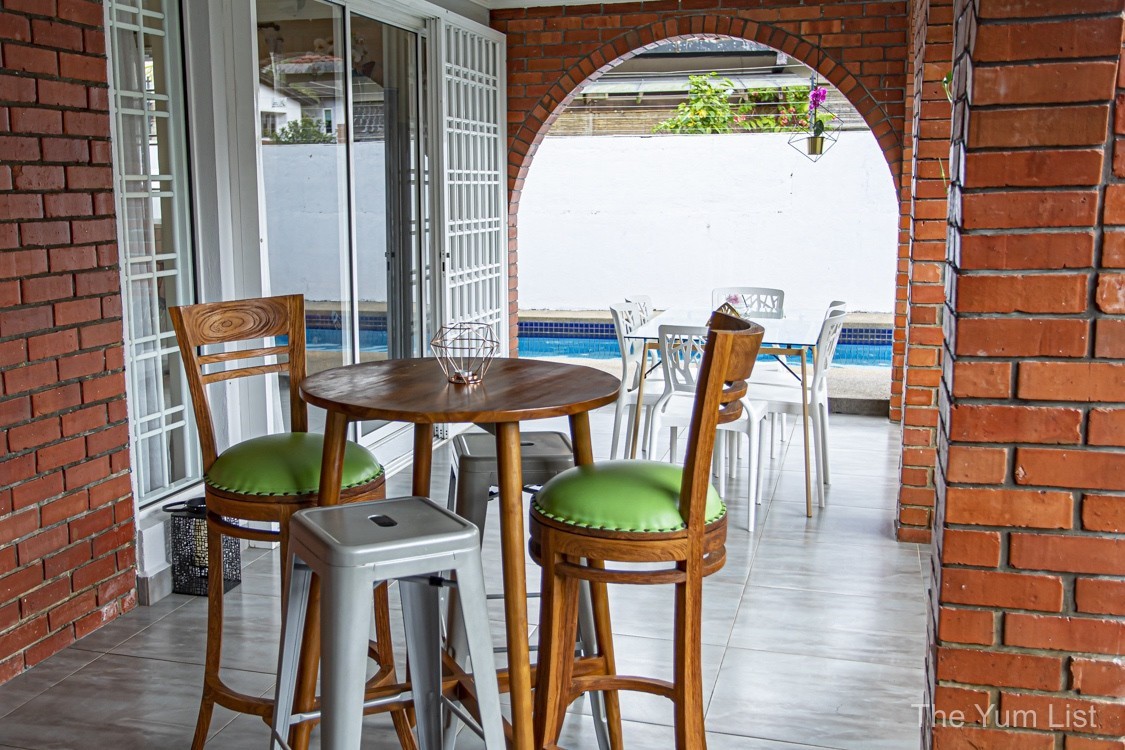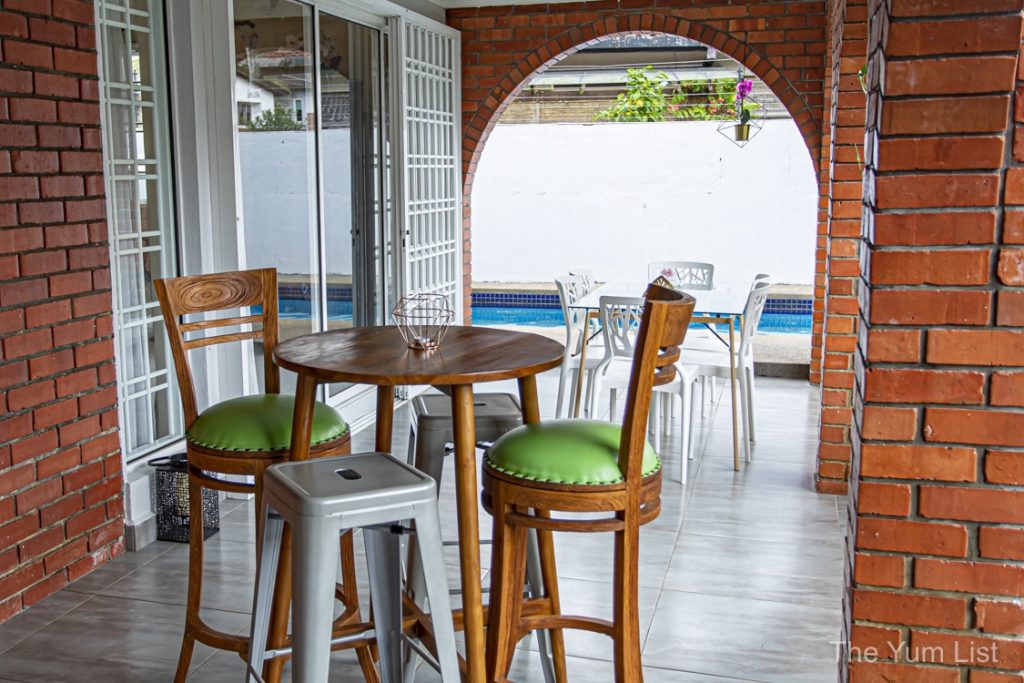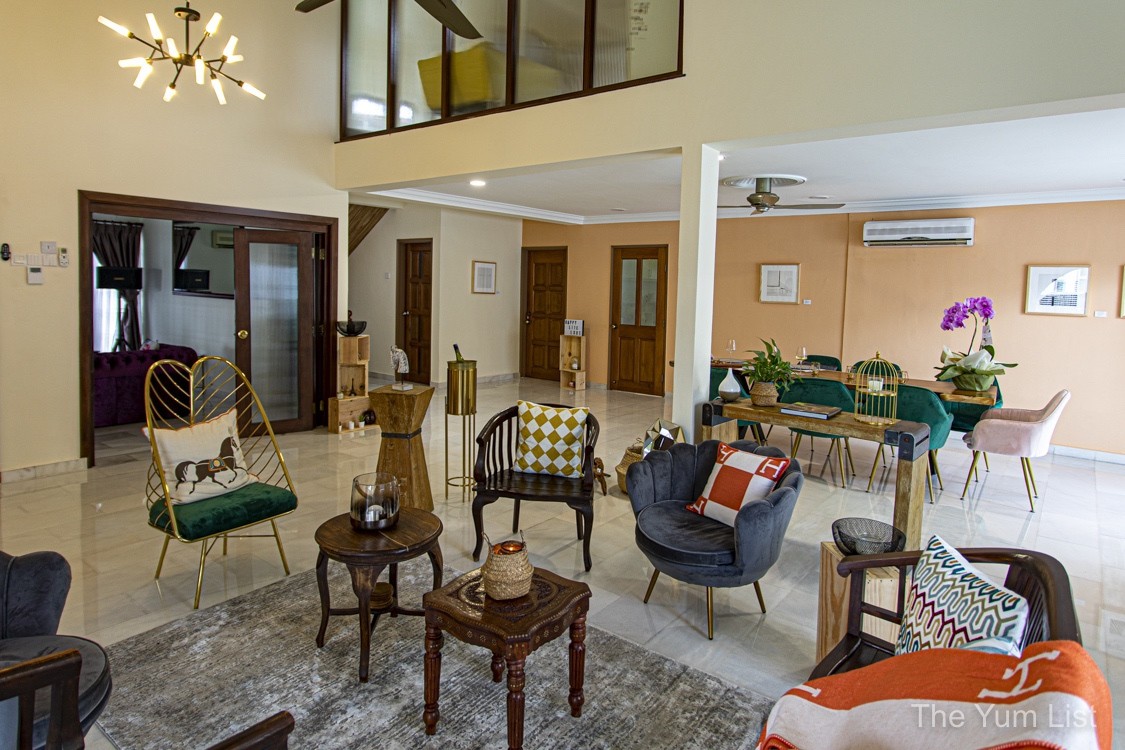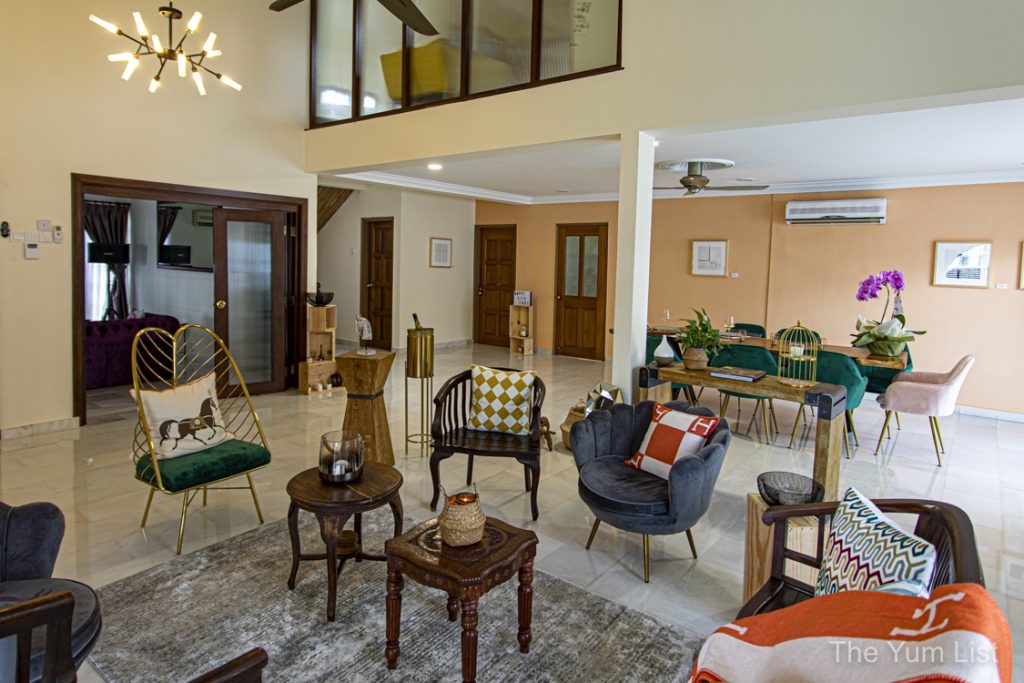 Jose Conceptes Photography Pieces
Before you begin the menu, there's time to take in the pieces by Jose Conceptes. Conceptes photos are intriguing urban geometry shots in black and white. The lack of colour causes the natural light to make the angles and lines of buildings stand out in ways I hadn't noticed before. As a left-brain dominated individual, I never thought I could gaze at a photo of buildings for so long and not in awe. My personal favourite was the piece above the sideboard of repeating triangular prisms. I spent a long time trying to figure out what exactly he had photographed and how he'd used light to achieve the effect. The geometry was so pleasing to this science teacher.
If, like me, you also don't think you'll be interested in this "arty stuff", try it in this setting – a relaxed, naturally lit environment surrounded by friends, the Malaysian treat of a blasting aircon with open doors and a glass of premium wine in your hand. Chef Jean's French side means he is quick to offer you a glass of your choice from his expertly stocked wine fridge, which has pride of place in the front corner of the room. He is not an origin snob, though. We had a lovely bottle of New Zealand sauvignon blanc with this menu. It paired beautifully with the many seafood dishes in the line-up. Additionally, a cool white wine is just what you need in the warmth of a Malaysian day.
Canapés
Naturally, we didn't begin with the main course. We slowly eased ourselves into this food experience. Once everybody had arrived, the canapés (header photo) were brought out by Chef Jean in his chef's whites and introduced with his irresistible French accent; pan con tomato and Ibérico ribs and crab croquettes.
I cried on seeing the bread as I could tell as soon as it was on the table before me that this was real baguette bread. I poked it to make sure, and there it was, the resistance you ought to get from a proper loaf of bread. The crust crunched in my mouth, covering the chewy dough inside. I was in my carb heaven. Baguettes are thought of as French, but they are ubiquitous in Spain and are found in all their eateries.
The pork looked like it had been delicately cooked to perfection with a thin layer of fat in the middle to enhance the flavours as it rolls around your tongue. The tomato was a spread made of thick homely soup, combined with a sprinkle of rough salt, and I could have happily eaten it all afternoon, or so I thought until the rest of the dishes came.
The croquettes looked and tasted like the real deal too. They had a golden crispy bread crumb and were presented on a silver spoon. This was to allow you to eat the whole thing in one and also cover a spot of mayonnaise at the bottom. Don't question it. Chef knows what he's doing. It is to stop your mouth from becoming too dry with the breadcrumbs until the creamy coquette centre is discovered by your mouth. If you don't want to eat it off the spoon, fear not; you can eat it with your fingers without getting greasy tips.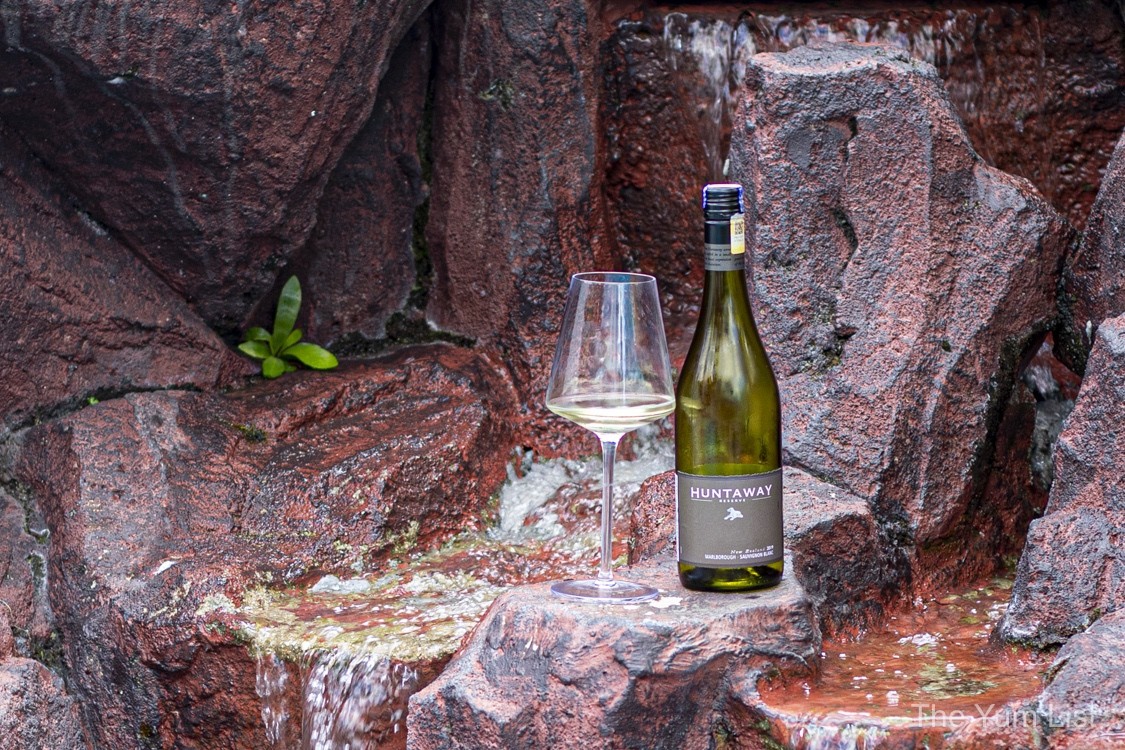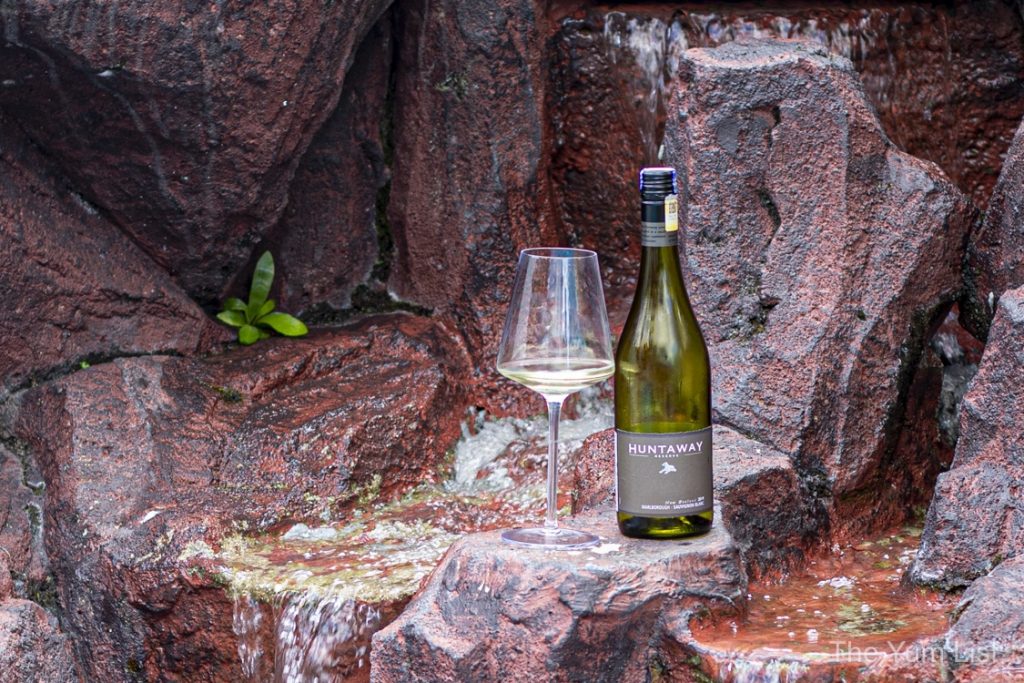 Chef Jean Private Kitchen – Entrée
Everything about Chef Jean's kitchen follows the continental west European way. Plenty of time is given between courses for chatting, to allow the stomach to settle and to admire your company and surroundings. So, after a nice pause, the Gazpacho soup with Ibérico Ham Tortilla was brought out. Gazpacho is a cold tomato soup that I believe should be far more popular in Malaysia, especially how Jean makes it. It is always served chilled, perfect for the local climate. It has all the liquid goodness of a vegetable soup that keeps you hydrated and stocked full of minerals. I could taste the refreshing coolness of the cucumber combined with the sweetness and flavour of fresh tomatoes. We came up with the notion that Chef Jeans French/Spanish dual nationality allows the best of rustic Spanish cooking to be made, but presented in such artful precision required of French cuisine. The tortilla was carefully placed in the centre, with pine nuts and chives alternatively arranged around it, not a drop of soup on the rim or tortilla top.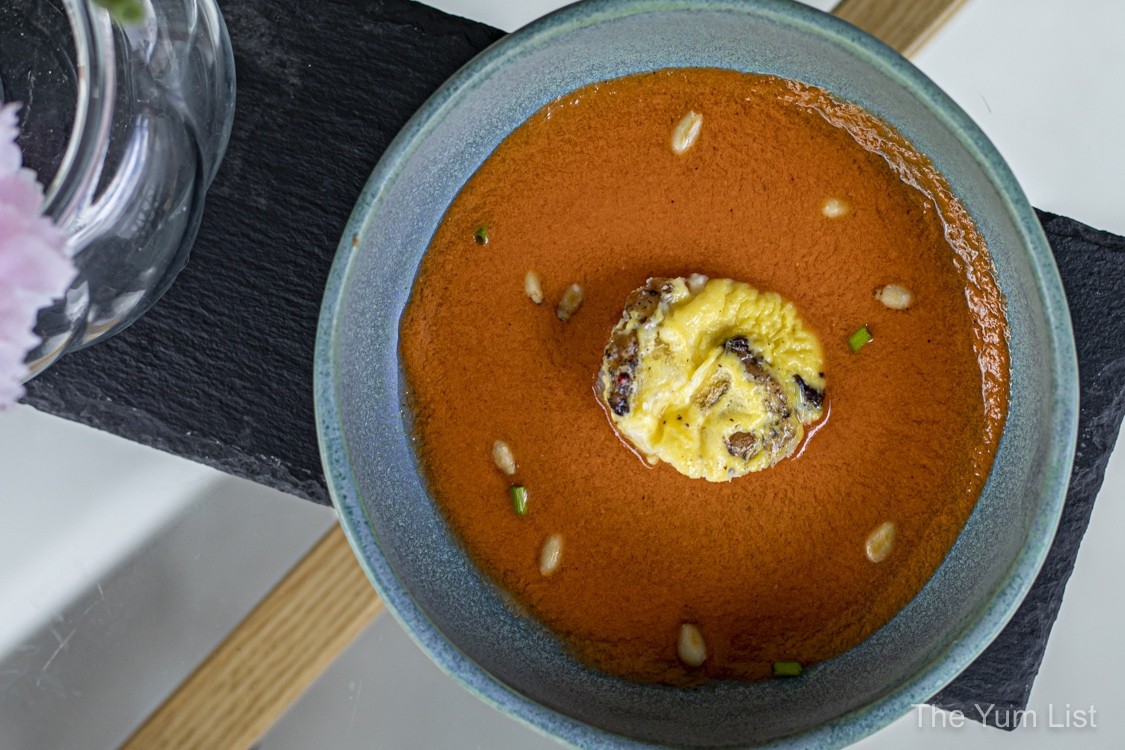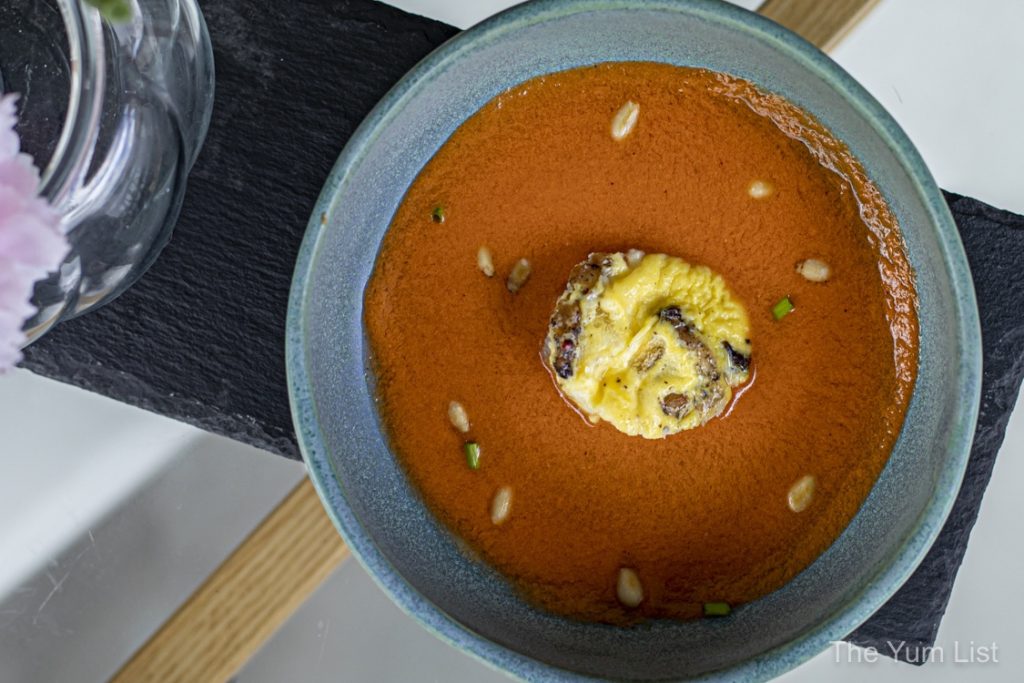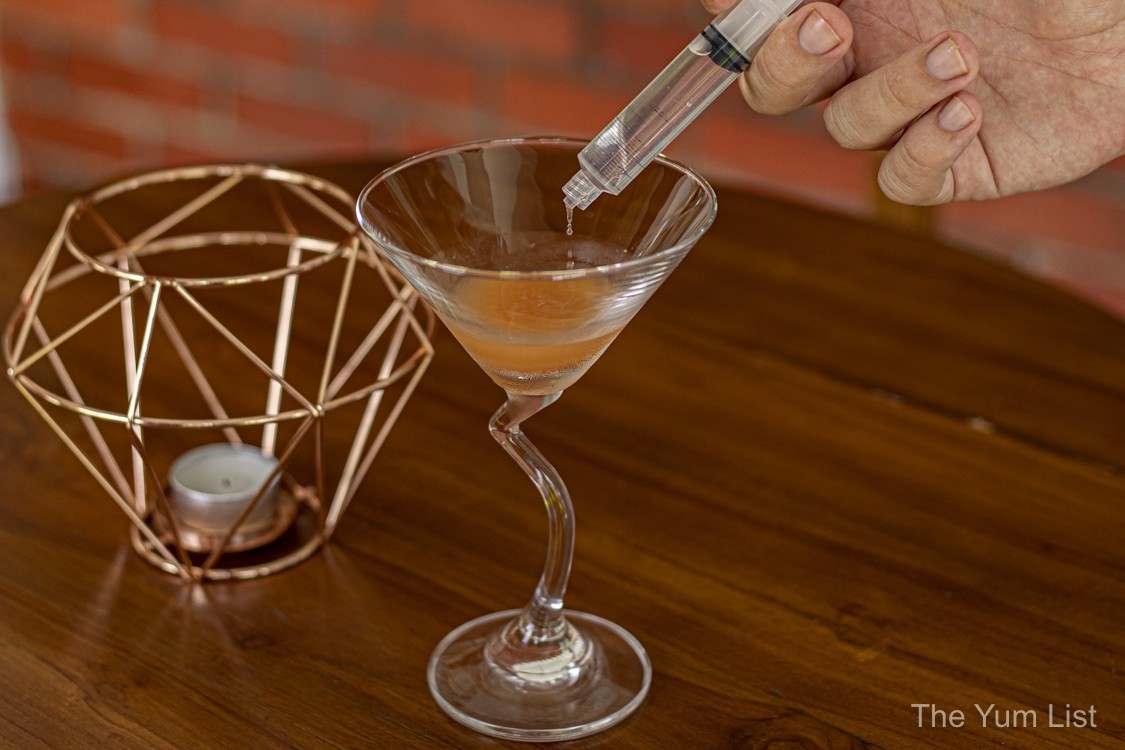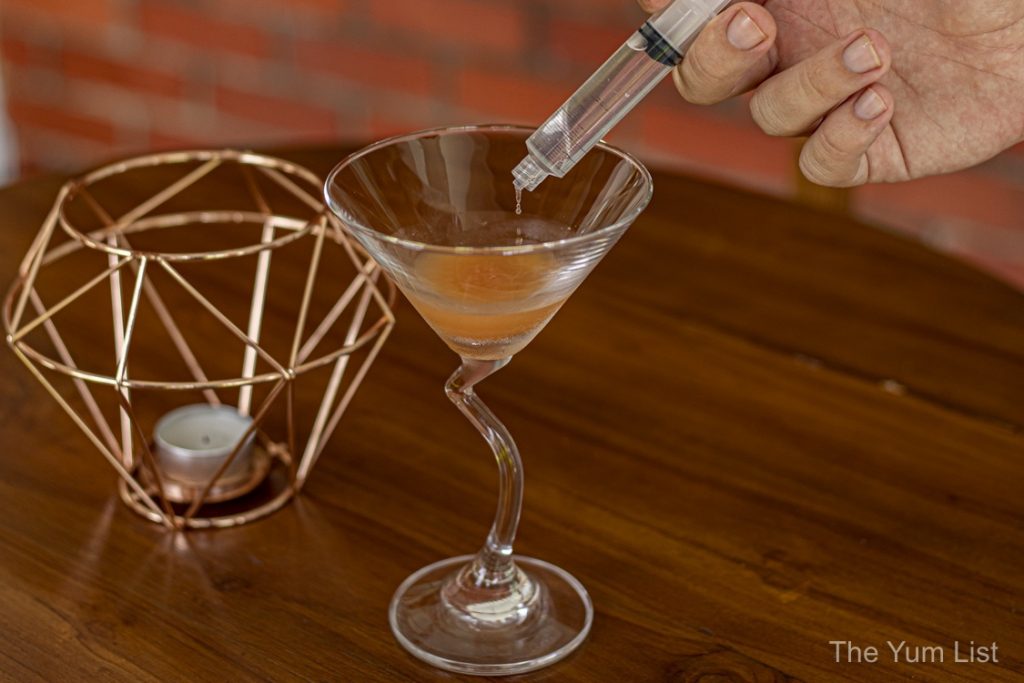 Main One – Octopus
The star of the show, well, at least the dinner part, the octopus is slow-cooked for five hours at precisely 77 degrees Celsius. That meant the octopus tentacle meat was so tender with the suckers like mini bubbles to pop. A slightly smoky flavour could be detected. This compliments the slight brininess of the squid ink noodles that the octopus is served on. My childhood fear of the suckers sticking to my cheeks and thinking the octopus would have the same flavour as if I licked the ocean floor were utterly unfounded. I was always too embarrassed to explain this irrational fear to Spanish Mum. Hence she was so upset that I had never tried it before. Now I can only regret not having pulpo sooner, but maybe I was destined to try it in the finest way possible. After allowing some time to be lost in a wanderlust daze Chef Jean was back to clear the table.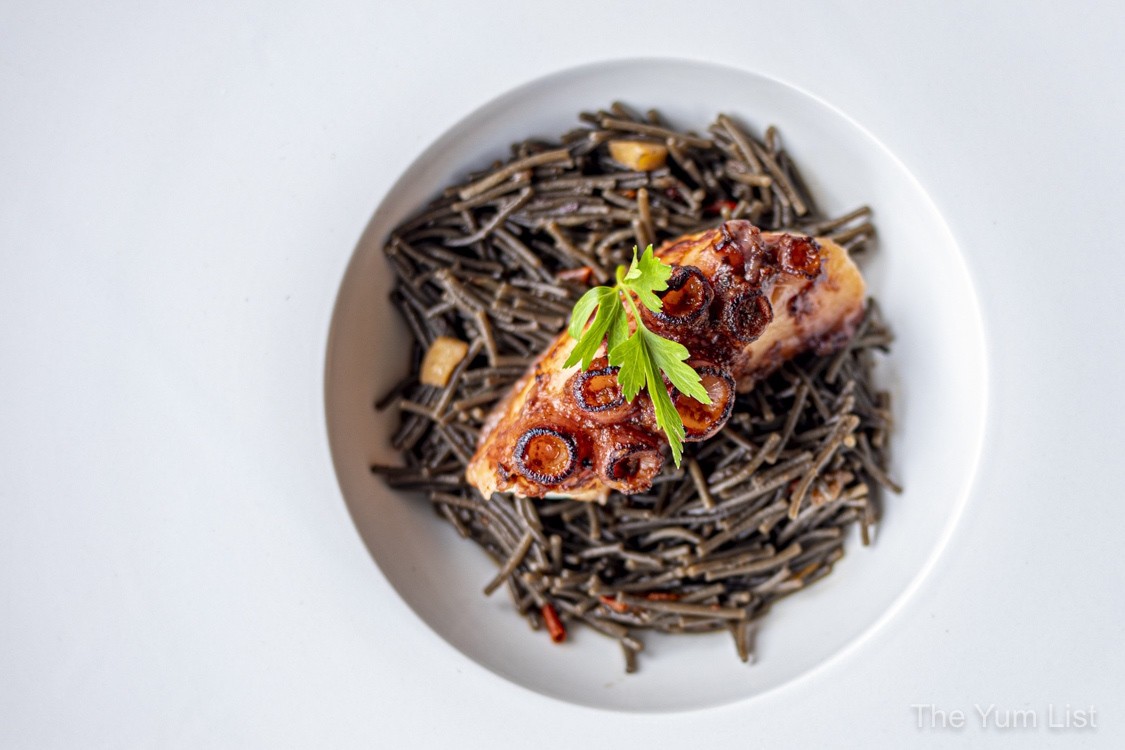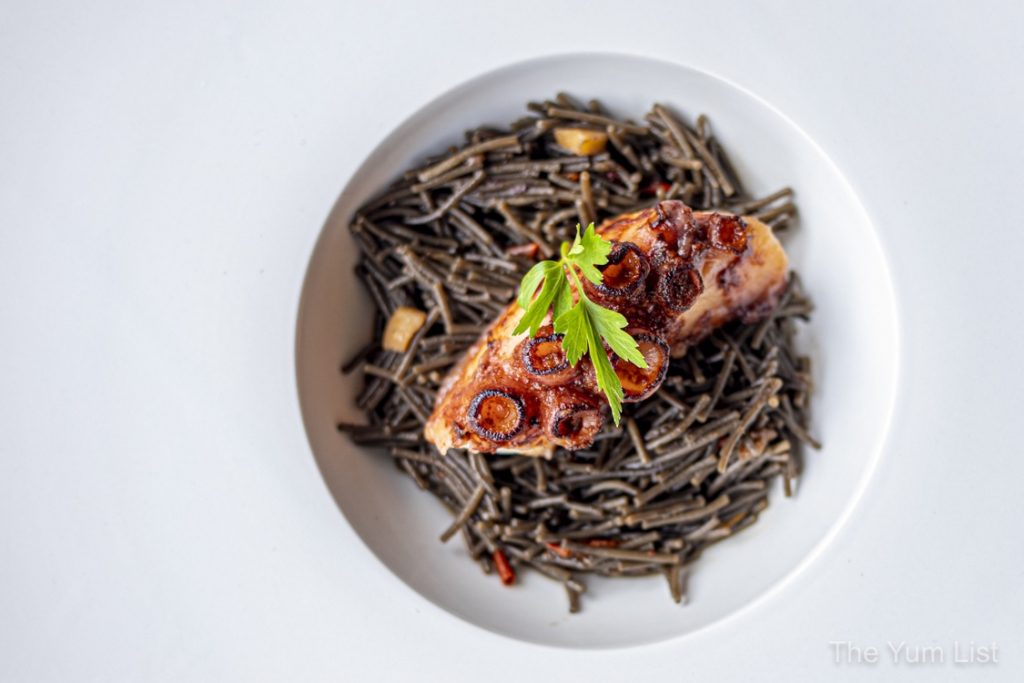 Main Two – Paella Sushi
Paella sushi, yes, you read that right. Chef Jean's playful side came out in this dish as he told us how he invented the idea. I wonder why nobody had thought of it before: it's brilliant! Several 'sushi' portions of paella are topped with a prawn, a chorizo slice or a mussel. The prawn is deshelled, so all you've had to do once you've taken your photos of the culinary genius is de-head and tail them, and then you are ready to eat. As you would expect nothing less from Chef Jean, the prawn is fresh and firm, most definitely not over or undercooked, must be his French-ness coming out again.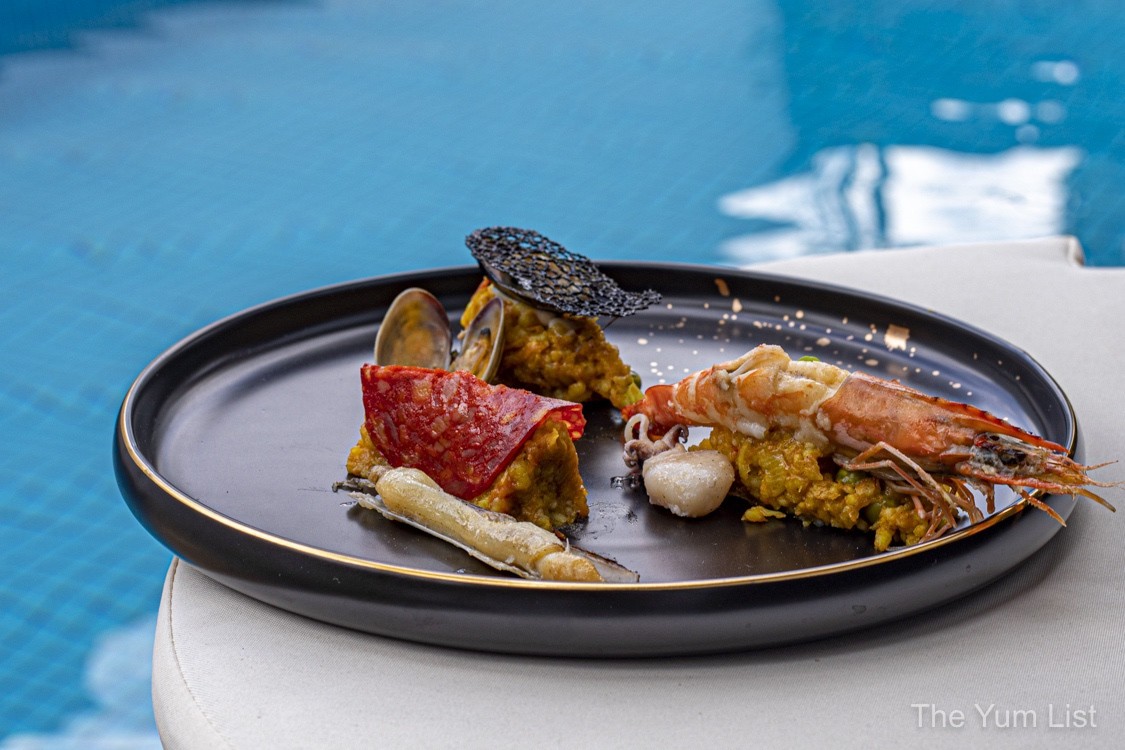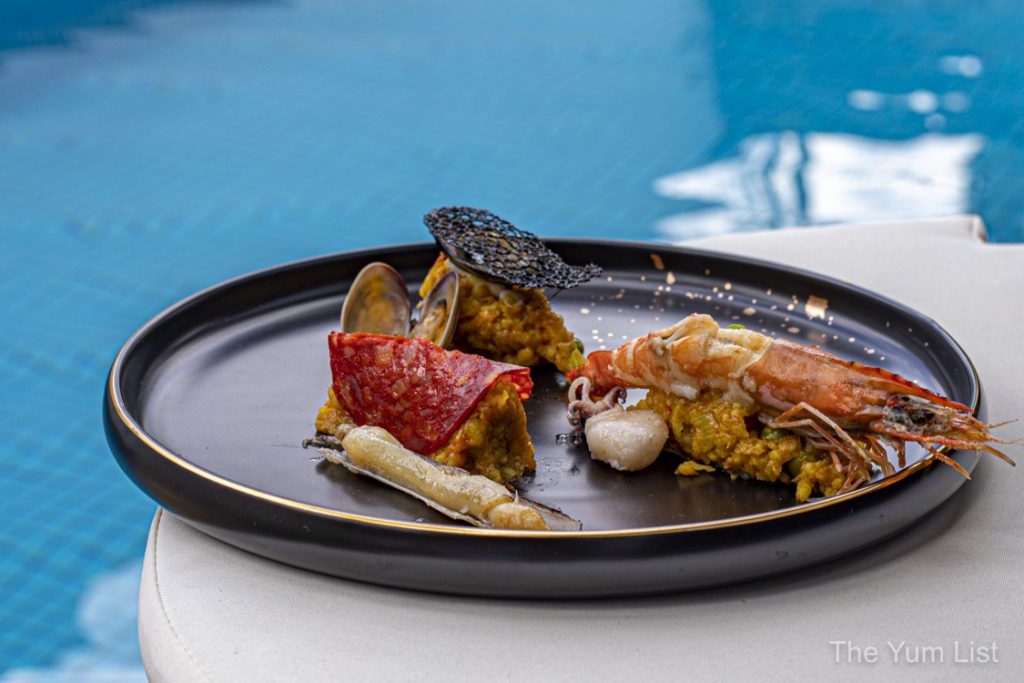 Chef Jean Private Kitchen – Dessert
Three mini desserts were served to each of us; churros, turron ice cream and baba au rhum. On the menu chef was deliberately vague about what desserts were on offer, and that is because he does like to change them depending on the people, what's available, and I imagine his whims. He confirmed they always served churros, probably to avoid a riot. I know I was so excited to see them. I nearly went straight for them; however, ice cream waits for no one.
Turron Ice-cream
Turron is a sweet Spanish nougat. It comes in a variety of forms depending on the region. What is consistent, though, is that they're all delicious. During my time in Spain, I was eternally grateful they were only found in supermarkets at Christmas time, or I would have left Spain the same number of kilograms as Real Madrid's budget. As I bite into the delectably smooth ice cream (sorry for people with sensitive teeth, but you can't hold me back from ice cream!) I tasted the flavour of Spanish Christmas, followed by some lovely almond meal sprinkled through to give the ice cream a change in texture.
Churros with Dark Chocolate Sauce
Now I could focus on the churros. They had a superbly thin, crunchy outside with warm doughnut fluff on the inside. They're rolled in granular sugar for maximum crunch. I couldn't imagine the prestigious Chef Jean knowing how to cook doughnuts. Still, I can imagine him carefully experimenting in the kitchen to find the perfect oil temperature and cooking time for these churros. They come served in individual tiny bowls with the dark chocolate pooling at the bottom – no fear of your friends double-dipping in a communal pot.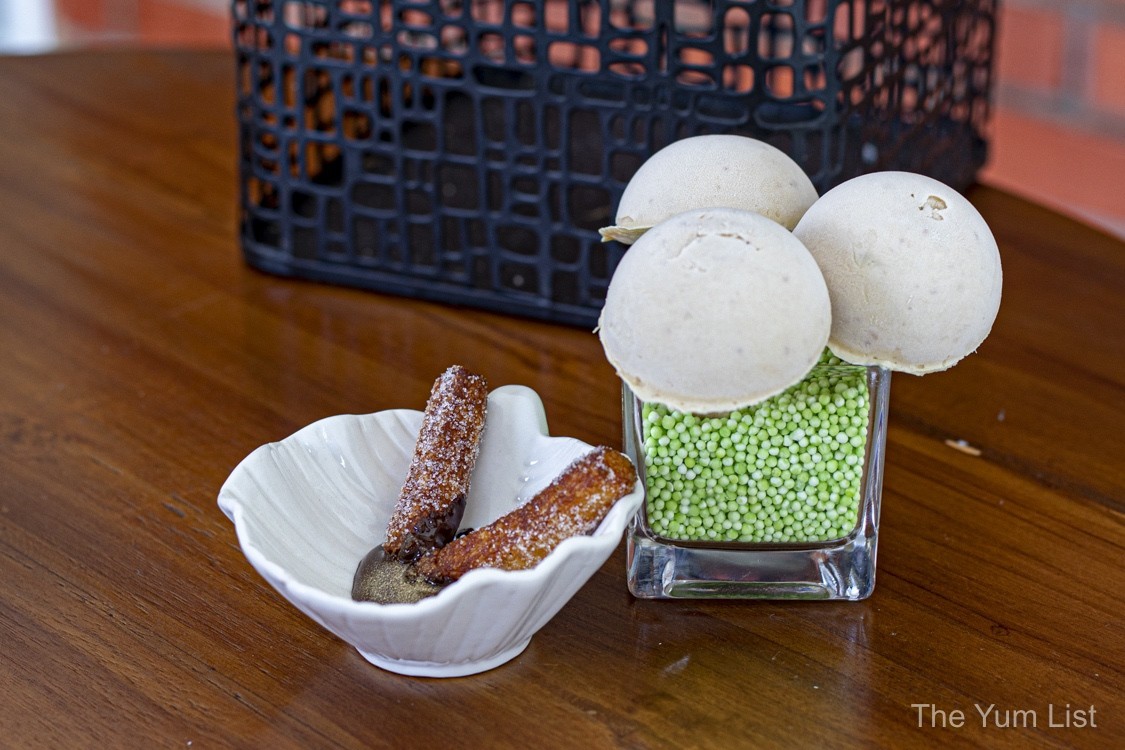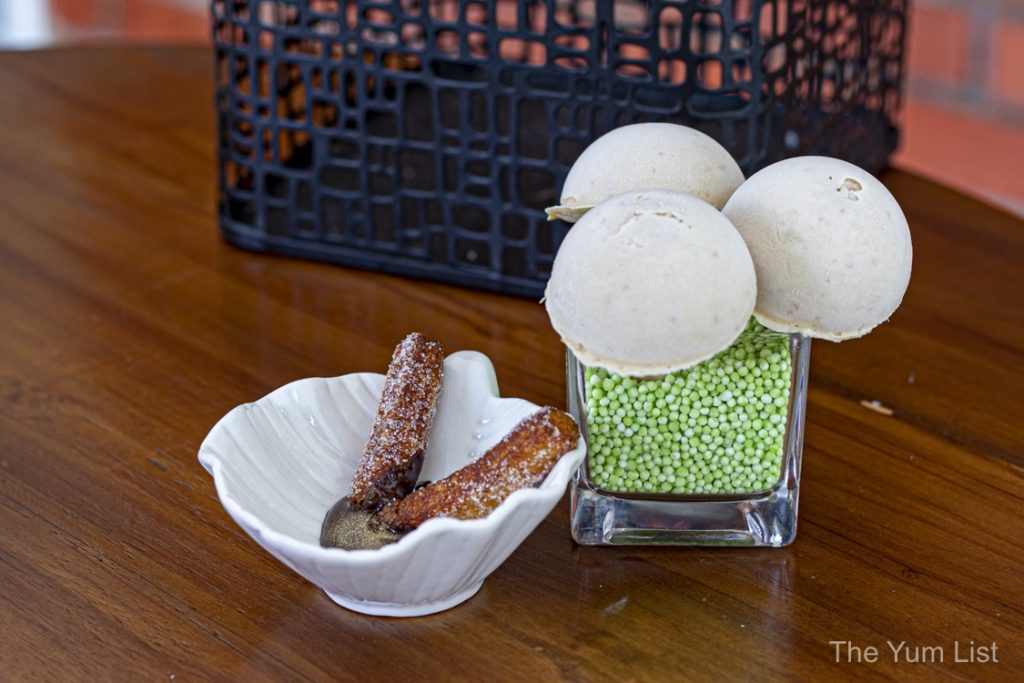 Baba au Rhum
Thankfully, because of Chef Jean's carefully sized portions, I did have room for the third mini dessert. Baba Au Rhum with Tonka bean and Chantilly lace is a lovely light and slightly sticky way to round off the meal.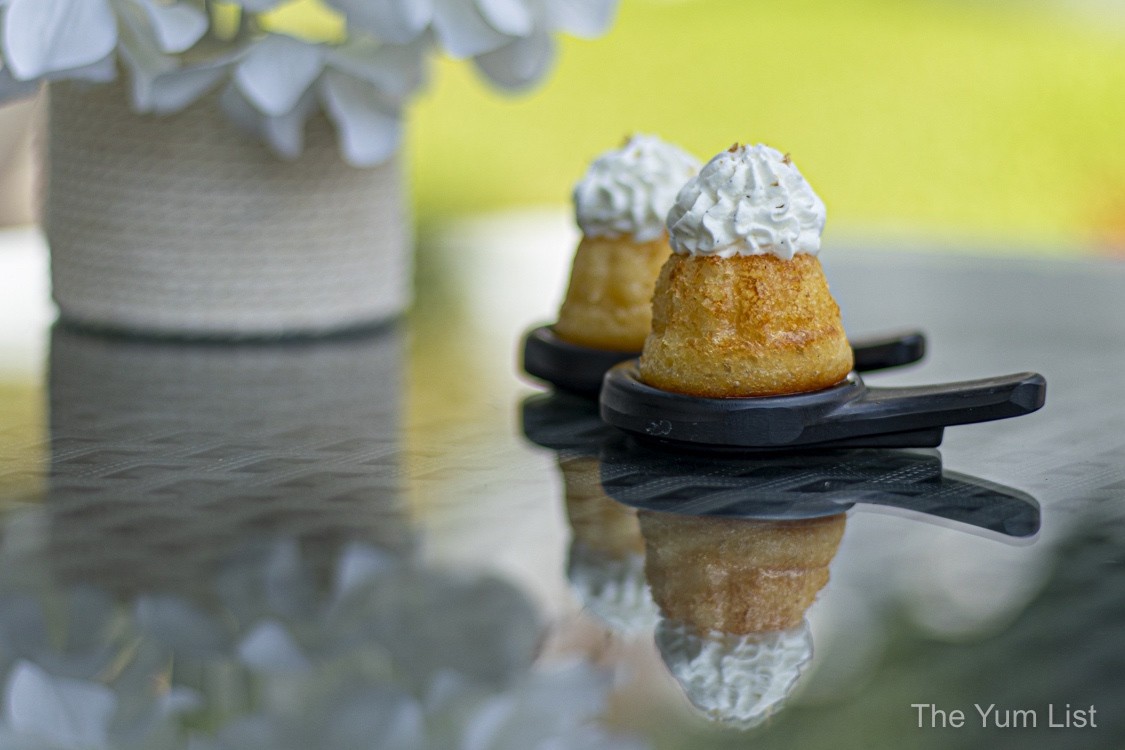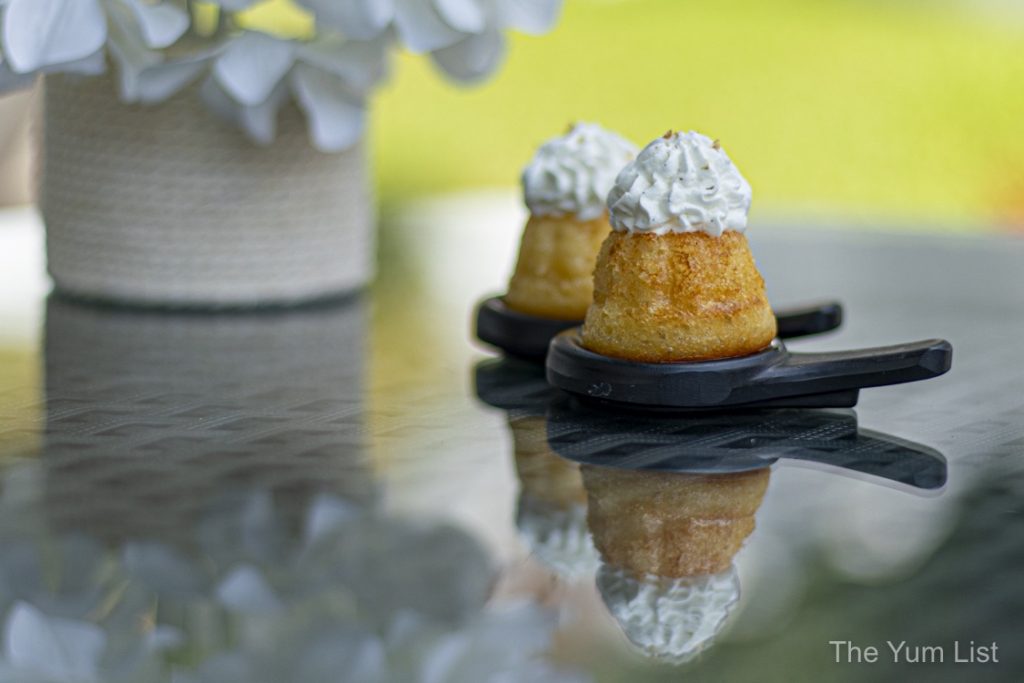 Chef Jean Private Kitchen Review
The French believe you should leave satisfied and only full in flavours. Quality over quantity is their motto, which meant I finished feeling satisfied but not regretful. Furthermore, eating in a private residence means that you're not forced from your table to give way to the next seating. Once you are finished, there's some more time to enjoy your chosen company, sip your coffee and admire the décor and garden. When you're ready to leave chef and his wife, leave you feeling like you're saying goodbye to a friend, and we're already thinking of our next return.
Reasons to visit Chef Jean Private Kitchen: unique and high-quality food experience; excellent event space suitable for intimate dinners or larger gatherings; private; customisable.
Chef Jean Private Kitchen
17a Jalan Setiakasih 7, Bukit Damansara
50490, Kuala Lumpur, Malaysia
https://www.instagram.com/chefjeankl/?hl=en
[email protected]
+60 18 977 6687
Chef Jean Private Kitchen Bookings
Appointments by phone with flexible times and preferred one-week notice
Find more European menus in Kuala Lumpur here and stay up-to-date with the latest gourmet and travel recommendations for Malaysia here and here.