Summer Truffle Menu – Champignons at Oasis
Monica Tindall
Eighteen months ago, I never would have thought that fine dining could be done justice or even attempted via delivery. However, restaurants continue to prove, through adaptability and innovation, that where there is a will, there is a way. Champignons at Oasis, headed by chef Gary Chang, demonstrates this with the Summer Truffle Menu.
Summer Truffle Menu
A three-course meal (RM158) offers a starter, main and dessert, and the four-course (RM188) includes two starters, a main course and dessert. With the summer truffle menu theme, you can be assured of generous shavings of these black beauties.
The summer truffle has a more delicate flavour than its winter or autumn counterparts. I think they are well suited to the elegant dishes of fine dining. You'll find a deep dark coat on the outside, but the inside (the gleba) is a maze of white veins. They are beautiful when finely sliced.
We try the amuse-bouche of Champignons' summer truffle menu, a starter, three of their mains and dessert – or rather for us non-sweet tooths, a cheese plate.
Amuse Bouche
Atop a dune of salt and herbs sits truffled scrambled egg spilling from an open eggshell. It's textured with gammon ham, and homemade bread and yuzu butter make an excellent scoop for the egg.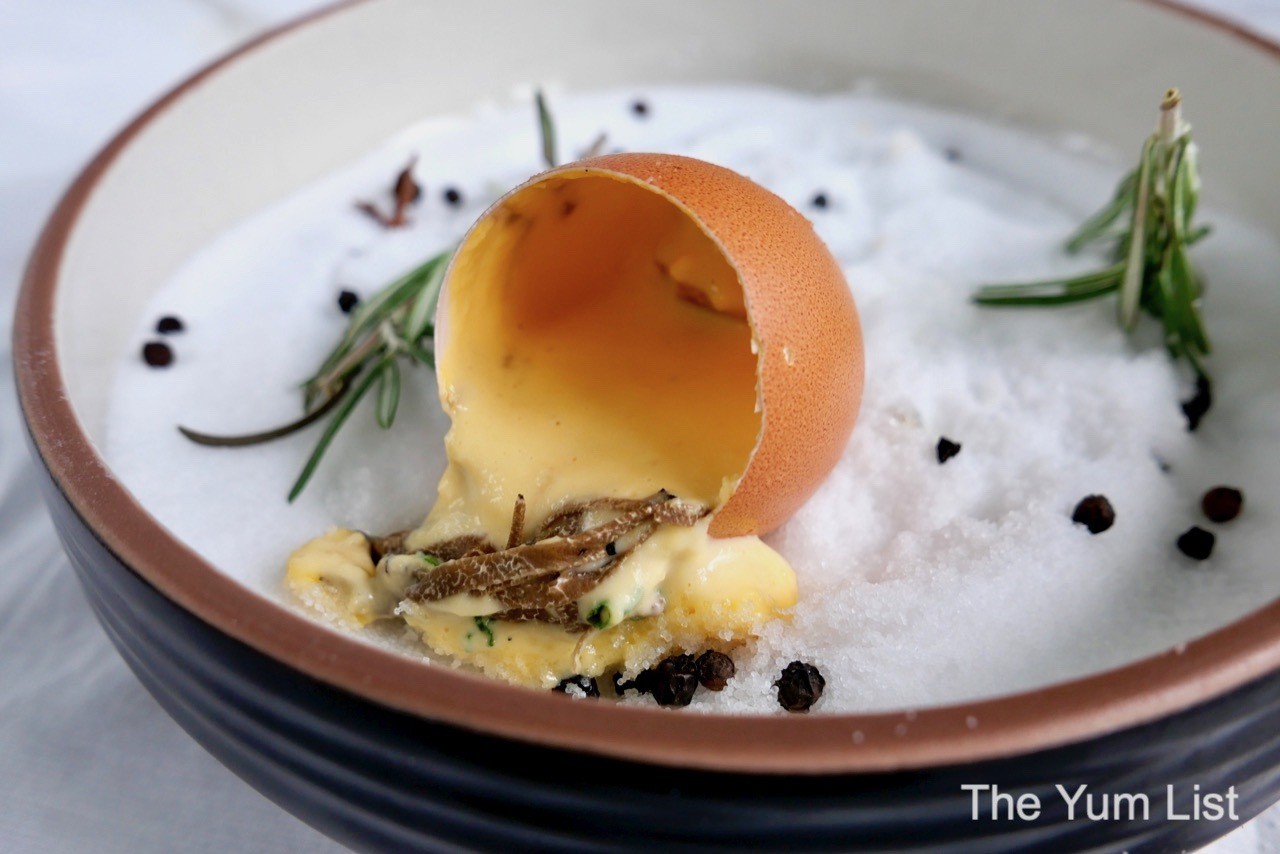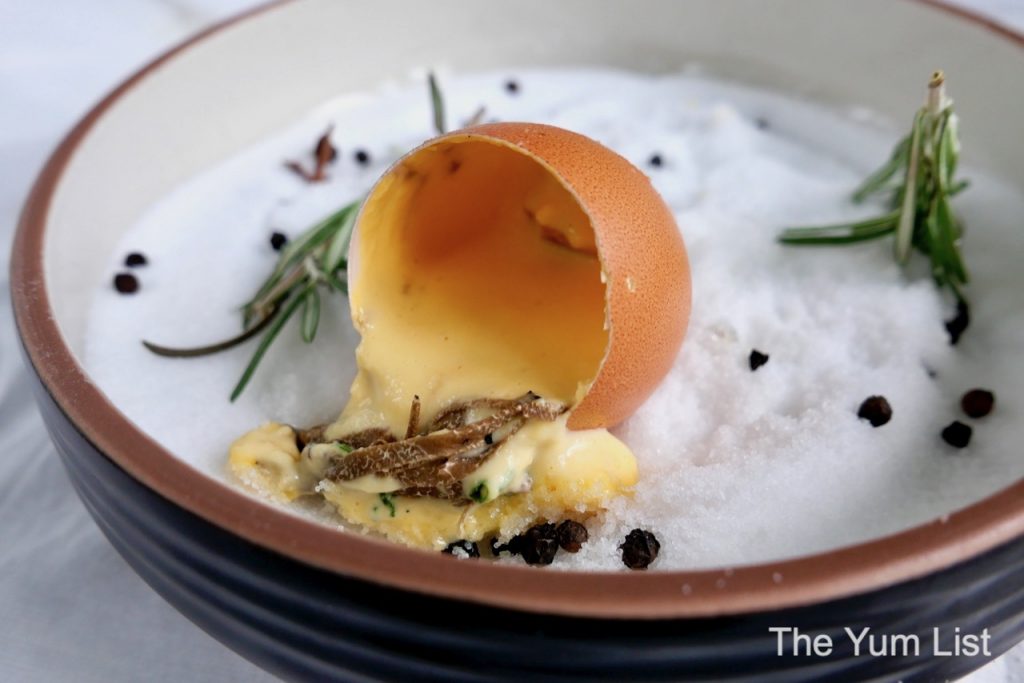 Starters
Starters, just like the mains, are truffle-abundant in the three options. Foie gras plays a supporting star role, but as we don't indulge in the fattened goose liver, we choose the Summer Truffle Beef Tartare. The finely chopped beef is strikingly topped with rolls of pickled beet. Crunchy crisps of beef tendon and bread chips add contrasting texture.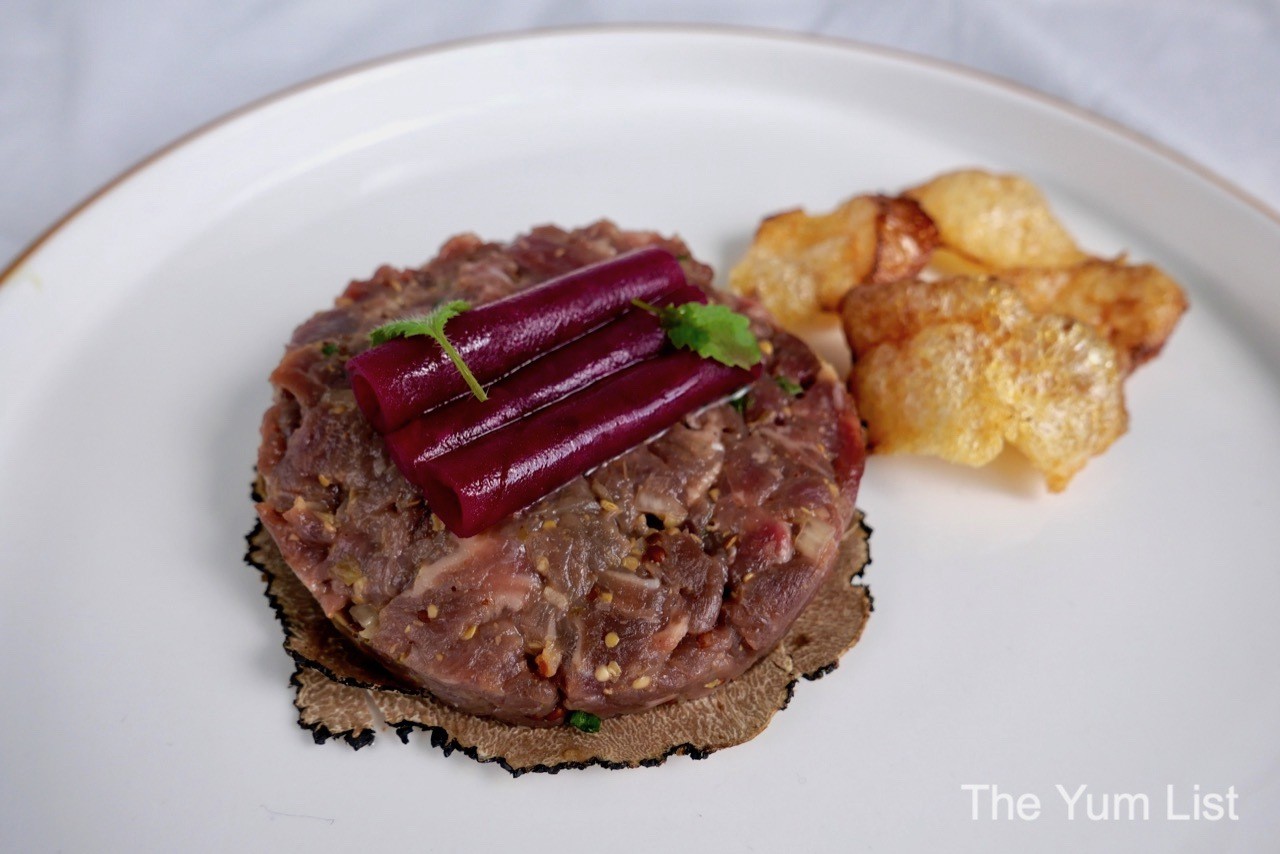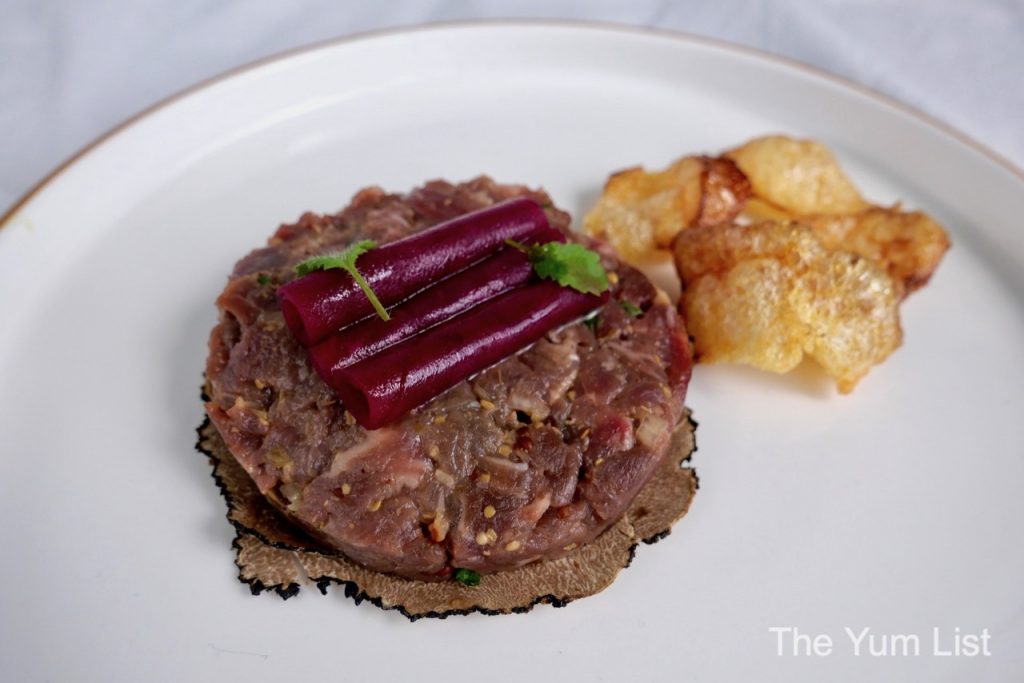 Mains
A choice of three main courses is provided in the summer truffle menu – pork, chicken and beef.
The Grilled Spanish Pork Burger is superbly juicy. The homemade patty oozes with liquid at the slightest squeeze. Of course, there's plenty of fresh truffle topping the other ingredients of cheddar cheese, lettuce and bacon jam. Fat hand-cut fries complete the recipe.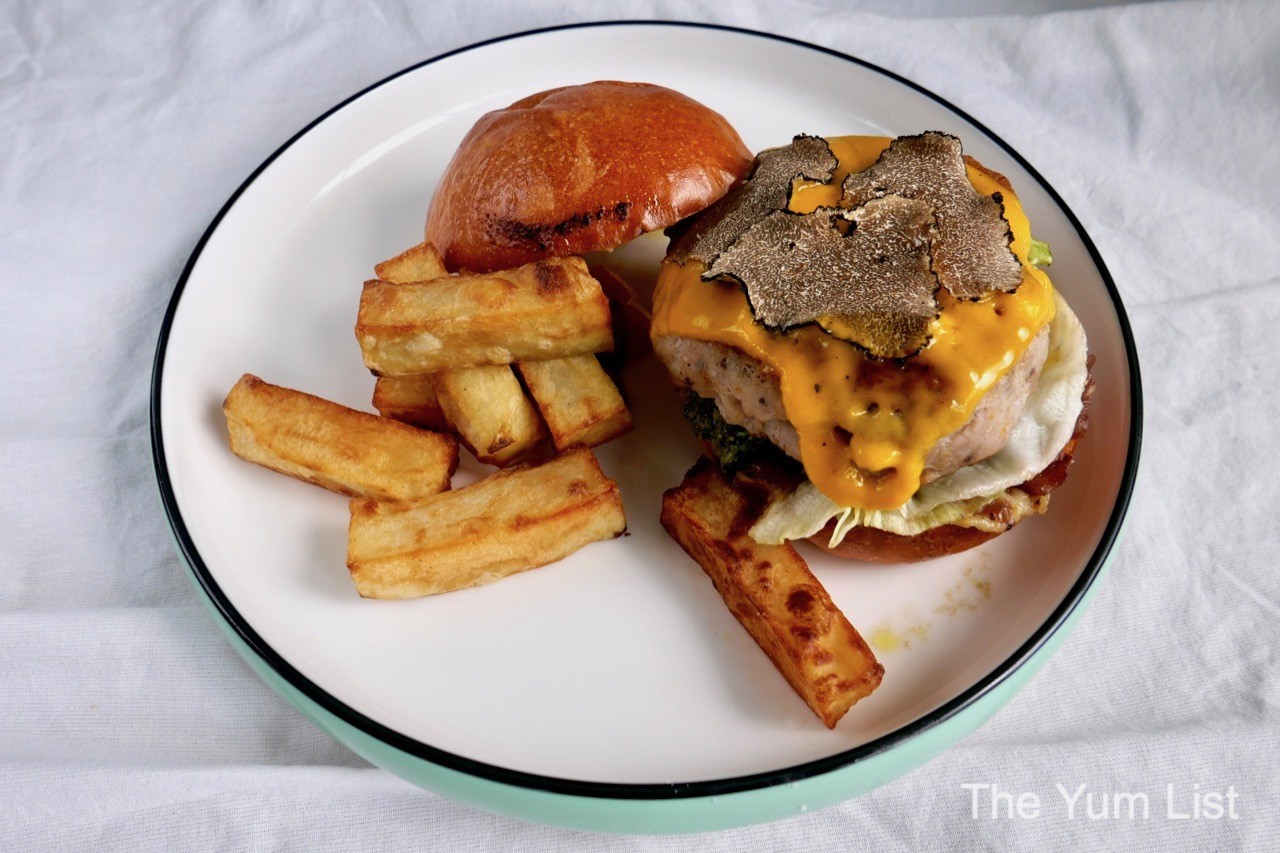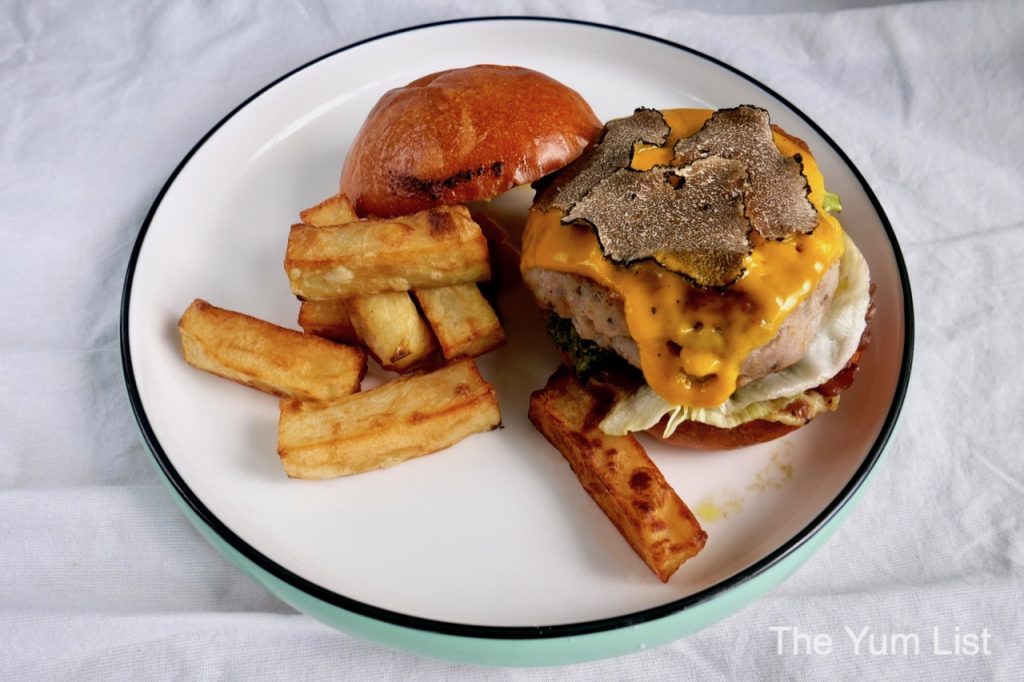 Hubby finds the Truffle Chicken Breast too mild in flavour for his tastes, but I think it's superb. I am impressed with how moist chef Gary has managed to make the breast and appreciate the subtleties of each ingredient. The middle is stuffed with fresh truffle, and there are more slices and truffle emulsion on top. I'm also rather fond of the firm bite in the green pea risotto.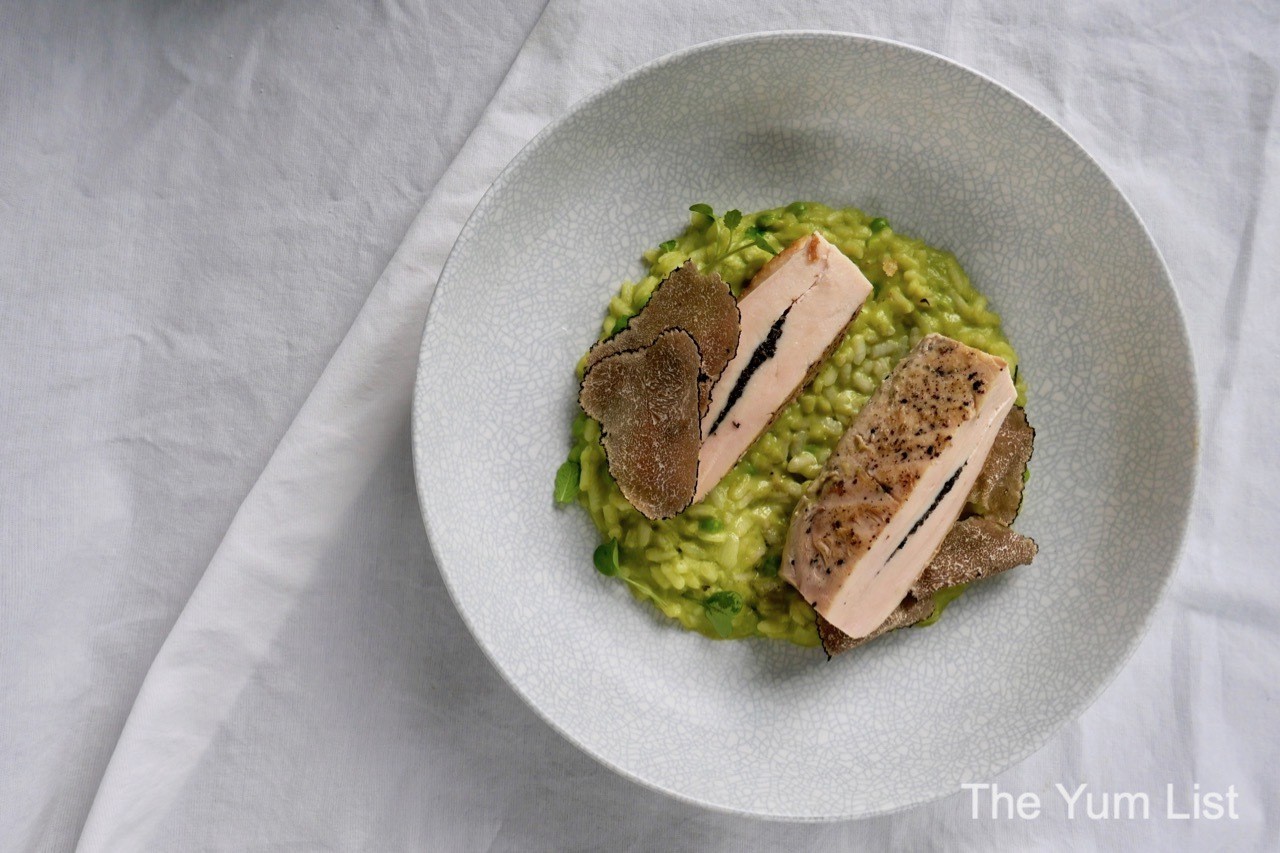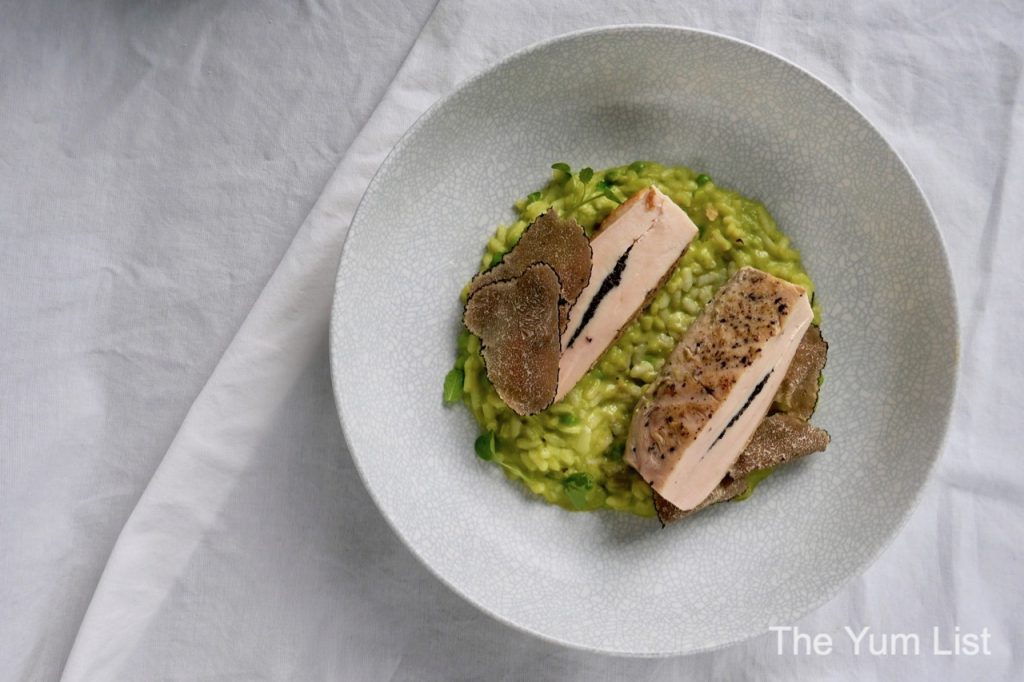 Lastly, you can lush up your meal by topping up RM35 to get the Australian Wagyu Beef Striploin MB6. It's pink in the middle, with one end covered with truffle shavings. Asparagus puree, cabbage roll, and truffled beef jus finish it off with style.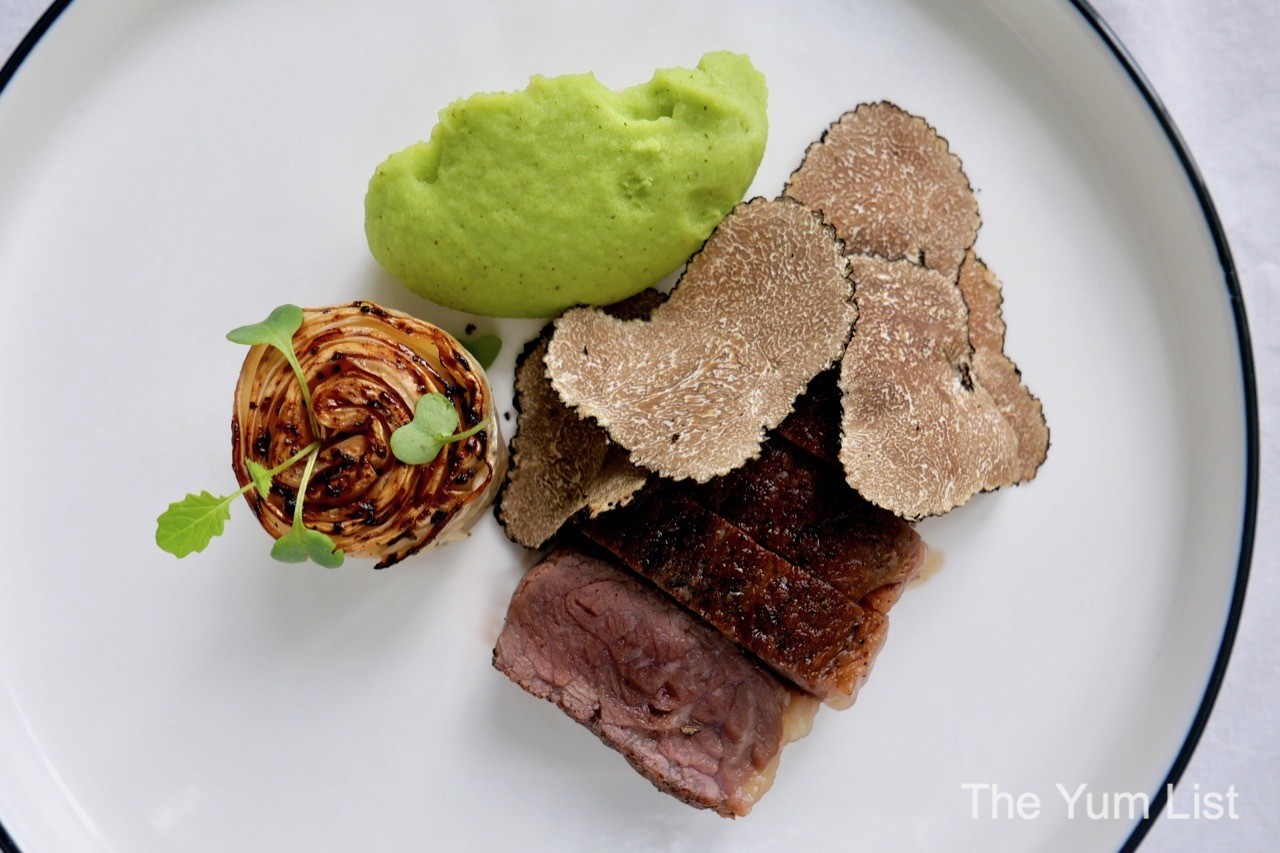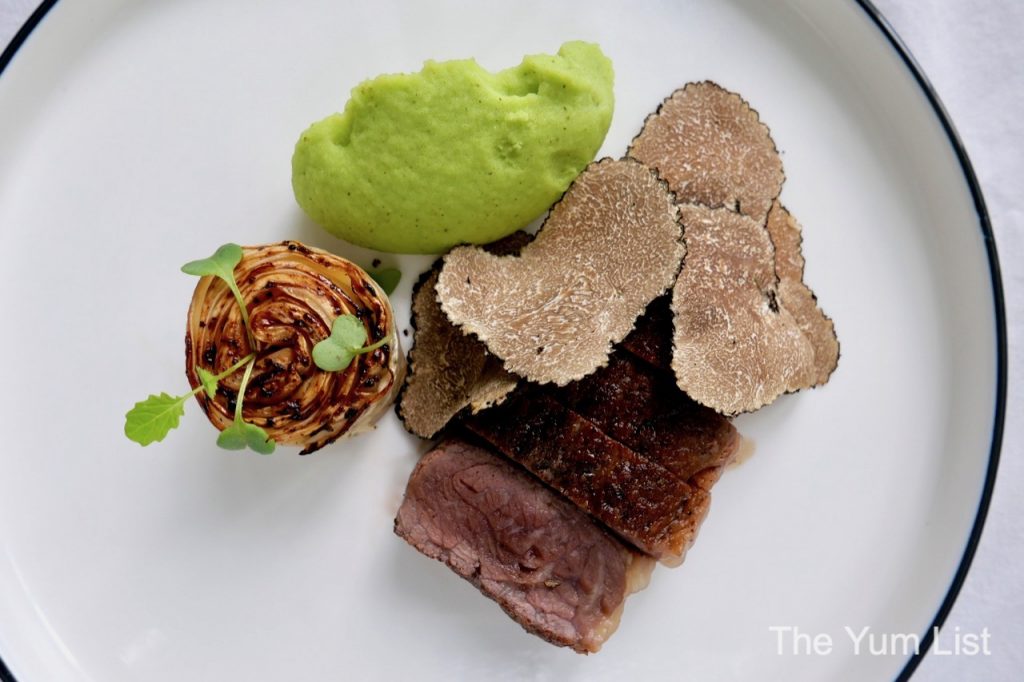 Summer Truffle Menu – Dessert
Strawberry and Black Diamond Trifle is offered for those who like to end with something sweet, or a Truffle Brie Cheese platter for those who don't. Again, the starring ingredient carries all the way through to the end – found in the core of the most wonderfully soft and melty brie cheese. Pistachios, apricot compote and crackers provide balance.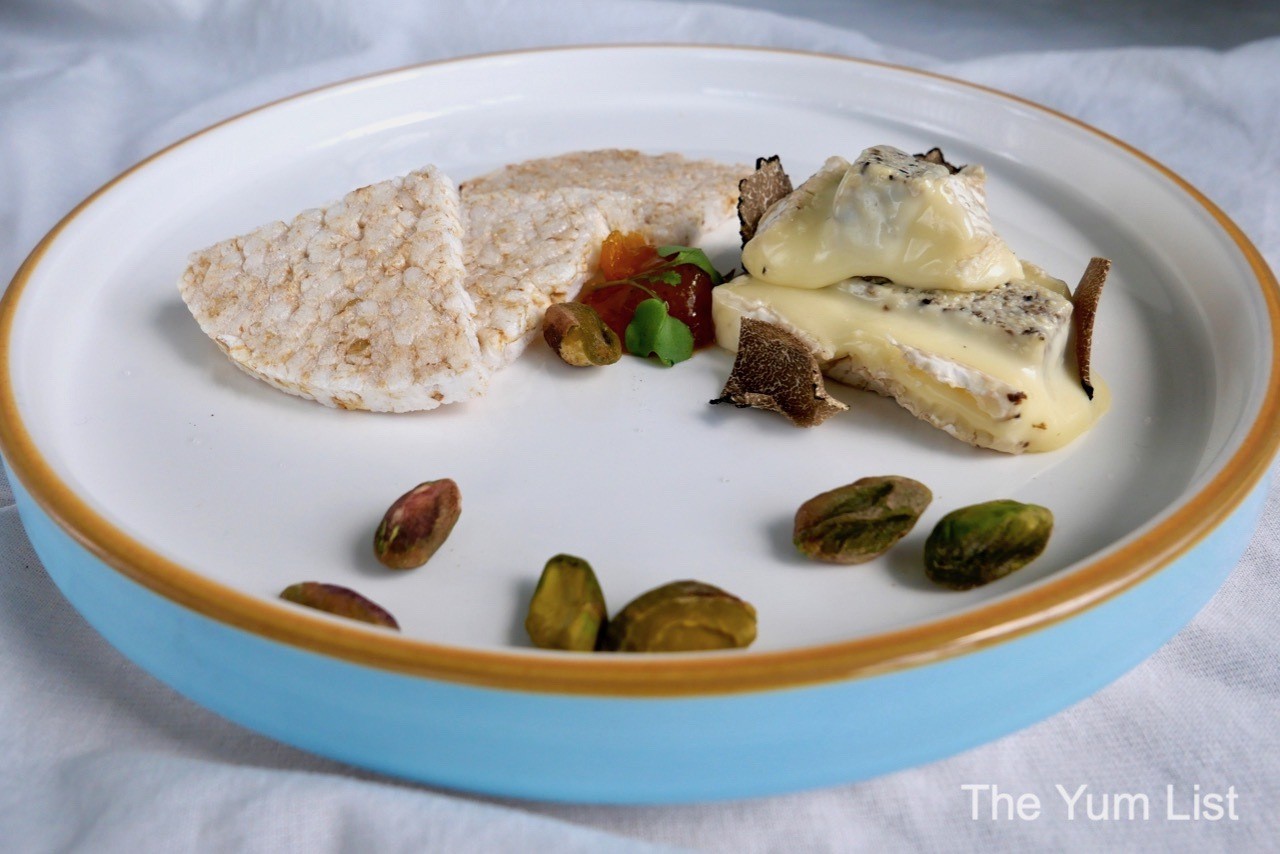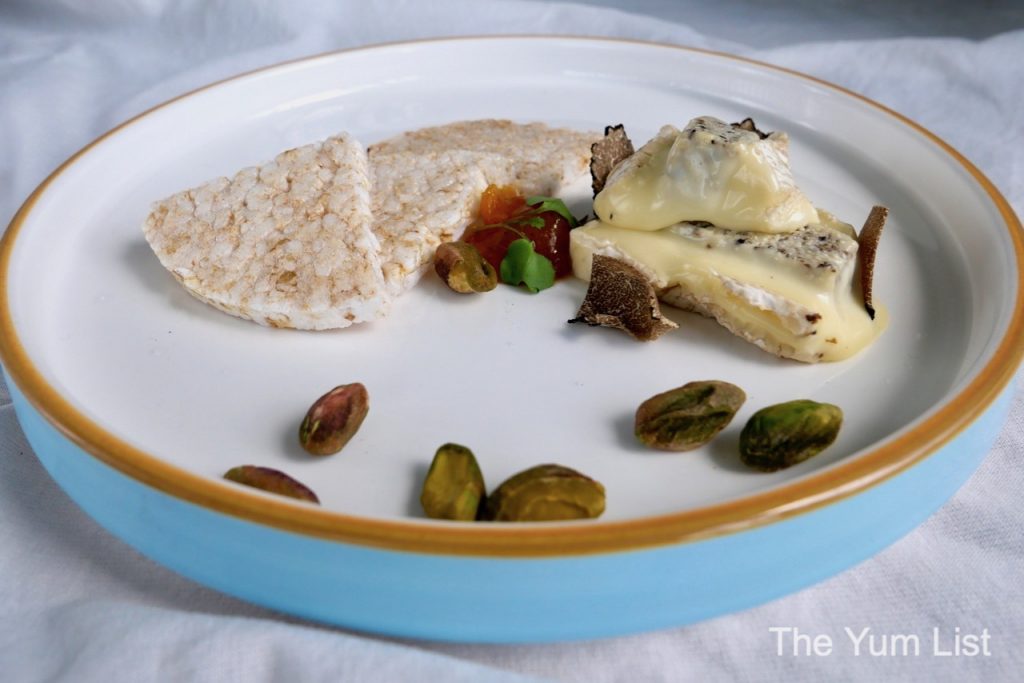 The Champignons Burger
If you're looking for something special, but don't want to order a complete three or four-course meal, then The Champignons Burger (RM 68) might be for you. A freshly ground wagyu beef patty sits with truffled brie cheese, scallion pesto and beef bacon jam between a buttery brioche bun. Smaller in size, the bun looks more like a top hat over the fat patty that hangs out of the edges. Crispy shoestring potato fries are crunchy and an apt contrast to the soft burger.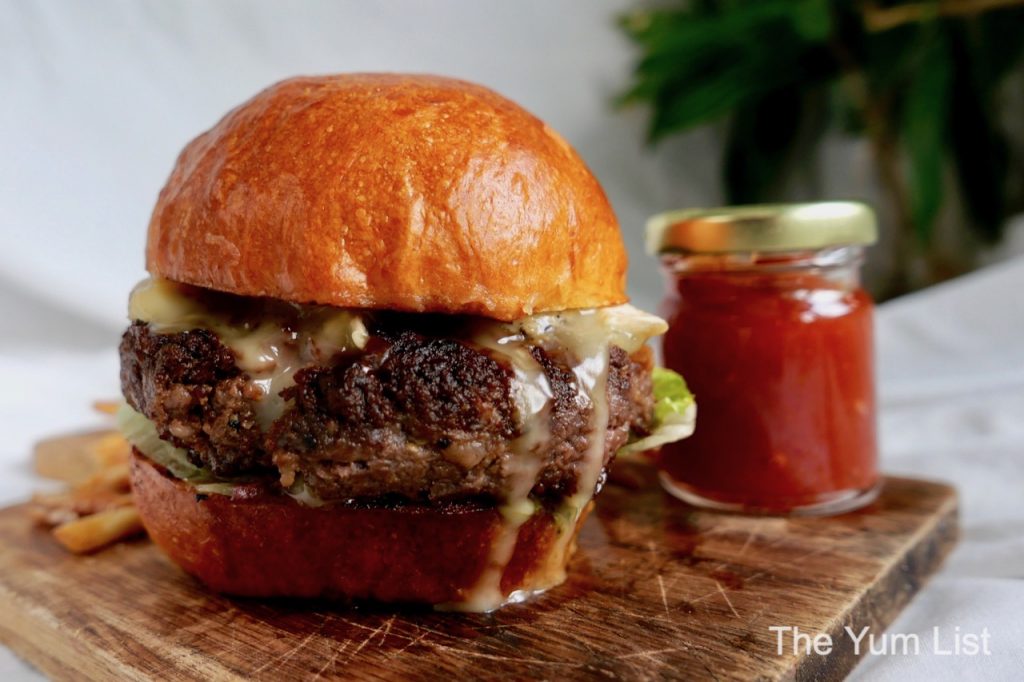 Summer Truffle Menu at Champignons
To order the summer truffle menu or burger, call +603 7832 2629 or WhatsApp +6012 884 9189 to arrange delivery or self-pickup. Find the menu offered for the rest of July below.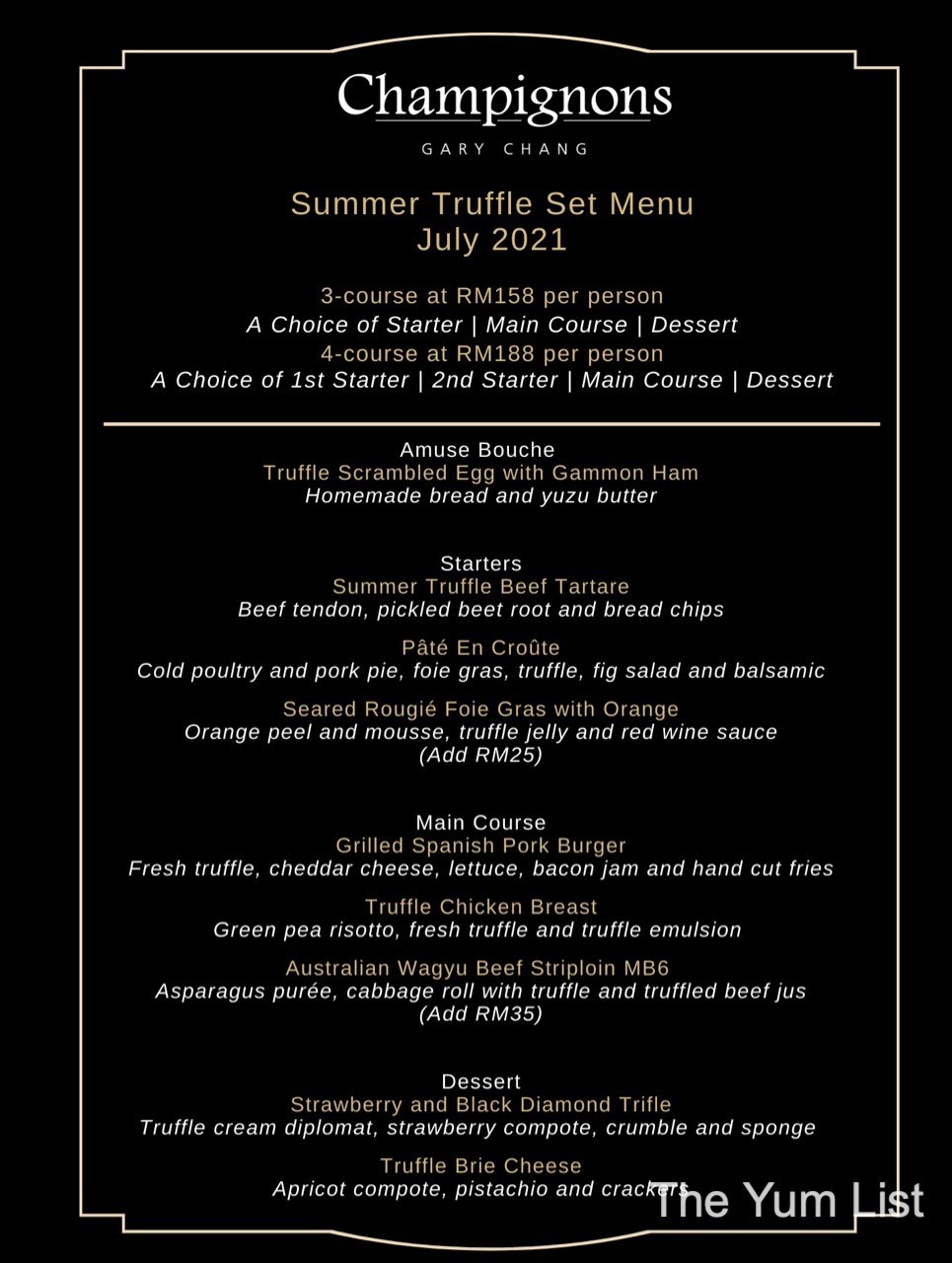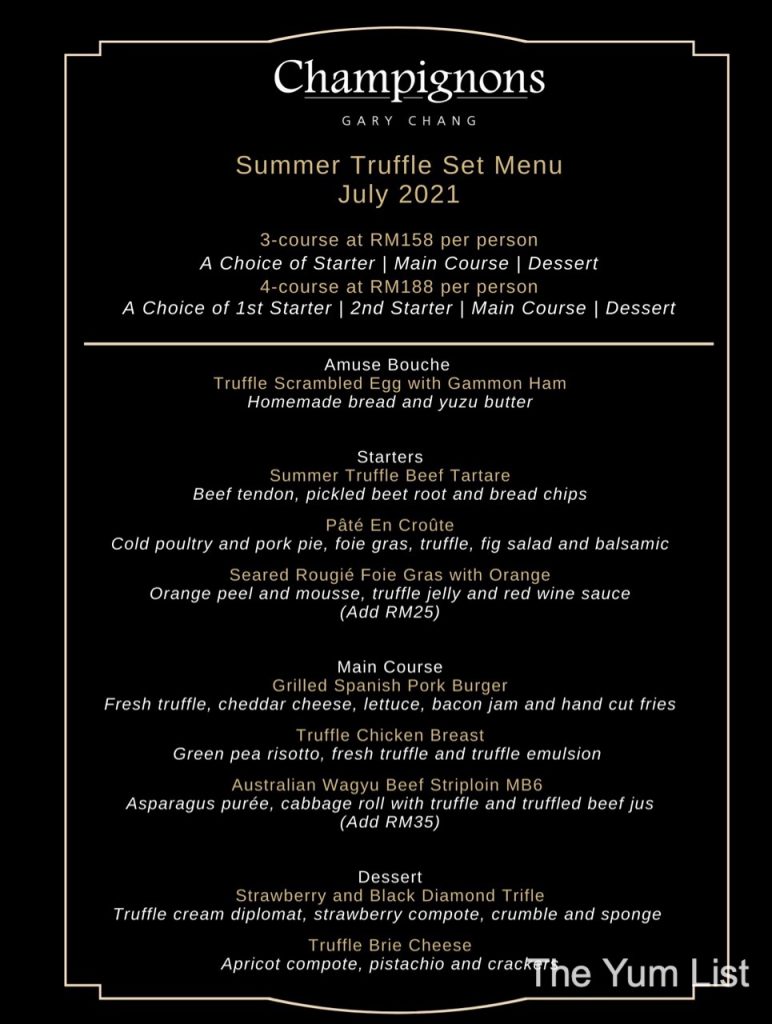 Champignons at Oasis
B-G-02, Oasis Square, Ara Damansara
47301 Petaling Jaya, Selangor
Facebook
Instagram
Find more delivery options in KL here and stay up-to-date with the latest gourmet and travel recommendations for Malaysia here and here.