Cocktails to Go – KL
Monica Tindall
As there seems no end to groundhog day, we are finding ourselves more and more in need of some uplifting spirits. Fortunately, several bars around Kuala Lumpur are happy to oblige with cocktails to go (they do serve food too, but for this purpose, we're focusing on their liquid menu)! Whether it's the classics or creative concoctions, lighter or spirit-forward beverages, KL bartenders are whipping up something for everyone.
Cocktails to Go – KL
Bar-bye specialises in craft bottled cocktails that are affordable and unique. They live by the motto of sustainability, promoting the use of all parts of the ingredients. For example, they use the rind and peel of citrus to make oleo saccharum and cordials. Also, waste is composted and used to fertilise their herb and spice garden. Prices are kept reasonable by using ingredients they grow themselves. The team at Bar-Bye aim to present interesting cocktails using a variety of techniques such as milk washing, fat washing, fermentation and even barrel-aged cocktails.
Each bottle holds 180ml and ranges in price depending on ingredients. Pictured below find: What Is (Low Abv) 7.3% (RM25) coffee-infused Jack Daniels, Campari, Saint Germain liqueur and orange juice; Sunflower 21.4%  (RM55)
with Tanqueray, Cointreau, Saint Germain, absinthe and lemon juice; Green Light, Stop 12.6% (RM45) with Midori, absinthe and lime juice; and lastly, Morning Glory 20.8% (RM55) composed of Tanqueray gin, Cointreau, sweet vermouth, absinthe, milk and lemon juice. Every cocktail comes with its own garnish and recommendations for serving. To order, WhatsApp Paul at +60 14-717 6062 or visit their Instagram page. *Mention the code THEYUMLIST10 to get a 10% discount on your order.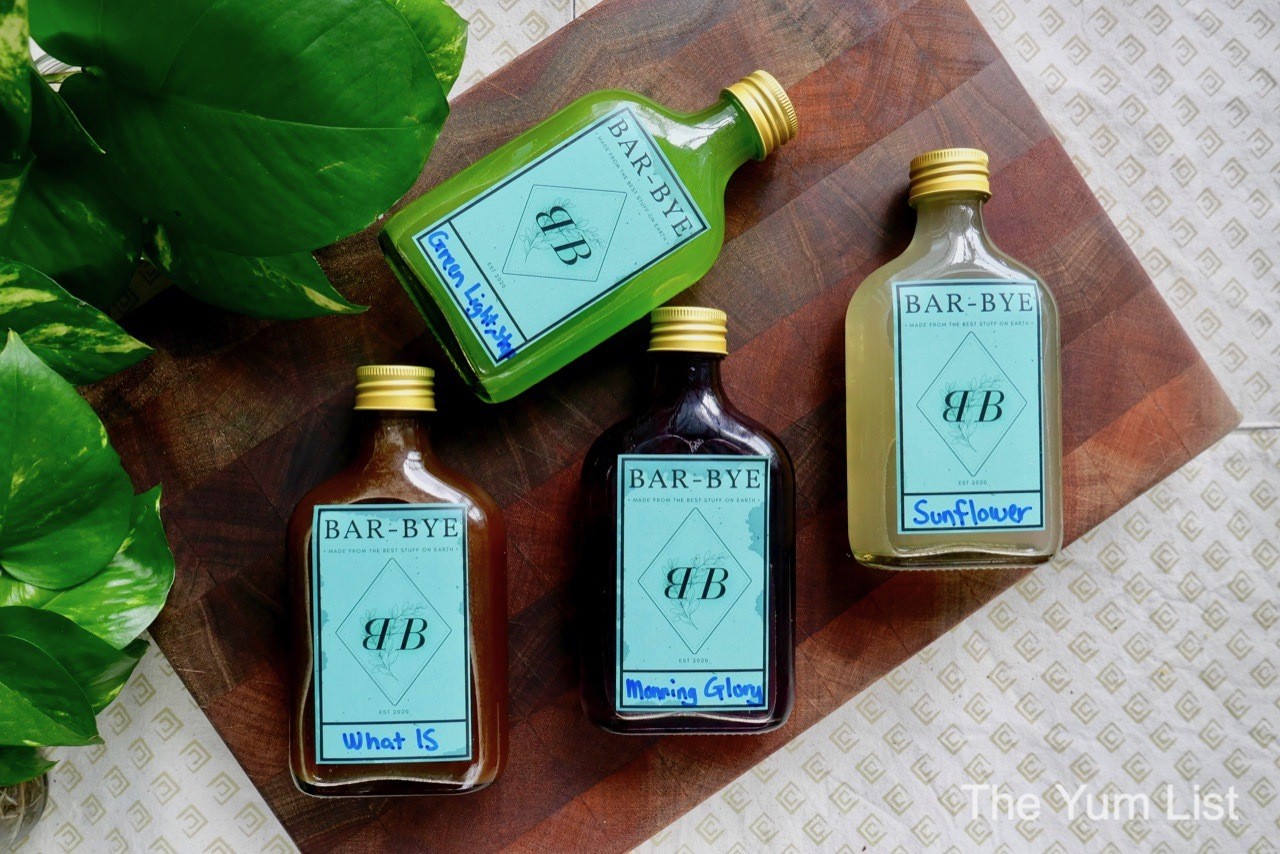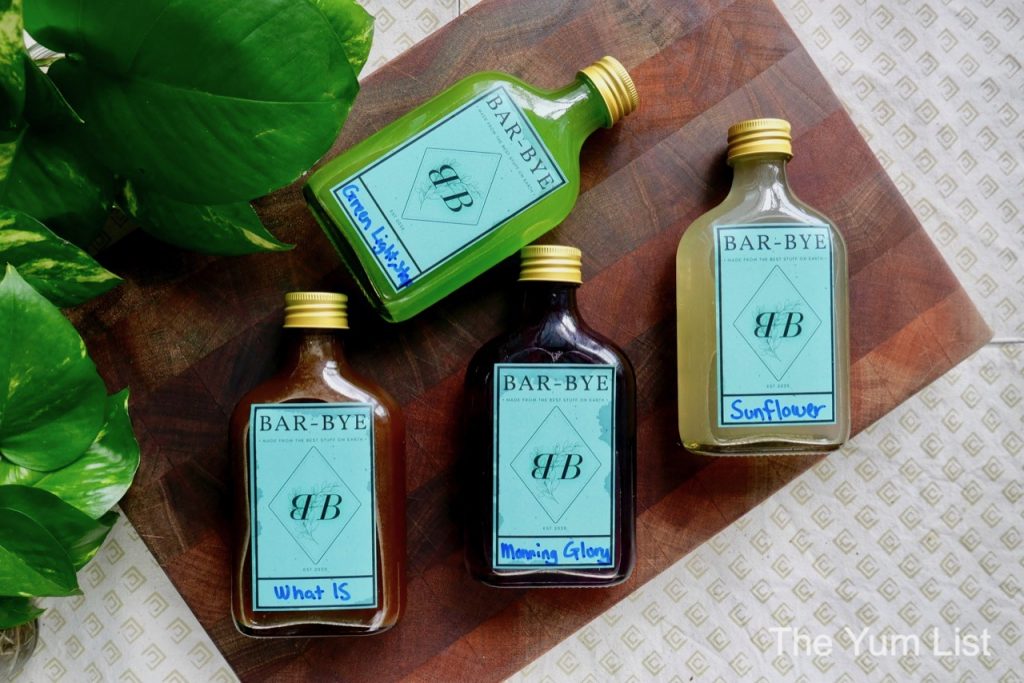 Pahit – For Bitter or Worse
The team behind Pahit have been offering fruit gin and tonics and house cocktails since the first MCO. However, their latest collection has made the Negroni the protagonist. Casting the classic in eight different roles, the base of gin, vermouth and bitters changes character with some light revision by the bartenders. Much like our current situation, the For Bitter or Worse series tries to make the most of the circumstances.
We try the Roasted Peanut (gin, Yzaguirre Rojo, Campari, roasted peanuts), Chamomile (gin, Yzaguirre Rojo, Campari, dried chamomile), Oolong (gin, Yzaguirre Rojo, Aperol, oolong tea) and White (gin, Yzaguirre Dry Reserva, Gentian liqueur). Each bottle is 250ml (RM 65), comes with ice and garnish, and does two servings. I love the classic but it turns out that I'm rather fond of the tea twists as well.
To place an order or for more info, WhatsApp +6011 2339 2756. Pahit is open for delivery or takeout from Thursday to Sunday from 11 am until 7 pm.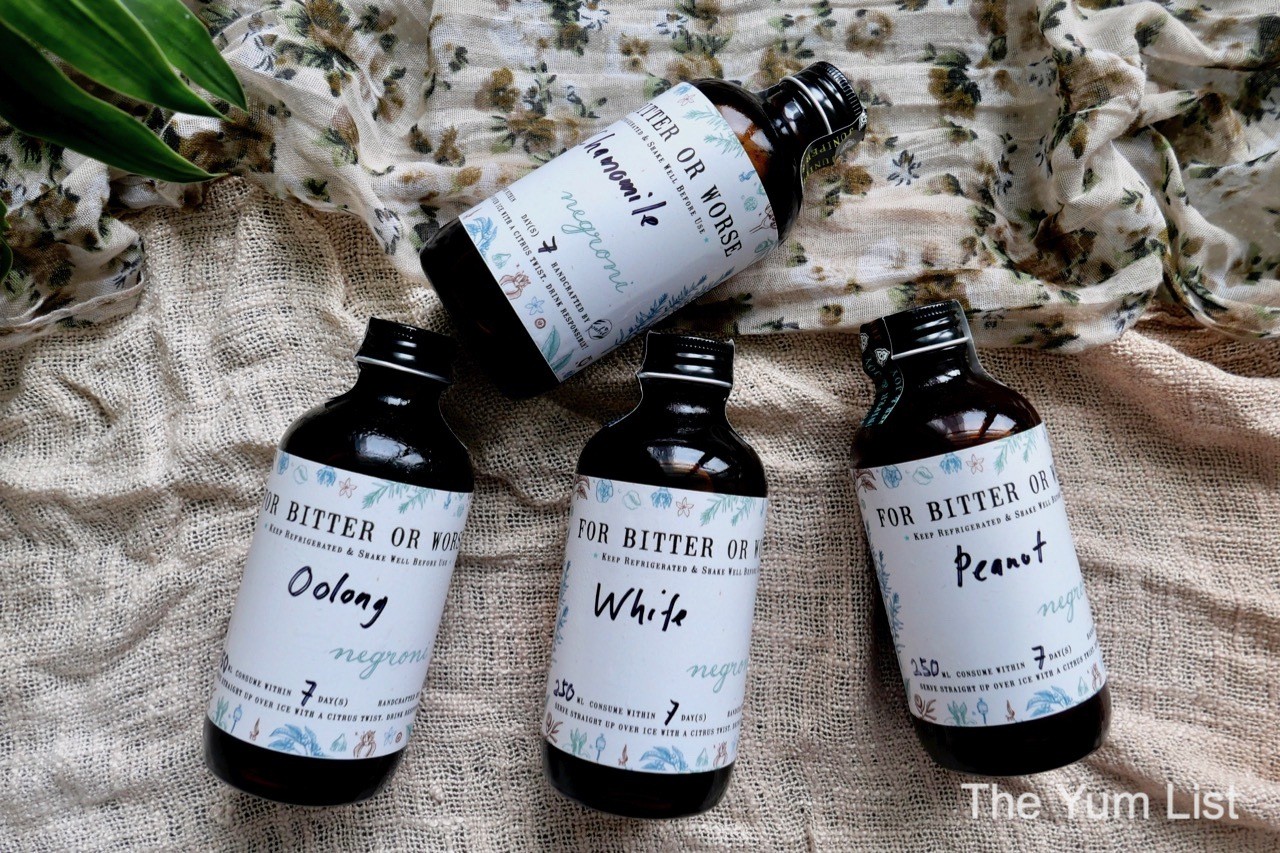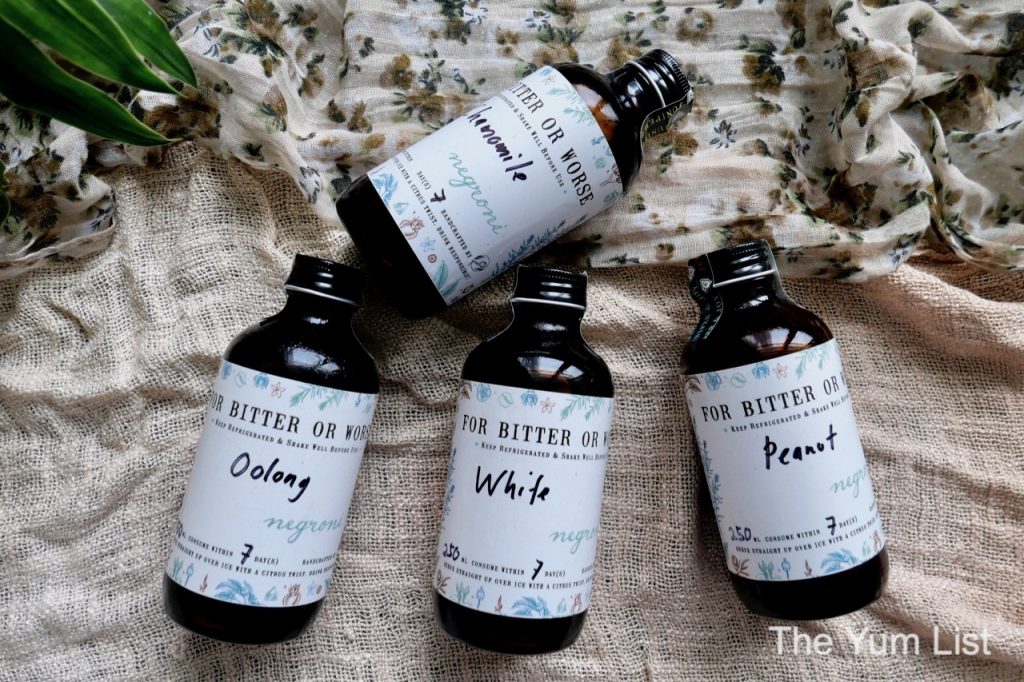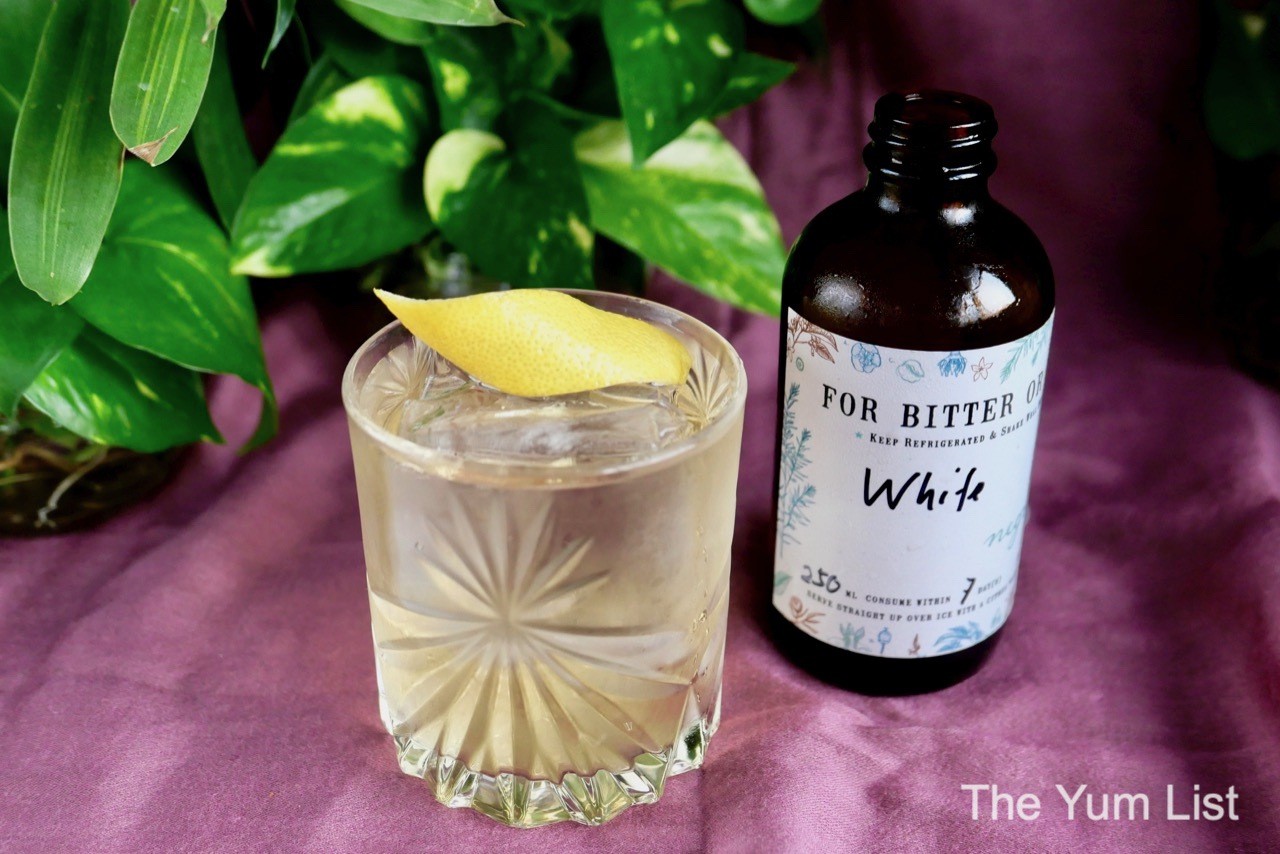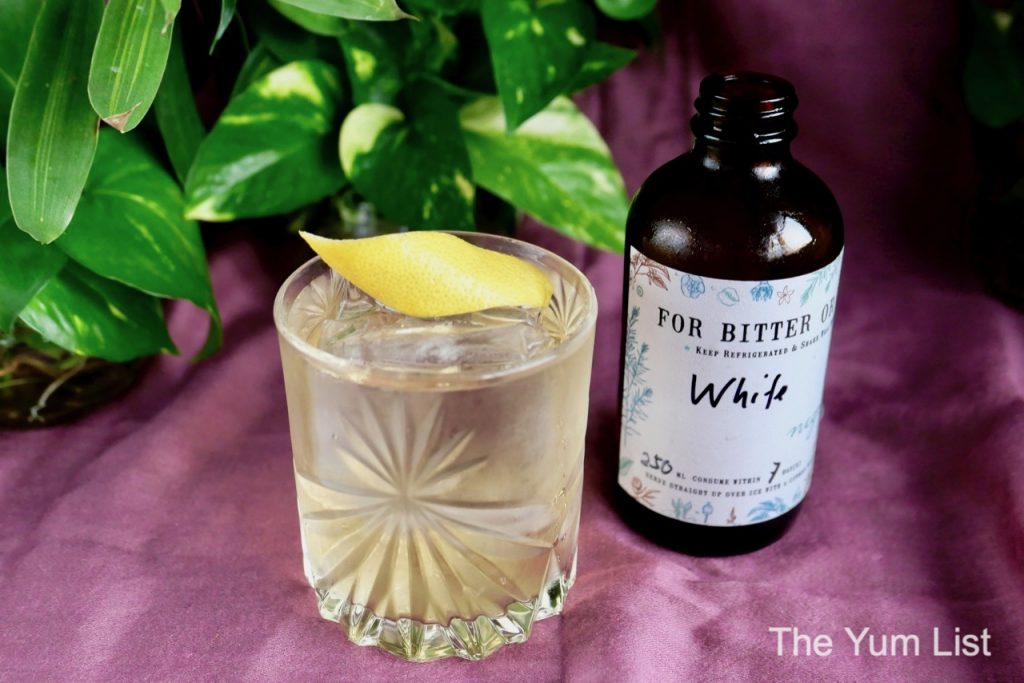 Pisco Bar must win the prize for the prettiest bottles for cocktails to go in KL. Resembling large bottles of expensive cologne, the cocktail containers are keepers for sure. Or, send them back and reuse them for your next order. Drinks from this bar are always well-balanced but my favourite of this bunch is the Buzz Off! Kaffir lime-infused gin, fresh lemon juice, syrup and pineapple juice make the perfect refreshment for the tropics. Oh, but wait, the Chilli Passion Martini is a hard to beat too – lemongrass-infused vodka, chilli and passionfruit syrup – near irresistible. Order these beauties from Tuesday to Sunday for delivery between 12 noon and 10 pm (double check on times with changing SOPs). Click here for orders.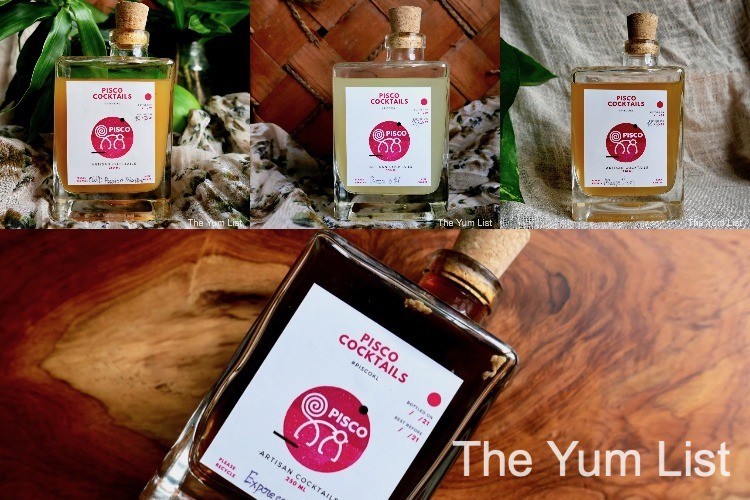 Coley – Low Proof Cocktail Kits
Coley brings a light touch to the cocktail game with their latest Low Proof Cocktail kits featuring Lillet Rose & Lillet Blanc. Served in mason jars with a sealable lid and straw top, and with a low abv of 5.5%, they're perfect for indoor picnics. Actually, the presentation is so darn pretty, that they also make fun gifts. The kits come in two flavours and are priced at RM 48, or RM 92 if you purchase two.
The Rose-Tinted Glasses is fruity and floral. A base of sweet basil infused Lillet Rose is mixed with strawberry water, citric acid and cane sugar, and certainly makes a pretty hue in the glass jar. The second, Lemony Snicket, is dry and aromatic. For this cocktail, Lillet Blanc comes with lemongrass water, tonic reduction, lemon and cane sugar.
To order low proof cocktails from Colely, message +6 019 270 9179. They are open for delivery or takeout from Monday to Saturday from 11 noon until 5 pm.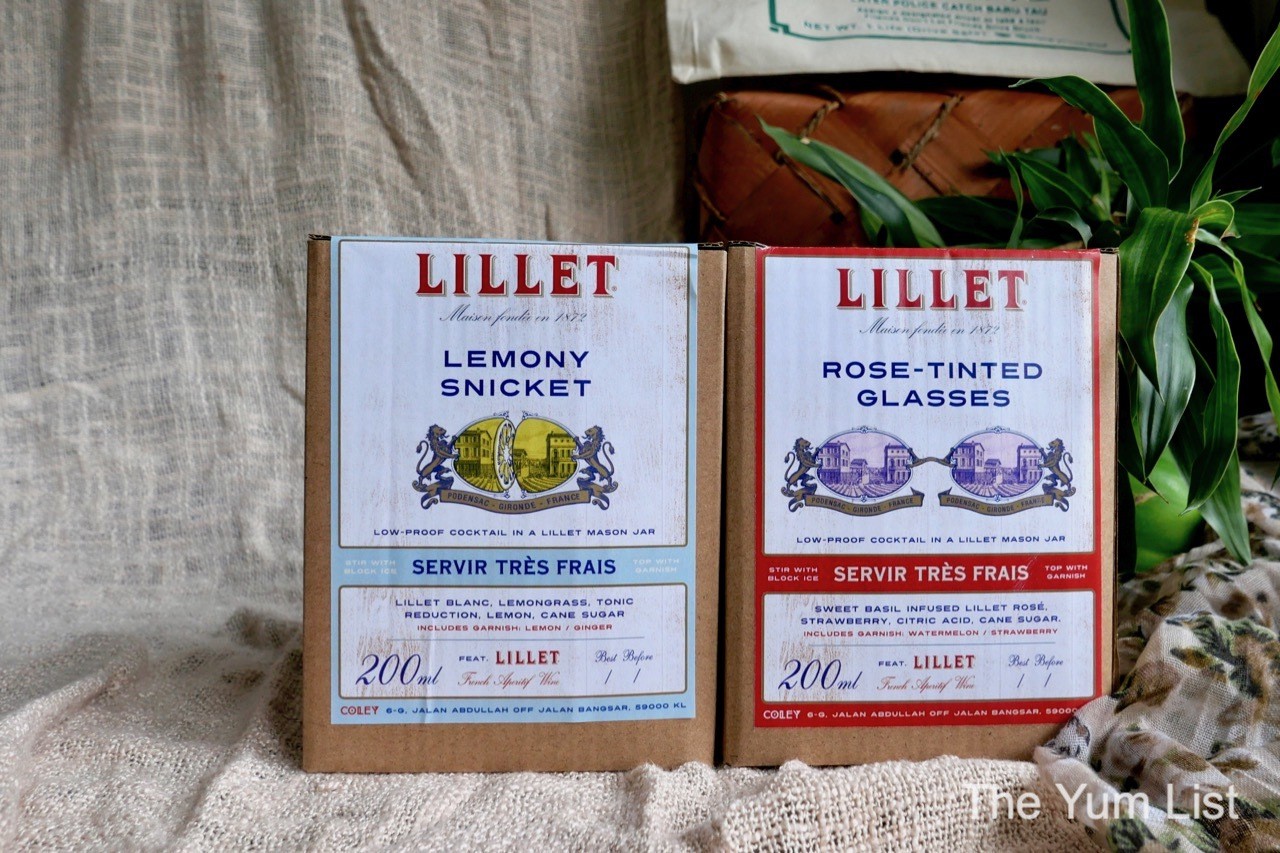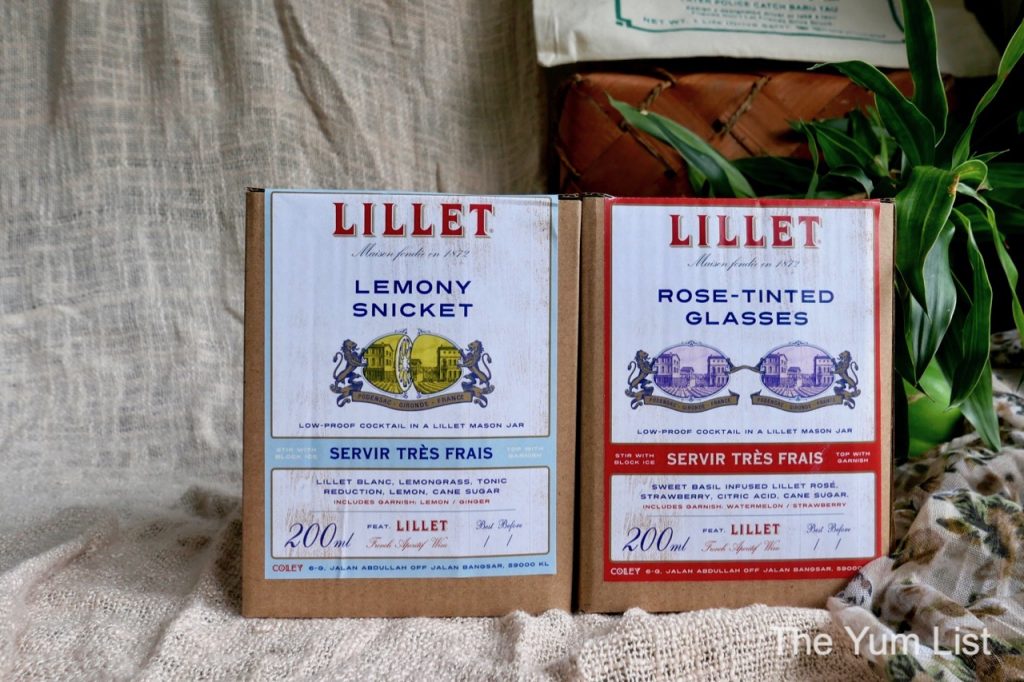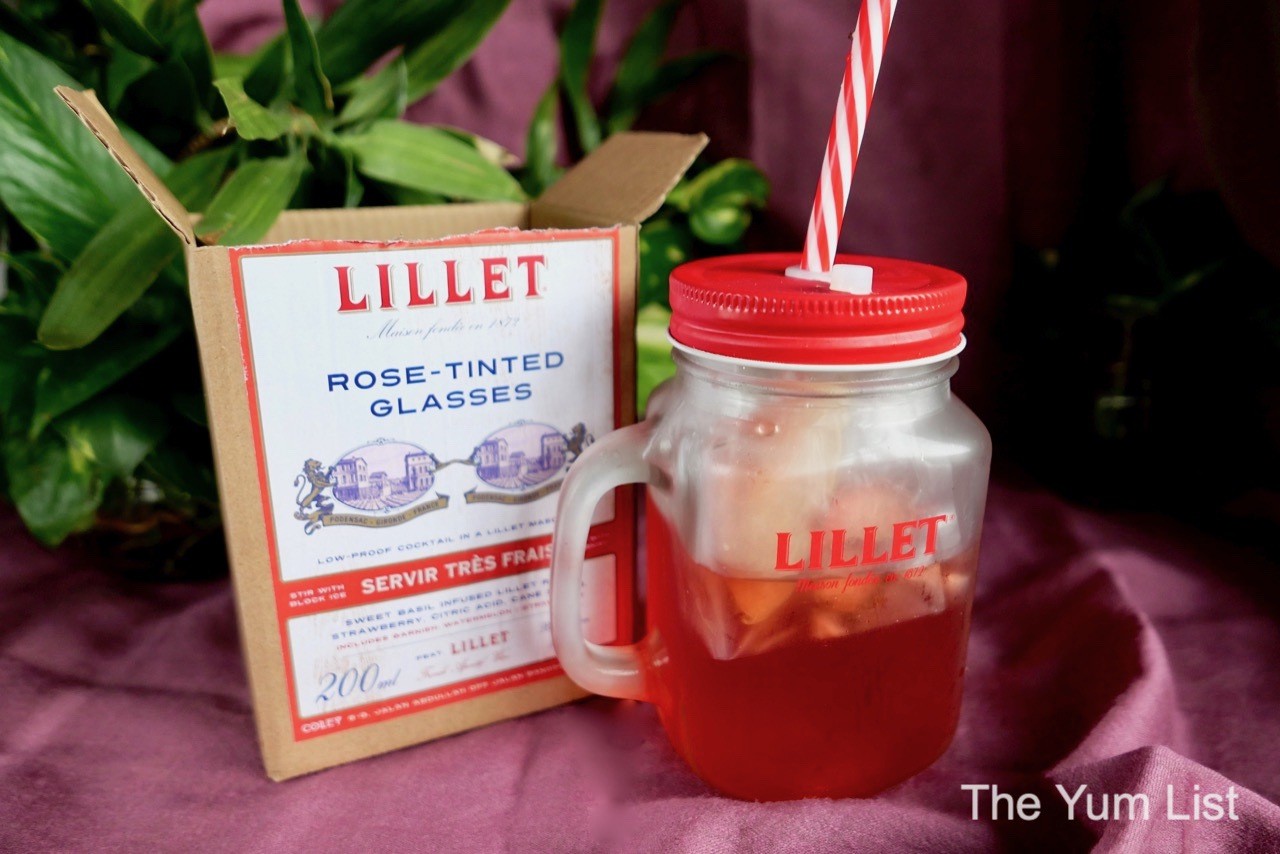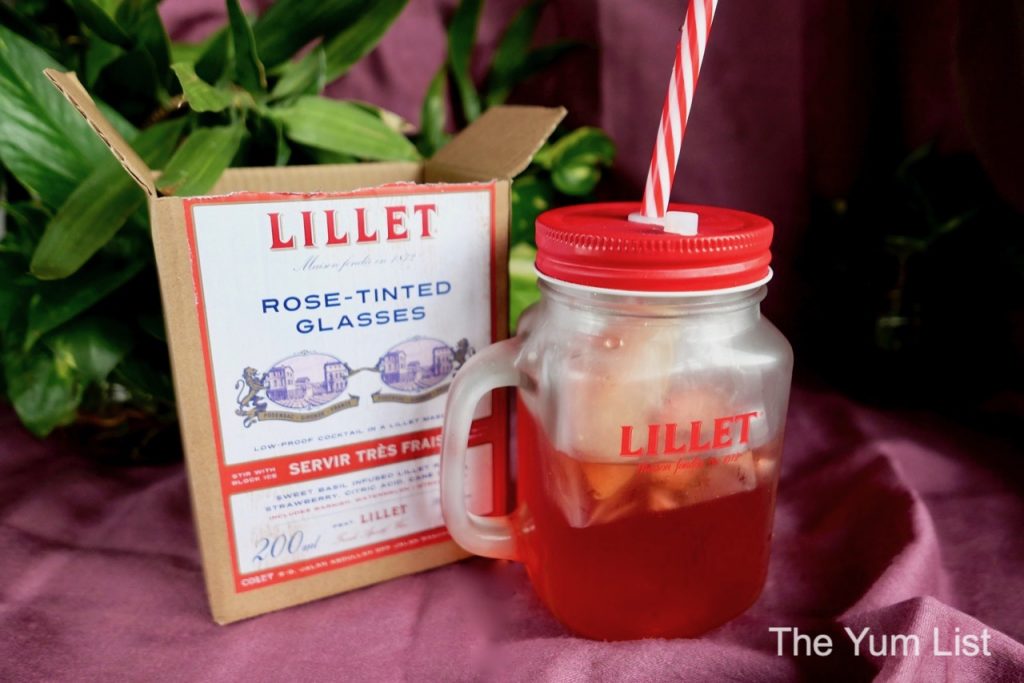 Concubine KL's birthday box holds six signature cocktails, garnishes, a shaker and a few party favours and is priced at RM199. Doesn't that sound like a fun thing to send to your bestie? Our top picks here are the Yuzu (gin, yuzu, lemon, kaffir lime leaf, soda) and the Paloma (tequila, mezcal, lime, agave, grapefruit soda, sea salt). You can also order cocktails ala carte with our two favourites mentioned here priced at RM 35 (single serve), RM 68 (double) and RM 125 (4 serves).
Concubine KL is open daily. WhatsApp +6 014 711 2185 or place an online order here.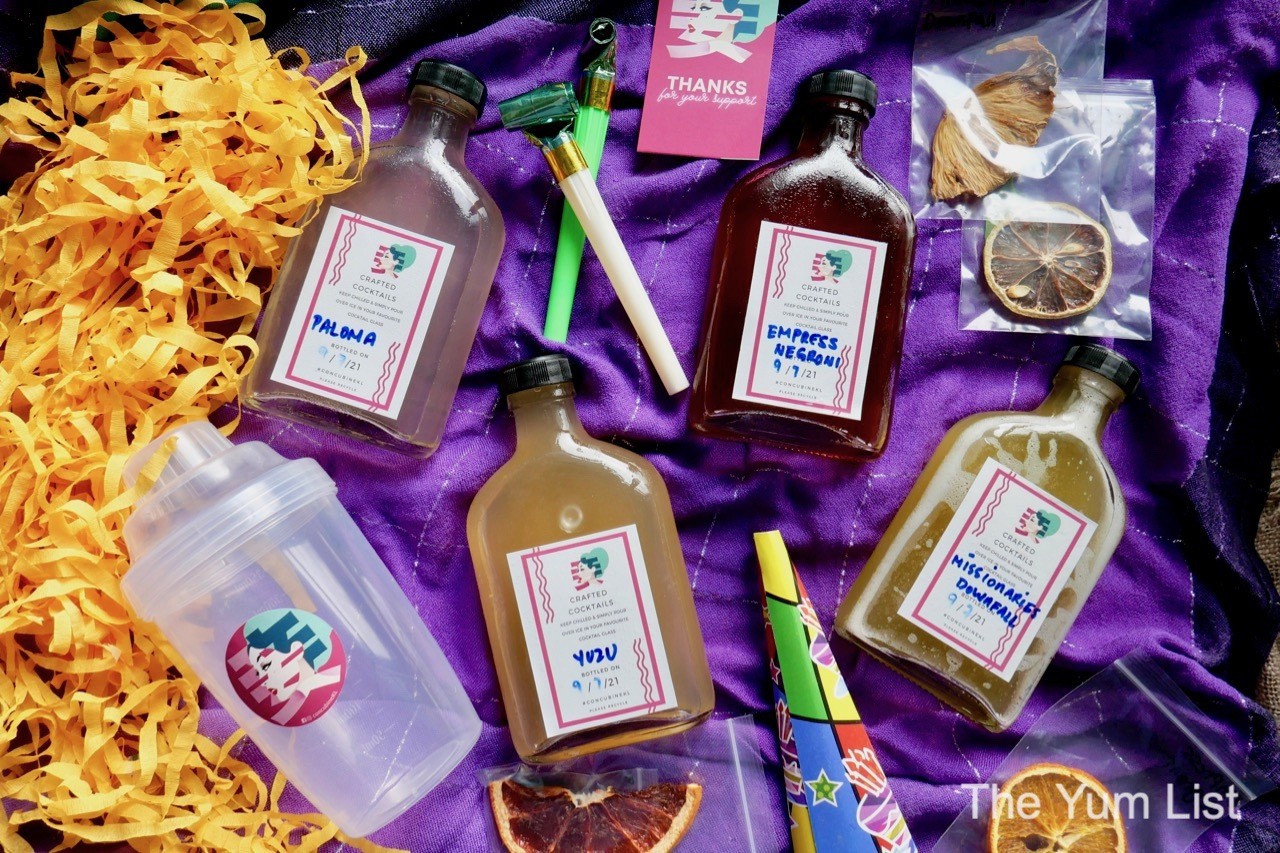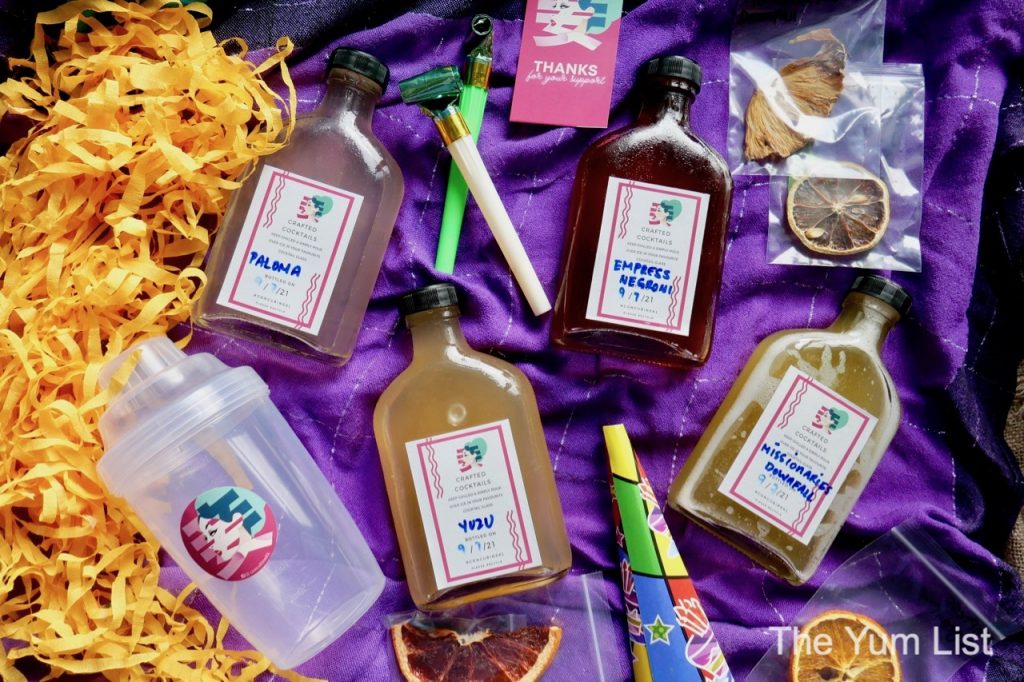 Rock Bottom Signature Canned Cocktails
Rock Bottom gets in on the cocktail delivery scene with their handy canned signature mixes (RM 30). Offering six flavours, there's something for every taste here. My personal pick is Envy Blue with Camino Tequila, Blue Curacao, pineapple juice and jalapeño syrup. It's gently sour and refreshing with a light thread of spice in the conclusion. Hubby has sweeter preferences so the Chicky London Zest does him just fine. Beefeater Gin, blueberry syrup, lime juice and fresh basil make a fruity beverage with soft herbal and berry aromas. Alternatively, if you really want to get the party started, begin with a Jungle Juice. Its spirit base of vodka, rum, gin, tequila, peach liqueur and blue Curacao is sure to light a fire under the bonnet.
Rock Bottom Bangsar is open daily from 12 pm to 9.30 pm. Message Jonathan +6016 387 0743 or Sasi +6012 610 2624 for orders.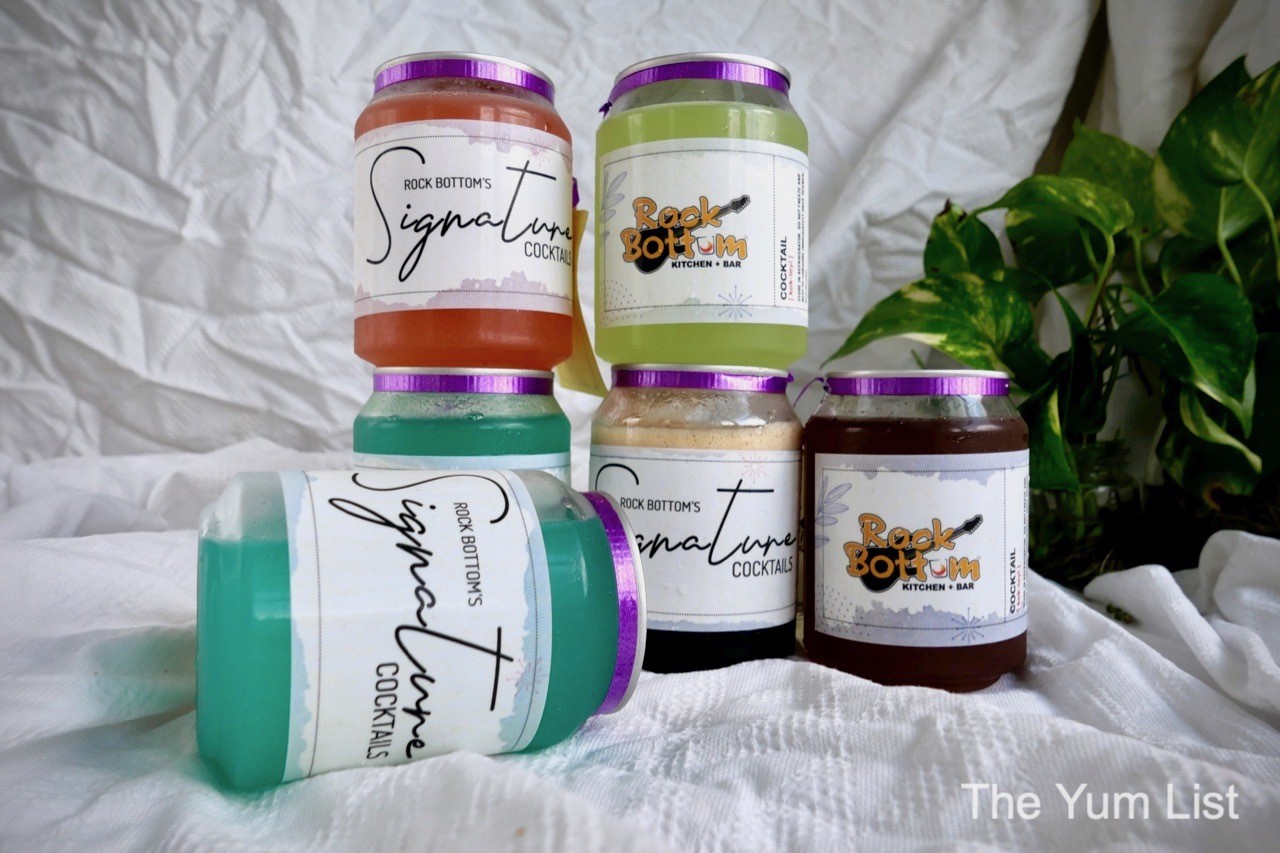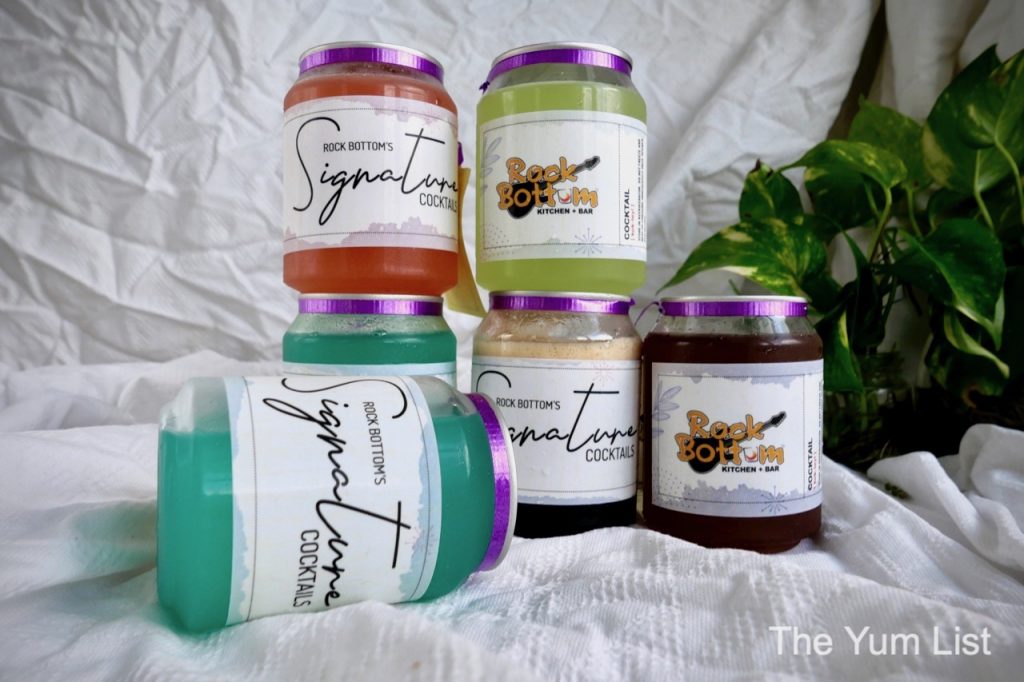 If you close your eyes and sip on one of Troika Sky Dining's cocktails, you can almost imagine a light breeze on your skin and the open patio of Fuego. Until things open again, they might be the next best thing. Currently, the team have some excellent deals where you can purchase three cocktails for RM70+ (one is priced at RM 30). Tuesdays and Wednesdays are their happy days where you can bump it up to four cocktails for the same price!
Hubby enjoys the fruity notes of the Jianxi Fresca with rice-infused vodka, passionfruit, lime and homemade vanilla salted pineapple syrup. I'm very fond of the complex, floral and refreshing Chew's Daiquiri (shiso leaf-infused rum, grapefruit, lime and umeshu) and the good old faithful Margarita (Tequila, orange liqueur and lime). Lovers of the classics will be happy to know that you can also grab an Old Fashioned (Woodford Bourbon Whiskey, brown sugar, soda and Angostura bitters) under the same deal.
Troika Sky Dining is open for orders every day between 11 am and 10 pm. Place your orders here.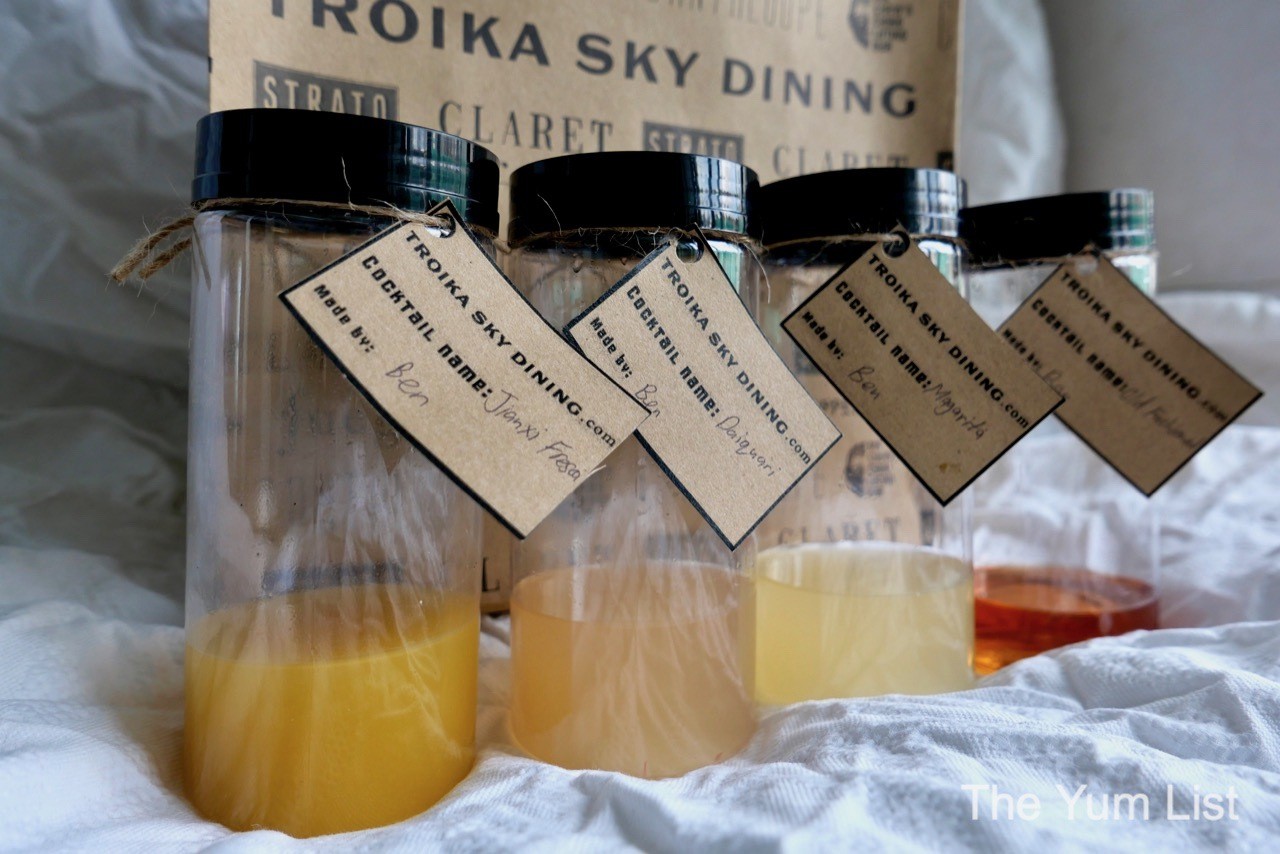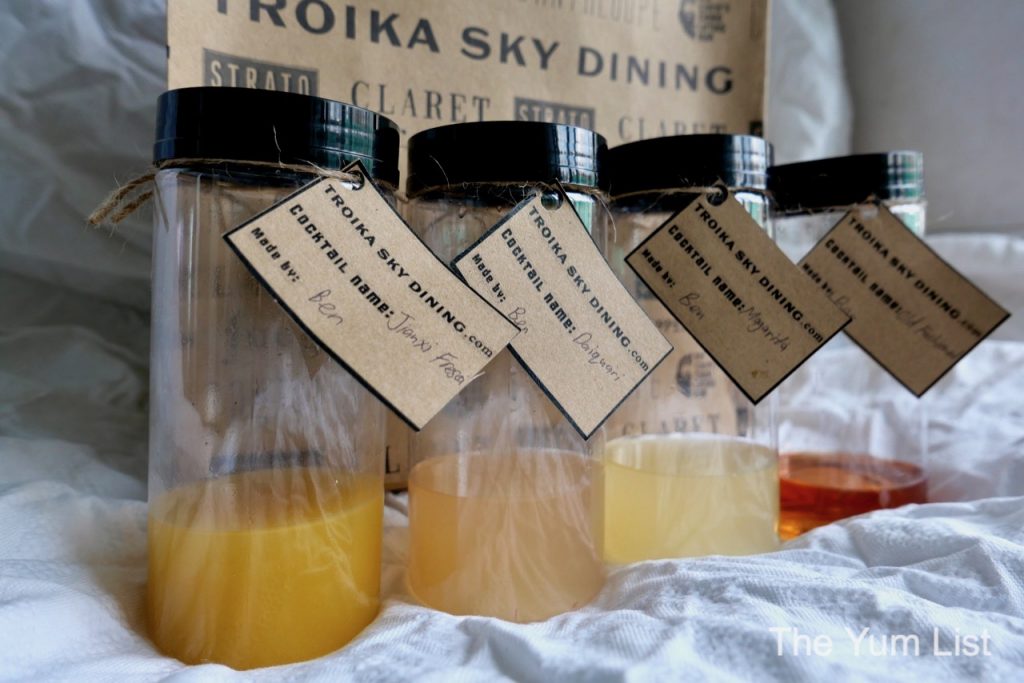 The team behind The Chow Kit x Mizukami have curated a series of cocktails that are light and refreshing. Not only are they well-matched to our warm, tropical climate, but also perfectly suited to daytime drinking. Malaysian ingredients are celebrated via spins on classic cocktails and in this handful, in particular, you'll find lots of wine-based beverages. The pick of the bunch for me is the Orchard Sling (RM 35) with Boodles gin, Cointreau, calamansi cordial and orange juice. Hubby likes the fruity flavours in the Belitchi (RM 35) with Aperol, lychee, white wine and cranberry juice.
The Chow Kit Kitchen & Bar also serve food and are open for delivery and takeaway daily from 8 am-8 pm. Place your orders here. Additionally, readers of The Yum List are entitled to 10% off the food menu by using the code, THEYUMLIST10 until July 31, 2021.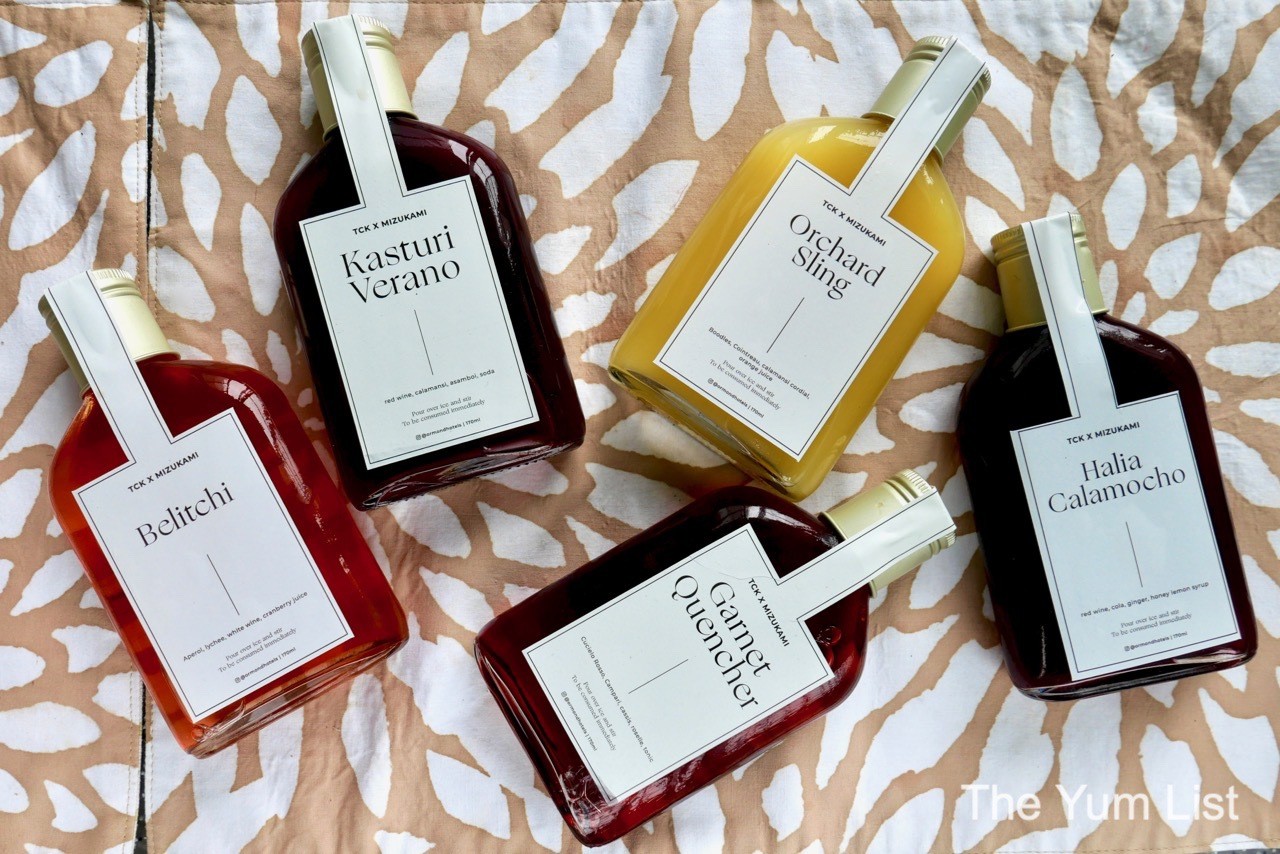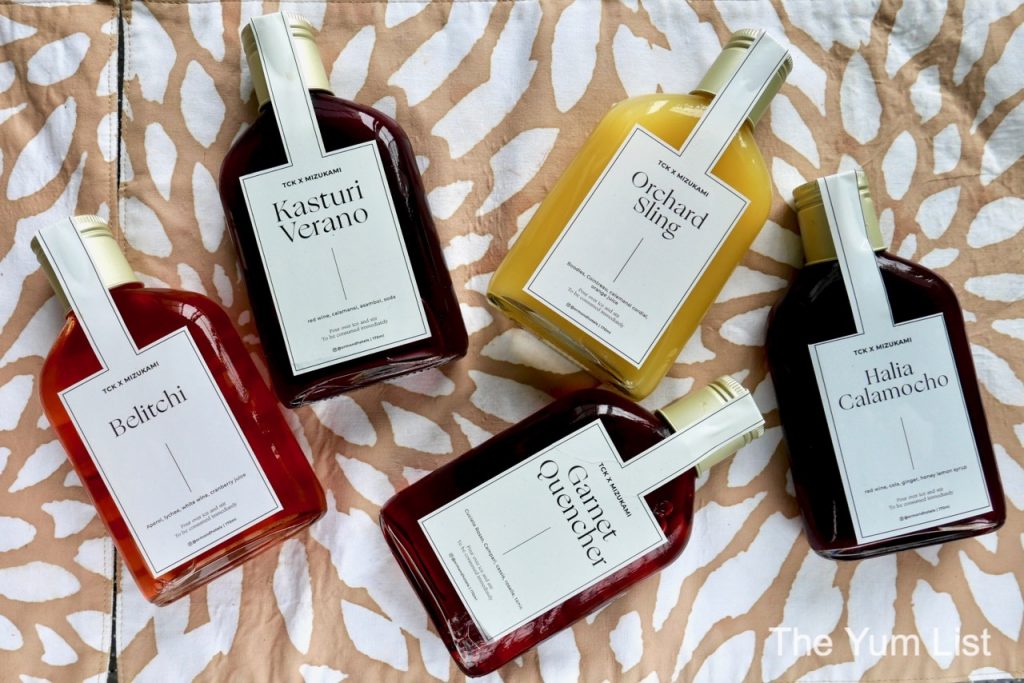 G-String KL 's bottled cocktail collection brings back memories of good times in Chinatown. Pre-restrictions this was one of our top hotspots to explore. We're trying to support businesses here in the hope they will still be around when things reopen. G-string KL has a solid collection of cocktails but rum fans for sure should try the Davy Jones with white rum, OP rum, chilli, lime and pineapple. Beware: these mixes offer a solid punch! Fortunately, you're staying home anyway, as you'd be well advised to stay off the roads even with a single round of these.
Furthermore, the team behind G-string have curated gin tasting kits, allowing lovers of the bitter spirit to taste a variety without the larger expense of an entire bottle. The smaller 150 ml bottles range in price from RM60 to RM80 depending on the label. And, because you are special, readers of The Yum List will receive a free cocktail with every 150 ml bottle purchased. Use #theyumlistcocktailgiveaway when you place your order to grab the deal. WhatsApp the G-String Bar team on +6013 938 6322 for orders.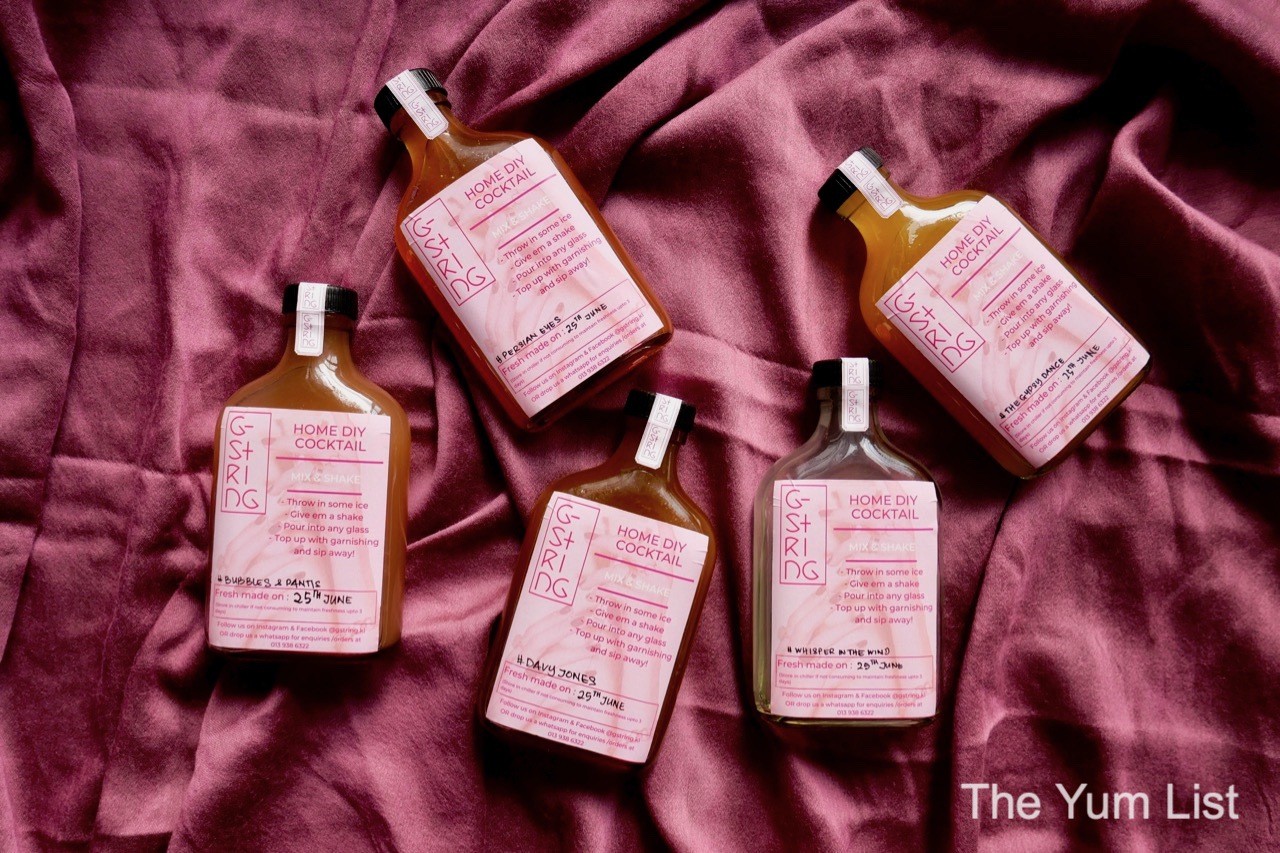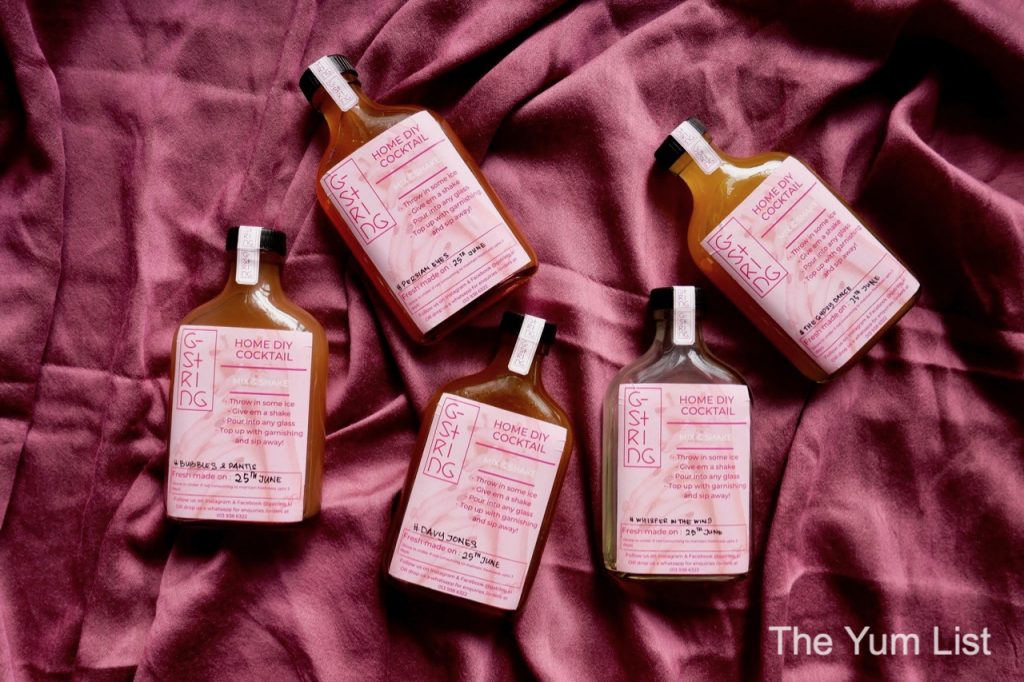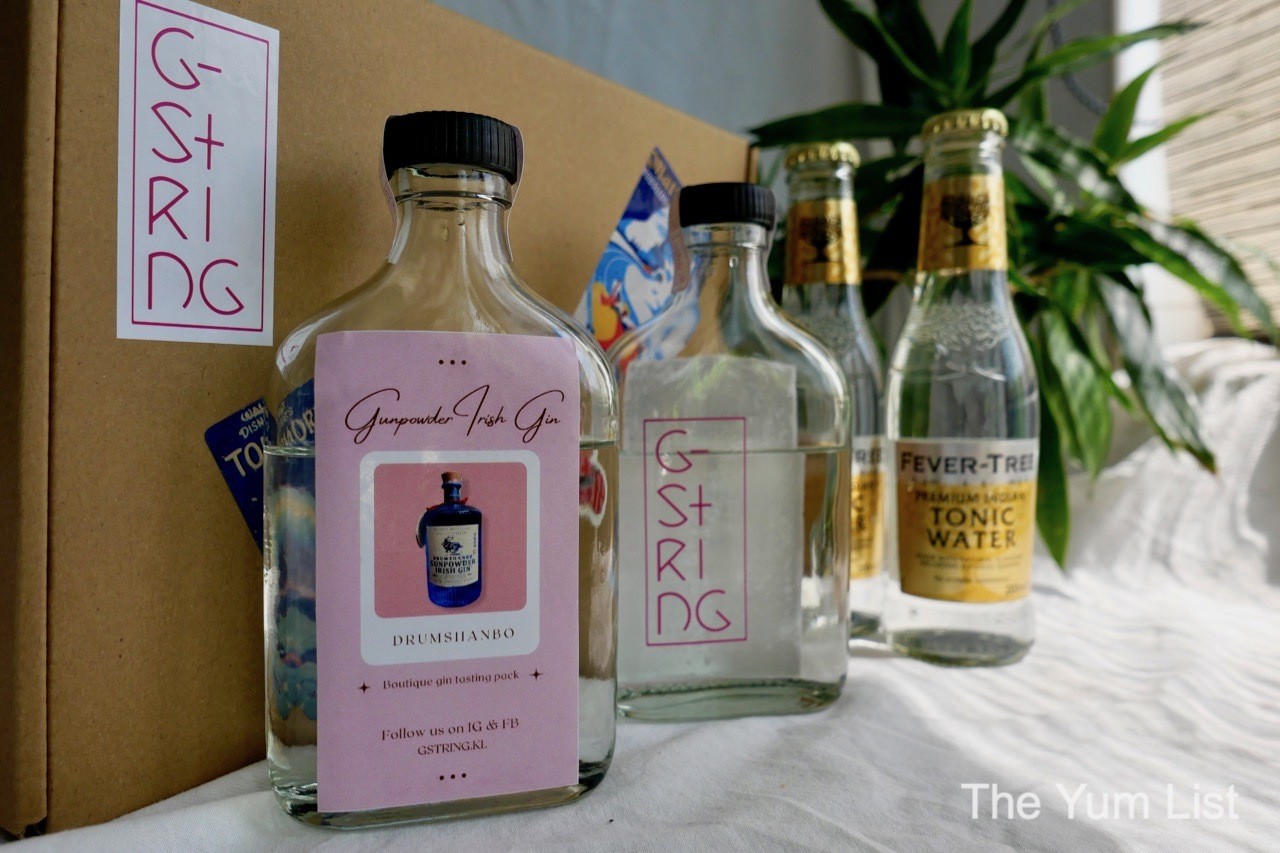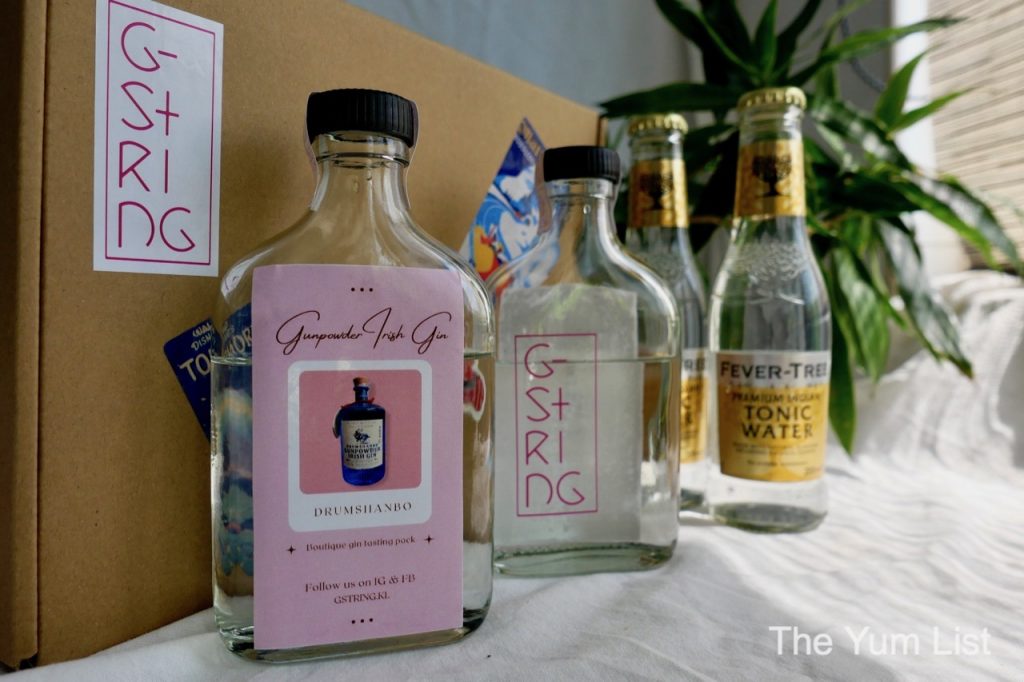 Three X Co's Sanity in a Can cocktail series is an entire menu dedicated to the soundness of mind. Not only is there something here for everyone, but the beautifully designed packaging make the beverages lovely gifts too. Priced at RM50 for a 330ml can, they are the perfect size for sharing (or not).
Little Red Riding Hood is my favourite. This mix of Beefeater gin, Campari, hibiscus, passionfruit and ginger ale glides down all too easily, making it one dangerous concoction. Order Three X Co's Sanity in a Can Series by messaging +6 019 336 6031. Order before 2 pm for same-day delivery.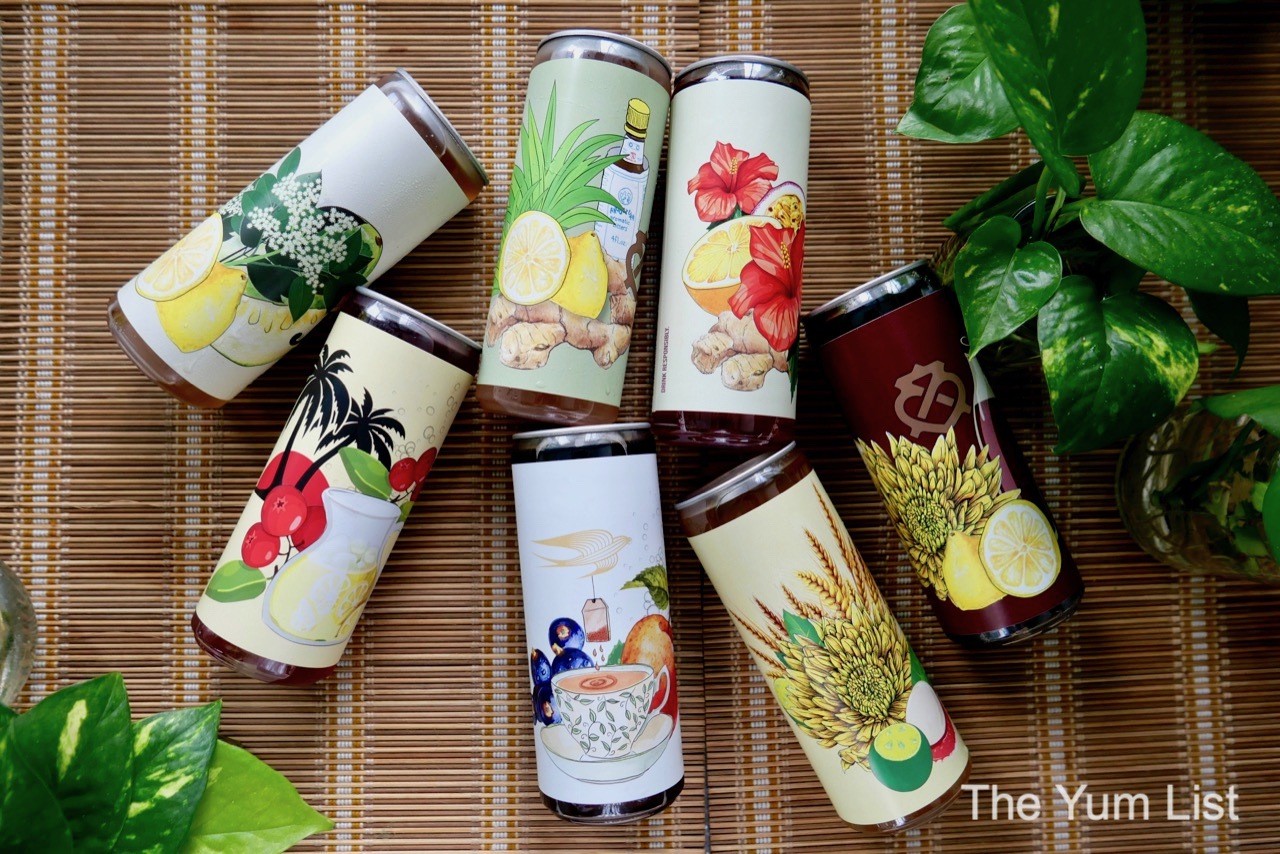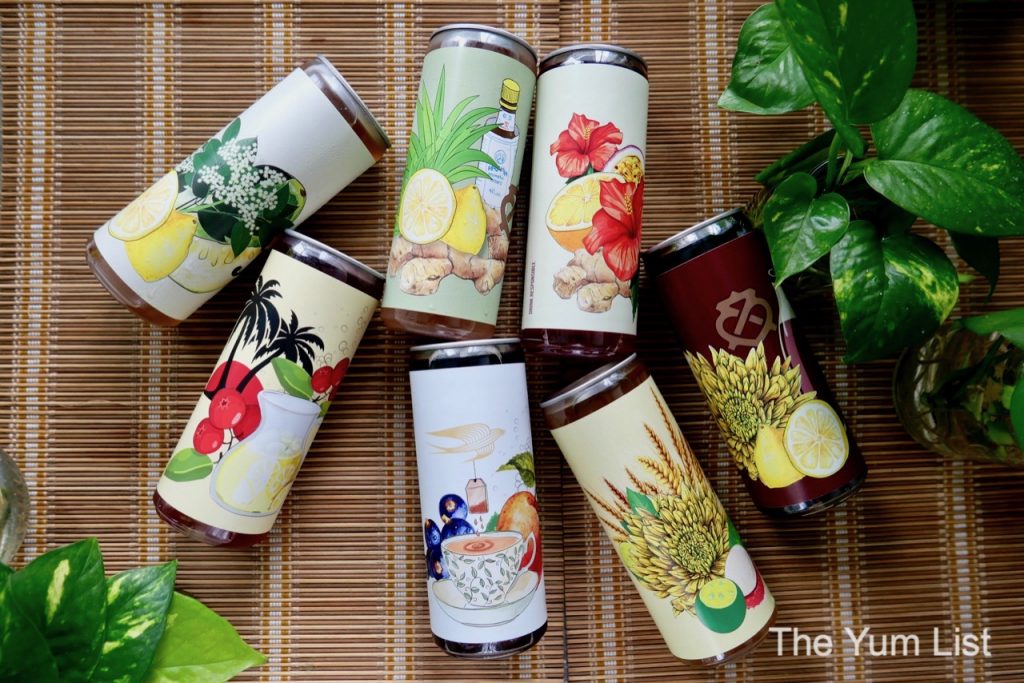 We know that music can change your mood and the entire vibe of a bar, but can sound actually change the taste of your drink? Sonic seasoning, or enhancing the taste of your food by listening to certain types of music, might sound like a gimmick, but there's actually a growing body of research behind it. You can conduct your own experiments with sonic seasoning and cocktail pairing (RM 45) from Frank's Bar KL.
Make an order by calling +6012 674 4860 or visit their website. Get a 10% discount using the promo code YUMLIST10 when you order from www.Franksathome.com.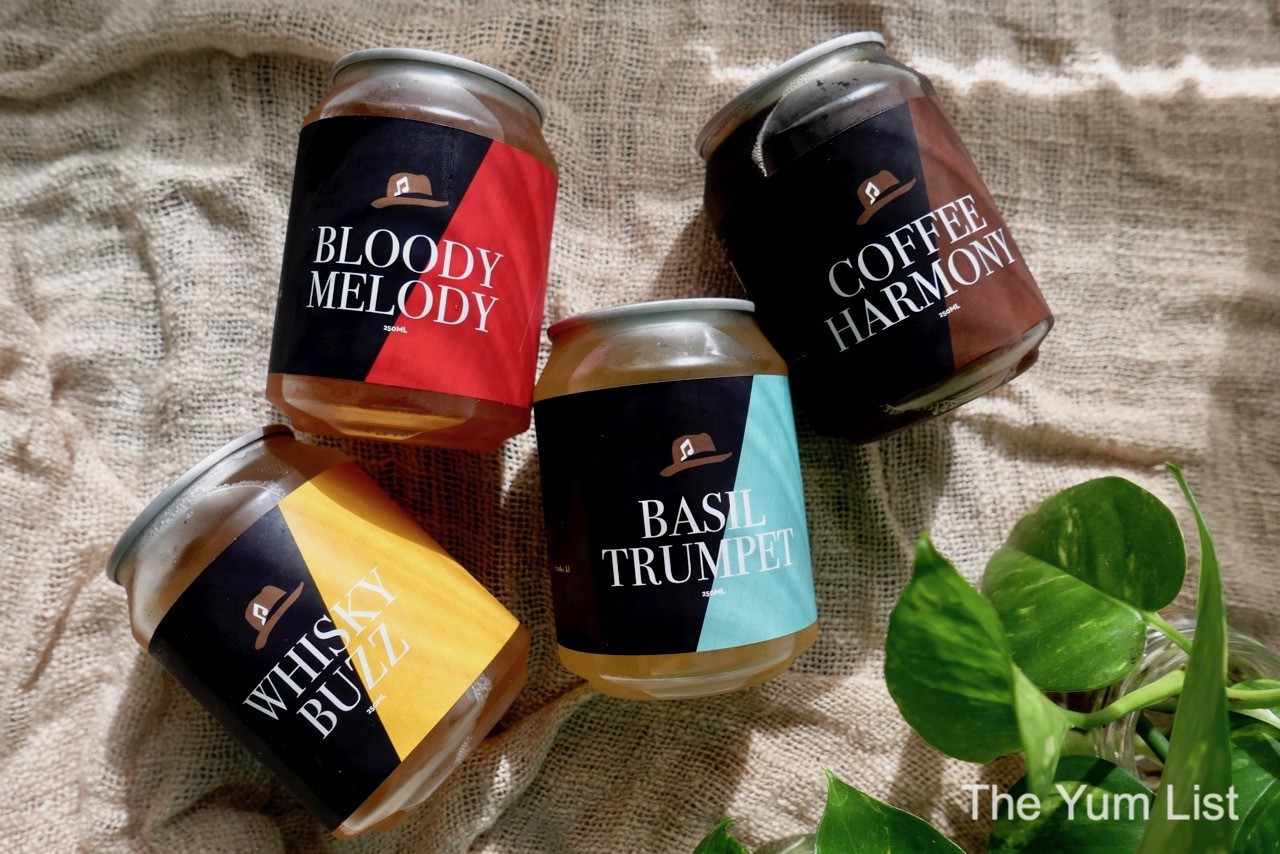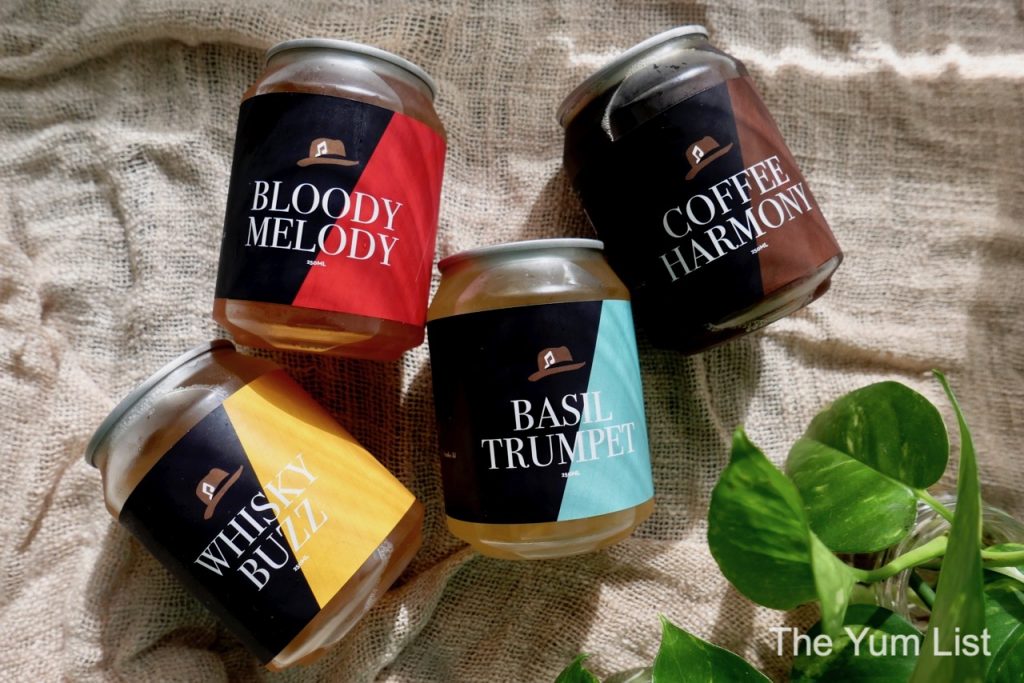 Currently, the team at Left Surface 42 have six bottled cocktails available for delivery. Each 500ml bottle is priced at RM80 and each 250ml bottle at RM40 (Poison Ivy and Piña Colada RM 45). All are flavoured naturally with minimal use of sugar syrups and can be kept for three days. My fave is the Cili Padi with vodka, passionfruit, lime juice, kaffir lime leaves and its namesake (really, this one is so good!). Hubby is rather fond of the newly introduced Piña Colada (classic recipe) and the Poison Ivy (kantan lemongrass-infused gin, blue Curacao, egg white, calamansi juice and doughnut syrup) adds to the rainbow with its pretty deep-blue hue.
WhatsApp the LS42 team on +60192366735 or message them on Facebook or Instagram to arrange delivery of their bottled cocktails.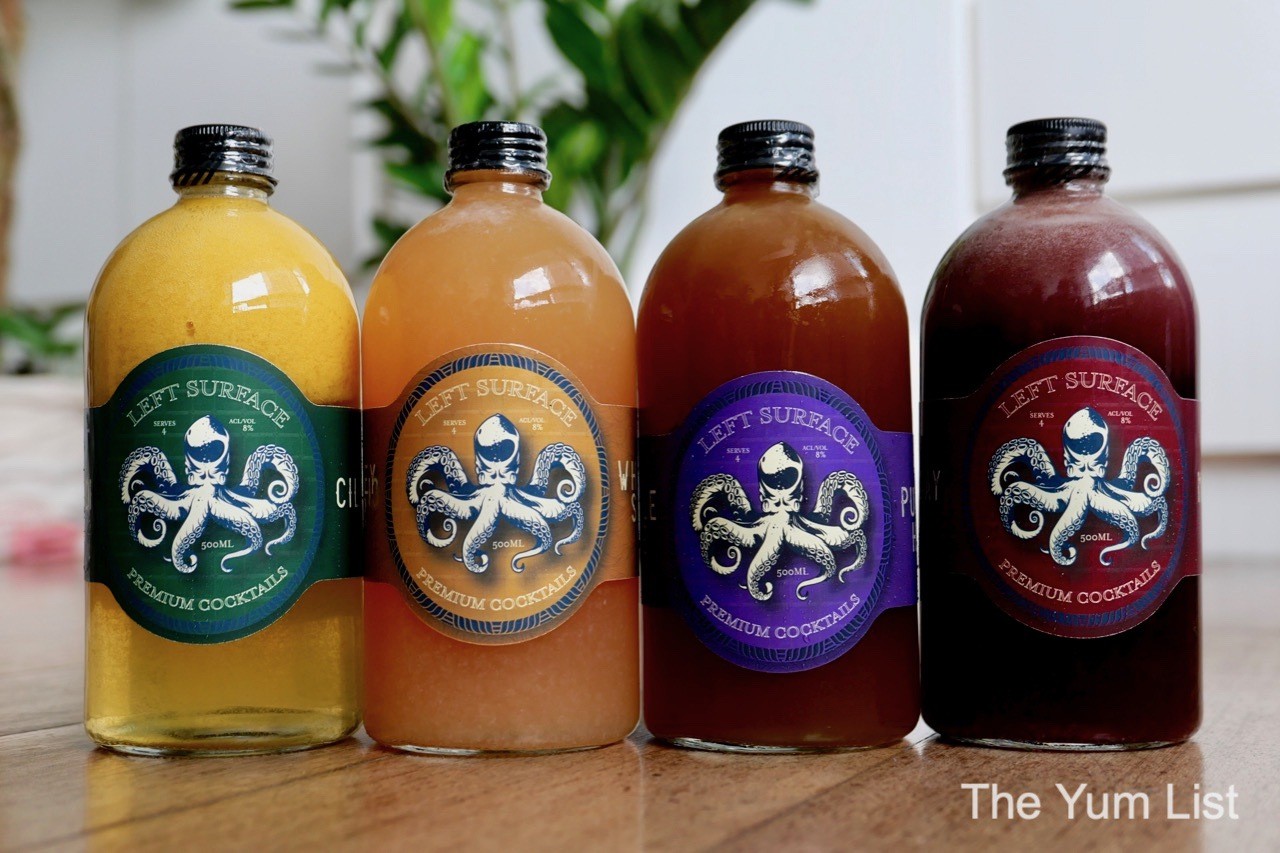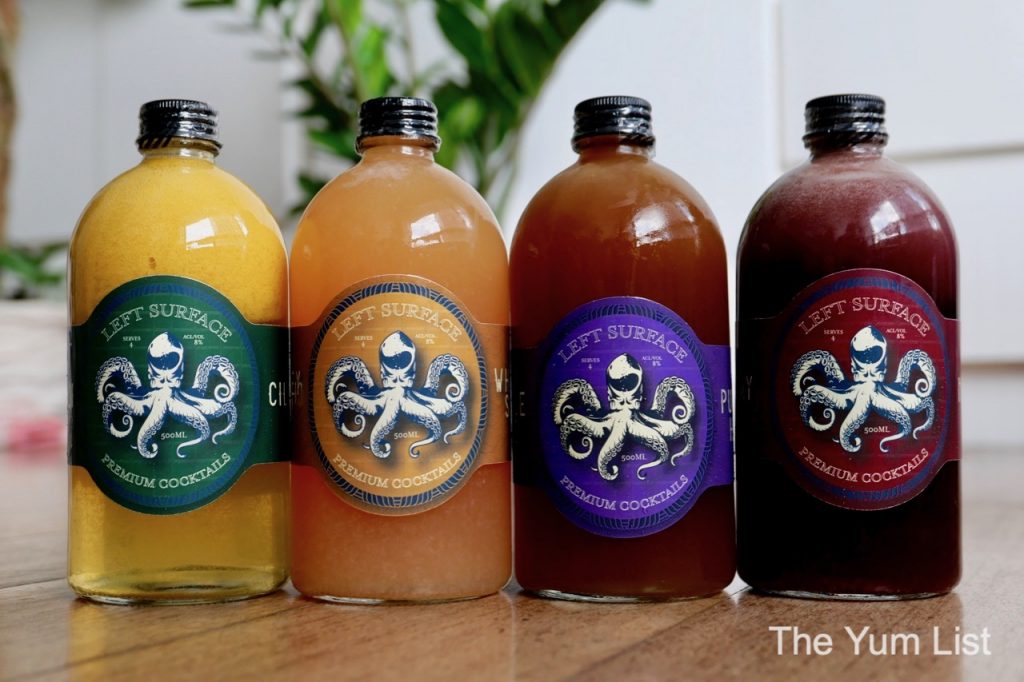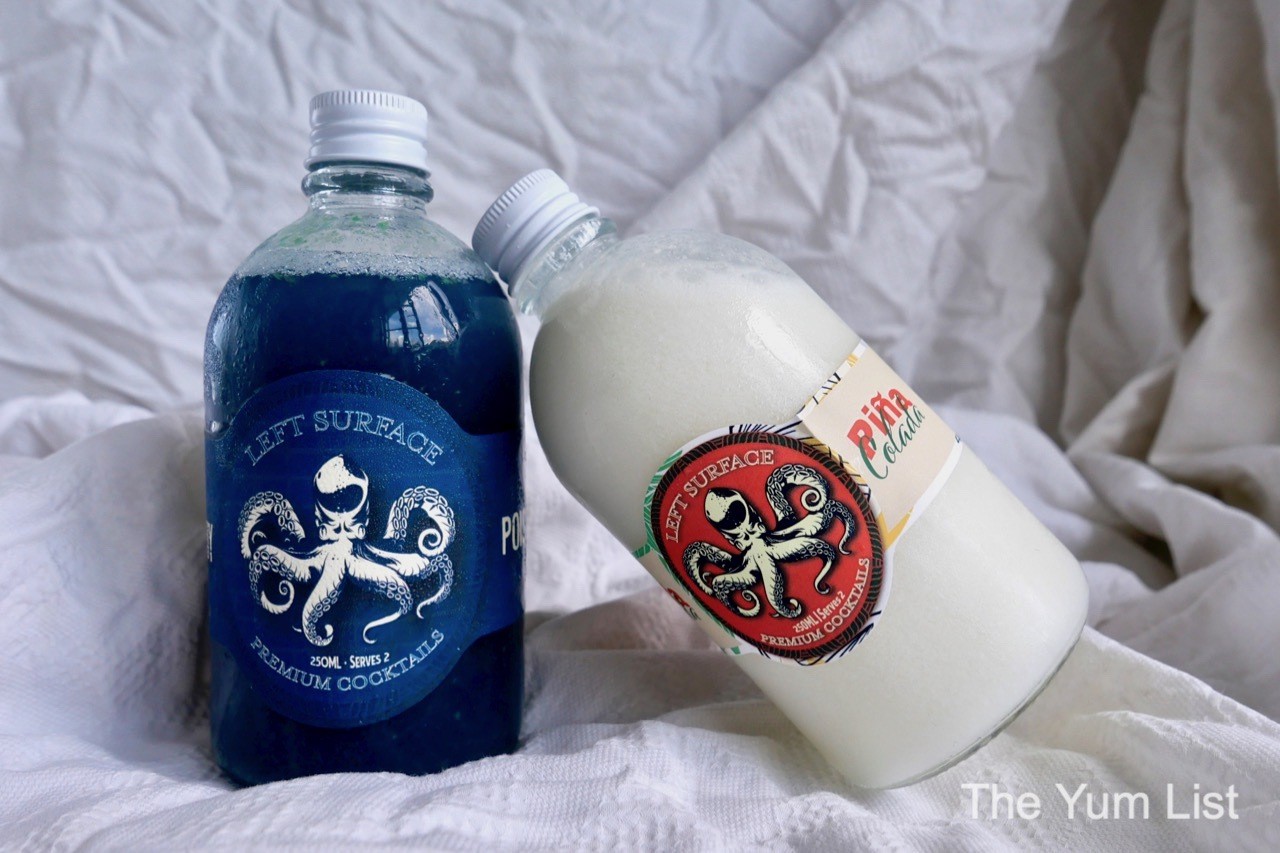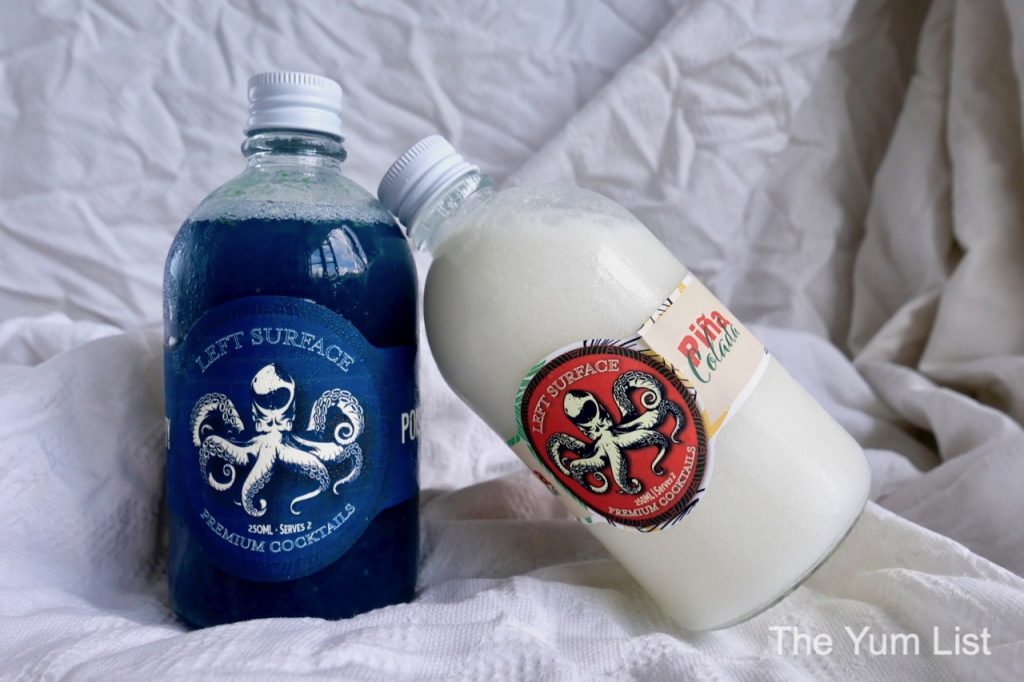 Cocktails to Go – Jann Bar
Jann Bar's flight of bottled cocktails – A Journey of Six Senses – come ready mixed in modern bottles with accompanying, dehydrated garnishes, for you to mix and match as you feel fit. For a very reasonable RM138, you can follow the six tastes, starting with the sweet to awaken the tastebuds, and following all the way through to the umami finale.
Call +6 03 2035 7333 to get your hands on the collection.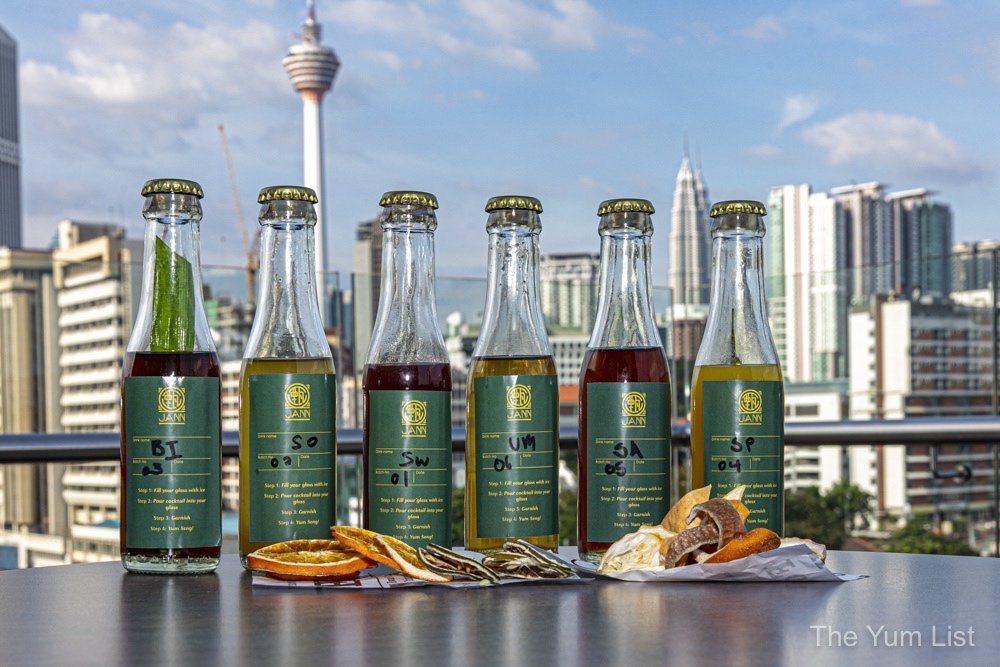 Have you tried your hand at mixing your own cocktails at home or do you prefer to grab your cocktails to go?