Ariel Lim
In this interview, Ariel Lim tells of her transition from in-flight cabin manager to yoga instructor and shares some keys to a healthy body and mind.
What do you do?
I'm a full-time yoga teacher. I offer one to one private yoga classes. I empower busy professionals to learn to breathe well and slow down. I craft a personalized practice that helps them sleep better, move better and feel deeply grounded and centred. I also teach virtual and in-person public group classes and co-lead and facilitate a 200-hour yoga teacher training program at the Ashram Om yoga school in Spain. I help students understand the relationship between mind, body and spirit. I create a safe space for them to explore being in their own unique bodies and express their truth in a way that feels authentic and connected. The essence of yoga is connection; my hope is for students to see this practice that empowers one to overcome the obstacles in the mind for the self experiencing its own true nature.
How did you get into the industry?
I was hooked ever since my first yoga class. I was based in Abu Dhabi at that time, and I found yoga to be the perfect complement to my lifestyle. As a flight attendant, I was constantly exposed to feeling jet-lagged and fatigued – long flight hours, crossing over different times zones, stressful work environment, managing crew, handling passengers etc. Due to the nature of the job, my nervous system was constantly running high. So practising yoga was a way for me to down-regulate my nervous system. I was always amazed at how mentally, emotionally and physically good I felt after each class.
In 2008, I attended a yin yang yoga workshop with Simon Low in Abu Dhabi. And I remember as I was lying down in a supported backbend position, I had thought. I started to picture myself as a yoga teacher; unknowingly, becoming a yoga teacher was planted into my subconscious.
I did my very first 200hr yoga teacher training in 2012. Oh, what a life-changing experience that was! Unprepared to let go of my flight attendant job to pursue yoga full time, I started teaching yoga part-time as Etihad Airways' company yoga instructor.
I have been fortunate enough to be allowed to pursue my passion for flying, travelling and teaching yoga all at the same time. But at some point, I started to feel that flying was no longer fulfilling. This, to me, was a sign that a shift in life needed to happen. Still, I was too afraid to let go of my comfort, status, income, sense of security, and identity.
In January of 2015, as I was standing ashore overlooking the Iceberg Graveyard in the Antarctic islands, an epiphany- nature reminded me that our contributions in this world are finite! And if I don't live my life purpose now, then when? I realized how precious every moment is. There's something magical about being in nature's embrace. The serenity cleared my mind of internal noise and sharpened my vision. Like an ice cube on a sponge, my resistance melted away. I allowed myself to be absorbed into a future of new possibilities.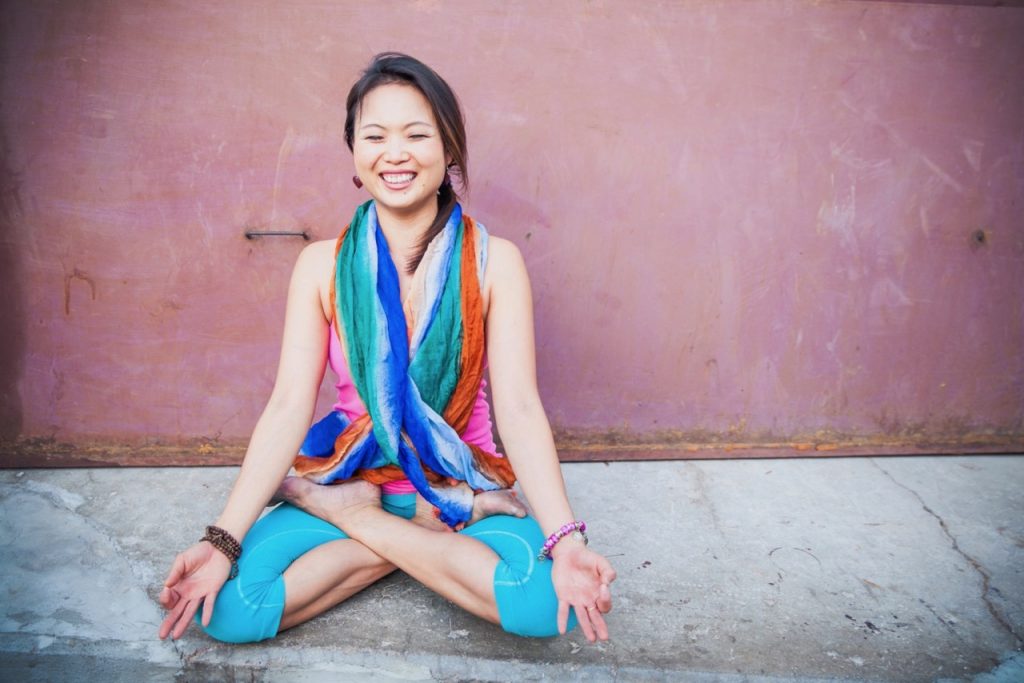 What's the best part of your job?
The best part of my job is to live and combine two of my passions- travel and yoga. So when I decided to quit my flight attendant job, I wanted to find a way to fulfil these two passions. But I didn't know how. I genuinely believe that when the "how" is unclear at first, and you remain steadfast focused on your vision and purpose, that the path will slowly unfold. This has lead me to teaching yoga both in-person and virtually in various countries such as Indonesia, Nicaragua, Spain, Netherlands, USA, Australia and now Malaysia.
What's a memory from your childhood or travels that stands out?
I will never forget the first time coming to this glorious island, also known as the land of the Gods. It was the perfect ending to my day. I remember it happened after a scrumptious dinner. Walking back from our favourite Balinese restaurant entering the gates of our hotel, artificial lights and sound pollution started to fade away into the distance. As if setting foot into a magical theatre, its curtain opens to reveal the grounds of a stunningly starry night. My belly and heart content, I scan the awe-inspiring cloudless sky. And there it was, for the first time in my life, it appeared right before my eyes- a shooting star came gliding through the sky. I shut my gaze to make a wish. That childhood wish would later become my reality, and just like the star, I soared the skies for ten unforgettable years.
What are the things Ariel Lim does to stay grounded, centred and connected? 
There are four practices that I do daily. Especially now, with the lockdown, it is even more important that I keep up with these practices to help me stay physically and mentally healthy.
Meditation- I set aside a minimum of 10-20 minutes every morning and evening to meditate. And like in certain physical movement exercises where we train the muscle of the body, meditation is a way to train the muscle of the mind. Our mind, by nature is very active. And it can sometimes be challenging to focus on the present moment when our minds are busy worrying about the past or anxious about the future. The more we get into the habit of meditation, the more we understand that we are not the past, the future and the stories we tell ourselves. We get to see each passing thought as simply just a thought. We begin to feel more grounded and less reactive. If you are new to meditation, I would highly recommend practising with an experienced teacher first before attempting to do it on your own. There are many meditation methods out there, and eventually, you'll find one that resonates with you.
Journaling/expressive writing- I find journaling and expressive writing to be extremely therapeutic. I do this as a form of self-expression and to help me better understand my own feelings and thoughts; it also activates the creative part in me. I simply allow the pen in my hand to write the words out on paper that is coming through my mind. Positive effects of this practice can be felt after only a short period of speed writing every day- mind clearer, the heart feels lighter, better mood, more self-aware etc.
Give thanks- Every day, I find opportunities to be grateful. When you are in a constant state of gratitude, your heart softens, and you feel more open, and you have more capacity to receive and give love. When you are in a state of love, you will see that nothing is a problem, and everything is a solution. You can also impart this practice when you journal. Simply write down a list of 3 to 10 things you are grateful for. And notice how it feels in your body when you shift yourself into a state of gratitude.
Move your body- I personally engage in three different types of activities-Yoga, Brazilian Jiujitsu and running. Movement is a way to release stuck and stagnated energy in the body, that which can sometimes manifest in the form of aches, pains, stiffness and a lack of mobility. Whether it's doing rounds of yoga sun salutations, running, dancing etc., find time to get your body moving. This can help improve and increase overall physical and mental health.
What does success mean to Ariel Lim? 
Success is when I go to bed at night, knowing I've lived my day courageously. Living courageously to me means taking small little steps towards fulfilling my life purpose even when fear gets in the way. It means reaching out and connecting with people at the level of heart and soul and risk being rejected. It means being open to possibilities and disappointments. It means choosing to live in love over fear.
What does Ariel Lim for fun, and how do you recharge your energy? 
As an introvert, I recharge by spending time to be with myself, doing the things I love, such as reading my book at a favourite cafe, taking myself out to a spa for a massage, watch uplifting and inspiring movies and documentaries. I also love hanging out with people, mainly one on one or in small groups. I love going outdoors to connect with nature- camping, hiking, tree-hugging, forest bathing etc. All of these I consider as fun and spiritually uplifting.
What would you say to people who are new and want to start practising yoga but don't know where to start? 
There are various methods of yoga out there. And depending on what your intention is, it will look quite different for everyone. I would say remain open and curious and experience different classes and teachers. Eventually, you will find one that resonates with your current need. And once you have found the teacher or style that really speaks to you, try to commit for some time. I know now with so many options out there, it can be quite distracting. But there is something potent about being committed. You get to build a stronger relationship and bond with the practice and teacher on a deeper level. Let your yoga practice be a place of a safe refuge where you can come back to over and over again to find support, peace and strength.
How has the pandemic changed Ariel Lim as a person?
I don't think the pandemic has changed me as a person; I would like to think that I'm still optimistic, passionate, and at times afraid. But I must say my conviction to the four core values I live by has strengthened, and they are courage, gratitude, faith and truth. We live in such volatile times now. Learning how to stay standing while feeling unsure and uncertain is the foundation of courage. Feeling grateful for all that we have will take our attention away from focusing on what we don't have. A shift in perspective can shift our internal state. We have the power to control how we feel. Faith is what we need now more than ever; nothing lasts forever, and I trust that this pandemic too will pass. I do my best to live by my truth every day. Living my truth means respecting boundaries, saying yes or no and really mean it, and acting in alignment with heart and spirit.
Find more interviews similar to this one with Ariel Lim here. And, stay up to date with the latest food and beverage happenings in KL here.